California's John Muir Trail is one of the most popular backpacking routes in the US, and for good reason. It might be the most stunning continuous stretch of remote mountains that well-maintained trail can access. I had the pleasure of backpacking the JMT a few years ago with my husband and a couple friends, and in this post I'll share the exact itinerary that we followed.
The remote nature of the JMT makes resupply logistics a bit tricky, which means advance planning is necessary for most hikers. If you're planning a JMT hike in the 18 day to 3 week range, especially if you're starting from Lyell Canyon instead of the traditional Happy Isles start, this JMT itinerary will help you plan your hike.
About This JMT Itinerary
This is the itinerary I used to backpack the John Muir Trail southbound in 18 days, with:
Permits starting from Lyell Canyon / Tuolumne Meadows (as is true for many hikers, we couldn't get permits for the traditional Little Yosemite Valley start)
Two on-trail resupply stops: Red's Meadow and Muir Trail Ranch
One zero (rest) day
Three side trips: two short (couple hours) and one medium (most of a day)
I liked this itinerary a lot, and would absolutely recommend it to others looking to backpack the JMT at an average pace of around 12-13 miles per day, which is a pretty typical pace for first-time JMT hikers. It's also as slow as you can go and still avoid resupplying after Muir Trail Ranch (if you have a big enough bear canister).
At the time, we were decently fit trail runners but not very experienced with backpacking. We could hike slowly all day without too much trouble, but were chronically slow with setting up and breaking down camp. We felt this schedule was a great balance: plenty challenging, but not so hard that we couldn't enjoy ourselves.
For more detail on pacing, see this post about how to plan your daily mileage on the JMT.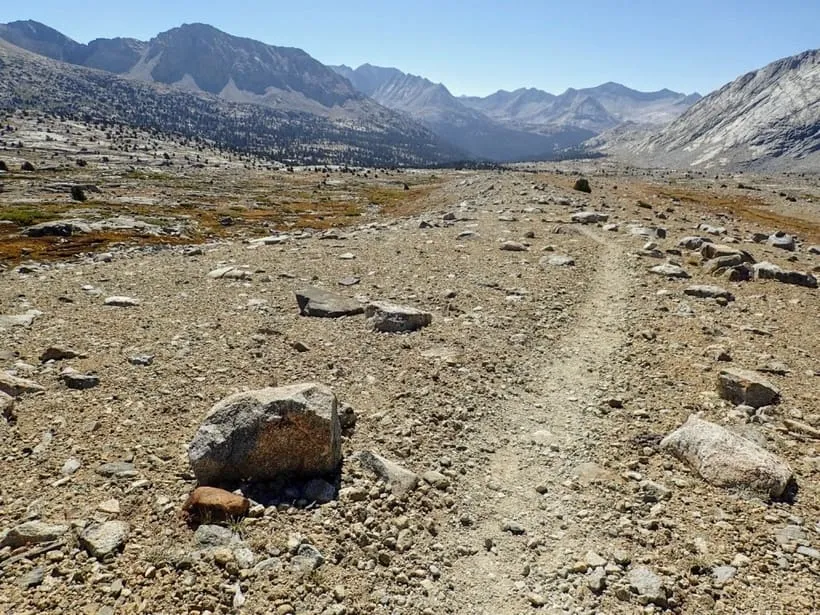 18 Day JMT Itinerary
Here's a table showing how far we hiked each day, and where we camped.
These daily mileages could be a little off depending on which map or GPS track you're following, so take them with a grain of salt.
The "JMT Miles" column includes only forward progress made along the JMT, and does not include side trips.
If you are cross-referencing the "total JMT miles" with JMT data tables, our start point at Tuolumne Meadows / Lyell Canyon Trailhead is at mile 24.5 of the full JMT.
| | | | |
| --- | --- | --- | --- |
| Day | JMT Miles (total JMT miles) | Camp | Notes and Points of Interest |
| 1 | 11 (11) | Just before Donahue Pass | Started from Tuolumne Meadows / Lyell Canyon |
| 2 | 10 (21) | Garnet Lake | Donahue Pass |
| 3 | 3 (24) | Ediza Lake (side trip) | Ediza Lake is 2 miles off the JMT. Side trip to Iceberg and Cecile Lakes |
| 4 | 10 (34) | Red's Meadow Campground | Red's Meadow resupply |
| 5 | 15 (49) | Lake Virginia | Short side trip to Southern Red Cone |
| 6 | 14 (63) | Quail Meadows | Silver Pass |
| 7 | 14 (77) | Marie Lake | |
| 8 | 0 (77) | Marie Lake | Rest, relax, and scramble around the nearby granite |
| 9 | 10 (87) | Piute Creek Junction | Selden Pass, Muir Trail Ranch resupply |
| 10 | 13 (100) | Evolution Basin | |
| 11 | 15 (115) | Big Pete Meadow | Muir Pass |
| 12 | 15 (130) | Upper Palisade Lake | |
| 13 | 16 (146) | 2 miles past Pinchot Pass | Mather Pass, Pinchot Pass |
| 14 | 13 (159) | Rae Lake | |
| 15 | 12 (171) | Bubbs Creek | Glen Pass |
| 16 | 10 (181) | Bighorn Plateau | Forester Pass |
| 17 | 12 (193) | Past Guitar Lake | Tawny Point quick side trip (1.5 hours). Camped at small site on climb up to Mt. Whitney junction. Unless you want to be at the summit for sunrise (beautiful but absurdly cold) I suggest camping at Guitar Lake instead. |
| 18 | 12 (195) | Done! | Whitney summit at sunrise |
To make sense of the final row, note that the official JMT ends at Whitney Summit so I've only included the ~2 miles from our last camp to the summit in the "total JMT miles" count. But, unless you're going to live on Mt. Whitney for the rest of your life (which your permit surely doesn't allow), you'll need to hike another 11 miles down to Whitney Portal after that.
Side Trips and Zero Days
The JMT may be the most famous route in the area, but it's really just a small linear sliver through a spectacular mountain wilderness. While you're there, I highly recommend trying to make time for a few side trails or relaxing at one of hundreds of lovely alpine lakes.
We chose our side trips and zero day based on timing, proximity to the JMT, and resupply logistics. Most are before the final MTR resupply, at which me maxed out our food capacity and couldn't afford any extra time.
Ediza / Iceburg / Cecile Lakes
We took this side trip early in the hike, while resupply logistics were still easy, and highly recommend it. On our third day we hiked only three miles on the actual JMT before turning off to peaceful Ediza Lake, eating lunch, and dropping off our packs. Then we hiked and scrambled up to Iceberg Lake and eventually Cecile Lake, both of which felt remote and pristine to an extent that's hard to find on the JMT these days. Highly recommended!
Southern Red Cone
Short hike up a red volcanic cone, worthwhile for the view and the volcanic scree sliding on the way down.
Tawny Point
Near the southern end of the JMT, a quick 2 hour jaunt up from Big Horn Plateau to a summit with amazing 360-degree views. You can even see Mt. Whitney, your target in a few days! Highly recommended.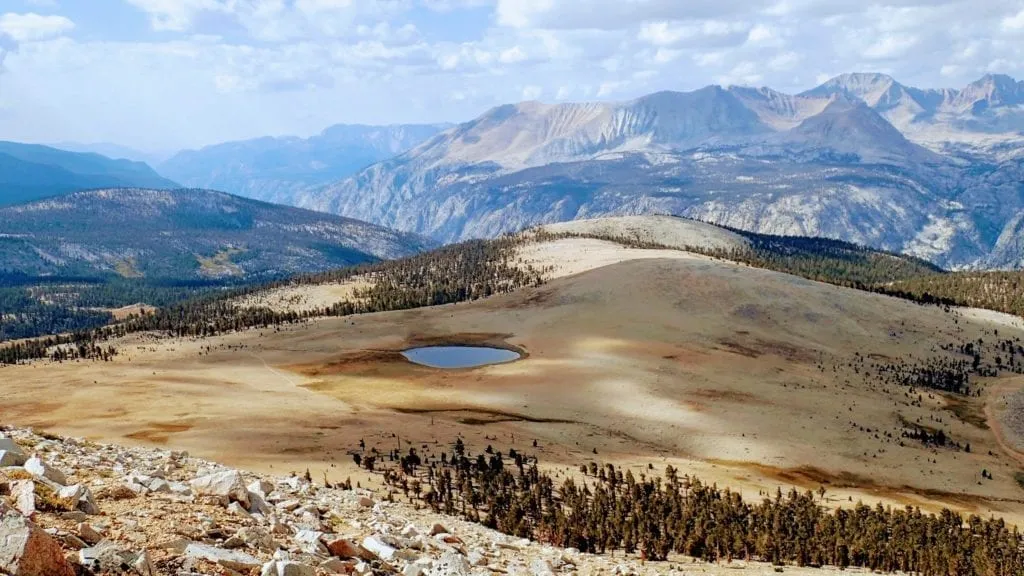 Zero Day at Marie Lake
We chose to take a rest day at Marie Lake about mid-way through our hike. It was beautiful but also windy, which made it a bit less relaxing than we'd hoped for. There are some nice short hikes and scrambles in the area for those who can't sit still for a whole day.
For more ideas, here's a list of common side trips along the JMT.
Plan But Stay Flexible
One of the many wonderful things about the JMT is its abundance of excellent campsites. Because of resupply logistics most hikers do have a strict schedule to keep, so some advance planning is important. It's definitely good to review the guidebook and map in advance, and make a rough plan (I use Google Sheets) of how many miles you'll hike each day and where you think you might camp.
Having a solid plan up front is key to knowing the trail well enough to make changes on the fly. Once you're on the trail, I recommend being flexible from day to day. If you're willing to give or take just a couple miles each day, you'll have a lot of leeway and can push farther when you're feeling strong, stop early after a tough day, or stay at that gorgeous campsite that calls to you but wasn't on your spreadsheet.
Of course, if you consistently hike too few miles each day you'll risk running out of food before your resupply or missing scheduled transport home. It's always a balance.
We used the classic guidebook by Elizabeth Wenk to learn about the trail and plan our segments. Then we brought the Tom Harrison maps on the trail (or shipped in our resupply boxes) for navigation and planning on the fly.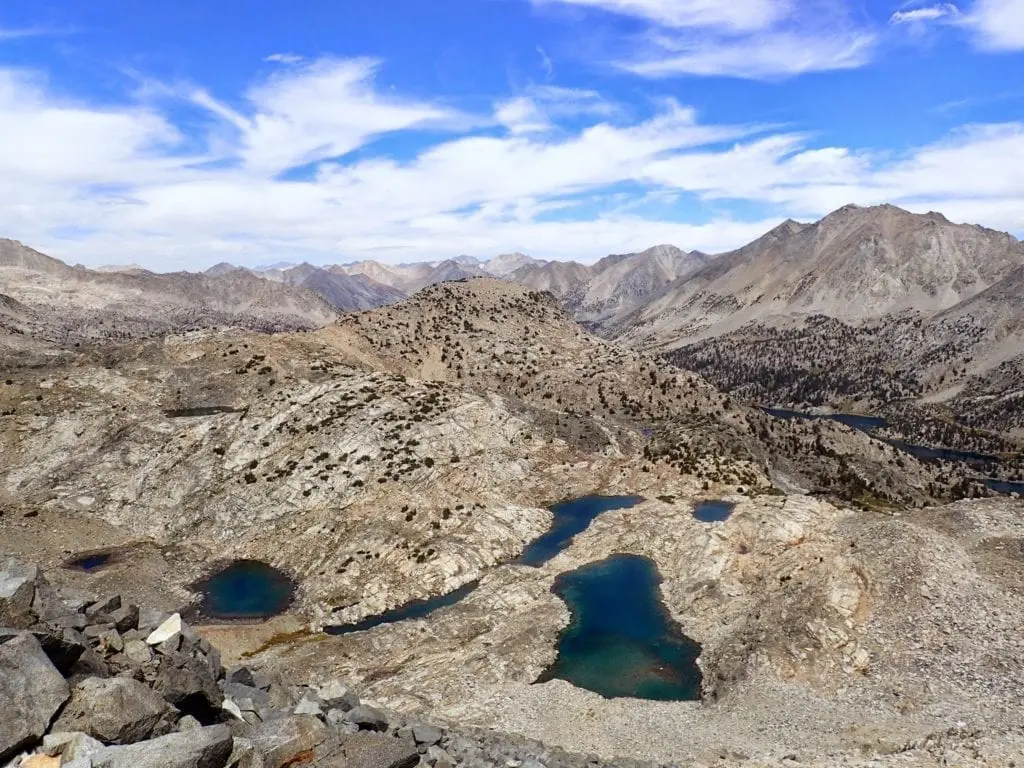 Other John Muir Trail Resources
For more JMT planning resources, see also
And if you're planning a John Muir Trail thru hike, you might also find these helpful:
Or check out the full hiking and backpacking resources page.


Hiking resources in your inbox?
There's more where this came from! Sign up here for occasional emails full of inspiration and information about backpacking and hiking.


Share the Adventure
If you found this article helpful, please consider sharing so more people can benefit from it:
Pin For Later