You may think I'm a little too into backpacking and backpacks if I say this, but I think 45 liters is a really interesting size for a hiking backpack. I've seen 45-ish liter packs used for everything from day hikes to weekend backpacking trips to fast-and-light thru hikes. It can be a very versatile and convenient pack size, if you know how to use it.
On the other hand, I don't necessarily recommend a 45 L pack to new hikers or backpackers unsure of what size they need. Unless your gear list is pretty well dialed you may struggle to fit even a single night's worth of gear into a 45 liter backpacking pack. Even with lightweight gear, your multiday food capacity will be limited. As a day pack, it's more space than most people need.
So who should be hiking with a 45 liter pack, what kind of gear will fit inside it, and which models should you consider? Read on!
Is 45 liters the right pack size?
Wondering whether 45 liters of backpack space is too much, too little, or just right for your needs? Here are a few different ways to think about it.
How big is a 45 liter backpack?
Backpack sizes are usually measured in a unit of volume called liters. A typical Nalgene or Smartwater bottle, for example, each hold 1 liter of water. A 45 liter backpack would, in theory (don't try this at home) hold 45 liters of water if you filled it full and it didn't leak. This may or may not include pockets on the sides, back, or hip belt, depending on the pack manufacturer.
In more familiar terms, the dimensions of a typical 45 L pack are around 28″ x 12″ x 12″. That's a pretty convenient size, big enough to carry some serious stuff but not big enough to be unwieldy. On hikers with smaller bodies especially, this size pack won't tower over your head or make you feel double-wide.
Is 45 liters big enough for backpacking?
If you're new to backpacking, the short answer is most likely no, 45 liters is not big enough for a backpacking pack. It can work well in some cases though. Does this sound like you?
You already have a fairly dialed lightweight backpacking gear list.
You'll only be out for a 2 or 3 day trip, so you don't need to carry too much food (and you don't need a bear canister).
You're backpacking in a warm climate and don't need much bulky warm gear (puffy jacket, warm sleeping bag, Gore-Tex rain jacket, etc).
The terrain is straightforward and you won't need any technical gear (ice axe, rope, etc).
With a few rare exceptions, most people will struggle to fit all their backpacking gear into a 45 liter hiking pack unless all of the above points are true. New backpackers who want to keep their options open should usually start with a 55 – 65 liter pack.
How much does a 45 L hiking backpack hold?
As with so many things, the real answer is "it depends." People often think of pack size in terms of days, as in "how many days is a 45 liter pack good for?" But the most important factor, in my opinion, is how lightweight and streamlined your gear is.
If you don't at least have a down sleeping bag or quilt, a tent weighing under three pounds (ideally less for a solo), and a lightweight sleeping pad, a 45 liter pack is probably too small.
Food is also an important factor. The number of days matters, and so does how carefully you choose and pack your food. Experienced backpackers are able to pack more in less space by choosing calorie-dense food and packaging it carefully.
Here are some examples of what might fit in a 45 liter hiking pack:
An ultralight 3-season gear list + 5 days of trail-optimized food
A lightweight 3-season gear list + 3 days of trail-optimized food
A "traditional" (not lightweight) 3-season gear list if tent or sleeping bag is strapped to the outside, + 2 days of food
Gear for a very long, cold, and/or semi-technical day hike
Dedicated ultralight backpackers can stuff 5 days of food and a full 3-season gear list into a 45 liter hiking pack. They may even thru hike with this setup for weeks or months; I met some on the Arizona Trail, for example. But it takes some serious optimization and some money too, since the lightest of ultralight gear ain't cheap.
If your gear is a little bulkier, you may still be able to make a 45 liter backpack work by strapping a large item (like your tent or sleeping bag) to the outside. Some packs have generous mesh pockets that aren't included in the volume measurement and can be stuffed to the gills for extra space.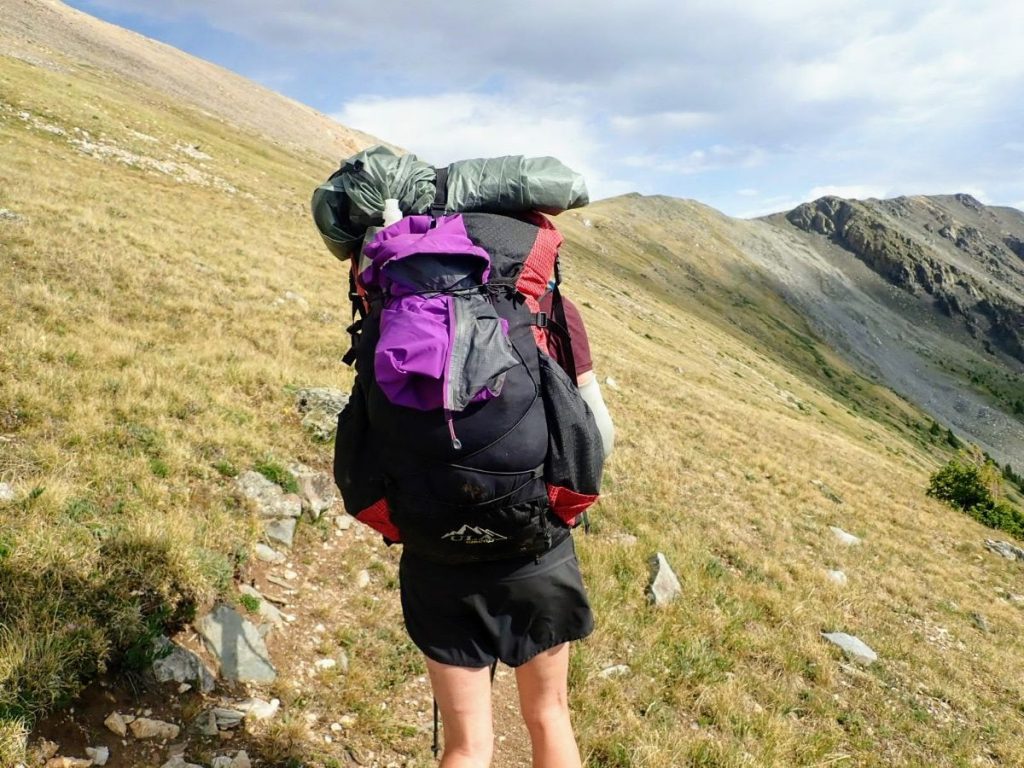 Is 45 liters too big for a day hiking pack?
Yes, 45 liters is more space than most people will need in a day hiking pack. The sweet spot for day packs is more like 15 – 30 liters, which is enough space for a day's worth of food and water, warm layers or rain gear, safety essentials, and other small items.
That said, a 45 liter pack is on the small side for multiday backpacking, which makes it better suited for day hiking than most backpacking packs. If you have a 45 liter pack that's comfortable and fits you well, there's no reason you can't day hike with it.
Especially if you're tackling a long day hike or preparing for tumultuous weather, you'll be glad to have the extra space. Some packs even have compression straps that can be cinched down to make a smaller load more comfy and stable inside a larger pack.
Can a 45 liter hiking pack be carry-on luggage?
Great question! If you often travel to faraway lands for your hiking adventures (lucky you!) a 45 liter pack is right on the border of being carryon-friendly.
The standard carry-on dimensions for most U.S. airlines are around 22″ x 14″ x 9″. If stuffed full, a 45 liter hiking backpack will probably not make the cut. If packed loosely and compressible, it may be able to squish into the necessary space.
Note that some packs have a stiff internal frame that can't be compressed, which would make many 45 liter packs too tall in the longest dimension. Check the pack dimensions and carryon requirements carefully. If carryon ability is a priority for you, a 35-40 liter pack is a safer bet.
Do keep in mind that some backpacking gear isn't carry-on friendly. Knives, stove fuel, and pepper spray are totally off-limits pretty much everywhere, while more ambiguous items like tent stakes, hiking poles, and stoves can be hit or miss.
Popular 45 Liter Hiking Backpacks
If you're still thinking 45 liters is the right size for your adventures, here are some of the best 45 liter hiking backpacks to consider.
Osprey Talon 44 – Men
Price: $185
Weight: 2 lbs 15 oz
The Talon is a versatile, durable, moderately lightweight backpack with a breathable suspension system and a variety of pockets and features.
Gregory Maven 45 – Women
Price: $220
Weight: 3 lbs 5 oz
Durable and comfortable pack with adjustable torso length, women-specific fit, and loads of practical pockets and features.
Big Agnes Sun Dog 45 – Women
Price: $230
Weight: 2 lbs 13 oz
The Sun Dog is part of a new line of backpacks from Big Agnes, new to the backpack space but well-known for their other outdoor gear including very popular lightweight tents.
Big Agnes Prospector 50 – Men
Price: $230
Weight: 3 lbs 1 oz
The Prospector is a little on the large side for this list of 45 liter packs, but it's the male counterpart to the Sun Dog 45 and still a great size for overnighters or lightweight long-distance backpacking trips.
Osprey Levity 45 – Men
Price: $250
Weight: 1 lb 12 oz
Osprey's premium ultralight pack, the Levity is designed for backpackers who enjoy optimizing their gear list and moving fast, light, and far.
Osprey Lumina 45 – Women
Price: $250
Weight: 1 lb 12 oz
The Lumina is Osprey's female-specific version of the Levity, designed for fast-and-light hikers with a dialed lightweight gear list.
Hyperlite Mountain Gear 2400 Windrider
Price: $320
Weight: 1 lb 14 oz
This ultralight pack is best for fast-and-light hikers with some experience paring down their gear list. The 2400 cubic inches (40 L) of internal volume and another 9.8 L of external volume put this pack somewhere in the 45-ish liter range, though it's measured slightly differently than others listed.
Whether you're a lightweight thru hiker, weekend warrior, or heavily loaded day hiker, a 45 liter pack can be the perfect size. If you're just getting started backpacking, a larger pack (55 – 65 liters) will give you more wiggle room and more options. On the other hand, a 45 liter backpack will encourage you to pack light, which is always a good thing.
More Hiking Resources
If you're into hiking or backpacking, you might also enjoy these:
Or, visit the complete hiking and backpacking section for lots more!
Excited about backpacking but need help getting started?
The Backpacking Trip Planner Workbook will help you start off on the right foot.


Hiking resources in your inbox?
There's more where this came from! Sign up here for occasional emails full of inspiration and information about backpacking and hiking.


Share the Adventure
If you found this article helpful, please consider sharing so more people can benefit from it: