Do you like your travel dusty, spontaneous, and a bit confusing? Do you regularly share transportation with farm animals and meals with people whose language you don't speak? If so, then you probably already know it's more about what's in your heart than what's in your backpack.
Still, I can't deny that when I'm rifling through my stuff in a dilapidated guesthouse under the watchful eye of a giant cockroach named Fred, there are a few things that always make me think "Damn, this is so frickin' useful."
Here are my top ten favorite pieces of adventure travel gear based on a recent five month solo trip in East and West Africa. I hope you'll find them worthy additions to your travel packing list. Just make sure to zip your pack at night so Fred can't get in and explore all your sweet gear.
Osprey Porter 46 Backpack
Let's start with the gear that carried all the other gear: the Osprey Porter 46 backpack. I loved this pack so much that I wrote a separate post all about it here.
It had a hard job! This thing was strapped to the top of cars, pooped on by animals, dropped in the mud, and more. I lived out of it for five months in seven different countries, carried it onto all my flights, and hiked with it for several days straight in Rwanda and Guinea. It was spacious yet easy to carry, and thoughtfully designed yet durable. I don't know of any other pack that could do all these things so well at the same time.
Ultralight Stuff Pack
What could I possibly love almost as much as my backpack? My even smaller backpack! The Osprey Ultralight Stuff Pack is feather-light, holds around 18 liters of not-too-heavy stuff, and folds up to nothing when not in use.
This little pack is perfect for day hikes, walks around town, keeping your essentials with you when your big bag is strapped to the roof of the bush taxi, and carrying those mangoes your new friends just gave you when they don't fit in your main bag.
There are a lot of collapsible day packs on the market and I'm sure most do the trick, but here's what I liked about the Osprey stuff pack: the gray color looked pretty shabby (a plus in my book but maybe not in yours) and didn't attract attention while traveling in places where I already attracted enough. The water bottle pocket on the outside was handy. I especially loved the small zip pocket at the top for keeping track of little things that would get lost or damaged (chapstick, sunglasses) in the main compartment.
Note that it doesn't have any internal structure to it, so unless you're stuffing it full of clothes it will be a bit saggy and lumpy. It also won't last forever; the logo wore off mine and there are a few tiny holes forming. But honestly, for how light it is and how much I put it through I'm impressed with the durability. I put two holes in my pants on my last trip yet this little pack is still going strong.
Hidden Pocket Undies
"Give me your bag" he demanded, and when I reflexively pulled away he got rougher and shoved me down, disappearing into the night with my small backpack as I hit the pavement. (Yes that's right, the lightweight backpack above. It even survived a mugging!) As I stumbled to my feet, alone in a dark alley in Freetown, my adrenaline-doped brain slowly processed the fact that I had just been violently robbed.
What was I doing there alone at night anyway? It's a long story about many things going wrong at once, and a good lesson. But my point is that even though I lost my phone, camera and some random other things – he took my pen and snacks, but left the contact lenses and family pictures – I still had over $1000 safely hidden in my underwear (ATMs are not common in West Africa). Never have I been so thankful for my Stashitware deep pocket underwear. I got mine on Amazon and haven't seen them elsewhere. Here are links to the women's version and men's version.
I prefer these to a money belt because they are even better hidden. I wear them on top of a regular pair of undies, and I keep my money and passport in a plastic bag to protect them from moisture during the non-stop sweat extravaganza of equatorial travel. The pocket is really big; the night I was robbed I even had my passport, camera memory card, backup sim card, and a few days of malaria pills in there! Super useful.
Postscript: some very helpful people were able to retrieve my little backpack with a lot of important stuff in it, though not the electronics, which had already been removed. Live and learn! And follow some basic safety precautions.
Headlamp
For those middle-of-the-night bathroom runs in the bushes, camping on the beach under the stars, or daily power cuts in areas with struggling infrastructure, you're going to want a headlamp. Being able to light things AND use both hands at the same time is a game changer.
For travel I prefer something simple and cheap, like this basic AAA-powered headlamp from Energizer. As you can see in the picture above, the strap has stretched out after many years but the light still works great. I've actually bought another one – the exact same kind – since this picture was taken. That's how much I like it.
A few of the other things it came in handy for: finding the holes in pit toilets, avoiding motorbike accidents, reading my positive malaria test result in a tent in the middle of nowhere, and seeing hundreds of tiny spider eyes staring back at my from the bushes. Creepy!
Scarf or Sarong
This one isn't just for women! Hear me out. When traveling rough it's essential to have a scarf, shawl, wrap, sarong, whatever you want to call it, amongst your travel gear. I use a simple square wrap like this that I bought on Amazon.
I have used this for oh so many purposes: a towel and post-swim coverup, dust wrap for my face, padding for hard and uneven seats on long overland journeys, a curtain in hotel bathrooms, and even a privacy screen for roadside pee breaks.
Small Notebook and Pen
Small but so essential, a mini notebook is always on my packing list for adventurous travel. I use it for itinerary notes, guesthouse recommendations for the next town, collecting contact info from people I meet, scribbling pronunciations during impromptu language lessons from locals, and writing down my own phone numbers (with a new SIM card every few weeks it's hard to keep track).
Admittedly, I use my smartphone for a lot of this when I'm traveling in developed places. But in areas where smartphones are less common and you don't feel like flashing yours around to every driver in the taxi park to communicate where you're going, a little paper notebook is just the thing.
As a bonus, even though I've since copied everything important from it into my phone, it's a lovely souvenir from my trip. Here's what a typical page looks like:
Silk Sleeping Bag Liner
Score, you just got a great deal on a guesthouse or hostel bed! You walk in, switch on the light (if it works) and, well, eeewww. Let's just say the bed sheets don't exactly look fresh.
Roll out your silk sleeping bag liner and sleep in peace. Tip: put a t-shirt over the pillow too.
If you're camping somewhere with a hot climate, a sleeping bag liner can also be all you need when the nighttime temperature drops from sweltering to bearable. In Africa I didn't bring a sleeping bag and just camped with this and, for the cooler nights, an emergency bivy (more on that below). You'll find it on a lot of backpacking and travel packing lists, for good reason.
A sleeping bag liner is small, light, and totally worth the little bit of space it takes up in your bag if you're going to be targeting budget accommodation. I've even used it in cheap hotels near home in America. Sometimes you just don't (even want to) know what's happened on those sheets.
Power Bank
"Le courant vient! Le courant vient!" That would be my Guinean host, rushing to tell us (in French) that all the town's sporadic electricity was making a brief appearance and we should all scramble to charge our electronics.
Even with such a foolproof system, it was a challenge to keep my phone charged on West Africa's sparse and unpredictable power grid. A USB power bank and a couple USB cables allowed me to bridge all but the worst gaps.
I've used and liked both the Anker Power Core 10000 and the Anker Power Core 13000. After getting used to the 13000 it's now my favorite because of two USB ports, convenient when you need to charge more than one device. They both charge my Samsung Galaxy completely several times, are very reliable, and don't take up much space.
Chlorine Dioxide Drops or Tablets
This is a generalization, but when traveling in developing countries you should usually not drink the tap water unless you know it's safe. Depending on where you are, the risk may be a mild stomach bug or it may be cholera; in either case, don't mess with it.
Even if you expect to buy bottled water everywhere, I highly recommend taking some kind of water treatment or filter as a backup. It can really save your butt in a pinch, or even just save you some money or a late-night run to the convenience store. If that's not enough to convince you, it's also more environmentally friendly.
I prefer chlorine dioxide drops or tablets because they are simple, reliable, and I know they work against everything if given enough time (Crytosporidium, the hardest bug to kill, takes 4 hours). They're also easy to discretely drip into my bottle in public places, unlike setting up a 4 liter gravity filter or pulling out a Steripen.
One important safety note: not all water filters and treatments are suitable for international travel. The filter you use for backcountry camping in California is probably not one to rely on in Sierra Leone or Mexico, because it doesn't get all the nasty critters more common in these parts of the world. Chlorine dioxide will do the trick if you follow the directions.
Collapsible Bowl and Spoon
It's one of the most foreign yet oddly pleasant experiences a traveler can have in parts of Africa: sitting down to dinner with a family around a communal bowl of food and eating it together with our hands. I've never felt so welcomed as a visitor. Still, there are going to be times when it's better – more sanitary, more comfortable, more culturally appropriate – to just scoop some food into your own bowl and use a spoon.
A travel bowl is also key for those quick ramen dinners, morning coffee, and mixing up a cup of Ovaltine when dinner was too spicy and you're still hungry. The travel spoon is perfect for eating peanut butter – a rare traveler's luxury in parts of the world – straight out of the jar.
You don't need to over-complicate this one, especially the spoon. But since I love to backpack (the hiking type) at home, I have a nifty collapsible mug that doesn't take up much room at all, and a small camping spork.
Honorable Mentions for Camping
Since camping isn't included in everyone's adventure itinerary, I'm putting these at the end. But if you do camp, especially in a warm climate with mosquitoes about, here are two pieces of gear I absolutely love.
Soul Tent from Big Sky International
I spent way too many hours researching mosquito net possibilities before my Africa trip, and ultimately am so glad I decided on the Big Sky Soul tent. It's designed for lightweight backpacking, and the solo version was small enough to carry in my backpack the entire duration of the trip. It's not cheap, but if you'll be using it a lot for either traveling or hiking I think it's absolutely worth it. They also make a two person version, but I've only tried the one person.
My little solo tent quickly became my safe haven, a relaxing space to climb into and call my own. Sometimes I would leave the rain fly off and enjoy the view. Other times I would shut it tight against a circle of curious children. One time in Liberia I pitched it on a hotel beach and paid $5 per night instead of $200 for the cabins behind it: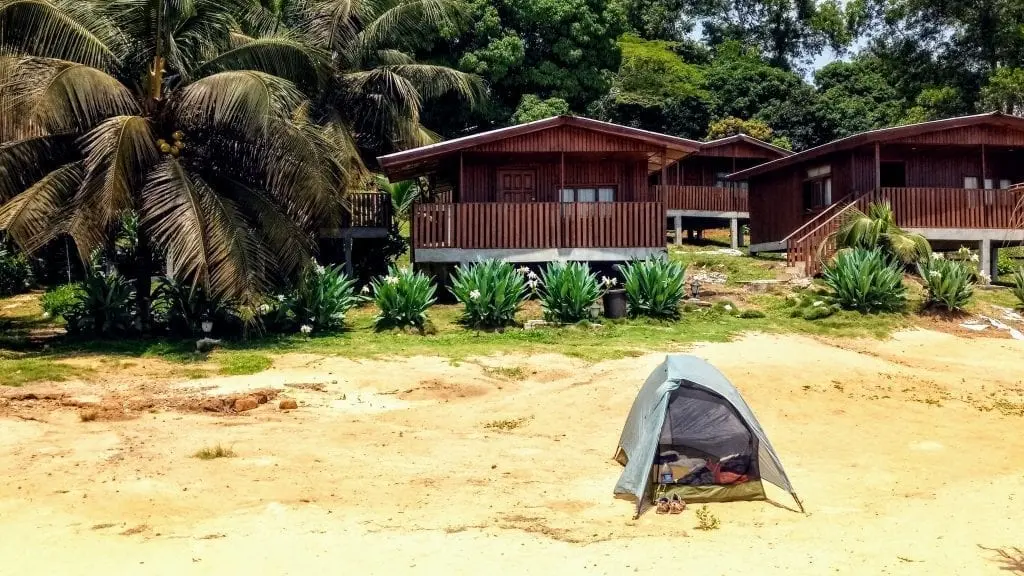 What's so great about this little tent?
Without the rain fly, the walls are completely mesh, which is key for ventilation on hot tropical nights.
With the rain fly, it's a very solid three season camping tent. It survived a few torrential downpours in Rwanda and the inside stayed dry.
It's free standing, which means the structure doesn't rely on staking out guy lines. This means you can pitch it on concrete, indoors, or even on a bed. I did this several times when I needed to sleep somewhere with no mosquito net.
It's small and light enough to carry almost anywhere. It fit neatly inside my Porter 46 pack, instead of needing to travel separately like some of the popular pop-up travel mosquito nets which collapse into a large disc shape.
Emergency Bivy
In warm climates it doesn't make sense to lug a sleeping bag around all the time for the occasional slightly chilly night. In Africa I hedged my bets and brought a metallic emergency bivy. This nifty piece of hiking gear is like a survival space blanket, but shaped like a sleeping bag, which makes it a lot warmer. Super lightweight and super small, I barely noticed it in my pack.
It was absolutely essential for a couple adventures like camping near the summit of the tallest mountain in Sierra Leone, or camping on the shores of Lake Kivu in Rwanda during the start of the rainy season. Paired with my silk sleeping bag liner and warmest clothes, it was just warm enough.
Emergency bivvies aren't meant to be used repeatedly, so eventually the reflective surface will wear off and become less effective. They also don't breathe very well, so expect your clothes or sleeping bag liner to be a little bit damp from condensation in the morning.
Do you depend on other key gear when you travel in adventurous places? Feel free to name your own essentials in the comments section below.
More Adventure Travel Resources
Travel resources in your inbox?
There's more where this came from! If you're into adventurous, thoughtful, off-the-beaten-track travel, sign up here for occasional emails with my best tips and inspiration.
Share the Adventure
If you found this article helpful, please consider sharing so more people can benefit from it: