New Zealand's Alps 2 Ocean cycle trail will always hold a special place in my heart as the trail that started it all. Though I didn't know it at the time, my current bicycle travel problem obsession began during four days of cycling from Lake Tekapo to Oamaru on the gorgeous south island of New Zealand.
This was a few years ago now, before the 10,000+ miles of bicycle travel that came after. But after hearing from some friends that Alps2Ocean is still lovely and new sections are still opening, I felt inspired to go back and transform my trip notes into an Alps to Ocean guide for future cyclists dreaming of the same trip.
Alps 2 Ocean Planning Resources
As with so many other New Zealand outdoor adventures, Alps2Ocean has a great website with detailed maps and up-to-date trail status reports. Definitely check it out as you plan your ride, especially the sections with trail maps and current status.
With this mini-guide, my goal is to give a more focused picture for a particular kind of Alps 2 Ocean rider. Many of the tips here will be useful for any rider trying to get a sense of the trail. The specific itinerary, however, is particularly well suited for people who:
Prefer to ride independently (no guide or sag wagon)
Prefer campgrounds and budget travel over expensive hotels
Have moderate fitness and some cycling experience
Alps 2 Ocean Overview
Quick Facts:
Distance: 310 km (from Mt. Cook) or 290 (from Lake Tekapo)
Start: Aoraki / Mt. Cook or Lake Tekapo
Finish: Oamaru
The Alps 2 Ocean bike trail crosses nearly the entire width of the south island, starting in the Southern Alps and finishing at – you guessed it – the ocean, in Oamaru. The distance of 310km is usually covered between 4 – 8 days, with riders camping or staying at hotels each night.
Trail surface varies, including dirt or crushed gravel trails cycle, gravel roads, and paved roads. When following roads, the traffic is usually – though not always – quite light.
As with pretty much anywhere in New Zealand, the scenery is a highlight. You'll pedal beside bright turquoise lakes, through valleys ringed with snow-capped peaks, and across wide open plains and rolling hills.
Beware: the freedom of transporting yourself through this big landscape, from small town to small town usually reached only by vehicle, might just get you hooked on bicycle travel the way it did for me!
Independent, Supported, or Guided?
Most people who cycle Alps2Ocean do so through a tour company that provides rental bikes, accommodation booking, meals, and luggage transfer. These folks enjoy simply pedaling and gawking at the scenery, secure in the knowledge that logistics are handled, any mechanical issues will be fixed by an expert, and their luggage will be waiting at their hotel each night.
Sometimes these trips are self-guided, meaning the luggage simply shows up each night but you ride alone during the day. Other times they are guided rides, perhaps with a group of people, where you are accompanied the entire way.
On the other end of the spectrum, I know bicycle travelers who've pedaled all over New Zealand (and elsewhere in the world) independently and ridden Alps2Ocean with their own bikes, carrying their own luggage, and camping wherever they found good spots.
My own trip was independent and self-guided, and I would definitely recommend this if you have a taste for adventure. We rented bicycles, packed up only the gear we needed for the ride, and hired the rental company (Cycle Journeys) to transport the rest of our luggage – we were on a three week trip and doing a lot of other things – from the start to the end of the route. Other than that, we didn't see them at all.
We navigated on our own, committed to fixing our own bike issues (they provided a flat repair kit – luckily we didn't need it as we didn't really know how), and found our own accommodation each night.
For those who prefer the mental vacation of having all the details organized, you have plenty of tour companies to choose from. If you prefer to travel independently but still need bike rental and luggage transfer from start to end, try contacting those tour companies and asking if they can provide only these services instead of a full-featured tour.
Bike Rental and Luggage Transfer
As mentioned above, most cycle touring companies can also provide bike hire for an independent trip.
For luggage transfer, make sure you're clear about what you want. One version is to have your luggage delivered to your accommodation each night, so you don't need to ride with it during the day.
The other option is to transport only the luggage you don't need for the ride (hiking gear, other travel gear for the rest of our trip) between the start and end points. You'll carry everything you need for the trip with you, including camping gear if you'll be camping.
This second option is the closest to independent long-distance bicycle touring, and is a great way to try it out. It also gives you the most flexibility during your ride, since there's no one to coordinate with. You will need to figure out how to carry all that gear on your bike though. Which brings me to…
Panniers and Gear Setup
This was the one hiccup in our plan. When the bike hire company said the bike came with panniers, we assumed they meant actual touring panniers, like the kind you can travel for months with (see this post if you're not sure what I mean).
When we got the bikes we discovered the panniers were actually small bags designed for holding daytime essentials, while the tour company transported overnight gear and luggage to accommodation each night. Apparently this is more common than our self-supported style.
We were able to make it work by stuffing those tiny panniers to the brim, strapping tent and sleeping bags to the outside, and putting everything else in our backpacks and riding with them. Not ideal, but this was our early days of bicycle touring and we fortunately didn't know any better.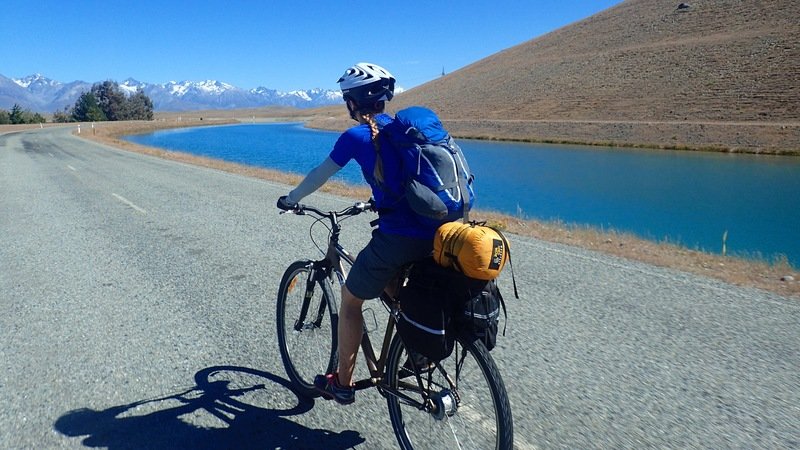 Important advice: If you're going to ride self-supported, with luggage transfer only between start and finish, ask the bike hire company for detailed information on the panniers or bike bags available.
A true pair of rear touring panniers should have at least 40 liters of capacity (20 liters each side) and some way to strap other items to the rear rack. If you can't find a company that provides this, prepare to get creative with straps and potentially wear a backpack while riding.
Where to Start: Lake Tekapo or Mt. Cook?
Alps to Ocean has two start points: the official one near Mt. Cook, and the "alternate" at Lake Tekapo.
Why did we start at Lake Tekapo instead of Mt. Cook? Wouldn't dramatic Mt. Cook, the highest mountain in New Zealand, make a better starting point for a ride called Alps to Ocean?
Yes, except for one little detail: Starting from Mt. Cook requires a short helicopter ride. While this would be amazingly scenic and is often included in organized Alps2Ocean tours, it was simply outside our budget. Therefore we started from Lake Tekapo, no helicopter required, and took in the scenery from two wheels instead.
For those interested in exploring more of the Alps, and/or for those who like scenic helicopter rides, I've heard good things about the Franz Josef Glacier walk. It's relatively nearby (as the crow flies) the Mt. Cook official start of Alps 2 Ocean, though in practice it's a bit of a drive on indirect roads. There are also a number of other gorgeous hikes near Mt. Cook if you have time before starting your ride.
Transportation To / From The Trail
Flying to New Zealand
With New Zealand being a bit far from most other places, most travelers bike the Alps 2 Ocean route as part of a longer vacation in New Zealand.
The majority of international flights to New Zealand fly into the Auckland airport on the north island. There's lots to explore in Auckland, including one of the best craft beer scenes in New Zealand, if you choose to start your trip here. The rest of the north island is home to some of my favorite outdoor adventures including the Kepler Track hike and the Whanganui River canoe trip.
If you have the time, consider starting your New Zealand vacation on the north island before working your way to the south island via a ferry or short flight from Wellington.
If you'll be visiting only the south island, most international flights still connect through Auckland and then on to Christchurch or Queenstown.
Which direction to ride?
There's a reason the trail is called Alps to Ocean and not Ocean to Alps: it's "downhill." Though you'll certainly have some uphill sections, the overall amount of climbing is less when riding west to east.
The other thing that slows cyclists down almost as much as uphill? Headwinds. Though not guaranteed, the wind in the area tends to blow from west to east, which is another great reason to ride in the same direction, from Lake Tekapo / Mt. Cook to Oamaru.
Getting to Lake Tekapo or Mt. Cook
It's common to explore New Zealand by rental car or campervan, but this gets a bit more complicated when doing a one-way bicycle trip.
Since you'll be using a bike as transportation to Oamaru over the next few days, it doesn't make sense to drive to the start of Alps 2 Ocean unless you can:
a) return the vehicle in Tekapo or Mt. Cook (check with the rental company),
b) arrange for it to be driven to Oamaru, or
c) return to the trail's start after you finish your ride (can be done by bus).
A simpler and cheaper option is to take the bus from wherever you are before starting the ride. Bus service in New Zealand is great and fairly easy to find between most towns. You can reach Tekapo from Wanaka by bus in about 2.5 hours, or a bit longer from Queenstown or Christchurch, both of which have airports. Intercity is the most popular bus company these days.
Onward Transport From Oamaru
So you just arrived in Oamaru by bicycle – congratulations! Luckily motorized transportation is easy to find from here. Buses head south to Dunedin or Queenstown, or you can pick up a rental car or camper in Oamaru and drive yourself anywhere you like.
If it's time to fly home, Christchurch airport is about 4 hours away by bus (Intercity or Atomic) and is the main airport hub for the south island. Before you fly out, check out these things to do in Christchurch to savor every last minute of your vacation.
Things To Do Nearby
There are plenty of other things to do on New Zealand's south island before or after your cycling trip. I particularly recommend Wanaka (for outdoor adventures like canyoning and rock climbing) and Queenstown (for an adrenaline rush as well as a good food and bar scene). You could fit these in either before or after, depending on your transportation and where you'll be flying out from.
New Zealand has good bus connections and readily available rental cars and campervans in most major towns. If you like to travel independently, consider piecing together a south island road trip before or after your bike ride.
Accommodations on Alps 2 Ocean
The Alps2Ocean website has an extensive directory of accommodation. It's particularly heavy on hotel options, some of which are fairly luxurious (with prices to match).
For budget-minded travelers, keep in mind that the website directory doesn't include all the camping options along the route. New Zealand's holiday parks – campgrounds with communal cooking, laundry, recreation space, and sometimes cabins – are one of the best things about traveling New Zealand on a budget.
To find more options, I suggest using a combination of Google Maps and the Maps.me app (a fantastic app for travelers) to look for "campgrounds" and "holiday parks." The downloadable PDFs from each section on the website also show campgrounds, and I've mentioned a few in the itinerary below.
Food Along the Trail
The towns along the route have a few restaurants, so if you time it right you can enjoy restaurant meals when passing through.
Otherwise, find the supermarket (usually Four Square) and buy some pre-made meals or ingredients (plus snacks for the next day) to take with you to the campground. This is definitely the cheapest way to fuel your ride if you're on a budget.
Most holiday parks have a communal kitchen, so you don't necessarily need a portable stove if you want to cook. It wouldn't be crazy to bring a small backpacking stove – these kitchens can sometimes be busy or far from your site – but it's definitely not necessary if you plan to stay at established campgrounds.
It's convenient to have your own bowls, cups, and a camping knife if you plan to cook.
Navigating Alps 2 Ocean
The route is signed in places, but you'll definitely want your own maps and navigation tools. Here's what I recommend.
Paper pamphlet and maps from your bike hire company, if they have it. If not, you can download a PDF of each section from the website (on the left side of the section overview on a desktop screen, or hidden below the photos on a mobile device).
Mobile phone with Google Maps (you can download areas for offline use if connectivity is a problem) and/or Maps.me with the proper region downloaded.
By cross-referencing between these two options, and following signs where they exist, you should have no problems following the route.
4 Day Alps 2 Ocean Cycling and Camping Itinerary
Here's the itinerary I used to ride Alps2Ocean with my husband in 2016. We hired bicycles, carried our own camping gear, and completed the route in four days.
Four days is a "fast" itinerary. The Alps 2 Ocean website states that it's only for experienced cyclists, which is probably true in most cases. We were NOT experienced cyclists, but we were into other endurance sports (backpacking, ultrarunning), so the concept of pushing through long days was familiar. Our days were indeed long, and we did feel quite tired!
If you've done some bicycle touring before, I think 4 days is very reasonable. If you're a beginner, I'd suggest 6 days unless you love the idea of a big challenge.
Further down this post I've also suggested a 5 day itinerary that would still be a challenge but give you just a bit of extra slack if four days seems too tight.
Day 1: Lake Tekapo to Twizel (40 miles / 64 km)
Our ride started from the YHA Lake Tekapo on Simpson Lane, a pleasant hostel with dorms and rooms. Our bike rental company dropped the bikes off first thing in the morning, we loaded up our luggage as best we could, and off we went!
The first day, which is described in detail in the Alternate Start section on the route website, is a gentle start with mostly flat and downhill riding on canal paths and quiet roads. You can stop in at the Salmon Shop, on the southern end of beautiful Lake Pukaki, for food and souvenirs.
In Twizel you can find a meal and hotel, or restock on food at the grocery store and head to the campground at Lake Ruataniwha Holiday Park on Max Smith Drive.
Day 2: Twizel to Lake Benmore (55 miles / 89 km)
Start the day with section 3, which is mostly more flat road and canal path to Lake Ohau. Here you can enjoy the view and optionally treat yourself to a fancy lunch at the Lake Ohau Lodge.
Pushing on into section 4, you'll start one of the tougher parts of the route: a scenic but rough trail climbing to the highest point on the entire route. Take your time and enjoy the view.
Take it easy on the dirt descent, then rejoin road into Omarama where you can find a meal and restock at the grocery store. Omarama has hotels, but if you like to camp then a nice option is to push on to Lake Benmore. About 5 miles past Omarama you'll find Lake Benmore Holiday Park, and 3 miles later Sailors Cutting (where we stayed), a large and festive family campground.
Day 3: Lake Benmore to Dansey's Pass near Duntroon (56 miles / 90 km)
This was a long day with a lot of highway riding, and unfortunately it rained on us most of the day as well. For those looking to recreate our 4-day itinerary, here are the details, but beware that this was the hardest day of our ride by far.
Leaving Lake Benmore on section 5 the "trail" is actually the highway, which was our only real disappointment with this "continuous" cycle route that is not actually continuous yet (though new sections are still being added – check their website for the latest status).
The highway traffic is light but fast and there is no shoulder, which can be a bit scary if you're not used to road riding. Keep left, wear bright clothing, and don't be afraid to pull of the road and left traffic pass if needed. See the recommended gear section below for more safety ideas, and these tips for cycling safely in traffic.
At Otematata you'll likely be relieved to turn off the highway and head toward the dam at the start of section 6. The dam itself is a short steep climb but very interesting. The road around Lake Aviemore is pleasant, and fortunately where the route rejoins the highway there is a new section of trail that's been opened since I cycled there.
In Kurow you can grab a meal and hotel, or buy groceries and head to the holiday park. Or, if you're on a 4-day schedule, keep on going to section 7!
The stretch from Kurow to Duntroon was on highway at the time we cycled it, but now a new section of off-road trail has been opened which should make this section much more relaxing.
In Duntroon there are several motels and a campground if you want to spend the night there. Or, you can push on into section 8 and go about 10km off route to Dansey's Pass Holiday Park. It's a really lovely place, with cabins and creekside camping and kind owners who took great care of us after our long day. If you're moving quickly and are up for exploring off route I would recommend it, but otherwise it probably makes sense to stay overnight in Duntroon. Note that you don't need to backtrack all 10km the next day; you can link up with the Alps 2 Ocean route on other backroads instead.
Day 4: Dansey's Pass to Oamaru (33 miles / 53 km)
After the challenge of such a long day 3, this last day will feel like a victory lap. Section 8 is mostly on car-free trails and a bit of quiet paved road through pleasant farm land. Be sure to say hello to the cows and the sheep.
Coming into Oamaru the route is well signed, and before you know it you'll be at the beach! Dip a toe and/or wheel in the ocean, take the obligatory picture with of the Alps2Ocean sign, then go find pizza and beer (I recommend Scotts Brewing Co.).
We dropped our bikes off one of the tourist information sites, where our remaining luggage was waiting for us just as we'd arranged with the tour operator.
That evening we treated ourselves to an ensuite room at the Top 10 Holiday Park on Chelmer Street to celebrate the end of our ride.
Modified 4 Day Alps 2 Ocean Itinerary
Though we loved the challenge of riding the route in only four days, I do have to admit that days 2 and especially 3 were pretty long. Now that more of the route is off the smooth paved highway, I would guess day 3 will take even longer, though it will be much more relaxing.
If I were to plan this trip again, I would try to make day 3 a bit easier. The challenge is how to break up the section from Kurow to Duntroon differently, since there don't seem to be any campgrounds between them.
One option is to spend night 3 in Kurow, then cycle all the way to Oamaru on day 4. That would mean 33 miles on day 3, and 52 miles on day 4. This makes day 4 pretty long, but at least you'd have a chance to get some extra rest on a short day 3.
This modified itinerary would be:
Day 1: Lake Tekapo to Twizel – 40 miles
Day 2: Twizel to Lake Benmore – 55 miles
Day 3: Lake Benmore to Kurow – 33 miles
Day 4: Kurow to Oamaru – 52 miles
5 Day Alps 2 Ocean Itinerary
If those days still look long to you, a five day itinerary might be more your speed. Here's one way to do it:
Day 1: Lake Tekapo to Twizel – 40 miles
Day 2: Twizel to Omarama – 45 miles
Day 3: Omarama to Waitangi Campground (on Lake Aviemore) – 30 miles
Day 4: Waitangi Campground to Duntroon – 30 miles
Day 5: Duntroon to Oamaru – 36 miles
One downside: you'll be staying in Omarama (there is a holiday park there if you want to camp) instead of camping on the shores of Lake Benmore, but you'll get to camp at Lake Aviemore the next day to make up for it.
To extend this itinerary to 6 days, you could spread the first two long days out over three days, or build in a short rest day somewhere else. For more ideas on slower itineraries, see the Alps 2 Ocean website.
Recommended Gear
Here are some particularly useful items I recommend for cycling Alps 2 Ocean that you might not already have in your packing list.
Good rain gear: jacket and pants, possibly gloves and shoe covers. Learned this the hard way!
Recommended safety gear: bring at least one or two of these if you can:
Padded bike shorts and chamois cream: optional but recommended, especially for those riding ambitious long days. See this post on bike saddle comfort for more detail.
Sunscreen and sunglasses (hopefully on your list already but worth mentioning again)
Small to medium backpack for carrying extra food, water, and luggage that doesn't fit on the bike, if you're riding self-supported and your bike hire company doesn't provide full size touring panniers.
Some way of carrying drinking water. If using a backpack, I recommend a 3 liter hydration bladder.
Camping bowl, spoon, and knife for eating meals you cook at holiday parks
If you're camping you'll obviously need all the usual camping gear: tent, sleeping pad and bag, etc.
Your bike hire company should provide helmets, bike locks, a puncture repair kit and some kind of rack and bag system. Be sure to ask and confirm.
Bikes
What kind of bike is best for Alps 2 Ocean? If you're renting, you'll get whatever the company provides. Most seem to be hardtail mountain bikes, which work just fine and are comfy on the few rougher sections.
A fully rigid bike would definitely work too though, and many touring cyclists ride the route on standard touring bikes like the Long Haul Trucker. There's really only one small semi-technical section after Lake Ohau, and the rest is fairly smooth.
Other Tips
Don't skimp on rain gear! We were in New Zealand in January, which is technically summer, but still got really cold riding in the rain on day 3.
It's really worth bringing some of the high-visibility safety gear mentioned above. You'll want it on the highway sections (just imagine all those tourists driving rented campervans on what, for many of them, is the wrong side of the road).
Traffic moves on the left in New Zealand! If you're used to cycling in countries where traffic moves on the right, you'll need to adjust. It doesn't take long to get used to it though.
If you sometimes have saddle soreness, definitely bring a pair of padded bike shorts and some chamois cream (see gear list above). Don't count on the saddle on your rental bike being a perfect fit for you.
More Bicycle Touring Resources
If you're interested in a long bike ride through New Zealand, you might find these helpful:
Bike resources in your inbox?
There's more where this came from! Sign up here for occasional emails full of inspiration and information about bikepacking and bicycle touring.


Share the Adventure
If you found this article helpful, please consider sharing so more people can benefit from it:
Pin For Later