Just by reading this article, you're supporting the Arizona Trail Association. Each year I donate a portion of the ad revenue from this page to the ATA to support their work as trail caretakers. Thanks for reading!
As any thru hiker knows, half of planning your hike is deciding where and when restock on trail food. And, of equal importance, where and when to scarf down a burger the size of your head and toss back an IPA or two.
My husband and I thru hiked the AZT in spring 2021 and found resupplying to be an interesting puzzle. Resupply on the Arizona Trail isn't particularly hard, but it might require some thought if you're used to trails like the AT and PCT.
On one hand, a number of on-trail resupply options mean you can almost get by without hitching or shuttles, but not quite. On the other hand, some of these spots don't have lodging. If you want a bed you'll eventually need to find your way into a town, and that town's existence will not revolve around thru hikers on this uncrowded trail.
In this post I'll share the AZT resupply plan from our NOBO spring 2021 hike, as well as notes on what went well and what I might do differently in hindsight. I hope it'll help you plan your own Arizona Trail resupply strategy.
Overview of Lessons Learned
Before I get into the details of my Arizona Trail resupply plan, here's an overview of my top takeaways.
What went well:
A mix of mailing boxes to small towns and shopping in large towns allowed us to eat a bit healthier and not get totally sick of our own food.
Heading NOBO you get to start with shorter food carries and work your way up. However, the terrain in the south and central portions is harder than the north, so perhaps that balances out.
Resupplying just after a big climb is always better than just before; get the climbing in while the packs are light! It's impossible to sequence them all perfectly, but we were glad to have light packs on the big climb just before Summerhaven in particular.
What could have been better:
We pushed through a long stretch – 18 days – before our first zero day and night in a motel. This seemed efficient and budget-friendly during the planning process, but once on the trail it felt a bit too long between showers, laundry, and good rest. In the second half we started taking more zeros and even double zeros, which helped us recover from the longer mileage days.
Heading out of Roosevelt on one of the steepest climbs, packs heavy with our longest food carry, during a heatwave, was perhaps the hardest part of the whole hike. Hikers seeking some extra relief might want to arrange a shuttle into Payson from Sunflower instead of pushing all the way to Pine at mile 461 (more detail below).
Thru Hiking Resupply Checklist
Spend your town time resting and eating instead of worrying what you're forgetting. Download this free town day resupply checklist to your phone, or even print it out like in the old days:
Get the Checklist
My AZT Resupply Plan
Here are the places we resupplied, the number of days between each, how we got there, whether we shopped or mailed our food, and other useful notes.
For information on mailing boxes to the establishments below, check their Guthook waypoints. I'd rather not list addresses here because they can change from year to year, and some of them don't accept boxes every season. You can also check the Arizona Trail Facebook group for the current year, which often posts updates on resupply options.
Keep in mind that many post offices have limited hours, so always try to ship your box to a store or motel instead, if you can find one that accepts packages.
Patagonia
Mile 51 / day 4
Directly on trail
Mailed box to post office
Didn't spend the night, but they have a motel and RV park
Patagonia was a welcome stop after our first few days on the trail, but we didn't feel the need for an overnight stay after only 4 days. We just picked up our box from the post office, enjoyed burgers at the inn, and headed out the same afternoon.
Colossal Cave
Mile 119 / day 9
Almost on trail
Dropped off box in person (can also be mailed)
Spent night at campground ($10)
Colossal Cave is one of the more convenient on-trail resupply options if mailing boxes to yourself. The campground costs $10 and is a half mile hike from the store, with water and bathrooms but not necessarily near your site. It's a good place to spend the night if you've relaxed at the store (yes they have beer) and don't want to hike out the same day. On the other hand, there's plenty of free camping just a short distance away if you can get moving. If you do stay at the campground, guard your food from rodents!
They were fully booked for tours on the day we arrived (a weekday even), but otherwise we would have taken a cave tour while there.
As an alternative to Colossal Cave, some hikers go into Vail instead. It's apparently a bit hard to get to and not the easiest to get around, but it does help break up a long stretch without many options for indoor lodging.
Summerhaven / Mt. Lemmon
Mile 184 / day 15
On trail
Mailed box to general store
Didn't spend the night (no affordable motels)
There aren't any obvious places to stay in Summerhaven, though perhaps vacation rentals are an option (didn't check but it seems like that kind of place).
Some hikers sleep in the post office, but I'm not sure how long this will be allowed if too many people take advantage of it. Hikers were recently asked to stop sleeping in the community center, and I'm guessing the trail's increasing popularity will make it impossible for this small community to extend such generosity much longer. Best to save the post office for nights with truly heinous weather, and plan to hike out of town otherwise.
We enjoyed pizza and face-sized cookies at the Cookie Cabin (recommended!), picked up our box and some beers from the general store, and enjoyed a few hours of rest before hiking out of town.
Note: going NOBO the area right after Summerhaven – Oracle Ridge – is very windy without many good camp spots. We camped near the fire station just before the trail leaves the dirt road, otherwise you'll need to go another few miles before finding a good spot. Going SOBO you'll have some great options in Sabino Canyon shortly after leaving town.
Some hikers push through Summerhaven and take their rest time in Oracle (2.5 miles off trail from mile 205) or High Jinks Ranch (on trail at mile 196, accepts resupply packages, closed when we came through but looks like a great option if it's open).
Kearny
Mile 263 / days 20 and 21
7 miles off trail (easy hitch)
Resupplied at grocery store
Spent two nights (a nearo and zero) at the General Kearny Inn
Our first motel and rest day! Much needed, and Kearny is a great place to take it. The grocery store is totally adequate for a full resupply and the small town is very easy to navigate on foot, making Kearny one of my favorite resupply stops on the Arizona Trail.
Kearny is known as the easiest hitch on the AZT, and indeed we got lucky. Within just a few minutes of arriving at the road, a woman who had just dropped her husband off for a section hike picked us up and took us the 7 miles to Kearny even though it was out of her way.
On the way back we had a harder time, but got a ride with the pizza delivery folks from Old Time Pizza who regularly deliver to the trailhead (be sure to try their pizza too!). We've heard they'll pick you up and bring you to town too if you can't get a hitch (but try hitching first).
Note: the General Kearny Inn is the only inn in town, and they often fill up, especially during the week. Call ahead and book a room if you want to stay there. They have on-site laundry and a communal kitchen. Otherwise, there's free camping near the lake just a little ways from town.
Roosevelt Marina
Mile 345 / day 26
Almost on trail
Dropped off box at store (can also mail)
Camped in parking lot at "hiker shed"
Roosevelt Marina (different from the town of Roosevelt) is a convenient Arizona Trail resupply stop, especially if mailing boxes. You could potentially manage a limited and expensive resupply from their store or scavenge from the hiker box, which was overflowing when we were there.
Supposedly they charge $10 per box to hold resupplies, but in practice this seems to depend on who's working there and what mood they're in. Be prepared to pay if asked.
They have an on-site restaurant and bar and allow hikers to camp for free in the parking lot, making this a great place for a nearo. I wouldn't necessarily recommend it for a full zero since it's not the most peaceful place to hang out during the day. That said, the food is good and there are porta-potties and running water nearby.
The stretch from Roosevelt to Pine is long (115 miles), tough (lots of steep, rocky climbing), and can be very hot and shadeless. Some people break it up by arranging a shuttle into Payson from Sunflower at mile 386.7 NOBO / Highway 87, which is said to be a hard hitch of 32 miles; check Guthook for shuttle info. Payson is easier to reach from mile 461 at Pine, but if you need to resupply before then, this is your best option.
Pine / Payson
Mile 461 / days 33 and 34
Almost on trail (Pine) / 15 miles off trail (Payson)
Mailed box to Pine post office
Hitched from Pine to Payson and took two zero days at Comfort Inn
Pine is about a mile off trail and a popular resupply stop. Accomodation is a bit limited but many hikers book a cabin or Airbnb and enjoy the several good restaurants in town. THAT Brewery usually accepts resupply boxes and rents rooms, which would make it a great one-stop resupply shop, but in spring 2021 they didn't due to the pandemic.
The Pine post office will hold packages "until you get here" (as I was told over the phone), or until a couple weeks after the ETA you list on the box. So, pad your ETA by a few days if unsure.
We had originally planned to pick up our box from the post office and head right back to the trail, so hadn't booked any accomodation in Pine. But after the challenging section from Roosevelt Marina we were craving more rest. We ended up hitching to Payson (seemed like an easy hitch, we found a ride in about 20 minutes), which has abundant chain motels and restaurants, and spending two full zero days recovering there. To return to Pine from Payson we used Jerry's Shuttle (602-430-4898, $30).
Flagstaff
Mile 570 / days 41 and 42
On trail if you take the urban alternate, or a short hitch or Uber ride from the eastern route
Resupplied from grocery store
Took two zero days at Traveler's Inn
Flagstaff is the biggest town / city on the AZT, and a highly anticipated resupply stop for most hikers. We took the "urban" alternate route right through the city, which is 13 miles shorter than the official route which skirts it to the east. Note that the AZT total mileage count, and all mileage counts north of Flagstaff, assume the eastern route. So if you're planning daily mileage you'll want to account for this difference as you head north from Flagstaff.
We thought the urban route was a nice change of pace from all that pine forest, and only a couple miles were truly on paved city streets. But it could be a bit jarring if you're deep in a wilderness frame of mind. Those wanting to stick to the wilderness could resupply in Mormon Lake (just before Flagstaff and slightly off trail) and then push to the Grand Canyon South Rim (a long carry) or access Flagstaff from the eastern route.
Flagstaff has everything you need: infinite motel options (Traveler's Inn is affordable, close to Fry's grocery store and the trail, and has a fridge and microwave in room), tons of restaurants and breweries, REI and local gear shops, and several well-stocked grocery stores. Fry's had a great selection that included healthy and non-standard options (keto, gluten-free, etc), but there's also Whole Foods and Safeway. If you're going to resupply from a grocery store at one place on the trail, make it Flagstaff.
Many hikers take a couple zero days in Flag before beginning the final push NOBO, or to rest after the first major section heading SOBO. Just be aware that it's more spread out than the smaller trail towns, so leave time to take an Uber or bus or just walk a few miles to run your errands. The more charming downtown area is a couple miles from where the trail passes through some nondescript shopping centers; both areas have motels.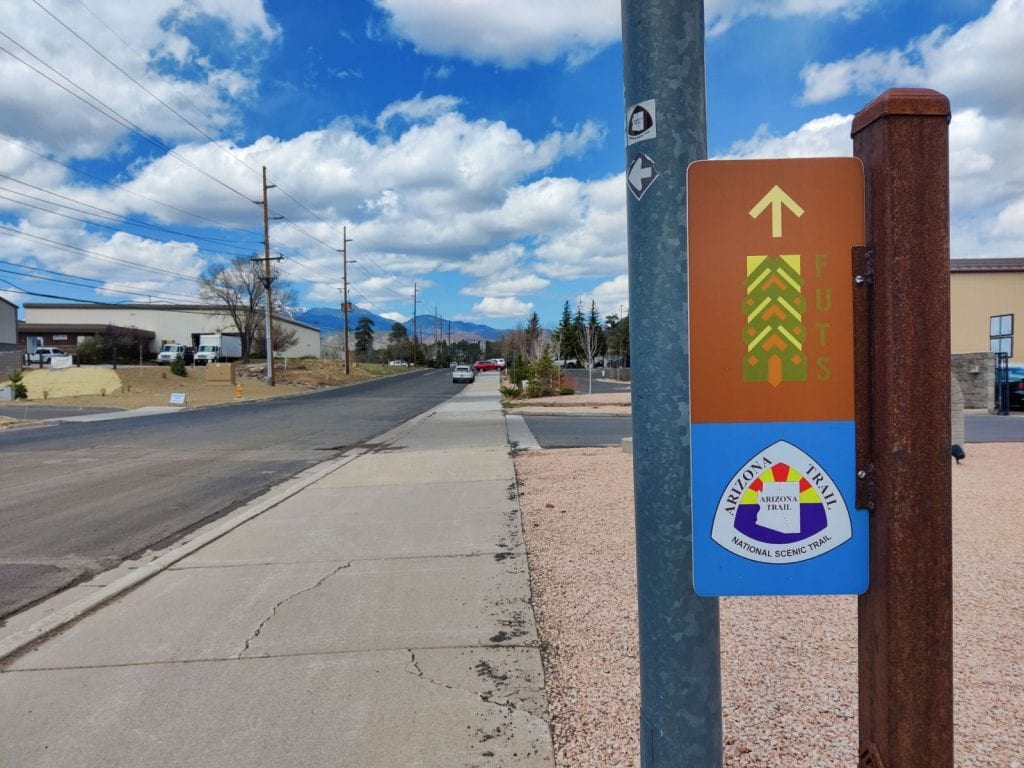 South Rim Grand Canyon
Mile 688 / day 48
0.7 miles off trail
Mailed box to post office (limited hours; the Visitor Center in Tusayan a few miles south is another option)
Also shopped at general store
Spent 1 night at Hiker / Biker site at Mather Campground ($6 per person, no reservations needed)
Most thru hikers stop here for at least one night to organize their permit for the Grand Canyon, or just to take some rest before setting out on the next section. Since most stay at the hiker / biker campsite, it's also a good time to connect with other thru hikers. The general store is surprisingly good (best craft beer selection on the entire trail!) and would work for a full resupply. There are a couple restaurants where you can enjoy a good hot meal.
We mailed a box to the post office c/o general delivery, but note that they only hold packages for 30 days. So if heading NOBO you probably can't mail it before you start unless you're super-fast. Ask someone at home to mail it for you while you hike. Another option is to send a box to the Visitor's Center in Tusayan a few miles SOBO, but I don't know how long they hold packages for.
The Backcountry Information Center is the place to go for Grand Canyon permits, but in 2021 they were asking us to email them for walk-up permits a few days in advance instead of coming in person. Check the Guthook waypoint for the latest details on permits during your hiking season.
Note for fall SOBOs and late-season NOBOs: the north rim is an alternative but only open from around May 15 to October 15 (check each year for exact dates). It was closed when we went through, but if the timing works out this would be a great place to restock on food for your last few days NOBO instead of carrying it all through the canyon.
Daily Mileage on the Arizona Trail
A big part of resupply planning is figuring out how far you plan to hike each day. The Arizona Trail is far too long to plan out each day, but you'll want to have a general sense of your pace in order to mail resupply boxes or guess how much food to buy at each stop.
How many miles per day can you expect to hike on the Arizona Trail? The answer varies hugely depending on your experience and style. We met experienced Triple Crowners starting out with 20 mile days and ramping up to 25-30's in the flatter northern section. We also met folks starting out around 10 miles per day and ramping up to 15-18ish on their longest days.
We hiked around 15-18 miles per day on the harder southern and central sections, and around 18-22 miles per day on the flatter northern section. This kept us busy for most of the daylight hours and occasionally a bit of night hiking, especially in the hotter stretches. Your mileage may vary!
We consider ourselves fairly average thru hikers, in our mid-thirties in decent shape with prior thru hiking experience in the 200 – 500 mile range. Our gear is lightweight but not ultralight. I estimate my pack weighed between 20 – 35 pounds depending on food and water. Our total time on the trail was 53 days, including 5 zeros and a handful of half-days and nearos.
Note that the AZT feels almost like two trails stitched together around Pine at NOBO mile 460. The southern and central sections are often steep and rocky with quite a bit of climbing. After the Mogollon Rim north of Pine the terrain is much gentler (with the notable exception of the Grand Canyon!) and it's easier to cover more miles per day. Take this into account as you plan your resupply stops.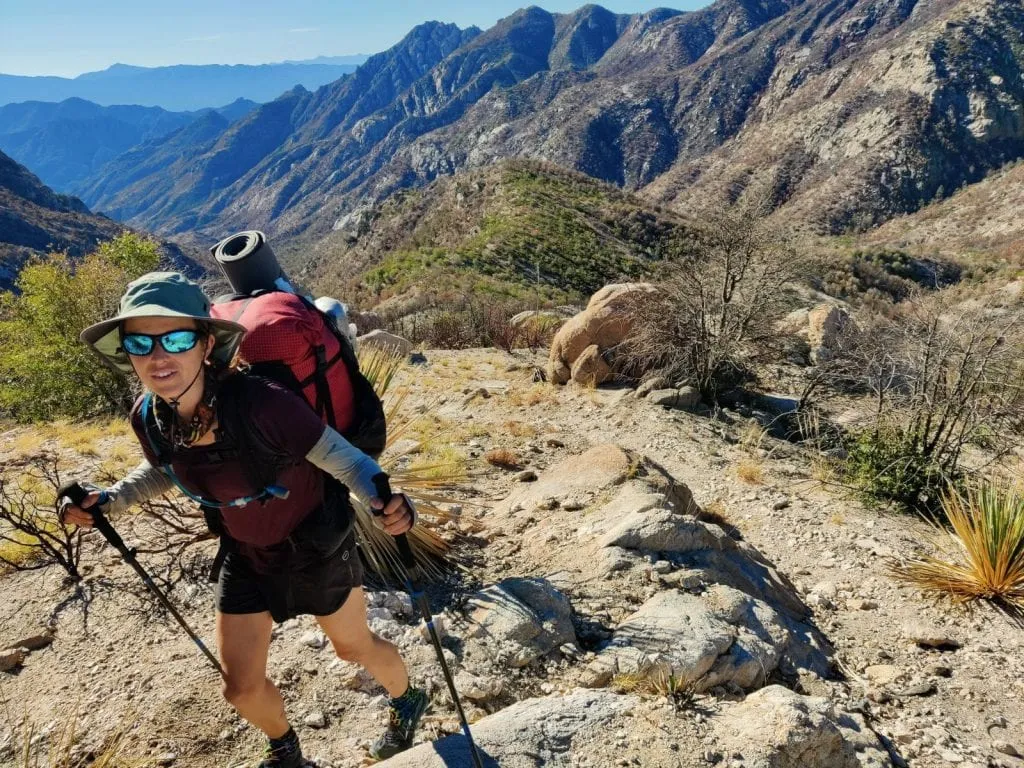 Other AZT Resupply Resources
The above list is NOT a comprehensive guide to Arizona Trail resupply options, just my own plan and experience. For a full list and more information, check out these resources:
More Arizona Trail Resources
If you're planning an Arizona Trail thru hike, you'll also find these helpful:
Or, check out more hiking and backpacking resources from Exploring Wild.


Hiking resources in your inbox?
There's more where this came from! Sign up here for occasional emails full of inspiration and information about backpacking and hiking.


Share the Adventure
If you found this article helpful, please consider sharing so more people can benefit from it: