When I first started backpacking, the gear decisions seemed endless! I peered down the rabbit hole and worried about spending all my money on gear, year after year, in order to hike all the trails I dreamed of.
Fortunately, all the years and miles of experience have made my gear preferences so much clearer. These days I can quickly mix and match from my collection to create a backpacking gear list for any trip. This post is a list of the backpacking gear I know well and pack often, the true favorites I use and recommend the most.
My style is balanced: I prefer lightweight gear but also care about comfort. I'm budget-conscious but will splurge on quality gear that provides a ton of value. I appreciate new technology but also find it satisfying to use what I have until it wears out. Let's go rummage through my gear shed!
Table of Contents:
When you buy through affiliate links in this post, I may earn a small commission. Thanks for your support! I always offer unbiased opinions based on real experience from the road and trail. Learn more.
Favorites Under $20
If there's one thing I love, it's gear (or anything else) that delivers massive value per dollar spent. These favorite items of backpacking gear under $20 do exactly that.
Backpack
ULA Circuit Backpack
The only pack I've ever loved (after a few that I definitely didn't). Lightweight yet durable, easy to use, comfortable for me up to about 30 pounds. Multiple hip belt sizes and shoulder strap styles make for a nearly custom fit. Detailed review here.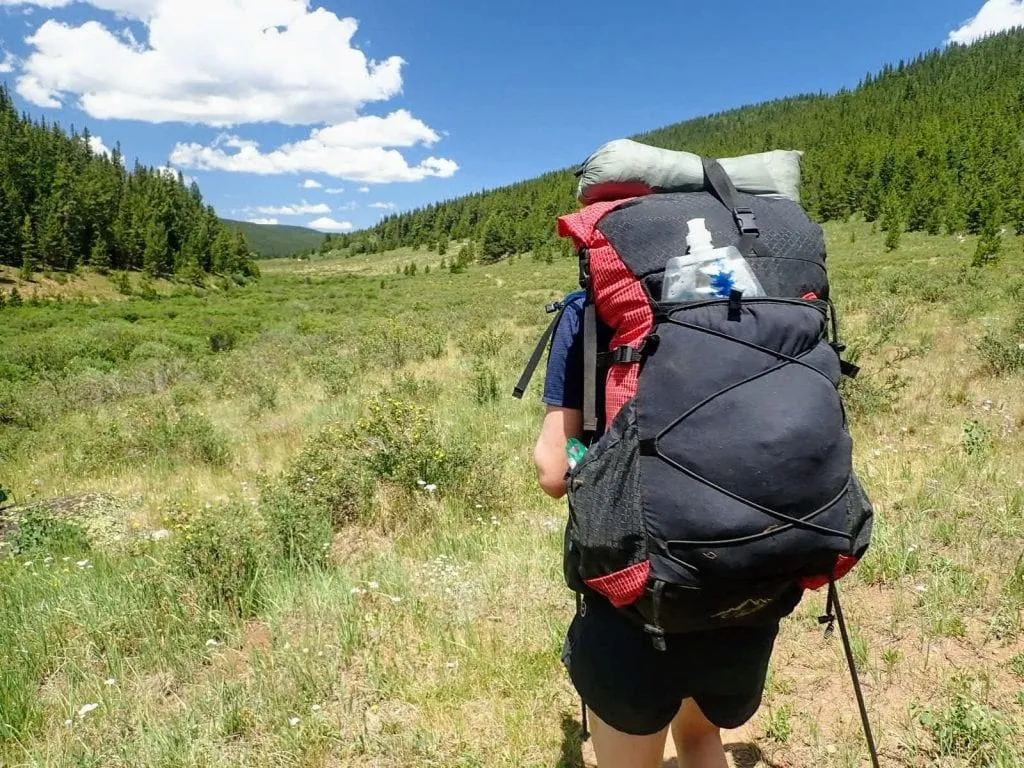 Shelter
Big Sky Soul Solo 1P Tent (detailed review here)
My go-to lightweight tent for all but the most ultralight trips. Conveniently free-standing, fairly roomy, and very fast to set up. To see how it compares to other solo tents, here's a visual comparison based on price and weight.
TarpTent Double Rainbow
My husband and I have used this lightweight 2 person tent for our joint backpacking adventures since 2014. It's a classic, and still popular for its combination of light weight, simple setup, and reasonable price.
Six Moon Designs Haven 2 Person Tarp (detailed review here)
This shaped lightweight tarp is roomy, fairly secure in bad weather, and easier to pitch (with trekking poles) than more minimalist tarp styles. My husband and I used it in conjunction with our bivvies (below) for both the Colorado Trail and Arizona Trail.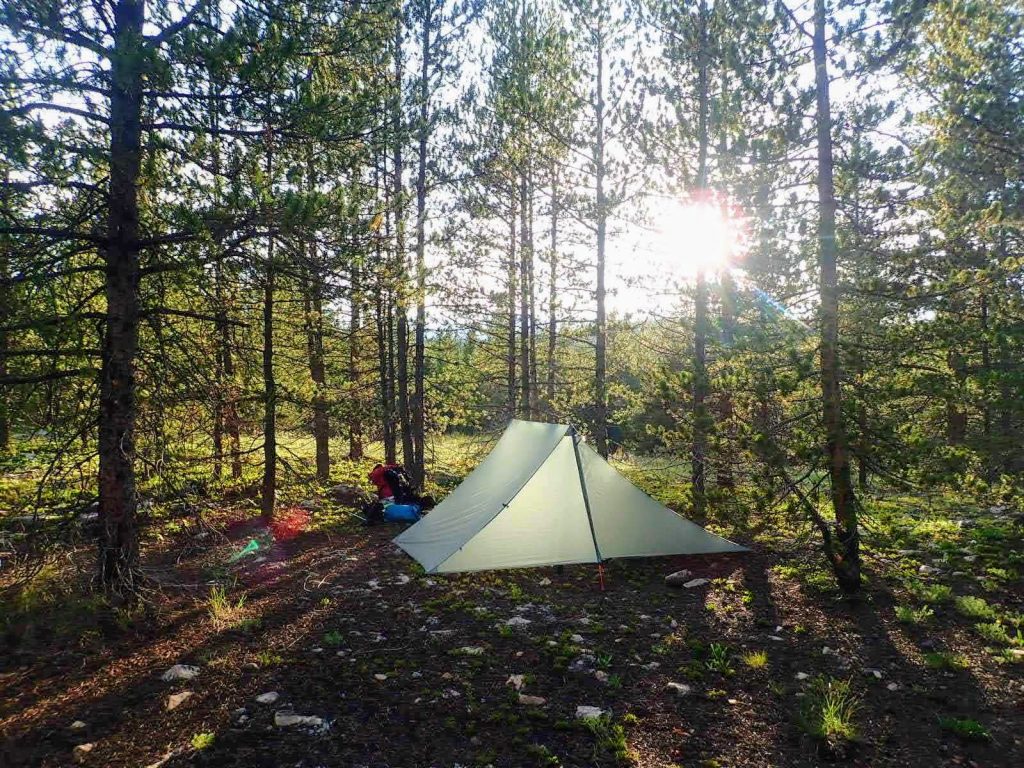 Borah Gear Cuben Bivy (detailed review here) – ultralight
Ultralight water-resistant bivy with bug netting over head area. Worked wonderfully on the Arizona Trail and Colorado Trail (together with a Haven Tarp for rain protection) as well as a number of shorter trips.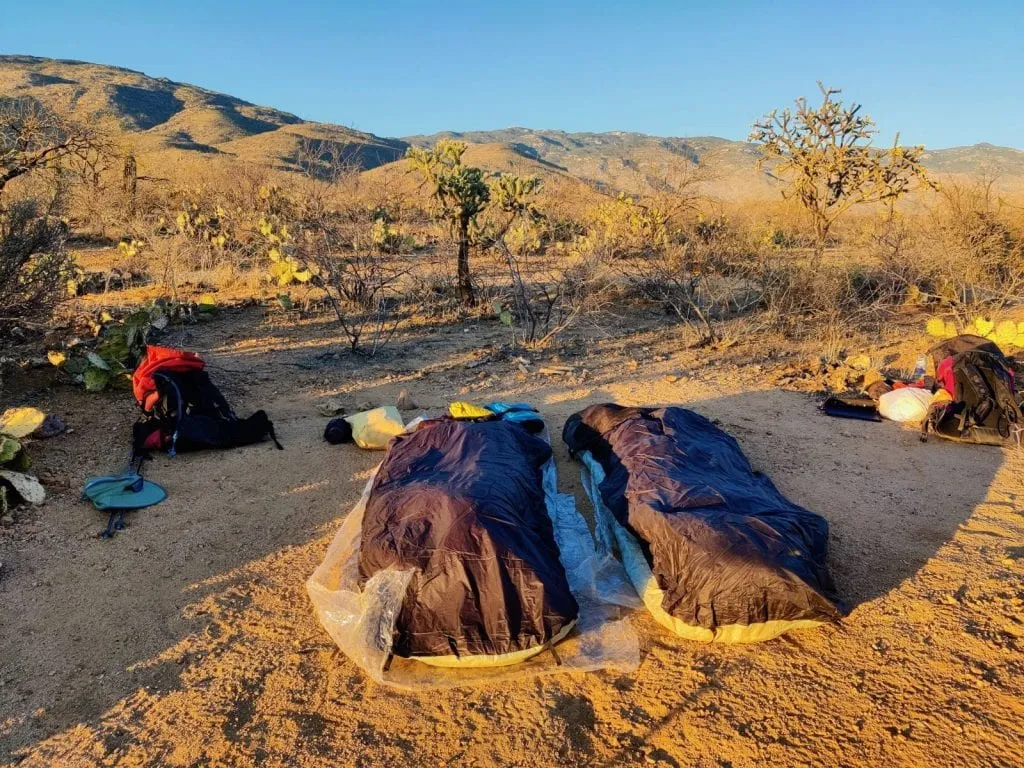 SOL Emergency Bivy
Add warmth to a minimalist sleeping quilt, emergency waterproof protection for tarp users, or even lightweight insurance on a gnarly day hike.
Sleep
Therm-a-rest Neo Air X-Light sleeping pad
Tried and true classic, the only sleeping pad I've ever loved. As both a side sleeper and a cold sleeper, I find this sleeping pad is more than worth the cost.
Enlightened Equipment Convert 10F hybrid quilt
My go-to for when nights might approach freezing.
Enlightened Equipment Enigma 10F quilt – ultralight
My go-to for fast-and-light trips where nights won't be too cold.
Enlightened Equipment Hoodlum hood – ultralight
Use with the Convert or Enigma for sleeping, or for extra warmth on the trail or in camp.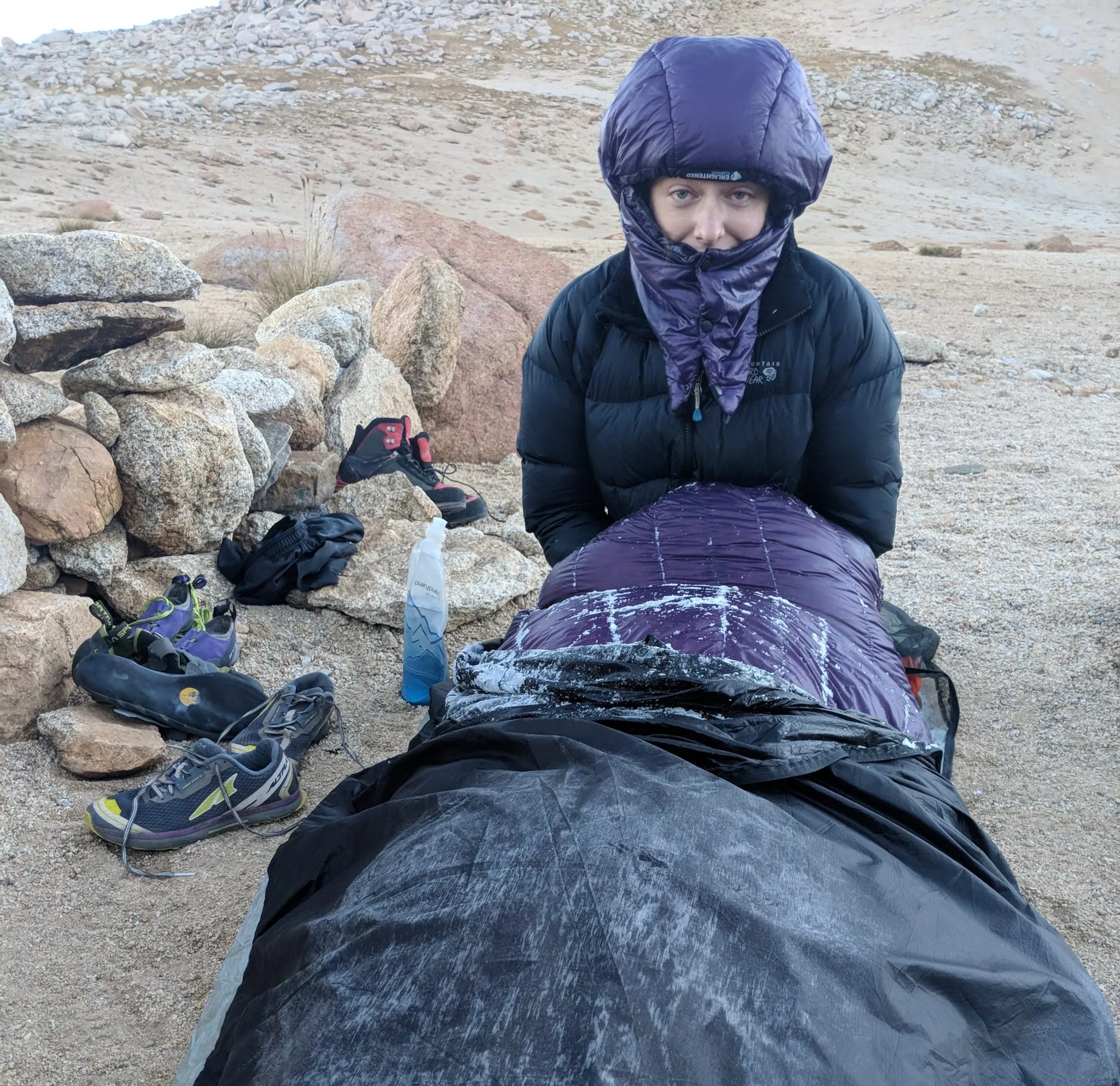 Water
Sawyer Mini Water Filter
My go-to for all solo backpacking trips, and faster/lighter trips with companions. If water will be especially dirty I recommend the slightly larger Squeeze model instead for its faster flow rate and clog-resistance.
CNOC Vecto 3L water bag (detailed review here)
I use as a replacement for the Sawyer squeeze pouches to turn my Sawyer into a gravity filter.
Platypus 4L GravityWorks Filter System
Extra convenient, high-capacity filter system for groups and/or more leisurely trips.
Aquamira Chlorine Dioxide Drops
Add waterborne virus protection to a standard filter for travel or especially sketchy water sources, use alone on fast-and-light trips, or carry as backup in case of failed filter.
Platypus 3 liter hydration bladder
Durable, reliable, easy to drink from.
Hydrapak Bite Valve
I replaced the standard bite valve on my Platypus bladder with this one, which has a handy shutoff valve and cover both included.
Platypus 1 liter soft bottle
Convenient for adding extra water capacity as needed, and for use in camp or whenever a hydration bladder is unwieldy.
Food and Cooking
Backpacking Stove With Piezo Ignition
This little thing was the first backpacking stove I ever owned, and it's still going strong! It's super cheap, light, and has been very durable.
Esbit Stove and Fuel Tablets – ultralight
It's hard to cook a full meal with this setup, especially in cold weather or at high elevation. But if you just need to warm up some ramen or make hot instant coffee on a short trip, it's a nice lightweight setup. The stove just barely fits with the Snow Peak Ti mug listed below, so you don't need to bring a dedicated pot.
JetBoil MicroMo
After years of using a traditional backpacking stove, I finally splurged on a JetBoil for the Colorado Trail. The goal was to carry less fuel and heat water more efficiently at high altitude and cold temperatures. It worked great and I would choose it again, especially if sharing cooking gear with a hiking partner. Weight and bulk are similar or even less than a non-integrated cooking system with separate stove and pot, but a bit more than just a titanium mug and traditional backpacking stove.
TOAKS Titanium Long Handle Spoon
Eat directly from taller pots or ziplock bags without getting your hand dirty.
Sea to Summit Collapsible X Mug
Great for either eating or drinking (note there's also an X Cup which is smaller, so I prefer the mug). They do eventually wear out, but it takes a LOT of use.
Snow Peak Titanium Mug – ultralight
Kind of a splurge (these were a wedding present) but they're super light and durable. Can be used directly on a stove as a pot, which makes for a nice lightweight cook setup for solo backpacking.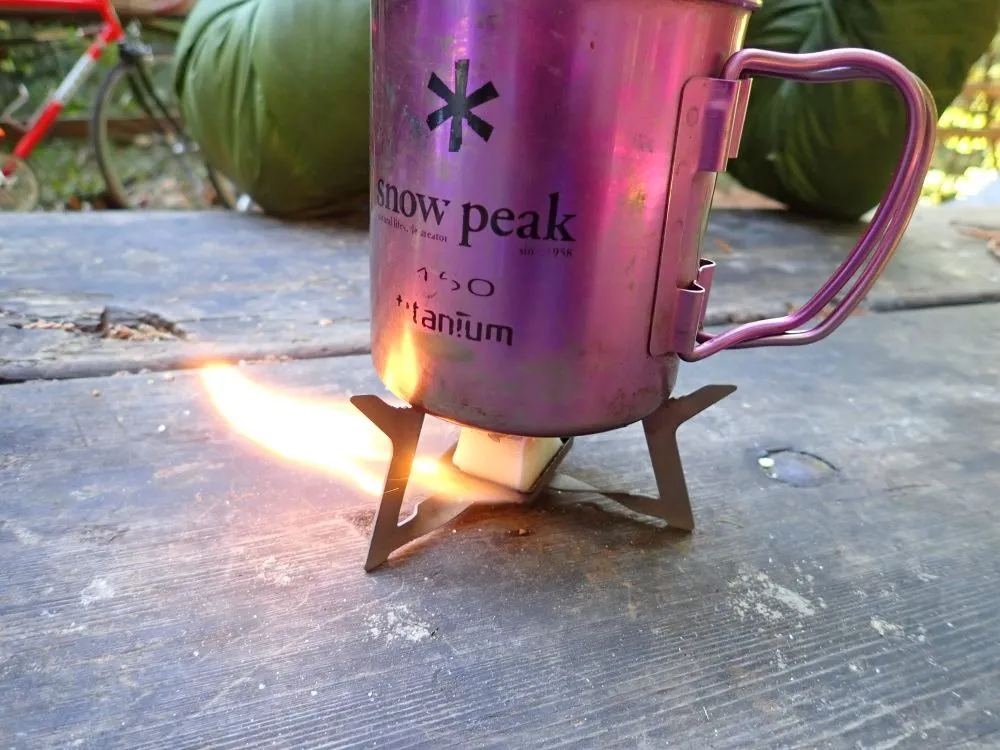 Vapur Flexible 10oz Flask
For those trips where lightweight backpacking means whiskey instead of wine. Also a good way to carry olive oil for extra calories. Very light and packs down to nothing when empty.
Kershaw Scallion Pocket Knife
I'm no expert on camping knives, but this is the one I've been using and it works great. It's compact but can still handle a salami and cheese lunch.
Bearikade Weekender and Expedition bear canisters (detailed review here)
Lightweight and expensive bear canister option, but absolutely the best choice if you're counting ounces in black bear territory. See more bear canister options here.
Ursack Major bear bag
Lighter food storage option for areas where bear canisters aren't required. Takes some practice and persistence to use and hang properly, so use with caution in bear country. If rodents are the biggest threat, consider the Ursack Minor instead (detailed comparison here).
Clothing
Icebreaker Merino Wool Tech Lite T-shirt – women's (men's here)
Sometimes I live in these shirts for months at a time. Comfy, lightweight, amazingly stink proof, lots of color options. Not recommended for very humid climates. Light colors will get dirty fast. Check for sales and previous season's colors for better prices.
Icebreaker 260 Long Sleeve Shirt – women's (men's here)
Perfect for when you need that extra bit of warmth but a jacket is too much. Comfy for sleeping too. Mine gets a ton of use.
Columbia Omni-Heat Baselayer Tights – women's (men's here)
Good warmth-to-weight ratio, comfy, and can be worn alone as tights without looking like long underwear. I use them for sleeping and as an extra warm layer on cold days.
Patagonia Barely Sports Bra
Light, comfy, and stink-resistant – what more could a lady want? Possibly not as supportive for larger cup sizes, but I wouldn't know.
Outdoor Research Sun Sleeves
These protect my arms from sun while wearing a short sleeve shirt (which I find more comfortable and versatile than long sleeve), and stay up on my skinny arms better than others I've tried.
Sunday Afternoons Ultra Adventure Hat
I'm not really a "hat person," but when I want full sun coverage for an exposed hike this is the best option I've found.
Mountain Hardwear Ghost Whisperer Down Jacket – women's (men's here) – ultralight
Super lightweight down jacket for fast-and-light trips. Expensive and not super warm (though the warmth-to-weight ratio is good), so best for ultralight hikers who are really counting ounces. Detailed review here.
Arc'teryx Cerium Down Jacket (detailed review here)
High warmth-to-weight ratio and surprisingly packable. I use this for cooler weather when I need something warmer than the Ghost Whisperer.
Marmot PreCip Rain Jacket (detailed review here) – great value
Budget-friendly basic rain jacket with nice features like pit zips and hand pockets.
Outdoor Research Helium Rain Jacket (detailed review here) – ultralight
Lightweight minimalist rain jacket for fast-and-light missions. Not the most durable, so I only recommend it for ultralight hikers who are counting ounces.
Arc'teryx Beta AR Rain Jacket (detailed review here)
Bomber 3-layer GoreTex rain jacket with a hefty price tag, but has been so worth it for me (I got a good deal on a used one). My go-to for any trip where getting cold and wet could be dangerous or very uncomfortable.
DryMax Trail Socks
Comfy double-layer fabric helps prevent blisters and is just the right thickness.
Smartwool PhD Outdoor Light Hiking Socks – women's (men's here)
Another of my favorite hiking socks, and my first pick for long trips because of the stink-resistance of merino wool.
Darn Tough Hiker Socks
This brand is a thru hiker favorite for their durability and fun patterns. Lots of different thicknesses and styles to suit individual preference. I prefer the thinner ones for hiking, and thicker ones as a luxury for cold nights.
Altra Lone Peak trail running shoes (men's here)
Super comfy, lightweight, wide toe box. I use these for all my hiking and trail running. If you're unsure about hiking in trail running shoes, you can read more here.
Buff Headwear
I never go anywhere without at least one of these. It's a sweat band, hair band, washcloth, mini towel, face mask, eye mask for sleeping… Comes in countless fun patterns and colors too.
Mountain Hardwear Power Stretch Gloves
Fleece gloves for moderately cold temperatures. My hands still get cold in these, but they take the edge off (my hands run colder than most). Not waterproof or windproof.
MLD eVent Rain Mitts
Waterproof mitten to layer over fleece gloves in rain or when extra warmth is needed.
Accessories
CastKing Hiwassee Polarized Sport Sunglasses – great value
Budget-friendly sunglasses that work surprisingly well. Nice full coverage, unisex style, yet they fit my smaller face just fine.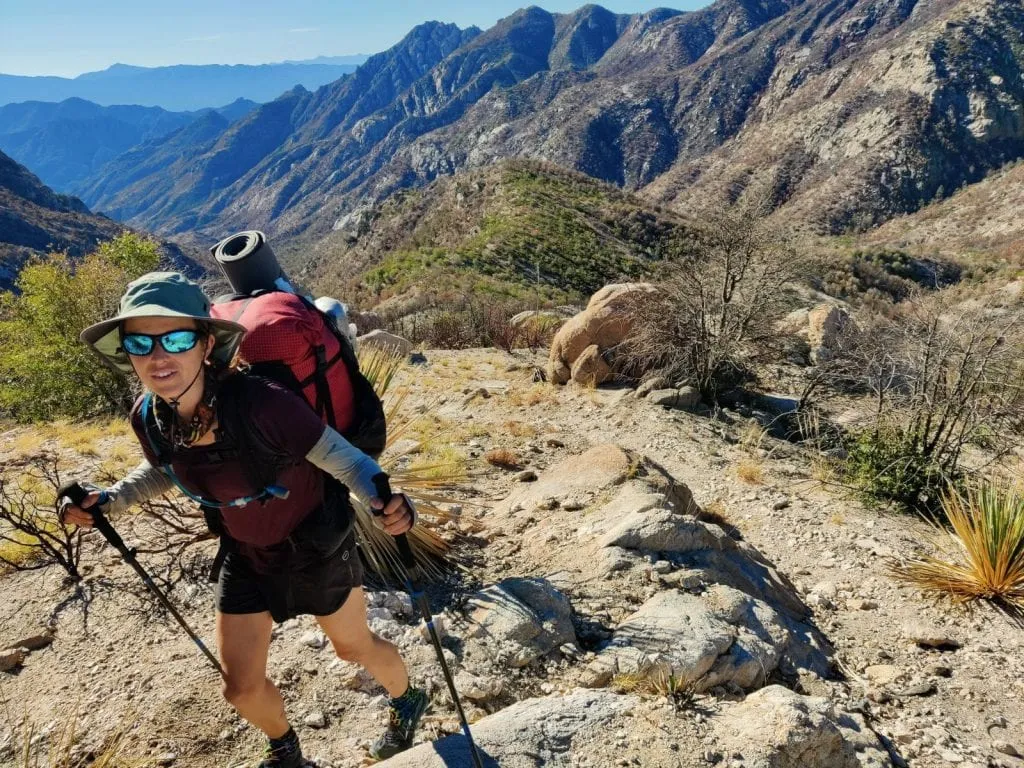 Sea to Summit Lightweight Dry Sacks
Reliable and durable waterproof protection for electronics or clothing. The 8 liter size makes a perfect pillow when stuffed with something soft.
Black Diamond Distance Carbon FLZ trekking poles – ultralight
Pricey, but worth it for hikers who care about moving fast and light. The small adjustable range helps with steep climbs and descents, and makes it easier to pitch a trekking pole-supported tent or tarp. See more hiking pole options here, and my review of the Distance Carbon FLZ here.
Electronics
SPOT Gen 3 Satellite Messenger
The classic "SOS button" emergency device and GPS tracker. I've switched from this to a Garmin InReach Mini because I often adventure solo and want the custom message feature, but if you just need an emergency beacon this is a great choice.
Garmin InReach Mini Satellite Communicator
A more flexible device that also supports custom text messages, which is why I switched from SPOT to this. Here's how to use it without driving yourself and your emergency contacts nuts.
Timex Ironman Essential Sports Watch (men's here) – great value
Simple and cheap sports watch for keeping track of time when I don't keep a smartphone handy (or don't want to waste its battery). Have put mine through all sorts abuse and it's still going strong.
Ainope 10000mAh PD 3.0 QC 3.0 Power Bank
Light and compact, reliable, fast charging, and a good capacity for most backpacking uses.
BigBlue 28W Solar Charger
Solar panels have gotten better, and this one can actually keep two phones charged almost indefinitely in reasonably sunny weather. See my full review here.
Miscellaneous
Dude Shower Wipes
Definitely a luxury item, but if you're hiking in places without plentiful water for rinsing off, one of these can be amazing.
RumbleRoller Beastie Massage Ball
Not exactly ultralight, but I have been known to throw this in my pack on certain trips if I'm working through a bit of stiffness or minor injury. The relief at camp each night is totally worth it.
Mini Exercise Band
You might be wondering why one would bring exercise bands on a backpacking trip – aren't you getting enough exercise already? But these bands saved my knees while I was still building strength. I use them at home regularly, and sometimes on the trail.
Diva Cup
Lady backpackers, if you haven't made the switch to a menstrual cup yet, now is the time. See all the nitty gritty details here.
Soy Sauce Containers – ultralight
These tiny squeeze bottles are great for packing tiny amounts of toiletries on lightweight backpacking trips. Related: what's in my lightweight toiletries kit.
Gear Repair Tape
A little square of this can fix your punctured sleeping pad, ripped rain jacket, torn tent, or any number of other things. I prefer the clear color, and always keep some in my med kit.
Nikwax Tech Wash and Wash-In
Even the best rain gear will start to lose its waterproofing eventually. I was so excited to discover that I could re-waterproof my beloved rain gear just by washing it with this stuff.
Oven Bags
Lightweight trick for hiking in occasional rain or deep snow: sandwich one of these bags between two pairs of socks. It acts as a vapor barrier to keep your feet warm and dry-ish even if your shoes get wet. Not very durable so plan on just one or two uses per bag. Even if they tear, they can still provide some extra warmth.


Hiking resources in your inbox?
There's more where this came from! Sign up here for occasional emails full of inspiration and information about backpacking and hiking.


Share the Adventure
If you found this article helpful, please consider sharing so more people can benefit from it:
Pin For Later