Ah, the bear canister. It's the piece of gear we all love to hate. We carefully craft gear lists, agonize over spreadsheets, count ounces, and then… Then we have to stuff this bulky, heavy thing into our pack and ruin it all.
But in spite of their bulk and heft, bear canisters are important and very useful for backpackers. They keep our food safe from bears and bears safe from our food. They're required for backpacking in some of America's most popular national parks, which is one reason why I've carried a bear canister through much of California's high Sierra.
Sooner or later, many backpackers find themselves needing to use a bear canister. When that time comes it's important to buy the best bear canister for your needs, use it correctly, and pack it as efficiently as possible. This article will help with all that and more.
Bear Canister Basics
What is a bear canister and why do I need one?
It's also worth noting that bears aren't the only way to lose food on the trail. Rodents and marmots can be surprisingly stealthy and aggressive! A bear canister gives you peace of mind when dealing with critters of all kinds.
How do I know which bear canisters are approved for my hike?
First, check for food storage requirements of the area you'll be hiking in. For example, California's Sequoia National Park publishes a list of approved food storage techniques and containers.
These lists are loosely based on certifications from agencies that test the containers, but they may not always match exactly. For example, the soft-sided Ursack is not approved for use in Sequoia National Park but is approved by the IGBC (see below), while the hard-sided Bearikade containers are allowed in Sequoia but not approved by the IGBC. Use the list published by the area you'll be hiking in, if there is one.
If you're not hiking in an area that requires canisters but still want to know which bear canisters are approved, there are two certifications to look for:
The Sierra Interagency Black Bear Group (SIBBG), which has since been disbanded, but you will still see their initials used when mentioning certifications
The Interagency Grizzly Bear Committee (IGBC), which still actively certifies bear-resistant containers and publishes an up-to-date list.
For hikers in California and other areas without grizzlies, the SIBBG certification may be enough. But those who hike in grizzly country should look carefully at the IGBC list.
What size bear canister do I need?
Short answer: one day of food for one person takes roughly 100 cubic inches of space.
Longer answer: it depends. How many days of food fit in your bear canister will depend on what kind of food, how much you eat per day, and how it's packed. Scroll down to the section on packing a bear canister for tips on how to pack more food into less space. Optimizing this is especially critical for thru-hikers trying to plan daily mileage on a remote trail like the JMT where resupply is infrequent.
Remember that multiple hikers can share a bear canister. Two people hiking together for three days can save weight by sharing a medium size bear can. Of course you'll have to negotiate how to split up the rest of the gear fairly, since a bear canister is probably the heaviest thing either of you will be carrying.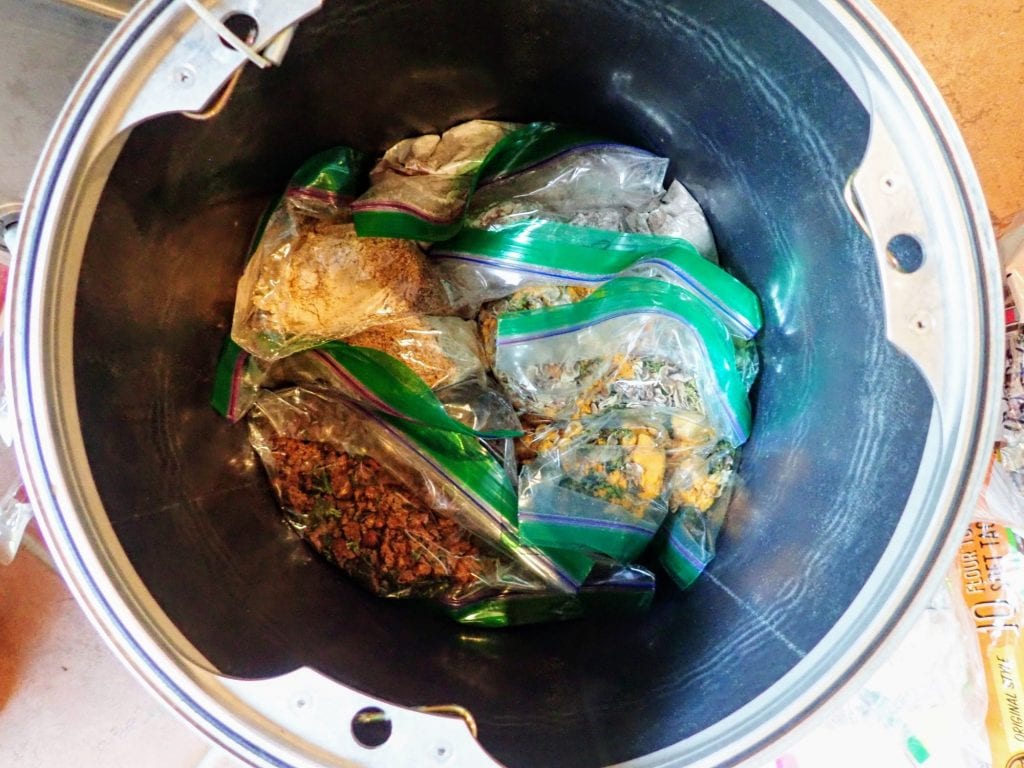 Renting Versus Buying a Bear Canister
Some areas that require bear canisters also rent them to hikers. Check your specific park website for details and do the math. How much money would you save by renting versus buying?
Bear canisters don't wear out or become obsolete quickly. If you plan to hike in bear country at least once or twice per year, it's almost certainly worthwhile to buy your own.
Used bear canisters can be bought or sold for a discount on eBay, GearTrade, REI, etc., reducing the cost or allowing you to recoup some of it later. Bearikades in particular, though expensive up-front, are easy to sell for close to their full value.
Complete Bear Canister Comparison Table
Let's start with the full list, but don't worry! This may seem like a lot of options, but when you look closely, most people will find that it's easy to narrow down to just a couple options based mostly on a specific bear canister size range. In the sections below I'll explain how to narrow your bear canister options based on your needs.
Here's a table listing the most widely approved hard-sided bear canisters in 2023, sorted from smallest to largest. I've included calculations of volume per unit weight and cost per unit volume to help us compare these bear canisters in the next section.
Since most people shop for a bear canister based on size, let's break the list down into three categories of small, medium, and large.
Small Bear Canisters
To help you choose between these small bear canisters, here are their distinguishing points.
---
---
---
---
Medium Bear Canisters
There are a lot of options in this category, so let's look closely at which ones stand out.
---
---
---
---
Large Bear Canisters
Canisters in this category can hold between 9 to 12 person-days of food. Use them for a remote solo expedition, sharing a bear can with a partner, or feeding a family or group of three for a long weekiend.
High-end carbon-fiber canister maker Bearikade is the only company in this range, so the prices are high, but the volume to weight ratio is very good. Choose based on the size you need.
Tip: Sharing A Bear Can on the JMT
Looking for a bear canister for the John Muir Trail? If you're hiking in a pair and considering a Bearikade, here's a tip. My husband and I shared a Bearikade Expedition for the first half of our 18 day JMT hike. He carried the bear can, I carried basically everything else. Then we shipped a second one (the Weekender size) to Muir Trail Ranch and each carried one from there for the last 8 days with no resupply.
Bear Canister Alternatives
Soft-Sided Bear Bags
If you're on this page it's likely because you plan to hike in an area that requires one of the hard-sided bear canisters listed above. However, if you're just looking for a general food storage solution and don't mind the extra fuss of hanging your food at night, a soft-sided bear bag can reduce weight and bulk in your pack.
Bear bags are made of strong materials, like Spectra or Kevlar, that are supposedly impossible for a bear to chew or claw through. They're intended to be hung, or at least tied to a tree, to prevent a bear from walking off with them.
If you're considering a soft-sided bear bag as a bear canister alternative, here are the models approved by the IGBC as of early 2023:
If using a soft-sided bag, it's recommended to also use a smell-proof bag inside to avoid catching a bear's attention in the first place.
I use an Ursack Major when backpacking in areas that don't require a canister. I find it a good compromise between protection and weight. In areas without bears it gives me lightweight worry-free rodent protection (for the most part – technically the Ursack Minor is a better choice there). In areas with bears I either tie it very securely to a tree or hang it, which brings me to…
Hanging Your Food
Hanging is the "traditional" method of protecting food from bears and bears from food. While it sounds simple – hang your food out of reach – I can assure you it's not as easy as it seems.
First of all, finding a tree that's tall and strong enough to hang from can be hard, or downright impossible above treeline. Meeting the recommended bear hang metrics – 12 feet off the ground, 6 feet down from the branch, and 6-10 feet out from the trunk – takes a decent throwing arm! When you've been hiking all day and you're tired and it's getting dark out… It can be oh-so-temping to settle for a less than perfect bear hang. We call these a "bear piñata."
If you're going to rely on hanging your food in bear country, definitely practice at home first. The process can be tricky and require many tries, and ideally a helpful partner. When done properly it can be fairly (not perfectly) effective, but it's very rarely done properly.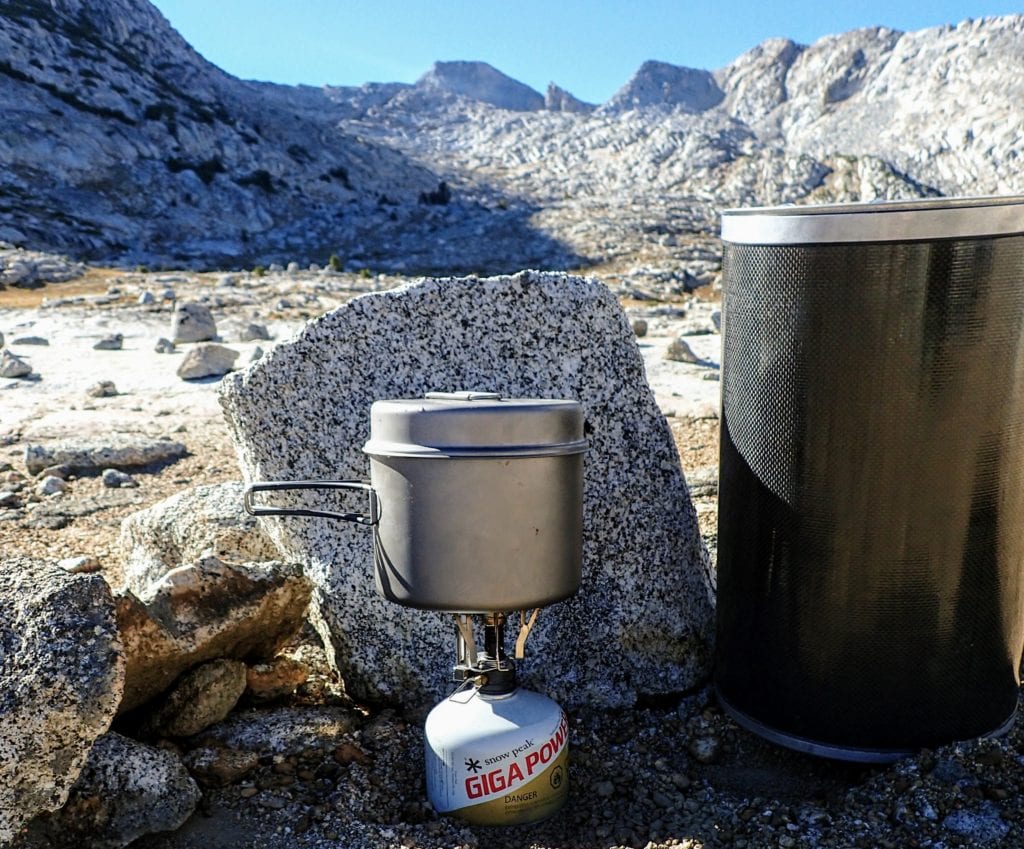 How to Use A Bear Canister
How to Pack A Bear Canister
If you're not already a precise planner when it comes to backcountry meals, hiking with a bear canister will make you into one.
As a general rule of thumb, one day of food for one person takes up around 100 cubic inches of bear canister space. But there is a lot you can do to stretch your bear canister capacity as far as possible.
More Backpacking Resources
Pin For Later