Ah, the bear canister. It's the piece of gear we all love to hate. We carefully peruse gear lists, agonize over spreadsheets, count ounces, and then…
Then we have to stuff this big, bulky, heavy thing into the middle of our backpack and ruin it all.
But wait! Bear canisters are important. They keep our food safe from bears, and bears safe from our food. They're also required for backpacking in some of America's most popular national parks. Sooner or later, many backpackers will find themselves needing to figure out how to use a bear canister.
Don't worry though, because I feel your pain, and I'm here to try and make using a bear canister as painless as possible. In this post I'll walk you through everything you need to know about backpacking with a bear canister, including:
Where do you need a bear canister?
Renting vs. buying a bear canister
How to choose the best bear canister for your trip
How to use a bear canister correctly
How to most comfortably carry a canister in your pack
Tips for fitting as much food in your canister as possible
Bear Canister Basics
What is a bear canister and why do I need one?
A bear canister is a hard-sided cylinder used to hold food while backpacking in bear country. Its purpose may seem obvious – no one wants to be visited by a bear in the middle of the night – but there are actually several important reasons to carry a bear canister:
Bear canisters protect bears from your food. Wait, did I get that the wrong way around? Nope. When a bear gets used to the reward of stealing food from hikers, it often becomes more aggressive and starts spending time in popular camping areas, leaving park rangers no choice but to relocate or even kill it. Use a bear canister, save a bear!
Bear canisters do also protect your food from bears. If you've ever done a long backpacking trip on carefully rationed meals, you'll be able to imagine the hungry horror of a bear wandering off with all your food in the middle of the night.
Though bear attacks are rare, canisters do also protect YOU from bears. If, instead of using a bear canister to protect your food, you decide to sleep with it in your tent, you risk attracting a bear into your campsite. And with this comes the rare but real possibility, especially in grizzly country, of an unpleasant encounter.
Finally, bear canisters are required in several US national parks, including those traversed by the popular John Muir Trail, in which case a bear canister will protect you from being fined by park rangers.
It's also worth noting that bears aren't the only way to lose food on the trail. Rodents and marmots can be surprisingly stealthy and aggressive! A bear canister gives you peace of mind when dealing with critters of all kinds.
How do I know which bear canisters are approved for my hike?
First, check the food storage requirements of the area where you plan to hike. For example, California's Sequoia National Park publishes a list of approved food storage techniques and containers.
These lists are loosely based on certifications from agencies that test the containers, but they may not always match exactly. For example, the soft-sided Ursack is not approved for use in Sequoia National Park but IS approved by the IGBC (see below), while the hard-sided Bearikade containers are allowed in Sequoia but NOT approved by the IGBC. Use the list published by the area you'll be hiking in, if there is one.
If you're not hiking in an area that requires canisters but still want to know which bear canisters are approved, there are two certifications to look for. These groups basically throw a canister full of yummy smelly food to a bear and the canister passes if the bear fails to get the food. The two certifying agencies are:
The Sierra Interagency Black Bear Group (SIBBG), which has since been disbanded, but you will still see their initials used when mentioning certifications
The Interagency Grizzly Bear Committee (IGBC), which still actively certifies bear-resistant containers and publishes an up-to-date list.
For hikers in California and other areas without grizzlies, the SIBBG certification may be enough. But those who hike in grizzly country should look carefully at the IGBC list.
How many days of food fit in a bear canister?
First the short answer: one day of food for one person takes roughly 100 cubic inches of space.
The longer answer: it depends. How many days of food fit in your bear canister will depend on what kind of food, how much of it you're bringing, and how it's packed. Scroll down to the section on packing a bear canister for tips on how to pack more food into less space in your bear canister. Optimizing this is especially critical for thru-hikers trying to plan daily mileage on a remote trail like the JMT.
Also keep in mind that people can share a bear canister. Two people hiking together for three days can save weight by sharing a medium size bear can. Of course, you'll have to negotiate how to split up the rest of the gear fairly, since a bear canister is probably the heaviest thing either of you will be carrying.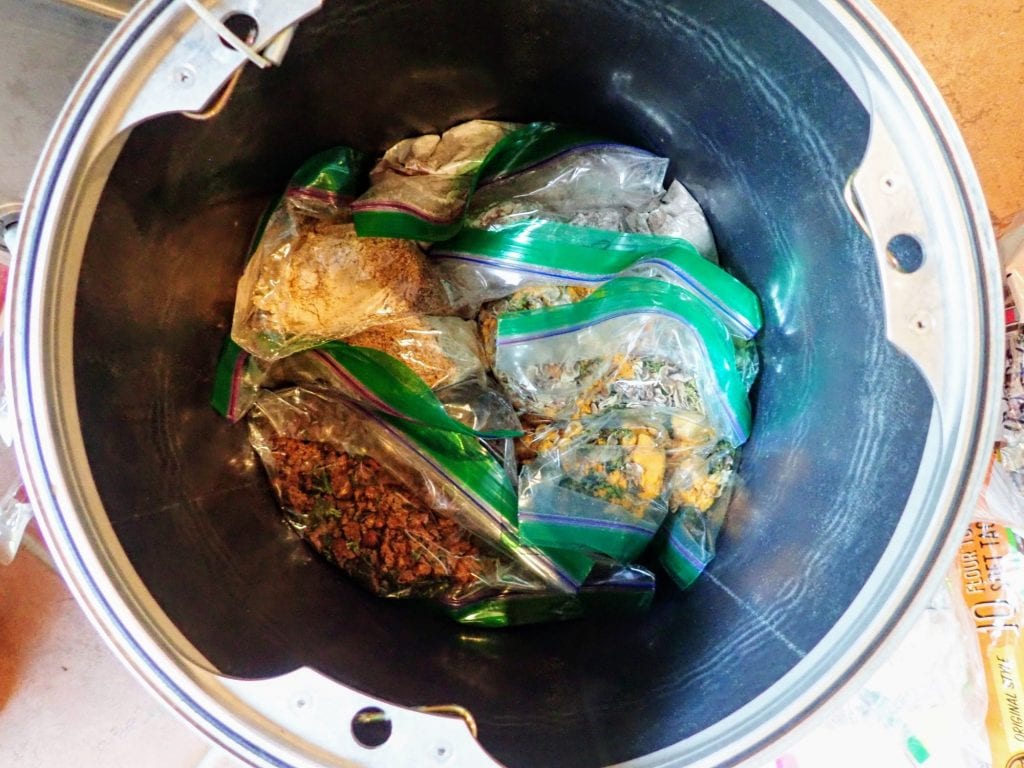 Renting Versus Buying a Bear Canister
Some areas that require bear canisters also rent them to hikers. Check your specific park website for details, and do the math. How much money would you save by renting versus buying?
Advantages of renting a bear canister:
Can be cheaper than buying if you won't use it often
Avoid the hassle of choosing and buying your own
Advantages of buying a bear canister:
You can choose the kind you think is best
You can test pack before leaving on your trip, especially important if it will be a tight squeeze
Cheaper over the long term if you use it often
Bear canisters don't wear out or become obsolete quickly. If you plan to hike in bear country at least once or twice per year, it's almost certainly worthwhile to buy your own.
If you're interested in renting a bear canister but can't do so through the land management agency where you'll be hiking, here are a few other bear canister rental programs:
And finally, consider that used bear canisters can be bought or sold on eBay, GearTrade, REI, etc., reducing the cost or allowing you to recoup some of it later if you end up using your canister less than anticipated. Bearikades in particular, though expensive up-front, are easy to sell for close to their full value.
Complete Bear Canister Comparison Table
Let's start with the full list, but don't worry! This may seem like a lot of options, but when you look closely, most people will find that it's easy to narrow down to just a couple options. In the sections below, I'll explain how to narrow your bear canister options based on your hiking needs.
Here's the full list of the most widely approved hard-sided bear canisters in 2021, sorted from smallest to largest.
Note: Bear canister approval lists often include other models that don't seem to be commercially available anymore, such as the Bare Boxer Champ and several other sizes of BearVault. I've left these out of this post since they can't be purchased anymore.
Let's go through each of these models in more detail. If you want specific recommendations based on size and other constraints, scroll down to the next section.
BearVault
Garcia
The Garcia Backpacker's Cache is another classic medium-size bear canister. It's a bit on the heavier side, but very solid, and a good value.
Bear Keg
The distinctive yellow Bear Keg Counter Assault is a medium-large size bear canister. It's on the heavier side, and its rounded top makes it less convenient to sit on (a bummer because bear cans usually make excellent camp furniture).
Bearikade
Wild Ideas' carbon fiber Bearikades are the fancy lightweight option in the bear canister world, with a high price tag to match. They come in four sizes, from small/medium up to large. I highly recommend them if you're willing to make the investment. Keep in mind they are easy to sell used, and can also be rented. While Bearikades ARE allowed in the Sierras in California, they are not approved by the IGBC and may not be appropriate for hiking in grizzly country.
See this post for a detailed review of the Bearikade Expedition (the largest size).
Lighter1
This innovative pair, Little Sami (small) and Big Daddy (medium), combine a cooking pan and bear canister lid to save weight and space in your pack. These guys are newcomers to the market since I purchased my Bearikade, but had they been around back then I definitely would have considered them. Even if you don't need the pan – maybe you use a JetBoil or hike without a stove – they're still a solid lighter weight option at a reasonable price. They're also the only option besides the BearVault with clear sides.
UDAP
The No-Fed-Bear by UDAP is a smallish black-colored canister. It's not the lightest, but it's not the heaviest, and it has the lowest price of any comparably sized bear canister in the list.
Bare Boxer Contender
The Bare Boxer Contender is the smallest hard-sided bear canister on the market, perfect for those quick weekend trips. It's also a great value.
That's a lot of options! How do I actually narrow it down? For most people the decision will come down primarily to size, then to weight and price.
Small Bear Canisters
These canisters are designed for shorter trips, and/or medium trips where each hiker carries their own food. Remembering from above that bear canisters hold roughly one person-day of food per 100 cubic inches, these canisters will carry between 2-3 person-days of food (for the Bare Boxer Contender) and 5-6 person-days of food (for the Bearikade Scout).
If you mostly do solo hikes or weekend hikes with a partner, a canister in this range can save bulk and weight.
To choose between the small bear canisters in this group, consider these points:
If money isn't a concern, you want a dialed-in lightweight gear setup, and you don't hike much in grizzly country, get the Bearikade Scout. It has the lightest weight/volume ratio by far and will give you more flexibility to carry more food. It's a touch wider than the other models, but on the shorter side, so make sure it will fit in your pack.
If you're sure you don't need more volume, and the pot/lid combo will be useful for you (you're not a JetBoil user for example, or a stoveless hiker), go with the Lighter1 Little Sami. If you subtract out the 8oz of pot and lid that you would otherwise carry separately, this is a great light and compact solution. Even with a redundant pot, it's still a strong choice.
If you're looking for the smallest and most compact bear canister on the market, the Bare Boxer Contender fits the bill, and for an affordable price.
Most others will want to go with the BearVault BV450, a tried and tested classic that balances weight, volume, and cost.
If you expect to need a small canister sometimes and a larger canister other times, keep in mind that you can always buy a larger one and carry other gear in it (like pot and stove or toiletries, NOT clothing that will soak up smells) during short or solo trips.
Medium Bear Canisters
Most hikers will be happy with a bear canister in the medium size category, especially if buying it for a thru-hike such as the PCT or JMT.
Canisters in this range can carry up to 6-7 days of food for one person, maybe more if packed carefully, or food for two people for 3-4 days.
To choose between the medium canisters in this group, consider these points:
If money isn't an issue, you want a dialed-in lightweight gear setup, and you don't hike much in grizzly country, get the Bearikade Weekender. It's by far the lightest per ounce of volume.
If the pot/lid combo will be useful for you (you're not a JetBoil user for example, or a stoveless hiker), go with the Lighter1 Big Daddy. If you subtract out the 8oz of pot and lid that you would otherwise carry separately, this is a competitive lightweight option for a much cheaper price than the Bearikade. Even with a redundant pot, it's still a strong choice.
Most other hikers will be happy with the BearVault BV500, a tried-and-tested classic and a good balance of weight and money with convenient see-through design.
Large Bear Canisters
This is a pretty specialized category, probably only of interest to those planning long hikes in remote places with limited resupply, or sharing a bear can among a pair or group.
Currently, the high-end carbon-fiber canister maker Bearikade is the only company in this range, so the prices are high, but the volume to weight ratio is very good. They're both Bearikades, so the only factor is size.
The bear canisters in this category can carry, according to the Bearikade website:
Food for a single hiker for 9-12 days
Food for two hikers for 4-6 days
Food for three hikers for 2-3 days
Looking for a bear canister for the John Muir Trail? If you're hiking in a pair and considering a Bearikade, here's a tip. My husband and I shared a Bearikade Expedition for the first half of our 18 day JMT hike and it worked great. He carried the bear can, I carried basically everything else. Then we shipped a second one (the Weekender size) to Muir Trail Ranch and each carried one from there for the last 8 days with no resupply.
Bear Canister Alternatives
Soft-Sided Bear Bags
If you're on this page, it's likely because you plan to hike in an area that requires one of the hard-sided bear canisters listed above. However, if you're just looking for a general food storage solution and don't mind the extra fuss of hanging or at least tying your food at night, a soft-sided bear bag can reduce weight and bulk in your pack.
Bear bags are made of strong materials like kevlar that are supposedly impossible for a bear to chew or claw through. They're intended to be hung, or at least tied to a tree trunk, to prevent a bear from walking off with them.
Though soft-sided bags are lighter and easier to pack, and they may technically prevent a bear from eating your food, there are some drawbacks:
Bears can carry away a sack, unlike a hard-sided can.
If a bear plays with your soft-sided bag for a while, your food will likely end up crushed and contaminated with bear drool.
Safer if hung, which requires time, skill, and trees.
If you're considering a soft-sided bear bag, here are the models approved by the IGBC as of early 2021:
If using a soft-sided bag, it's recommended to also use a smell-proof bag inside, to avoid drawing bears to your bag in the first place.
I personally use an Ursack Major when backpacking in areas that don't require a canister. I find it to be a good compromise between protection and weight. In areas without bears it gives me lightweight worry-free rodent protection. In areas with bears I either tie it very securely to a tree or hang it, which brings me to…
Hanging Your Food
Hanging is the "traditional" method of protecting food from bears and bears from food. While it sounds simple – hang your food out of reach – I can assure you it's not as easy as it seems.
First of all, finding a tree that's tall and strong enough to hang from, with just the perfect branch, is not straightforward. And above treeline, well, you won't find trees at all.
Second, meeting the recommended bear hang metrics – 12 feet off the ground, 6 feet down from the branch, and 6-10 feet out from the trunk – takes a decent throwing arm! I put more work into upper body strength than many hikers, and I still have a tough time throwing over high enough branches.
Finally, when you've been hiking all day and you're tired and it's getting dark out… It can be oh-so-temping to settle for a less than perfect bear hang. We call these a "bear piñata."
And then, what happens when you discover that extra protein bar hiding in your jacket pocket as you curl up to sleep? That's right, technically, you should do the whole thing all over again.
If you're going to rely on hanging your food in bear country, definitely practice at home first, especially for solo hikers. The process can be tricky and require many tries, and ideally a helpful partner. When done properly it can be fairly (not perfectly) effective, but the problem is, it's very rarely done properly.
Oh, and yes, it IS possible to get your food stuck up in the tree if you botch a bear hang. Ask me how I know.
If I haven't talked you out of it yet, here are the two most common methods of bear hanging:
And now, back to bear canisters.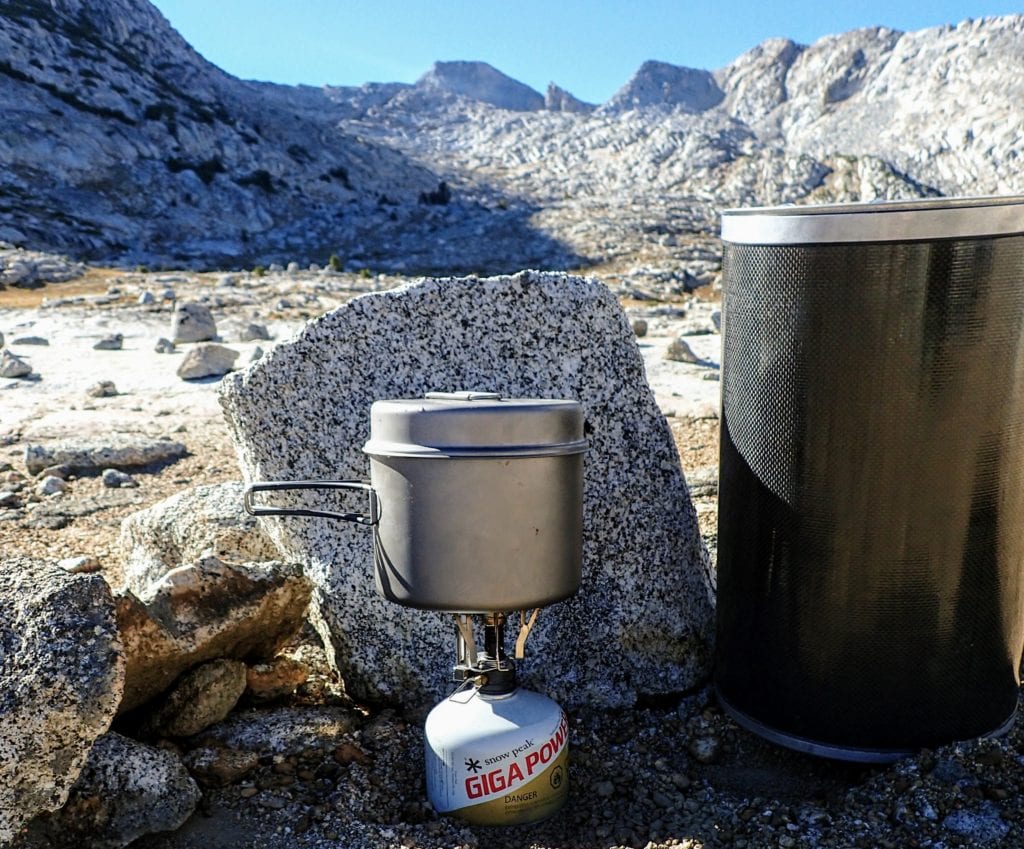 How to Use A Bear Canister
Now that you're the proud owner of a shiny new bear bin, what exactly are you supposed to do with it? In short:
Store the right things in the bear canister
Choose your kitchen location wisely
Choose a smart place to leave the bear canister overnight
Carry your bear canister comfortably in your pack
Pack your bear canister as efficiently as possible
What goes in a bear canister?
Short answer: anything that smells (and bears have a very good sense of smell).
In practice, this means:
Food, any and all of it.
Trash, especially food wrappers (check your pockets for those granola bar wrappers!)
Scented toiletries (toothpaste, deodorant, etc)
If you have extra space, it's nice to store other items like your stove or dishes in the canister as well. But be sure to NOT store items like clothing that can soak up the food smell.
Bear canisters are mainly intended to protect your food overnight. It's ok to have your day's snacks and meals outside of it while hiking, but do be careful to not leave your pack unattended during the day in this case.
Where should I set up my camp kitchen?
First of all, when hiking in bear country it's important to set up your "kitchen" and "dining room" at least 100 yards downwind from where you'll sleep. The process of eating or cooking leaves scraps or even just scent that a bear's sensitive nose can easily pick up. If they do come to investigate during the night, you'd rather they not trip over your tent in the process.
Some people even like to stop for dinner somewhere along the trail and then keep hiking to camp. This works especially well for ultralight hikers putting in long days, but is a good bear avoidance strategy for anyone.
Where do I leave the bear canister at night?
Here's the key thing to remember when deciding where to leave your bear canister at night: a bear canister is designed to prevent a bear from actually eating your food. A bear may still smell your food, find your food, and try to get your food. With this in mind, place your bear canister:
At least 100 yards away from where you'll sleep, preferably downwind if you can figure out which way that is.
Away from any steep hills, river banks, or dropoffs where it could roll and fall if a bear decides to play with it.
Consider marking your bear canister with bright or reflective tape, so you can find it more easily if it ends up somewhere unexpected (or if you need to get into it during the night).
Definitely do NOT:
Keep your bear can in or near your tent.
Attach rope or anything else to your bear can that could allow a bear to carry it away.
Hang your bear can (hanging is not very effective and not necessary with a can, plus see above about attaching rope)
Is a bear canister smell-proof?
Nope! Some are designed to be smell resistant, but you should assume that a bear can still smell your food and knows exactly where it is. The purpose of a bear canister is not to make food invisible to bears, but to teach them not to bother going after that yummy smell, because they can't get the food out of the canister.
If hiking in grizzly territory (where it might make sense to try extra hard to not attract bears anywhere near you), consider using smell-proof bags inside your bear canister for extra safety.
How do I open and close my bear canister?
This depends on the model. They're all different, but since they're all designed to be hard for bears to open, they do tend to be small and fiddly.
Usually a coin, credit card, or other thin edge is required or at least helpful; make sure you bring a long an extra or two of whatever is needed, just in case!
Other Bear Canister Tips
Before putting the canister in its overnight location, check ALL clothing and pack pockets. I can't tell you how many times I've discovered an extra wrapper or granola bar after closing up the canister and had to go back in the dark to add it.
This may sound obvious, but always close your bear canister when you're done taking food out. When bear canisters do fail to keep food safe, it's usually because of human error.
The best thing about bear canisters (aside from keeping your food and not endangering bears or yourself) is having a sturdy camp chair during mealtime.
Some bear canisters can also be used as a foam roller for working out those aches and pains on the trail.
How to Carry A Bear Canister
Adding a bear canister to your gear list can disrupt the packing strategy of even the most experienced backpacker. Where is the best place to pack this bulky, heavy, inflexible object?
Here are some tips on how and where to carry your bear canister:
The best place for a bear canister in your pack is relatively low and relatively close to your back, which keeps weight distributed as comfortably as possible.
Try packing your canister either at the very bottom of your back, or just on top of your sleeping bag (which is at the very bottom).
Consider carrying your bear can horizontally (lid facing to one side) instead of upright, if it will fit.
If using a frameless pack, you may need to pad between the canister and your back with something soft like a sleeping pad or clothing.
For a better fit, remove sleeping bag and clothing from stuff sacks and instead stuff them around the sides of your bear canister.
It's an advanced move, but some hikers manage to carry their bear canister on the top of their packs, saving more space inside. Just remember, don't attach any ropes to the bear can itself, or a bear could carry it away during the night.
How to Pack A Bear Canister
If you're not already a precise planner when it comes to backcountry meals, hiking with a bear canister will make you into one.
As a general rule of thumb, one day of food for one person takes up around 100 cubic inches of bear canister space. But there is a lot you can do to make your bear canister capacity go as far as possible.
First, choose and plan your food carefully.
Plan out your full menu precisely, down to exactly how many calories you will eat per day. Most backpackers should shoot for 3000-4000 calories per day depending on your size and daily mileage.
Choose dense foods that are high in fat, because they pack a lot of calories into a small amount of space. Nut butter, salami, hard cheeses, trail mix, and high calorie meal replacement bars are all good places to start.
Choose food that is NOT high in water content, since water is heavy, contains no calories and is usually easy to add on the trail. This means buying or making your own dehydrated or freeze dried meals, having just-add-water breakfasts like oatmeal and powdered milk, and cooking with dehydrated fast-cooking grains like couscous or ramen.
Choose foods that pack down into small spaces without a lot of air in between. For example, couscous or angel hair spaghetti will pack pack down to a smaller space than the same amount of calories of shell or macaroni pasta (unless you crush them into smaller pieces, which is definitely an option).
Then, once you've planned your menu, pack the food into the bear canister as efficiently as possible.
Remove any unneeded extra packaging.
If sealed packages contain some air, poke a tiny pin-prick hole and squeeze the air out.
Consider crushing dried foods – pasta, dehydrated chili, ramen – into smaller pieces that pack down with less air between them (or choose foods like couscous or angel hair pasta that are already in small pieces).
Layer your canister by day, not by food type, so you don't have to unpack the entire thing to make a full meal. (As tempting as it may be, don't put that round pack of tortillas at the very bottom.)
Make good use of the space around the edges of the canister. This is a great place to wedge a few extra protein bars even after the canister seems full.
If low on space, pack your first day's snacks and meals outside the canister (but don't leave your pack unattended!).
Leave room for your toiletries and other scented items.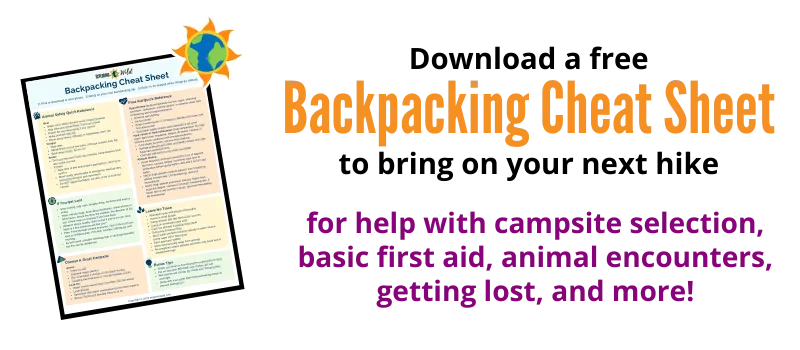 You'll also get occasional emails packed full of backpacking resources and inspiration.
I think you'll like them! But don't worry, you can unsubscribe any time.


More Backpacking Resources
If you're investigating bear canister options, you might also find these posts helpful:
Excited about backpacking but need help getting started?
The Backpacking Trip Planner Workbook will help you start off on the right foot.


Hiking resources in your inbox?
There's more where this came from! Sign up here for occasional emails full of inspiration and information about backpacking and hiking.


Share the Adventure
If you found this article helpful, please consider sharing so more people can benefit from it:
Pin For Later