You have an epic backpacking trip coming up, don't you? You must, if you're considering the Bearikade Expedition bear canister.
When first shopping for bear canisters back in 2014 in preparation for the John Muir Trail, I read a review that quipped "Wild Ideas Bearikade is the Cadillac of bear canisters." If that's true, then the Expedition model is the Escalade: oversized, shiny, and expensive.
The Expedition's whopping 900 cubic inches of volume make it the biggest bear canister on the market today. Yet at 36 ounces it weighs less than alternatives that hold only 2/3 as much food. Of course, like all the Wild Ideas premium carbon fiber bear bins, it comes at a hefty price.
So is the Bearikade Expedition worth it, and is it the best bear canister for your next backpacking trip and beyond?
To help you decide, I've grabbed mine out of the garage to take some pictures and relive memories of past backpacking trips. In this Bearikade Expedition review I'll tell you how I've used it, what I like and don't like about it, and how you can go about deciding whether it's worth the cost.
Bearikade Expedition Overview
Price: $395
Weight: 36 ounces
Volume: 900 cubic inches
Dimensions: 9″ diameter base by 14.5″ height
My Rating: 5 / 5 stars
For more info and to purchase or rent: Wild Ideas Website
Review Summary: The largest of the four Bearikade models from Wild Ideas, this carbon fiber bear canister does one thing and does it well: protects large amounts of food from bears while adding as little weight as possible to your pack. The only downside is the price tag.
What I Love
Weight to volume ratio is the best of any bear canister available.
It holds a ton of food.
Straightforward cylindrical design is easy to pack efficiently and access easily.
Excellent camp chair
Design and Features
Note that the Expedition is really just a taller version of the general Bearikade design. The three smaller models (Blazer, Weekender, Scout) have the same diameter and design described here, but are shorter in height.
Size and Shape
It's a big slippery cylinder. Bear cans tend to be unwieldy by design (so bears can't carry them off) and the Bearikade Expedition is no exception, but it's not bad as far as bear cans go. The metal rims around top and bottom give a tiny bit of grip while wrestling it in and out of your pack.
I especially like that the opening is very wide, basically as wide as the canister, which makes it easy to get things in and out.
Lid and Open/Close Mechanism
The Expedition opens and closes by twisting three separate screws using a coin. A quarter is easiest, but for the ultra-ultralight hikers out there (or those who spent all their spare change on a Bearikade), pennies work too, as do nickels and dimes. The screws can be a tad sticky sometimes, but I've never been unable to open them.
Can you use something other than a coin to open the Bearikade? Maybe, but I wouldn't count on it. The slots are slightly rounded in the middle and require a fair bit of torque to turn. I tried the back edge of my camping knife and could not get it open. Same with a credit card.
I suggest packing at least two coins: one in an easily accessible place, and a backup in your first aid kit or somewhere safe for when you lose the first one.
Note that the lid doesn't seat properly if the screws are in the wrong position, so you need to first twist them into the open position, then seat the lid, then twist all the screws closed.
The lid is attached to the inside of the canister with a wire, so you don't have to worry about it rolling away or being misplaced.
Protection From Bears / Approval For Use
Thankfully I don't have any personal experience testing my Bearikade with actual bears, but I can tell you that the Bearikade approval/certification is a little complicated. If you hike in non-grizzly territory, it's more likely to be approved, but you should check with the land management agency where you'll be using it.
Camp Chair
Two thumbs up. It's flat on the bottom, flat on the top, and a perfect height for sitting.
How much food fits in a Bearikade Expedition?
According to the Wild Ideas website, the 900 cubic inches of volume in the Bearikade Expedition can hold:
3 days of food for 3 people
12 days of food for 1 person
Interpolating between those would give something like 4.5 – 6 days of food for two people.
Note that the upper end of the range is more than the standard "1 day of food per 100 cubic inches" rule of thumb, so this probably implies that the menu has been carefully planned and efficiently packed. For pointers on how to pack a bear canister most efficiently, see this guide to using bear canisters.
Will the Expedition fit in my backpack?
Good question. At 14.5″ tall and 9″ base diameter, the Expedition is definitely going to be the biggest thing in your backpack.
You almost certainly won't be able to fit it sideways. I tried, with my old GoLite 70 liter pack that's as wide and boxy as they come, and it wasn't even close.
It will probably fit upright in your backpack, but the question is, how much room will be left over for everything else? Here are a few reference points:
Do I really need such a big bear canister?
I hear you. Nine hundred cubic inches of bear canister is not for everyone. I can see the Bearikade Expedition really proving its worth in a few different scenarios:
Solo hikers on long, remote trips with minimal resupply opportunities. This could even include slower hikers on the southern half of the John Muir Trail, though instead of spending money on a fancy bear can you could consider spending money to hire a pack mule resupply instead.
Couples who frequently hike together on backpacking trips of 4 – 6 days and have a dialed lightweight gear setup.
Families or groups going out for a long weekend and trying not to bring more weight than necessary.
If you frequently hike solo as well as in a pair or group, you'll likely find a standard size bear canister more versatile. If you still fancy a fancy bear canister, check out the Bearikade Weekender instead.
Is the Bearikade Expedition worth the money?
In addition to having the largest volume and the best weight/volume ratio, the Bearikade Expedition is also the most expensive bear canister money can buy. Is it worth it?
If you're a solo hiker who needs to carry 9-12 days worth of food between resupplies in an area where a bear can is needed, you don't really have any other options (and you probably have enough backpacking experience to understand the value of good gear). If the Bearikade Expedition allows you to tackle that epic and remote trip and you have the cash, then yes, it's worth it.
For couples or groups, things get a little more complicated. For example, two people on a 5 day trip could either:
Share a Bearikade Expedition: $395, 36 ounces weight
Each carry a BearVault 450: $77 x 2 = $154, 33 x 2 = 66 ounces weight
In other words, you can choose to spend over twice as much money to get almost half the weight. To be precise, you can spend $241 more to save 30 ounces, which comes out to $128 per pound saved.
If you're already dabbling in lightweight backpacking, this kind of tradeoff is familiar. The right answer depends on your budget, the style of hiking your crystal ball says you'll be doing and how often, and how much you've already optimized your other gear for weight.
In this post on lightweight backpacking tips, I explain the spreadsheet I use to compare cost per pound saved when trying to find the best value lightweight gear. For this particular BearVault / Bearikade comparison, the cost per pound saved is actually comparable to some other upgrades I have personally deemed worthwhile, like my sleeping pad and quilt, but that's going to be a very individual decision.
When sharing a bear canister, also keep in mind, what happens if someone needs to bail early? It's worth talking this through in advance, for a number of reasons.
Finally, if you're on the fence about whether the Bearikade Expedition (or any other size Bearikade) is worth the money, here are two more factors to consider:
There's a very good market for used Bearikades. You could probably buy it, use it, and sell it (on eBay, GearTrade, etc.) for a net cost that's less than or similar to a heavier bear canister. But once you buy it, there's always the risk that you'll like it so much you'll keep it (why do you think I still have one?).
Bearikades can be rented, so if you think this is a one-time need, crunch the numbers and see if that's appealing.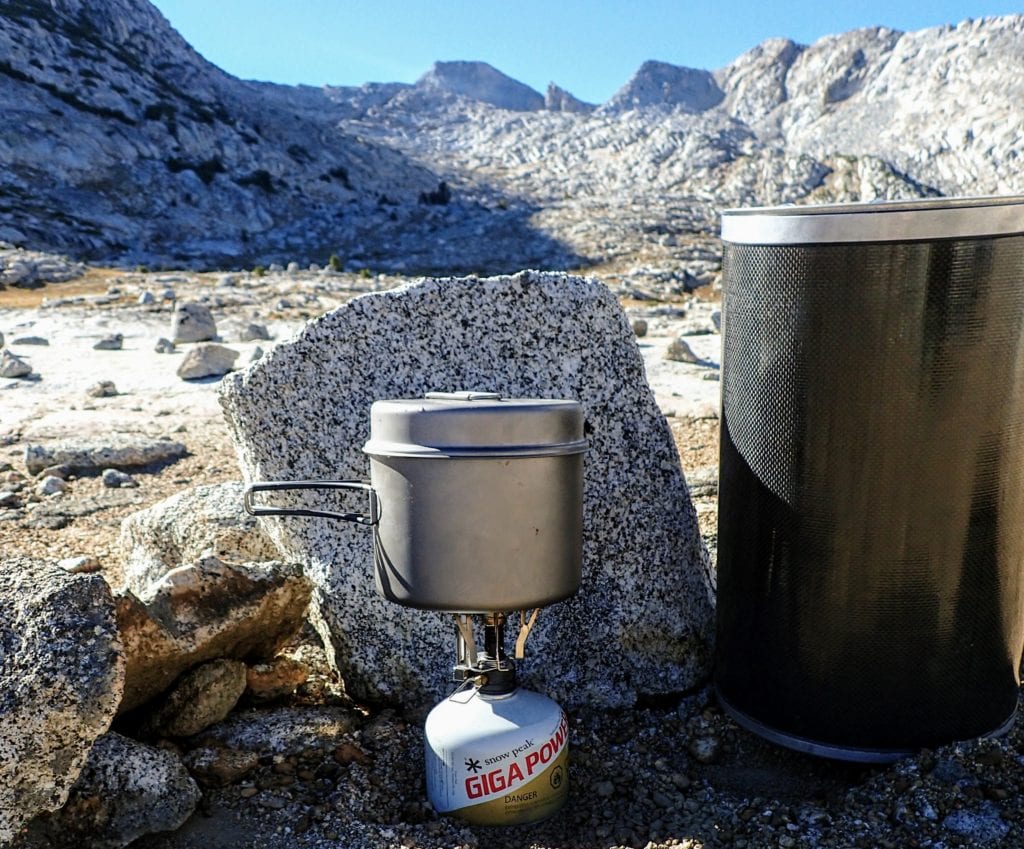 My Bearikade Expedition on the JMT
For those looking into a Bearikade Expedition for the John Muir Trail, this personal experience might be helpful.
My first encounter with Bearikade was in 2014 while preparing for an 18 day John Muir Trail thru-hike. My husband and I were looking for ways to lighten our packs and figured we could ease the pain of the Bearikade's price tag by selling it after our trip.
We purchased not one but TWO Bearikades: an Expedition model and the smaller Weekender model. Up through Muir Trail Ranch, with only four days between each resupply, we shared the Expedition. (Yes, I admit he carried it, but I carried pretty much EVERYthing else).
From Muir Trail Ranch, where our resupply strategy dictated we each carry 9 days of food, I carried the Weekender (shipped to MTR in our resupply package) and he carried the Expedition. It was actually still a tight squeeze to get all the food in on the first night, despite our carefully planned and packaged meals, but it did work.
The plan all along was to sell both canisters after the hike, but of course that didn't happen, because we decided we loved backpacking in the high Sierra and wanted to do more. We split the difference, selling the Weekender to a friend and keeping the Expedition for ourselves.
Why did we choose to keep the Expedition? It's the rarer of the two beasts. We wanted to bet on longer, epic trips together and figured we could always make the shorter trips work too by carrying other gear in the oversize bear canister. Additionally, if we needed to buy another smaller canister at some point, there are more options to choose from in that size range.
Final Thoughts
As with all purchases, the value / money tradeoff is a personal decision. The Bearikade Expedition is a unique piece of gear that fills a niche and fills it well, and if you're in that category then there's no better bear canister out there.
I do personally recommend the Expedition for those who know they will use it often, or use it once and then sell it. But if it's not strictly necessary for your use case, it's a lot of money and a lot of space in your pack. You'll need to be honest with yourself about whether your future backpacking plans include enough Expedition-worthy trips to make the purchase worthwhile.
Or, you could throw down the cash for the Escalade of bear canisters and use it as motivation to plan more epic backpacking trips in the future… 🙂
More Lightweight Backpacking Resources
If you're looking into Bearikades, you might also find these helpful:


Hiking resources in your inbox?
There's more where this came from! Sign up here for occasional emails full of inspiration and information about backpacking and hiking.


Share the Adventure
If you found this article helpful, please consider sharing so more people can benefit from it: