Just by reading this article, you're supporting the Colorado Trail Foundation. Each year I donate a portion of the ad revenue from this page to the CTF to support their work as trail caretakers. Thanks for reading!
The Colorado Trail is an absolutely epic mountain adventure stretching nearly 500 miles from Denver to Durango. Unless you're one of the fortunate few who can get away for the 4-6 weeks typically needed to hike the whole thing (or 2-3 weeks for bikepacking), you might be wondering: what are the best segments of the Colorado Trail?
"Best" is subjective, of course. But since most people are drawn to the Colorado Trail for the high mountain experience, it's safe to say the best segments of the CT are going to be stunningly scenic and satisfyingly wild. They might also have other useful qualities like ease of access, proximity to population centers, and logistical simplicity.
In this post I'll highlight the best and most scenic segments of the CT in order from Denver to Durango. In general, the most breathtakingly gorgeous sections are closer to Durango, so if you want the absolute best segments on the Colorado Trail I suggest you scroll down. But I've included what I consider to be the standout segments closer to Denver as well, since they're often logistically simpler and easier to access for many people.
I've compiled these recommendations based on my personal experience thru hiking the CT, the collective wisdom of the CT Facebook group, and the Colorado Trail Guidebook. The segments are numbered based on the official Colorado Trail Foundation's definitions, so you can easily find more information about each in the guidebook or on the CTF website.
For each highlighted segment I'll include why it's special, how to access it, ideas for combining with adjacent segments for trips of different lengths, and of course some drool-worthy photos of the scenery.
Whether you're a thru hiker / bikepacker wondering which parts to look forward to, a section hiker crafting your itinerary, or a weekend warrior looking for the Colorado Trail's most scenic highlights, I hope this guide will help and inspire you. No matter which segments you end up hiking, it's hard to go wrong in this alpine wonderland.
Segment 5: Long Gulch to Kenosha Pass
Distance: 14.6 miles
Elevation gain: 1858 feet
Elevation loss: 2055 feet
Open to bikes: no
(Note: these and other stats in this post are from the Colorado Trail Databook)
Maybe it was the developing trail legs and dwindling food weight in my backpack, but segment 5 was the first day I remember feeling excited about the views on the Colorado Trail.
Segment 5 takes hikers who started from Denver into more open landscapes than they've encountered previously, and includes wide-open views over South Park basin as well as the CT's first view of the Continental Divide. It is relatively mild, without any major climbs or passes. (Kenosha Pass is a "road pass" not a "trail pass," meaning it's a high point for vehicles but not for hikers.)
Segment 5 is probably best combined with segment 6 for a rewarding several day trip relatively close to Denver. Many folks hike this whole section starting with segment 1, but know that the first 3-4 segments are less scenic (though I liked the long gradual meadow in segment 4) and sometimes have trouble with food-habituated bears (especially segment 1).
Segment 6: Kenosha Pass to Gold Hill Trailhead
Distance: 32.7 miles
Elevation gain: 5196 feet
Elevation loss: 5968 feet
Open to bikes: yes
Segment 6 is long, varied, and takes southbound hikers up and over their first real pass and the Continental Divide. Georgia Pass is gentle, ascending gradually through broadly sloping tundra with wide-open views.
Logistically speaking, segment 6 is relatively easy to access on both ends. Kenosha Pass provides highway access with free parking, and Gold Hill Trailhead is easily linked to nearby Frisco or Breckenridge via the free Summit Stage bus.
Segment 6 could be a rewarding long weekend adventure on its own. Alternatively, extend it by starting with segment 5, or continue past Frisco / Breck to the even more scenic segments 7 and 8.
Segment 7: Gold Hill Trailhead to Copper Mountain
Distance: 13.2 miles
Elevation gain: 3674 feet
Elevation loss: 3053 feet
Open to bikes: yes
Segment 7 (and its logical companion, segment 8) are, in my opinion, the best and most scenic segments on the Colorado Trail north of the Collegiate East / West split.
The stout climb to the crest of the Tenmile Range is well worth the reward. This is the first time southbound hikers will top 12,000 feet and spend several sustained miles above treeline (so afternoon storms can be an issue; plan around them). Enjoy sweeping views of mountains, valleys, and colorful wildflowers as you travel through alpine tundra along a scenic ridgeline.
The free Summit Stage bus from Breckenridge or Frisco to Gold Hill Trailhead, right on Highway 9, makes this an easy segment to access. Copper Mountain Resort, at the segment's end, makes a fun on-trail stop for food and beer, if that's how you like to roll.
Combine segment 7 with segment 8 for an excellent long weekend point-to-point on one of the most scenic sections of the Colorado Trail.
Segment 8: Copper Mountain to Tennessee Pass Trailhead
Distance: 25.4 miles
Elevation gain: 4417 feet
Elevation loss: 3810 feet
Open to bikes: yes
Segment 8 begins at Copper Mountain ski resort with a long climb up to Searle and Kokomo Passes, two scenic spots separated by just a few miles of high tundra. On the long descent enjoy views of Mount of the Holy Cross, followed by historic ruins of Camp Hale and a bit of mellow railroad grade to finish off the segment.
Segment 8's southern terminus is on US Hwy 24 at Tennessee Pass Trailhead, which has a parking lot and is easily accessed from Leadville.
I suggest combining segment 8 with segment 7 for a stunning 38 mile point-to-point, with the option to treat yourself to a solid meal in either Frisco/Breck or Copper Mountain.
For those with more time, you could continue to segments 9-11. These segments are mostly in the trees and contain more "filler miles" than the high alpine stretches that precede them. However, segments 10 and 11 offer access to the Colorado 14ers Mount Massive and Mount Elbert, respectively, if you'd like to do some peak bagging.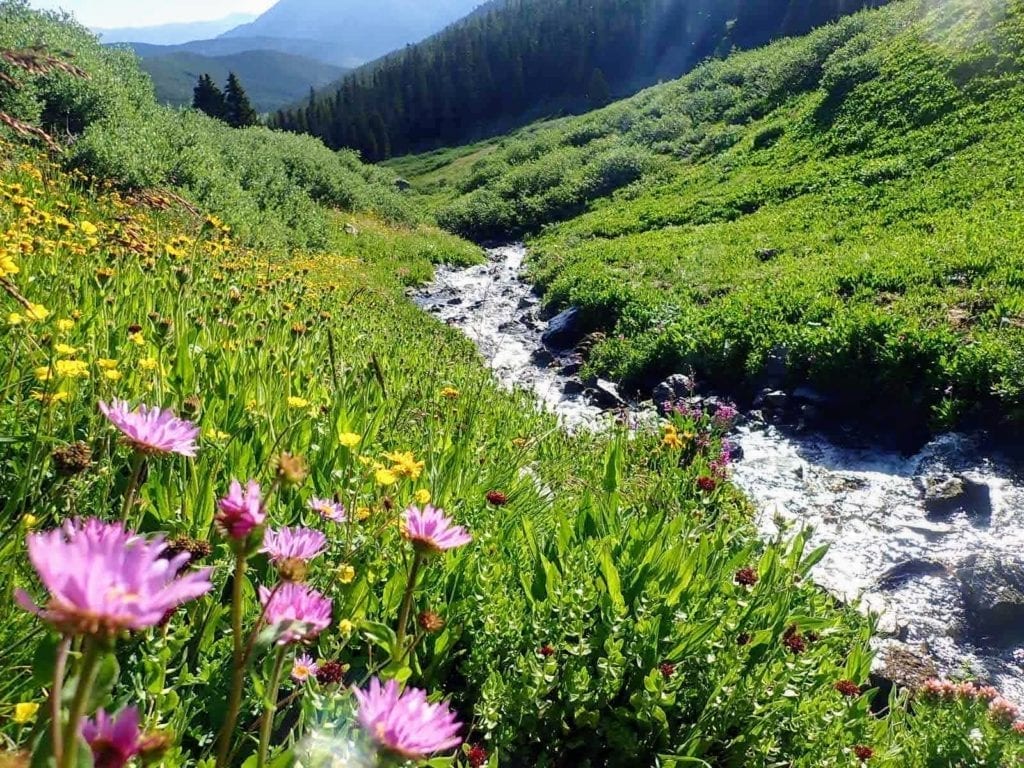 Collegiate West: Twin Lakes to Monarch Pass Trailhead
Distance: 83.2 miles
Elevation gain: 19,748 feet
Elevation loss: 17,058 feet
Open to bikes: partially
Collegiate West vs. Collegiate East might be the most commonly asked question about hiking the Colorado Trail.
It's generally accepted that Collegiate West is more scenic, challenging, remote, and vulnerable to summer thunderstorms (being much more above treeline). Collegiate East is a bit "easier," more in the trees, and more safely traversed during periods of bad weather. I chose Collegiate West on my thru hike and loved it!
Basically all of the Collegiate West section, denoted as segments CW1 – CW5 in the guidebook, is fabulously scenic. Since it's so often traveled as a single chunk, or as part of the Collegiate Loop (see below), I'm going to include the entire section here. I'll make a few notes about each individual segment, but really, it's all fantastic.
Collegiate West technically begins around mile 13.7 of segment 11, which starts at the small town of Twin Lakes. However, this stretch of segment 11 isn't very scenic or interesting (it travels around the lake through a popular day use area) so I would suggest starting from the Interlaken Trailhead parking area near mile 12.2 of segment 11.
CW segment 1 gets right down to business with a 3000+ foot climb up to iconic Hope Pass above 12,500 feet. Ultrarunning fans will be thrilled to traverse part of the famed Leadville 100 race course in this highly scenic section.
CW segment 2 includes Lake Ann Pass, just as dramatic and scenic as Hope Pass and also above 12,500 feet.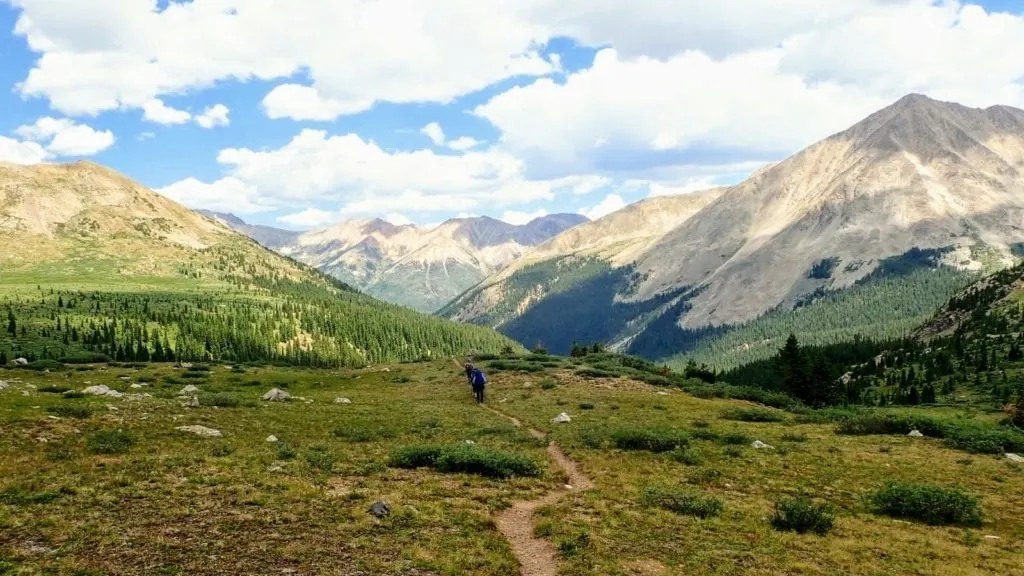 CW segment 3 begins at Cottonwood Pass on Highway 306 in an area initially busy with day hikers. But few venture past the first climb, leaving backpackers to enjoy many miles of exposed rolling ridgeline along the Continental Divide. Keep an eye out for potential escape routes in case of thunderstorms! It's often possible to scramble downhill off the trail to trees and lakes as needed.
CW segment 4 includes a stretch of historic old railroad grade dramatically cut into a steep hillside, as well as some unpleasantly rocky jeep road. Chalk Creek Pass, at "only" 12,105 feet, brings a return to high alpine beauty.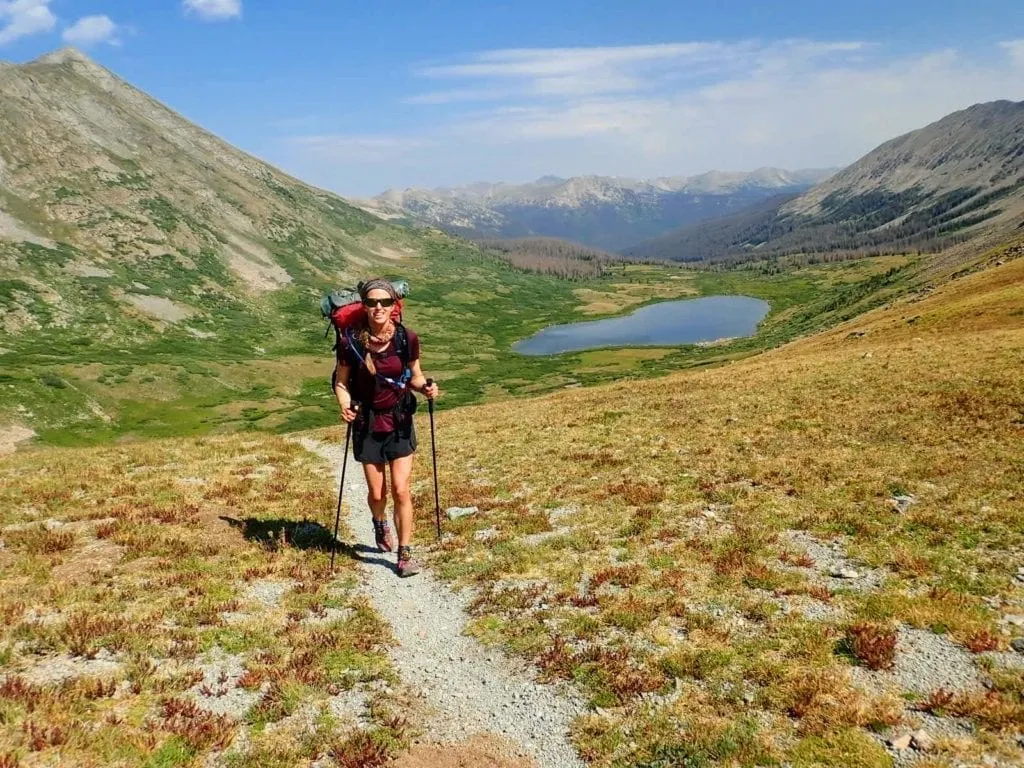 From the end of CW4 it's possible to hike 1.5 miles out to a highway and Monarch Mountain Lodge for a room, basic restaurant, mail drop, and/or tiny snack shop. I don't personally recommend this for section hikers as long as you can carry enough food. The restaurant has very restricted hours, the snack shop has limited inventory, and the 1.5 extra miles feel very long on the (uphill) way back. Thru hikers, however, may find it a convenient mail drop location.
CW segment 5 begins near Boss Lake trailhead with another stout climb up to the Continental Divide, offering vast views and pristine alpine lakes to take your mind off the hard work. The next section through Monarch Ski Resort is a bit less wild-feeling but still interesting.
At mile 10.8 of CW5 you'll reach Monarch Pass Trailhead, a popular hiking spot on US Highway 50 and home to the excellent Monarch Crest Souvenir Shop. If you're not continuing onward toward segment 15 or completing the Collegiate Loop, this would make a good place to end your Collegiate West section hike.
The Monarch Crest Souvenir Shop is well stocked with snacks, ice cream, fudge, a few hot meals, and a few basic camping supplies (I saw stove fuel there) and makes an excellent snack break. The official end of the Collegiate West section is 5.8 miles further south at a trail junction on a ridge above South Fooses Creek (no vehicle access).
Collegiate Loop
For those who have the time and can't decide between west or east, a popular option is to combine them both into the Collegiate Loop. This 160ish mile route is like a sampler of the CT's best varied terrain, with the blissful logistical simplicity of a loop.
I would say the Collegiate Loop is in the same category as the Tahoe Rim Trail and even the John Muir Trail, though thankfully lacking the permit hassles of the latter. Most people take around two to three weeks to backpack the full loop.
Segment 20: Eddiesville Trailhead to San Luis Pass
Distance: 12.7 miles
Elevation gain: 3104 feet
Elevation loss: 1478 feet
Open to bikes: no
Between the Collegiate section and segment 20 the Colorado Trail spends some quality time in lower and drier ranch land and cow pastures. Most southbound thru hikers welcome the transition back into high alpine terrain that begins with segment 20. Section hikers looking for the most scenic segments would do well to start here, and consider continuing all the way to Durango for some of the most scenic miles on the CT.
Most of segment 20 is a long but gradual climb up to the saddle below San Luis Peak at 12,612 feet. The peak itself can be summited from here and is probably the easiest 14er to bag from the Colorado Trail. From here the segment offers more great views above treeline before ending at San Luis Pass, a jeep access road used by hikers heading into Creede for resupply. This isn't a particularly easy access point (though local shuttlers can help if pre-arranged), and the scenery of segment 21 beckons you to continue…
Segment 21: San Luis Pass to Spring Creek Pass Trailhead
Distance: 14.8 miles
Elevation gain: 3116 feet
Elevation loss: 4157 feet
Open to bikes: no
Segment 21 brings more stunning high tundra and is mostly above treeline, culminating in several miles across exposed Snow Mesa at around 12,200 feet. This is a dramatic if chilly place to camp, but make sure the weather is clear.
Segment 21 ends at Spring Creek Pass Trailhead, which has a large parking area and is 17 miles from the town of Lake City on Highway 149. Or, you could continue to segment 23…
Segment 22: Spring Creek Pass Trailhead to Carson Saddle
Distance: 17.2 miles
Elevation gain: 3829 feet
Elevation loss: 2385 feet
Open to bikes: yes
Segment 22 boasts the highest point on the entire Colorado Trail at 13,271 feet. This alone is a great reason to hike it! As you would expect from this claim to fame, the segment also offers miles of high tundra and sweeping views above treeline.
Spring Creek Pass Trailhead and parking are easily accessible on Highway 149, 17 miles from Lake City. Carson Saddle is only accessible to 4wd vehicles via rough road, so it makes sense to combine segment 22 with my personal all-time favorite, segment 23…
Segment 23: Carson Saddle to Stony Pass Trailhead
Distance: 15.9 miles
Elevation gain: 3515 feet
Elevation loss: 3339 feet
Open to bikes: yes
Segment 23 ranks in my personal top three days of hiking, ever. Here in the San Juans the mountains are younger, more jagged, still vast and yet somehow more intimate. The blue-green slopes look hand painted and the rocks underfoot sparkle with crystalline formations. The views feel endless. It's a special place.
Neither end of segment 23 is easy to access without 4wd, but that's no problem, because you'll want to combine it with adjacent segments anyway.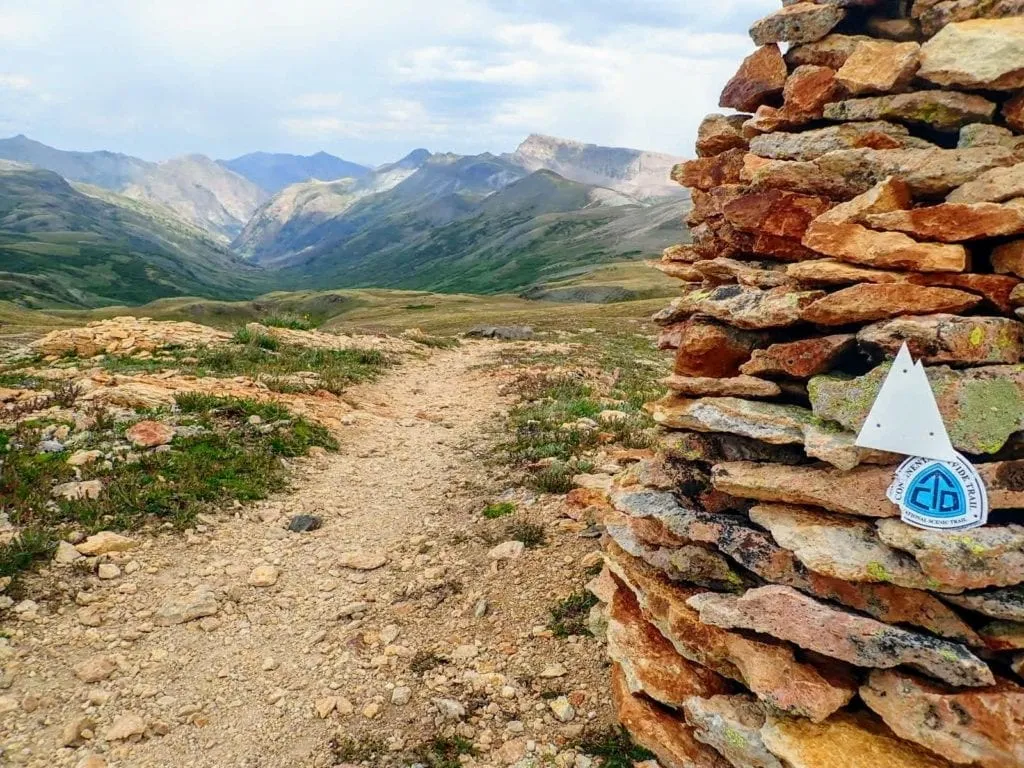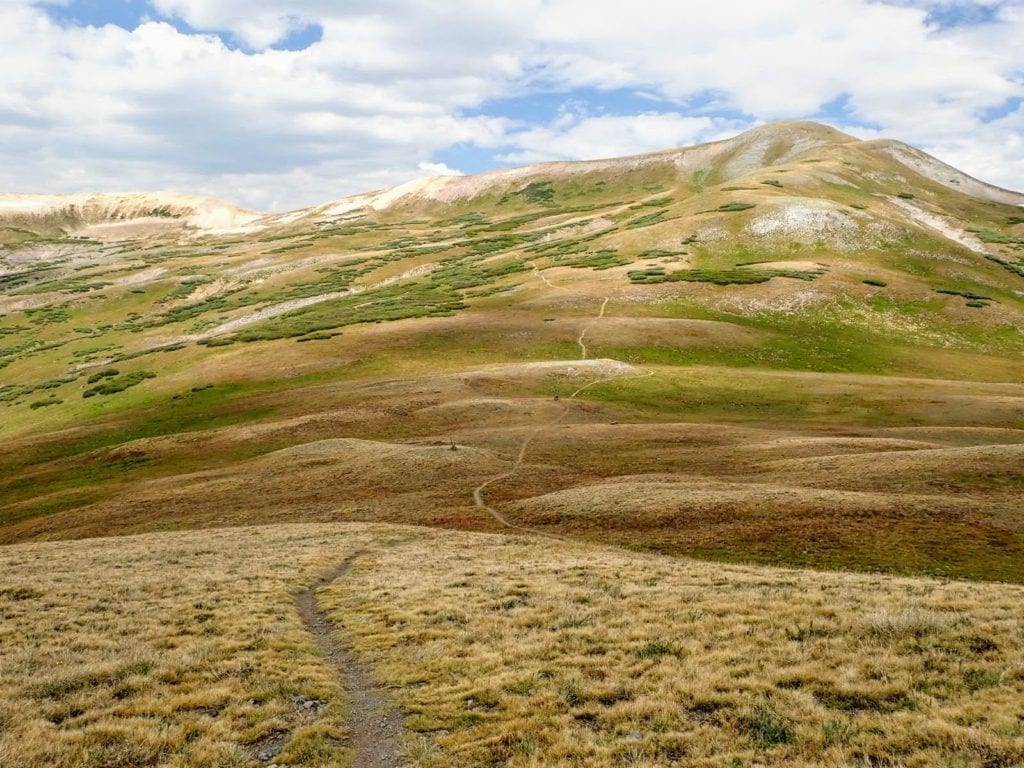 Segment 24: Stony Pass Trailhead to Molas Pass
Distance: 20.2 miles
Elevation gain: 3475 feet
Elevation loss: 5119 feet
Open to bikes: no
Segment 24 is a fitting culmination to the big mountain tour that began in segment 21. First enjoy seven miles of more high terrain, including some lovely alpine lakes. Then the CT plunges into the Elk Creek drainage in a dramatic descent to the Animas River, loosing nearly 4000 vertical feet in 8 miles. This stretch is not always as scenic but is dramatic and highly varied.
This segment ends at Molas Pass, an easy 7 miles from Silverton on highway 550. Combining segments 21 – 24 would make a fantastic CT section hike for those who love big mountains.
For those interested in continuing all the way to Durango, the next few segments are not as spectacular but still worthwhile. Segment 25 is easier and more forested. Segment 26 includes Blackhawk Pass, just a smidge above treeline. Segment 27 includes four miles along Indian Trail Ridge that are scenic and dramatic, then a descent to Taylor Lake which is a popular camping spot. Segment 28's claim to fame is the southern end of the Colorado Trail, just a few miles from Durango at Junction Creek Trailhead.
Least-Beloved Segments
I won't call these the "worst" segments on the CT, because any day on the trail can be a good day in my opinion. But, there are a few segments which are often considered more tedious and less fun by thru hikers who have traversed the entire Colorado Trail. If you're not intending to complete the whole trail, you may want to skip these.
Segments 16 and 17, in the Sargents Mesa area, include some unpleasantly steep, rutted, and rocky trail that is open to motorbikes. Water also becomes scarcer in this section, making heavier packs and/or longer days a necessity for most. The change in terrain can be particularly jarring for those who just descended from the high alpine beauty of Collegiate West.
Segments 18 and 19 can also be quite dry and traverse cattle country, making them a bit less pristine. They also include quite a bit of dirt road walking (I suspect this section flows better for bikers than hikers). Water filters often clog here, and you'll want to keep an eye out for cow pies when pitching your tent.
That said, this area features different terrain than the rest of the trail. The big high meadows can be quite appealing in the right light. I would encourage anyone interested to try them for yourself and see what you think.
It's All Good
No matter which segments of the Colorado Trail you choose to hike, it's hard to go wrong. The trail in its entirety represents the region's variety in all its beauty as well as its imperfections.
Sometimes wilderness is pristine high alpine tundra, sometimes it's dense forest, and sometimes it's the desolation of a burned area or the eeriness of a forest killed by pine beetles. We learn how it all fits together by traversing it mile by mile, step by step.
For more inspiration and preparation, you might enjoy my post on essential tips for hiking the Colorado Trail, or these other popular backpacking resources:


Hiking resources in your inbox?
There's more where this came from! Sign up here for occasional emails full of inspiration and information about backpacking and hiking.


Share the Adventure
If you found this article helpful, please consider sharing so more people can benefit from it:
Pin For Later