Northern Vietnam is a spectacular and challenging place to ride a bicycle. It also happens to be where I started my 2.5 month bicycle tour of Southeast Asia, jumping straight into the most challenging section of the trip with almost zero prior bicycle touring experience. Worth it? Totally.
The roads and the learning curve were both steep, sometimes cultural differences were perplexing, and sometimes the weather was bad. But the scenery, oh my gosh the scenery.
Through the struggle of those first three weeks I gradually became a cyclist, and when I look back on my trip that time period feels special to me despite the challenges (or, as any endurance cyclist or adventurer will relate to, probably because of them). It had a rugged, remote feeling that I did not find again in Southeast Asia.
Looking back, for me the highlights were the gorgeous scenery and the (mostly) good roads and light traffic. The biggest challenges compared to elsewhere in SE Asia were the steep hills, occasional tricky interactions with locals, and the aggressive dogs!
If you think the challenge and the beauty of northern Vietnam might be for you, here's an overview of what to expect. This information is based on what I learned during three weeks of cycling in northern Vietnam during September and October 2018.
My Northern Vietnam Cycling Route
This map shows a pin for everywhere I spent a night while cycling in Vietnam. I spent three weeks riding this route, starting in Hanoi and ending at near Dien Bien Phu where I crossed the border to Laos.
Here's a short description of the route.
North from Hanoi on highway QL3 to Cao Bang
West on QL34 and QL4C to Ha Giang via Meo Vac, Dong Van, Yen Minh (the northern part of the famous Ha Giang Loop, popular with motorbikers)
South from Ha Giang on QL2, then detour north on DT177, DT178, and DT153 to Bac Ha. Then QL4E to Lao Cai.
Lao Cai to Sapa on QL4D (by bus), then on to Lai Chau, then north to join QL12. Then back south through Muong Lay to Dien Bien Phu.
From Dien Bien Phu, QL279 (pretty bad road in 2018) to the border with Laos.
Most of these route ideas came from linking up the motorbike routes described on Vietnam Coracle. Here are the great articles and route descriptions, with accompanying Google Maps:
For more detail about my favorite towns along the route, see this post: 8 Gorgeous Towns in Northern Vietnam.
If you plan to cross to Laos at the Dien Bien Phu border crossing, note that as of 2018 you cannot leave Vietnam at Dien Bien Phu if your Vietnam visa is an e-visa. This is not the same as a visa on arrival (VOA), which is arranged ahead of time online with a facilitating company and then picked up on arrival at the airport. I crossed with a VOA with no issues, but met travelers with e-visas who had been turned back.
Hanoi to Cao Bang
There are plenty of things to do and see in Hanoi, and I enjoyed spending a couple days there before starting my ride. Though the traffic can feel chaotic if you're not using to riding in Asia, I thought the city overall had a friendly vibe.
My route north on highway Q3 was picked somewhat randomly by looking at a map and choosing a road that would take me north to the Ha Giang area via Cao Bang to the west. The first couple days were busier and less scenic, but after that the famous green hills of northern Vietnam started to become the prominent feature and the riding grew both harder and more scenic.
Cao Bang to Lao Cai
This stretch through the north of Vietnam was by far the highlight of the ride. Traveling through the Ha Giang region on a bicycle is truly special, with its gorgeous green hills, terraced fields, hill tribe villages, and small towns.
After Xin Man you can choose to head south on the main road, or take more adventurous routes through the north. I did a bit of each, starting on the northern route but altering course south when in the mood for something different. The remote roads up there were nice and empty, but the villagers were very reserved and didn't necessarily seem happy to see me, and in heavy rain landslides can be a problem.
Lao Cai is a big city, and you can see China literally right across the street. But maybe because it's a jumping off point for tourist trips to Sapa, I found it a bit less friendly than the smaller towns I passed through prior.
Lao Cai to Dien Bien Phu
This stretch takes in the famous tourist town of Sapa. I actually put my bike on a bus up the long hill from Lao Cai to Sapa, because the curvy road was busy with traffic and I didn't feel safe.
Sapa itself was underwhelming to me, maybe because it was gloomy and rainy when I arrived, and maybe because I'd already had my fill of gorgeous northern Vietnam scenery. I arrived midday and didn't spend the night.
The section after Sapa is extremely scenic, with big mountains and wide vistas, enjoyable even in the rain. There is plenty more scenic riding to be found between Lai Chau and Muang Lay taking the northern route, and I enjoyed that section.
Once you reach Dien Bien Phu, it's time to start the border crossing to Laos. The road to the border is a big hill with bad surface. The traffic is light, mostly in the form of big slow-moving trucks.
For details on the border crossing, see this post about crossing into Laos at Dien Bien Phu.
Though I cycled only in northern area, plenty of people cycle the entire length of Vietnam. If you're looking for popular places throughout the rest of the country to base your trip around, this 10 day Vietnam itinerary hits the highlights.
Terrain
Mountains! Don't underestimate them. At the time I thought I was just out of shape – and I was – but later I realized the gradients in this part of Vietnam truly are steeper than elsewhere in the region. A typical climb would be between 500 – 1000 meters of gain, with virtually no flat or down mixed in. In my state at the time, the big ones could take me three or more hours.
The downhills are similarly steep, of course, and can last for miles and miles. My hands got sore from gripping the brake levers, but it was much better than going uphill.
The main towns with accommodation are often in the valley between two big climbs, or near the top of a climb, which means you'll be planning your day around the climbs. There were days when I quit early in the afternoon, not because I didn't have time to reach the next town, but simply because I couldn't bear the thought of spending another three hours pedaling uphill.
Accommodation
Pretty much any town has at least one guesthouse, but you need to know how to find them. Learn to recognize the Vietnamese phrase "Nha Nghi," which is the term for a local family-run guesthouse, usually inexpensive but well appointed. Some towns also have a bigger hotel with either an English or Vietnamese name. Tourist towns may even have a backpacker hostel or homestay, which offer communal sleeping arrangements.
If you can't find a place to stay, ask the locals by making the universal gesture for "sleep" – put both hands palms-together, tilt your head to one side and rest your cheek on the back of one of your hands. Be prepared for vague pointing in various directions. If you ask enough people you'll eventually find something.
Accommodation is usually inexpensive. I don't think I ever paid more than about $8 USD for a nha nghi room, usually less. A bit of polite negotiation is common, and owners would often start the price at 200,000 dong (about $8.50) and come down to anywhere from 150,000 to 180,000 dong when asked politely. The more competition in town, the more they'll usually come down. Some of the most expensive rooms I stayed in were also the worst, simply because they were the only joint in town and they could get away with it.
Even the cheapest guesthouses usually had nice extras like free shampoo packets, a towel, sandals for the bathroom, and a disposable toothbrush (good for bicycle cleaning).
Guesthouses in Vietnam are usually multi-story and impractical for keeping a bicycle in your room at night, but usually have bicycle and motorbike parking in the lobby which is staffed during the day and locked at night.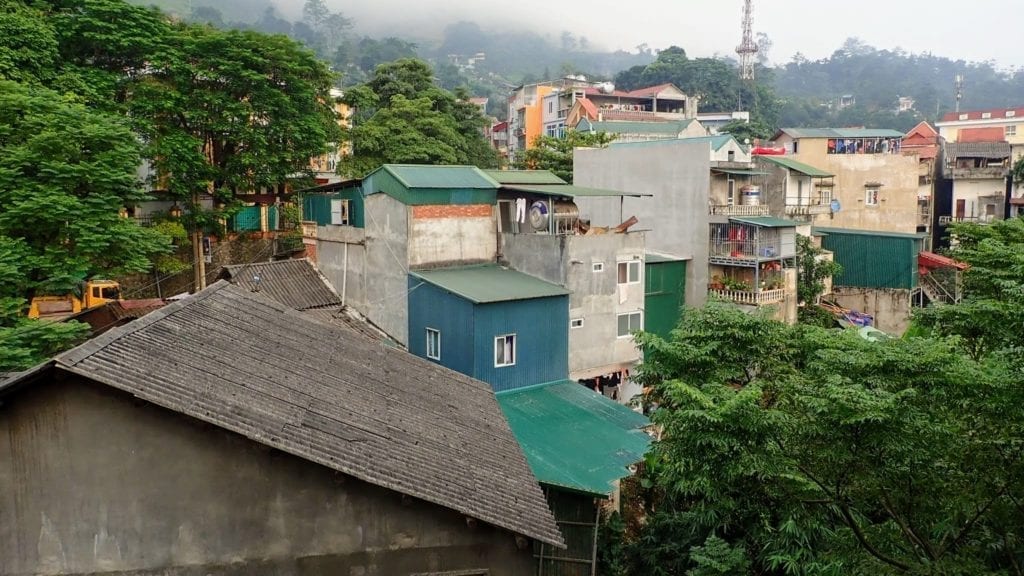 For those who prefer to wild camp, I think this is a tough region to do it in. For one thing, there isn't much flat ground. If you are an expert at charming locals and finding hidden spots then maybe you'll figure it out, but guesthouses are so cheap that I was never motivated to try camping in Vietnam.
Road Quality
In general, pretty good! I don't think I appreciated Vietnamese roads enough at the time, but once I got to Cambodia and parts of Laos I remembered them fondly. Many of the small highways in the north are just single-lane roads, but the main ones are usually paved. Be wary of simply following lines on the map though, as I've read many of the secondary and smaller roads are not paved and can turn into a real mess in the rain.
Of course, expect some sections where the pavement is old and potholed, or sometimes completely missing. In this case the going can be rocky, bumpy, dusty and slow. Landslides are also a big problem when it rains, and can close even the good roads completely until they are cleared.
Traffic
Generally speaking, drivers in Vietnam were more aggressive than in Laos and Thailand, but less reckless than on some of Cambodia's highways. I wrote a separate post sharing tips for safely dealing with traffic in Southeast Asia and it applies well to Vietnam.
Once you get into the mountains the traffic is pretty light, consisting of a mix of motorbikes, private cars, buses and trucks. On the small single-lane roads the biggest danger is the large trucks that always seem to be heading to a construction site somewhere, or maybe to/from China. They usually honk around tight corners and you can hear them coming for ages, but it's your job to get out of their way – don't expect them to stop or even move over much unless they have plenty of room.
Less frequent but more reckless are the buses. I was run off the road into a ditch near Ha Giang by a bus passing a truck, taking up all of my lane and the shoulder as well. Use a rear view mirror and ride defensively.
I took a bus once in Vietnam because of traffic concerns, on the climb from Lao Cai up to Sapa. It was curvy and busy with buses and cars going both directions and often recklessly overtaking each other. Visibility was poor in the misty rain and it would have taken me most of the day to ride it. On the bus, it took about an hour and I arrived safely. No regrets!
Food
Meals are easily found at least three times a day, every day, as long as you like noodle soup (pho). Most small roadside restaurants will not have a menu but you can mime slurping soup and usually get something put in front of you. "Ga" means chicken, "bo" means beef, and sometimes it'll just be mystery meat.
If you can figure out how to order something besides noodle soup, bonus!  I sometimes had good luck with bánh cuốn and bánh mì (look for the baguettes).  In towns with a larger tourist presence you can probably find a restaurant with a menu where you can point to a picture or maybe even order in English, but you'll pay extra for the convenience. Still, Vietnamese food is famous for a reason, so it's worth making an effort to taste more variety when you're in an area that offers it. This Vietnamese food guide will help demystify the options.
I like to get on the road fast in the morning and my western palate still balks at noodle soup for breakfast, so I would visit a convenience store (they are everywhere) the evening before and buy a selection of breakfast and snack foods. My favorites were boxed milk (regular or soy), moon cakes, peanuts, and yogurt cups. When Laughing Cow cheese was available, that was a delicacy.
Pro tip: both instant coffee and instant noodles can be made with cold water. For the coffee, pour the powder into a small water bottle and shake until dissolved. For noodles, just let sit for about ten minutes until soft.
I did not take cooking gear to Southeast Asia and never missed it.
Food prices
It's pretty common for tourists to be charged more than locals for both meals and snacks, especially in areas with more tourists. Sometimes I would simply pay it, since the difference was typically less than 50 cents. Sometimes I would shop around for the best price if there were multiple options. One time the local diners told me what the price should be and the owner agreed. If you can manage to negotiate politely despite the language barrier, you may be able to pay the local price more often than I did.
I found this to be especially frustrating around the town of Lao Cai, where most tourists going to Sapa arrive on the train. Shopkeepers and restaurant owners there tried to overcharge me by a factor of 3 or 4, then sometimes acted offended or angry when I tried to bargain. Fortunately, out in the countryside things were usually more comfortable.
Water
Most people advise against drinking the tap water in Vietnam so you'll want to buy or ideally purify your water.
Chilled bottled water and other drinks are easy to find at shops along main roads. I carried a 1.5 liter bottle in an oversize bottle cage and a smaller standard squeeze bottle, and this was almost always enough until I could refill. Sometimes guesthouses or restaurants will have free purified drinking water available from a dispenser.
A few times, the road passed through a sparsely populated area on a hot day and I ran out of water. If I hadn't had chlorine dioxide drops with me, I probably would have carried more to be on the safe side. But in October there was usually water running out of the hills everywhere, and I was able to simply fill my bottles from streams or springs by the side of the road and purify the water with Aquamira.
Note: I brushed my teeth with tap water all throughout SE Asia, being careful not to swallow any, and was mostly fine. Who knows if that contributed to the occasional digestive issues I experienced, but they were nothing a couple of Imodium couldn't fix.
People
I met many kind people in Vietnam. Old ladies invited me to shelter from the rain under their awning, or patiently and honestly counted out money from my hand so I could buy a cold drink from their shop. Young Vietnamese sightseers wanted to take selfies and practice English with me. Guesthouse owners offered me meat and vegetables from their own dinner to add to my instant noodles one night when I couldn't find a restaurant. Truck drivers and locals on motorbikes flashed enthusiastic thumbs up in encouragement as I dragged myself up steep hills in the afternoon sun.
Northern Vietnam also had its interpersonal challenges for me. At the time I was just starting my first bike tour and didn't have much to compare with. I now understand that the reaction to a strange visitor on a bicycle definitely varies from place to place, and northern Vietnam has some places where people are very reserved.
In the small villages in the far north, most people simply stared at me with no discernible expression. I don't expect a welcoming committee, but even when I waved and smiled they would not return the greeting, which – filtered through my American cultural lens – felt unfriendly and unsettling. I've read this is different in the south of the country, and indeed things got more comfortable as I headed south and west toward the border with Laos.
Northern Vietnam was also the only place in SE Asia where I encountered minor hostility. I was flipped off by a truck driver on a remote road, and a small boy threw a rock at me at the very top of a major climb (very anticlimactic!). Not big deals and could have happened anywhere, but never happened again in two more months spent in Laos, Cambodia, and Thailand.
I expect there were some cultural disconnects, and as an introverted traveler with no Vietnamese language skills I didn't manage to cross them. Others may do better. This definitely isn't a reason to avoid traveling in northern Vietnam, just something to be aware of if you're coming from a more friendly and relaxed place like neighboring Laos for example. The Vietnamese don't all hate you! (I think.) They just react differently to foreigners.
Communication
Unless you speak Vietnamese, communicating with locals will be a challenge outside of Hanoi. Expect to do most of your communicating with hand gestures and your transactions by counting on fingers. Google Translate can help sometimes. I'm sure a phrase book or picture chart would have helped too, if I'd had them.
It's nice to try and learn a few words of Vietnamese, but the language is tonal and notoriously hard for westerners to pronounce correctly. Most of my efforts were met with confusion and lack of engagement.
Occasionally I ran into Vietnamese people who spoke a bit of English and we were always happy to chat with each other. Usually they would be university students or educated professionals from the cities. Don't count on them being around when you need to find a meal, a bed, or a bus though.
Weather
The weather in northern Vietnam was distinct from everywhere else I cycled in Southeast Asia. I was there in late September and early October. Many days, especially at lower elevation, were miserably hot and humid. I struggled with overheating on some of the long climbs, awkwardly drenching myself and my clothes in water from beautiful roadside waterfalls (life is hard sometimes).
Higher up in the mountains however, it could be quite chilly. I really appreciated my rain jacket and rain pants, both for the few days it rained and simply for warmth on the wind-chilled downhills.
When it rained, it was anything from the classic monsoon downpour – short and intense – to an all-day cold drizzle. Sometimes it was simply cloudy and cold, especially around Sapa, which was a bummer because the area is known for its views. Fortunately by the time I arrived in Sapa I had already seen plenty of gorgeous mountains and terraced rice fields from much less touristy places.
Navigation
I started my trip with Google Maps for Vietnam cached offline on my phone. This worked great because I ended up getting a lot of my route ideas from a few excellent articles at Vietnam Coracle (see Route below), which included Google Maps routes that I could view in my maps app.
I did see a few intersections where a brand new highway had been built but did not yet exist on Google Maps. I have no idea where these highways went and I didn't follow them (I know, where's my sense of adventure), but they looked really well constructed. The pace of road construction in Vietnam is impressive!
Because the elevation profile was so critical for knowing how far I could go each day, I supplemented Google Maps with the Ride With GPS app. I would create elevation profiles at night using guesthouse wifi and the Ride With GPS mobile website, then cache them in the Ride With GPS Android app for riding the following day.
Later in my trip I switched to Maps.me for both navigation and elevation profiles, plus help with finding guesthouses and shops, and it worked great. I don't see any reason why it wouldn't have worked well in Vietnam too.
Bicycle Care
I fortunately had no issues in Vietnam that I couldn't fix myself with a bit of adjusting. I've read that motorbike repair shops are everywhere and happy to help a cyclist in a pinch. Still, outside of Hanoi I would not expect anything beyond basic parts and repairs, so plan to be reasonably self-sufficient and bring any parts and tools that might be specific to your bicycle.
For cleaning my chain when the dust and mud inevitably built up, I recommend baby wipes. They were available in packets of 10 or so in many small shops where you can buy food and drinks.
Buildings in Vietnam are famously tall and skinny, and your guesthouse room will often be up several narrow flights of stairs, so bringing your bike into your room at night isn't very practical. I always felt comfortable locking it in the lobby downstairs, where motorbikes usually parked as well, and the owners never had any issues with me doing this.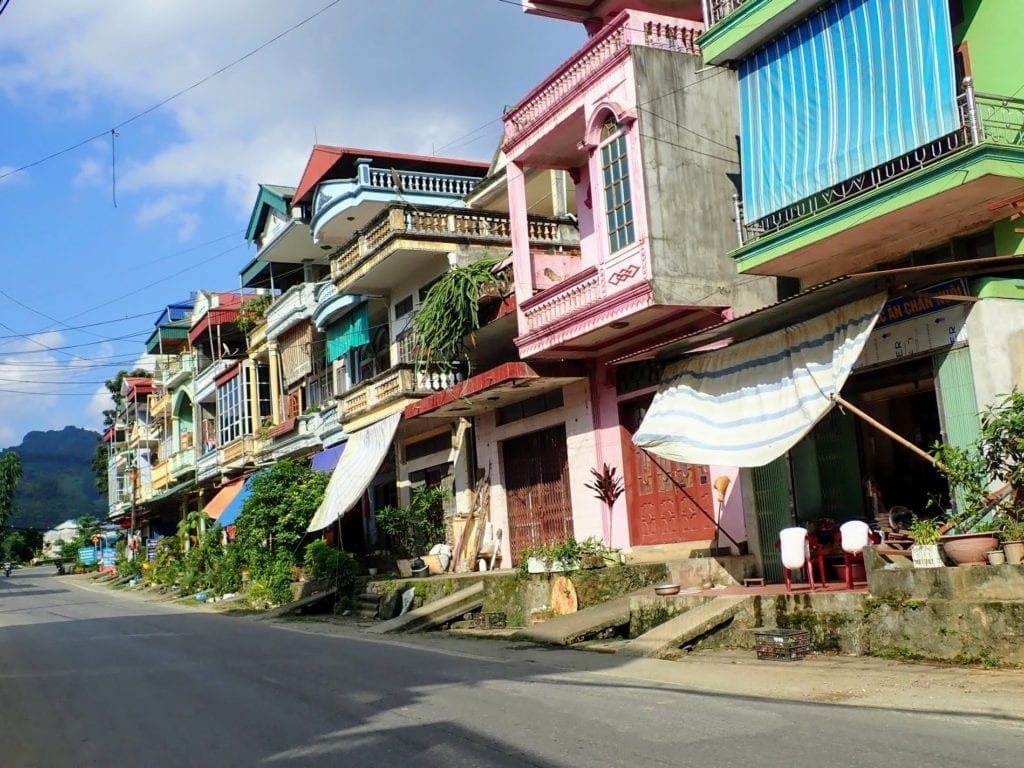 Dogs
Oh my gosh the dogs! Northern Vietnam was the only place in Southeast Asia where I was terrified of the dogs. They would tear out into the street, teeth bared and snarly madly, and tail me ferociously until I exited their territory. For some reason, the moment I crossed the border into Laos this stopped happening.
Usually, the best solution was to keep pedaling and exit their territory as quickly as possible. They would almost always leave me alone immediately after I crossed that imaginary line that only they and their dog neighbors know about.
Other tips that may have helped, or possibly just made me feel better as I pedaled like hell:
Raise an arm and yell in a deep and authoritative voice. Be the alpha dog. I usually threw in a few swear words to help me get the tone right.
Keep your water bottle handy and perfect the one-handed squirt to the face.
Some locals threw rocks, but I never tried this.
Usually these things won't make the dog stop, but I felt like they made it second guess its alpha status just enough to think twice about biting me.
Obviously it's best to choose any rest or break spots well away from properties with dogs, as they WILL come chase you away as soon as you've opened your bag or started to do whatever you stopped to do.
Safety and the Solo Female Factor
It's always impossible to say for sure – there's a lot of luck involved in safety – but I felt like northern Vietnam was a pretty safe place to travel, on a bicycle or otherwise. I know that petty theft happens, especially in the cities, but I did not experience any. I've read that violent crime against foreigners, male or female, is rare.
Not that any of this should matter in my ideal world, but I'm a white woman in my mid-thirties and I cycled solo, usually wearing knee-length baggy mountain bike shorts and a t-shirt. I had two minor "solo female" issues in Vietnam, which is two more than I had in all the rest of my time in SE Asia.
While attempting to negotiate a guesthouse room rate, the man I was negotiating with propositioned me, first in Vietnamese I couldn't understand and then with a very clear and very rude hand gesture. In hindsight, not that it was my fault at all, but I think my direct eye contact during the negotiation was a contributing cultural difference. After that I learned to tone down my direct American eye contact a bit when talking with local men, as it can be interpreted differently in that part of the world.
While riding downhill from Sapa to Lai Chau, a man riding his motorbike uphill gave me a very clear view of his junk while masturbating. I still can't figure this out – he appeared to have started before rounding the corner and seeing me – and fortunately my reaction was more amusement than distress. But this is sexual harassment and it's not cool.
As always, follow your gut. I changed my intended route once, leaving a pretty remote road in the far north in favor of a more traveled route to Bac Ha. I'm almost certain it was all in my head, but I didn't like the feeling of the remote route. The occasional villagers seemed extremely reserved and wary, a passing truck driver flipped me off, and the traffic was light enough that I was completely alone for long periods of time. None of this means I was in danger of course, but I was still too anxious to enjoy myself. Within a couple hours this was solved by my route change and I was much happier.
Solo Cyclists
Solo cyclists of any gender have some additional challenges, and the big one for me in northern Vietnam was the sense of isolation created by the language barrier. I'm about as introverted as they come, but I still craved human interaction during much of my time in Vietnam.
The good news is that most routes will take you through a town with other travelers every few days at least. A private nha nghi room is certainly nice, but if you're craving conversation look for the occasional hostel or, more common, a "homestay" which is basically a big room full of mattresses and usually includes a communal dinner. In one of these homestays I met a group of young Vietnamese women on a weekend trip who spoke great English and answered all the questions about Vietnam I had been storing up. It was a highlight for sure.
Certain routes are increasingly popular with young motorbike travelers, both foreigners and Vietnamese. The more observant among them are often baffled and impressed to see a cyclist braving the steep roads, and will shout encouragement or even pull over for a chat. This was most common for me on the Ha Giang loop route and definitely helped power me up some of the hills.
I only met two other self-supported touring cyclists in northern Vietnam: two Vietnamese men on a tour of their own country as well as Laos and Thailand. I also came across a van full of Australians on a supported two week tour. It seems like motorbikes are the preferred tool for the area, for reasons that are pretty clear.
Enjoy!
Northern Vietnam really was unique among the places I rode in Southeast Asia. The challenges and rugged beauty lent it a special mood that I found lacking (though didn't necessarily yearn to return to) while cruising the flat sunny highways of southern Laos.
Especially for cyclists in a group, or for strong solo cyclists who don't mind some solitude, I would definitely recommend it. And for a stubborn solo beginner like myself, well, don't let me stop you! You'll get used to those hills eventually.
You Might Also Like
Bike resources in your inbox?
There's more where this came from! Sign up here for occasional emails full of inspiration and information about bikepacking and bicycle touring.


Share the Adventure
If you found this article helpful, please consider sharing so more people can benefit from it: