Maybe you're thinking: "Would it be totally nuts to ride a bicycle across America?! Coast to coast, thousands of miles, the whole shebang? Is this delightfully crazy idea a real possibility?"
Actually, you're not alone. It's a bold idea to be sure, but not unreasonable. Many people have made the journey, and many more continue to dream about it. With a bit of planning and preparation, anyone can do it.
Whether you're an American looking to experience your country in a special way, or a visitor seeking an epic travel experience, riding a bike across the US is guaranteed to be memorable.
I can vouch for it personally. In 2019 I made my own cross-country journey, still a highlight of my bike travel résumé. In 2021 I set out again traveling south to north, border-to-border between Mexico and Canada, for a more wild and rugged journey along the continental divide. I'm a born-and-raised Californian, and I absorbed more of my country during these summer journeys than I had in my whole life prior.
If you're in the planning stages of a cross-country adventure, or even if the idea is just starting to tickle your fancy, these important tips – based on my own experience and that of other cross-country cyclists – will get you one step closer to making it happen. And you definitely should make it happen.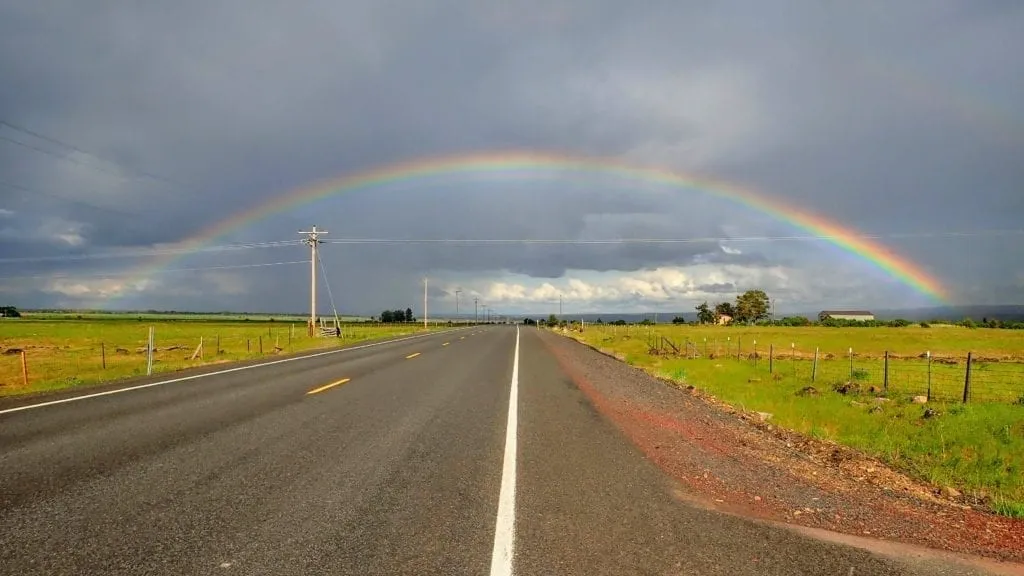 Choose Your Route Carefully
America, as you may know, is a really big place. There isn't just one bicycle route across America; there are nearly infinitely many! Of course, some routes are better than others due to traffic and road conditions, and a few are well-traveled classics. The best route for you will depend on which season you're able to ride in, what kinds of terrain you want to experience, whether you like pavement or gravel, and how comfortable you are riding in traffic.
Any discussion of long-haul US bike routes has to start with the Adventure Cycling Association. They've developed an incredible network of routes offering the security and community of bike-friendly businesses, top-notch maps, and well-trodden (well-pedaled?) paths.
The ACA has developed three coast-to-coast routes:
TransAmerica Bike Route: This one is the classic, and also the longest established route across the US.
Northern Tier: Similar in length to the TransAm, this route stays north instead of veering south at the Rockies.
Southern Tier: This route is the shortest coast to coast option, and also the most practical to ride in shoulder seasons and winter.
Those three ACA routes are classics and many cyclists successfully make the journeys every year. However, increasingly busy roads have led some folks to look for routes with less exposure to traffic. If keeping traffic-related risk low is a top priority for you, consider these alternatives:
Bike Nonstop US: This route was first created for a self-supported race in 2019, with the goal of crossing the US using as many miles of rail trails and backroads as possible. About one third of the 3500 miles are on gravel. This is the route I followed on my own cross-country journey, and I do recommend it. It's lower-traffic than the alternatives for sure, but there is still plenty of vehicular road riding to contend with.
Great American Rail Trail: Before you get too excited, know that this amazing idea is still an unfinished project. The Bike Nonstop route above uses some of the finished portions, or you can link them up on your own. For now, use it as inspiration for your own routes, or follow along and even donate to the cause at railstotrails.org.
TransAmerica Trail (TAT) – off-road version: This route (no relation to the ACA pavement touring route of the same name) was designed for off-pavement motorbike riders, but a few hardy bikepackers do take it on. It's a challenging route and should only be considered by mountain bikers and bikepackers comfortable on rugged unpaved roads in remote areas.
North / South Routes
When most people think of biking across America, they're thinking east / west. But America has a few thousand miles between its northern and southern borders too! Here are some routes to consider if you want to bike across the country in the north/south direction.
Paved, west coast: Sierra Cascades and Pacific Coast
Paved, east coast: Atlantic Coast
Mostly unpaved, Rocky Mountains and western US: Great Divide Mountain Bike Route and its more remote and difficult bikepacking cousin, the Western Wildlands Route.

Designing Your Own Route
Can you create your own route? Certainly! You can link together parts of the above established routes with your own creative connections, or even design your own route from scratch.
Options will depend on where you are. If you want to bike across Wyoming on paved roads, you'll be riding the highway for quite awhile. In Illinois, by contrast, you can hopscotch along a grid of agricultural roads adjusting your route as you go. In general there are fewer route options west of the Rockies, and once you choose one it will be harder to reroute.
The biggest challenge will be figuring out which roads are safe and legal for bicycles. Though America has many roads that are lovely for biking, we also have many that are narrow, shoulderless, and clogged with fast traffic. Many of the big interstate freeways are legally off-limits to bikes, and they would be miserable places to ride anyway. When designing your own route, you'll need to plan ahead in order to avoid cornering yourself in a place that's hard to safely bike out of.
Apps like Komoot and Google Maps' bicycle mode can be very helpful. You might occasionally need to hitchhike or hop on a local bus to bypass a sketchy section of road. But if you're looking for truly unstructured, nomadic, pedal-powered adventure, designing your own route can be very rewarding.
To read trip journals from cyclists who've ridden these routes and others, see the United States section of BikeSleepBike.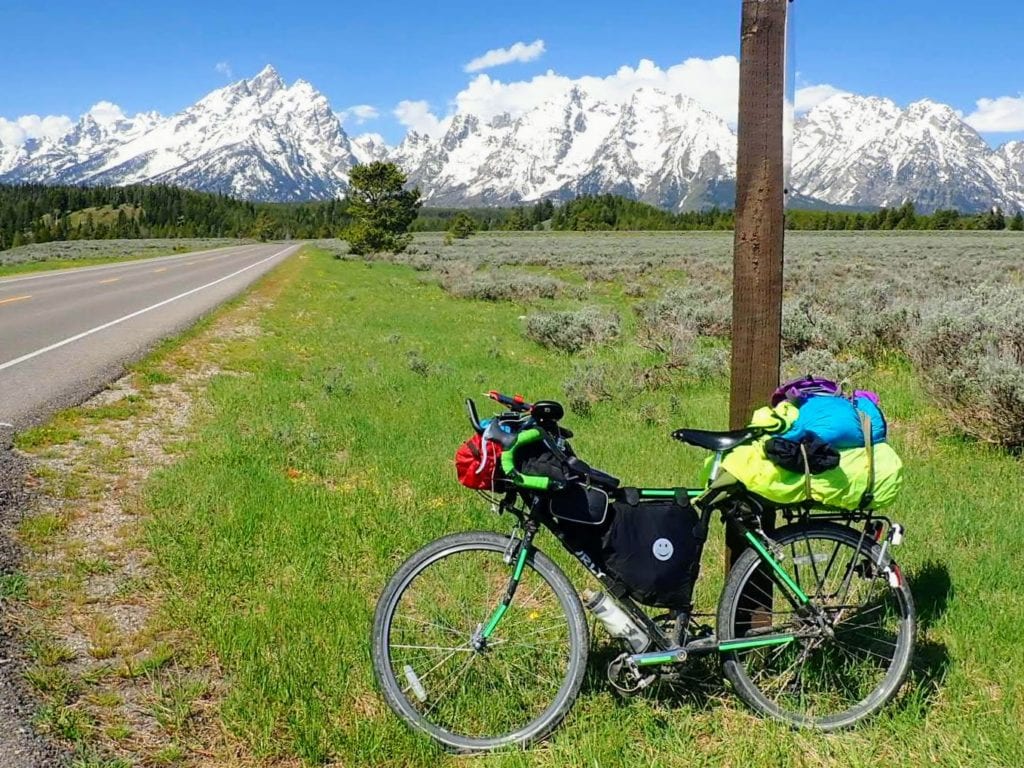 Choose Your Season Carefully
With America's geographic diversity comes an incredible diversity of climates. You'll need to pair your chosen route with its best riding season, or risk snowstorms and road closures in the mountains or dangerously sweltering temperatures in the deserts.
Research each route to find its most critical areas. As a general rule, major mountain ranges like the Rockies and Sierra Nevada are best crossed in summer when roads are open and snow-free. Low-elevation deserts of the southwest are best in spring and fall, and can be intolerably hot in the summer. Harder to predict is the increasing problem of "fire season," which can close roads and blanket parts of the western US in a smoky haze during late summer.
Since a full cross-country journey takes most people several months, plan your start date so that you'll hit the critical sections – high mountain passes, for example – at the best time.
Unpaved routes like the Great Divide require even more care than paved routes when choosing a riding season, as small backroads are more likely to become impassible in bad weather.
Prepare for Challenging Weather
Even when you've chosen the ideal timing window to cycle across the US, it's no guarantee of perfect weather! During a single month in mid-summer I experienced snow in Wyoming, thunderstorms in Iowa, intense wind in Nebraska, and impassible flooding in Indiana. At a minimum you'll need a rain jacket and pants, warm layers and gloves, and weather-proof camping gear.
When the storms do roll in, don't hesitate to hole up in a cafe or your tent until the worst passes. Heavy rain can be dangerous for cyclists since drivers can't see as well, and electrical storms in high or exposed places pose a risk of lightning strikes.
Prioritize Traffic Safety
As someone who's bicycled on five continents, I hope you'll listen when I say to take traffic safety very seriously when biking across the US. Though some areas have made progress with shoulders, bike lanes, and those reassuring "share the road" signs, most roads in the US remain the undisputed territory of cars and trucks. Unlike the roads I've cycled in Sudan or Vietnam, for example, most American drivers do not expect or have much patience for small, slow-moving objects on "their" roads.
If you want to bicycle in the US, you'll need some safety gear and at least moderate comfort with road riding. Here's what I recommend to help you stay safe:
Don't just be visible, be unmissable. High-visibility flags and vests, reflective patches, and multiple flashing tail lights are all great. Here's more detail about my favorite cycling safety gear.
A helmet mirror (I love this one from Bike Peddler) is essential in my opinion.
A clear and confident riding style goes a long way. These tips will help.
At the same time, consideration goes both ways. Drivers never have a right to endanger cyclists' lives, but they do have a right to be annoyed when we unnecessarily get in their way. Ride single file on busy roads to show respect to drivers, and hopefully drivers will show respect to us in return.
Understand Camping Options
Camping is a central feature of bicycle travel, and on a multi-month trip it's a critical part of keeping costs under control. Ease of camping in the US varies widely from place to place. Some rural regions are a free camping paradise, but there are also many populated areas where you won't feel comfortable or welcome just pitching your tent anywhere you please.
Depending on where you are, camping options might include:
Established campgrounds: pay a fee and get access to amenities like bathrooms and sometimes showers. Reservations sometimes required in advance.
Primitive campgrounds: often found in the Rockies and westward, these primitive sites may or may not have bathrooms or water.
Dispersed / wild camping: in National Forests and land managed by the Bureau of Land Management, again often in the western US, you can camp wherever you like as long as you leave no trace.
RV parks: in small towns sometimes the RV park is happy to have bicycle travelers pitch a tent for the night
Town parks: In small towns, especially along well-established routes, you may be able to pitch your tent at the town park. Ask first if you're not sure.
Small town generosity: In very small towns with no formal camping options, show up in the late afternoon and you're unlikely to be turned away. Ask around and you may be directed to set up behind the school, church, general store, or in someone's backyard.
Camping on private land without permission is illegal and frowned upon in the US, so use care when selecting stealth campsites. For more detail on these and other options, see where to sleep while bike touring in the US.
Appreciate Local Hosts
For cyclists eager to spend time with locals while also keeping costs down, staying with local hosts is an ideal option.
Warmshowers.org has a huge network of hosts in the US. These people generously open their homes or backyards to traveling cyclists in hopes of meeting cool people and hearing stories from the road. The only downside: you'll need to coordinate a few days in advance with most hosts, so it helps to be on a predictable schedule.
Less formally, you may occasionally be offered a backyard to camp in or even a cozy room. It's best to not rely on or expect the hospitality of strangers, but when it happens, enjoy the experience.
Think Through Your Budget
Biking across the US can be expensive if you're not concerned about keeping costs down, but it's definitely doable on a smaller budget too. The difference is mostly where you sleep, and to some extent where you buy your food.
The high end: If you spend every single night of a two-month trip in an average-priced motel (assuming you can find one where you need it each night, which isn't a given), you could easily spend $4000 on lodging alone. Multiple restaurant meals each day could add another $2000. You'd be looking at $6000 or more!
The low end: If you manage to camp for free or cheap (say averaging $5 per night), and buy food in bulk from grocery stores, you could theoretically squeak by on around $2000 for two months. This will be challenging, especially in areas with few wild camping opportunities, and will limit the indulgences you can enjoy after a hard day of pedaling. You'll be eating a lot of ramen and peanut butter, and skipping the burgers and beer.
To save money, seek out free or cheap camping opportunities and stay with WarmShowers hosts in larger cities. Buy food at grocery stores and cook at camp, instead of eating restaurant meals and stopping for snacks at every convenience store.
Make Time For Conversations
All the best memories from my cross-country ride involve people I met along the way: the dad and his son who fed me s'mores around their campfire; the woman who sat down next to me at the gas station to chat; the group of motorcyclists who invited me to join them for lunch.
Compared to many other countries, the roads of America can feel lonely. Instead of children running behind your bike, shopkeepers waving from open stalls, and drivers pulling over to chat, you'll mostly find enclosed vehicles and enclosed buildings, the boxes inside which we Americans spend most of our time. Besides a few encouraging waves from behind windshields, Americans tend to respect a traveler's right to continue on their way undisturbed.
Stop at a roadside cafe though, or pop into a gas station for a cold drink, and it's a different story. You may have to tear yourself away if you ever want to reach the end of your route!
When you bicycle across the United States, you experience this diverse and complicated place in all its glory and challenges. You'll come face to face with people of different races, cultures, lifestyles, and political beliefs. You'll see firsthand the inequalities of city neighborhoods, homeless populations, and racially divided communities. You'll talk to people who, on the face of it, lead very different lives from you.
But thanks to the magic vulnerability of showing up on a bicycle, you'll bring out the best and most generous in the people you meet, building a path to connect across your differences. For me at least, those insights live on long after the pedaling is finished.
FAQs
If you're more of a skimmer, here are quick answers to some of the most common questions about bicycling across the United States.
Is it safe to bicycle across the US?

Motor vehicles are the biggest danger to cyclists riding across the US. Choose a route that matches your comfort level with vehicular cycling, and make yourself unmissable by riding with excessive amounts of bright clothing, reflectors, and lights.

Some visitors from other countries worry about gun violence in America. While sporadic incidents do unfortunately happen, as an American myself I can say the odds of a cyclist being involved are very, very low. Use common sense when riding through big cities to avoid potential higher-crime areas, but otherwise expect to have as trouble-free a trip as you would anywhere else.
What's the best route to bicycle across the US?

This depends on when you're able to ride, what types of places you want to experience, and how comfortable you are riding with traffic. See the Choose Your Route section above for detailed ideas including the iconic TransAmerica route, the lower-traffic Bike Nonstop US route, and a number of others.
Is wild camping allowed in the US?

Depends on who owns the land. If you're lucky enough to be riding through public land like National Forests, especially common in the western states, you can legally camp where you like as long as you pick up after yourself and leave no trace. On other types of public land you may need to stay at designated campgrounds. Sometimes businesses in small towns will allow you to camp on their property if you ask first. If land is fenced or signed as private, it's not legal to camp there, and you shouldn't do so without first getting permission.
How long does it take to bicycle across the US?

Depends on how fast you ride! A few people do it in a couple weeks while racing the TransAmerica Bike Race, but they are crazy. Most people will take between 2-4 months depending on route and pace. The Southern Tier is the shortest coast-to-coast route at just over 3000 miles, while the TransAm is the longest established route at over 4200 miles. A reasonable touring pace might be 50-70 miles per day, but this depends on terrain, fitness, and the mood you want for your trip. Do the math for your specific route.
How much does it cost to bicycle across the US?

Cost varies widely based on how you travel. If you camp and use Warmshowers often, and choose your food carefully, you might be able to squeak by for $2000 or less for a two month trip. If you stay in hotels and eat at restaurants often, the same two month trip could cost $6000 or more. The longer your trip, obviously, the more it will cost.
More Bike Touring Resources
If you're thinking about biking across the US, I hope you'll go for it! You might also find these helpful:
Or, check out the complete bike touring and backpacking resources page.
Bike resources in your inbox?
There's more where this came from! Sign up here for occasional emails full of inspiration and information about bikepacking and bicycle touring.


Share the Adventure
If you found this article helpful, please consider sharing so more people can benefit from it:
Pin For Later