My solo tent is my sanctuary. Maybe you can relate? At the end of a long day, whether backpacking in the mountains of California or biking across the Sahara desert, I look forward to crawling into my tent as if I'm climbing into my cozy bed at home.
My favorite home away from home is the Soul 1P Tent from Big Sky. I've lost count of how many nights I've spent in it, but I know it's accompanied me to at least 16 different countries. It's been stuffed in my backpack on long hikes, strapped to my handlebars on multi-month bikepacking trips, and carried in my duffel bag on international adventures. I demand a lot from my tent, and the Soul has delivered admirably.
The Big Sky Soul 1P tent is a lightweight, freestanding, double-walled, three season tent for one person. If you're a backpacker, bikepacker, or an adventurous traveler who likes to keep a tent in your luggage, you should definitely consider it. It's versatile, lightweight, and roomy, and all for a reasonable price.
Read on for the critical specs, pros and cons, and detailed descriptions of the Big Sky Soul 1P's design, durability, weather resistance, and everything else I've learned after years of adventuring with this mighty little tent.
Big Sky Soul 1P Tent at a Glance
Price: $300 (bikepacking poles), $340 (regular poles)
Weight: 2 lbs 5.8 oz (bikepacking version), 2 lbs 3.7 oz (regular version)
Size: 1 person (2 person version also available)
Style: double wall free-standing
My rating: 4.8 star out of 5
Learn more or buy at Big Sky International (10% off through this link)
Summary: The Big Sky Soul 1P tent is an affordable lightweight, double-wall, 3-season tent for one person. The freestanding design and separate interior bug tent make for a highly versatile shelter perfect for backpacking, bikepacking, and traveling. It's super quick and simple to set up and take down, and surprisingly roomy inside. While the Soul is not quite the lightest freestanding solo tent on the market, it's close, and it's by far the most affordable.
Upgrades: Ultralight enthusiasts can get a version with lightweight fabric substitutions that weighs 1 lb 6.3 oz and costs $700. For most people the original version is a better value and plenty light enough.
Pros and Cons
Here are the pros and cons of the Big Sky Soul 1P tent as I see them:
Pros
Completely freestanding design can be pitched on any surface without stakes
Fairly spacious inside
Double wall design with separate mesh inner and rainfly allows for variety of setups depending on weather
Quick and easy setup
Well ventilated
Available in bikepacking version with shorter 12″ poles
Stealthy color blends into many landscapes
Made by a small US company with excellent customer service
Cons
Some people find the front entrance less convenient than a side door (doesn't bother me)
Must be oriented carefully in strong wind
Vestibule is small (but it's fully freestanding, which is unusual)
Some durability issues after lots of use
Updated Version for 2023
After a rough year of manufacturing delays, the Big Sky Soul 1P is back in a new and improved edition for 2023. Here's an overview of the improvements:
Increased weather protection from lower fly at foot end
Breathable fabric strip above tub for better wind protection
Increased life span by eliminating elastic webbing
Reduced weight by eliminating unneeded elastic cord on foot end and changing from grommets to Big Sky custom aluminum fittings
I'm stoked to have an updated version on hand and will be putting more miles on it later this year. From my initial test it looks and feels like a more polished and weather-resistant version of the original I've been using for years. Note that most of the pictures in this review show my older version, which looks a bit different. You can see some of the changes — especially the new fabric band on the inner — in this preview of the new version:
Big Sky Soul Tent Design
The Big Sky Soul 1P tent consists of:
two poles that cross in the middle and attach to each corner of the floor, with options for either 12″ or 14.2″ folded length
a mesh interior with waterproof bathtub floor and strip of breathable fabric for wind protection
a waterproof rainfly that attaches to each corner of the bottom, and can optionally be staked out for ventilation and wind resistance
As I'll describe in more detail below, this completely freestanding, modular design allows for maximum flexibility in terms of setup and weather. The entrance end is wider and tapers to a narrower width at the opposite end.
There are six stake points, but all are technically optional since the structure is freestanding. However, staking the four corners does help the floor hold its shape a bit better, and is especially critical in wind. Staking the two sides of the fly improves ventilation and wind resistance.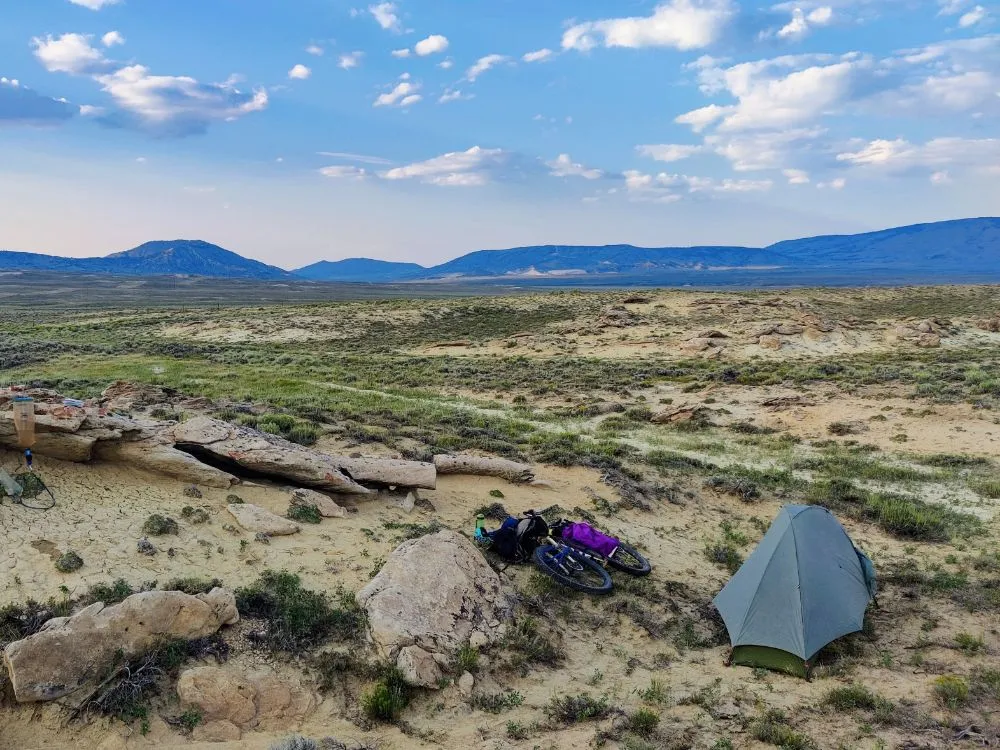 You can see from pictures that the poles extend beyond the front of the mesh interior, which I originally thought was a little odd. However, when the fly is attached this space becomes a sheltered vestibule, and the design actually works really well. Even the vestibule is completely freestanding, requiring zero stakes! To my knowledge the Big Sky Soul is the only freestanding tent with a completely freestanding vestibule as well.
Comfort and Space
Let me first say that I am a slim 5'5″. While this makes some parts of outdoor adventure harder – riding a heavy bike or carrying a big pack for example – fitting comfortably into a small tent is not one of them. I'll take what I can get.
For me, the Soul 1P is a roomy palace. I can sit up, change clothes, do some light stretching, and sit cross-legged at the entrance and stick my head out the opening to cook in the vestibule. I can fit all kinds of gear on either side of my feet: a mid-size hiking backpack for example, or two bicycle panniers plus helmet and shoes. I tuck small items, like headlamp and phone, up near my head on either side of my sleeping mat. I use a relatively narrow Therm-a-Rest NeoAir XLite sleeping pad, but a wider pad would fit fine too.
The floor is wider at the entrance and tapers toward the other end. I sleep with my head at the narrow end, but apparently I've been doing it wrong this whole time! Big Sky says the wide end is the head end – oops! I suppose I like the coziness of sleeping with my head furthest from the door, and as a small person even the narrow end is plenty wide for my upper body. With the addition of the new fabric band in the updated version I may switch to the normal direction, so the wind protection is at my head.
The small vestibule adds a bit of extra sheltered space for gear that doesn't need to come inside, though it's not fully waterproof in windy conditions. It's enough space to comfortably use a camp stove if necessary, though I don't technically recommend this. It's a bit smaller than the vestibule on more typical side-entry tent designs, but those vestibules require stakes. If you use the freestanding functionality often, it's a worthwhile tradeoff.
According to the Big Sky website, the Soul is rated for humans up to 6'1″ in height. I expect tall people will experience this tent differently than I do, but I still believe the Soul is one of the roomiest freestanding solo tents available.
Setup and Take Down
Granted I have some practice, but I find the Big Sky Soul 1P extremely easy to set up and take down. When camping with others I can win the tent setup race every time. Not that it's a competition, of course. 😉
First you unfold the two poles, then stick the ends into the aluminum fittings on each corner of the interior, then lift the netting and attach it to the poles with some easy-to-use clips (I can even do it in mittens when my hands are cold).
The fly pulls over the structure and attaches at each of the four corners with plastic hooks. Optionally you can stake the four corners for stability and guy out each side of the fly for ventilation. The Big Sky Soul is fully freestanding and I've used it this way many times, but the pitch is still better with stakes. They keep the door zipper taught and improve ventilation, and in wind they're essential.
One thing that's slightly tricky: setting up in the rain. I can drape the fly over the netting as I set up the poles, but the interior gets a little wet if it's really coming down. Maybe there's some creative solution I haven't thought of. If not, at least the process is very fast.
Ventilation and Condensation
The Big Sky Soul's double walled design keeps it decently well ventilated, which is great in warm weather and for battling the ever-present condensation problem. These three features help:
If it's not too wet or cold, you can secure the fly in "moon roof" mode, partially off the netting, for plenty of ventilation.
With the fly fully on, you can optionally stake out two points on the sides to create more airflow. This even works in the rain.
There's a small vent above the door that can be fastened open, with a clever design that even works in the rain.
Flexible and Versatile
The flexibility of the Big Sky Soul's design is my favorite thing about it. It's versatile enough to be my go-to shelter for literally any activity, in any (non-winter) weather. This is a big difference from single-walled shelters like my Tarptent Double Rainbow, which I also love but don't find nearly as versatile.
The soul's freestanding structure is key. Unless pitching it in heavy wind you don't need stakes or guy lines at all. It can pitch in loose sand, on granite slabs, or even in a hotel room filled with mosquitoes in a malarial climate. When I traveled in Africa for 5 months I used it in equal amounts as an outdoor hiking shelter and an indoor mosquito net tent.
The double walled design with separate rainfly is amazing for weather flexibility. In hot rain-free climates you can leave the fly off completely; the mesh interior provides bug protection with excellent ventilation. (Note: The updated version has more fabric around the bottom and is not quite as breezy in hot climates. However, I'd venture to say that hot, humid, malarial climates are a much rarer use case than the cooler and windier nights the new design is better suited for.)
When it's cold or wet, the rainfly keeps you warm and dry. There are even handy attachments to secure the fly in "moon roof" mode, partially on and partially off, for a view of the stars with a more sheltered feel. Once I even used the interior as a bivy without the poles, and staked the fly out over me like a tarp. It's a long story, but I needed to camp by the highway in the rain in the middle of a flat section of Idaho and wanted to keep a low profile. It worked surprisingly well!
Weather Resistance
Rain: I've been impressed with the Big Sky Soul's rain resistance. It came seam sealed from the factory and has yet to leak in wet weather. The rainfly is well designed and the bathtub floor is tall and holds its shape well. Even in torrential downpours the inside has always stayed nice and dry.
Wind: When staked with the small end pointed into the the wind, the Soul does fine. If you orient the wide flat sides facing the wind though, you'll definitely have a blustery night. The structure is pretty forgiving and I've never had anything break or collapse, but the sides fold into each other leaving very little space inside.
Snow: My Big Sky Soul has seen a light dusting of snow and had no problems, but it's definitely not designed as a winter tent. Big Sky does sell a 4-season tent called the Chinook if you see a lot of snow in your future.
Durability
General rule of thumb: the lighter the gear, the less durable it is. For its weight I think the Soul's durability is good, perhaps even better than expected. After a lot of use mine developed three issues:
The floor has a few spots where it looks like the waterproof coating has worn or flaked off, but I painted some seam sealer over them and had no further problems. I don't use a ground sheet, which probably accelerated the wear.
The zipper eventually became unreliable, to the point where it would split behind the zipper pull even after cleaning and lubing.
The shock cord inside the folding poles eventually stretched too much to hold the poles together. I was able to easily order replacement poles from Big Sky.
None of these issues stopped me from using the tent, though the zipper came close and is the main reason I'm glad to have a new Soul from the updated line. But considering that I've put my original tent through the ringer in every climate from humid jungle to the Sahara desert, I think it's held up pretty well.
Accessories
Bag: The tent comes with the option to buy a "tubular compression" tent bag, which I do recommend. It has cinch straps to reduce the diameter and make the whole thing more compact.
Footprint: Big Sky also sells a lightweight footprint for a reasonable price, which might be worthwhile if you want to prolong the life of the tent. Personally I don't use a footprint and try to just choose my spot carefully, but I may end up paying a price for that in the long run.
Stakes: I use some aluminum tube stakes that I already had, and they work just fine, but Big Sky sells a range of tent stakes and other accessories.
Solo Tent Weight Comparison
I had a hunch that the Big Sky Soul 1P offers the best value in its category of lightweight freestanding 1 person tents, so I looked up the details on a few of its competitors.
Now, I haven't personally tried all these other solo tents, but these are my observations:
The Soul isn't the cheapest or the lightest, but it's close to both, making it the best lightweight value in my opinion.
Most of those other tents are considered freestanding, but they still require stakes for the vestibule, which the Soul does not.
I'm willing to bet the Soul is simpler and faster to pitch than most of those.
Finally, if you are really just looking for the most ultralight shelter available, you should be looking at bivy sacks, tarps, or non-freestanding tents. The Soul is for people who are willing to carry an extra pound or so for the comfort of sleeping in a tent and the simplicity of a freestanding design.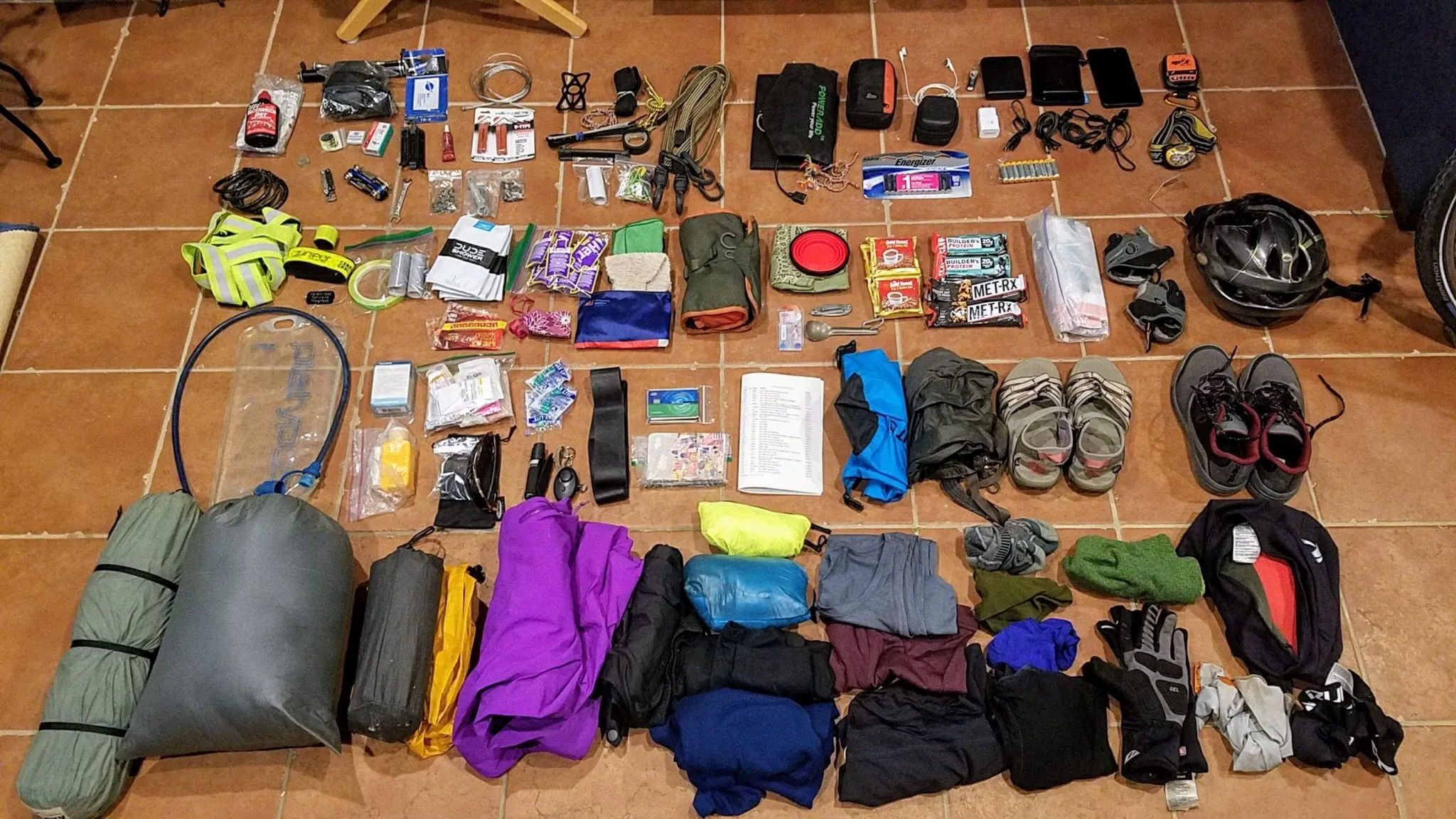 Recommended Uses
Bikepacking and bicycle touring: Absolutely!
In my opinion the Big Sky Soul is the best general-purpose bikepacking tent out there. Long bike trips tend to involve some camping on hard surfaces: parking lots, patios, even inside buildings on occasion. The Soul's combination of freestanding structure, light weight, and versatile double-wall design is ready for almost anything a bike trip can throw at it, anywhere in the world (except for the depths of a snowy winter – it's still a 3 season tent after all).
Big Sky was one of the earliest tent manufacturers to offer a "bikepacking version" with poles that fold down shorter. It can be hard to figure out where to pack a tent in a bikepacking setup, but the 12″ pole length makes it easier to squeeze between drop bars or stuff into a pannier. Kudos to them for pioneering this helpful trend, and in a unique design that has yet to be matched by other manufacturers.
In 2021 bikepacking.com awarded the Soul a Gear of the Year award. It seems I'm not the only one who think this mighty little tent is ideal for pedal-powered travel!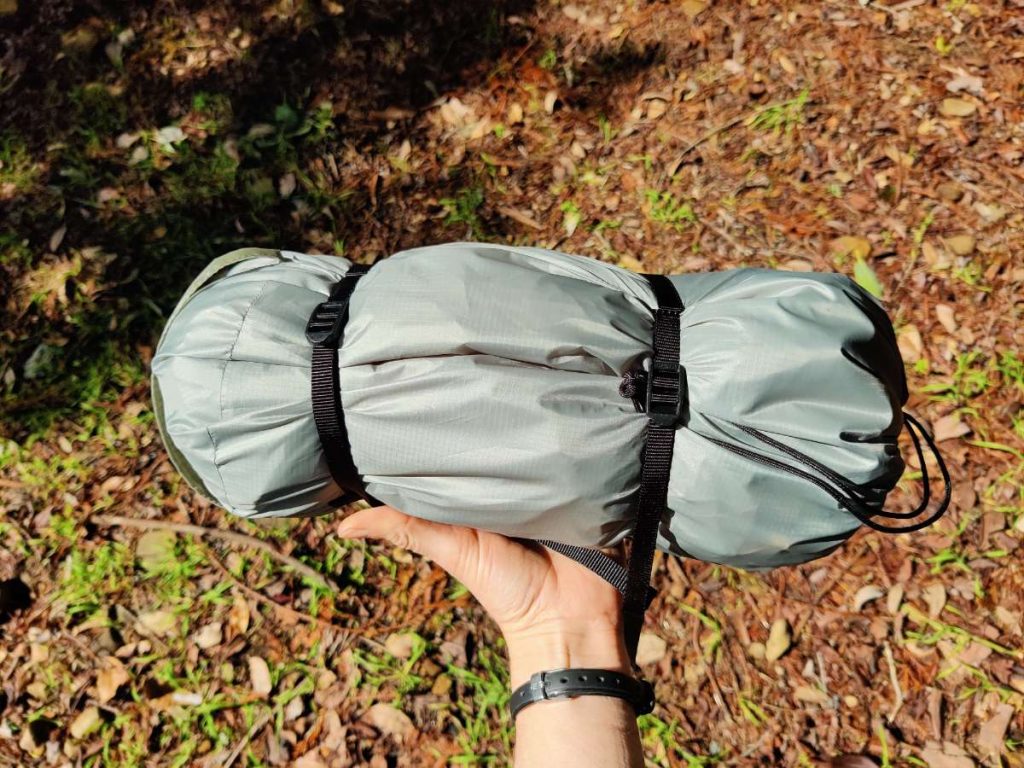 Backpacking: Yes
As a solo backpacking tent the Big Sky Soul is solidly in the lightweight category, but not ultralight. Gram counters may prefer an ultralight single-wall shelter or tarp that can be pitched with hiking poles, saving the weight of dedicated tent poles.
For many backpackers though, the Soul is plenty light enough and the hassle-free pitch is worth the small amount of additional weight. Folks who hike a lot of miles in the granite basins of the Sierra or the rocky soils of the Arizona desert, for example, will surely appreciate the convenient freestanding design.
Travel: Yes
If you're adventurous and budget-focused, you probably travel with a tent in your backpack. It's handy for saving money at hostels, enabling the occasional overnight trek, and as mosquito protection in malarial areas. I've used my Big Sky Soul for all those purposes during backpacking-style trips, mainly in African countries, and find it to be an ideal lightweight travel tent.
Ultralight and racing scenarios: No
There are a few scenarios where I don't bring my Big Sky Soul tent, and they are all highly weight- and space-sensitive: fastpacking with big mile days, bikepack racing, or short and sunny trips in mild climates. In these cases I use a bivy sack or ultralight tarp.
Do I recommend the Big Sky Soul?
It's probably obvious, but yes. I highly recommend the Big Sky Soul 1P to anyone looking for a lightweight, freestanding, solo tent. It holds its own across that entire category, but the bargain price and simplicity of setup and takedown make it an obvious winner in my opinion.
I've become quite attached to my Soul, and not just because we've been on some crazy adventures together. The cozy just-right amount of space, the adjustable rainfly with a view of the stars, the way I can sit cross-legged at the entrance and cook my dinner in the vestibule while it's raining outside…
It's been my reliable companion for a few years now and I expect to keep using it for at least a few more.
Related Reading


Hiking resources in your inbox?
There's more where this came from! Sign up here for occasional emails full of inspiration and information about backpacking and hiking.


Share the Adventure
If you found this article helpful, please consider sharing so more people can benefit from it: