As we planned our 2020 thru hike of the Colorado Trail, my husband and I knew we wanted to minimize time in towns and motels (thank you, global pandemic).
We also knew that despite the desire for an unplugged wilderness experience, we both needed to stay at least somewhat connected to important stuff going on at home. Furthermore, our phones were loaded up with navigation apps and audio books and music. Don't judge; 35 days is a long time to do nothing but walk.
Thus, it was obvious that charging our phones on the trail would be essential. One can only carry so many power banks, even if they're as light and high-performance as these guys.
So my husband, a true connoisseur of electronics, started researching options. After a failed experiment with a loud, bulky, and extremely inconvenient hand-crank generator, he finally (thank goodness!) settled on the idea of a solar panel charger. But now, which one?
I had researched solar panels for backpacking in the past, and even recent forays into Facebook groups revealed mostly dissatisfied users. Many hikers seemed confident that no portable solar panel currently in existence is able to charge a phone faster than it will be depleted on the trail.
Maybe we could eek out a couple extra days, many posts suggested, but eventually we'd still run our phones and power banks dry, leaving no choice but to spend quality time in town hovering near a wall socket or spending a night in a motel.
My husband didn't believe them, did his own research, and made his choice: the BigBlue 28W solar charger. And he turned out, despite my skepticism, to be totally right! Nice work dear. In fact it worked so well that we carried it 800 miles on the Arizona Trail a few months later, and then 900 miles of rugged bikepacking in Central Asia.
Since returning from our hike and looking into this further, I've seen a number of online lists of the "best solar panels for hiking" that don't include the BigBlue. I can only assume this comes down to differences in marketing strategy or outdated lists, because the BigBlue is definitely one of the best hiking solar panels available today.
Thus, I want to give BigBlue a shoutout and a review here in hopes that more backpackers will discover it. We have no relationship with the company and bought the panel with our own money; this is just about getting the information out there so other folks can benefit.
So without further ado, here's our review of the Big Blue 28 Watt Solar Charger for backpacking.
About the BigBlue Solar Panel
Price: $69.96 on Amazon
Size: 11 x 6.3 x 1.3 inches when folded. Expands into 5 panels when unfolded: 4 solar panels and one panel with device pocket and USB ports.
Weight: 23 oz
My Rating: 4.5 / 5
Review Summary: The BigBlue 28W Solar Charger worked perfectly on our two mid-distance thru hikes, keeping electronics for two hikers charged indefinitely. It especially shines (so to speak) in shade and intermittent sun, where it anecdotally seemed to work much better than its competition. It's reasonably compact considering how well it performs, but if it weighed a bit less it would be an easy 5 stars.
Pros and Cons
Pros
Handles clouds and partial shade surprisingly well
4 panels / 28 watts means fast charging
3 USB ports for simultaneous charging
Affordable price
Cons
Heavier than some competition
Pocket didn't close securely (Update: looks like this has been fixed in the updated version, which has a zipper pocket!)
Design
The BigBlue solar charger has five panels that fold up into the space of a single panel. Four are solar panels, and the fifth has a device pocket and three USB charging ports.
Four eyelets on the corners attach to included mini-carabiners for securing to backpack straps in various ways. The setup fit nicely over the top of my husband's 68 liter pack, with the fifth (non-solar) panel folded underneath. It was a slight inconvenience to remove a couple clips when needing to get into the pack, but really not bad at all. When he later switched to a more minimalist pack (the ULA Circuit) for the Arizona Trail, it was just as easy to find attachment points.
Another option would be to let the whole panel hang down the back side of the pack. If the sun is behind you this would definitely be more efficient, but it wasn't a tight fit on his particular pack so we stuck with this setup: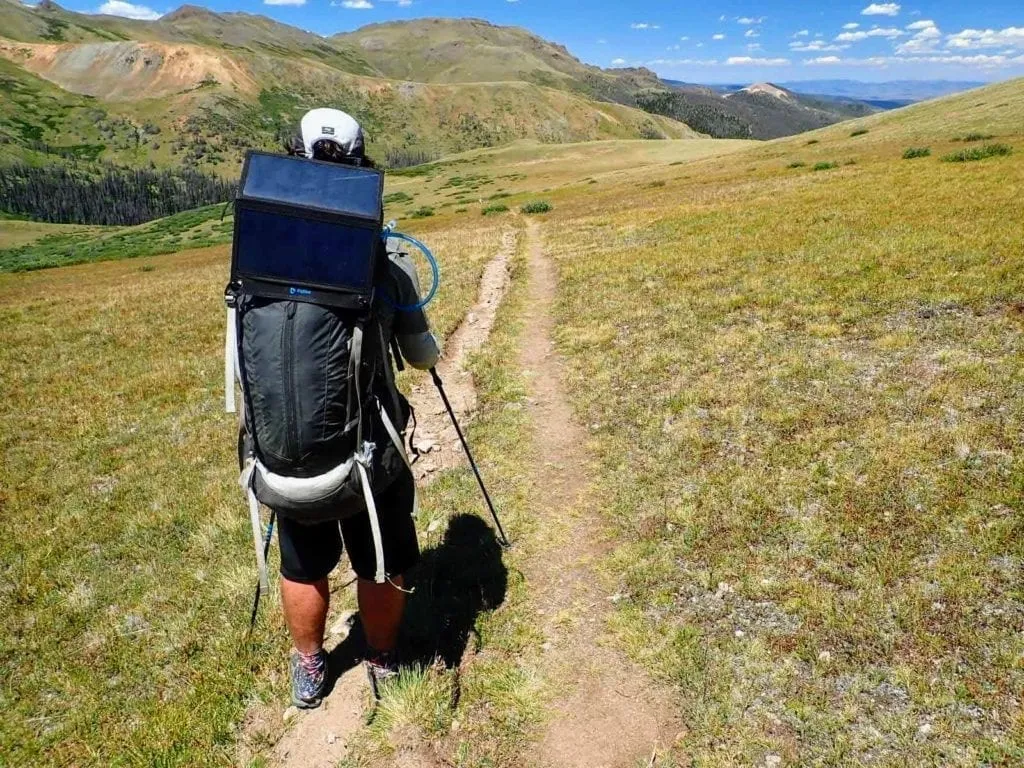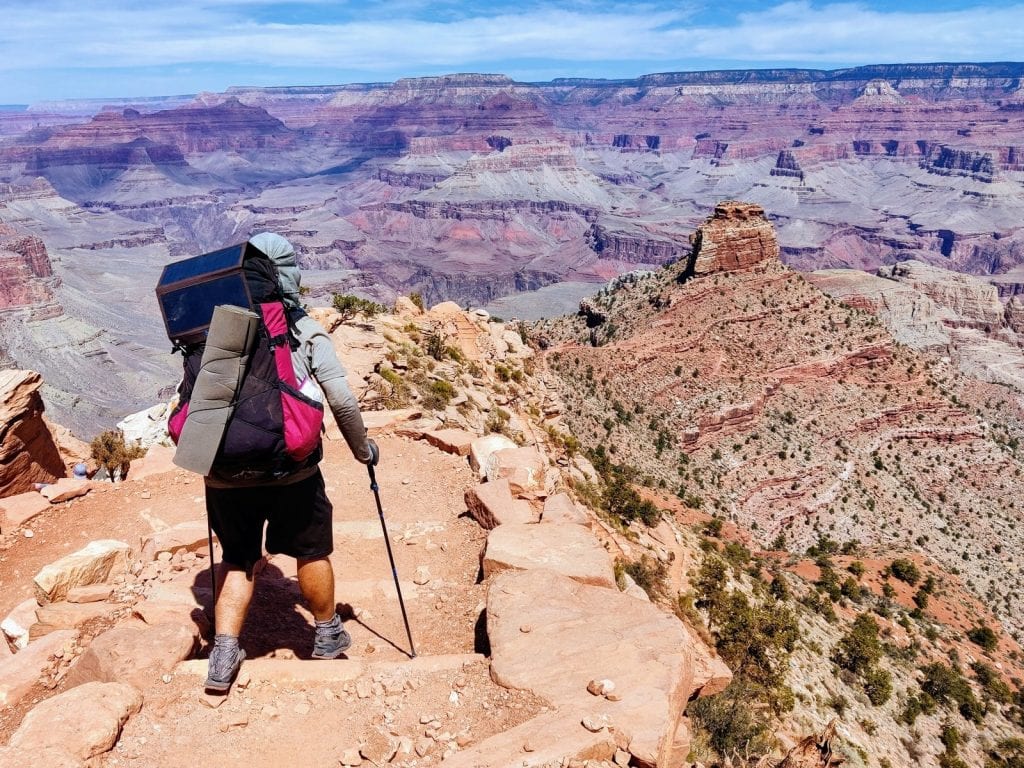 Durability: We've thoroughly knocked this panel around while backpacking and bikepacking. It's seen plenty of rain and mud with no issues. Just make sure the ports themselves stay dry; the panels are fine to get wet. The panels have become a little scratched over time, but they continue to work well.
Our only complaint on the model we used was the pocket that holds devices while they charge. The velcro fastener came loose a little too easily, causing our power banks to come dangerously close to falling out. But it looks like BigBlue is on top of customer feedback. Their latest updated version now has a zippered pocket – bravo!
Charge Interruption Recovery
This was the defining point in favor of BigBlue, and one of the most critical functions of any solar panel for backpacking. So I'm happy to say, it really did work well! The BigBlue solar charger is especially good at charging efficiently in conditions that are typically hard for solar panels to deal with, like cloudy weather, changing sunlight levels, and partially shaded trails.
If the charge is interrupted, the controller will automatically restart and reconnect, making the most of the sunlight available to it. This means you still get reasonably efficient charging on not-so-sunny days, and don't have to worry about the charging process simply stopping when the sun goes behind a cloud. This is, in our opinion, what makes BigBlue one of the best solar panels for backpacking.
Our BigBlue Experience on the CT and AZT
So far we've used this solar panel for backpacking the Colorado Trail and the Arizona Trail, about 90 total days of thru hiking in varied weather.
The BigBlue solar panel successfully kept our phones and power banks (and a Kindle and Garmin InReach Mini) charged as much as needed on both trails. Aside from our pesky need for food, we could have lived out there forever without ever needing a wall plug. This allowed us to avoid sleeping in towns when they were too expensive or crowded, and to enjoy our few town breaks without needing to crouch beside an outlet for hours.
Above treeline on a sunny day, we could charge a 10,000mAh power bank completely within a few hours. Granted, the Colorado Trail does spend a lot of time above treeline, but afternoons were often cloudy.
On a cloudy day we could still charge a power bank from empty to maybe 70% during a full day of hiking. It worked so well that there were plenty of days where we didn't even mount the panel on the outside of the pack, because we had more power than we needed.
This kind of performance was unexpected based on what I'd read from other hikers. Many said they didn't bother carrying a solar panel because it wouldn't keep even a single person's phone charged, let alone two. Technology is constantly improving though, and perhaps they haven't tried the BigBlue.
Tips for Backpacking with a Solar Charger
Here are a few tips to help you get the most out of the BigBlue, or any solar panel charger you use for backpacking.
Charge your power bank, not your phone. This is especially true for high-vibration activities like bikepacking, but is still a wise idea for hiking too. To protect your phone's charging port and make sure there's no chance of it falling out when it shouldn't, use the solar panel to charge a power bank and then use the power bank to charge your phone.
I've been a long-time fan of Anker power banks like this one, but on our CT thru hike we tried these from Ainope and were impressed. They're very light, have a true 10,000mAh capacity, and the numeric LED capacity counter is a nice touch. Anker, you have some competition!
Lay your solar panel out flat in direct sun when stopped for lunch or long breaks to maximize the power it generates.
To conserve phone battery if your solar charger isn't quite keeping up: Keep your phone in airplane mode, turn the screen brightness down, and keep the screen off as much as possible.
Bikepacking and Touring
Because backpacking isn't the only way to explore outdoors, here are some thoughts for my fellow bikepackers and bicycle tourers.
Does the BigBlue work well for bikepacking? Yes, if you have a good way to carry it. Though I've considered trying to attach it to my bikepacking bag setup, I ultimately decided it was a bit too bulky. BigBlue does have a 21W version with one less panel, which might be helpful in this case. If you spend a lot of time at camp, you may not need to attach it to your bags at all as long as you can fit it inside.
For those running a rack and panniers, the BigBlue is perfect. It clipped easily atop my REI Link Panniers through the mountains of Kyrgyzstan and kept our two power banks charged indefinitely.
More Backpacking Resources
If you're looking for the best solar charger for backpacking, you might also find these helpful:


Hiking resources in your inbox?
There's more where this came from! Sign up here for occasional emails full of inspiration and information about backpacking and hiking.


Share the Adventure
If you found this article helpful, please consider sharing so more people can benefit from it:
Pin For Later