Do you love outdoor adventures with a creative and quirky spin (pun intended)? Bicycle camping blends the fun of a campout with the adventure and exercise of a bike ride. What's not to love?
Though car camping may be easier, bike camping offers an unmatched feeling of self-sufficiency and connection to the landscape. When you arrive at your campsite by bike the campfire will burn a bit brighter and the s'mores will taste sweeter. You'll appreciate your dinner more, sleep more soundly in your tent, and enjoy feeling like the badass you are.
If you're thinking "give me some of that!" this post will help you prep for your first bike camping trip. It doesn't have to be complicated but there are a few important things to know, like where you can camp, how to find a safe route to your campsite, what gear to bring, and how to pack it on your bike. But don't worry, even a beginner can be bike camping in no time. Read on to learn how.
Bicycle Camping vs. Bikepacking?
This website is bursting with articles and guides about bikepacking, which is really just a different name for a very similar concept (more on this below). But for this post I want to write specifically about bicycle camping in hopes of reaching a different audience (you!).
What's the difference? Well, I didn't make these terms up, but I think they emphasize different aspects of the experience. Bikepacking usually focuses on the route; it's about moving from point A to point B, usually off-pavement, to reach a certain destination or explore a certain area. When people get serious about bikepacking they start optimizing their gear to be light and streamlined so they can cover distance faster or more comfortably. In the same way as backpacking or thru hiking, bikepackers are on the move and camping is a necessary, though hopefully also enjoyable, means to an end.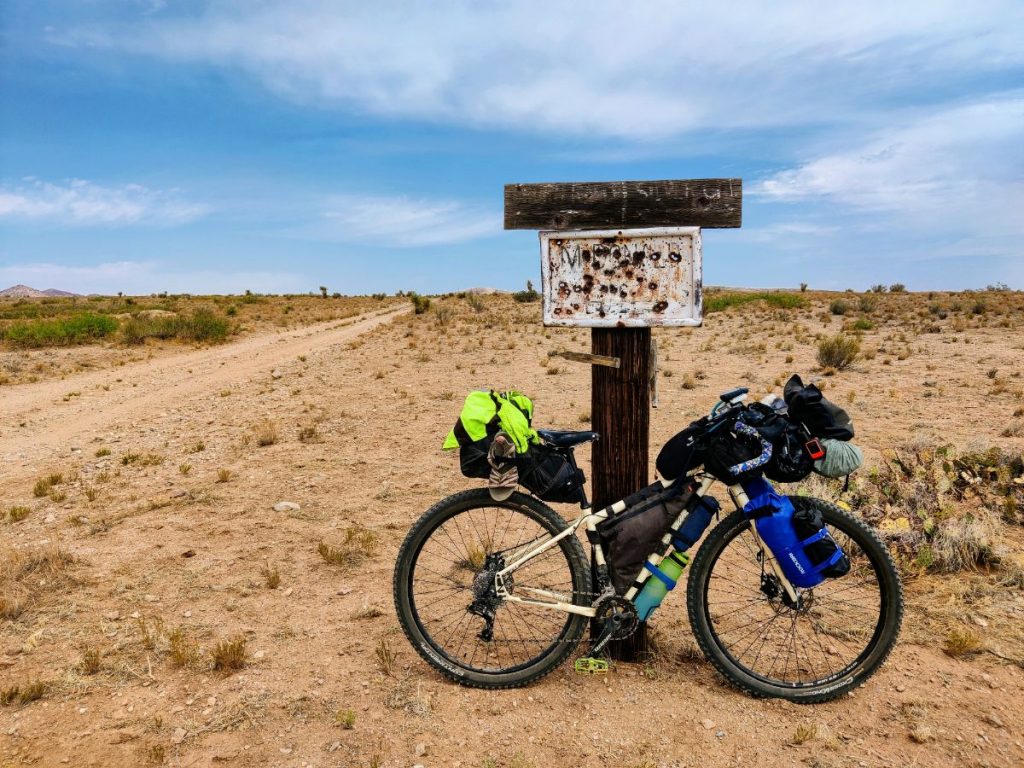 The term "bike camping," on the other hand, has a chiller vibe to it. It's all about, obviously, the camping! Load up the bags and bikes with food, bring the flask of whiskey or the hot chocolate and s'more supplies, and maybe the ultralight camp chair. I usually think of bike camping trips as shorter, maybe a refreshing overnight or a long weekend, rather than a long-haul journey from place to place.
Then there's "bike touring," yet another term for the freedom and challenge of riding your bike for multiple days. These days touring usually refers to rides with more pavement and civilization nearby, while bikepacking emphasizes off-pavement riding in more remote areas. Bike camping can overlap with both.
Before people start leaving heated comments below, know that I'm not trying to overgeneralize. We're all one big happy pedal–powered family, and these are just words. You can bikepack to the local campground for a night, or you can bicycle camp your way across the USA if you want. You do you, and call it whatever makes you happy.
Choosing a Campsite
The first step in planning a bike camping trip is to decide where you'll be camping. An established campground is a great choice for beginners if you have one nearby. Be sure to make a reservation if needed, and it's not a bad idea to bring cash in exact change if you might be rolling in after check-in hours.
When choosing a campground, check to see what amenities are available. Most will have drinking water, picnic tables, and fire pits. Some large campgrounds even have luxuries like showers (bring quarters) and a store where you can buy treats, while others are simply a flat spot in the woods where you can pitch your tent.
If you live in an area with crowded campgrounds, as I do on the Pacific Coast of the US, keep an eye out for campgrounds with hiker biker campsites. These are affordable, non-reservable spots offered only to those who arrive by foot or bike. They're often a group campsite where you can meet other bike campers, and your chances of being turned away are usually small.
Campgrounds aren't the only place you might be able to pitch your tent. Some RV parks allow tent campers, but many don't so it's best to call first. They're also not always the most peaceful option for tent campers unless they have large sites. In some areas you might find lodges or hotels that allow cyclists to camp on their land, though this is fairly rare and tends to happen mostly along popular bike routes like the GDMBR, TransAmerica, Great Allegheny Passage, etc.
If you live near public land owned by the US Forest Service or Bureau of Land Management, you live near a bike camping paradise. In these places dispersed camping is usually legal, which means you don't need to be confined to a crowded site with other people. You can camp wherever you want as long as you leave no trace, which means you can enjoy a peaceful night under the stars in your own private campsite.
Don't expect any amenities like drinking water, trash bins, or toilets when dispersed camping; you'll need some basic outdoor skills and a Leave No Trace attitude. If you're new to camping or on your first solo bike trip you might feel more comfortable in an established campground with amenities, a host, and other people nearby.
Finding a Safe Bike Route
Along with choosing a great campsite for your bicycle camping trip, you'll need a safe route to get there. Don't underestimate this factor, especially if you're not used to riding with traffic or if you're bringing kids along on your bike camping trip.
Your options for a safe route will depend a lot on where you live, as well as what style of bike you have and whether you want to ride pavement, gravel, or trails. If your area has bike paths or rail trails, lucky you! These are a great low-traffic and low-stress option perfect for a newbie bike camper.
If you'll be riding roads I recommend the bike routing features in Komoot, Google Maps, and RideWithGPS. They'll help you find bike lanes, shoulders, and low-traffic roads, though they're definitely not perfect and can sometimes route you onto dangerous roads. Strava and RideWithGPS have heatmaps so you can see which roads are most popular with cyclists, usually a good indication that they're rideable (at least for experienced road cyclists). Google Maps' Street View feature can help you understand if a road has a shoulder and how busy it's likely to be.
Mountain bikers can look at trail apps like MTB Project and Trailforks for MTB bike camping route ideas. Keep in mind that singletrack is usually slower than gravel which is usually slower than pavement, and your gear will need to be packed more securely for rough ground. Plan a route that suits your bike, skills, and experience level.
Starting from your front door makes for a very satisfying bike camping trip, but it's not a requirement. If driving to a different spot means you'll enjoy a quieter and safer route, by all means load up the bikes in your car and start from wherever works best. No campgrounds anywhere nearby? Try riding to a friend's house and camping in their backyard.
Make sure you choose a reasonable distance for your first bicycle camping trip, ideally based on your experience with single-day rides. There's no rule here. You can ride three miles and spend all day at the campsite, or you can spend the whole day adventuring to a faraway destination you wouldn't have time to return from in a single day.
Keep in mind that riding will be harder and slower with a loaded bike, but you also don't need to push the pace like you might on a workout ride and you have all day to get the miles done. An all-day slow and steady pace can get you surprisingly far, even on a loaded bike.
Gear and Equipment for Bike Camping
For many aspiring bike campers, gear – having the right stuff and figuring out how to carry it – feels like the biggest obstacle. If you're accustomed to car camping you may have a big bulky tent, a heavy sleeping bag and pad, and an impossibly big camp stove. Though you can maybe get away with some of your car camping gear on a casual bike camping trip, a few items of modern lightweight gear will make your experience much better.
What you're looking for here is "bikepacking gear" or "bike touring gear," which is often just backpacking gear being used by cyclists. Backpacking is even more weight-constrained than bikepacking and bicycle camping because all that weight has to be carried on a hiker's back. If a tent, sleeping bag, or stove are light enough for backpacking, they'll be good enough for bicycle camping too.
Here's a quick list of basic bike camping gear. You can find much more detail, including items that are essential for a more rugged and independent trip (like a repair kit and first aid supplies) in this detailed bikepacking gear list.
Sleep system: tent or other shelter, sleeping pad, sleeping bag or quilt, pillow (can be a stuff sack filled with clothes). See Bikepacking Shelters for more.
Kitchen: backpacking-style stove and fuel, pot, bowl and/or cup, utensil
Clothing: warm and rain layers as needed, perhaps a change of clothes for camp if you're feeling fancy. More detail here: What to Wear for Bikepacking
Toiletries: just the essentials, keep it simple and decant into smaller containers
Other items to consider depending on how remote and involved your trip is: first aid kit, water filter, bike repair kit, power bank for charging electronics
Most people don't want to buy a whole new set of camping gear just to try bike camping once. If you can, borrow some backpacking gear from a friend or rent some from a local gear shop (some REI locations rent camping gear). If you're ready to invest in some gear but don't want to spend too much, look for used gear and try these budget bikepacking gear ideas.
There's much more that can be said about gear, but no need to overcomplicate your first bike camping trip. If you want to venture further down the gear rabbit hole, you can read more in the bikepacking gear section.
Loading Your Bike
Now we come to the true crux of bike camping: how to carry all that gear on your bike. After tens of thousands of miles of loaded riding I still futz with my gear setup before every trip. It's normal, and we all have to start somewhere. Here's an overview of some options to get you started.
Cheapest and easiest: backpack. If you're a beginner and don't have any specialized racks or bags, don't rule out using a backpack. It's not the best for long trips, but it can absolutely get you a few miles to a campground and back. Strap a tent or other bulky item to your handlebars using Voile straps, put everything else in a large day pack, and off you go!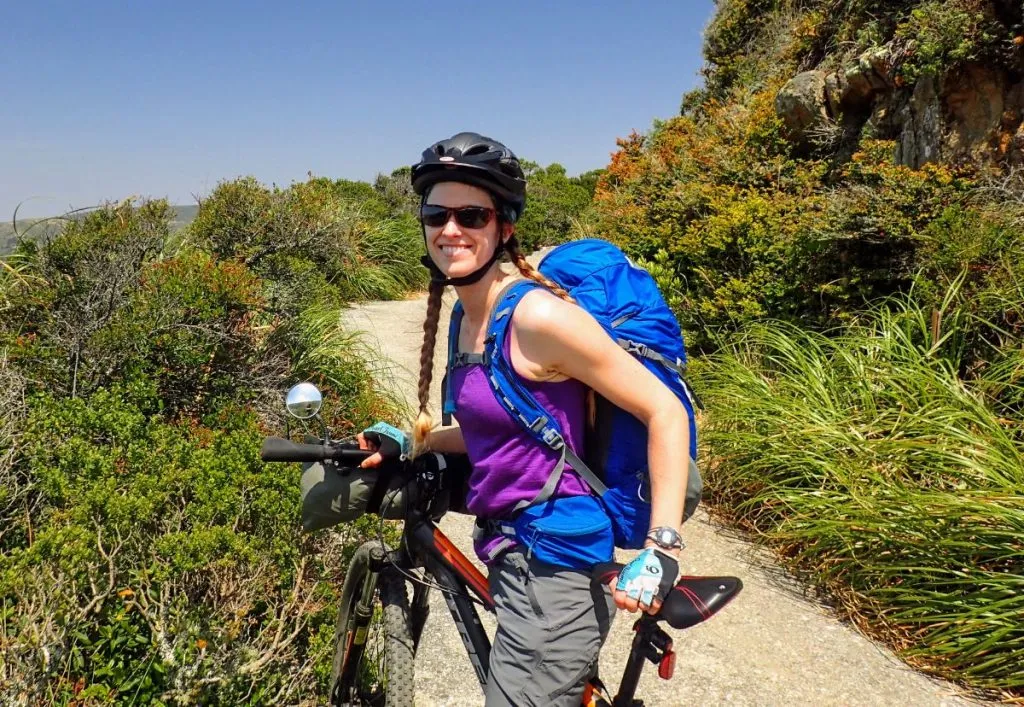 Best for larger loads: rear rack and dry bags or panniers. If you're interested in tidier solution or don't like wearing a backpack, many bikes can be outfitted with a rear rack to which you can strap a tent or some dry bags. Combined with a cylindrical bag strapped to the handlebars this should give you plenty of room. You could splash out for panniers, bags specifically designed to attach to a rack, but it's not essential.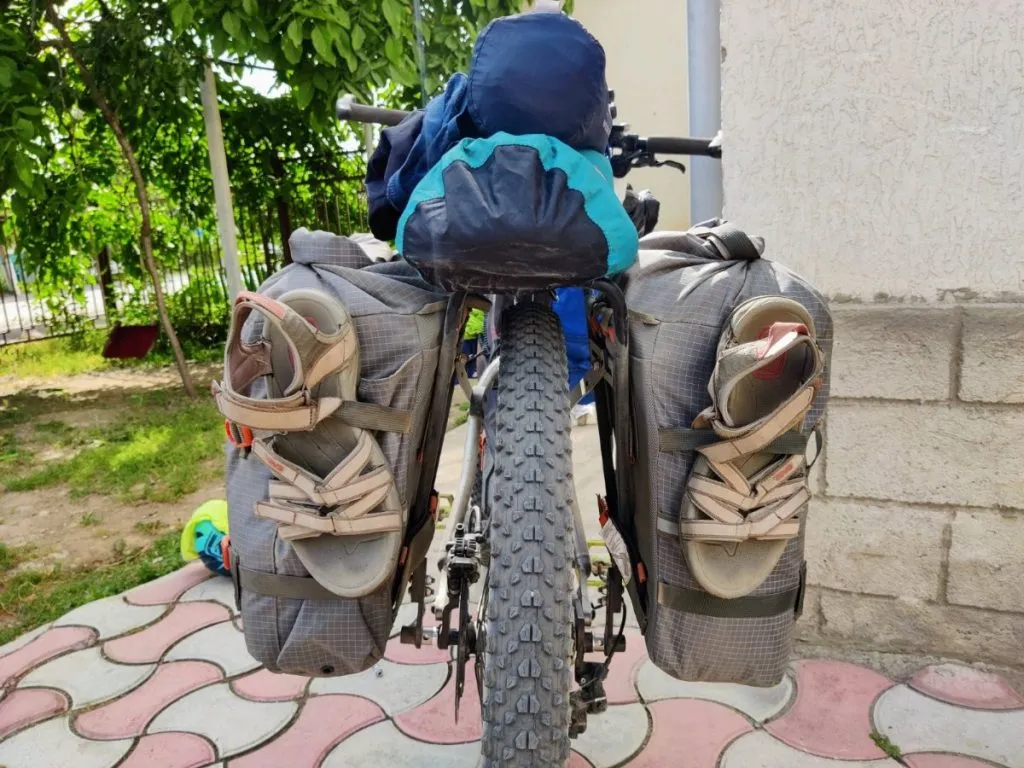 Minimalist: bikepacking bags. If you want to pack light and enjoy a long ride to your campsite, especially on unpaved roads or trails, it's worth exploring a bikepacking bag setup. These bags mount directly to your bike and carry gear in a more streamlined fashion than panniers. Downsides: the various bags can add up in cost, need to fit your specific bike, and may not offer enough space if you're trying to bicycle camp with older or bulkier gear.
However you carry gear, do your best to pack heavy items low and centered front-to-back for better bike handling. Make sure any straps and buckles are thoroughly secured and can't get caught in the wheels. Gear has an uncanny ability to come unsecured while riding, especially on bumpy ground.
Packing your gear on your bike can sometimes seem like an impossible puzzle, but don't give up! Get creative and be willing to try several options. Load up your bike and go for a test ride around the block. Repack, maybe remove a few unneeded items, and try again. The perfect bike camping setup doesn't really exist, and most of us are still adjusting our setups after many thousands of miles.
Other Tips for Bicycle Camping
Take it slow and steady. Some cyclists think going fast is the only proper way to ride a bike, but bike campers discover an entirely different approach to riding. Your bike will feel heavy and you'll feel slow, but don't worry, that's normal!
Hike-a-bike is your friend. It's very normal to find that your loaded bike is impossible to pedal up steep hills, especially if you don't have a very low climbing gear. There is no shame in getting off and pushing for a bit; bikepackers and bicycle campers do it all the time. Repeat after me: no shame!
Get used to riding loaded. Don't panic if you hop on your loaded bike for the first time and think "How the heck am I supposed to ride this heavy, wobbly beast?!" You'll be amazed at how fast your body adjusts to the new feeling. After your camping trip your bike will feel strange to ride when it's not loaded!
Don't skimp on food for the campsite. Meals are one of the best parts of camping even when you travel by car, but when bike camping your meals will taste better than ever.  You'll work up an appetite on the way there, so be sure to pack larger portions than usual and include plenty of fat and protein for a filling and satisfying menu. Don't forget lots of snacks to keep you going as you ride, and of course plenty of drinking water too. 
There you go, you're ready to go bike camping! Those of us who love this activity can sometimes make it sound complicated (raises hand – guilty!) but that's just because we enjoy obsessing over the details. A bike camping trip can be simple, fun, and as easy or hard as you want it to be.
Enjoy the ride, sleep well, and have fun telling the stories afterwards. Happy riding!
More Bike Resources
If you enjoyed this post, you might also like these:
Or visit the bikepacking section for lots more.
Bike resources in your inbox?
There's more where this came from! Sign up here for occasional emails full of inspiration and information about bikepacking and bicycle touring.


Share the Adventure
If you found this article helpful, please consider sharing so more people can benefit from it: