In June and July of 2019 I did something kind of crazy, even by my standards. I biked across the United States as part of the inaugural Bike Nonstop US race from Portland, Oregon to Washington DC.
That's 3500(ish) miles and eleven states of mixed terrain – pavement, gravel, dirt, rail trails – self-supported and solo, with one all-consuming goal: complete the journey in as little time as possible.
It was to be the perfect blend: combining my love of bicycle travel, the chance to see my own country though a traveler's eyes, and my masochistic obsession with endurance sports. Somewhere deep inside I dreamed of pulling a Lael and blowing everyone away with my innate and unexpected talent.
Instead, I latched onto the very back of the pack and held on for dear life. My fellow competitors, kind and encouraging as always, described me with words like "grit" and expressed surprise over my willingness to take even shorter lunch breaks than them. As the days wore on I felt warm support from fellow racers and "dot watchers" (online spectators) in the same way that people cheer for the underdog.
The transition from touring to racing is, as I came to realize somewhere on the highways of Wyoming (or was it Idaho? Or Missouri? It's all a blur…), stark and complex. It's probably no stretch to say I was the least prepared rider in the event, a touring cyclist who had to keep asking "what does that mean?" when other riders used cycling jargon.
I hoped my bike touring experience, combined with an ultrarunner's mentality of relentless forward progress, would somehow drag me to the finish line. It did, but it wasn't pretty. Then again, I doubt it was pretty for anyone, even the fast folks. Racing a bicycle across the country, it turns out, is messy business.
"Racing" at the Back of the Pack
The ultra-distance racing format is a very cool sub-niche of cycling. These low-key events, often free and only loosely organized, are springing up all over the place and bringing together some of the toughest, craziest, fittest people imagineable, all in search of a massive dose of type 2 fun.
It took me a few weeks of riding to really come to terms with this fact: the line between a race and a ride is quite thin in these events. The general spirit of the event is to do your own personal best – whatever that may be given your experience and equipment – to finish as quickly as possible. If you're doing much of anything else besides biking, eating, and sleeping the bare minimum to stay healthy(ish), you're in "touring mode" and not really racing.
For the winner that means riding 200+ miles per day. For those of us at the back of the pack it can mean working our butts off to ride 120 miles per day or deal with unexpected mechanical issues. It wasn't until everything started falling apart somewhere in the evil rolling hills of Missouri that I finally grasped the concept of "ride your own ride." I simply couldn't keep up with the people I'd been trying to stick with. At that point I knew I had to stop comparing and just focus on getting myself to Washington DC in one piece.
Training (Or Not)
Most of my fellow competitors trained their butts off in the months and years leading up to the race, riding other endurance races and getting out for long training rides as much as possible. I was truly impressed by their dedication.
Me? I could have done better. I pedaled a leisurely tour of Patagonia and then sat my bike in the living room for a couple months as I slowly performed some basic maintenance tasks. Prior to that, my only serious riding had been a several month tour in Southeast Asia, covering less distance than I would need to pack into a single month to meet my goal for Bike Nonstop. I might have been the only rider who had never ridden 100 miles in one go before starting the race.
While riding with a fellow racer somewhere under the open skies of Wyoming, or maybe it was Nebraska, he asked "So when did you get into cycling?"
"Um, last September I guess." The absurdity hit me as we pedaled our way toward the opposite coast, still thousands of miles away. Or maybe that was just the sleep deprivation hitting me. Either way, it seemed funny at the time.
I was banking on a solid endurance background from backpacking and ultrarunning, plus the touring experience of riding day after day after day, even if those days had all been shorter. I know how to keep moving forward. Slow and steady was to be my mantra.
This approach did get me through for a 30 day finish, but I wouldn't necessarily recommend it. If you're a touring cyclist looking to transition to racing, maybe try a few shorter races before signing up to race across the country. Do as I say, not as I do.
The Bike
My bike setup was almost as unorthodox as my training. Despite the absurd length of the route, my fellow competitors' equipment tended far more toward racing than touring, leaving me feeling like a touring cyclist who had wandered too close to a bike race (which is, in fact, pretty much what happened).
Given the new route and the ambiguous challenges of mixed terrain, bike and tire choice were agonized over by all. The temptation for the road cyclists was to throw some gravel racing tires on a road bike and hope the speed on all the pavement would make up for any struggles in the gravel. Many of these riders, I heard, struggled with mechanicals and absurd numbers of punctures on the rougher sections. Some replaced their tires many times, not always easy to do on the remote sections of a cross-country route with no bike shops in sight. Still, it must be said, most of them finished days or even weeks ahead of me!
Cyclocross racing bikes were another popular choice among the faster racers, as were gravel and bikepack racing rigs like the Salsa Cutthroat. These seemed to be a good balance, light enough for speed but also reliable, especially with the right tire choice.
And then, there was me, with my trusty Surly Long Haul Trucker. She's a touring bike, therefore well-suited to the rigors of a 3500 mile mixed-terrain journey, or so I thought. But she's also a heavy steel beast. On top of that, I rode with flat pedals and Power Grips, having never tried clipless pedals.
Before the race I proudly bought a pair of Schwalbe Marathon tires, 1.5 inches wide, which felt like the raciest little tires I'd ever ridden on. But again, they were laughably burly compared to other riders. Still, they served me well with only three punctures, far less than the average.
While I was the only finisher with flat pedals, and possibly had the heaviest tires of all, it must be said that at least two other riders finished on steel touring bikes, one of which was also a Long Haul Trucker! And both finished ahead of me. So I can't blame my bike for everything. 🙂
Gear
Where to even start… I did not choose the optimal gear setup. And yet, I had my reasons and the gear did serve its purpose. To save money, I planned to camp as much as possible, so I brought my little solo tent, light inflatable sleeping pad, and a down quilt. I get cold easily and packed a full set of backpacking layers for wet and cold, and used ALL of them during the first half of the race while still sometimes freezing my butt off.
Coming from a touring background with two rear panniers, I aimed to pack light, but wasn't ready to fully commit to a rackless bikepacking setup. I ditched the panniers and simply strapped a 30 liter dry sack, covered in a high-viz yellow pack cover, to my rear rack with adjustable bungees. Without the panniers the bike was definitely more aerodynamic, yet I still had plenty of room to conveniently bungee extra food and layers to the top of the pile. The downside was that sometimes the sack would tilt to the side on rough terrain unless I packed it very, very carefully.
Here's the full list of bags I used:
This worked, but, my recommendation for anyone thinking about this kind of race is to just go with the bikepacking setup: frame bag, seat bag, handebar bag. It's lighter and, more importantly, will force you to pack more minimally. I've been experimenting lately with some entry-level bikepacking bags that aren't really all that expensive. We'll see how well they hold up.
Ultimately I think it's a matter of getting out what you put in. If you want to be competitive in a race like this, at some point you need to be willing to put some money in. Budget to stay in motels often and pare down sleeping kit to a safe minimum for emergency bivvies. By the end I was so exhausted that I was mostly staying in motels anyway.
Route
Navigation and Electronics
Most racers used a Garmin of some sort to follow the GPX route. Turn-by-turn directions are absolutely essential in an event like this. But I didn't have a Garmin and didn't want to spend the money for one (are you noticing a pattern here?), so I used the RideWithGPS app on my phone. This actually worked surprisingly well, with a few caveats.
Keeping the phone charged was a challenge when camping. I had to carry two spare USB battery packs and keep a close eye on their capacity. I also made a habit of plugging in my phone to charge whenever I entered a convenience store, even if only for 10 minutes.
I carried a backup phone, with no sim card, just the route files cached in case of emergency. I did need it once or twice when I wasn't able to keep my primary phone charged.
I mounted the phone on my handlebars using a pretty standard cheap mount from Amazon. It's a water resistant phone (Samsung Galaxy S7 Active), but still, in heavy rain I would put it in my jacket pocket and just use audio cues. If I really needed the screen in the rain, I put it in the phone pocket on my tube top bag, but this always fogged up and was of questionable waterproofness.
On both phones I downloaded Google Maps segments for the whole route. In addition to my route notes, this helped me find gas stations and motels in towns when I didn't have phone service, which happened often.
Food and Lodging
Despite hauling a tent all the way across the country, I only ended up camping about one third of the nights. The rest I spent in the cheapest motel I could find.
I had planned to camp more, but underestimated the challenges of camping while racing (as opposed to touring). Motels were often the most efficient way to get a warm, dry, uninterrupted night's sleep within the scant few hours I had available. As I descended more deeply into the dark void of sleep deprivation, good quality sleep became the thing I craved most.
In the west I enjoyed a few nights of wild camping, and I also camped in small towns a few times, but in bigger towns I never felt safe camping in the open. While touring it's effective and even fun to ask around until you find a good camping spot, but when dead tired from racing for 15 hours, it just seems like a waste of time. Every minute is precious, and that Motel 6 on the corner is just too easy and appealing.
Food needs to be similarly optimized for speed, which means that for an entire month I filled my stomach almost entirely from gas station convenience stores and fast food restaurants. Yuck. And I still lost 6 pounds! I quickly learned that restaurants and even grocery stores take a lot more time than popping into a convenience store.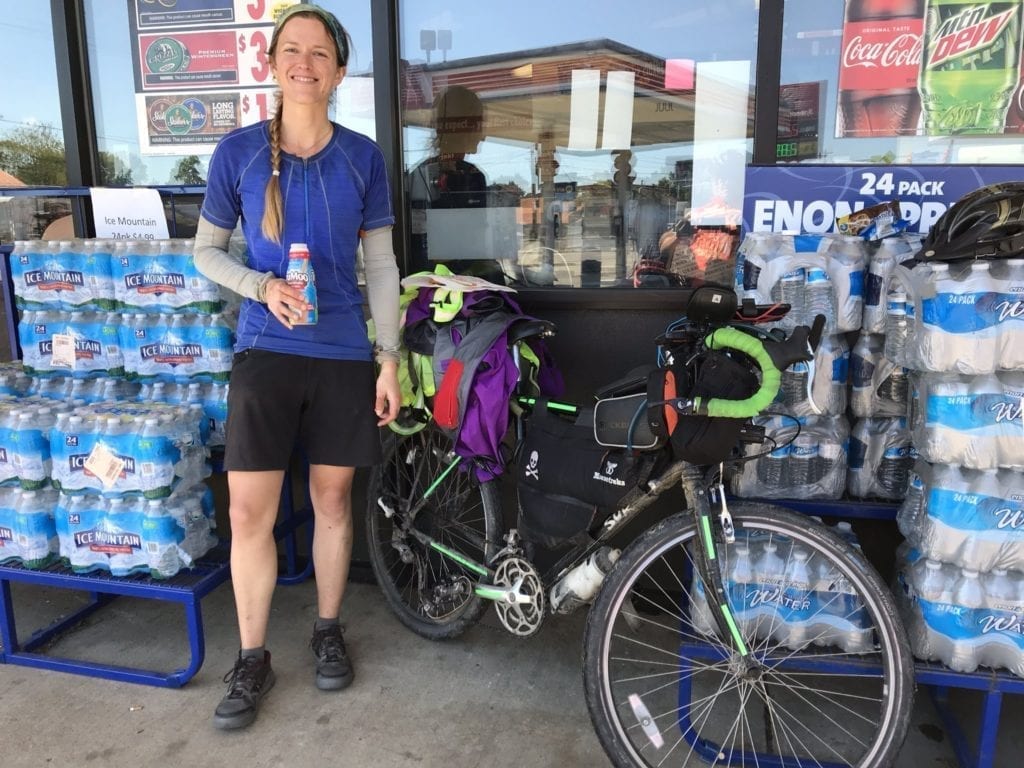 My staples of choice were:
chocolate milk, or regular whole milk
protein shakes
Gatorade in the heat
pizza
burgers
protein bars
cookies
trail mix
mini donuts and pastries
Biggest Challenges
I had expected that pedaling 120 miles per day would be an all-consuming challenge. Surprisingly, the riding ended up feeling almost like an afterthought. Once you just accept that you're doing nothing for the next 15 hours except pedalling your bike, the riding becomes pretty simple. Instead, these were the factors that wore me down the most.
Weather
It was an unseasonably rainy start to the summer, and it seemed like 4 of every 5 days included some type of rain. Often it was torrential and included thunder and lightning.
This had a bigger impact on my ride than expected. Sometimes I felt too wet and cold to safely ride long descents at night. Sometimes the road was too busy to safely ride in heavy rain. Sometimes the lightning was scary! And frequently, in the midwest, I was forced to detour around or walk through flood water during one of the worst flooding events in the region's history.
Traffic
Despite the route's intention to stay on lightly traveled back roads, it's impossible to cross the US without more than a few scary stretches. Furthermore, the flooding in the midwest forced us onto some busier highways when the original route was inaccessible. Traffic in the US is no joke, and the mental focus required to deal with it, hour after hour, day after day, while worn thin by effort and sleep deprivation, is a huge factor.
Sleep Deprivation
I slept between 3-6 hours a night for the entire month of the race. Usually I prefer 8-9 hours, so this was a huge deficit for me. After a couple 3-4 hour nights I could barely function and needed a 6 hour night just to stay in the game.
You might think I could have slept more, riding "only" 120 miles a day, but that's the thing about self-supported races. Finding food and lodging, maintaining your bike, stuffing your face with thousands of calories each day – it all takes time. I rarely felt too sleepy to ride; the problem was simply that my body stopped recovering effectively. It felt incredibly unhealthy to push my sleep boundaries like that for a whole month, and I feared long-term consequences.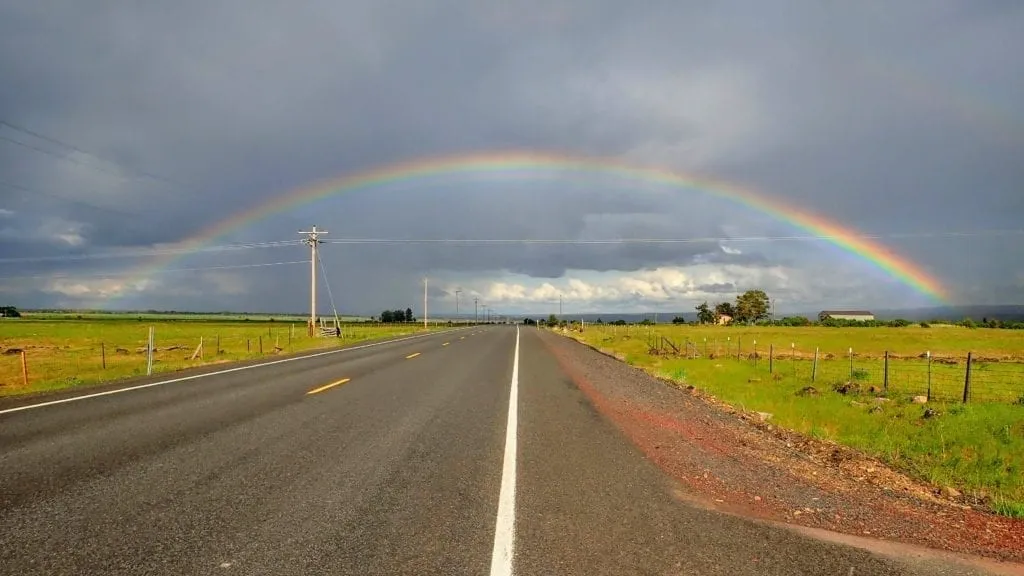 Highlights
Despite all the challenges, and partly because of them, the ride was also filled with highs. These were some of my favorite aspects.
Other Racers
Having heard that the cycling world can be an arrogant and male-dominated place, I was a bit worried about showing up female and with such an unusual setup. Would people smirk openly, or only behind my back?
Well, I don't know what happened behind my back, but to my face everyone I met was simply fantastic. The type of people who get into this sport are unusual, to say the least, and I found their spirit and positive energy contagious. Instead of expressing doubt or arrogance, they expressed admiration and encouragement.
While I wasn't able to ride with any other racers consistently due to my slower pace, I often leap-frogged with a few who would start a tad later in the morning and stop for slightly longer meal breaks. I really enjoyed these brief conversations and camaraderie with some awesome people.
Scenery
The west, especially, just blew my mind. Eastern Oregon, Idaho, and Wyoming are beautiful and vast beyond words. The feeling of racing a bicycle through these states was absurd and exhilarating. What an amazing sense of freedom.
People
Most Americans, unlike people in other countries where I've toured, ignored me. A few were even hostile from behind the wheel of their vehicle, unhappy to see a cyclist in their way. But every single time I really truly needed something, some angel in disguise would show up out of nowhere and save my butt more generously than I could have hoped for.
The McDonald's employee who replaced my busted pedal, the man and his son who drove me an hour out of their way to save me from dangerous traffic when detouring around a flood, the family who found me a dry place to sleep when I was planning to camp in a flash flood zone… These people will forever be bright spots in my memories of a tough month.
Recovery
It took about a month to feel fully back to normal. The main symptoms were:
Sleeeeep! For the first week or so, I slept a full night plus a few hours of napping each day. I just couldn't stay awake for more than about 6 consecutive hours.
Creaky knees and muscle imbalances: I struggle with weak posterior chain activation at the best of times, which can make my knees hurt while running. Doing nothing but bike for a month did not help. It took time to loosen the parts that needed to be loosened (quads, IT bands) and re-strengthen the parts that got lazy (glutes).
Nerve damage: My left hand lost its ability to grip things well toward the end of the race. As far as I can tell this is a fairly common issue in endurance cycling, caused from nerve compression in the hands and wrists. It resolved within a few weeks, and seemed to improve faster once I got back into the gym and started using it more heavily (pullups, deadlifts, etc).
Mental burnout: This one is harder to pin down, but basically I didn't want to do anything hard in the weeks after the race. I was tired of pushing. I needed some mental space to just relax and let myself take it easy. Predictably enough, this only lasted a couple weeks until I was craving the next big adventure… 🙂
Lessons from Bike Nonstop US 2019
A few more assorted lessons, reflections, and things I would do differently:
Pack lighter! Consider a bivy sack instead of a tent.
Ride when conditions are good: when the weather is clear, when the road is safe at night, when you have the energy… Make the most of it, even if that means riding a super long day, because there will be other days when conditions or resupply locations force a shorter day.
There are so many ways to carve out an advantage in this type of race: be fitter, sleep less, have lighter bike and gear, eat faster or while riding, be more efficient when stopping to sleep, have higher risk tolerance for road safety, have higher discomfort tolerance for cold or wet weather… Of course, to win, you need basically all of these. For the rest of us, we pick a few.
Even in America, people think a woman riding a bike alone far from home is weird and dangerous. Seriously people, I thought we were a more modern country than that.
Make use of post offices. I sent a bunch of warm clothes home after crossing the Rockies and before heading into the balmier midwest and east. The physical and mental boost from being suddenly lighter was huge.
Weather can be gnarly! As a Californian I wasn't expecting the amount of rain, thunder and lightning I ended up riding through. It can make a big difference in daily mileage, even if you ride through most of it. And some things – an electrical storm over a high mountain pass, or torrential rain on a busy road – are smarter to just wait out.
Have a plan, but be flexible. Some racers went in knowing where they planned to sleep each night. This ride was so far beyond my experience that I didn't even bother, expecting to work it out on the road. For the most part this worked fine, since I had good offline maps. But in places where food and lodging were few and far between, it would have helped to plan a bit more. There were times when I rode short days because of awkward spacing between towns and lack of comfort with night riding in certain conditions. If I had simply planned ahead and started a couple hours earlier in the morning, I could have made my goal for the day.
My Next Moves
Am I hooked on ultra-distance bike racing? Possibly. But with a few changes in the works:
Shorter races: This is obviously where I should have started, but that's not really in my nature. Working backwards, I'm now interested in "short" (a few hundred miles) races in the same spirit. I'm interested in the opportunity to push hard and have a serious adventure, without the potential health consequences of a month-long ordeal.
Off-road riding: I'm experimenting with morphing my Long Haul Trucker into a gravel bike, or as close as possible, so I can spend less time on roads with cars. I like biking but feel that the margin for error is just too thin on extended road rides, especially in the US. The risk of riding open roads for so long felt like it really added up.
Bikepacking bags: Ok, I'm finally willing to give up the rear rack. I've ordered a set of cheap Rock Bros bikepacking bags and will soon be playing the fun game of stuffing bulky gear into tiny spaces.
SPD pedals: I was proud to be the only Bike Nonstop finisher to use flat pedals, but, after watching the "real cyclists" zoom past me with their silky smooth pedal strokes, I think I'm ready. I picked up a cheap set of SPD MTB pedals and lightly used MTB shoes, and so far I like them a lot. Knock on wood(!) I still haven't fallen over from forgetting to unclip!
In closing, I just want to say a huge congratulations(!!!) to all the riders who attempted the Bike Nonstop 2019 event. You all are impressive beyond belief. Thanks for welcoming me into your weird world. I think I like it.
And if you're considering such an adventure for yourself, I'd say go for it! If I can do it, anyone can.
Podcasts
Seems like this underdog racing story has captured quite a few people's imaginations. Since I first wrote about it here, I've had the honor of talking about it on a couple of podcasts. For anyone who'd like to have a listen, here they are:
Both of these podcasts also feature some other amazing adventurers and cyclists with fascinating stories. Check them out!
More Cycling Resources
If you're considering racing your bicycle across the country (you crazy person you), perhaps you'll also be interested in these:
Bike resources in your inbox?
There's more where this came from! Sign up here for occasional emails full of inspiration and information about bikepacking and bicycle touring.


Share the Adventure
If you found this article helpful, please consider sharing so more people can benefit from it: