Is the idea of a cross-country bike ride brewing in your imagination? Whether it's a faint spark of intrigue or a raging inferno of adventure-hungry obsession, one of the first decisions you'll have to make as you investigate further is: what's the best bike route across America for your goals and preferences?
The United States, as you may know, is vast and varied. We have majestic mountains, wild desert, endless plains, and abundant forest. We also have cities, highways, freeways, plentiful motor vehicles, significant cultural differences, and a complex web of transportation infrastructure in varying levels of (dis)repair.
Choosing a route for your bike ride across America is a matter of deciding which places you want to experience, what climates you prefer to ride in, the vibe you're looking for, and how much tolerance you have for riding in traffic. For many aspiring cross-country cyclists it's an overwhelmingly big decision, but my goal for this post is to help you make the best choice so you can get on with dreaming, planning, and eventually pedaling.
As an enthusiastic bike traveler (I've pedaled across the US twice, both west-east and south-north), recreational peruser of maps, and active member of the bikepacking and touring communities, I'm here to walk you through the major bicycle routes across America and help you choose the best one for you. Whether you're an American looking to experience your home in a new way or a visitor excited to travel a foreign country under your own steam, I hope you'll consider which of these routes offers the most of whatever you're looking for.
Coast to Coast Routes
When we think of a bike route across the United States, most of us picture the classic coast to coast journey. A west-to-east (or east-to-west) ride across America spans a staggering range of topography, climate, and culture.
Thanks to the longitudinal alignment of America's major mountain ranges and historic colonization and migration patterns, a coast to coast bike route across the US offers the most complete and diverse picture of the country as a whole. You'll experience the populated west coast, the expansive and less developed landscapes west of the Rockies, the flatter and windier midwest, and finally the more populated and history-rich eastern or southern states.
Our history in America is complex and often dark, interweaving threads of indigenous cultures, European colonization, westward migration, slavery and civil rights, and industrialization alongside our modern society. I learned more about my own country while biking across it, especially on my coast to coast ride, than I did in many years of history class.
If you're allergic to motor vehicle traffic, I'll warn you upfront that no coast to coast option is truly low-traffic. A couple routes have been developed with this goal in mind but they still have a long way to go. For a more peaceful and rugged bike route across the US you'll need to choose one of the border to border bikepacking routes in the next section.
If a coast to coast ride sounds exciting, read on to compare five established bike routes across the United States from coast to coast.
Border to Border Routes
Though most people picture a coast to coast ride when they think of bike routes across the US, don't discount a border to border ride. These routes offer a more homogenous but still impressively varied "slice" of history (the "western frontier," the east coast) and topography (the Rocky Mountains, the western coastline). They're generally a bit shorter and a couple can be ridden outside the main summer season.
For folks who want a more relaxing ride away from motor vehicles, the bikepacking-style border to border routes offer the lowest-traffic ways to cross the US on mostly gravel and dirt backroads. There are also a few classic road touring options too. Read on for a comparison of six major routes.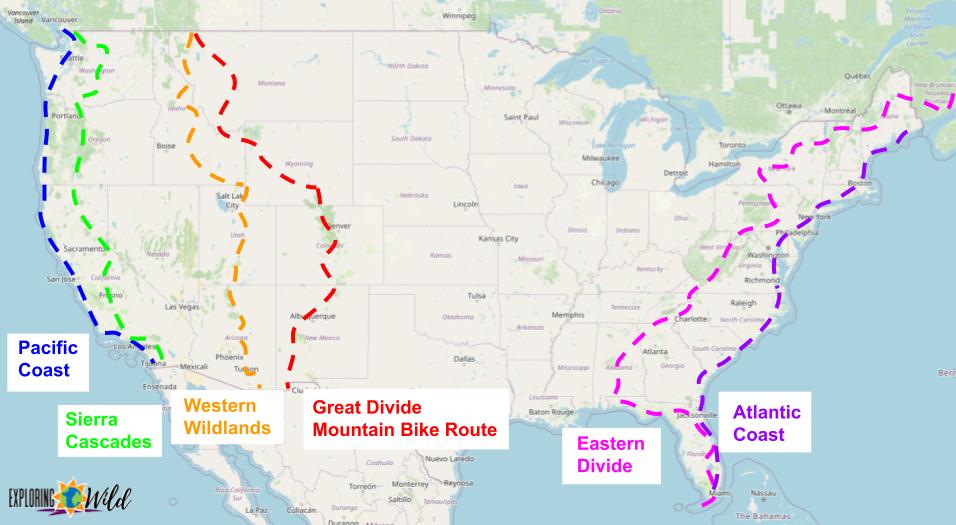 Creating Your Own Route
Maybe you want to see a specific part of the US or visit someone in a place not touched by any of these cross-country routes. Can you design your own bike route across the US?
You certainly can, but the biggest challenge will be figuring out which roads are safe and legal for bicycles. Though America has many roads that are lovely for biking, we also have many that are narrow, shoulderless, and flowing with fast traffic. Many of the big interstate freeways are legally off-limits to bikes, and they would be miserable places to ride anyway. When designing your own route you'll need to plan ahead in order to avoid cornering yourself in a place that's hard to safely bike out of.
The United States, as you probably know, is big! Our infrastructure varies widely and options will depend on where you are. If you want to bike across Wyoming on paved roads you'll be riding the highways for days. In Illinois you can hopscotch along a grid of agricultural roads adjusting your route as you go. In general there are fewer route options west of the Rockies, and once you choose one it will be harder to reroute.
Important Considerations
What time of year can you ride? Any route that crosses high mountains will have a riding season of late spring to early fall, with the highest passes only open during the summer when the snow is gone. Riding outside this window ranges from unpleasant (weather can be hazardous and services may be closed) to completely impossible (some roads are closed seasonally). This affects all coast to coast routes except the Southern Tier, and the interior border to border routes (Sierra Cascades, WWR, GDMBR, ED). If your schedule rules out a summer ride your best choices are the Southern Tier or Pacific Coast, or perhaps the Atlantic Coast depending on timing.
How much time do you have? The longer bike routes across America take most people around three months to fully enjoy. If you don't have that much time, you're probably better off with one of the shorter routes: the Southern Tier for coast to coast or one of the border to border routes. Of course it's possible to ride faster, and some people do, but you need to either be very fit, very focused, or both. Most people prefer a schedule that allows time for side trips, rest days, and general enjoyment of whatever opportunities come up on such a long and unpredictable trip.
Community vibes or the road less traveled? If you enjoy meeting other cyclists, staying in cyclist-friendly lodging, and generally feeling part of a larger community, consider a classic and popular route like the TransAmerica, GDMBR, or Pacific Coast. If you prefer the feeling of striking out on your own perhaps a newer route like Bike Nonstop US, the unfinished Great American Rail Trail, Western Wildlands, or even the Eastern Divide will be more exciting for you.
What kind of scenery is on your must-see list? Are you a mountain lover? The Sierra Cascades and Great Divide Mountain Bike Route spend lots of time up high, and the TransAmerica does pretty well for a coast to coast route thanks to its longer path through the Rockies. Desert rats should consider the Southern Tier or Western Wildlands. Folks who like the coastline will get their fill on the Pacific and Atlantic Coast routes.
There you have it: a comparison of eleven established bike routes across America. Which one gets you excited to hop on your bike, point it toward the other side of the country, and start pedaling on the adventure of a lifetime?
More Bike Travel Resources