Stem bags might seem simple at first glance, but these little handlebar-mounted holders can be a marvel of engineering. Who knew carrying snacks and sunglasses required such precision?
Whether you need to stash an extra water bottle on your road bike, carry a coffee on your commuter, or haul jumbo-size bags of gummy bears on your bikepacking rig, stem bags are amazing at containing all the odds and ends you need close at hand while riding.
Personally, I mostly use stem bags for bikepacking. I run two at a time and use them for everything from water bottles and cycling snacks to my sunglasses, phone, power bank, gloves, or the occasional cup of coffee (not all at the same time, usually). When riding unloaded I still keep at least one stem bag mounted. They're just so handy that I don't know what I'd do without them.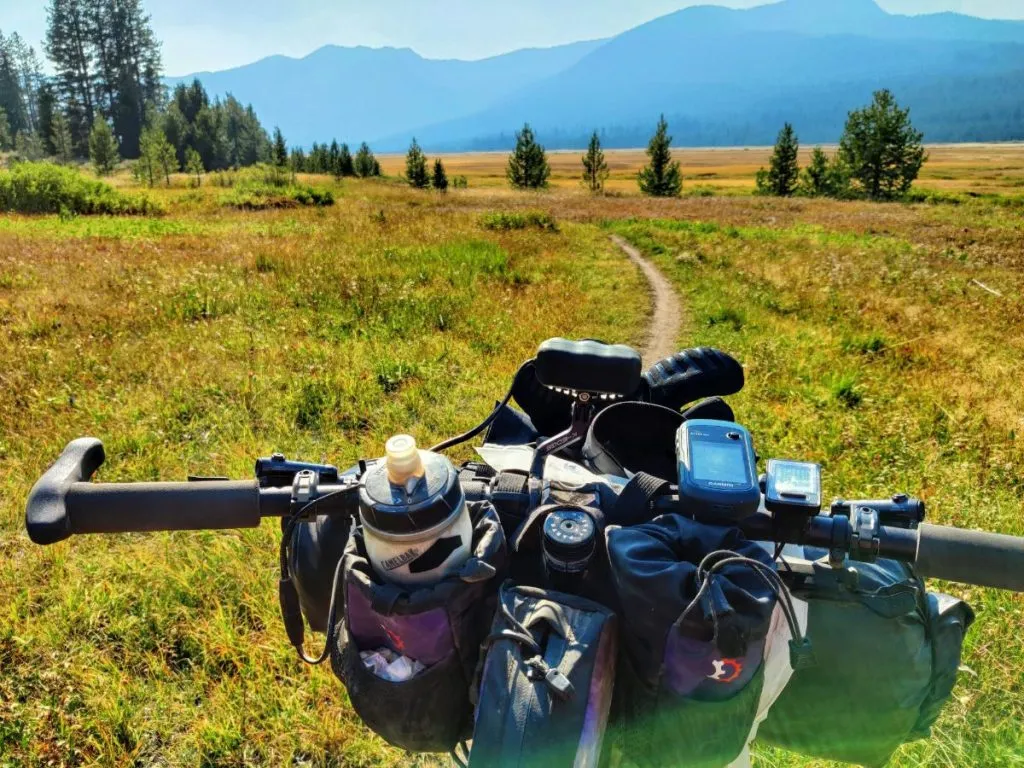 For such a small piece of gear, stem bags can be surprisingly expensive! I started with two $10 climbing chalk bags, which actually worked well for thousands of miles. Since then I've upgraded here and there while outfitting a new bike, and over time I've found myself trying newer and nicer models. Today I run everything from an original $10 chalk bag to my fancy Revelate feed bags, sometimes at the same time.
So are the expensive ones worth it? In this collection of stem bag mini-reviews I'll explain what you get for the money and why you might care.
When you buy through affiliate links in this post, I may earn a small commission. Thanks for your support! I always offer unbiased opinions based on real experience from the road and trail. Learn more.
Stem Bag Summary
Here are the stem bag models covered below:
Keep reading below for a detailed mini-review of each.
What to Look For in a Stem Bag
Before diving into the individual bags, let's spend a moment thinking about what features are most important in a bike stem bag. Of course this will depend on your setup and how you plan to use the bag, but here's my take on it.
Essentials:
Strong attachment straps (weak straps are generally the first part of a cheap stem bag to fail).
Movable or left/right straps for either side of handlebars
External pockets for holding small items
Cinchable drawstring to keep small items from bouncing out (or small animals from getting in and absconding with your trail mix)
Multipoint attachment system that prevents bouncing, ideally including a bottom strap that goes around the fork. This point is especially important for mountain bikers riding rough trails.
Nice to have:
Movable straps with several positions to accommodate other bags or unique cockpit setups
Drain hole in bottom for dealing with spills, drips, and rain
Bright colored inner liner so it's easier to see what's in there
Insulation, maybe, if you carry a water bottle in the bag (otherwise it just adds unnecessary bulk)
Above and beyond:
One-handed open / close feature that sort of works (I have yet to find a perfect one)
A liner that unsnaps from the bottom, so you can dump out the crumbs without unmounting the bag
Rain flap
With that in mind, let's see how each of my stem bags stacks up.
Drawstring "Highend" Rock Climbing Chalk Bag
Buy it: Amazon
Price: $12
Summary: If the non-standard design fits your cockpit, this durable and roomy bag is an excellent cheap stem bag for non-technical riding.
Notable features: huge external pockets
I used these chalk bags as bikepacking stem bags for years, even buying a second pair when the first started to wear out (drawstring stretched and snaps became unreliable). They fit surprisingly well on my road touring bike with one strap snapped over the handlebar and the other around the stem. Once I transitioned to rougher riding the lack of a bottom strap became a problem, but I still recommend them to folks wanting a durable and super-affordable stem bag.
Likes:
Large opening makes for easy on-the-go access
Large size and plenty of external pockets
Shorter and wider shape is ideal for holding snacks
Liner pulls out easily for cleaning
Cheap!
Dislikes:
Shorter and wider shape not good for holding tall water bottles
No stabilization strap on bottom
Snap attachment system may not work reliably for all cockpits
Large diameter may hit knees if clearance is tight
No drain hole
Kemimoto Bike Cup Holder
Buy it: Amazon (but don't)
Price: $17
Summary: Also known as "random cheap stem bag from Amazon," this bag is smaller than average, has only the bare minimum features, and is not durable enough for long-term use.
Notable features: Drain hole, large mesh pockets
Recently I wanted to add a stem bag to a bike I don't ride often enough to spend much on, and I was curious about the proliferation of cheap Amazon options. I decided to give this one a try. This poor little stem bag lasted only a couple rides before the handlebar strap ripped off the bag. Sometimes affordable gear works out great, but this is definitely a get-what-you-pay-for situation.
Likes:
Mesh pockets are deep and large
If you're looking for something sleek, this bag is smaller than others in this list
Dislikes:
Fell apart very quickly
Smallest and shortest bag in this list
Straps on both sides, but not adjustable or movable
Moosetreks Stem Bag
Buy it: Amazon
Price: $28
Summary: Though it may not last forever, this well-designed affordable stem bag checks all the other boxes and seems especially well-suited to carrying a water bottle. In fact, its design is suspiciously similar to the Revelate Feedbag discussed below.
Notable features:
Large exterior mesh pockets
One handed drawstring open / close
Bright orange inner lining for visibility
Drain hole
Insulated
Fork strap at bottom for easily adjustable stability on a variety of frames
Adjustable 3-point attachment system with loops that can be used on left or right
This is the only stem bag in the list that I haven't seen in action, but I own two other bags from Moosetreks (frame bag and top tube bag) and think it's a really solid brand for affordable bikepacking gear. I've put together this overview based on the Amazon listing and reviews.
Likes:
Tall profile is great for holding a tall bottle
Mesh pockets are roomy and secure
Fork strap ensures stability on any bike frame
Includes thoughtful features, like one-handed closure and bright colored interior, usually found on more expensive models
Dislikes:
Attachment straps too short for some bikes
Not the most durable, develops snags and tears over time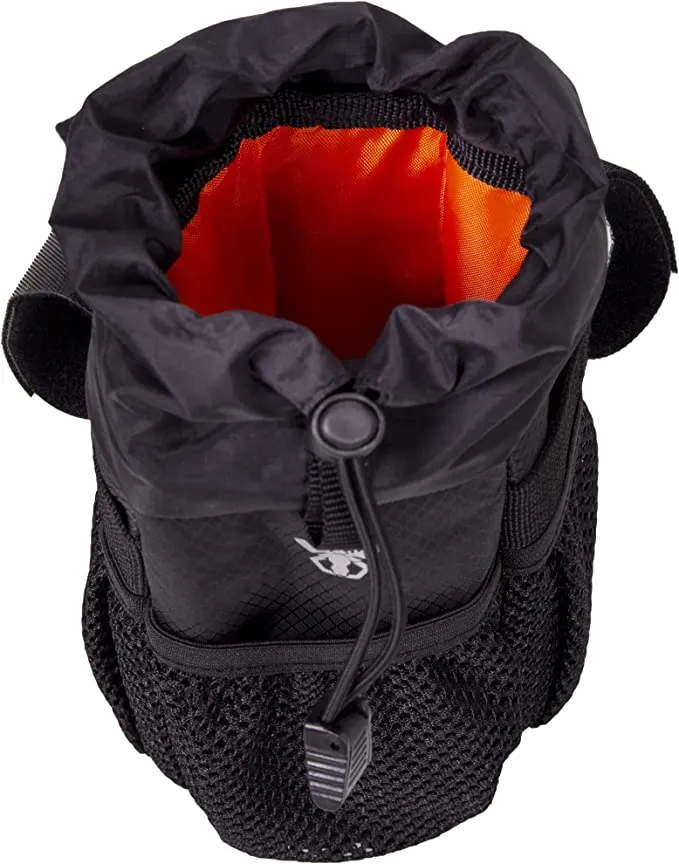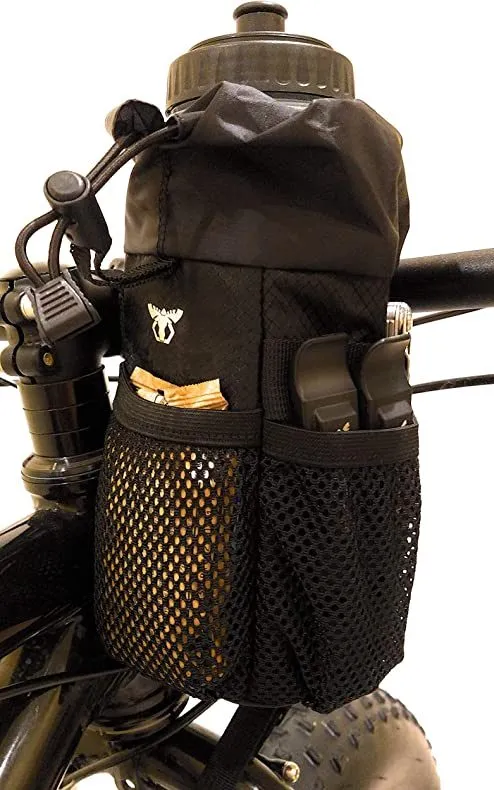 REI Co-op Junction Stem Bag
Buy it: REI
Price: $30
Summary: This affordable stem bag has the durability and thoughtful features typically found in more expensive bags. It's a solid option for any bikepacker, new or experienced.
Notable features:
Drawstring closure with rain cover
One handed drawstring open / close
Drain hole
Light-ish interior liner for improved visibility
3-point attachment that can easily switch to right or left side
I've been impressed by REI's bikepacking gear lately, so when my beloved chalk bags started wearing out I couldn't resist trying the REI Junction stem bag. I've used it during a couple bikepacking races and my husband recently put it to the test during a month of rugged bikepacking in Central Asia. It still looks like new!
Likes:
Medium-tall shape is good for holding water bottle, and also good for snacks and small items
Velcro loops are long enough to fit a wider variety of handlebar setups
Thoughtful features like one-handed closure and rain flap
Durable and sturdy
Great quality for the price
Dislikes:
Mesh pocket is an awkward shape, short and wide with no individual compartments
Undersides of strap scratchy against handlebar (I fixed this with a wrap of electrical tape underneath)
Bottom loop is small and less adjustable than a fork strap
Grey and tan color scheme is, dare I say, ugly (personal preference obviously)
Blackburn Outpost Carryall
Buy it: Amazon
Price: $34
Summary: A decent affordable stem bag with all the key features and a unique look, though slightly more expensive than the competitive and possibly more durable REI Co-op Junction.
Notable features:
3-point attachment includes fork strap at bottom
Drain hole
Adjustable straps can be moved to left or right side
I'm a fan of Blackburn's Outpost cargo cage and their tool wrap, so I had high expectations for their Carryall stem bag. I recently had a chance to see it in action on my riding partner's rig during a month of bikepacking in the American west.
Likes:
3-point adjustment system is flexible and stable
Moderately tall shape is good for either a water bottle or small items
Topo map pattern is neat
Dislikes:
External mesh pockets are fairly small
Under unusually high forces (like a crash, or when mounted with too much tension) the handlebar straps are vulnerable to tearing away from the body of the bag
Revelate Designs Mountain Feedbag
Buy it: REI
Price: $55
Summary: This is the gold standard of bikepacking stem bags for good reason. It's thoughtfully designed with excellent practical features and great durability. The jump in price (nearly twice the cost of some solid alternatives) is hard to justify if money is tight, but otherwise you'll probably enjoy this bag.
Notable features:
One–handed open / close
Super-bright interior lining for visibility
Lining unsnaps from bottom so you can empty out trail mix remnants without unmounting! Brilliant.
Drain hole
Movable and adjustable 3-point attachment system
For years I resisted shelling out the cash for these bags. How could they possibly be worth over 5x the cost of those super-affordable chalk bags at the top of this list? But recently, my new bike and I have been drifting into the territory of higher-end gear. These were available in purple, which sealed the deal.
Are they worth it? I'm enjoying them a lot and definitely consider them the nicest of the bunch in terms of form, function, and durability. They're the stem bags I'll keep choosing for my biggest rides while the others stay on the bike I use less often.
I wouldn't be surprised if these outlast all my cheaper options. If you're looking for an excuse to buy them, consider that the higher price is reasonable when compared to buying cheaper bags twice, if they last half as long.
All that said, you can absolutely get along fine with a more affordable option if you'd like to. These are bags you'll enjoy and get lots of use out of, especially if you plan to put a ton of miles on them, but not bags you need. Still on the fence? I have a detailed Revelate Feedbag review here.
Likes:
Nice roomy capacity
Tall size easily holds large water bottle
External pockets are roomy and conveniently shaped
Adjustable attachment system works with many setups
Thoughtful features like removable and very brightly colored lining
Bright accent color choices
Revelate Designs has been building bikepacking bags longer than pretty much everyone, and all these other bags are borrowing from them.
Dislikes:
Pricier than other options in this list (but in line with other high-end options from small companies)
Pull cords are a little long when closed, and the ends hit my knees when pedaling unless tucked into the bag.
Velcro loops could be longer; I had to add extra to fit around my wide stem.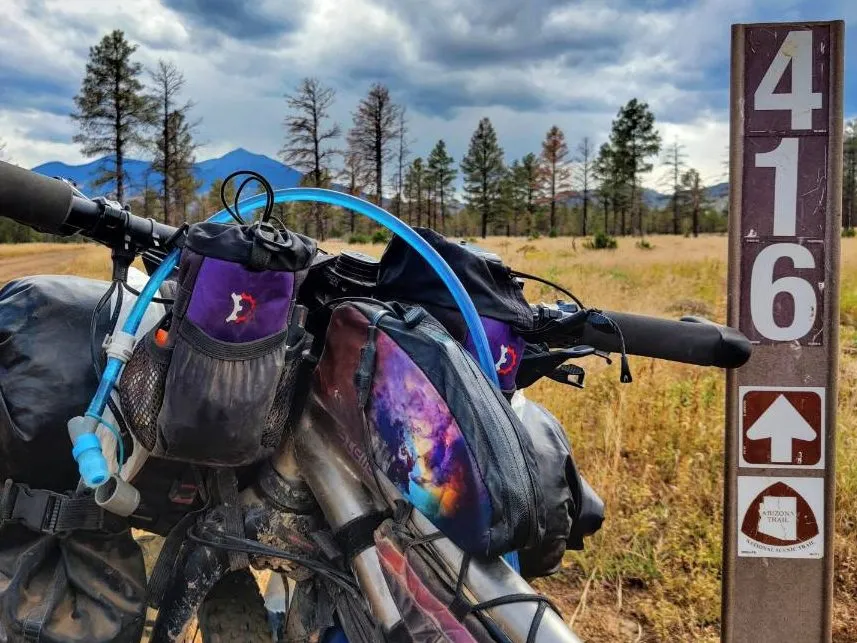 In Conclusion
There are, of course, many other stem bags out there. I haven't tried them all, but I've tried enough to know a good stem bag when I see one. It's not always true that more money buys a better stem bag, though it doesn't hurt. Whatever your budget, I hope this deep dive into my stem bag collection helps you make a good choice.
More Bike Resources
Bike resources in your inbox?
There's more where this came from! Sign up here for occasional emails full of inspiration and information about bikepacking and bicycle touring.


Share the Adventure
If you found this article helpful, please consider sharing so more people can benefit from it: