Welcome to Europe! Part 2 of this trip report picks up in Tarifa at the southernmost tip of Spain. After a month and a half in Morocco we popped across the Strait of Gibraltar on the ferry and found ourselves in a whole new world. Over the next month we worked our way to the west coast of Portugal and gradually (very gradually) north along the coast roughly following the Portuguese portion of the EuroVelo 1 route.
The second half of the trip could not have been any more different from the first! There was an immediate vibe shift from bikepacking to touring. After Morocco's rugged terrain, sweltering heat, limited food options, cultural differences, and language barriers, all of a sudden we found ourselves in "easy mode" in Europe. Beer and ice cream everywhere! Restaurants with English menus! I could wear shorts and sleeveless shirts! Though Spain and Portugal absolutely have their own distinct cultures, it felt almost like home, relatively speaking.
This style of riding, and bike travel in Europe in general, were new to me. I am usually too much of an adventure junkie (masochist?) for such a straightforward route through such a populated and developed area. But my husband E loves to surf and has been wanting to visit Portugal for some time, and I want to go on bike trips with him. So we co-created this part of the itinerary and I got a chance to experience a different facet of bike travel.
This trip report shares our general impressions of the route and region plus day-by-day notes from our trip, as well as a lot of pictures. If you're thinking about bike touring in Spain and Portugal I hope it helps with your research.
Ride Overview
Overall Impressions
I could see this route and region being great for a shorter vacation-style (type 1 fun) bike trip, a first bike travel experience, or a solo bike trip for anyone who feels a little nervous about going it alone somewhere more remote or challenging. I would almost recommend it for families with kids, but I think all the shoulder-less road riding and sometimes widely spaced campgrounds would make it stressful.
To be totally honest, though I enjoyed this ride I will probably not seek out something like it again. I know, it's crazy to say this about such a popular bike touring destination! But it never really captured my heart.
It was pleasant in the beginning, especially after the challenges of Morocco, but eventually it became… dare I say it… boring. Logistics were easy, the cultural gap was small, and the riding was physically straightforward. Basically it just didn't offer enough of what I personally find rewarding about bike travel: vast remote places, engaging encounters, navigating challenging terrain or blissing out to the rhythm of my pedaling.
If the actual riding had been lovely I might have enjoyed it more — I'm not just after type 2 fun — but constant navigation, busy roads, and frequent towns made it hard to find a flow. The region is just a little too touristy and populated for my personal bike travel taste. If I had it to do over I would probably spend more time in inland Portugal. The few days we spent away from the coast on quiet rural roads were some of my favorite.
Though it may not have been perfect for me, I want to be very clear about this: many people love bike touring in Portugal! We saw tons of bike travelers along this route, some on organized trips and some on longer independent rides, and they seemed to be enjoying it. The rugged coastline is gorgeous, the whitewashed towns are picturesque, and the laid-back travel experience is hassle-free.
Trip Journal
Ferry from Tangier to Tarifa
The ferry from Tangier to Tarifa runs many time a day and takes about an hour. We booked our tickets in advance and showed up for the 10am crossing. All was straightforward, including customs and immigration.
And just like that, we were out of North Africa and in Europe! Beer everywhere, people in shorts and tank tops, people speaking Spanish and even some English. We ate a grocery store feast, did laundry, and drank beer on the beach.
Tarifa, Spain to Vila Real de Santo António, Portugal
After a leisurely afternoon and evening of relaxing in Tarifa we spent two days riding north to Seville on rural secondary roads. It was a pretty area, and we especially enjoyed the section through Parque Natural los Alcornocales with its cork oak forests. Very hilly though! The riding was nice and low-traffic, but not easy. We camped our first night just north of San Jose del Valle in a great hidden spot on the edge of a field, and rode into Seville the next day.
The city of Seville is extremely easy to bike in and out of thanks to all the bike paths. It's a pleasant place despite being super touristy, and we got a great rate on an apartment in the historic district, so we took two days off the bikes to explore. We even stopped at a thrift store to buy some "normal" clothes, which was surprisingly fun after a month of wearing the same full-coverage clothing in Morocco. The old downtown is full of tapas bars and historic architecture, which we enjoyed, but my favorite part was the Flamenco dance and music show.
From Seville we took a bus to Ayamonte, the border town just before Portugal. This saved us a couple days of nondescript riding into a headwind on somewhat busy roads. It also helped keep us on schedule since we wanted to spend more time in Portugal. The bus company, Damas, took our bikes underneath in the cargo compartment with front wheels removed and plastic bags covering drivetrain parts. We weren't able to find a definitive bike policy online and were a little nervous that it wouldn't work out, but the driver didn't even look twice at our bikes. We loaded them ourselves with no issues.
At Ayamonte we took a fifteen minute ferry ride across the Guadiana River into Vila Real de Santo António, and we were in Portugal! Bikes aren't permitted on the motorway bridge so the ferry is the only option here, but that's ok since it's fun, easy, and cheap. We were a little surprised that no one even checked our passports — the border crossing was almost anticlimactic! Travel in the EU is certainly convenient.
From Vila Real de Santo António on the southern coast of Portugal, the most natural choice is to follow EuroVelo 1 westward along the coast. I had a different idea though: to spend a few days in the interior of Portugal before heading up the western coast. So we rode northwest to link up with a walking route called the Via Algarviana through rural hills and small villages a bit inland of Portugal's southern coast.
Vila Real de Santo António to Arrifana (4 days)
My original plan was to follow the Via Algarviana walking route westward, enjoying some off-pavement bikepacking on the dirt tracks and gravel roads connecting rural villages. We quickly realized this was not the right approach. Those dirt tracks include a LOT of "unnecessary" steep elevation gain compared to the beautiful low-traffic paved roads nearby, and with our loaded bikes we just couldn't muster the enthusiasm for it. Instead we rode the pavement roughly paralleling the Via Algarviana. The road riding in this area is top-notch, though not easy (lots of climbing, sometimes steep).
We took four days total — two full and two half riding days — to ride from the Portugal-Spain border to Aljezur on the coast. Most of this area, especially the eastern half, was really enjoyable. We wild camped all three nights in peaceful out-of-the-way places (hotels were expensive and not well-spaced for our route) and took leisurely lunch breaks in quaint towns. Near a reservoir labeled on Google Maps as "Albufeura da Barragem do Funcho" we rejoined the Via Algarviana for a nice section of gravel riding before heading into more populated areas. In hindsight these four days were my favorite riding in Portugal! Though the coastline is more dramatic, these rural inland roads were more relaxing.
Once in Aljezur we grabbed groceries and headed five hilly miles off-route to the beach town of Arrifana for a surf and rest day. Aljezur itself has an interesting history. The name, which sounds much more Arabic than Portuguese, is a clue to how intertwined this region's history is with that of Morocco. At various times over the last thousand years they would have been settled by the same ethnic groups and felt more similar than different. The "Moorish castle" ruins on the hill, dating from the 10th century, are free and worth a visit.
Arrifana was our first contact with the Portuguese coast, and though it seemed touristy at the time it's actually calm by comparison to other towns we would visit later. It has a definite backpacker / surfer vibe and a young crowd.
Arrifana to Lisbon (3 days)
From Arrifana we turned north on the official EuroVelo 1 route. We quickly lost our flow with the constant intersections and occasional sandy tracks, but at least there were plenty of places to stop for ice cream and lunch. Because we were now in a more populated area and wild camping isn't allowed in Portugal (technically – see below) we stayed at a nice (and huge!) campground in Vila Nova de Milfontes.
On our second day after Arrifana we did a 75 mile push to Setubal, motivated by the need to catch the ferry from Troia on time to reach the campground before dark. This day had more shoulderless road riding than I would have liked. The ferry was fun though, and we had a good night at the EcoParque do Outão campground. There were several other bike tourers there; apparently it's a popular route!
From Setubal to Lisbon the EV 1 follows the coastline, but we took a shortcut up and over the hills. The riding was nice until we reached the outskirts of the city. We then spent a couple hours riding the shoulders of busy roads and navigating traffic on smaller streets, but eventually we reached the ferry terminal for the short commuter hop across the river.
Once in Lisbon proper we made the mistake of trying to take public transport to our hostel. Bikes are technically allowed on the metro and we thought it would save a few miles of hectic city riding, but in hindsight it was totally not worth it. We worked our way through a comedic series of mishaps: buying the wrong tickets, dragging bikes up long stairwells, getting stuck in the ticket gates… The silver lining: at every step of the way some kind Portuguese person was there to lend a hand. We were thrilled to finally reach our hostel and settle in for a day of rest and sightseeing.
We spent the next day walking the long waterfront rec path in Lisbon, seeing landmarks and visiting museums. It's a modern, varied, easy-going city that grew on me while we were there. Unfortunately it's a notoriously difficult place to find affordable accommodation, so we only stayed one day.
The next morning we took the urban train from Lisbon to Sintra, to avoid riding busy roads out of Lisbon and to see a few more tourist attractions. As with the metro, bikes are allowed but not particularly encouraged. There was more dragging bikes up long stairwells and almost getting stuck in ticket gates and train doors, but we made it.
In Sintra the owner of our guesthouse cheered us up by letting us check in early and allowing us to haul our bikes, carefully and with great effort, up his steep and narrow staircase to our room. He had no bike storage on the ground floor and could reasonably have refused our booking because of it, but he's a mountain biker himself and he made it work.
With the bikes upstairs we set off on foot to explore the famous Pena Palace and Moorish Castle, two historic and dramatic landmarks nestled in scenic hills. They were very touristy but we enjoyed them, especially the wild eccentric vibes at Pena Palace. The Indian food we had for dinner that night was the most enjoyable meal I'd had in months.
Lisbon to Nazaré, and Train to Porto
Leaving Sintra our plans took an unexpected twist. We'd been planning a few days of kitesurfing lessons in Obidos Lagoon, just a couple days' riding north of Lisbon, but suddenly the wind forecast changed. We'd been riding under sunny skies into a blasting headwind for many days, bad for biking but perfect conditions for kitesurfing. As soon as we neared the kitesurf location the wind disappeared, making kitesurfing impossible, and we found ourselves under grey drizzly skies.
To kill time in hopes of the wind returning, we rode several short days from Sintra to Obidos. We stopped in hostels in Ericeira and Praia Areia Branca, and a campground in Peniche, for surfing and relaxing. When we finally arrived in Obidos we lucked out with one afternoon of acceptable wind conditions, so we got one kitesurfing lesson in. The next day we did a towed hydrofoil session, surprisingly fun! If you find yourself in Obidos wanting to kitesurf or wingfoil, check out the Wayke Up kite school.
At this point you could say we were losing our enthusiasm for biking. The roads were busy and shoulderless through this section, and the coastal scenery — though gorgeous — was unchanging. We were a bit behind schedule, and we both agreed to take the train to Porto and skip the last few days of riding in exchange for getting home by the time we had intended.
Just one final goal: we would ride one last day to Nazaré, the famous big wave surf spot, and see the iconic lighthouse on the cliff. This last day had some of the nicest and quietest riding we'd enjoyed in a while. Nazaré was very interesting, especially the surfing museum at the lighthouse, and it felt like a fitting conclusion to our route. The next morning we got our bikes onto an intercity train — a bit of a struggle as always, but it worked out — and in a couple hours we were in Porto.
Once in Porto we had three days to box our bikes and explore the city. We took it easy, did some port tasting, and walked the waterfront. I especially enjoyed the city's richer color palette, so different from the rest of whitewashed coastal Portugal.
Our early morning flight was a bit stressful to start with. The taxi arrived as scheduled and was big enough for the bikes – phew! – but the airline employees took issue with my partial bike box. TAP Portugal's bike policy doesn't require a box, so I had constructed a simple half-box to protect the important bits, but the folks at the checkin counter didn't want to accept it. Once the airline desk opened and the supervisor showed up it was no problem, but the wait was stressful and almost made us late. Lesson learned: don't count on airline employees to know their own policies when flying with a bike!
Side note: there are tons of bike shops in Portugal and I'm sure we could have found real bike boxes if we wanted to. We were just lazy and didn't want to carry boxes across town, so we made our own from scraps we found near our hotel.
The rest of the journey went smoothly, and suddenly we found ourselves home after 2.5 months of travel in Morocco, Spain, and Portugal. Time to settle in, rest up, and enjoy the summer.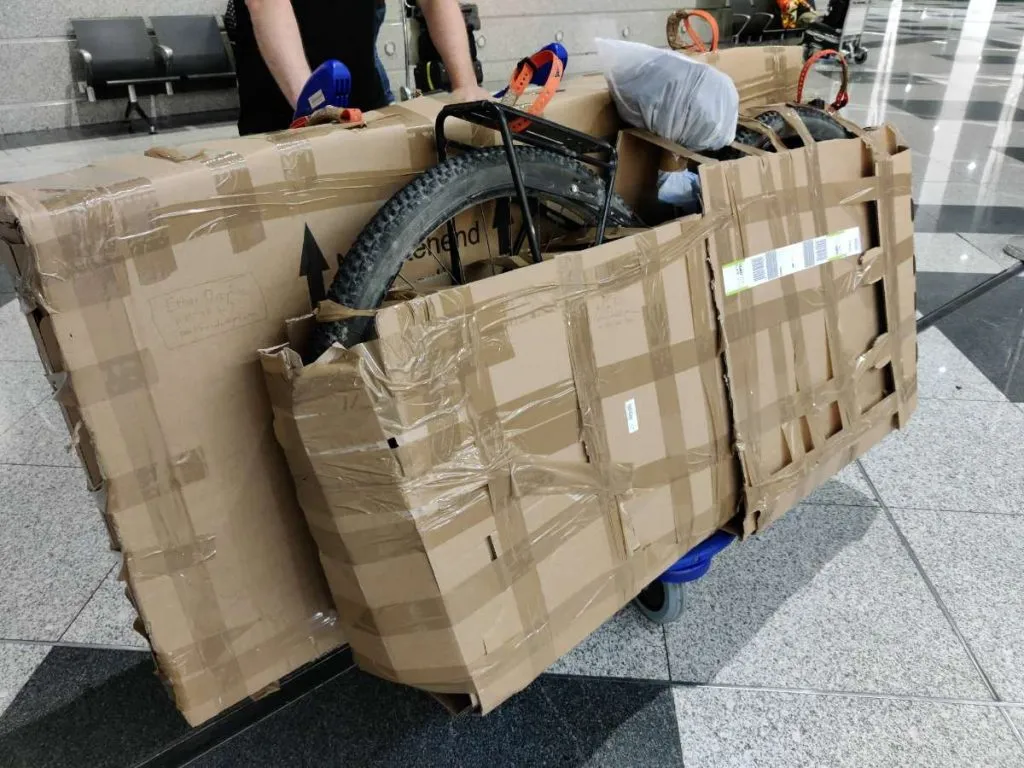 Logistics and Planning Info
Camping and Accommodation
Wild camping is illegal in Spain and Portugal, presumably to limit the impact of vehicle camping in popular areas. The intention for bike travelers is less clear. By word of mouth we heard that police often overlook a discreet bike camper just passing through, but we didn't feel comfortable risking it along the coast. We did wild camp during our inland ride across to the west coast, as there was plenty of open land. We usually didn't see anyone, but in one case a local shepherd gave us his blessing.
Along the coast you'll find established campgrounds, some quite fancy and others basic. Cost ranged from about 12 to 18 EUR for two people and one tent. You can also find a wide range of hotels and hostels all through the region. Prices aren't cheap; the lowest-price hotels were often around 60 EUR per night and hostel beds, if any, started around 25 EUR. If your budget allows for hotels you're unlikely to get stuck without a place to stay, but budget-minded travelers might want to plan daily distances to sync up with campgrounds (we used a combo of Google Maps and iOverlander to find them).
Roads and Traffic
Let's start with Spain. We only cycled a few days there, but Spanish drivers were incredibly patient and very safe passers. Sometimes they almost waited TOO long to pass safely. As an American I'm used to drivers simply rolling the dice and scooting by around blind curves. Spanish drivers, bless their hearts, would wait until they had an abundantly clear line of sight to move into the opposite lane for a completely safe pass.
In Portugal the drivers were fine but not quite as patient as in Spain. They weren't reckless but sometimes passed a bit too close. They yielded nicely and made space for us when necessary, but they weren't very tolerant of our mistakes. They were quick to honk when we got in their way unnecessarily, like pausing too long at an intersection or riding the road when there was a bike path nearby. This tended to happen in the most touristy areas where I have a feeling the locals' patience is wearing thin.
Most of the secondary roads we followed in southern Spain and Portugal didn't have shoulders. Some were delightfully quiet (especially in the interior of Portugal) but some were quite busy. A few towns had nice stretches of bike path but they never lasted long. Pavement quality was usually pretty smooth but there are certainly older potholed roads to be found.
This is definitely the kind of ride where I would recommend the usual safety gear for biking around cars: red flashing tail light, bright shirt or high-viz vest, and rear view mirror.
Navigation
We navigated using RideWithGPS on our smartphones for this entire trip, including in Morocco. Though we got along fine without a dedicated GPS device for this ride — see my post on smartphones vs. GPS devices for the pros and cons — I do feel some kind of handlebar mount is absolutely essential. The EuroVelo 1 route seemingly has a turn every five minutes, and you do not want to be pulling out your phone at every intersection.
We imported GPX files into the route planner for Via Algarviana and EuroVelo 1, then did some on-the-fly rerouting when necessary based on the RideWithGPS heat maps. The heat maps are super helpful in Spain and Portugal because it's such a popular area for cycling, so there's tons of data. This makes it easy to see the most popular and bike-friendly routes if you want to take a detour or shortcut. We mostly had cell signal throughout, but I recommend paying a few dollars for the RideWithGPS offline feature just in case.
Food
As you'd expect for a populated part of Europe, there's food everywhere. I'm accustomed to more remote routes where I can only resupply once every few days, and it took me a while to get over my scarcity mindset when it came to food. I carried way too much through most of this section!
You could probably eat every meal at a restaurant if you planned well, but we enjoyed having a stove to cook our own cheap meals from grocery stores on occasion. Our favorite dinner was lentil pasta (when we could find it) or regular pasta with tomato sauce, shredded cheese, and canned meatballs. It felt good to eat more protein after our very carb-heavy diet in Morocco.
If you like beer and wine, you'll be in heaven on this route. Europeans seem to drink more often but in smaller quantities than Americans. It's common to see people sipping a single glass of wine or miniature beer at lunch and/or dinner, and we joined in on many occasions. The local draft beer is cheap and refreshing.
Language
In Spain I muddled by with nearly-forgotten high school Spanish and whatever English the locals spoke. In the touristy areas of Portugal there's a fair amount of English spoken. Despite my dreams of adding Portuguese to the list of languages I speak badly and often mix up (Italian, Spanish, French), Portugal made it so easy for us to use English that we got lazy with language learning. I do recommend picking up the basics, starting with hello (olá) and thank you (obrigado/a depending on your gender) to be polite.
Whatever you do, don't speak Spanish to Portuguese people! The languages do have similarities but Portuguese people are proud of their own language and culture, and tired of tourists assuming they understand Spanish. Wipe the word "gracias" from your memory and replace it with "obrigado/a."
Bikes and Gear
More Bike Travel Resources