There's something about bikepacking in central Oregon. Maybe it's the surprising landscapes, endless public lands, quiet roads, and abundant wild camping. Perhaps it's the friendly folks I tend to meet. It could also be the local beer. Whatever the reason, my bicycle and I keep finding ourselves drawn northward to the dirt and gravel of central Oregon's high deserts and forests.
This post is about a bikepacking route I made up from Klamath Falls to Bend. It was actually supposed to end in Boise (long story) and was only discovered and attempted by accident, which of course made it even more fun. The best part? It was surprisingly, unexpectedly, rewardingly awesome. So awesome that I think other people should go and ride it. Hence this route guide.
What's so great about it? Quiet gravel roads, geologic sightseeing, some totally sweet unexpected singletrack, and a finish in beer + bike paradise of Bend… I could go on. And I will, down below.
If you're familiar with the Oregon bikepacking scene you might ask, how does this relate to the Oregon Outback route? Great question! I actually rode the Oregon Outback the year before and loved it. I also couldn't help wondering… How had the route designers chosen their path? Vast webs of forest service roads intersect and parallel much of the route. I wanted to come back and explore a different path of my own choosing.
The route I'll describe here is loosely inspired by the Oregon Outback and overlaps it in a few places, but mostly runs parallel to the southern half. It hits a few interesting landmarks the outback route skips, and it avoids the rather rutted and cow-pie-covered section of OC&E trail north of Klamath Falls.
If you're looking for a first bikepacking trip in Oregon, go ahead and ride the Oregon Outback. It's longer, better traveled, thoroughly researched, and more varied. But if you're looking for something a bit shorter, or you've already ridden the Oregon Outback and want an alternate, are especially interested in geology, or if you just want to visit wonderful Bend, then you might love this lesser-known central Oregon bikepacking route.
Route Map
Route Overview
The route starts in Klamath Falls and ends in Bend, traversing nearly 200 miles: approximately 120 miles of dirt/gravel road, 10 miles of fun singletrack, and 70 miles of low-traffic rural pavement.
Begin from the Klamath Falls Amtrack station; more details in the Transport section below. You'll leave town on low-traffic paved road which turns to gravel through a rural residential area. At mile 14 Fremont-Winema National Forest welcomes you with a steep climb to a plateau, where you'll enjoy twenty miles of mostly smooth forest service roads.
You'll hit pavement for a brief moment on Sprague River Road (top up water when you cross the river), then turn left onto a sandy jeep road for a few miles. Soon it's back to smooth forest service roads until mile 64, where you'll ride paved low-traffic Silver Lake Road for 40 gently rolling miles. (The pavement-averse could easily plot a route through the national forest on dirt, but it will be slower going.)
At mile 105 this route joins the Oregon Outback route in the small town of Silver Lake (motto: "No silver, no lake, just good people."). Be sure to fill up on water and food here before continuing, and spend a night camped at the RV park on the east side of town if the timing is right. Then head north on good gravel.
Pass through the tiny town of Fort Rock at mile 122, where you can probably find a meal and some water. Just north of town is a highly recommended short detour to the Fort Rock caldera, created by lava spraying from beneath the giant lake that covered this area only 10,000 years ago. There's a nice day use area with restrooms, drinking water, a friendly host, and a mile of hiking trail inside the caldera. It's a great place to stretch legs and learn about the region's geology and wildlife.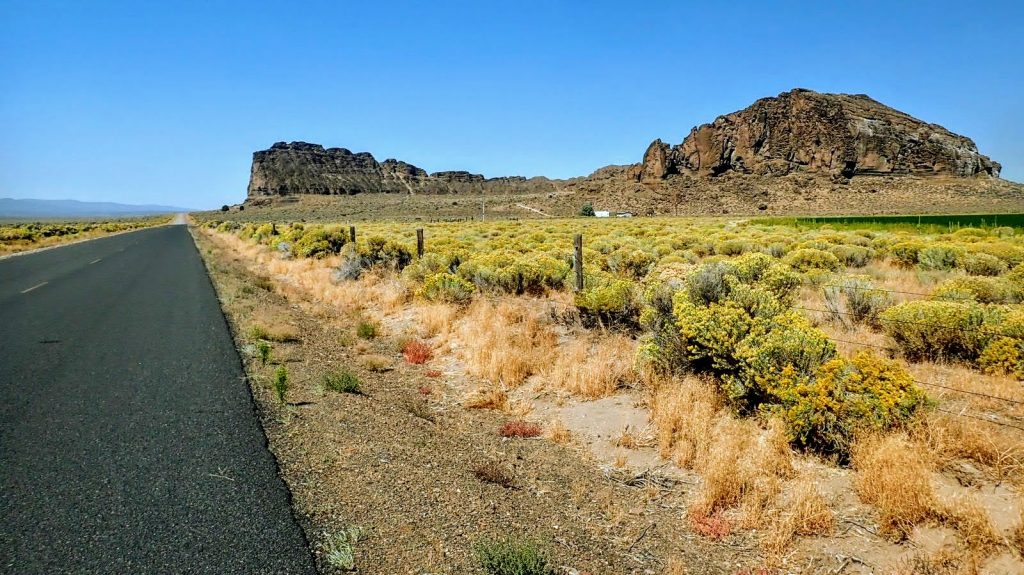 Past Fort Rock you'll climb into Deschutes National Forest on sometimes washboarded gravel. At mile 140 the Oregon Outback route heads east on NF-22, but this route stays straight on NF-18. Eight miles later, at NF-21, turn left and start the climb into Newberry National Volcanic Monument.
You might wonder, on the way up, whether this is going to be worth it. I promise it will be. Once you reach the crater rim it's downhill to the scenic East Lake (and Paulina Lake, for those with more time to explore). It's a little odd to encounter pavement, RVs, and tourists after your sneaky entrance from the east, but this popular weekend getaway is connected from the west to US highway 97 by pavement.
If you have time, the Newberry crater is worth exploring. There's a restaurant, several lodges and campgrounds (more info below), a small snack shop, two lakes, and plenty of geologically interesting hiking trails. Be sure to refill water from the store or campground, as there's no more on the route until you reach Bend.
To leave the crater you first have to climb back to the rim, a couple miles of steep singletrack (no shame in walking here). To find it ride through Cinder Cone Campground, look for the signed trailhead on the right, and get to climbing. But then… Then, the fun part. Connect to Swamp Wells Trail for miles of fun, surprisingly flowy, gradual downhill singletrack and some rad volcanic scenery.
With a good map you can actually follow this singletrack all the way down to NF-18, but I veered right when it got a bit rockier and more undulating. The route as mapped above follows dirt and gravel roads 1818 and 1820 down to NF-18 where you'll find another geologic attraction worth stopping for: ice caves.
There's a cluster of several caves near the junction with NF-18, including Arnold and Hidden Forest, and they are well worth a look. Especially on a hot day! The temperature inside is dozens of degrees cooler, even at the height of summer. Apparently the city of Bend used to harvest ice from Arnold Cave throughout the summer until about 10 years ago, when climate change led to complete melting during the summer months.
Once you reach NF-18 it's smooth sailing into Bend through more scrubby high desert landscape. The gravel soon turns to pavement and the last few downhill miles pass easily. The lovely bike lanes and tree-lined residential streets of Bend will be a welcome surprise after so much hot and exposed riding.
Treat yourself to some local craft beer and a burger, and maybe a swim in the river. If you still have energy the next day, don't miss Bend's iconic mountain bike trails in the Phil's and Shevlin area. Here are more ideas for how to enjoy Bend, one of my favorite towns in the world.
Bike Choice and Setup
I rode my rigid Salsa Fargo with 2.25″ tubeless tires, and I thought it was perfect. You don't really need front suspension for this route since so much is smooth, and even the singletrack is pretty forgiving. There are a few sections of bumpy or washboarded dirt and gravel, but nothing too crazy.
Tubeless tires aren't mandatory, but I found then nice for peace of mind when pulling off the road into spikey flora for camping. They can also ease the impact of washboarded gravel if run at lower pressure. If you haven't taken the plunge yet, these tips might help.
On rides like this I like a bikepacking bag setup to keep weight down and discourage overpacking. It also keeps the bike svelte for those narrow singletrack sections.
All that said, of course, ride with what you've got! This is a forgiving route with no particularly strict requirements (except water capacity, see below). You could run a rack and panniers if you wanted, with the usual caveats for bumpy routes: a sturdy steel rack and Blue Loctite.
If you're still shopping around and haven't decided on your setup yet, understanding the pros and cons of bikepacking bags vs. panniers might help, as well as these ideas for saving money on bikepacking gear.
Water
Water might be the most important thing to get right on this route. The high desert of Oregon is a dry place. If you ride in late summer or fall (as you should, to avoid scorching summer temps and winter snow around Newberry crater), temps will still be hot but creeks will be dry.
I had six liters of water capacity (three liters in a frame bag bladder and two big bottles on the fork), and used it all. If you're not sure how to carry that much water on your bike, here are plenty of ideas.
These are the water sources I'm aware of along the route based on my ride in late August.
| | | |
| --- | --- | --- |
| Water Source | Mile | Notes |
| Sprague River | 34 | Some private property nearby but river access seems clear. I crossed river and climbed down bank on right side of road, then crossed under bridge to find easy access. |
| Williamson River | 70 | I don't know if this runs year-round. It was fairly small in late August. |
| Silver Lake | 105 | Store, RV park, town park likely all have water available |
| Fort Rock | 122 | General store or tavern. Fort Rock itself has a water spigot near the hiking trail, a few miles north and west. |
| East Lake (Newberry Crater) | 158 | Ask at the store or restaurant, grab water from Cinder Cone campground, or filter from the lake if necessary. |
I would recommend a good filter setup for this ride, mostly for Sprague and Williamson rivers. They're not-so-pristine and I'm guessing they flow through grazing land. Here are tips for choosing your water treatment system for bikepacking, if you're unsure.
Camping
Camping is easy along pretty much the entire route, since so much is within national forests. Here's an overview.
| | | |
| --- | --- | --- |
| Camping | Mile | Notes |
| Fremont-Wimena National Forest | 17-94 | Almost all of this area is great for camping! Plenty of side roads and pine trees. |
| Silver Lake | 105 | RV park on east side of town has grassy tent spot, hot showers, and nice host, $15 per night (no wifi, but sometimes library down street has it). If that doesn't work ask at the convenience store. There's also a small motel. |
| Deschutes National Forest | 134-188 | Dispersed camping available pretty much anywhere in here. Once you reach NF-18 it's pretty open and popular with RVs, so the best stealth camping is higher up along the smaller roads and trails. |
| East Lake | 158 | Several campgrounds, best is Cinder Cone, $18 per site. East Lake Lodge has tent sites ($25), cabins, restaurant and store. RV park will make space in a pinch. Also plenty of empty forest. |
Food Resupply
Food resupply is pretty straightforward on this route. You'll want to carry a day or two with you unless you're moving quickly. Here are the resupply stops:
| | | |
| --- | --- | --- |
| Resupply | Mile | Notes |
| Silver Lake | 105 | The mercantile / gas station has a good store. Lots of microwave burritos, some canned and dry meal options, plenty of snacks. Cafe and bar on the east side of town. |
| Fort Rock | 122 | General store, restaurant, and tavern. |
| East Lake | 158 | East Lake Resort has restaurant (not sure of hours) and small general store (7am-7pm). |
Be aware that hours for all these places are limited and subject to change. If resupplying in small towns is new to you, see these bikepacking food ideas and resupply tips for inspiration.
Sample Itinerary
I think this route rides well in 4 days, which is around 50 miles per day. Any slower and it might be hard to carry enough water. I highly recommend taking an extra hour or two to explore Fort Rock and the ice caves. Those interested in hiking and geology might want to take an entire extra day at Newberry Crater, making for a fun 5 day trip with plenty of off-bike exploring.
Here's a suggested four day itinerary that works well with water and camping locations.
| | | |
| --- | --- | --- |
| Camp Location | Miles from Start | Notes |
| Fremont-Winema NF | ~40-60 | Plenty of good dispersed camping throughout, but it's all dry. Be sure to fill up on water at Sprague River first. |
| Silver Lake | 105 | RV park on east side of town. Note: between Silver Lake and Deschutes NF at mile 133 there is NO good camping as the route passes through fenced private land. |
| East Lake | 158 | Cinder Cone Campground, East Lake Lodge, or wild camping |
| Bend | 195 | Plenty of cheap-ish motels, or ride out to Phil's Trailhead for free dispersed camping (and some sweet trails) |
Three days or five days are also certainly possible, but check your water sources carefully as you'll be dry camping most of the time.
Weather and When to Ride
The best time for this route is late summer or early fall. The elevation profile ranges from ~4000 – 7000 feet, so the idea is to ride when hot summer temperatures have dropped but snow hasn't yet hit the high section around Newberry Crater.
September to October is ideal. I rode in late August and it was still uncomfortably warm (90's F) in the shadeless desert.
By late September nights can get chilly, and it's not unheard of to get light snow in this area starting that early. Check the forecast and be prepared with warm layers and a cozy sleep system.
Transportation
Klamath Falls is a great place to start this ride because of the Amtrak station. It's easy to take unboxed bikes on Amtrak for only $20. Do check to make sure your boarding station offers the bike service (unstaffed platforms don't), and make an online reservation in advance.
Bend is a bit trickier, but you have plenty of options depending on where you'd like to go. A one-way rental car will get you back to Klamath Falls in no time at all, or to other nearby cities as needed. Nearby Redmond has a few flights, not cheap though. Several bus companies run routes to other Oregon cities and may take bikes; check specifically for where you'd like to go.
Navigation and Planning
The national forests can be a bit labyrinthine and roads are not always marked, so I recommend GPS navigation for this route. I use the Ride With GPS app on my smartphone with a basic subscription, which includes offline route caching.
It's also really helpful to have other maps cached offline in case you decide to modify your route on the fly. Maps.me, Google Maps offline downloads, and (for Garmin InReach users) the EarthMate app are all good tools.
In addition I brought phone pictures of pages from my Benchmark Oregon Atlas, which is the best way to tell if a road is public or private, paved or unpaved, maintained gravel vs. some obscure unmaintained track. Since I made up this route up as I went along, I used ALL of these resources and was very glad to have them.
I would be remiss to not also say this: especially if relying on a smartphone for navigation and maps, please bring a backup. A second phone, a riding partner with a Garmin, etc. Something you could actually use to navigate if necessary. Phones have a way of breaking / failing / running out of battery at the worst possible times (power banks can fail too). Some of this route is rarely traveled and very dry, and it would be easy to get very lost (and dangerously thirsty) without GPS navigation.
More Bikepacking Resources
If you're into rides like this, you might also find these helpful:
Bike resources in your inbox?
There's more where this came from! Sign up here for occasional emails full of inspiration and information about bikepacking and bicycle touring.


Share the Adventure
If you found this article helpful, please consider sharing so more people can benefit from it:
Pin For Later