This was supposed to be the story of E's and my first real bike trip together. After nearly 10,000 miles without him, it was going to be my chance to show him why bicycle travel is my new favorite thing. Maybe I'd even convert him into an enthusiastic future riding companion.
For eight days in late 2019 we would cruise dirt and gravel beneath crisp November skies on a route called the New Mexico Off-Road Runner. Fall is a classic time to ride this desert route. Though a bit of weather was in the forecast for the first couple days, rescheduling wasn't an option, so we packed our warmest layers and figured we would deal.
My hopes were high. We would camp in the desert, embrace the simple minimalism of backcountry travel, and eat lots of tacos in charming small towns. We both took more time away from work, and from our families over Thanksgiving, than we should have. But it was going to be worth it. I promised.
So much for all that. Instead, this is the story of how we rescued ourselves from the middle of nowhere TWICE, destroyed a bunch of our gear, and spent Thanksgiving night in the back of a U-Haul truck.
Heading South from Santa Fe
Our first day in Santa Fe went deceptively well. In all my bike travels I've never actually built my bike at the airport, preferring instead to haul my bike box to the privacy of a motel room. But with two of us there in the tiny Santa Fe airport it suddenly seemed like a reasonable thing to do. We built our bikes and pedaled away from the airport into the crisp Santa Fe sunshine, cruising bike lanes all the way to the Motel 6.
That evening we fought back sleepiness from our early morning flight to visit Meow Wolf: a bizarre cross between puzzle hunt, sci fi novel, and trippy Burning Man art installation. Back at the motel room our gear was all over the place as we made final packing adjustments, stuffing clothes and camping gear into awkwardly shaped bikepacking bags.
On Monday morning we pedaled out of Santa Fe on rail trail and local roads under sunny skies. It was slow going at first, with lots of pauses for adjusting gear and tightening straps. But we were doing it!
Twenty miles in our dirt road grew noticeably rougher, a bit softer, almost… muddy. We thought nothing of it; it hadn't rained there in days and November sits squarely within the recommended riding window for this route. We coasted down a hill, past a sign warning "county maintenance ends," and I charged straight into what I judged to be an inconsequential bit of mud.
I made it maybe two wheel revolutions before understanding that New Mexico mud is different from any substance I've ever encountered. There's a reason they build houses out of the stuff. Once it touches your tires, it builds in layers until your wheels no longer fit through your frame. Unrollable and covered in pounds of mud, the bike must now be heaved, slid, and carried to safety. Meanwhile your shoes now sit atop a platform of mud, slipping and sliding every which way. You can wipe it off, but it just comes back.
It was everyone for themselves as E, seeing my fatal mistake, made a beeline for the foliage on the side of the road. Hopelessly stuck, it took all my strength to make just a few yards of progress. For a minute I considered just sitting down and camping right there in the mud pit. Maybe it would dry overnight.
Once we finally collected ourselves and got the wheels barely rolling again, pushing through the foliage on the side of the road, we realized there was no end in sight. An earlier-than-usual snowstorm, followed by more typical sunny weather, had turned the roads into a muddy quagmire that we Californians had not anticipated.
We studied the squiggly line on the map, trying to divine more information about the road surface. Maybe it would get better? We pushed on to an intersection with a smaller trail, hoping for improvement. We took turns pushing one bike together, then leaving it and returning for the other. We moved at less than one mile per hour. The 5:30pm sunset was rapidly approaching and the temperature dropping. We decided to make camp, rest, and consider our options.
We found a great campsite, out of sight from the rarely used moto track and pretty much the only patch of ground not covered in either mud or snow. We pitched our little Tarptent on the pine needles and hurried to throw on warm layers. In a burst of anxiety (or foresight?) I suggested we clean as much mud from the bikes as possible, at least getting the wheels rollable and the chain moving.
Wind howled all night long. In the early morning hours we woke to the gentle patter of snow on the tent, softer than rain. We had expected cold temps and a bit of snow based on the weather forecast, but the reality of what it meant for riding hadn't sunk in yet.
Dragging ourselves from warm sleeping bags and eating protein bars for breakfast, we discovered what a great idea it had been to clean the bikes the night before. The snow was beautiful but brought a new challenge: any mud still on the bikes was frozen solid, locking up parts that would normally move freely. On the plus side, the mud beneath our wheels was now a solid surface.
We pushed our bikes back up to the dirt road into a 20 mph headwind, temperatures easily in the twenties. The forecast had called for a bit of weather and we had rain gear and warm layers, but this was worse than we'd anticipated. Usually I'm the only one who gets too cold outdoors, but even E's fingers and toes were numb.
We were only 22 miles from Santa Fe, and our planned route continued at least another 55 miles into a freezing headwind through the middle of nowhere. Our bikes seemed only barely rideable, complaining with rhythmic clicks as frozen mud contacted metal parts. My shoes, also covered with frozen mud, kept slipping off the pedals with dangerous spontaneity.
The decision was mostly made the night before, but the morning's harsh conditions made it easy: we headed back the way we had come. We quit, bailed, turned around, threw in the towel, gave up. This was supposed to be vacation, after all. I felt some guilt for being wimpy, but I felt even stronger relief.
With the mud now frozen we made good time reversing the previous afternoon's ordeal. Soon we were back to real roads, complete with snowplows. A driver rolled down his window to shout "You guys are crazy!" with heartwarming enthusiasm. We almost second-guessed our decision to turn back. Almost.
Seven miles from our turnaround point we shuffled into a nice cafe, leaving muddy footprints and awkwardly peeling off muddy layers alongside the well-dressed patrons. I discovered the frozen mud on our tires had ripped a hole in my seat bag and torn the stuff sack strapped to E's handlebars. Only thirty miles in and already some significant casualties!
Thanksgiving in Truth or Consequences
Over a warm meal we checked the weather forecast – now looking rather nasty for the next few days – and came up with plan B. Our sights were set on the town of Truth or Consequences, a few hundred miles further south along our intended route. The name was intriguing, but more importantly it would put us in position to salvage a few days of riding to El Paso (and our nonrefundable flights) once the weather cleared. The famed T or C hot springs would make a nice diversion while we hunkered down and waited out a few days of storms.
But how to get there? There aren't any buses or one-way car rentals in this remote stretch of New Mexico. There is, however, one solution available to creative problem solvers: U-Haul.
E Ubered back to Santa Fe while I stayed with the frozen bikes, and returned an hour later with a ten foot truck. My knight in shining armor, to the rescue! We loaded the bikes into the back, climbed into the cab, and spent a few hours driving to where we had intended to bike over the next four days.
Loading the frozen muddy bikes into the truck
Almost every motel in town was booked, but we managed to secure two nights at the reasonably priced Pelican Spa. It had lots of character and, more importantly, complementary access to hot springs baths. We settled in, happy to have a roof over our heads as the latest wave of storm passed outside.
In the morning we took advantage of a break in the weather to wash our bikes, lube the drivetrains, and adjust the gears. It took about an hour but finally the bikes seemed in good shape. To celebrate we took them out for a little ride up to the reservoir. We finished shivering in sleet and freezing rain, thrilled to return to a heated hotel room and hot springs instead of our tiny tent.
Truth or Consequences is the kind of place that shuts down completely on Thanksgiving, except for one fine community-oriented establishment: the local brewery. Thank goodness for them. Open all day long, they welcomed us to their community potluck. The price of admission: a pie from the grocery store. We settled in with a few beers and our phones to get some "work" done, then feasted on a surprisingly well attended potluck later that evening.
Hoping to save some money, we hadn't reserved a room for Thanksgiving night itself. We decided to get our money's worth out of the three day U-Haul rental and sleep in the back. We set up sleeping bags beside the bikes in the chilly truck, exclaiming over how luxurious it was compared to our tent.
It was a good idea only in theory. Torrential rain pounded on the metal roof all night long. It was frigid inside the metal box and we slept horribly. The next morning, with one more day of rain in the forecast and our dirt route out of town still hopelessly muddy, we headed to the comfort of Denny's and the Motel 6.
Mechanical Issues
On Saturday morning we finally pedaled out of Truth or Consequences. We had been there since Tuesday, going stir crazy while snow, sleet, and freezing rain fell for days. I'm still not sure whether we made a judgment error or the forecast had underestimated the strength of the storm.
Now the forecast showed days of sunny weather, typical for this area this time of year. Time to salvage the remaining three days of our trip! We set off into the desert on rocky jeep track, thrilled to be moving forward.
And then, ten miles in, a shout. I was up ahead a bit when I heard E's voice, something about "a really bad mechanical" in a very distressed tone. Ready to leap to the rescue with my bike mechanic skills, I pedaled back to find, inexplicably, his rear derailleur completely tangled in his spokes. How?? No idea. He hadn't even been shifting at the time. I blame the frozen mud, somehow.
After days of waiting in T or C to try and salvage our trip, it now looked to be well and truly over. Still, we needed to get ourselves through ten miles of rocky terrain just to get back to T or C. After some deep breaths and soothing handfuls of trail mix, we set about an emergency singlespeed conversion.
I'd never done it, but in theory we both understood: remove the damaged derailleur, choose a straight-as-possible chainline, and cut the chain to fit a single cog / chainring combination. Then, pedal carefully and deal with the inconvenience of constantly being in the wrong gear (or, as singlespeed devotees will tell you, the right gear).
Shockingly, it worked! It worked so well that, even though I kind of knew better, we decided to continue toward Hatch instead of turning back to T or C in utter defeat.
E adapted to singlespeed riding surprisingly well. On the bumpy terrain it barely slowed him down at all. We rode the day's jeep tracks, desert washes, and sandy roads with cautious optimism. The time taken for the repair put us hopelessly behind schedule though, and we hit pavement just as the sun was setting. Breaking out the bike lights, we geared up for a couple hours of slow pedaling through the chilly desert night toward the small town of Hatch.
We limped into town after some last-minute flailing around in the dark, dragging the bikes under a barbed wire fence in a sandy wash to get to the road. A kind man at the grocery store, which was just closing, directed us to a 24 hour gas station we hadn't known was there. Score! We collected a feast of hamburgers, fries, chocolate milk, canned beer, and Mexican pastries. We felt we'd earned a warm, comfy motel room.
The only motel in town had closed, the B&B was full (and expensive), but fortunately the RV park had tent camping sites and a hot shower. We rushed to pitch the tent and crawl into its warmth before our convenience store feast got cold. As miserable as it was, it was familiar, and I felt happy to finally share this kind of experience with E.
Hatch to Las Cruces
From Hatch it was only about 60 miles to Las Cruces and the bus to El Paso, but even that would be a grind on E's singlespeed conversion. Still stubbornly determined to ride, we decided to split the final miles into two days, allowing for one night of backcountry camping and a leisurely convenience store breakfast at the RV park. After some spicy breakfast burritos in the town known as "Green Chili Capital of the World," we headed out.
The first day actually went really well. It was literally the only day of the trip I can say that about. We followed a good dirt road up into the hills and across flat desert plains. There were twisty sandy washes and wide open views. There was some mud, but we knew better this time and picked our way around it with minimal damage.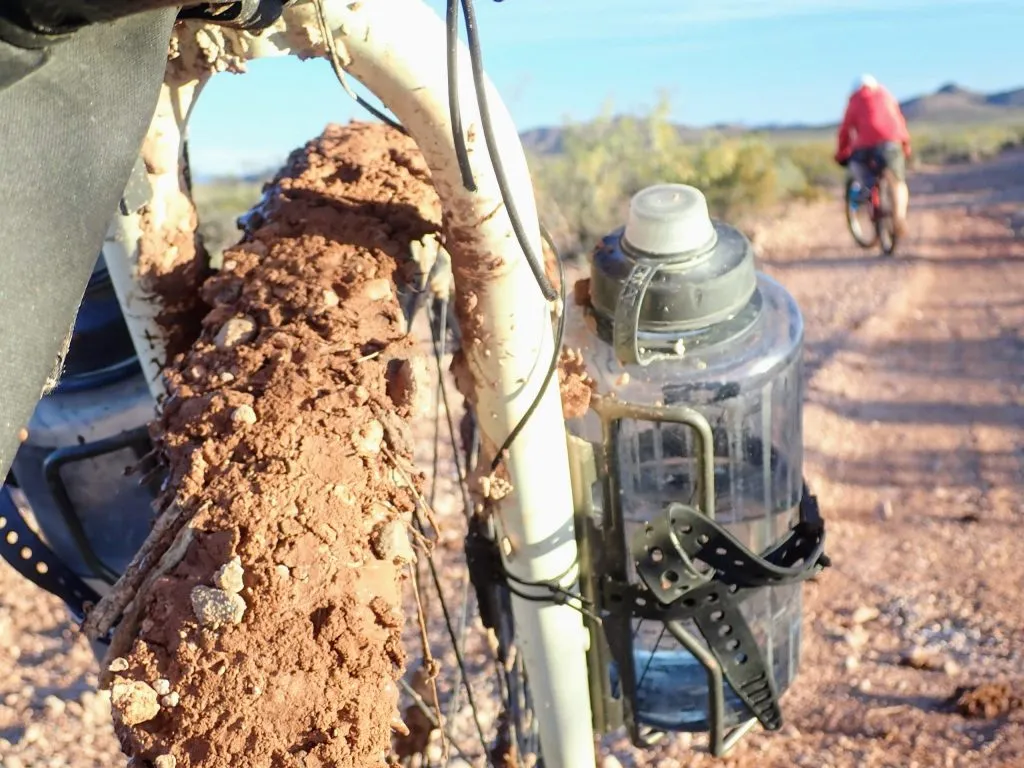 Just before sunset I spotted a promising ridgeline and scampered off the road to find a perfectly hidden ledge overlooking the valley. For the first time on the whole cursed trip we pitched our tent in the backcountry on the way to somewhere new and enjoyed a quiet, starry night.
The next day promised more remote desert riding, no cars in sight. The dribble of water in the washes was still shimmering with ice even in the mid-morning sun. We lost our rhythm a bit in the sandy sections, but it was still nice to be riding.
Then, it started. E's chain, presumably having stretched under load, tried to jump to the next gear. Since the chain was a fixed length with no derailleur, this jammed the drivetrain. He forced it back into place and continued. Ten minutes later, the same. And then five minutes later. Our hope of a triumphant finish evaporated. Still at least twenty miles from civilization, with limited food and water and now a plane to catch soon, the familiar frustration returned.
E's chain unjamming technique improved as the problem grew worse. On one rare stretch of flat pavement I actually tried towing him with one of our spare bag straps, trying to get in as many non-walking miles as possible. A bit later the chain snapped. We repaired it as the sun set and then pedaled slowly, with a sense of forced calm as thick as the mud still caking our tires, along an endless powerline road toward the distant lights of Las Cruces.
It was freezing cold when we limped into Las Cruces, riding in the dark for the second day in a row. We picked our way down the shoulder of the main road in a sad little convey, stopping every few blocks while E fixed his chain with unflappably intentional patience. Finally we hit the cheap motel block, picked a room at an eclectic place with a giant red chili sculpture out front, and ordered a pizza. The cursed ride was FINALLY OVER.
An Appropriate Ending
The next day we caught the bus to El Paso, where something finally did go well. The bike shop I had asked to reserve boxes actually had them, and let us hang out in their shop while we packed our bikes. Then we crammed them both into an UberXL and headed to El Paso Airport.
After all the bad luck, it was almost unsurprising when our first flight was delayed and we were rebooked onto a connection the next morning after a mandatory overnight in Phoenix. Having already spent too much time away from work for dubious gain on this challenging trip, E was understandably upset.
We managed to get him a standby seat on a different itinerary, but there was only one and he definitely needed it more. We said a rushed goodbye at the gate as he ran off (I considered shouting "Save yourself!!!" down the jet-bridge) and I settled in for another few hours of waiting in El Paso. After a long night I got 6 hours of complimentary time in an airport hotel in Phoenix and then returned to the airport for the final short flight.
In San Francisco there was still one last bit of bad luck awaiting me. E's bike arrived, but mine did not. Airline staff found that it had been sent to LA instead! Of course. At least they sorted it out with relative efficiency, and had it delivered to our house a couple days later.
So, there it is. Out of the planned 500 mile route, we rode about 130 miles. Out of a half dozen planned nights of wild camping, we got two. We skipped historic landmarks, brewery breaks, and a tour of the Very Large Array. We damaged and/or lost a surprising amount of gear and bike parts. There was more bad luck in this week and a half than all my previous bike travel combined!
Lessons Learned
Usually we find a way to turn "bad" experiences into learning experiences, or at least some crazy stories. We tried our hardest for this one, but it's still tough to justify all the time and money we put into trying to make it work. In hindsight these are the big takeaways for me:
Respect and fear Death Mud.
Not every bike ride has to be a finish-at-all-costs slog. Sometimes turning back is ok.
Though I had hoped to impress E with my bike travel skills by having the ride go smoothly, it turns out that adaptability and problem solving may be the most important bike travel skills of all.
Tubeless tires are amazing! I pulled some huge thorns out of my tires while trying to bypass mud pits, and the sealant worked every time. I'm proud of my first DIY tubeless setup and am definitely a tubeless convert.
While I had hoped for a different kind of experience together, riding with E was still a special treat. I'm glad we were both there to support each other through the ridiculousness of this trip.
Despite all the troubles, the part of New Mexico we saw was beautiful, vast, and empty. I hope we'll return someday to ride more of it. But not any time soon! We've had enough for now.
More Bikepacking Resources
If you enjoyed this ride report, you might also like these articles:
Or visit the bikepacking section for lots more.
Bike resources in your inbox?
There's more where this came from! Sign up here for occasional emails full of inspiration and information about bikepacking and bicycle touring.


Share the Adventure
If you found this article helpful, please consider sharing so more people can benefit from it: