Maybe you've heard of the Tour Divide, a little 2700-ish mile self-supported bikepack race down the spine of the Rockies?
Crazy, right?
And yet… Kind of interesting.
Or perhaps you have your eye on a "shorter" local bikepack race, like the Idaho Smoke 'n Fire 400+ or the Arizona Trail 300. One that could be done and dusted in a long weekend, if you're lucky.
You've heard some stories, maybe watched some dots, and felt an inexplicable craving to get tired, hungry, and filthy while finding your limits in the middle of nowhere. You think to yourself:
"I wish I could try that. But I'm not ________."
What fills in that blank? Not experienced enough? Not fast enough? Not able to spend thousands of dollars on a fancy bike and gear?
Well, I have good news for you. Or bad news, depending on how you'll feel about it when you're covered in mud and haven't slept in 26 hours.
I'm here from the back of the pack, a woman with a heavy bike and not a single fast-twitch muscle fiber in my entire body, to assure you:
Yes. You can try bikepack racing! Yes you can.
Why Believe Me?
I've been that beginner who showed up out of nowhere with all the wrong gear and held on for dear life. Sometimes I still am.
My first bike race ever was the 3500 mile Bike Nonstop US, quite possibly the hardest thing I've ever done. Later it took me three tries to break four days at Smoke 'n Fire 400+, and I recently finished The Big Lonely in an extremely ordinary amount of time.
My cycling roots are firmly planted in long-distance bicycle travel, and going fast has never been what bikes are about for me. I ride a steel Fargo and don't enjoy the roads and trails where where I live, so I rarely "train." I rely on endurance built during multi-month tours, plus occasional running and weight lifting. My body seems built for endurance, but strength and power don't come easily.
As a recovering ultrarunner, however, I get the appeal of pushing personal limits and exploring more miles in less time. I love strategizing about how to handle gear, food resupplies, and sleep breaks to cover ground efficiently. Being out there on my own breaks me down and builds me up, and I love that too.
I just do it all slower than the folks at the pointy end.
A bikepack racing expert I am not, but that's exactly why I feel compelled to write this post. If you follow bikepacking media, you might get the impression that it's all about the fast folks.
Well, I accidentally discovered that the rest of us can line up at the start with the elites of the sport, feel accepted and welcomed, and find incredibly rewarding experiences at our own pace. I've met many people who are interested and totally qualified to try, but they tell themselves they can't do it. I want to spread the word: it's not as inaccessible as you think.
Beginners Welcome
Cycling culture doesn't exactly have a reputation for being inclusive. So when I lined up at the start of my first bikepacking race, one of only three women and riding a silly steel touring bike in a sea of carbon, I half expected to be mocked or at least shunned.
On the contrary, I was encouraged and befriended by everyone I met. The good-natured camaraderie was one of my favorite parts of the experience, and it turned out to be no exception.
Endurance bikepack racers are, on average, some of the most awesome people I've ever met. I think the key is that we are all batshit crazy, and crazy enjoys meeting itself in others. We look at each other and see the spirit of adventure burning bright instead of focusing on skin color, gender, clothes, or bike. (Well ok, maybe we check out the bike, but that's just for fun.)
Slower folks are in awe of the fast folks for their speed and focus, while fast folks admire the toughness of slower riders who are out there for twice as long. Everyone respects a beginner bold enough to show up and try; plus, we've all been there. I can't speak for every underrepresented group obviously, but I have never felt bad because of my gender at these events even though women are usually a minority of the field.
So if you're holding back because you worry you won't feel accepted at the start line, put that fear away right now. As long as you can return the good vibes, I think you'll feel welcome.
Why "Race?"
I sometimes hesitate to use the word "race" when I talk about the events I've ridden. How can I possibly be "racing" when I'm going so slowly and finishing behind so many other people?
And how can any of us really be racing when we stop to take pictures, have a chat, or eat a burger?
At the pointy end of the field, the term "racing" is quite literal. Those folks are putting it all out there in hopes of winning the darn thing or even beating a course record.
But for many, racing is more a style than a serious competition. It's like a game, where we use extra structure as motivation to pack a lot of adventure, experience, and nature into a short period of time. Racing is distinguished from a more leisurely bikepacking trip by a stronger focus on efficiency, forward progress, type 2 fun, and extravagant amounts of pedaling. This comparison expresses the difference beautifully.
The beauty of this definition is that we can race at any speed. Racing means finishing the route as efficiently as possible while working with the brain, body, bike, and intentions we have at the time. It involves being efficient at resupply stops, sleeping less than we'd like, riding into the night when we'd rather not, and working closer to the edge of our own personal limits, whatever they may be.
When you think about it, even racing at the front of the pack is rather arbitrary. It's not like there's prize money in most bikepacking races, or even necessarily anyone waiting at the finish line. Why should genetically gifted folks be the only ones who get to enjoy destroying themselves in reckless pursuit of totally arbitrary goals?
Racing is a state of mind, not a finish time.
Race Etiquette and Culture
I don't want to get on a soapbox here, but I'd be remiss to not mention this to potential newbies: Racing is not considered an excuse for compromising on the usual ethics of outdoor recreation and bicycle travel.
Leave No Trace practices are strong among bikepackers, racing or not. A racer still packs out all their trash, stops to pick up a wrapper that falls from their feedbag, and digs a cathole to bury their poop if/when the occasion arises.
Racers respect private land. If you wouldn't camp on private land while bikepacking, don't bivy there while racing. The one exception is that racers sometimes camp at town parks, stores, churches, or other establishments in small communities, which seems to be tolerated especially when the race is well-known by the community. A couple hours of napping in the middle of the night is unlikely to bother anyone, but obviously it's important to be as respectful, quiet, and clean as possible.
Finally, there's a culture of positivity and politeness in bikepack racing when it comes to interacting with people we meet along the way. Bike travelers generally cherish these interactions, and most racers do too even if we don't linger quite as long.
We know we look a bit deranged, smell bad, and may as well be aliens from another planet to some of the people we meet out there. We go out of our way to be friendly even when exhausted, because we want these folks to be ok with us rolling through their space and because it's the nice thing to do. When this positive energy is reflected back it can be a valuable source of motivation and support.
Tl;dr: Racers should still do the right things even when we're really really tired.
Solo Self-Supported
The first thing you need to understand about bikepack racing is the ethos of solo self-supported riding.
The rules vary by event, but the basics are usually some version of:
Only support that's commercially available to all riders is allowed. No getting food drops from your family or spending the night at a friend's house. "Trail magic" – spontaneous acts of kindness from strangers – is sometimes allowed depending on the event.
You have to ride the whole route under your own power – duh. No hitchhiking, getting on a bus, using a motor, etc.
You can leave the route if needed to fix a problem, including via hitchhiking or other motorized travel, but you'll have to return to the route in the same place you left off.
Carry all your own gear and supplies, unless riding officially as a team or pair (which some events allow).
All rules are self-enforced using the honor system. If you break a rule, you should notify the organizer and disqualify yourself.
These rules may sound straightforward, but it's not always clear how they apply during the hot mess of a race situation. A stranger offers you water – can you take it? Is it ok to ask the gas station cashier about the condition of competitors ahead? If you take a wrong turn but end up back on the route 20 miles from where you left it, are you mentally prepared to ride an extra 40 mile out-and-back to stay in the race?
Some events will ruthlessly DQ anyone who breaks a rule. Others are happy to list you in the results with an asterisk as long as you're honest about it. Some will overlook minor rule bending as long as you aren't going for the podium. The important thing is to always act in the spirit of solo self-supported progress and honor the rules, even if there's no one out there to see you do it.
How Solo is Solo?
Does the "solo" part mean you need to avoid riding near other racers?
Not at all! Sharing miles with fellow racers is one of the joys of bikepack racing. Even the fast folks do it from time to time. If you luck into finding a riding companion through the spooky dark forest in the middle of the night, you're sure to have a mental advantage over those riding alone.
Often paces don't match up very well but riders "leapfrog" each other back and forth, sharing a few words of encouragement in passing. This is a big part of why I enjoy "grand depart" style events where a bunch of people start at the same time. You're out there on your own, but you know others are nearby dealing with similar challenges.
So what does solo mean? You carry all your own gear and supplies, and usually that you don't draft. (Ha! I wouldn't say drafting is a common temptation in most bikepacking races anyway.)
Solo also means you're mentally and practically prepared to ride and sleep outside alone, fix your own bike, and deal with the logistics of bailing if necessary. Consider it a nice bonus to share a few miles with another racer, but don't count on it. In Smoke 'n Fire 2021 I was fortunate to have riding and camping companions often, but in The Big Lonely I didn't see another rider for the last 3 days! It can be especially hard to find companions if you're near the back of the pack where people are more spread out.
The intent to ride solo is important for folks who want podium positions, but for the rest of us the rules are a bit squishy. Sometimes people plan to ride "solo" together with a friend, carrying their own gear but staying near each other for companionship and mental support. This is usually tolerated, and if it's what you need to get yourself out there, go for it.
I do recommend riding truly solo at some point, on your own except when luck offers a short-term riding companion. I think it's a good way to experience the spirit and rewards of these events. Ride solo through the night and you'll know you can handle anything!
Choosing an Event
My first bike race was 3500 miles long. Though it worked out, I wouldn't necessarily recommend this approach. But if you're the type who thrives on absurdly bold goals and want to jump straight into the Tour Divide or other long-haul race, you won't be the first!
For most people it makes sense to start with a shorter event, perhaps near home or in a place you're excited to ride. I think 300-400 miles is a nice sweet spot, long enough for a few nights out but not so long that you'll be recovering forever.
Choose an event with terrain that matches your skills and bike setup. Maybe don't choose the Arizona Trail Race if all you have is a gravel bike and you don't really like singletrack.
Difficulty is subjective, so consider your strengths. A rugged route with plenty of hike-a-bike can feel easier, in a way, than sitting on your bike grinding gravel for all eternity. Unless you're an experienced endurance rider with a very dialed bike fit, many people will welcome variety and the chance to get off their saddle from time to time.
Races also come in different moods and sizes. Many are small, unofficial, free, and loosely organized. Some are bigger, with more pomp and circumstance and maybe even an entry fee. The bikepacking.com events calendar is a good resources for finding races as well as other types of events.
International bikepack racing is a popular scene, with many people using races as an occasion to experience a new part of the world. Though I've bike toured quite a bit overseas, I've only raced in the US. The more different a place is from home, the more I want to slow down and soak it all in. But if international races capture your attention, there are many epic options to choose from.
Route Research
Once you choose your event, it's time to start researching. This is (almost) half the fun for many people. Route research involves reviewing the GPS route closely and making notes of things like:
Resupply stops and their mileage
Resupply businesses (gas stations or restaurants) in each town, and their business hours (call to verify if needed)
Key water refill locations, if water will be scarce
Mileage and height of major climbs and descents
Major terrain changes, like sections of singletrack versus gravel
Areas of public land where camping would be easy, and any long stretches of private land where camping could be hard
Tentative goals for each day, if you want
It's nice to print or write this down on a piece of paper. Some people print out an elevation profile of the route and make their notes on that.
Sleep, or Lack Thereof
At the pointy end of the pack the concept of a day barely has meaning. The person who wins a "short" race like Smoke 'n Fire will ride straight through a night and the better part of a second day, maybe stopping for a 30 minute nap if they start falling asleep on their bike. On longer races like the Tour Divide, obviously more sleep needs to happen, but still not as much as you might expect.
For many of us in the middle and back, there is a daily rhythm. On a "short" race (a few days) I usually ride until between midnight to 2am, sleep for 2 to 4 hours, and try to start riding again an hour or two before sunrise. If I stop earlier at night I try to start earlier in the morning. In the home stretch I might forget about sleeping and just push to the finish.
This usually amounts to 18-20 hours of "riding" time per day. Don't forget, it takes time to buy and eat food, deal with mechanicals, set up your bivy, etc. There is often not much time left for sleeping. Some folks who finish around my time ride faster and sleep more. That works too!
On a longer race like Bike Nonstop, or if I were to ever race the Tour Divide, I would sleep 3-6 hours a night in order to keep the effort sustainable over several weeks.
Sleep deprivation is a personal thing; some people think it's interesting and some find it miserable. In some cases it can be unsafe, and not everyone has the luxury of recovery-napping for a week after they finish. If you want to get 6 hours a night, that's totally fine. And if you want to pull an epic all-nighter, just to see if you can, you'll be in good company.
Having a plan for each night's destination can be helpful if it keeps you pushing onward, or detrimental if you reach your planned location with plenty of gas in the tank but stop anyway. It's often helpful to ride while conditions are good and your body feels strong, because it probably won't last.
Where to sleep? Standards usually aren't high. I've nearly run over a fellow rider napping beside, or one time literally in, the road! Personally I prefer a discrete spot in a small town, or sneaking off into the woods on public land. Many bikepacking races are in remote areas that don't see much traffic at night, so it's usually not hard to find a spot where you won't be noticed for a few hours.
What to sleep in? Most racers favor a bivy sack (more below in Gear) but a few folks bring a lightweight tent. Hotels are fair game too, if there happen to be any around, but don't count on it.
Food and Resupplying
Bikepack racing burns an insane amount of calories, and tends to happen in places without good access to nutritious food. In other words, it's a total junk food extravaganza.
Do the math: if you need about 200 calories per hour of riding and you're riding 20 hours per day, that's a minimum of 4000 extra calories per day! Many riders need even more.
Now imagine that all those calories need to come from a gas station convenience store, because that's the only store you'll see for the next 24 hours. You'll fill your bike bags with microwave burritos, trail mix, cheese sticks, potato chips, breakfast pastries, candy bars, and all kinds of other calorie-dense goodies. And at some point, you will hate them all.
Fast folks often eat while riding, while some back-of-packers sit down for a burger and fries every chance they get. I tend to split the difference. I'll sit down for a big meal once a day if I can, because that's the only way I can get enough calories down. The rest of the time I take burritos and sandwiches to go, and snack on bars and trail mix while I ride.
I recommend plenty of "real food" in the form of sandwiches, burritos, cheese, etc. Fat has more calories per gram than carbohydrate, so look for foods high in fat if you want to stuff more calories into less weight and space on your bike. Many people have a favorite sugary treat that always goes down easy (gummy candies, Oreos, etc) but it's easy to overdo the sugar, leading to energy crashes and loss of appetite.
It can be surprisingly hard to get food down during a bikepacking race. Even the most delicious burger or a treat you'd normally crave can feel like a chore to eat. Your mouth might even get sore from all the chewing. Listen to what your body is craving, keep a variety of foods on hand, and pound some liquid calories (chocolate milk, electrolyte drink) at every resupply stop if solid food is unappealing.
If it's hot out, supplement your electrolytes to make up for what you're sweating out. Lots of salty snacks can help, and electrolyte tablets like Nuun are convenient to drop into a water bottle from time to time.
Eating too few calories is guaranteed to eventually cause low energy, mental struggle, and a slow pace. I've made this mistake several times, usually around day 3, and it sucks. Try to count calories while resupplying and take even more food than you think you'll need. I always recommend having an extra "emergency stash" on hand – a dry bag of ramen or a few protein bars, for example – in case you're delayed by weather or a mechanical.
If you remember one thing, remember this: Eat like it's your job!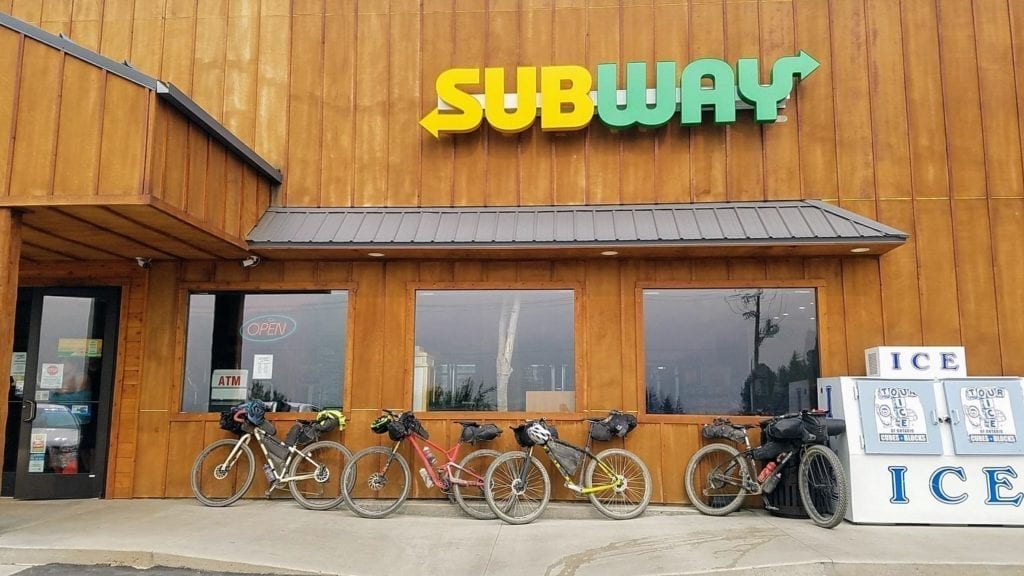 Pacing
They key to pacing yourself in a long bikepacking race is to start out slowly, and then slow down.
Ok, maybe not quite, but my point is this: If you're not used to ultra-distance events, you will need to ride at a lower effort level than you're probably used to. "Slow and steady" is a good mantra.
If you push too hard for too long, you'll dig yourself into a hole that can be hard to get out of. I often get passed by people who are riding strong on day one, only to pass them back later when they slow down or drop out. Their knees are sore, their energy levels are low, or their quads are completely fried.
With experience you'll learn where your own line is, and if you want to race at your limits you'll definitely need to engage with it. But if your goal is simply to finish your first race, my best advice is to take it really, really slowly.
Hike-a-Bike is Your Friend
The most obvious way to save energy while bikepacking is to walk steep hills!
If you have roots in a cycling culture where walking means defeat, you'll want to reprogram that. For most of us, pedaling a loaded bike up steep hills in the depths of fatigue takes more energy than it's worth. Hike-a-bike offers a great chance to stretch your legs, work different muscles, give your saddle sores a break, and eat a snack.
I can hike my bike up a moderate gravel hill at around 3mph. If I'm riding and notice my speed is less than 4mph, I start to consider walking. If I can walk almost as fast with much less effort, it's a no-brainer. Your crossover point may be different depending on your gearing, bike weight, and fitness.
Sometimes I feel I have an advantage here. I'm a woman and often ride alone, and I rarely feel social pressure to push too hard. If you're riding with a group of competitive buddies, I imagine it's harder to be the first one off your bike. Still, you might try it, and your buddies might secretly thank you for it.
Daily Mileage
How far should you try to ride each day? This of course depends on the terrain and your personal goals.
Based on my experience at Smoke 'n Fire and The Big Lonely, both mixes of gravel and singletrack with plenty of climbing, the mid-to-back of the pack is putting down miles in these ranges:
Mostly gravel roads (like day 1 of SnF): 120 – 150 miles per day with 8,000 – 10,000 feet of climbing
Gravel roads plus significant sections of rough singletrack and hike-a-bike (like day 2 of SnF): 80 – 120 miles per day
Some routes are more consistent throughout, and others vary a lot in terms of terrain and difficulty. It's helpful to study the route in advance so you know roughly what to expect.
Gear and Packing
For many of us, packing for a bikepacking race isn't all that different from a slower-paced trip. The main focus, of course, is to pack as light as is reasonable.
The fast folks sometimes make pretty severe tradeoffs when it comes to comfort and even safety. For example, they might plan to ride through the night to keep warm, rather than bringing a sleeping bag warm enough to actually sleep in.
For beginners and anyone who isn't totally confident in their ability to ride their way out of trouble, I suggest starting with enough kit to be warm, safe, and self-sufficient. Don't "pack your fears," but also don't put yourself in a dangerous situation when you've already got enough new things to get used to.
Still, we can all have fun playing the gear optimization game. What can you do without? Here are some suggestions:
Ditch the stove and cook kit, inflatable pillow, camp sandals, and any spare clothes from your normal bikepacking gear list, if they're on it.
Make sure your sunscreen, toothpaste, etc. are in appropriately small containers. You won't need deodorant.
Use a bivy instead of a tent. An SOL emergency bivy can work if you don't want to buy a real one.
Streamline your layering system, but still be prepared to handle the weather if it turns nasty. Check the forecast!
Most folks use a standard bikepacking bag setup: seat bag, frame bag, handlebar bag, accessory bags. A lightweight rear rack works too if your frame is small or it's just what you already have. If you don't already have a full set of bikepacking bags, don't worry, there are ways to carry your gear without spending a fortune.
Unless your bike is super light and fancy and your kit is very minimal (and the weather forecast warm), your loaded bike is likely to be in the 40-50 pound range. Over 50 pounds can be tough to handle on long days; I speak from experience as this is where mine usually ends up.
Bikes
The spirit of "run what you brung" is alive and well in bikepack racing, and no one will give you a hard time for showing up with a ridiculously non-ideal setup. Trust me, I've done it!
If you have a choice, consider the terrain. Many routes are mixed and include everything from pavement to gravel roads to singletrack, so there's often no one perfect tool for the job. You will find that certain routes attract more gravel bikes and some attract more hardtails (and few rare ones bring out the full suspensions). Ditto with tires: it's often a compromise.
Whatever style of bike you choose, make sure it's adjusted for all-day comfort. A bike fit can be really helpful, either in a shop or at least DIY. It's nice to have multiple hand positions; consider bar end grips if you're running flat bars. Some racers use aero bars for routes with more pavement and smooth gravel, for speed but mainly the additional body position.
Sure, a lightweight bike will make your job easier. There's a reason many racers favor carbon or titanium frames, but it's by no means a necessity. Bring your steel bikepacking rig, or your aluminum hardtail, or whatever you usually ride. You won't be the only one.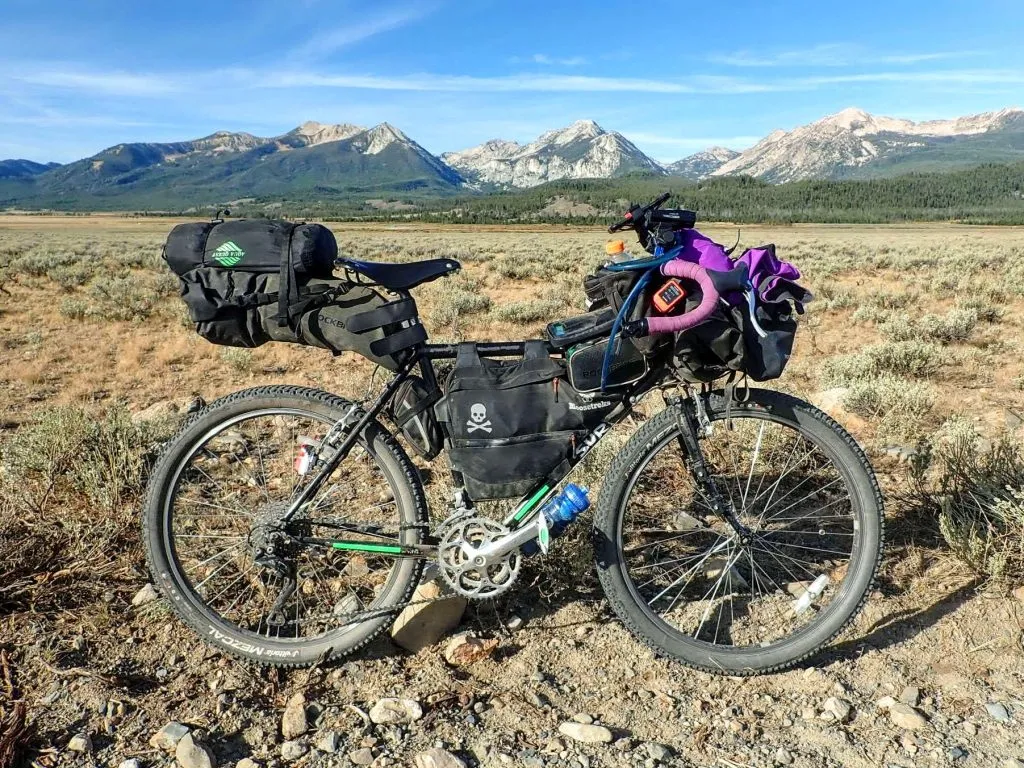 Navigation
These days it's considered essential to have an electronic navigation device of some kind. This is what you use to follow the route and also make on-the-fly changes, like rerouting in case of a mechanical.
If you're new to bikepack racing, I highly recommend your smartphone! RideWithGPS is the most common navigation app and most routes are already published on the platform, but you can import any GPX file. For offline navigation, which you'll probably need, you'll have to pay a small monthly fee.
Dedicated GPS devices like those from Wahoo and Garmin are also popular, and using one as your primary navigation tool can extend the battery life of your smartphone by a lot. They're expensive though, and you definitely don't need one. If you use one, be sure to still load the route on your smartphone as a backup. More info: GPS Devices for Bikepacking.
If using a smartphone as your primary, you'll still want a backup device. Consider bringing a second smartphone, perhaps an old one you no longer use (pre-cache the maps using wifi), or paper maps and cue sheets at the very least. Electronic devices can and do fail during races, pretty often actually. Don't say I didn't warn you.
I like to also download offline areas in Google Maps. The offline data includes business hours – super helpful for resupplying – and knowing where major roads are is helpful in case of an unexpected reroute.
Tl;dr: Your smartphone works. Keep the dot on the line, download maps in advance, and bring a backup.
Night Riding
Some people love it, but night riding is my personal nemesis. Before I started bikepack racing I had almost never ridden my bike in the dark, let alone on rocky singletrack in the mountains.
My issues with night riding are largely psychological. As the sun sets I have to fight the instinct to seek shelter and settle in for the night. Honestly, I'm afraid of the dark. Especially in spooky forests. Especially alone. And I've heard many other riders, including otherwise very stereotypically tough-seeming men, admit to the same feelings.
I've learned over time that night riding can actually be pleasant, or at least interesting. When you can only see what's directly in front of you, riding can feel meditative, almost flow-like. Usually not much happens, including the things I'm afraid of. The trails and backroads are empty, and the animals (mostly) keep to themselves.
With more experience it's now slightly easier to set up my lights and keep rolling into the darkness, but the transition to night riding is still one of the mentally toughest parts of my day.
Here are some tips that make night riding easier for me:
Have good, reliable, bright lights! Ideally use two, and one should be mounted on your head so you can shine it in any direction. More on this below.
I like to break my night riding into smaller chunks because it's easier on my mind, eyes, and batteries. This means riding a few hours after dark, then sleeping a bit, then getting up a few hours before sunrise.
I often find the pre-dawn morning hours mentally easier than riding deep into the night, so sometimes I'll sleep earlier and plan to wake early. If you do this, beware the lure of the snooze button.
Clear glasses are nice for eye protection when riding at night.
The early morning hours before sunrise are usually the coldest part of the night. Wear layers to stay cozy if needed. If it's dry and below freezing I'll even ride in my down jacket.
I sometimes like listening to audio to keep me company at night (though the quiet can be lovely too). Podcasts with familiar voices are most comforting. If there's no one around I'll play them out loud rather than block my hearing with an earbud.
Lights for Night Riding
A bright and reliable light (or two or three) can make all the difference when working up the nerve to ride into the night. Ideally, a light setup has these parts:
Helmet mounted headlight: important when you need to shine light on street signs, bike parts, animals in the woods, or anything that isn't right in front of your handlebars.
Bike mounted headlight: on your handlebars, fork, or QR skewer. If using a handlebar mount, make sure your handlebar bag doesn't block the light path.
Red blinky tail light: important for being visible on roads at night, and sometimes during the day too.
To save battery, I usually don't run all these lights at the same time. On smooth road I might just run my handlebar light on low and save my helmet light for when I need to see better. On rough terrain I run both headlights on a higher setting for better visibility.
Battery life is a major consideration (unless you have a dynamo hub, in which case, lucky you!). I like to use lights with a mix of different battery types to make sure I always have some kind of light, even if I run through my USB power banks.
If you have a light that can't be charged while in use, you'll want to know how long the battery lasts. If you'll be riding many consecutive hours in the dark, you'll need a spare battery pack (if the light supports that) or a second light so you can swap and keep riding when one dies.
Here's the setup that's currently working well for me:
Helmet headlight 1: Light and Motion Imjin 800 Onyx, helmet mounted, with spare battery pack. Nice and lightweight when the external battery is in my hydration pack. Not USB-rechargeable.
Helmet headlight 2: NiteRider Lumina 900 Boost, helmet mounted. Heavier than the Imjin, USB-rechargeable but not while it's being used. I use this as a secondary light, switching to it when either of my Imjin batteries runs out, then recharging it from a USB power bank during the day.
Bike mounted headlight: Princeton Tec Snap headlamp on M-Wave QR skewer mount. Not super bright, but having this second light close to the ground helps give depth to the surface and is a handy backup in case my helmet light dies. Takes AAA batteries so you can easily buy spares at most gas stations. Bring the included headlamp strap and use it while setting up camp to save battery on your main light.
Tail light: Blackburn Central 50 (USB rechargeable)
If you're just getting started and want a low-cost system that will get the job done, especially on non-technical terrain, I suggest the NiteRider and helmet mount. Just know that it will only last a few hours, so have a plan for when it dies in the middle of the night (stop and sleep before then, ideally).
Update: As of 2022 I've taken the plunge and added dynamo lighting to my setup. It's pretty great! Read more about it here: kLite Gravel ULTRA v2 In-Depth Review.
Charging Electronics
Bikepack racing burns through a lot more battery power than regular bikepacking. All those extra hours of navigation, plus power for lights at night, really add up.
If you don't have a dynamo hub, you'll be carrying a stack of power banks and hoping for the best. Plug in every time you're resupplying, even if it's brief, and try to conserve battery as much as possible.
I've covered more details, including tricks for conserving battery and recommended power banks, in this other post: How to Keep Electronics Charged While Bikepacking.
Tracking and Dot Watching
Dot watching is a companion sport to bikepack racing. While some people are out there riding bikes all day and all night, other people are sitting at home glued to their computer screens, speculating in great detail about every tiny pause, deviation, or change in speed.
Dot watching is great. It keeps my family busy and helps them worry less. It gives me a feeling of support to know that someone, somewhere, knows where I am and can witness my effort, even if it's just a dot inching along in the middle of the night. Sometimes local dot watchers even come out to the route to cheer racers on, which is how those strangers in the middle of nowhere somehow know your name.
How it works: Racers carry a satellite tracker, usually a SPOT or a Garmin InReach, which sends out GPS coordinates every few minutes. If you don't have a tracker, most events will help you rent one. The locations show up on trackleaders.com (or sometimes followmychallenge.com) along with a route map and various other stats.
Dot watching may not seem like the most action-packed spectator event in sports, but once you get into it, it's surprisingly addictive!
Common Physical Problems
So you want to ride your bike for an inordinate amount of time, day after day after day. What could possibly go wrong?
Anything, actually. But some issues are more common than others.
Knee soreness: It's very common for tendons around the kneecap to feel sore after a long day or two. In longer races it may eventually go away as the poor tendons adjust to their new workload. As long as the pain is in the tendons and the joint still feels healthy (no mechanical issues like grinding or clicking, or pain within the joint area) it's usually ok to keep riding. Unfortunately knee issues lead to a lot of DNFs too, so you'll have to decide whether you feel comfortable pushing through pain or don't want to risk it. (Disclaimer: I'm not a doctor! Use your own best judgment.)
Achilles soreness: Similar to knee tendons, the Achilles tendon at the back of the ankle often gets sore from endurance cycling. Some soreness and stiffness is normal, especially when you first get back on the bike after a break. If it gets extreme or you feel swelling or lumpiness in the tissue, it might be a reason to DNF.
Hand and foot numbness: Tingling and numbness in the hands and feet is very common on long bike rides, and I've certainly experienced it myself. Don't worry, it usually goes away within a few weeks. A good bike fit and proper hand position can help (try to avoid bending backward at the wrists, instead keeping your hand in line with your arm) but sometimes it's hard to avoid. For more help with hand issues while riding, see this post.
Saddle soreness: Oh my goodness, where to start? Entire posts could be written on this unfortunate topic, and many have: see my post on saddle sores to start, and here's my advice for women specifically).
In brief: keep your skin as clean (I've heard witch hazel works well) and dry (some people use baby powder) as possible, wash every night, wash your shorts during a long race, remove your shorts to sleep, and bring plenty of chamois cream. Most racers skip bringing a second chamois, but a few swear by it. You'll have to find what works for you.
I usually find saddle sores start to get bad around day 3 if they're going to get bad, so take preventative measures on day 1 and 2 even if things seem fine.
Dealing With Problems and Low Points
The problems and low points WILL come. That's the first step in dealing with them. Expect them, welcome them, and commit to working through them.
Sometimes it can feel like a bikepacking race is just one long string of problems to solve. It's important to prioritize. Is this a now problem (bad mechanical, bonk, navigation error) or a later problem (fear, minor bike noise, uncertainty about the route ahead)?
If it's a now problem, stop and fix it. It'll be worth the lost time.
If it's a later problem, keep moving forward. These problems have a tendency to fix themselves.
If you're feeling overwhelmed or discouraged, but still able to move forward:
Eat food. Drink some water. Eat more food.

Try some audio distraction. I like podcasts or music, or sometimes an audio book if I'm coherent enough to follow it. I always use one earbud only so I can still hear.
Set small goals. Just ride to the next intersection, corner, or tree. Then ride to the next one.
You're not alone! This stuff is hard for everyone. Think of all the other riders out on course dealing with similar issues, even if they're not nearby.
Mantras and self talk: This is what you came for. Imagine how proud you'll be when you push through and finish. Your friends/family are watching and rooting for you. It never always gets worse. This too shall pass.
Presence and simplicity: Is anything preventing you from moving forward right now, in this very moment? If not, move forward. Repeat.
Finally, I think it's worth calling out specifically to be patient early in the morning on day 2. If you rode farther than ever before on day 1, it's completely natural that you will feel tired and sore when you wake up and get back on the bike to do it again. Just keep pedaling. You'll be amazed at how much better you feel in an hour or two.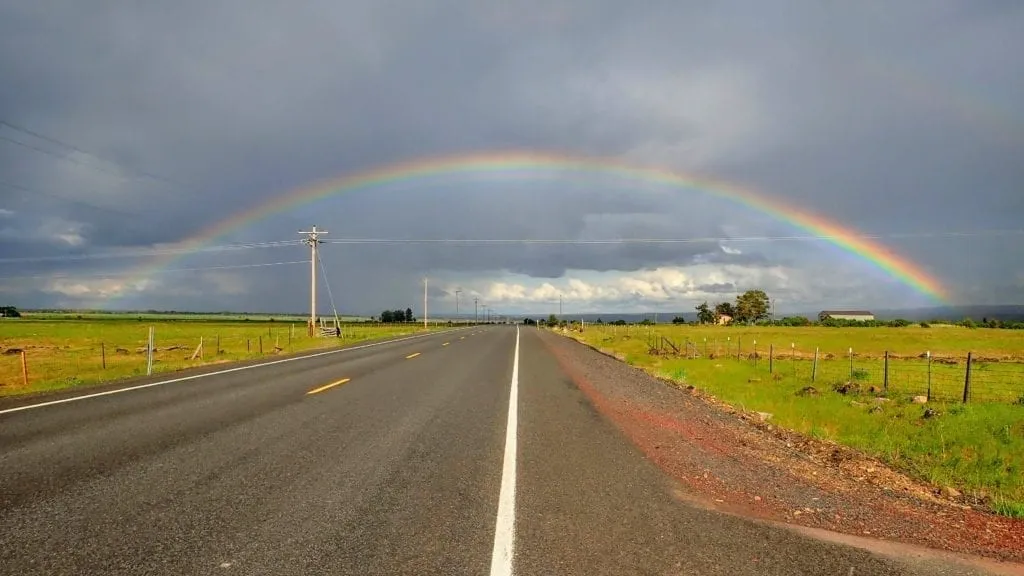 When Things Don't Work Out
Scratch, drop, DNF, bail, quit… Whatever you call it, sometimes it's necessary to stop riding before the finish line.
Common reasons include major mechanicals, injury from crashing or overuse, dangerously cold or hot weather, mental overwhelm, and just not wanting to ride your f***ing bike anymore.
How to decide? Only you can make the call. Sometimes it's obvious, like your bike or your collar bone is in pieces.
Often it's more of a mental issue. Maybe you pushed too hard in the beginning or are simply having a temporary low. Whatever the reason, there's no shame in quitting if you're not feeling it.
Of course, it is a race and we all start with the goal of finishing. So for those hell-bent on reaching the finish line, here are some tips:
Pace yourself. If you're digging too deep on a steep hill, get off and walk. Really!
Know that lows will come, but they usually don't last. Give yourself an hour or two and you'll likely feel better.
Never quit when hungry! Eat a big snack or meal, wait an hour, and reevaluate.
Never decide to quit at night, or in town, or during a low moment.
Just. Keep. Moving. Forward. Sometimes it really is that simple.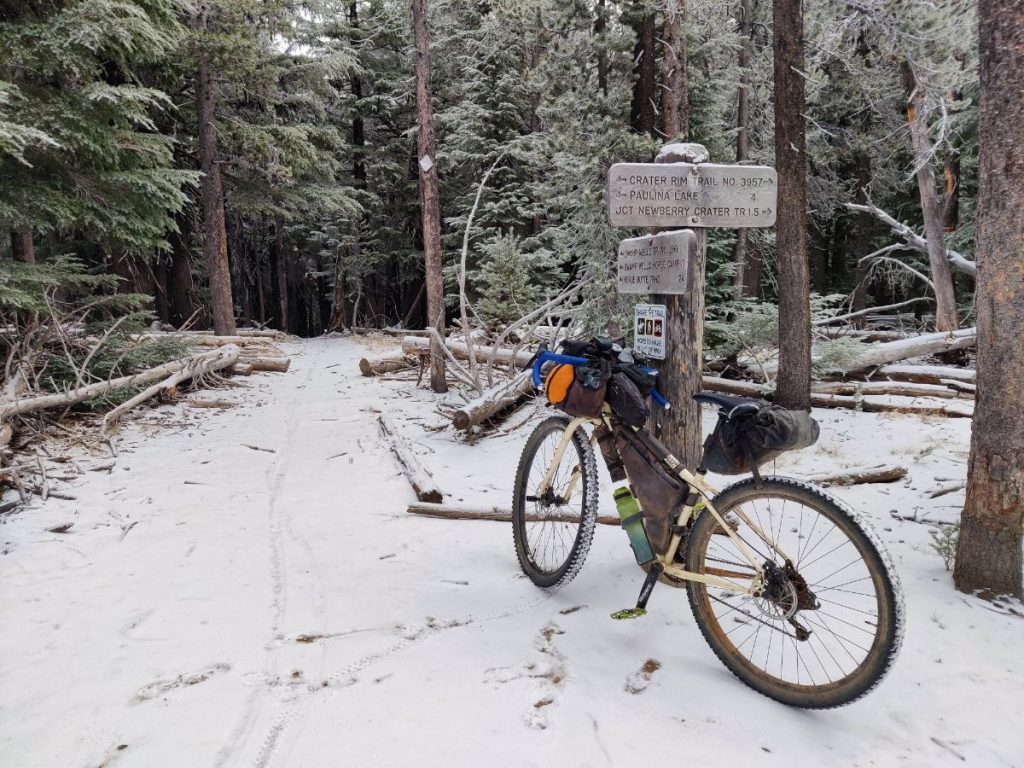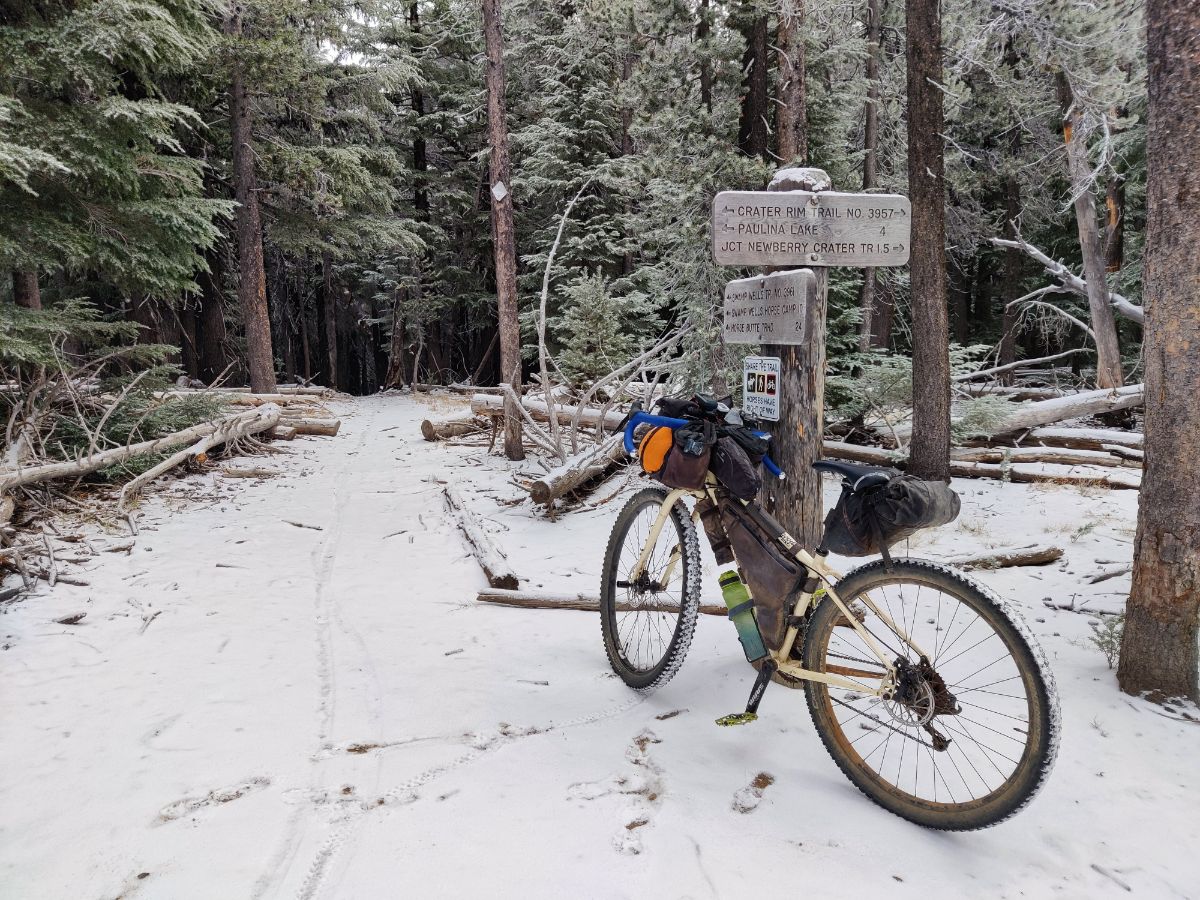 What to Do if You Drop
You've made the difficult decision to DNF ("did not finish"). Now what?
Notify any loved ones watching your dot, and usually also the race director. Sometimes dot watchers get quite concerned when a dot stops or moves off course, so let people know you're ok.
Did you make a bailout plan, like putting a friend on call to pick you up? Well, that was your first mistake. 🙂 Sometimes not having a bailout plan is good motivation to not bail. If quitting is inconvenient enough, may as well keep going! Of course there is some wisdom in having a bailout plan, so you'll have to decide for yourself.
For races that are long or far from home, you might not have any local contacts. It's time to try hitchhiking. I don't necessarily mean sticking your thumb out, though sometimes it's necessary (even better than your thumb: take your front wheel off and hold it up). If you can make it to the next town, you can likely find a ride by asking around and being patient. As a bicycle traveler I can assure you, people are helpful and it always works out eventually.
It is generally not the race director's job to help with transportation. Certain directors are more involved than others and may be able to connect you with some local help, but don't expect it. Part of the "self-supported" ethos is getting yourself out of whatever you get into.
If you drop out and are feeling bummed, don't be too hard on yourself. Everyone knows this is part of the game. Just getting to the start line earns respect. Now use this unfinished business as motivation to learn from what went wrong and try again.
Training
As someone who rarely "trains" on my bike, I'm not one to offer strict requirements here. Of course, that's also partly why I'm slow. If you'd like to be really fast, I'm not the right person to help. 🙂
But if you'd "just" like to finish at an efficient pace, there are many different approaches. Bikepack racing is really multifaceted, so figure out what you're already good at and then spend time on all the other things. Also, ride your bike as much as possible!
Here are some of the facets to consider:
Cardiovascular endurance for long, slow efforts: biking is great, or also running or fast hiking. The important thing is that you're going for a few hours or longer.
Strength in legs and core: weight lifting or other resistance training
Conditioning for back, shoulders, and saddle area: riding more is best approach here.
Riding loaded: get used to it and make sure your bag setup works
Outdoor experience: camping, dealing with weather, managing water and food supplies (backpacking experience transfers well)
Night riding: practice if you can.
Example 1: You're a serious recreational mountain biker or gravel rider with some endurance racing experience, but you've never done an overnight bikepacking trip. Focus on getting your bags and camping gear dialed and start riding loaded (even on day rides) as often as possible.
Example 2: You've done some casual bikepacking trips, but you've never focused on cycling as an athletic activity. Build fitness with faster paced rides (and maybe also running or weight workouts), do a very long day ride or two if you never have, and get in plenty of saddle time leading up to the race.
Whatever your background, simply try to ride more in the weeks and months leading up to the race. A 2-3 day shakedown ride with ambitious daily mileage (not a race effort, but long enough to tire you out) would be great too.
Safety
In my enthusiasm for encouraging beginners, I don't mean to be blasé about safety concerns. Bad things do occasionally happen to people in bikepacking races, and some level of awareness and preparation are appropriate. These are the areas to focus on:
Traffic safety: When riding near motor vehicles, be unmissably visible (flashing lights, high-viz clothing) and ride predictably. If sleep deprivation prevents you from focusing or riding consistently (people have been known to fall asleep while pedaling), it's time to stop and nap.
Weather: Know the forecast, know your gear, and make sure your gear can keep you safe when it's cold and wet. Some outdoor experience is very helpful (backpacking experience transfers well) if you're new to bikepacking.
Injuries: Crashes do happen in bikepacking races, as they do in biking in general. You can reduce the odds by riding within your limits, especially on fast descents, technical terrain, and/or in the dark.
Water and heat issues: Running out of water in the middle of nowhere can be dangerous. Study the route carefully for water sources and be conservative in hot weather and remote places. Being in a race doesn't guarantee that other people will be nearby if you need help; I have gone days without seeing other riders during some events.
Route choice: Different routes pose different risks, so consider your personal experience. If you've never bikepacked or backpacked before, maybe don't choose a remote mountain race with gnarly weather like the Colorado Trail. If you're not confident riding with traffic, the TransAm isn't an ideal choice.
As with all outdoor activities, a bit of knowledge and preparation go a long way toward keeping you safe out there. But you don't necessarily need to be an outdoor expert to ride safely.
Worried about animals, being alone in the dark, and things that go bump in the night? That's totally normal, and more of a psychological challenge than a safety issue in most cases. Focus on the real safety issues mentioned above, and don't let the irrational fears stop you from getting out there.
In Conclusion
Bikepacking races aren't just for fast people. The rest of us can still have fun and learn a lot from pushing our own limits in our own way. Now that you know what to expect, you'll be better prepared than many. You may still end up neck-deep in Type 2 Fun, but you almost certainly probably won't regret it in hindsight. 😉
Feeling intrigued? Then go get it!
More Bikepacking Resources
If you're curious about bikepack racing, you might also like these:
For even more pedal-powered goodness visit the bikepacking resources center.
Bike resources in your inbox?
There's more where this came from! Sign up here for occasional emails full of inspiration and information about bikepacking and bicycle touring.


Share the Adventure
If you found this article helpful, please consider sharing so more people can benefit from it:
Pin For Later