Perhaps you've enjoyed some bikepacking trips near home or traveled to another state for a long ride, but you've never biked in a different country. You've seen people writing about their epic international trips on bikepacking.com or posting pictures on social media. You're intrigued… What a fascinating way to combine the physical challenges of bikepacking with the mental stimulation of international travel!
But surely this type of trip is only for more adventurous, more experienced travelers and cyclists, right? The logistics, the culture shock, the safety concerns…
Nope! No no no, stop right there. YOU can ride your bike through other countries too. It's not even that hard, and it's incredibly rewarding. My first real bike trip was a 3-month solo ride through Southeast Asia and I had NO idea what I was doing. At the time I was certain that such a trip was only for people braver, more adventurous, and less risk-averse than me. But I wanted it badly, so somehow I got myself and my bike onto the airplane and the rest is history.
Since then I've had the pleasure of bikepacking and touring in thirteen other countries, with loads more still on my wishlist. This is nothing compared to the bike travel resumes of many other cyclists (see my interviews with Jin and Eleanor for examples), but enough to instill a passion for this unique means of exploring the world.
This post offers my answers to some of the thorniest questions aspiring bike travelers might have. My goal is to demystify international bike travel for beginners, tell you about some valuable tools, and remove some of your excuses for not trying this incredibly rewarding form of travel.
How do I get my bike there?
Take it with you on the airplane! Flying with a bike is not as crazy as you might think. Typically you'll need to pay an extra "special baggage" fee (varies by airline) and pack your bike carefully in a cardboard box. On the way home, if you ride point to point, you'll find or make another box in your final destination.
In some places with excellent bike infrastructure, such as parts of Europe, you can rent a bike once you get there. This makes it easier to get started, but I only recommend it for short and simple trips. Most bike travelers prefer the comfort and familiarity of their own bike and luggage setup.
What if I don't speak the language?
The convenient thing about traveling on a bicycle is that humans all over the world intuitively understand our most basic needs for food, water, and shelter. I often find that people know what I need before I even ask. Basic hand gestures go a long way (hand to mouth for eating, head resting on hands palm-to-palm for sleeping, etc). You can point to pictures, hold up objects from your bike, or write numbers on a calculator or in the dirt on the ground.
The Google Translate app is a valuable tool for more nuanced topics, and a surprising variety of languages can be downloaded for offline use. I've used it for long, if somewhat amusing, conversations in languages like Arabic and Russian which I don't speak at all. There's even a camera feature so you can translate menus and signs, and an audio mode for people who aren't comfortable with written communication.
All that said, learning a few words of the local language is polite, fun, and usually makes people smile. It's a great way to break the ice.
How do I choose a route?
I'll be honest, this is one of the tougher and more time-consuming parts of an international bike trip. My answer depends on where you're going and what style of riding you want to do.
For off-pavement bikepacking routes I highly recommend bikepacking.com's route collection. Their adventurous contributors have done in-person research that's impossible to do from afar and challenging to do on the ground, especially on a fixed travel schedule. They've found roads that aren't on the map and sneaky water sources in critical places, learned from locals about military checkpoints and missing bridges, and probably taken tons of wrong turns and out-and-backs to find the paths that actually connect through.
Among their overseas routes I've ridden the Tian Shan Traverse in Kyrgyzstan and the Route of the Caravans in Morocco, and both were epic rides I would not have been able to piece together on my own. That said, things change fast and a high level of common sense and adventurousness is still needed; these are not perfectly curated experiences.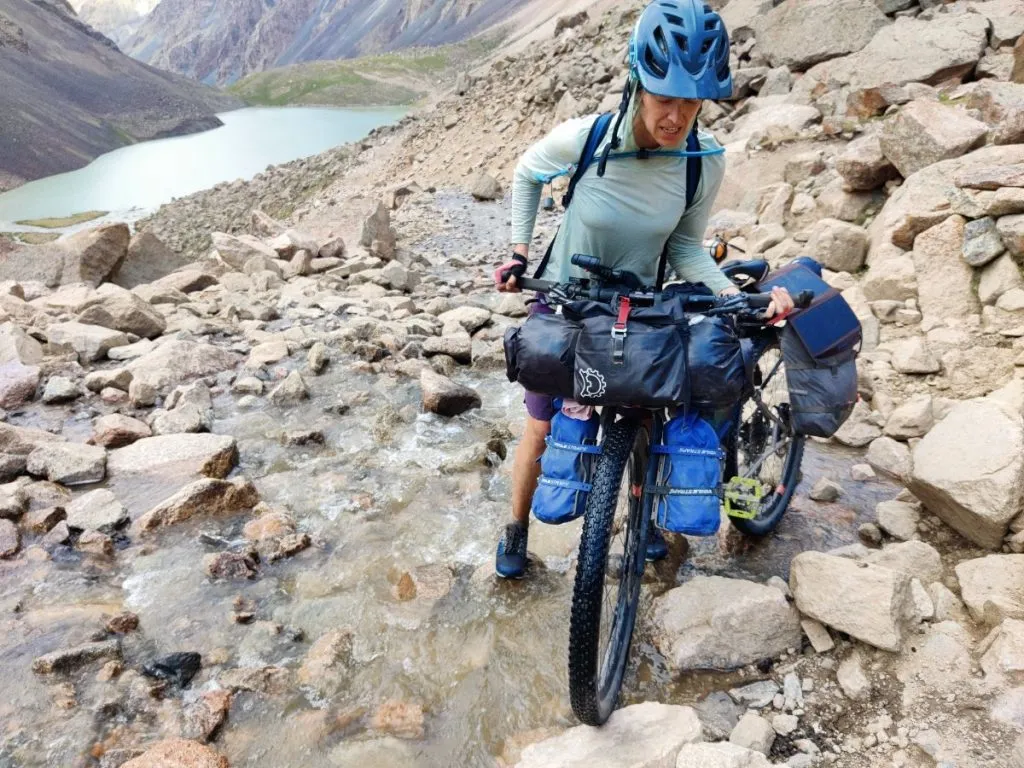 For road and gravel touring the possibilities are broader but usually less structured. In some places, like through Egypt and Sudan on the famous Cairo to Cape Town route, there's really only one way to go. More often though, we need to make choices.
Early on I planned routes by simply looking at Google Maps and choosing secondary roads. This can work, but in some countries (often the more developed ones) it can lead to dangerous traffic conditions, and in less developed places you may be missing out on lovely backroads that aren't on the map. In the latter case it's better to stay flexible, look for local maps, and ask local people as you go.
In popular places, RideWithGPS and Strava have heatmaps where you can see if a given route is biked frequently. Super helpful! If a road has Google Maps' Street View feature enabled you can scope out the shoulder situation and get a sense for traffic. More developed areas have decent data about bike-friendly routes in apps like Komoot and the Google Maps bike layer.
My best route planning advice for any style of riding is to look at what other people have done. Read trip journals on CGOAB, CycleBlaze, and (shameless plug for my own project) BikeSleepBike. Join Facebook groups about bike travel in general and specific countries or continents you're interested in. Leave comments on other cyclists' blog posts or reach out via social media. The community is large and extremely enthusiastic.
Will the roads be safe?
That's a solid maybe! It's really hard to generalize here. I will say that some my most harrowing and unpleasant traffic experiences have been at home in the United States. Roads in many other places, while chaotic, have a certain method to the madness and an acceptance of sharing space with small and slow vehicles like scooters, bikes, and donkey carts.
My first-ever bike tour began in Hanoi in Vietnam. The streets felt overwhelmingly chaotic, but eventually I learned how to join the swarms of scooters and "go with the flow." It was a very different style than what I was used to, but I felt reasonably safe.
That said, I have been in dangerous traffic situations while biking abroad. Narrow highways with fast-moving traffic in both directions are the worst. For some reason buses tend to pass the most recklessly. I ride with a rear-view mirror so I can pull off the road when vehicles approach from both directions at once. Sometimes I hop on a bus (see below) to skip long sections of busy shoulderless highway.
This is one big advantage of the routes on bikepacking.com, and a big reason why I've transitioned to riding more dirt both at home and abroad. Avoiding the main paved roads leads to a more relaxing ride in any country.
If traffic safety is a big concern for you, and rightly so, consider starting with a route that has excellent bike infrastructure. Some of the EuroVelo routes in Europe, like the EV 15, are known for their long stretches of car-free bike path.
Do I have to ride the whole way?
Committing yourself to riding every inch of an unknown route is scary, and maybe dangerous. Only the most die-hard bike travelers insist on it; the rest of us take transport when needed. I've bussed, hitched, or otherwise skipped miles many times: bussing around unsafe sections of road in Cambodia, Vietnam, and Sudan; accepting a ride from my police escort in Egypt; hopping into a friendly van in Laos to skip a few miles of unrideable mud; hitchhiking to avoid frigid blasting headwinds in Chile… No shame!
But how? Depends on the place. The less "developed" a country the easier it usually is to find an informal ride. People pick up hitchhikers and buses will strap your bike to the roof. In more organized places it can be harder, as buses and trains usually have rules about bikes. Long-distance buses may be willing to carry a bike underneath with front wheel removed and some cardboard taped around the greasy bits to protect other luggage. Hitchhiking is always an option, but takes time and discernment.
The takeaway: if a section of road feels unsafe or you need to skip some miles, you CAN find a way. International bike travel is all about flexibility, creativity, and serendipity.
How do I know where it's ok to camp?
Wild camping is a staple of bike travel, especially for long-haul riders. It saves money, allows flexibility in daily distance, and offers peaceful nights in nature. In some places it's impossible to not wild camp; there simply isn't anywhere official to stay within a reasonable pedaling distance.
Many of us understand where it's ok and not ok to camp at home. In the US for example, many bikepackers enjoy dispersed camping on public land but wouldn't dream of pitching up in someone's yard without permission. In a foreign country with unfamiliar rules and norms, how do you know where it's ok to pitch your tent?
By reading other riders' trip journals (see the section on routes above) you can get a sense of what other cyclists have done and how comfortable they felt. I also highly recommend the iOverlander app for finding specific spots people have camped before; it works well almost everywhere in the world.
Keep in mind that some folks are very bold with their choices while others only feel safe in specific circumstances, so consider your own comfort level. Personally I avoid wild camping, especially when solo, unless I feel fairly confident no one knows I'm there. In populated areas it can be hard to find any place to camp undetected. In these cases cyclists sometimes ask locals for permission to camp on their land. This isn't always easy if there's a language barrier, but it's generally successful if you keep at it.
Finally, understand the culture and rules of the country you're in. I recently did some riding in Portugal and Spain where wild camping is technically illegal, though there's some grey area for cyclists passing through less touristy areas. In Kyrgyzstan there's an interesting culture of communal land among nomadic people so wild camping in the mountains felt very comfortable. In Sudan it's common for travelers to sleep at little rest stops along the highway, so that's what I did. Southeast Asia was often too crowded for stealthy camping and lodging was dirt-cheap, so I rarely camped at all there. Each place is different and that's part of the appeal.
If wild camping is simply too much for your first trip, choose a place with readily available lodging or campgrounds. Southeast Asia is great for cheap lodging, and a number of European countries have good camping infrastructure (though it can be busy in high season).
What will I eat?
Let's put it this way: there are some places people travel to because of the food, and other places we visit in spite of it. Some of the most interesting bike travel destinations happen to be in the second category.
In Southeast Asia I enjoyed heaps of good Vietnamese and Thai food, and in Portugal I was never more than twenty miles from a grocery store or restaurant. Patagonia was fine too – I ate well on all those trips!
But in Kyrgyzstan and parts of Morocco I ate my weight in ramen noodles and cheap cookies. In Sudan I lived off moldy bread and Laughing Cow cheese wedges for a few days. The most challenging areas are poor rural regions where locals grow or trade for most of their food; well-stocked grocery stores don't exist.
When good food is hard to come by I rely on staples available all around the world, like milk boxes, yogurt cups, peanuts, and processed cheese. It's important to eat protein and fat when it's available, because diets in these areas are usually heavy on carbs like bread and rice. I don't feel healthy eating like this for too long, and once home I always try to refuel my body with lots of healthy food. If this kind of thing is a concern for you, consider a place's food infrastructure before planning a trip.
How should I carry money?
Some of the most fascinating places to travel by bike are primarily cash economies, and some don't have reliable ATMs outside of cities. In this case you'll need to travel with large amounts of either local currency or USD / Euro to exchange as you go. Though bike theft is rarer than most people imagine (more on that here) it does happen, and I wouldn't recommend carrying large amounts of cash on your bike. Keep it on your body along with your passport.
I biked through Sudan, for example, with the better part of a thousand dollars hidden in a pocket in my underwear. In other countries I've carried at least a few hundred dollars in case of emergencies, in addition to a few days' worth of local currency. Pro tip: if wearing on your body, enclose cash and passport in a plastic bag to protect from sweat and rain.
In places where the local currency is devalued and bills represent very small amounts, you may want to carry a few $100 bills and change them as you go to avoid dealing with an awkwardly fat stack of local cash. And always carry enough extra to cope with unforeseen detours, delays, or broken ATMs.
What if I can't afford it?
International travel can certainly be expensive, but fortunately independent bike travel is one of the cheaper ways to do it. Outside of cities and tourist hotspots the food and lodging is usually cheaper, and it's hard to find much else to spend money on while riding your bike all day. Cooking your own food and camping both save a ton of money compared to more traditional travel using hotels and restaurants.
If budget is a limiting factor, look for destinations with affordable airfare and easy wild camping. Cheap food helps, but you can always take a stove and cook from grocery stores. Big cities, which you'll typically fly into and out of at both ends of your trip, can be a big money pit. Choose cities with affordable lodging or at least a selection of hostels to start and end your route.
How will the locals treat me?
The kindness of people around the world is one of the most refreshing surprises of bike travel. Countless strangers have offered food, water, shelter, help, directions, or simply a smile and wave. Of course any place has a few grumpy folks, and a friendly welcome is a privilege not a right. But there's something about showing up on a bike that brings out the best in people.
That said, what counts as friendly varies hugely between cultures! In Sudan I was literally pulled off the road for tea and conversation. In Kyrgyzstan people were a bit more reserved but still friendly. In Laos the children yelled "hello hello hello" until their little voices gave out, but adults were fairly quiet. Morocco was a perplexing mix: adults were friendly and hospitable but some of the kids were little terrors who blocked the road and asked for money. In Portugal most people politely ignored me, which was refreshing after Morocco.
In my experience the less touristy places are often the most interesting for bike travelers. They also come with lots of attention, which is usually positive but can be tiring. Places with many bike tourists can either be unpleasant (usually when there's a big wealth disparity and locals expect money from foreigners) or, dare I say it, boring (when the culture is similar to home and local folks aren't interested). At the risk of making sweeping generalizations, Arab and Muslim cultures tend to be very hospitable, Sub-Saharan African cultures very friendly, and many other places a bit more reserved but still kind. I've never experienced a place where people haven't been helpful when I really needed them.
What if my bike breaks?
Ah yes, every bike traveler's worst nightmare! What if you have a mechanical disaster (here are some of mine) abroad and can't fix it?
First of all, of course you should carry a spares and repair kit and know how to use it. The more "out there" your destination the more spare parts and "just in case" tools you'll want to bring. I've fixed a number of issues on the road, but of course there's always a chance that a bike shop is needed. What then?
Some places, of course, have well-equipped bike shops. These can make great bike travel destinations for beginners who want to dip a toe into international bikepacking with less risk of a trip-ending problem. In Portugal, for example, I felt confident that whatever happened to my bike could be fixed with a few hours of hitchhiking.
In some parts of the world there are plenty of bike shops, but they usually service different styles of bikes with different types of parts. Thailand, for example, has plenty of bike shops but most won't have the variety of high-end parts available in American cities. A simple touring bike or entry-level mountain bike is in their wheelhouse, but your high-end gravel bike with 1×12 drivetrain and hydraulic brakes could be a struggle. In these cases you may want to bring a few extra parts specific to your bike (like a 12 speed chain), but you can't bring a whole spare drivetrain so some amount of faith is needed.
In an off-the-beaten-path destination like West Africa or Mongolia, you might not find any official bike shops at all. Locals might ride bikes for transportation and you might be able to buy a spare part, but it's unlikely to be compatible with your bike. That said, local mechanics can be incredibly creative. Parts can be shipped internationally to any major city if you have the time and money.
At the end of the day it's always possible to have a trip-ending mechanical. With time and money most issues can be fixed, but on a tight schedule or limited budget sometimes the best answer is to stash the bike, explore by other means, and return home hungry to plan another international trip. If we all waited to travel until we could fix every single bike issue imaginable, we'd never go anywhere!
Will I have to pack more stuff?
You might, depending on your destination and length of trip. You might be able to pack light if you do a very targeted ride in a logistically straightforward place. For me, longer international rides (say a month or more) warrant their own packing list and some kind of rack and panniers; I have yet to do an international ride with only bikepacking bags.
Here are some items I might pack for international trips that I don't carry when bikepacking in the US:
passport
emergency cash
water purifier
power plug converter
water purification (as opposed to just a filter – more info here)
more extensive first aid kit
more extensive bike repair kit
extra set of "town clothes" for sightseeing
culturally appropriate clothes (long sleeves and pants) if needed
extra toiletries, if I expect to have trouble finding them on the road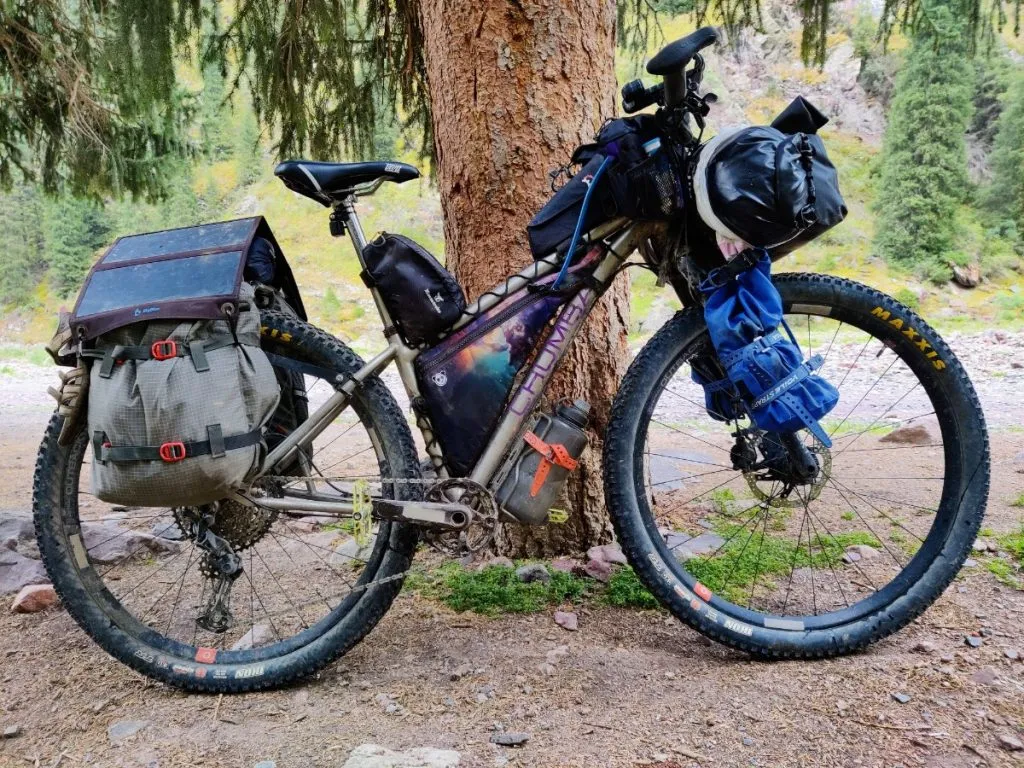 Should I go bikepacking abroad?
Yes! As you can see, the challenges have solutions and many of us successfully navigate them. The point is not to prevent or anticipate every possible issue before you go. The point is to trust in the gods of bike travel that watch over us all.
The magic of bike travel is putting ourselves in an open, vulnerable, uncertain situation and experiencing how it somehow always works out. We possess more creativity, strength, and intuition than most of our daily lives have space for, and the world is reassuringly full of helpful strangers. If you want to be reacquainted with human kindness and your own strength, flexibility, and curiosity, go on a bike trip in an unfamiliar country! You won't regret it.
More Bike Travel Resources
If you liked this post, be sure to check out these others:
Or visit the bikepacking section for lots more.
Bike resources in your inbox?
There's more where this came from! Sign up here for occasional emails full of inspiration and information about bikepacking and bicycle touring.


Share the Adventure
If you found this article helpful, please consider sharing so more people can benefit from it: