Ever since I transitioned from bicycle touring (overseas, usually pavement) to bikepacking (dirt and gravel) I've been saying: singletrack is my biggest weakness. When I meet a section of technical trail, usually by accident, I hike or scoot through by any means necessary. The adrenaline hit of mountain biking has never appealed to me; my brain chemistry does best with soothing repetitive rhythms.
So I was surprised to find myself signing up for the Bones to Blue bikepacking race, a singletrack-heavy 250 mile route around Lake Tahoe. I'd always considered it out of the question, a route for real mountain bikers. I've backpacked the Tahoe Rim Trail, and it's the kind of trail I've always preferred to explore on foot.
Why the sudden burst of totally unjustified confidence? It seems to have snuck up on me. Last October I ordered my capable new Stella. Her flat bars and hydraulic brakes were an immediate confidence-boosting upgrade over my rigid drop bar Fargo. I intended to eventually set her up as a hardtail, mainly so I could stop bumbling through the occasional singletrack on my favorite mixed routes like Smoke 'n' Fire.
But the suspension fork was backordered, so I happily installed a rigid fork and continued bumbling through singletrack sections of Tour de los Padres and Pinyons and Pines. The latter included more rocky trail than I expected, and my skills improved a lot simply because I didn't have time to walk all the way back to Flagstaff.
A week after Pinyons and Pines my suspension fork – ordered aspirationally back in October – finally arrived. I remembered how peaceful and safe the singletrack Arizona Trail felt with no vehicles in sight, and how it reminded me of backpacking and trail running. To explore trails more capably with a bike, well, that could be cool… I could feel myself at the top of a slippery slope, literally and figuratively.
I pulled up the Bones to Blue website. The grand depart fit into my packed schedule like a puzzle piece. I've been missing the high Sierra; wildfires have almost caused me to give up on summer adventures in the mountains where I first learned to love the outdoors. But conditions for the June start looked promising. Before I could talk myself out of it, I signed up.
Just finishing, I told myself, would be an accomplishment. I usually finish what I start, but 250 miles is a long way to hike-a-bike. I would do my best to get through, but if I truly couldn't ride most of the trail I might have to drop out.
Spoiler alert: I did finish, and in a respectable back-of-the-pack time. It was a tough ride but also peaceful and beautiful, with an appealing continuity unusual for a route of its length. The community was every bit as supportive and friendly as I've come to expect, and I felt right at home despite my lack of MTB experience. Though I walked plenty of technical sections, I definitely enlarged my comfort zone. Some blissful moments of flow and the steep learning curve of skill acquisition were surprisingly compelling.
This ride recap covers my experience riding Bones to Blue as a singletrack newbie, and my first bikepacking trip on a hardtail after years of riding fully rigid bikes. It wasn't always pretty (my riding, not the route — the route was gorgeous) but I got it done. Now I feel a little less justified in saying "I don't ride singletrack," and I'm excited to see where that might lead next.
Prep and Goals
Since Bones to Blue is such a departure from my usual riding style, I didn't have any time goals in mind and wasn't interested in pushing myself physically to the limit. It would be more of a ride than a race for me. My goals for Bones to Blue were:
Just finish, don't get injured, and have fun!
Practice and improve singletrack riding skills.
Test out my new hardtail bike and get a feel for riding with a suspension fork.
Chip away at mental barriers, making it harder to say "I don't ride singletrack" and "I'm not a mountain biker" in the future.
Not totally destroy myself; life is busy and I don't have time for a long recovery right now.
Enjoy revisiting parts of the Tahoe Rim Trail, which I backpacked years ago.
Most of my "training" came from several short multiday rides: Tour de los Padres in April, Pinyons and Pines in May, and a couple local trips just for fun. I struggle mentally to log regular training miles on the crowded roads and busy trails of the Bay Area, so I rely on long-haul endurance, slow to build and slow to fade, from years of bikepacking and touring.
My new suspension fork arrived two weeks before Bones to Blue. During those two weeks I made several trips to some local trails and practiced technique for the first time in my life. If I couldn't ride a tight switchback or small ledge, I stopped and tried again. I watched YouTube videos and tried to imitate their movements. The process was kind of fun and gave me a glimpse into a whole new type of riding. But would it be enough to get me through Bones to Blue?
The Route
The Bones to Blue route consists of two loops: a short loop north of Truckee through the area where the Donner Party met their tragic end (hence the "Bones" part of Bones to Blue) and a longer loop around Lake Tahoe including most bike-legal parts of the famous Tahoe Rim Trail. The route is well-established and stays consistent from year to year, except for a few small changes to accommodate trail closures and changing conditions.
The event is organized by Forest Baker and has been running since 2017. The last two years were canceled due to wildfires, so this year he moved the grand depart from August to June. Thanks to the unfortunate new reality of early snowmelt and a long fire season, this timing worked well in 2022. The snow was almost completely melted from the high sections and we had beautiful clear air.
Here's the route from 2022:
The elevation gain is intense: about 30k feet in 250 miles. Combine that with the high average elevation — all above 5000 feet and several sections above 8000 feet — and you have a very physically challenging route.
A large majority of the route is singletrack. When I count up the non-singletrack portions I get around 60 miles, which means there are 190 miles of singletrack on Bones to Blue. This might be more singletrack than I've ridden throughout the rest of my life put together!
About half the non-singletrack miles are pavement, including a chunk of 20 scenic miles along the west side of Tahoe and a few shorter segments necessary to route through towns for resupply. The rest is gravel road, usually rideable except for the final steep and chunky slog up Pole Creek Road / OHV Trail.
Organizer Forest says the route is "very rideable." I can't say I agree completely. 🙂 It's true that many sections are beautifully smooth and gradual, with more fun and easy miles than I expected from mountain singletrack. I especially enjoyed the moderate sections with smaller obstacles perfect for practicing my budding MTB skills. I struggled most on the more challenging "rideable" sections with larger rocks, where confident riders could stay on their bikes while I hopped off and on approximately 5 gazillion times. There are also some gnarly sections that everyone will hike, some of which are above 9000 feet and pretty physically taxing.
Despite the challenges, I thought the overall flow of the route was excellent. Even the difficult sections didn't feel sadistic or contrived, and they alternated with pleasant riding in a manageable rhythm. Resupply was straightforward, water was plentiful, and easy wild camping was available almost everywhere. The scenery was more homogenous than most other routes I've ridden, but this comes from the unique location around the largest alpine lake in North America and gives the ride a certain organic feeling of continuity.
In some ways Bones to Blue felt like a tour of Tahoe ski resorts. As a lifelong Tahoe skier I thought it was fun, and a little odd, to experience these familiar places in the unfamiliar context of summer. I enjoyed passing through local communities I never knew existed and seeing the area from the continuous perspective of a long bike ride, so different from the narrow focus of a weekend ski trip.
Finally, Forest did an amazing job making sure the route information was clear and accessible. He marked almost every turn in the GPX track with an explanatory waypoint and explained tricky sections in a walkthrough video. I felt like I was "in good hands" out there on a well-established route with all the information I needed.
Bike Setup
Bike: In some ways my bike is the one who chose to ride Bones to Blue. My capable new Chumba Stella Ti, with her suspension fork finally installed just two weeks prior, is the closest thing I've ever had to the perfect bike for this route. In other events I've ridden rigid drop bar bikes and always had at least a few rigid bike companions, but Bones to Blue was all hardtails and full suspension. I honestly don't think I could / would have finished it on my Fargo.
Tires: Forest recommended 29 x 2.35″ or wider tires (Maxxis Ikon specifically) but I stuck with my 2.25″ Vittoria Mezcals. Perhaps the extra tenth of an inch would have made my life easier out there, but at my level of technical riding I think confidence (or lack thereof) is probably a bigger limiting factor than tire size.
Pedals: Usually I'm a huge fan of single-sided SPD pedals for bikepacking, mainly so I can unclip on more technical terrain. For Bones to Blue I figured I would spend so much time unclipped that I switched back to flat platform pedals and an old pair of Pearl Izumi X-Alp Launch flat shoes. Though I missed the stiffness of my usual X-Alp Canyon shoes on the smoother sections, I was happy with the simplicity of flats through all the technical riding and hike-a-bike.
(Lack of) dropper seat post: I don't have one and have never missed it before, until Bones to Blue. I manually lowered my seat to help with the technical trails and stupidly didn't raise it again until the long pavement section on the last day, when it suddenly became clear that my seat position had been robbing me of power and irritating my knees. If I could go back and make one change to my setup for Bones to Blue it would be adding a dropper post.
Gear Highlights
This was a surprisingly warm ride for a mountain route. I carried my usual lightweight kit but didn't truly need all of it. That said, weather varies from year to year and it's never a bad idea to have some extra warmth in the mountains.
Here are the key items from my sleep and clothing kit:
Bivy: Borah Gear water-resistant bug bivy (very breathable and comfy but not waterproof, so I carry an ultralight SOL emergency bivy in case of rain)
Pad: Therm-a-Rest Neo Air X-Lite inflatable pad
Quilt: Enlightened Equipment Enigma. This is my lightweight quilt and keeps me comfy down into the mid-40's.
Layers: Puffy jacket, rain jacket (mainly as windbreaker), rain pants (for warmth, not used), mid-weight merino midlayer, ultralight high-vis vest, lightweight fleece gloves.
Key electronics:
Navigation: eTrex 22x, plus RideWithGPS on phone for backup and big picture planning
Lighting: kLite Gravel dynamo-powered headlight, Qube tail light, and a helmet light from Light and Motion to supplement at low speeds
Charging: 10,000 mAh power bank, kLite dynamo USB charger, fast 2-port wall charger and 3 cables
The dynamo hub and kLite setup are new along with the snazzy new bike. They're definitely a luxury, but after years of carrying around a heavy stack of power banks and still stressing about keeping everything charged, I really enjoy this upgrade.
If you're considering a dynamo setup, it's worth noting: at climbing and singletrack speed the light and charging still need to be supplemented. On a slow ride like Bones to Blue I still need to run a helmet light (though usually on a low battery-saving setting) and charge my phone during resupply stops.
For food storage I carried an Ursack Major bear bag. Bear encounters are increasing in the Tahoe area and I don't want to contribute to the problem. I didn't hang it, but I did tie it securely to a tree away from my bivy site.
I always suggest packing light, but on a route like Bones to Blue it's essential. The nuances of technical bike handling get much harder with a heavier load, and burly hike-a-bike is even more exhausting. Many times I needed to lift my bike to waist height over fallen trees or across streams. As a small person, every extra pound makes a difference here.
Riding with a backpack makes a lot of sense on technical bikepacking routes like this one, especially for small riders with limited bag-to-tire clearance. I used a 3 liter running vest to carry my water and other small items, and I wish my pack had been even bigger.
Daily Notes
I finished Bones to Blue near the back of the pack in 3 days, 15 hours, and 8 minutes. I'm told the pack was fairly quick this year, and this is a respectable time. Given my goals going in, I'm happy with it! Here are my notes from each day, or what I can remember of it. It's all a bit of a blur!
Before the Start
To acclimatize to the elevation and make the most of my gas money, I went backpacking in Desolation Wilderness before Bones to Blue. It was really enjoyable; backpacking and bikepacking have a different energy and I'd been missing travel by foot. After the hike I rested for a day in the cheapest South Lake Tahoe motel I could find, then drove north to Truckee the day before the start.
On Friday evening Forest hosted an informal pizza dinner. I love how pre-race meetups offer a chance to meet other riders when it's easier to chat, which takes all the intimidation out of the start line for me. The Bones to Blue gathering was super friendly and I really enjoyed chatting with the other riders.
After dinner I headed to my camping spot for the night, the driveway of a generous local family into mountain biking and curious about multiday riding. They had offered a parking spot but ended up providing much more, including a convenient place to sleep in my car, a ride to the start, and the fun of chatting about bikes and bikepacking. It was the perfect pre-race evening, and I slept well.
Day 1: Truckee to Sawtooth Road
69 miles, 7452 feet of climbing
At 6am we were off, and within a mile we were on singletrack. My tentative goal for the first day was to finish the Bones loop and make it past Truckee. A lot of these early trails blur together in my memory, but I remember being initially encouraged by plenty of pleasant rideable trail.
The most memorable struggle was a section called Hole in the Ground, a rough climb and descent featuring snow patches, fallen trees, and technical riding. I felt pretty bad through this section, similar to my struggles on day one of Pinyons and Pines. I couldn't find any power on the climbs, my heartrate stayed too high for too long, and my stomach hurt. I kept moving, but I was slow. I thought my backpacking trip should have helped me acclimate to the elevation, but I was feeling it.
Afternoon thunderstorms soaked the riders ahead, but I was just far enough back to stay dry. Thunder rumbled nearby but the sky above Rowton Peak was blue, so I made the ascent and then boogied on down toward the "tunnels" section.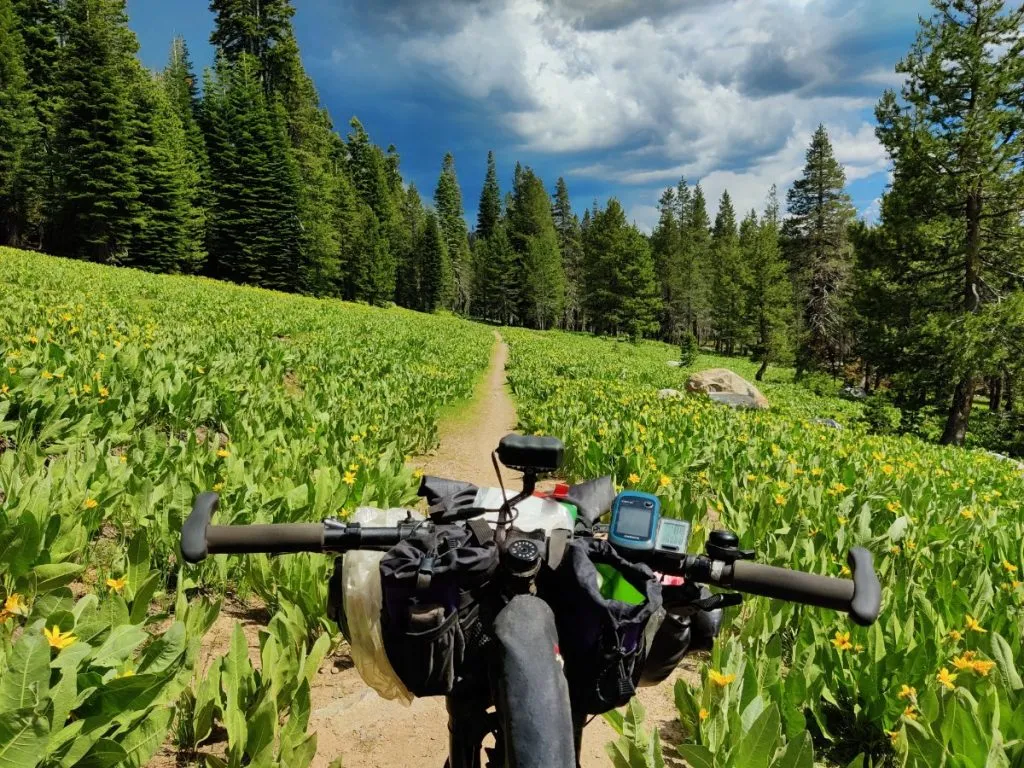 The tunnels were interesting, but also wet and creepy. I was glad to be there during daylight so I could look forward to the light at the end. At least they were nearly flat!
Just before closing the loop and heading into Truckee for resupply, the route crossed a larger stream. I picked Stella up in a full-on bear hug and struggled across, water coming up above my knees. "She's such a princess!" I thought to myself with a laugh as my shoes got soaked and my shorts got wet, but Stella stayed dry. The things we do for our bikes!
In Truckee I stopped for dinner and a resupply break, then headed out just as the sun was setting around 9pm. I was on pace for my goal of pushing past Truckee and potentially even hitting my stretch goal of Watson Lake.
I rode Sawtooth Trail in the dark and started the gravel road climb. Around 11pm I decided to stop short of Watson Lake given how slowly I was moving. If I took some time to eat and stretch and then slept for 4 hours I could be moving again at first light. I found a nondescript camp spot off to the side of the road and slept well.
Day 2: Sawtooth Road to TRT north of Kingsbury Grade
61 miles, 7990 feet of climbing
The sky was light by the time I started pedaling again. It was a treat to hop on the Tahoe Rim Trail (TRT) early in the morning. Familiar ground at last! The spiderwebs across the trail collected on my handlebar bag and my face, suggesting I was the first to pass through that morning. I enjoyed some rideable miles and chugged slowly through some more technical sections.
At Incline Village I stopped for lunch and resupply. As I considered waiting in line at the ice cream shop, a man looked Stella and me over and asked "Do you live in the woods?" Not in the mood to deal with him or the long line for ice cream, I gave up and went to the 7-Eleven. Eventually I got what I needed: food, water, and a charge for my phone. I felt out-of-place and overwhelmed in this touristy town, and was more than ready to pedal out on the hot road climb leading to the Flume Trail.
The Flume Trail turned out to be a pleasant section of totally rideable singletrack. The gradual grade required a lot of pedaling, but the views were spectacular. The riding was easy, but the trail was perched on the side of a steep hillside and there were a few places where you would definitely not want to fall!
After the Flume Trail a rare few "free miles" of gravel descended to Spooner Lake. I took a dinner break there to filter water and eat a burrito carried from Incline Village. Around 7:30pm I set off for the next section of TRT from Spooner Summit to Kingsbury Grade.
This section was a lot of work in places, but perfect for night riding. Give me singletrack over gravel roads any night; I'm just happy to be away from vehicles and people when the sun sets. I finally stopped for the night when the descent became more technical, figuring I'd make better time in the daylight. I found a suitable semi-flat spot in an otherwise steep area and fumbled around setting up camp. Good thing I had stopped when I did; I was more tired and clumsy than I had realized.
Day 3: TRT north of Kingsbury Grade to Fallen Leaf Campground
52 miles, 6550 feet of climbing
In daylight I made faster work of the descent to the little town of Stateline near Heavenly Ski Resort. I rode through just before the store opened but had enough food to keep going. I stupidly passed by two water sources and started the next section with less water than I thought. I paid for this mistake with 8 miles of dry climbing, but was able to keep my effort level sustainable and recover fully during a break at the first stream before Star Lake.
This section of the TRT was familiar from backpacking and I remembered it as one of my favorites. It's very rough in places and I hiked a ton, but really enjoyed the scenery. Up above 9000 feet, at Freel and Armstrong passes, the effort of heaving my bike up the large rocky steps left me gasping. But the views were rewarding and the trail felt satisfyingly remote.
The descent to Christmas Valley was technical and I was off my bike constantly, walking through obstacles just a bit too big for my skills and confidence. I got passed here by a few riders on the 4 day pace plan, even though I had started the day with a ten mile lead. It was nice to see them after so much solitary riding, and also a reminder to stay focused and try to ride more confidently.
I reached Meyers in the early evening and enjoyed a massive burrito, then resupplied from the gas station. The next section between Meyers and Fallen Leaf Lake took longer than expected; the climb was too steep for my tired legs and the dark descent too rocky for my tired brain. When I reached Fallen Leaf Lake I decided to camp with the riders on the four day schedule rather than tackle the pavement section in my tired state.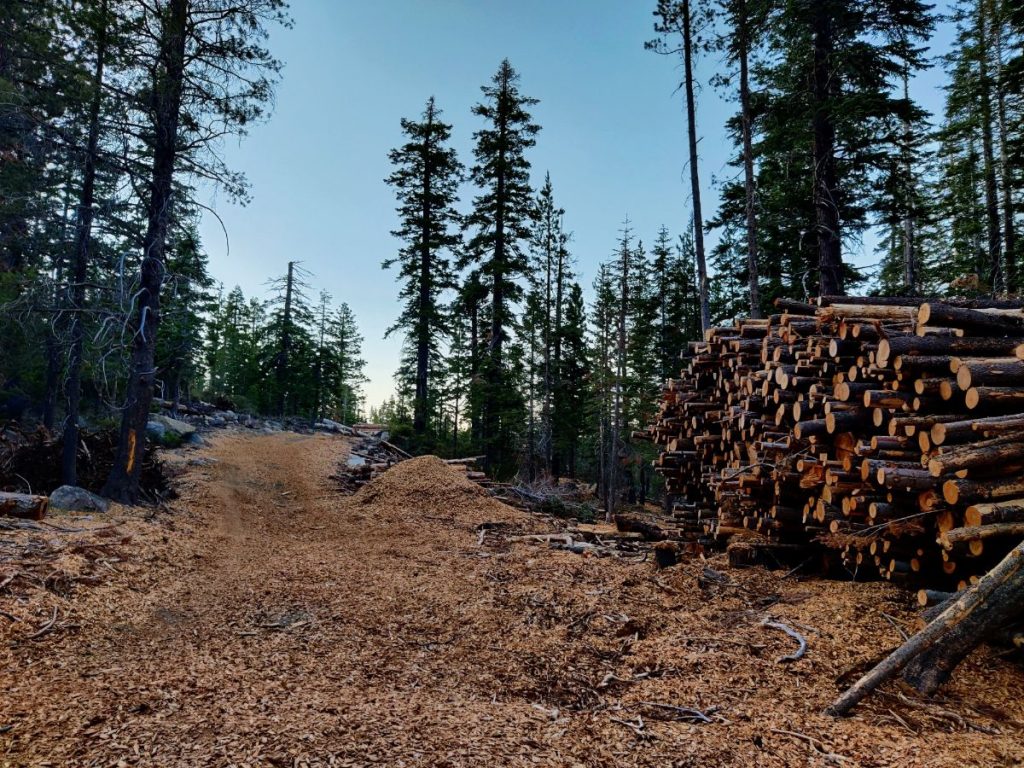 Day 4: Fallen Leaf Campground to Truckee
67 miles, 7690 feet of climbing
I woke early and snuck out while most of the others were sleeping, knowing I'd need the head start to finish before dark. The social aspect of the shared campsite had been refreshing after so much solitary riding. The day started with a peaceful trail along the shore of Fallen Leaf Lake, a place I barely remember camping at with my parents several decades ago.
At the beginning of the pavement I stopped to raise my seat. I'd been experimenting with a lower position to help with the technical sections. My knees had been crankier than usual and I thought it might be my flat and flexible shoes, but as soon as I raised my seat my legs suddenly felt amazing. Oops! So this is why people use dropper seat posts…
I thoroughly enjoyed the consistent pavement spin and more comfortable seat height for the next twenty miles. The road was scenic and shoulderless; I was glad to be riding early with minimal traffic. I grabbed a breakfast sandwich and more snacks in Homewood and then started the climb up Stanford Rock, feeling surprisingly strong most of the way up. The descent into Squaw Valley was a little steep for my taste, but I got down it and rewarded myself with ice cream and potato chips at the 7-Eleven.
At last, time for the final big climb! Eventually the gravel road steepened and turned chunky, then steepened some more. The final section was a grueling hike through baby-head rocks at a steep grade. Melting snow and mountain streams criss-crossed the trail through this wild and scenic area, a challenging and rewarding finale to an epic route.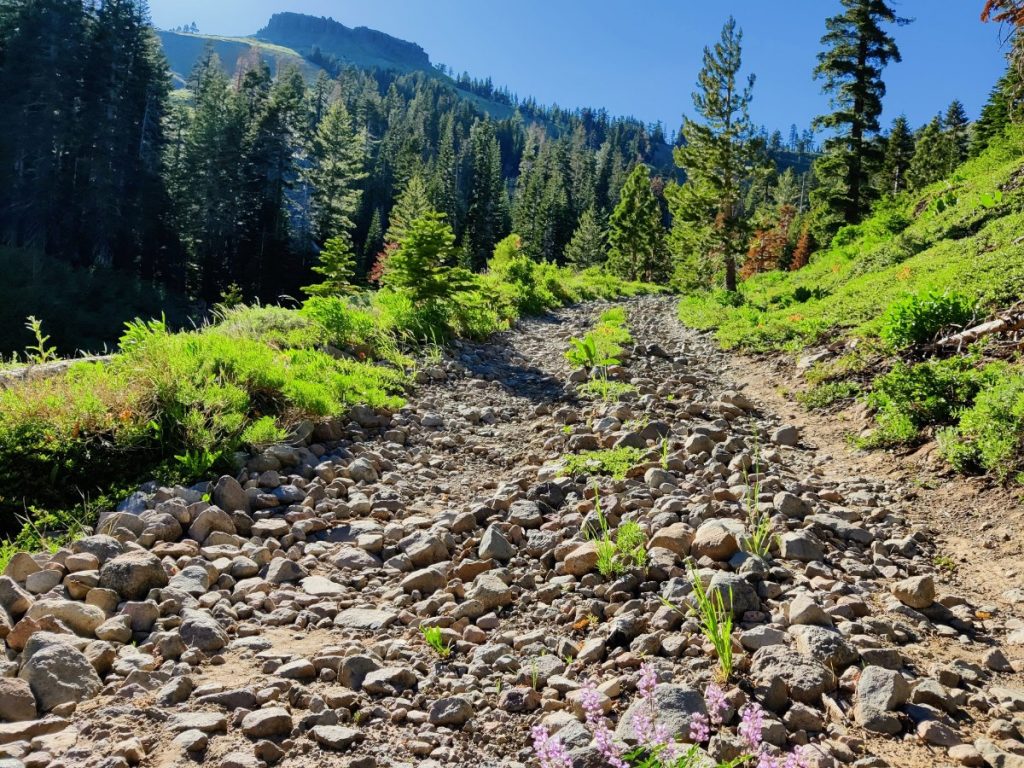 I reached the final high point at 7:15pm, just barely on pace to finish before dark if my predictions were right. The descent on Boo Boo trail was mostly manageable, though my trail riding felt clumsy and I couldn't clear the steeper switchbacks. I felt more hesitant than usual; I hadn't come all this way to crash and break my body or bike so close to the finish! The timing was perfect though, and I was thankful for the sunlight still bathing this side of the mountain so late in the day.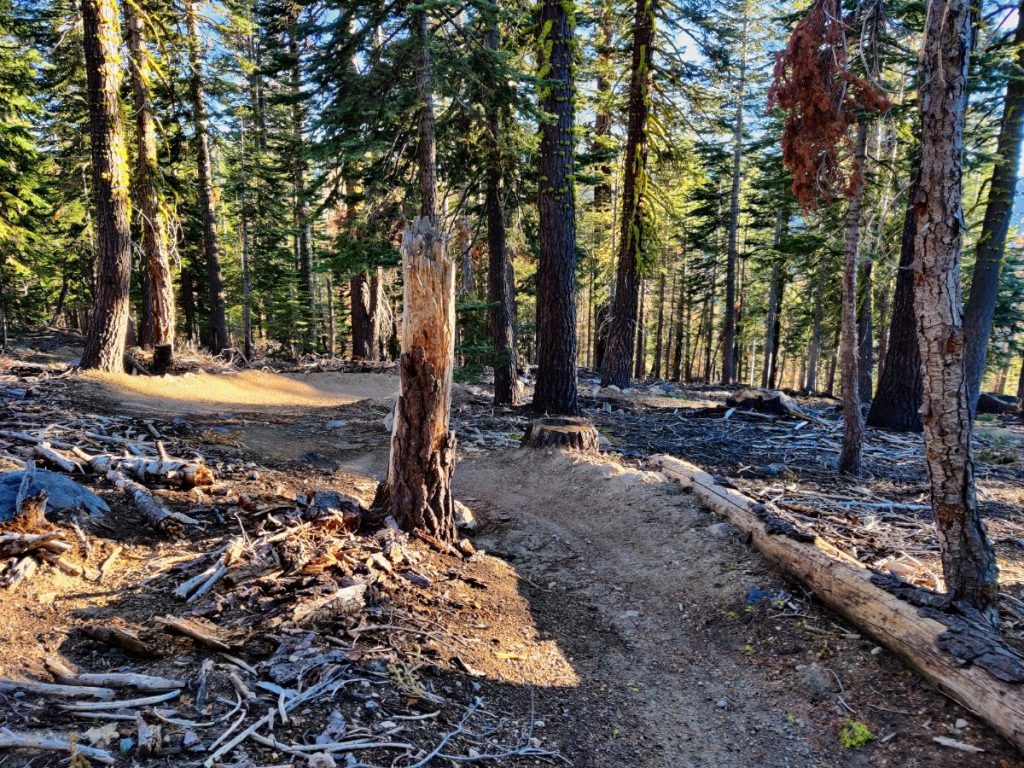 As the slope leveled out I pedaled hard to try and beat the sunset. I eventually had to turn on my light just a couple miles from the finish. True to form the route followed singletrack all the way to the bitter end, even though a perfectly good gravel road continued just feet away.
When I popped out at the monument I was cheered in by organizer Forest (who finished his own ride earlier that day) and another rider Jake, who had passed me just a couple miles from the finish and was also jumping in as a relative MTB newbie. We cheered for Walter, the next rider in, and chatted for a bit as the sun fully set.
I felt tired and a little loopy, but not completely wrecked, which was exactly where I wanted to be for this ride. With a couple nights of good sleep I would be good as new. My host kindly picked me up and drove me back to my car, sparing me the 5 mile climb to his house. The finish line vibes were exactly what I hope for at a bikepacking race: low-key with a few friendly faces to ease the challenge of finishing alone at night in an unfamiliar town.
Recovery
I should have slept well in my cozy car camping setup, but unfortunately the night after the ride was the worst of the whole event. Apparently my sleeping pad was punctured during the last night of the race, so I tossed and turned all night trying to find a bit of comfort for my sore body on the hard floor of my car.
In the morning I stuffed my face with food and tackled the four hour drive home to the Bay Area. That first night's sleep in my own bed was heavenly. I've been hungry and a bit sleepy, and definitely in need of some yoga and stretching, but otherwise am doing well.
The only lasting damage is to my shins, which look like I got in a fight with a weed whacker. I had my hike-a-bike body position dialed in with drop bars, but this new flat bar geometry has my legs and pedals occupying the same space far too often. The scabs are already healing but it's not a pretty sight.
Takeaways and Highlights
The singletrack factor: It was a real treat to bikepack so many miles away from motor vehicles. Not once was I dusted by an ATV or passed too closely by a giant RV, and I felt totally safe camping in sight of the trail (I generally hide when camping by a road). The remote and peaceful vibe of Bones to Blue felt closer to backpacking than bikepacking usually does.
Riding skills: My technical skills ebbed and flowed throughout the ride depending on my physical energy and mental state, but overall they improved substantially. Learning MTB skills with a loaded bike isn't ideal and I could have done better, but I still enjoyed the process.
Toward the end I really started to appreciate all the subtle ways that body position and movement can make trail riding easier. A shift of the hips here, a pop of the handlebars there… While the thrill of downhill riding may never be my jam, I think I could enjoy learning to ride smoothly and skillfully.
Mental focus: Usually I load up on favorite songs and podcasts for a bikepacking race, but on Bones to Blue I spent most of my time with no audio. Riding took my full attention and I felt little need to distract myself from the peaceful scenic trails. I did enjoy some podcasts on the climbs, but I only listened to three songs total on the whole ride. Part of me missed the chance to zone out and get into a rhythm as I might on a gravel route, but another part appreciated the opportunity to stay present.
Food: I have a bad habit of undereating in bikepacking races, and on this ride I finally figured out why. Years of planning calorie-dense backpacking menus, a clean low-carb diet at home, and too many gas station resupplies have left me with very few appealing options at the convenience store. Sometimes I just can't find anything that looks like food, so I walk out without enough calories.
This time I stopped thinking about calorie-to-weight ratio and sugar content and tried to get more creative. Rather than trying to force down "healthy" trail mix and cheese sticks I indulged in goldfish, chips, gummy candies, donuts, and all kinds of things I normally don't consider to be real fuel. Overall I ate more and had more energy because I always had something in my food bag that appealed, even if it wasn't high quality. Important lesson learned!
Flat pedals: When I finally switched to clipless pedals I was an instant fan. Going back to flat pedals for Bones to Blue was an odd throwback to my early days of bike touring; I couldn't believe I actually rode across the US in those flexy flat shoes! But for future singletrack riding I will definitely continue using them. Though it's possible to ride the platforms of my single-sided SPD pedals, I waste a lot of energy rotating the pedals flat side upward every time I stop and start. Riding with flat pedals gave me one less thing to think about.
Dropper seat post: Ok, I finally get why people like droppers. I've been holding out, but if I do another ride like Bones to Blue I'll probably get one.
Closing Thoughts
With this event in the books I feel like more options are open for future rides. Though I still have a loooong way to go with technical riding, my excuses are slowly slipping away. I have a hardtail, I've finished Bones to Blue… What's next? I still wouldn't say singletrack is my favorite style of riding, but I'm starting to see the appeal.
To everyone who lined up for Bones to Blue, congratulations and awesome work out there! I enjoyed meeting you and am super impressed by your riding, both in terms of fitness and skill. And thanks to Forest for putting on an excellent and successful event! I hope it continues to be beautiful and smoke-free for many summers to come.
More Bikepacking Resources
If you're interested in bikepacking or racing, you might also enjoy these:
Or, visit the bikepacking and touring category page for lots more.
Bike resources in your inbox?
There's more where this came from! Sign up here for occasional emails full of inspiration and information about bikepacking and bicycle touring.


Share the Adventure
If you found this article helpful, please consider sharing so more people can benefit from it: