It's finally time to write about my bikepacking clothes. I've avoided this topic for a long time because, honestly, it seemed silly. You can bikepack in any clothes, just like you can bikepack on any bike. It's too easy to get sucked into the gear nerd role, and the last thing I want is to give beginner bikepackers another way to "do it wrong." You're doing it right!
And yet, just like the question of bikepacking bikes, bikepacking clothes can be better or worse for certain circumstances. Style may be in eye of the beholder, but sweat and chafing and wind-chill are issues for the wearer. If you're riding to the local campground on a mild summer afternoon, by all means wear what you already have and what makes you feel spiffy. But if you're riding through remote wild places in challenging weather, a bit more precision is needed.
There are affiliate links in this post. Buying through them may provide me with a small commission at no extra cost to you, which helps keep this site running and growing.
Bring Your Own Style
One of my favorite things about bikepacking is how people arrive here from so many different directions. When folks start bikepacking they tend to wear clothes from the adjacent activity that brought them here.
This is why my own bikepacking clothing is a mishmash of my travel and hiking clothes, with a dash of casual MTB mixed in. Some folks bring more of an around-the-campfire vibe, some favor technical athletic wear, some wear their MTB clothes, and some rock their logo-covered lycra cycling kit. It's all good!
Many of these options share similar functionality. A technical athletic t-shirt, road cycling jersey, and quick-dry travel shirt all aim to wick sweat from your skin and help regulate your body temperature. Personally I wouldn't be very comfortable bikepacking long distances in jean shorts and flannel, but for an overnighter to the local campground it might be just the thing.
When deciding what to wear bikepacking, the most important thing is to find clothes that feel good against your skin, help you stay warm in the cold and cool in the heat, and aren't too heavy or bulky when packed on your bike. So with that in mind, let's dive into my favorite bikepacking clothes.
The Magic of Merino Wool
If you're already acquainted with merino wool, you can skip this section. Otherwise, let me take a minute to explain why this magical fabric features so prominently in my bikepacking clothing list.
Merino is extremely good at being comfy over a wide range of temperatures. It adds warmth in the cold and is slow to make you overheat when it warms up. It breathes extremely well and wicks moisture away from the skin. Crucially for long trips, it's naturally stink-resistant! How do sheep do that?? Many merino garments also incorporate synthetics, like Tencel, to add stretch and durability.
One major downside of merino is its price, though increasingly budget-friendly brands are popping up these days. It's also not very durable, especially in the lightest weights, which makes the high price tag extra hard to swallow. But once you try it, especially on a long and gnarly trip where showers and laundry machines are few and far between, you may find that it's worth the cost.
Merino wool weight: Manufacturers often use a measurement of grams per square meter, sometimes just called "weight," to indicate how heavy a garment is. The ultralight range of 120 – 150 is suitable for hot weather, though often comes with compromises like being see-through and fragile. Around 150 is a good lightweight range for a base layer in moderate weather. Between 150 – 200 you'll find long-sleeve midlayers for cool weather, and from 200 – 300 are heavier-weight midlayers for cold weather.
Riding Clothes
These are the items I usually have on my body while pedaling when the weather is warm. Their goals are to be extremely comfortable, light enough for the hottest expected weather, and fast-drying enough to wash in a motel room sink and hang out to dry.
Lightweight Merino Shirt
This is against your skin all day every day, so it needs to be comfortable and durable. It should have a good range of motion (no annoying tightness in the shoulders especially), be breathable and quick-drying, resist holding onto funky body odor for as long as possible, and ideally prevent your skin from getting sunburned.
How many shirts should you carry? For a short ride or an ultralight longer trip, just one! You'll be fine, I promise, especially if it's stink-resistant merino wool. On a multi-week ride I'll usually bring two, one for hot weather and one for cooler, and so I can wear whichever is cleaner when I get to town. For long-haul travel with varied climate and lots of days off the bike I'll carry three shirts.
Tip: If you'll be riding roads you may want to choose a brightly colored shirt for extra visibility to drivers.
---
---
---
Chamois Shorts or Bibs
The search for the perfect chamois can take years! After much trial and error I've finally found one that works for me, but I can almost guarantee it won't work for many of you — we're all so different in this regard. I recommend experimenting to find what's best for you.
---
---
---
If you struggle to find chamois shorts that work for you, try bib shorts. Some people find bibs stay in place better and thus chafe less. The downside: inconvenient bathroom breaks, especially for women.
Baggy Shorts
These are optional, and many people skip them and just ride in their chamois shorts. I admit this is more comfortable on a hot day, but for bikepacking I usually layer baggy shorts on top. They have convenient pockets, help deter unwanted attention in some areas, and give me something comfy to wear during town days.
---
---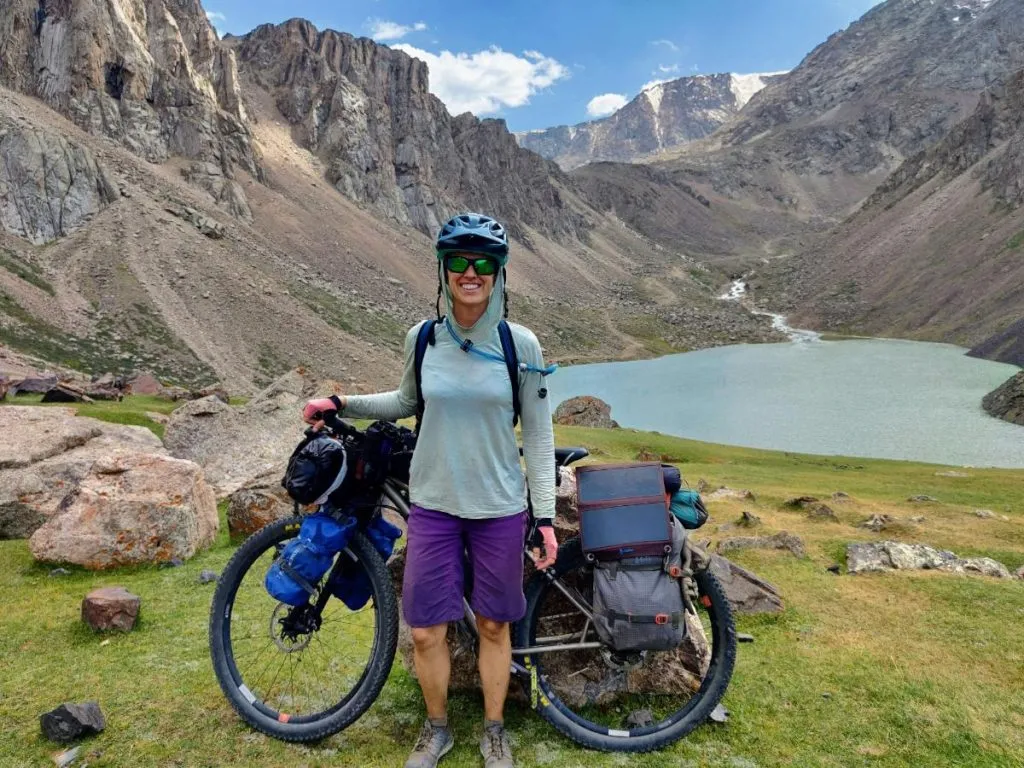 Warm Layers
On all but the balmiest summer trips we have to carry warm layers for cooler riding hours and overnight. Depending on the climate this could range from a lightweight puffy you'll throw on at camp, to fleece tights and multiple upper layers you'll be riding in. It's often helpful to wear warm layers while sleeping too, so your sleeping bag can be a bit lighter.
The Importance of Layering
It's common for outdoorsy folks to speak of our "layering system" like it's a marvel of advanced engineering. Actually, many of the pieces are pretty impressive from a manufacturing perspective! Fortunately for us wearers, applying the system is simple. The idea is to bring a series of layer-able garments that can be worn alone in milder weather or all together when the temps plummet.
Bikepackers get extra value from a system like this when riding in the mountains! Often we need to strip down for a climb and then layer up to fight wind chill on a long descent.
Mid-Weight Merino Long Sleeve Shirt
This might be my number one favorite item of bikepacking clothing. It's so versatile! Mid-weight merino wool does a fabulous job of adding warmth, but is also slow to overheat when you hit a punchy climb or the sun peeks out from behind the clouds. I often ride in this layer on cool mornings or afternoons, throw it on at camp if it's not on already, and sleep in it.
---
---
---
Puffy Jacket
This is the core of a cold-weather clothing system for bikepacking or any other outdoor adventure. If the weather is mild this might be the only warm layer I bring, and in frigid temps it's the layer I depend on most.
Down jackets are the gold standard because down has an excellent warmth to weight ratio. A high-quality down jacket can pack down to nearly nothing in your seat bag and then expand into a cozy cocoon of warmth upon arriving at camp.
Down does have some downsides (teehee) though: it's expensive, and it must be kept dry to provide warmth. Thus synthetic insulation, which is a bit heavier and bulkier, is often preferred for smaller budgets or trips in extended wet weather. I use down jackets for all my adventures and take care to keep them dry, but I also tend to not ride in the rain for days at a time (hello Pacific Northwest!).
---
---
---
Hood or no hood? Many people prefer down jackets with hoods, and both those options above are available in hooded versions too. We loose a lot of heat from our heads, so insulation there makes a huge difference. I use down jackets without hoods because my sleep system is a down quilt with separate hood that I can also wear with my down jacket. Some people prefer to carry a separate hat. Whatever you choose, make sure you have a good cozy insulating layer for your head.
Fleece, Flannel, or Other Third Layer
This additional top layer is not part of my bikepacking clothing these days, but some people may find it useful. If you ride often in wet weather and don't want to depend solely on down, or you have an ultralight down jacket like the Ghost Whisperer and want to extend its range into colder weather, you can add a fleece or flannel layer underneath.
Mid-Layer Tights
It's true that upper body layers make the biggest difference (it's most important to keep the core warm), but in cold weather an extra bottom layer is also essential. You can think of these as "long johns" or long underwear, but the best options are more versatile. You might wear these over your chamois shorts, under rain pants, or on their own while sleeping or doing laundry in town.
You can find plenty of midweight base layer bottoms from the usual merino brands (Smartwool and Icebreaker are good places to start). Here I'll call out two less common options that I really like.
---
---
---
Tip: Size up when choosing tights for bikepacking, so you can easily layer them over your chamois shorts and still have plenty of mobility for pedaling.
Warm Gloves
Whether for riding or cool evenings at camp, cold weather calls for a warm pair of gloves. You can find plenty of full-fingered cycling-specific gloves that will add warmth and wind resistance while keeping your hands functional for operating bike controls. Because my hands get cold so easily I tend to go straight to my lobster gloves when it's cold.
---
---
---
Rain and Wind
Here we have the final piece of the bikepacking clothing system: the outer layer that protects us from rain and wind. There are many options here, and the best choice depends on where you'll be, how cold it will get, and how much precipitation is expected. Options include everything from a lightweight wind shirt to a highly technical alpine hardshell, though a simple rain jacket is often the best and most versatile choice.
Wind Vest
When it's a little too chilly for just a midlayer but a little too warm for a rain jacket, I love zipping myself into a lightweight wind-resistant vest.
---
---
Some people use a lighter wind jacket that's distinct from their rain jacket if weather is dry. I find the vest more versatile, and also a better use of money. I rarely go bikepacking with zero chance of rain in the forecast – always true if your trip is longer than a few days – so I usually have a rain jacket with me anyway.
Rain Jacket
Rain jackets span a wide range of robustness, weight, and breathability based on their materials and construction. The trick is to keep rainwater from coming in while allowing your own sweat to go out – a tricky feat of textile engineering! Ideally we all want a highly waterproof, highly breathable, very lightweight shell, but that doesn't exist (and if it did, who could afford it?).
The trick is to find the best balance for your needs and budget. Most cheaper and lighter rain gear will eventually leave you feeling soggy, whether from rain soaking through or your own sweat failing to evaporate. If the temperature isn't too cold this might actually be ok, since rain layers do a good job of blocking the airflow that makes us feel cold. But in very cold climates or endless hours of rain, it can leave you feeling chilled to the bone.
Not just for rain: If you're thinking about skipping rain layers since there's no rain in the forecast, I ask you to think again. First of all, forecasts can be wrong or change once you're out there. Also, rain gear adds a lot of warmth even in the dry. I always have a lightweight rain jacket in my bag, even if there's zero change of rain. I wear it to cut wind on fast descents and to add warmth at camp.
---
---
---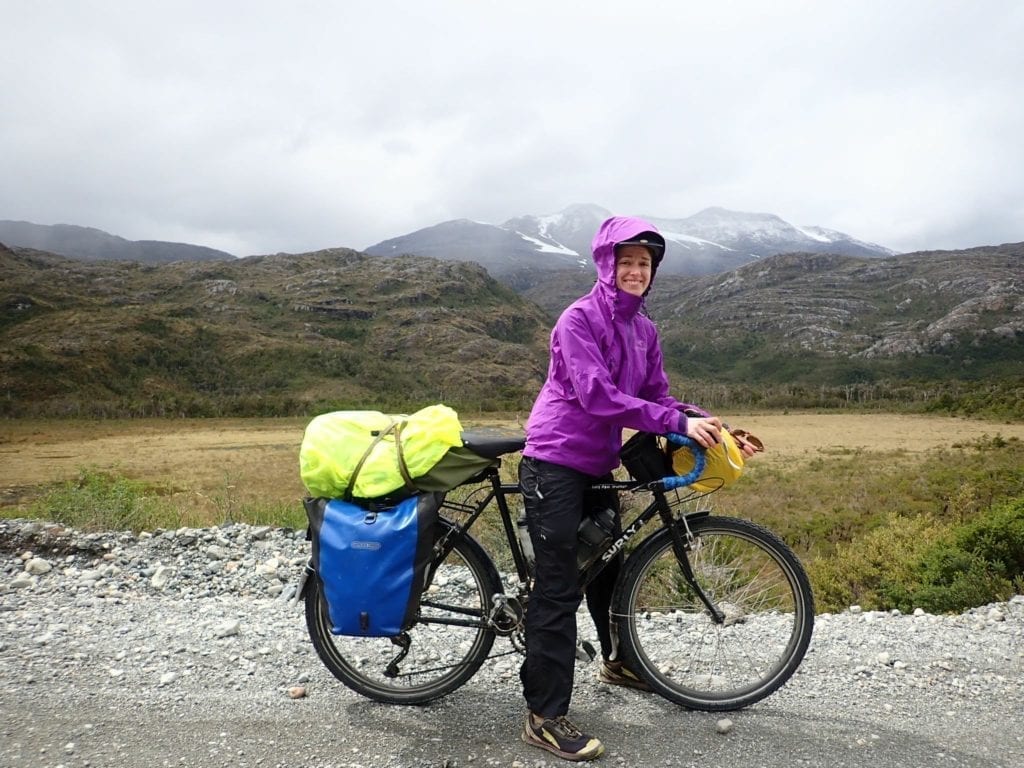 ---
Rain Pants
Rain pants can be optional, and if the weather is warm and dry I'll skip them. I definitely bring them if rain is expected, and I'll often bring them for dry trips in cold weather. Throwing them on at the top of a long descent can really take the bite out of chilly air.
---
---
Is your rain gear less waterproof that it used to be? It's normal for the outer DWR coating on breathable rain gear to rub off and become less effective over time. One of my annual gear maintenance rituals is to refresh my rain gear's waterproofing with this combo from Nikwax.
Waterproof Glove Covers
If it's raining, or even just dry and very cold, you'll probably want a vapor-barrier liner atop insulated gloves. Our hands are subject to some serious windchill out there, and numb fingers don't play well with shifting and braking. Here are my two favorite options.
---
---
Nitrile or Rubber Gloves
As a budget-friendly option these can't be beat! Stretchy nitrile gloves are especially good as a lightweight emergency layer on short trips. Size up and you might be able to fit them over your warm riding gloves. Worst-case scenario, you can wear them underneath wet gloves to stop evaporative cooling, or wear them alone as a lightweight windblocking layer. Larger rubber dishwashing gloves work too, though they're not quite as minimalist.
---
Waterproof Foot Covers
For me these are more optional than a good glove system – it's easier to ride with numb toes than numb fingers – but I'm usually glad to have them on trips with seriously cold weather. As with gloves I have two systems: one more "official" and one for more minimalist trips and emergencies.
---
---
Plastic Bags Between Socks
An excellent budget option: sandwich a plastic bag between two pairs of socks to form a vapor barrier. Your shoe and outer sock will get wet, but you won't feel cold because the bag blocks evaporative cooling. Many bags can work and I'm still experimenting to find the best kind. Currently I'm liking plastic shopping bags, the thin kind they give you at the convenience store (in most places) when you resupply.
---
Odds and Ends
That covers all the big items, but these small accessories can also make a big difference.
---
Socks
---
Buff
---
Arm Sleeves
---
Cycling Gloves
---
Underwear
In case you didn't already know, I'll tell you a secret: most people don't wear underwear with chamois shorts. I usually bring two pair nonetheless, one for sleeping and one for town. As with all bikepacking clothes the best choices are lightweight, breathable, fast drying, and as always, smell-resistant. My two current favorites:
---
ExOfficio Give-n-Go Sport Briefs / Boxers (women / men)
Classic travel favorite, extremely quick-drying and therefore better than merino in hot weather. I'll usually wear this pair around town.
---
Woolly Merino Briefs / Boxers (women / men)
I generally use this pair for sleeping. I don't know if it makes a difference, but I feel like the natural and breathable fabric is good after a day in bike shorts. (See Saddle Sore Advice from Endurance Bikepackers)
---
Sports Bra
For most trips I'll bring just one, or two if it's really hot and/or I'll be spending a lot of time in town. What works for me won't work for everyone (I'm an A cup) but my favorite is the Patagonia Barely Bra. It's lightweight, breathable, stretchy, and has light removable pads.
---
Sunglasses
We all have our own favorites when it comes to sunglasses, but for what it's worth I'm currently liking these KastKing Hiwassee Sport Sunglasses. They don't last forever but they're affordable, which is exactly what I want after loosing, breaking, or terminally scratching many pairs of bikepacking sunglasses over the years.
Clothes for Sleeping
Hopefully it's now clear how I use my bikepacking clothes for riding and sitting around camp. But what about sleeping? There are different approaches here, but I'm a typical lightweight minimalist: I don't bring separate clothes for sleeping.
I usually wear my merino base layer shirt all the time and add warm layers as needed on top. Sometimes, if it's cold, I don't see my base layer for days! Eww, gross, right? Well, that's why I love merino wool. My base layer stays surprisingly fresh, and it also protects my warmer layers (which are heavier and harder to clean) from my dirty skin.
International Bikepacking
Bikepacking internationally can pose a unique set of challenges when it comes to clothing (and many other things!). Specifically, a culture of conservative dress can prompt bikepackers to reconsider tight-fitting lycra and shoulder-baring shirts. Conservative Islamic countries probably come to mind first, but there are many places around the globe where people cover up more than most Americans or Europeans are used to.
Details vary based on location, so research your destination in particular. Some places have norms for locals but are tolerant of tourists, while others are known for being a bit less tolerant in general. Keep in mind that bikepackers spend a lot of time in rural areas away from other tourists, so it's easier to feel out of place.
Unfortunately this more of an issue for women, but men aren't entirely off the hook. Men can "get away with" more in the sense that they won't be sexually harassed if they get it wrong, but may still wish to follow local norms to avoid feeling rude or out of place. Typically for men this would mean covering chest and shoulders, and in more conservative areas wearing below-the-knee shorts.
In Conclusion
I hope you can see by now that there's a lot more to bikepacking clothes than style. At the end of the day it's about staying comfy and packing light.
This post shares what works for me, but you don't need to rush out and buy all this stuff! Start with what you have. If you're building up your collection, start by adding a few essential pieces – a good insulating jacket and rain layer are hard to do without in bad weather, for example – and then go ride. It's much easier to figure out what you need and like after you've been out on the trail a few times.
If budget is a factor, don't overlook used gear! You can score great deals on used outdoor clothes at eBay, REI Used Gear, and GearTrade, to name a few. Lightly used items are often a great buy. If you buy them new they'll be lightly used after your first few rides anyway.
Fellow bikepackers, did I miss your favorite item of clothing? Feel free to share in the comments below.
More Bikepacking Resources