When we're holding our own in a wild place, sometimes the simplest things matter most. Like dry bags! Before becoming obsessed with bikepacking, I never would have guessed such a basic item could be so essential.
Dry bags, as you probably know, are waterproof sacks used to hold gear. They help you keep small items organized and allow you to strap gear all over your bike – to the fork, the handlebars, the top of a seat bag – without (or in addition to) a rack or specialty bikepacking bags.
Most importantly, at the risk of stating the obvious, dry bags keep our bikepacking gear… DRY.
If you've ever been stuck in a storm as temperatures plunge, you understand that dry gear – clothing, sleeping bag, navigation device – can literally be a matter of life or death. At the very least it's a matter of comfort, and a matter of not destroying expensive electronics.
If you're just getting into bikepacking, you might be wondering which dry bags are best. There's a wide range of options out there at a wide range of price points, and all promise to do pretty much the same thing.
Is a $40 dry bag really any better for bikepacking than a $10 dry bag? Will a 12 liter dry bag fit your sleeping bag? What's the best way to incorporate dry bags into your bikepacking setup?
The more I think about it, the more I have to say about this seemingly straightforward subject. My dry bags have done their job admirably during many thousands of bikepacking miles, and I'm excited (yes really!) to teach you about this unsung hero of the bikepacking gear world. Let's dive in!
New to bikepacking? Visit my Complete Guide to Bikepacking for all you need to get started.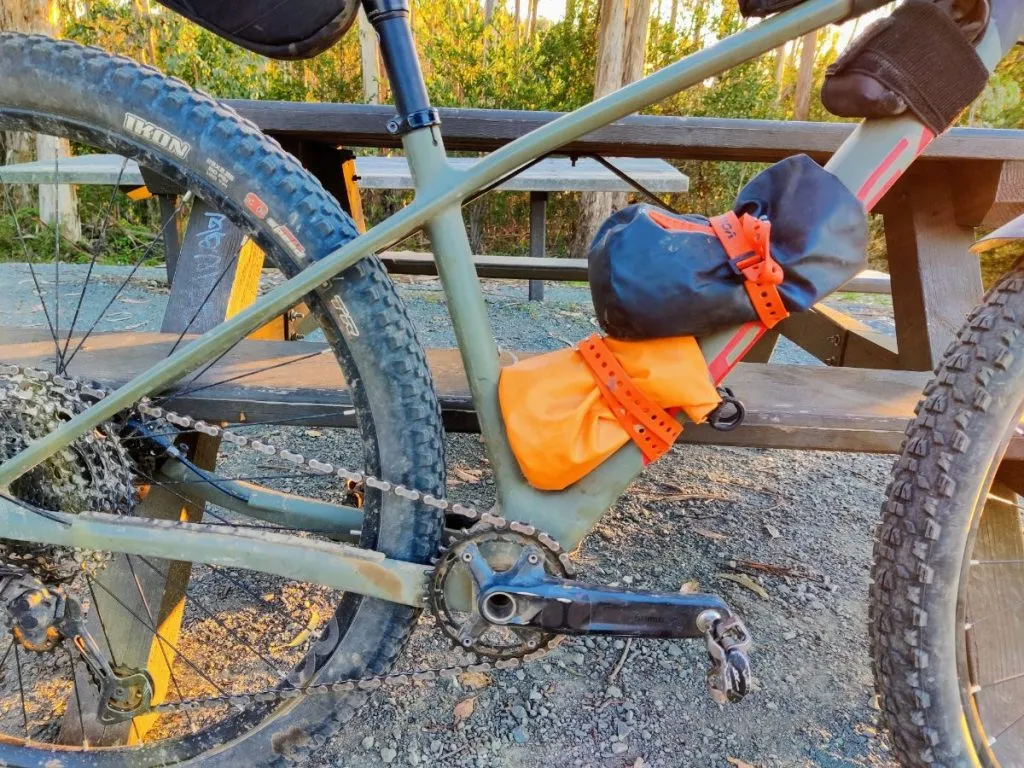 When you buy through affiliate links in this post, I may earn a small commission. Thanks for your support! Don't worry, everything you read here is unbiased and based on real experience on the road and trail. Learn more.
How to Use Dry Bags for Bikepacking
Dry bags are like the Legos of bikepacking gear. They come in all sizes, shapes, and types, and with a little creativity (and some stretchy straps) you can build almost anything with them. Fill them up, scrunch them down, hang or carry or strap them… They adapt perfectly to the rigors of bikepacking.
Here's a partial list of ways you might use dry bags for bikepacking:
Handlebar bag when combined with harness or straps
Accessory bags on fork or down tube
Makeshift seat bag (a popular budget bikepacking trick)
Expandable storage carried on top of a seat bag or handlebar roll
Strapped to a rack, either on top or on the sides like mini-panniers
Extra waterproofing for electronics or clothing within non-waterproof bags
Food bag, easily hung by the roll-top closure if necessary
Pillow (stuff with clothing and wrap with a buff)
Small "purse" or backpack for resupply stops when combined with a shoulder strap
Emergency extra water capacity (what keeps water out also keeps water in)
Portable laundry basin
Now that your creative gear wheels are turning, let's talk about what makes some dry bags stand out from others.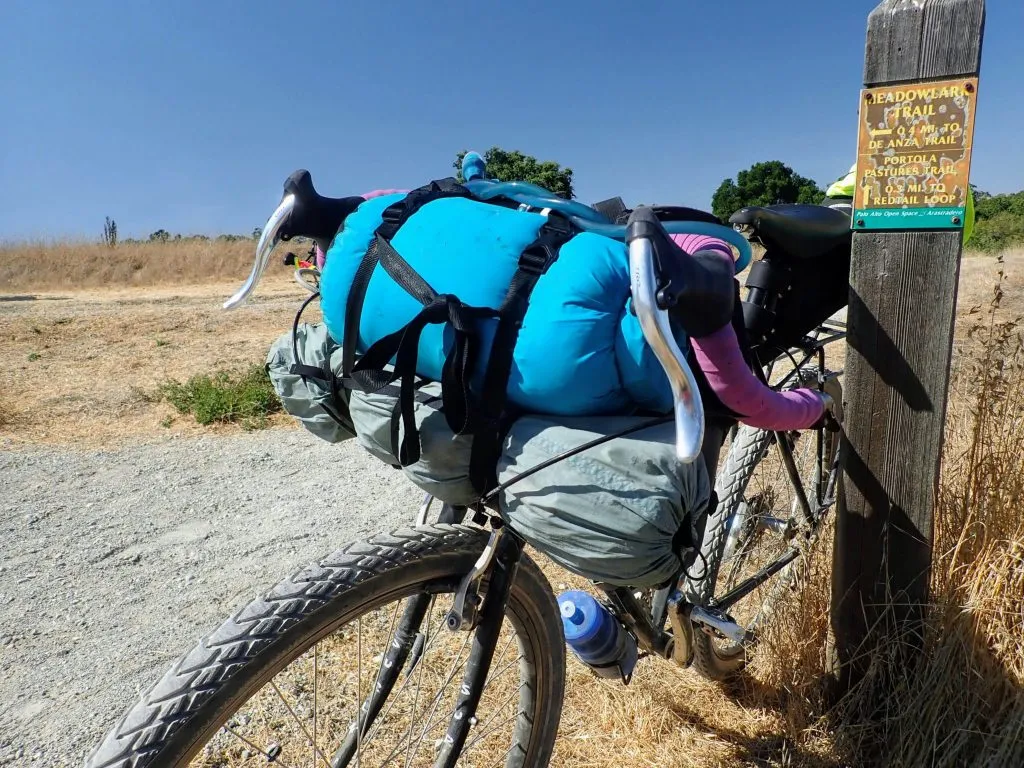 Dry Bag Features
There are dry bags and then there are dry bags. What on earth is the difference? Here are the most important features to consider.
Reliability: All but the most shoddily produced bags should be up to the challenge of a little rain protection, but do read descriptions and reviews if you expect major wetness. Some bags are made to be fully submersible – important if you have a lot of water crossings on your route – while others are only intended as rain protection.
Durability: Heavier fabrics offer more protection against scrapes and punctures, making them ideal for those spots that tend to get laid down in the gravel and leaned against rough rocks. A thin lightweight dry bag is great for protecting electronics in your frame bag, but a burlier bag is a better choice for strapping to your fork or the sides of a rear rack.
Weight: As with most outdoor gear, durability and weight are often inversely related. Unless you're a true weight weenie, differences in dry bag weight are probably the least of your packing list worries, but it can still make sense to choose dry bags that are no larger or burlier than you need.
Compression: Bikepackers love compression. Sometimes it's the only way to fit all the things on the bike. Some dry bags come with built-in compression straps to make this easier, which is especially handy when trying to fit them on drop handlebars.
Loops and straps: Daisy chains and loops help you attach dry bags more securely. If you've ever looked down and noticed that something important has bounced off your bike sometime in the last few hours, you'll appreciate this feature. Loops can also help you attach yet more dry bags to your dry bags, which is especially helpful for handlebar setups.
Closure type: Roll-top closures are the most common, and their flexibility is helpful for bikepacking. A long bag can be rolled up shorter to fit on drop handlebars, or filled fuller to maximize cargo space on flat bars. A few purpose-built bikepacking dry bags have roll closures on both ends, providing easier access to more small items (like warm layers) throughout the day.
Price: There's no escaping "you get what you pay for" in outdoor gear. A sturdy, reliable, lightweight, thoughtfully designed bikepacking dry bag will cost more, especially if it's made by a premium brand or a local manufacturing process. I'm the first to say you don't need the more expensive version, but you might enjoy it if you have room in your budget.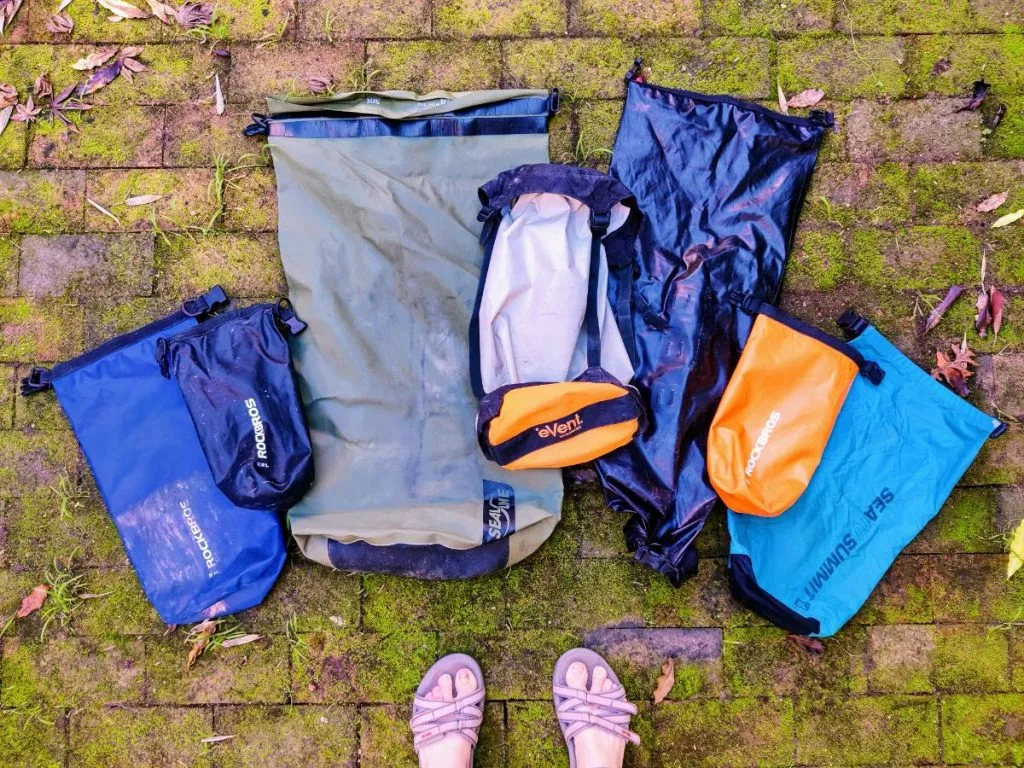 Dry Bag Sizes
Dry bag product photos can look like those Russian nesting dolls! You could fit dry bags inside dry bags inside dry bags… The volumes are generally listed in liters, but it can be hard to know what that translates to in terms of the things you want to carry in them.
Before choosing a dry bag to carry a specific item of gear, check the dimensions to get a sense of its stuffed size. What fits and what doesn't will depend on the bag's shape (long and skinny or short and fat) as well as how waterproof you need it to be (roll the top down further if you intend to submerge it fully).
Here are examples of items that will probably fit in each size range (individually, not all at once) and where each size might fit on your bike:
2-5 liters:
Fits: Small electronics, bike tools, lightweight inflatable sleeping pad, or small backpacking stove and fuel canister (especially 100g size).
Ideal use: fork bags (attached to gear cage), extra storage attached to handlebar or seat bag, wallet or purse, extra waterproofing inside other bags
5-10 liters:
Fits: Larger electronics (Kindle or tablet), a day or two of food, a few items of clothing, or a lightweight sleeping quilt
Ideal use: Handlebar bag for drop bars, makeshift seat bag, makeshift mini-panniers, pillow
10-15 liters:
Fits: Standard 3-deason sleeping bag, several items of bulky clothing
Ideal use: Handlebar bag, makeshift panniers, strapped to top of rack
15-20+ liters:
Fits: Larger sleeping bag, lots of clothing, or combinations of smaller bags
Ideal use: Handlebar bag for flat handlebars, top of rear rack, makeshift camp cushion
Considerations for drop bars: If you ride a drop bar bike, a larger dry sack can be rolled up at the end to fit between the drops, but obviously the capacity will be less than advertised. To maximize gear capacity for a drop handlebar dry bag, look for one with a larger diameter.
Considerations for tire clearance: If you're a small rider on a 29er bike, you may have to watch out for your tires rubbing on your handlebar bag and seat bag. If you're going to use a dry sack for either of these purposes, look for one with a smaller diameter (the opposite of the drop bar recommendation above, unfortunately) to get more clearance.
Best Dry Bags for Bikepacking
Ok, let's get down to specifics. There are a ton of bikepacking dry bags and general-purpose dry bags out there. How's a bikepacker supposed to choose?
Here's a selection of highlights based mainly on personal experience and recommendations from other bikepackers, supplemented with some online research and reviews.
Sea to Summit eVent Compression Dry Sack
Many bikepackers, myself included, combine the Sea to Summit Compression Dry Sack with a handlebar harness to carry a sleeping bag and clothes. The relatively larger diameter and compression straps make excellent use of space, especially if you have drop bars. The 14 liter size easily fits my cozy 3-season sleeping quilt and puffy jacket, even when compressed to fit my drop handlebars.
Sizes: 6, 10, 14, 20, 30 liters
Advantages: Compression with valve-less air purge, light weight, straps provide extra stability for handlebar or fork mounting.
Drawbacks: Not designed for full submersion or close encounters with sharp or rough objects.
Great for: The 14 and 20 liter sizes are perfect for carrying a sleeping bag in a handlebar harness, especially with drop bars thanks to the length-wise compression straps.
Sea to Summit eVent Compression Dry Bag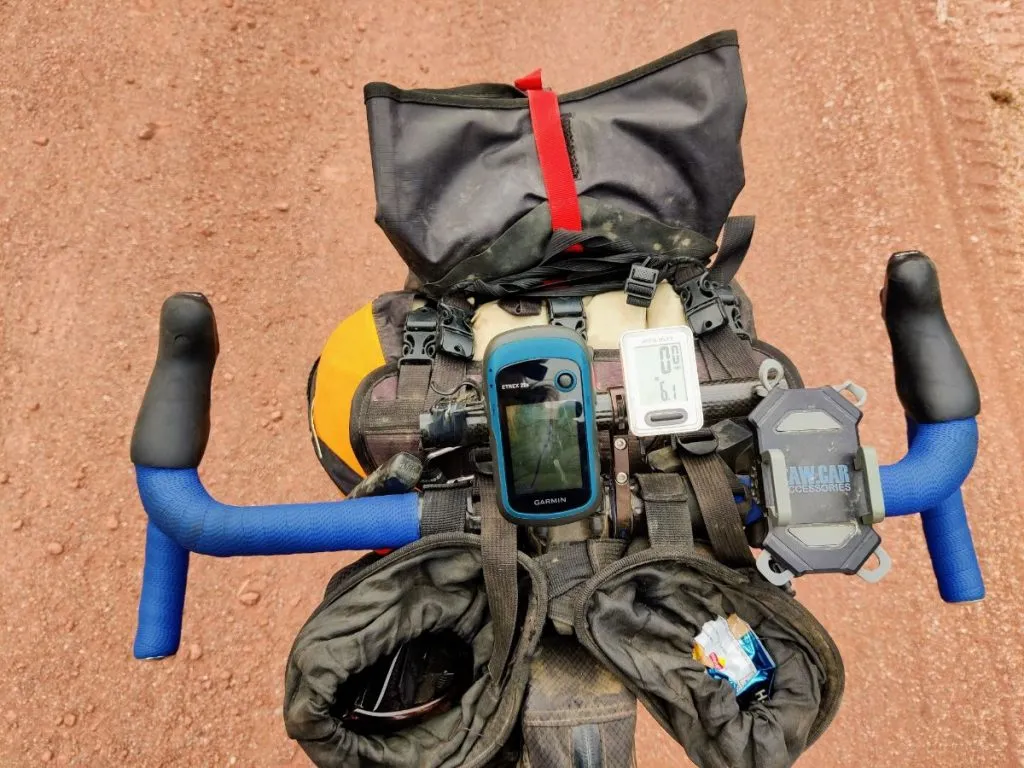 Sea to Summit Lightweight Dry Sack
The Sea to Summit Lightweight Dry Sack is a classic among both backpackers and bikepackers. I've been using mine for many years and though it's gotten a little dingy looking, it still works beautifully. I use the 8 liter size to waterproof electronics inside my frame bag and then stuff it with clothes as a pillow at night. For an even lighter (and less durable) option, see the Ultra-SIL version.
Sizes: 1, 2, 4, 8, 13, 20, 35 liters
Advantages: Lightweight, soft and foldable, wide variety of smaller sizes.
Drawbacks: Not designed for full submersion or close encounters with sharp or rough objects.
Great for: Small sizes (1 – 4 L) are great for backup waterproofing of electronics inside bike bags. Larger sizes (8 – 20 L) make good sleeping bag stuff sacks for your handlebar harness if you're gentle with them. The 8 liter size makes a perfect pillow.
Sea to Summit Lightweight Dry Sack
RockBros Waterproof Dry Bag
As with their other budget bikepacking gear, the RockBros Waterproof Dry Bag makes a cheap yet surprisingly functional bikepacking dry sack. It's sturdy enough to go on the fork or sides of a rack, and is especially designed to be carryable.
Sizes: 2, 5, 10, 20, 30 liters
Advantages: Durable, very affordable, comes with plastic loops and removable shoulder strap for a makeshift backpack.
Drawbacks: Not as lightweight as some.
Great for: The 2 and 5 liter sizes make good fork bags, especially if you run a Voile strap through the plastic ring for extra stability. Two liters just barely holds a JetBoil MicroMo and 100g fuel canister, or a rolled Therm-a-Rest NeoAir Xlite pad. Five liters holds a couple days of food or spare clothes. Larger sizes would make durable handlebar bags or mini-panniers.
SealLine Baja Dry Bag
The SealLine Baja Dry Bag is another all-purpose dry bag, similar to the RockBros option above, but from an established brand that specializes in waterproof gear. They offer medium to large sizes that are designed to be sturdy and fully submersible.
Sizes: 5, 10, 20, 30 liters (and 40 and 55, but those are probably too big for bikepacking)
Advantages: Durable and simple, more affordable than some.
Drawbacks: Not as lightweight as some bags.
Great for: The 10 – 20 liter sizes make good handlebar rolls, makeshift panniers, or rack-top bags. I once used the 30 L version, strapped to the top of a rear rack, to hold almost all my gear on a lightweight cross-USA ride. The 5 liter size works well as a fork bag.
Revelate Designs Polecat Fork Dry Bag
The Polecat Fork-Mounted Dry Bag by Revelate Designs is specifically designed for bikepacking, and Revelate is known for its thoughtfully designed quality gear. Clever features include daisy chains to run straps through for extra security, and a reinforced back to prevent wear from rubbing against the gear cage.
Sizes: 3.5 liters
Advantages: Durable, thoughtfully designed for secure fork mounting and bikepacking-specific use.
Drawbacks: Expensive, only one size.
Great for: Accessory bag on your fork. The 3.5 liter size is perfect for tools, a stove, lightweight inflatable sleeping pad, a day of food, or small layers of clothing (one at a time, not all at once!).
If you're looking specifically at fork-mounted bikepacking dry bags, the Salsa EXP is a similar idea. It's a little cheaper, but the extra strap loops and rigid base make it less flexible for other uses (pillow, etc). For even more analysis-paralysis-inducing options, see this extensive list.
Salsa EXP Series Side Load Dry Bag
The Salsa EXP Series Side Load Dry Bag has a unique double-sided roll closure. This helps with compressing gear while packing, unloading from whatever side of your bike is most accessible, and accessing layers throughout the day. It's designed for use with Salsa's EXP handlebar cradle and you can buy the whole set together, but it also works with other handlebar harnesses. I especially like this bag with flat bars, where its wide shape and double-ended access really shine.
Sizes: 14 liters
Advantages: Durable, convenient double-sided roll closure, air release valve, loops for attaching additional gear.
Drawbacks: Expensive, only one size.
Great for: Carrying sleeping bag and clothes in a handlebar harness. The additional loops make it easier to attach a second item, like a small tent, without the need for extra-long straps. The diameter is relatively small, making it a good choice for riders with tire clearance issues.
If you like the dual opening style, the Portland Design Works Gear Log looks to be a similar concept for a lower price, though I'm not personally familiar with the brand.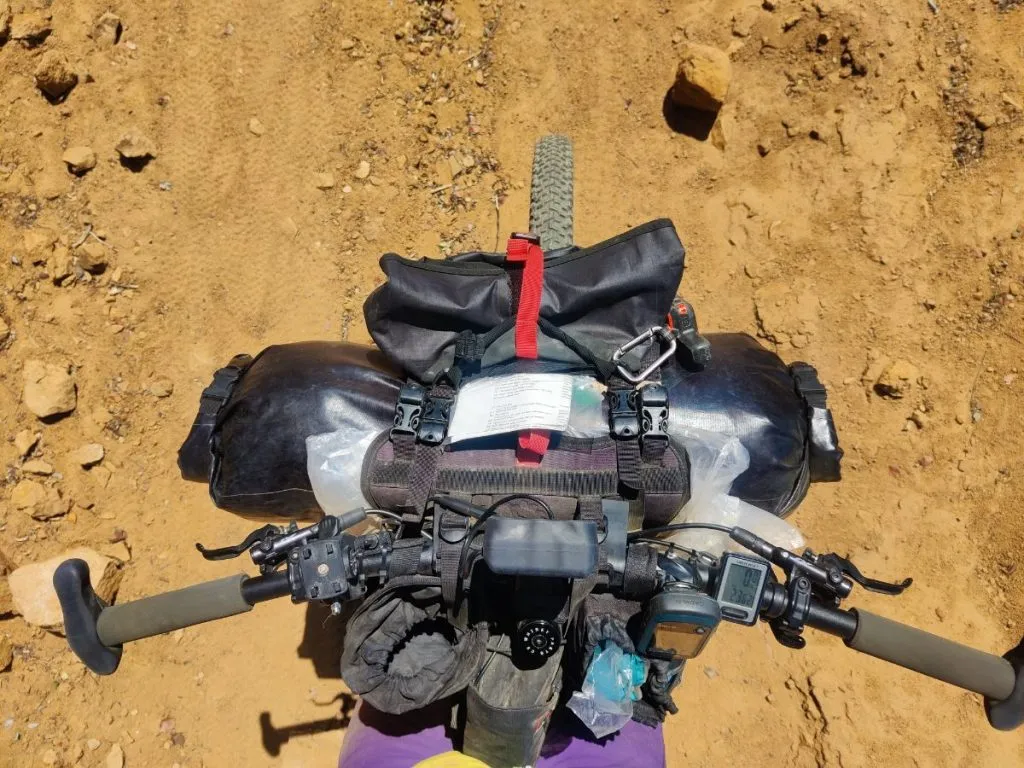 Exped Cloudburst 15 Waterproof Roll-Top Backpack
I always bring a lightweight stuffable backpack on long bike trips as expandable storage, day pack for hikes, etc. The Exped Cloudburst combines this concept with a lightweight dry bag for a convenient multiuse piece of gear. I don't know if I'd strap this to my fork on a rough trail ride, but it could certainly be a mini-pannier or rack-top storage on a route where you can treat it gently.
Sizes: 15 liters
Advantages: Doubles as lightweight backpack for hiking, exploring town, etc.
Drawbacks: Expensive, not the most durable, need to keep straps out of the way of bike parts.
Great for: The size is right for holding a sleeping bag on your handlebars, or storing clothes or other light objects as a mini-pannier or strapped to a rack. Just make sure to keep those straps out of the way of moving parts.
Are there other good dry bags for bikepacking? Certainly! If you already have a different one, give it a try. It'll probably do just fine.
Harnesses, Cages, and Straps
Once you have your dry bags, you'll need to attach them to your bike. This can be a whole other can 'o worms, but here are a few ideas to get you started.
Straps: Bikepackers love stretchy rubber Voile straps. They're perfect for attaching a dry bag to a handlebar harness, fork cage, downtube, or other creative nooks and crannies. Tip: If you're on a budget or like flexible multi-use gear, get the longer ones. Extra tails can always be tucked in, but you can't make a short strap longer.
Gear and cargo cages: I'm a fan of Blackburn Outpost cages plus Voile straps. The Salsa EXP Anything Cage is also very popular. These cages are perfect for securely attaching a 2 – 5 liter dry bag to your fork or, if you have space, downtube.
Handlebar harnesses: Technically you can strap a dry bag directly to your handlebars, but it's not ideal because the bag will bounce around and press against your cables. Instead, mount a handlebar harness like my current favorite from Revelate (or a number of other options) and then attach your dry bag and perhaps a second item like a tent.
Tip for drop handlebars: If your space is narrow and your dry bag fights with your brifters, compress it by wrapping a cinch strap around it length-wise. Or, invest in a dry bag with compression straps.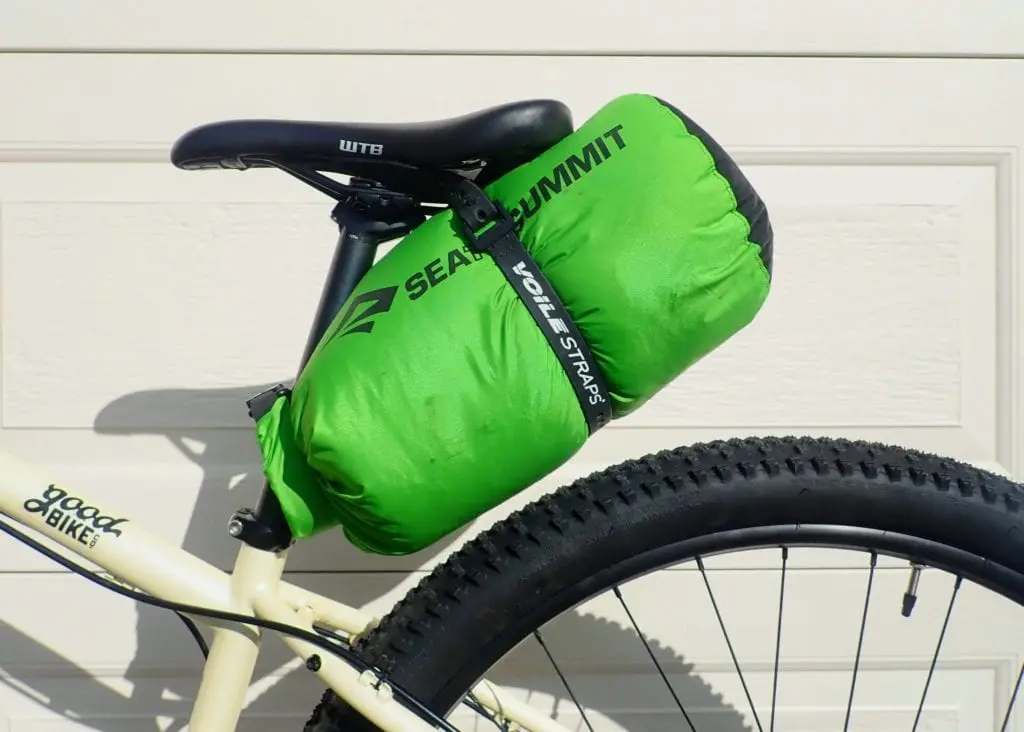 Other Tips
Once you're loaded up and ready to roll, here are a few more tips to keep your dry bags and your gear happy.
Close your bags carefully for good waterproofing. The roll-top closure is meant to be folded at least three times to completely seal out water. You can get away with less in light rain, but if it pours or you're navigating serious water crossings it pays to be more precise.
Attach your bags carefully. If slipping a small dry bag into the shock cord on your seat bag or strapping under your downtube (both places that are hard to see while riding), make absolutely sure it won't bounce out. For extra security run a strap through a daisy chain loop, if your bag has one, or the loop created by the closure buckle.
Repair torn or punctured dry bags with gear tape. I always bring a few squares of Gear Aid Tenacious Tape on long trips to fix everything from dry bags to tents, rain jackets, and hydration bladders.
Re-waterproof dry bags periodically. With heavy use it's normal for waterproof gear to become less waterproof. I throw my dry bags and rain gear in the washer with Nikwax after a busy outdoor adventure season.
Pin For Later
More Bikepacking Resources
Bike resources in your inbox?
There's more where this came from! Sign up here for occasional emails full of inspiration and information about bikepacking and bicycle touring.


Share the Adventure
If you found this article helpful, please consider sharing so more people can benefit from it: