No matter where we ride, how we pack our gear, or whether we prefer gravel roads or singletrack, there's one thing all bikepackers have in common: a massive appetite.
When it comes to figuring out what to eat on a bikepacking trip, we have some tough constraints. We need to carry all our food in limited cargo space, find what we need in out-of-the-way places, adjust to unfamiliar cuisines, and sometimes keep an eye on our budget. Satisfying a cyclist-size appetite within these constraints can be a tricky puzzle.
In this post I'll share what I've learned about eating while biking thousands of miles on gravel, dirt, and pavement, in remote and populated areas, on both coasts and straight through the middle of the US. If you'll be venturing abroad on two wheels, things get even more complicated, so in this post I'll focus on what's easily available in my home country, the United States.
If you live in the US some of these bikepacking food tips may seem obvious. Then again, maybe not! I certainly hadn't thought through all these details when I first started traveling on my bike, and it took some trial and error to figure out what works best for my routine and body.
In this post I'll cover:
What to consider when making a bikepacking food plan
Food ideas for different bikepacking styles
How to pack food for bikepacking
Gear for eating and cooking
Nutrition goals for bikepackers
Where to resupply food
How much food to carry at a time
How long does food stay fresh?
Bikepacking vs. Bike Touring?
Let's get this out of the way first. I'm all for inclusive bike travel terminology! Panniers or seat bag, I don't care what you run, we're all one big happy family.
But food for bikepacking, traditionally defined as more about remoteness, camping, and dirt or gravel, is a trickier puzzle to solve than food for bike touring, which I'll loosely define as involving more towns, motels, and pavement (and thus, of course, more grocery stores and restaurants). The space constraints of a bikepacking bag setup, compared to rack and panniers, don't help either.
So, I'll be talking about bikepacking food from here on out. But if you tour in the US, especially in less populated areas, I think you'll find a lot of this applies equally well.
What to Consider When Planning Your Food
Before we get into specifics, we need to talk about what kind of bikepacking trip you're planning for. I loosely break this up into a few different categories based on availability of food, gear you want to carry, and desired mood / pace.
How often will you resupply food?
Take a close look at your route and expected daily schedule. Will you be passing through something resembling civilization multiple times each day? Once every day or two? Not at all?
For a short trip, say 1-3 nights, it's not uncommon to carry all your food from the start. This is especially true in remote areas with no towns on-route. For this kind of trip, precise menu planning and dehydrated meals are often preferred.
For longer trips it's common to resupply food from on-route stops every day or two or three, or at least supplement with some hot meals when they're available. With this kind of flexibility it's easier to just buy what's available as you go along, never planning more than a couple days ahead.
Trips can also be a mix. Sometimes I'll carry favorites and essentials for the whole trip if I can fit them in my bags, and then buy the rest as I go.
How big are the towns along your route?
The size of the towns you resupply at will have a big impact on what you can buy there. Most towns big enough to have a 24 hour gas station will also have a grocery store, fast food chains, and other restaurants to choose from. Knock yourself out!
Small towns often have a single general store or convenience store, and maybe a restaurant that serves burgers and sandwiches. Their hours might be as limited as their selection, so make sure you arrive by 5pm and don't expect them to be open before 10am unless you've checked first.
Stove or no stove?
Do you need to bring a stove on your bikepacking trip? This comes down to personal preference and will be influenced by:
How often you'll encounter food on your route
How light you're trying to pack
Dietary restrictions (it's hard to be vegan, gluten free, keto, etc. in small towns)
How much you mind the occasional cold cup of ramen, canned chili, or instant coffee (not horrible, in my opinion)
How cold the weather will be. Freezing mornings make hot coffee and oatmeal even more attractive.
For me personally, it's usually not worth bringing a stove if I can get to a convenience store at least once a day. I'd rather grab a to-go sandwich or burrito for my dinner, and drink cold instant coffee in the morning, than carry a stove. The exception is leisurely tours with cold mornings and evenings; then the extra weight and bulk of a stove is totally worth it!
Alternative Lightweight Stoves
Most of us picture a traditional backpacking stove with a bulky fuel canister, or even a JetBoil. But there are smaller and lighter options. Two of the most popular:
Alcohol stoves, popular with ultralight backpackers (you can even make your own)
Esbit solid fuel stoves, best for occasional warming of coffee, not sufficient for boiling or cooking in cold weather
How much prep and planning do you want to do?
Are you the type who wants to plan and pack every meal in advance, or do you enjoy the challenge of piecing together a menu from sparse shelves? Some folks like to just hit the road and roll with what they find, while others prefer to have a set daily schedule and meals to go with it.
Dietary requirements can also put some riders in the planner category simply because they can't count on finding what they need if they don't bring it themselves.
Relaxed or ambitious pace?
Is this trip more of a "mobile buffet" style, a ton of eating with some biking thrown in? Then it's totally worth carrying the stove and some extra goodies if cooking at camp, and scheduling plenty of time for restaurant meals when available. Bring on the bacon cheeseburgers!
On the other end of the spectrum, bikepack racers are all about shoving down calories – any calories – while riding as many miles as possible. Racers typically stick to convenience stores because restaurants and grocery stores take far too much time, and they wouldn't dream of carrying a stove and spending time to cook. It's all about energy bars, trail mix, and as many frozen burritos as you can carry.
How big is your budget?
While food isn't a big expense compared to things like bikes, gear, and travel, it can be the single biggest expense once you're actually riding. Generally speaking, here's the expense hierarchy:
Most expensive: restaurants
Moderately expensive: fast food, convenience stores, ready-made dehydrated meals
Least expensive: grocery stores, DIY dehydrated meals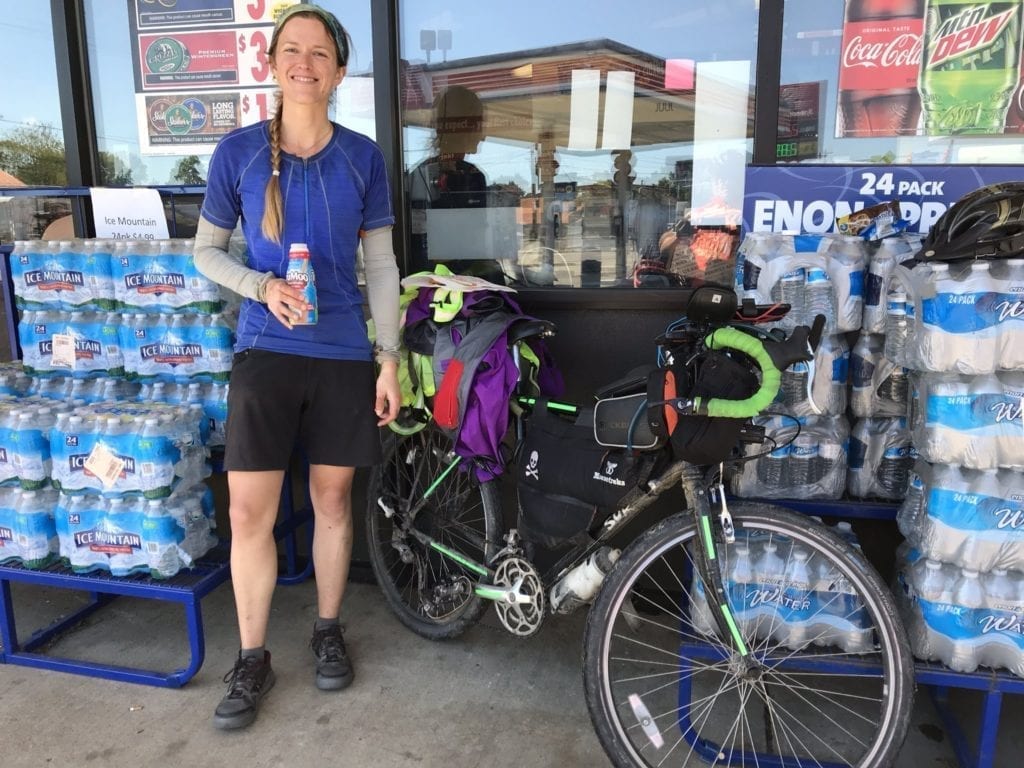 Bikepacking Food List Examples
Here are a few example food lists for different types of trips. Many longer trips are a mix, with different types of food making more sense for different geographical locations or rider preferences.
For example, I might bring one dehydrated meal as a backup but plan to mostly eat from convenience stores and restaurants. Or I might stock up from occasional general stores on a remote part of a longer route but switch to healthier grocery store food when it's available. If I'm racing, I mostly use convenience stores but might sit down for a burger if I'm feeling low on calories and need the extra rest anyway.
Example 1: Convenience Stores, No Stove
This is how I eat on most bikepacking trips, where I'm restocking mainly at small town general stores and gas station convenience stores every day or two.
If it's a leisurely ride I might bring a stove, in which case the items marked "cold" become wonderfully hot and options for dinner are more varied.
Breakfast
Protein bars (see my favorites here – MetRx and Builder Bars are common higher calorie options)
Various pastries, pies, muffins, etc.
Yogurt cup, if resupplying the night before
Cold instant coffee, ideally the 3-in-1 packets that include milk powder and sugar. Tip: shake with water in a bottle to dissolve better.
Lunch
Tortillas with cheese, salami, or peanut butter
Grab-and-go microwave burrito or sandwich. Tip: to keep it fresh longer, buy a frozen burrito and let it defrost slowly in your bag.
Pizza slices if available
Dinner
Grab-and-go microwave burrito, sandwich, or pizza slices
Canned tuna or chicken
Ramen: rehydrates in ~10 minutes with cold water
Canned food: When eating cold, I like ravioli or chili best. Be sure to buy the kind with the pull-off lid!
Snacks
Trail mix
Nuts
Dried fruit
Peanut butter
Beef sticks
Cheese sticks
Clif bars or similar (tip: slather on some peanut butter to super-charge a low-calorie bar)
Cookies (a roll of Oreos fits perfectly in a stem bag)
Candy (Snickers are a classic, and Paydays don't melt in the heat)
Potato chips or Corn Nuts for salt in hot weather
Chocolate milk
Subway sandwiches are gold for any meal, if you can find them! Those fresh veggies taste so good after days of junk food, and they pack well for the road. Plus the chocolate chip cookies are to die for.
Example 2: Convenience Stores + Stove
If you do bring a stove, your options for convenience store food are a bit broader and include some of these items commonly available in small town general stores:
Better with a stove:
Instant oatmeal with added trail mix
Hot ramen with peanut butter and hot sauce mixed in (trust me!)
Mac 'n cheese with extra (real) cheese melted in. Be sure to get the instant kind of pasta (usually comes in cups) because it cooks much faster.
Instant mashed potatoes with cheese and bacon bits (or slices of beef sticks)
Couscous with canned chicken or tuna
Instant rice with canned chicken or tuna
Technically, any of these can be made with cold water and no stove. But you'll have to soak them for a long time – sometimes hours – to get the same texture you would with hot water, and honestly, they don't taste as good.
Bonus Ingredients to Bring From Home
If you want to resupply from small stores but get tired of watery mac 'n cheese or tiny 150-calorie packets of oatmeal, consider bringing a few extra goodies to supplement your meals.
Order these at home and pack a bit in plastic baggies to add more calories and flavor to convenience store bikepacking meals:
Shredded coconut, sliced nuts, pumpkin seeds, etc for adding to granola or oatmeal
These ingredients can help you spice up a convenience store meal, but they're also core staples of fancier dehydrated meals that you might bring from home….
Example 3: Pre-Prepared Dehydrated Meals + Stove
This meal plan makes use of backpacking food recipes, of which there are MANY already available online (here's a good collection to start with). Most backpacking meals are made of dehydrated or freeze dried ingredients mixed together so that you "just add water" at camp and voilà, dinner is served.
This type of bikepacking food plan is best for remote trips where you need to carry a few days of food with you, and you need it to not go bad or weigh too much.
It's fastest, but most expensive, to buy pre-made meals from companies like Mountain House and Backpacker's Pantry. Dinners are the best value in my opinion, and I've enjoyed both this Coconut Rice and Beans and this Chili Mac and Beef recently. Pre-made freeze dried breakfasts with egg are usually weird (my opinion – I don't like the egg texture) so I typically mix my own breakfasts from oatmeal or granola.
If you make your own dehydrated meals at home, you can either mix already dry ingredients (easiest) or use a food dehydrator (I use this one from Nesco) to remove moisture from a meal like canned chili, lentil stew, etc. (Yes, you can dehydrate Tasty Bites!)
The possibilities are endless, but here are a few of my go-to DIY dehydrated bikepacking meals:
Breakfast
Instant oatmeal with extra milk powder and nuts
Granola with milk powder
Lunch and snacks: same as Example 1 above
Dinner
Couscous with protein add-in (bacon bits, bean flakes, canned meat) and extra butter or cheese powder
Instant mac 'n cheese with extra real cheese, butter powder, and a protein add-in (bacon bits, bean flakes, canned meat)
Home-made dehydrated chili or lentils
If relying on dehydrated meals for bikepacking, it's best to prepare them at home or at least bring some key ingredients wtih you (see above). Some ingredients for dehydrated meals can be resupplied in convenience stores, but usually only the simplest carb basics like pasta, rice, couscous, etc. Grocery stores have more variety, but still usually lack backpacking meal staples like freeze dried vegetables, cheese powder, or dehydrated beans and other protein.
Most backpacking meals can be rehydrated without a stove by cold-soaking them for a few hours prior to eating. Not everyone finds this convenient or palatable, which is why most people will bring a stove for this type of meal plan.
Example 4: Bikepack Racing Food List
This plan is all about simple, fast, and calorie-dense food that can be eaten on the go. All this stuff is easy to find at most convenience stores and small-town general stores.
Note that meal categories are often blurred when racing, especially when riding through the night. Breakfast might just be snack food, or trail mix might be dinner. I do find it helpful to eat as much "real food" as possible (mainly burritos and sandwiches) and to always eat a bunch of calories whenever I stop to sleep.
Breakfast: Energy bars, muffins, giant cookies, whatever is left in your stem bags from the day before 🙂
Lunch: Sandwich or microwave burrito from the last resupply stop
Dinner: Sandwich or microwave burrito from the last resupply stop
Snacks: meat sticks, cheese sticks, trail mix, cheese danishes, cookies and candy as needed (careful, it's easy to overdose on sugar). Items that come in rolls, like Oreos or mini-donuts, are convenient for eating while riding.
At every resupply stop: Gatorade, protein drinks, chocolate milk, or whole regular milk if tired of sugar, banana for potassium and enjoyment of something fresh. Orange juice for nutrients and sugar.
Subway sandwiches: wherever you can find them! Perfect combination of fast, (relatively) nutritious, calorie-dense, and portable.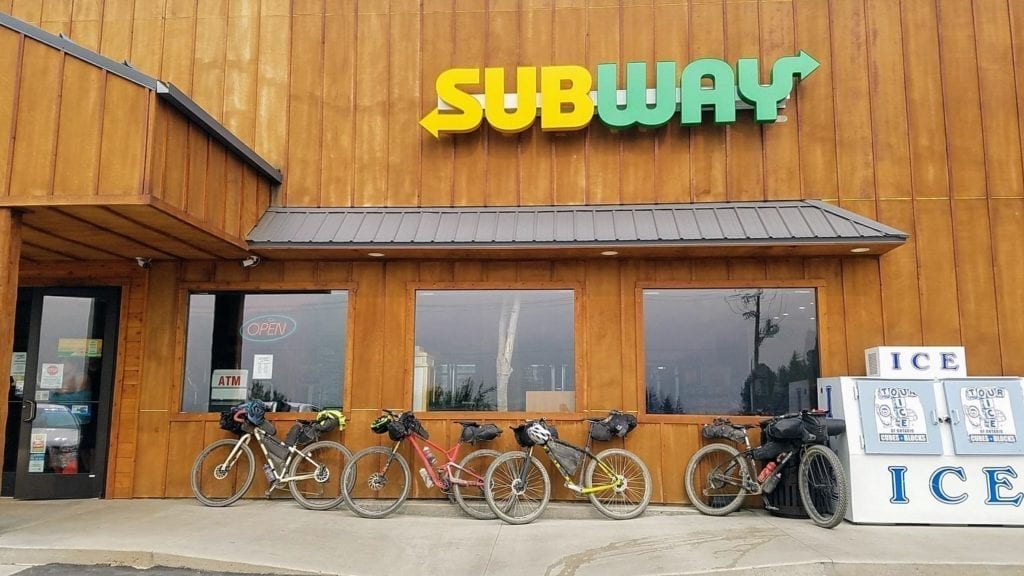 How to Carry Food While Bikepacking
As with the rest of packing for bikepacking, figuring out where and how to pack your food is a puzzle.
Typically, stem bags are used to hold snacks you want to nibble on the go (they're also called feed bags). Here are a couple budget-friendly options available on Amazon (the first is my personal favorite):
A handlebar pouch is great for meals or snacks you'll get into less frequently. I love this budget-friendly pouch from RockBros because it holds so much. It can attach to the top or front of a typical handlebar roll bag for extra capacity.
Top tube bags like this one (also RockBros) are another way to hold small snacks you'll want access to while riding.
Your seat bag is a good place for dinner and breakfast food that you won't need until you get to camp. While budget options exist, I'm partial to Revelate for their locking buckles. Try to put heavy stuff, like canned food, closest to the seat post and lighter stuff toward the back.
For everything else that doesn't fit, you'll have to get creative:
Safe Food Storage For Bikepacking
If you're bikepacking in bear country, or even rodent country, you'll need to take care with how you store you food overnight.
I once left some trail mix in my stem bag overnight by accident. I woke in the morning to find a rodent had eaten half of it, pooped all over my stem bag, and ran off with my cycling gloves! At least it wasn't a bear…
If bears are not an issue, I will usually pack all my food in a single bag and bring it into my tent at night to keep it safe from rodents. At the very least, I put it in my seat bag and buckle it up securely. Beware, I have heard stories of rodents chewing through tents and bags! But at least I'm not providing a rodent buffet by leaving snacks sitting open in my feed bags.
When camping in bear country, it's important – for both your safety and that of the bears, who are often euthanized if they develop a taste for people food – to store your food properly. Bikepacking and bear canisters don't play well together, so you'll be doing a bear hang (harder than it looks) or ideally carrying an Ursack for overnight food storage.
Eating and Cooking Gear For Bikepacking
This could be a whole post on its own, but here are a few quick notes on cooking gear for bikepacking.
Whenever I travel on my bike I always pack a lightweight but durable spoon and a collapsible cup/bowl. Even if I'm mostly eating grab-and-go meals and never plan to cook at camp, these always seem to come in handy somehow.
For cooking at camp there are quite a few options and you'll need to consider fuel availability. In the US, canister fuel is available at outdoor gear stores and you can find it in most medium to large towns. Two popular canister fuel stove styles are:
Simple backpacking stove: small and light, cheap, versatile
Jetboil (I recommend the MicroMo): very efficient at boiling water, especially in cold weather. Can be a bit bulky, but keep in mind it replaces both your pot and stove.
Two alternative stove types that don't use those bulky canisters:
Alcohol stoves are a common alternative to canister stoves. They're lightweight, cheap (you can make your own) and pretty easy to find fuel for.
For a super-lightweight stove setup on short trips, there's also the solid fuel Esbit stove and fuel tablets. These won't cook a full meal, especially in cold weather or at high elevation, but they're perfect for when you want to warm the occasional mug of instant coffee or canned food.
When bikepacking solo, I'll cook directly in my titanium mug so I don't need a pot. This works for every stove type mentioned above except the JetBoil, which has an integrated pot.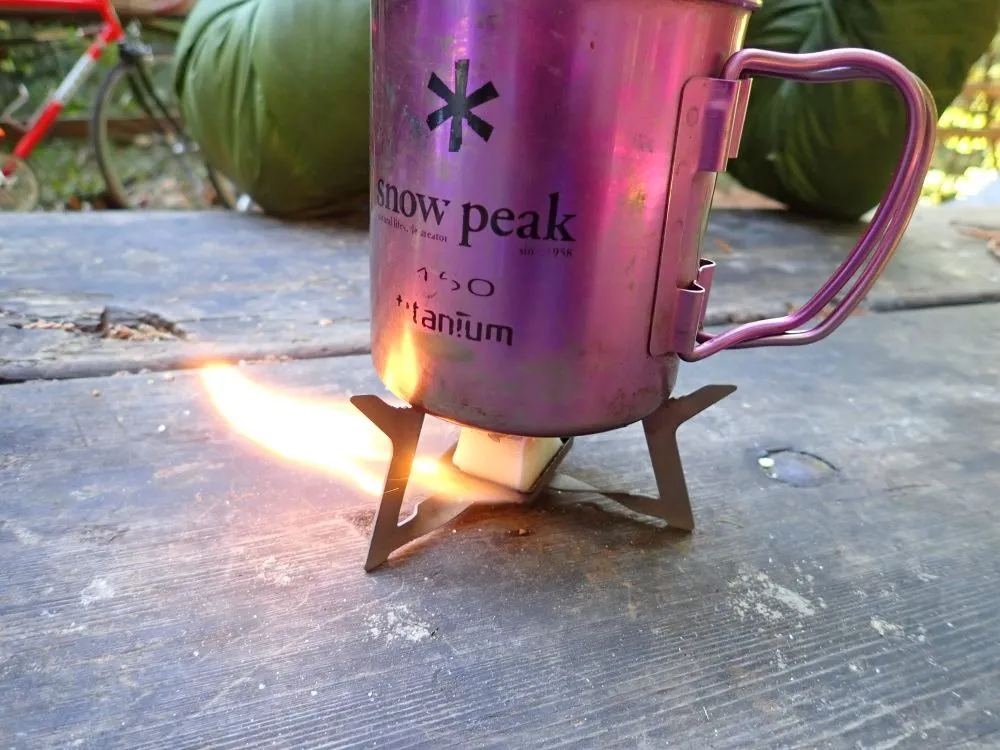 Bikepacking Nutrition Tips
You may have noticed that the bikepacking meal ideas above are not always the healthiest. On a short trip this doesn't matter much, but when you're out for several weeks it's more important to strike a good nutritional balance.
Protein, found in foods like meat, dairy, lentils, and nuts, is essential for rebuilding muscle tissue. On a long trip it's important to eat plenty of protein if you want to stay strong and not lose too much muscle mass.
Fat, found in foods like dairy, nuts, oils, some meats, avocado, and many desserts, has a high calorie density. This makes it good for when you want to carry lots of calories on your bike without taking up too much space or weighing more than necessary. It's also a big part of what helps us feel full after eating, important for always-hungry cyclists. Some people think fat is unhealthy but much of that science is out-of-date. When living an active lifestyle (like biking all day long!) fat is critical to a healthy diet.
Carbohydrates, found in foods like bread, pasta, sugary sweets, and potatoes, are a double-edged sword when it comes to active nutrition. On the one hand, they're usually inexpensive and available everywhere, and provide quick fuel for climbing a big hill or pushing through a long day. But they don't have the nutritional heft of fats or proteins, and a diet based heavily on carbs can leave long-distance cyclists feeling depleted over time. They're also the least calorie-dense macronutrient, meaning they take a lot of space in your bag without providing as many calories in return.
From personal experience, I find it's easy to get plenty of carbs and sugars when eating from convenience stores, but I don't feel very good when I overdo it. I make an effort to seek out higher fat foods like cheese and meat sticks in order to feel fuller and not go crazy on the cookies and candy.
Fresh fruits and veggies are conspicuously lacking from many convenience stores. You might occasionally find a banana or some from-concentrate orange juice. On longer trips I try to indulge in a grocery store salad every few days when the opportunity comes up.
Where to Get Food While Bikepacking
This might be obvious, but here are some brief words about how each type of food stop measures up.
Restaurants
Good for: hearty meals, sometimes fresh healthy food, long breaks, conversation
Bad for: portable food for later, small budgets, quick stops
Grocery Stores
Good for: large selection, dietary restrictions, healthy food
Bad for: quick stops (ever tried navigating a huge grocery store while fuzzy-headed with hunger?)
Fast Food (McDonalds, etc)
Good for: hearty meals that arrive quickly, decent prices
Bad for: healthy food, with some exceptions (Subway)
Convenience Stores (usually gas stations)
Good for: portable snacks, microwave burritos and to-go meals, quick one-stop resupplies (they'll usually have a restroom and you can fill your water bottles at the soda fountain)
Bad for: fresh or healthy food, small budgets
General Stores (small towns)
Good for: portable snacks, simple dehydrated meals, sometimes basic restaurant meals, interested strangers
Bad for: fresh or healthy food, large selection
Keeping Food Fresh While Bikepacking
You might be wondering, if I buy a sandwich at lunch and it sits in my handlebar bag all afternoon, will it still be good by dinner?
I'm not a mircrobiologist and it's true that spoiled food can occasionally be dangerous. But from personal experience:
Most perishable food, like a sandwich, will easily last a few hours to a full day. In cool weather with overnight temperatures in the 30's to 40's F, a sandwich can last until the next day.
Try to keep all food out of direct sunlight. Pack it in the bottom of your bags, not the top where the sun warms the fabric.
Hard foods like aged cheese and dry salami can last weeks, especially if not pre-sliced. The less moisture and surface area a food has, the longer it will last.
Frozen burritos will defrost slowly in your bag, in theory keeping them ready to eat for longer.
If you start to eat something and it seems "off," don't finish it. Keep some emergency energy bars on hand for times like this. It's not worth getting a nasty stomach bug while you're on the road.
Vegetarian and Vegan Bikepacking Food
Life isn't easy for vegans and vegetarian bikepackers, especially in rural places. We Americans really do like our meat. My best suggestion for non-carnivores is to focus on other sources of protein and fat. Some that I see regularly while riding, even in small stores:
Peanut butter (add to tortillas or eat with a spoon)
Canned beans or vegetarian chili
Nuts and trail mix
Dairy like whole milk and yogurt (not vegan obviously)
Avocados (available in grocery stores, but probably not convenience stores)
If you happen to be vegan or vegetarian yourself, please comment below with your ideas! I would love to expand this list with some concrete experience.
Keto and Low Carb Bikepacking Food
Low carb diets are a growing trend these days, and not just for weight loss. It turns out our bodies can fuel themselves using stored fat, if we train them to, which allows us to ride farther between meals without that horrible bonky feeling. A low carb diet also limits sugar, which has been shown to be unhealthy in a variety of ways.
A typical convenience store bikepacking diet is likely to be high in both sugar and carbs. Think about all those Snickers bars, Gatorade, and ramen packets! It's definitely possible to maintain a low carb diet on the road (strict keto is a bigger challenge), but you'll have to make careful selections.
Here are some very low-carb foods you can find in most convenience stores:
Cheese
Salami, jerky, or meat sticks
Nuts and trail mix
Peanut butter or almond butter
Canned tuna or chicken
Avocados (tough to find except at grocery stores)
These aren't super low-carb and definitely not keto, but they're high in fat and protein which will help keep your diet balanced and make you less likely to crave sweets.
Burgers, sandwiches, pizza, etc: not necessarily low in carbs, but high in fat and protein to help balance things out
Whole milk, ideally unflavored (less sugar)
Canned chili or beans
Other Bikepacking Food Tips
A few general tips for food on bike tours:
Pack your food out of the sun as much as possible.
Count calories if you can, and if not, pack more than you think you need. The correct amount of food will probably feel like too much when you're stuffing it into small bikepacking bags or panniers, but I promise, you'll appreciate it later. I have accidentally under-packed food so many times, and it's no fun to be hungry in the middle of nowhere.
Go easy on the junk food, especially sugar. Since I eat a healthy diet at home I'm usually excited about getting to eat junk food on the road, but that excitement usually lasts just a couple days until I can feel my body protesting the poor nutrition. At that point I try to eat more nuts, jerky, plain milk, cheese, and other substantial food in place of cookies and candy.
Always keep some emergency food on hand in case that small town store is closed or a mechanical issue delays you by a day.
Final Thoughts
I hope this post has provided a flavor (hah) for how to plan, choose, and pack food for bikepacking. If you have any favorites or helpful tips of your own, please share in the comments!
More Bikepacking Resources
You might also find these helpful:
New project! Browse bikepacking and touring blogs from around the world at BikeSleepBike.
Bike resources in your inbox?
There's more where this came from! If you're into two-wheeled human-powered adventure, sign up here for occasional emails with my best tips and inspiration for bikepacking and bicycle touring.


Share the Adventure
Was this helpful? If so, please consider sharing so it can help other explorers too:
Pin For Later