No matter where we ride, how we pack our gear, or whether we prefer gravel roads or singletrack, there's one thing all bikepackers have in common: a massive appetite.
Figuring out what to eat on a bikepacking trip can be tough. We need to carry all our food in limited cargo space, find what we need in out-of-the-way places, adjust to unfamiliar cuisines, and sometimes keep an eye on our budget. Satisfying a cyclist-size appetite within these constraints can be a tricky puzzle.
In this post I'll share what I've learned about eating while biking thousands of miles on gravel, dirt, and pavement, in remote and populated areas, on both coasts and straight through the middle (twice) of the US.
If you'll be venturing abroad on two wheels, things get even more complicated. Figuring out what to eat while bike touring in Vietnam, Sudan, or Kyrgyzstan presents a whole other set of issues. In this article I'll focus on the types of food typically available in my home country, the United States, but some tips apply to other places too.
There are affiliate links in this post. Buying through them may provide me with a small commission at no extra cost to you, which helps keep this site running and growing.
Bikepacking vs. Bike Touring?
Let's get this out of the way first. I'm all for inclusive bike travel terminology! Panniers or seat bag, I don't care what you run, we're all one big happy family.
But food for bikepacking, traditionally defined as more about remoteness, camping, and dirt or gravel, is a trickier puzzle to solve than food for bike touring, which I'll loosely define as involving more towns, motels, and pavement (and thus, of course, more grocery stores and restaurants). The space constraints of a bikepacking bag setup, compared to rack and panniers, don't help either.
So, I'll be talking about bikepacking food from here on out. But if you tour in the US, especially in less populated areas, a lot of this applies to you too.
What to Consider When Planning Your Food
Before we get into specifics, we need to talk about what kind of bikepacking trip you're planning for. I loosely break this up into a few different categories based on availability of food, gear you want to carry, and desired mood / pace.
How long is your trip?
For a short trip, say 1-3 nights, you might carry most or all your food from the start. This lets you control your menu and not worry about store hours. Dehydrated meals and other backpacking-style foods work well here (ideas below).
For longer trips you'll need to resupply along the way. With this kind of flexibility it's easiest to just buy what's available as you go along, never planning more than a couple days ahead.
Most people will struggle to pack more than three days of food into a bikepacking bag setup, though it can be done. In practice it's rarely needed. since small towns are fairly easy to come by every few days except on the most remote of routes.
How often will you resupply, and what's available?
Take a close look at your route and expected daily schedule. Will you be passing through something resembling civilization multiple times each day? Once every day or two? Not at all?
The size of the town usually determines what you can buy there. Peruse Google Maps if needed, and be sure to check business hours. Most towns big enough to have a 24 hour gas station will also have a grocery store, fast food chains, and other restaurants to choose from. Knock yourself out!
Small towns often have a single general store or convenience store, and maybe a restaurant that serves burgers and sandwiches. Their hours might be as limited as their selection, so call ahead to check their hours before relying on them.
My typical US bikepacking trips usually involve a mix of resupply stops. I might carry a few dehydrated meals from the beginning, restock snacks along the way, and take advantage of occasional restaurants and grocery stores for extra calories and nutritious food.
Stove or no stove?
For me personally, it's usually not worth bringing a stove if I can get to a convenience store at least once a day. The exception is a leisurely tour with chilly mornings and evenings.
Alternative Lightweight Stoves
Do you enjoy planning and prep?
Are you the type who wants to plan and pack every meal in advance, or do you enjoy the challenge of piecing together a menu from sparse shelves? Do you have time to prepare in advance, or is it easier to just buy as you go?
Dietary requirements can also put some riders in the planner category simply because they can't count on finding what they need if they don't bring it themselves.
What are your dietary goals?
Generally speaking in the US at least, the smaller the town, the harder it is to find varied and nutritious food. Vegetarians, vegans, gluten-free folks, and others with specific dietary needs will struggle to eat from convenience stores and roadside diners.
If you have strict dietary needs, look for towns large enough to have chain grocery stores. You can also mail food drops to yourself via General Delivery at most US post offices, but pickup hours in small towns can be inconveniently limited.
Relaxed or ambitious pace?
Is this trip more of a "mobile buffet" style, a ton of eating with some biking thrown in? Then it's totally worth carrying the stove and some extra goodies if cooking at camp, and scheduling plenty of time for restaurant meals when available. Bring on the bacon cheeseburgers!
On the other end of the spectrum, bikepack racers are all about shoving down calories – any calories – while riding as many miles as possible. Racers typically stick to convenience stores because restaurants and grocery stores take far too much time, and they wouldn't dream of carrying a stove and spending time to cook. It's all about energy bars, trail mix, and as many frozen burritos as you can carry.
How big is your budget?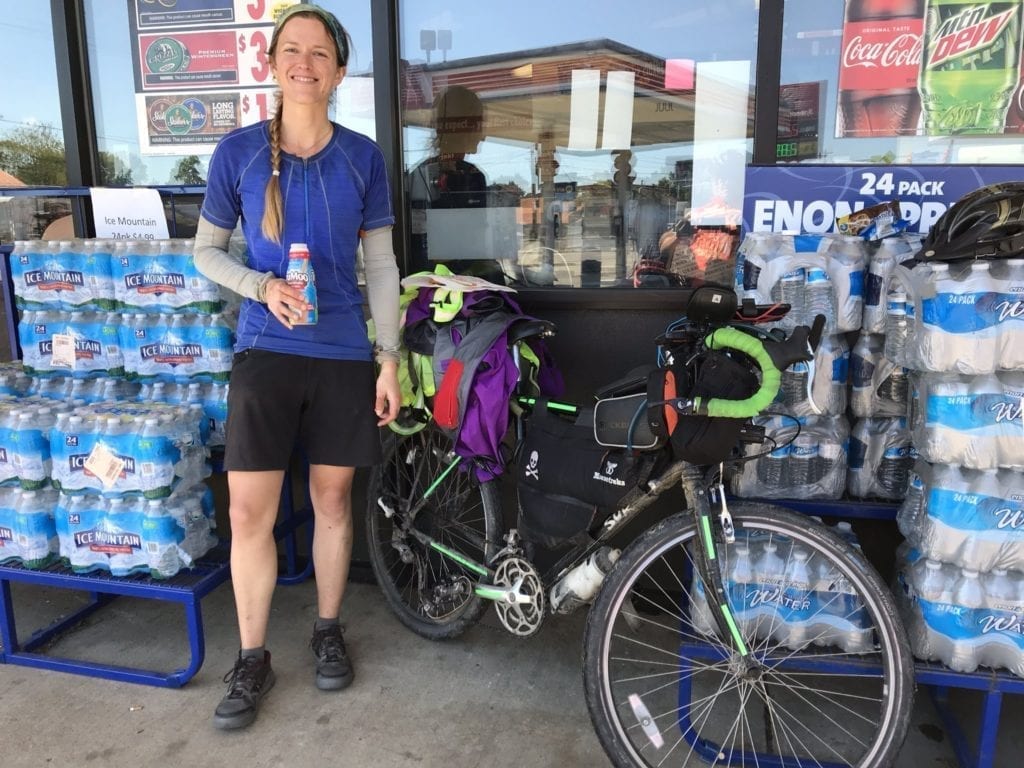 What Makes Good Bikepacking Food?
Depending on your location and budget, some of these can be easier to achieve than others. Let's look at some specific ideas and techniques.
Dehydrated Bikepacking Meals
When it comes to food, a short bikepacking trip in a remote area isn't all that different from a backpacking trip. Dehydrated meals intended for hiking are a great option for bikepackers too, because they're designed to be calorie-dense and weigh as little as possible.
There are two main approaches to dehydrated meals for bikepacking: buy premade, or make your own at home.
Premade dehydrated meals: Mountain House and Backpacker Pantry are two popular brands. The single-serve pouches are convenient but they're also more expensive, create more packaging waste, and often come in serving sizes that are too small for a hungry cyclist.
I like to buy #10 cans from Mountain House (Chili Mac n Cheese is my favorite), portion them out in custom serving sizes, and add extra powdered fat and freeze dried vegetables for more calories and nutrition.
DIY dehydrated meals can be made to suit your preferences and pack in more nutrition, and the process can be fun if you have the time. Here's a good collection of ideas.
Even DIY meals come in a range of effort levels. You can combine a few simple ingredients from the grocery store, buy ingredients that are already freeze dried and powdered and mix them together, or make your favorite homemade meal and they dry it in a food dehydrator (I use this one from Nesco).
Dehydrated meals make the most sense as dinners, when you really want a hot and hearty meal that doesn't weigh too much while you're carrying it. Egg-based breakfasts are a nice change from oatmeal in the morning, but they take a long time to rehydrate (crunchy eggs… yum…). Buying oatmeal and other simple breakfasts from Mountain House seems like a waste of money to me, since they're easy to assemble from grocery store ingredients.
Powdered and Dried Ingredients
For a long ride like the GDMBR, I mail myself bags of these every few weeks so I can add them to the meals I make on the road. See the Mail Drops section below for more on mailing food.
For even more ideas, see How to Make Dried Backpacking Meals More Delicious and Nutritious.
Simple Hot Meals for Resupplying on the Road
When buying food as you go, options are more limited. You probably don't have access to a full kitchen and food dehydrator; you might be hard-pressed to even find a grocery store.
These simple meal ideas can be made from ingredients found in most small grocery stores or even convenience stores. You can also make them at home and pack them for your trip if you need quick and affordable dry meals.
To spruce these up, add some powdered or freeze dried ingredients (especially extra fats and veggies) from the section above.
For meal ideas that don't require cooking or adding water, including lunches, see the next section.
Breakfasts
Instant oatmeal: add peanut butter, nuts or trail mix, powdered milk or cream.
Granola with water: add milk powder and nuts or trail mix (also good cold).
Instant coffee (I particularly like Anthony's for buying in bulk, but single-serve packets are convenient for short trips): add cream or milk powder.
Dinners
Ramen noodles: add peanut butter and hot sauce (Trust me! This is a favorite, and very affordable too.)

Mac 'n cheese: add extra cheese, bacon bits, or salami. Be sure to get the fast-cooking instant kind (usually comes in cups).
Instant mashed potatoes: add cheese, bacon bits, or salami
Couscous: add cheese (are you seeing a pattern here?), canned chicken or tuna
Instant rice (Korr brand "Rice Sides" are popular): add canned chicken or tuna
Couscous: add bacon bits, bean flakes, canned meat, and extra butter or cheese powder
Cans and pouches of soup, stew, etc: Though heavier than dry meals, these can be a nice change of pace.
To literally spice up these meals, horde a few condiment packets from restaurant or fast food meals. A squirt of taco sauce, salsa, or ketchup (the latter especially for mashed potatoes) makes these simple meals a tad more exciting.
Warning about pasta: Most of the pasta in the grocery store needs to be cooked in boiling water for about ten minutes. This uses lots of fuel and leaves you with a bunch of pasta water to dispose of – not exactly "leave no trace." Look for instant noodles instead, which have already been cooked and then dehydrated. They'll rehydrate in hot (not necessarily boiling) water in just a few minutes.
No-Stove Bikepacking Food Ideas
Whether you're packing light and going stove-free, or just want to diversify your menu, these bikepacking meal ideas don't require any cooking or hot water.
Looking at this list, you can see that many no-cook meal options are heavier than dehydrated meals, and they also may not stay fresh as long (especially sandwiches and burritos). This makes them particularly well-suited to routes with frequent resupplies, or as a treat on your first night after resupplying.
While in town, some of my favorite foods to buy and eat before pedaling out include chocolate milk, yogurt, and bananas.
A note about microwave burritos: Most instructions say to microwave them for food safety reasons. Generally they are already cooked, but presumably the microwaving kills any pathogens that may have grown during transport and storage. It's probably a good idea to follow this precaution and microwave them before you leave. That said, I and many others have taken them frozen to-go and eaten them once thawed, with no ill effects. Try at your own risk!
Bikepacking Snack Ideas
A note about sweets: My own experience has been that overdoing sugar leads to bad places. Convenience stores in the US are filled with candy, but it will only power you so far before your body begs for something more substantial. The more I ride, the less candy I eat or even want. That said, sometimes the quick pick-me-up of sugar is exactly what's needed, and if you have a sweet tooth there's no better time than a bikepacking trip to indulge it.
How Long Will Food Stay Fresh?
If you buy a sandwich in the morning and it sits in your handlebar bag until dinner, is it still safe to eat?
(Trying To) Eat Healthy While Bikepacking
There are so many different ideas about what it means to eat healthy these days, and I'm not one to judge. But personally speaking, I struggle to eat well during long bikepacking trips. Sugary treats, processed carbs, and greasy burgers are far too easy to find on the road, while nutritious fresh foods are scarce. It's not about body fat – I'm burning off the calories – but about feeling healthy and strong both during and after a long ride.
Fresh Fruits and Veggies
Fresh fruits and vegetables are notoriously awkward to carry during a bikepacking trip. They weigh a lot, squish easily, and don't provide very many calories.
So why bother? When we're bikepacking for weeks or months, going without could lead to nutritional deficits. Sometimes cool and crunchy food is just enjoyable. I'm not normally one to crave veggies at home, but after a few weeks on the road a salad is the first thing I eat in town (ok maybe the second thing, right after that cheeseburger).
If I'm going to carry fresh fruits and veggies on the road, these are my go-to's. If I have room in my bags I'll pick one or two as a special treat. They usually last a couple days.
bell peppers: cut them up and put them in couscous or noodles
avocados: great in almost any dinner, or on tortilla with cheese and salami
apples: delicious snack on a hot day
cucumbers: also delicious on a hot day
mandarin oranges: protect from squishing, but otherwise an excellent snack
dried fruit: ok, not fresh, but sometimes it's the only option
baby food pouches: a little weird at first, but they grow on you
Vegetarian and Vegan Bikepacking Food
To get enough calories, vegans may need to add extra fat to pretty much everything. Olive oil decanted into a small plastic bottle, and powdered coconut milk, are both good vegan-friendly options.
Textured vegetable protein is a vegan source of complete protein that can be mixed into all kinds of meals and takes on the flavor of whatever it's cooked with.
If you happen to be vegan or vegetarian yourself, please comment below with your ideas! I would love to expand this list with some concrete experience.
Keto and Low Carb Bikepacking Food
Low carb diets are a growing trend these days, and not just for weight loss. It turns out our bodies can fuel themselves using stored fat, if we train them to, which allows us to ride farther between meals without that horrible bonky feeling. A low carb diet also limits sugar, which has been shown to be unhealthy in a variety of ways.
A typical convenience store bikepacking diet is likely to be high in both sugar and carbs. Think about all those Snickers bars, Gatorade, and ramen packets! It's definitely possible to maintain a low carb diet on the road (strict keto is a bigger challenge), but you'll have to make careful selections. See this list of low-carb backpacking food ideas, which apply well to bikepacking too.
Mail Drops for Bikepacking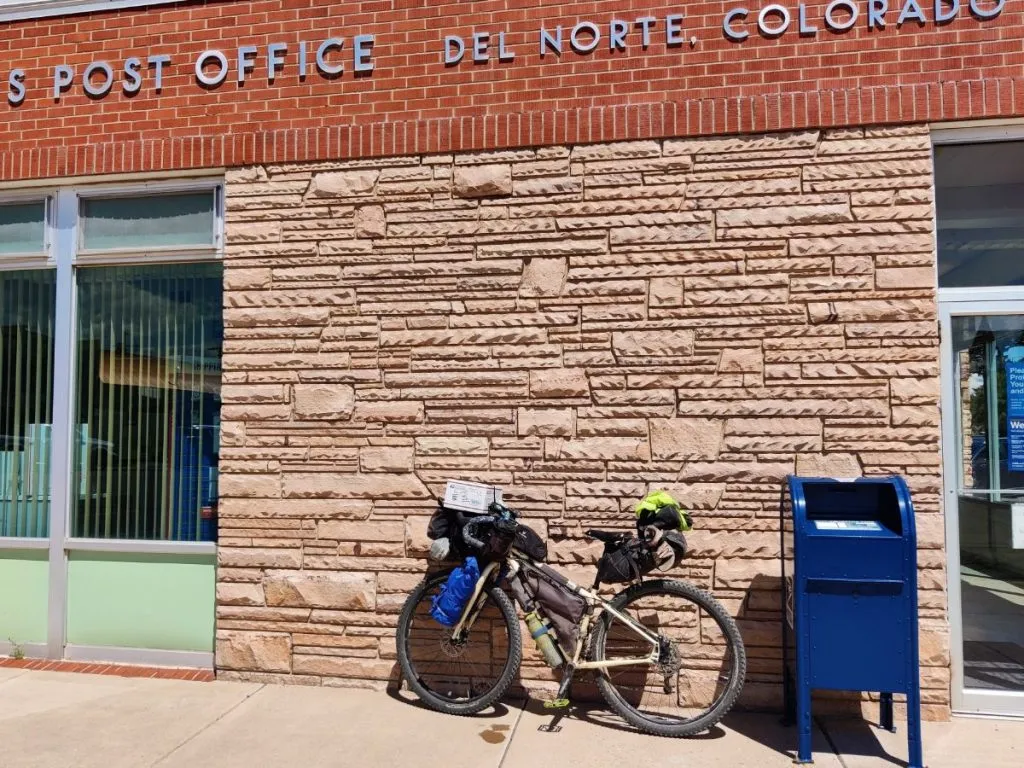 How to Carry Food While Bikepacking
As with the rest of packing for bikepacking, figuring out where and how to pack your food is a puzzle.
A handlebar pouch is great for meals or snacks you'll get into less frequently. I love this budget-friendly pouch from RockBros because it holds so much. It can attach to the top or front of a typical handlebar roll bag for extra capacity.
Top tube bags like this one (also budget-friendly) are another way to carry small snacks accessibly while riding.
Your seat bag is a good place for dinner and breakfast food that you won't need until you get to camp. While budget options exist, I'm partial to Revelate these days. Try to put heavy stuff, like canned food, closest to the seat post and lighter stuff toward the back.
Dry sacks in cages on the front fork can also work well for food, especially stuff that's heavier and should be carried down low.
Key tip: Keep a few ziplock bags handy for repackaging food. You might want to empty that bulky mac 'n cheese cup into a bag to save space, or transfer trail mix from a non-ziplock bag into a zippable one to avoid spills.
Safe Food Storage For Bikepacking
If you're bikepacking in bear country, or even rodent country, you'll need to take care with how you store you food overnight.
I once left some trail mix in my stem bag overnight by accident. I woke in the morning to find a rodent had eaten half of it, pooped all over my stem bag, and ran off with my cycling gloves! At least it wasn't a bear…
If bears are not an issue, I will usually pack all my food in a single bag and bring it into my tent at night to keep it safe from rodents. At the very least, I put it in my seat bag and buckle it up securely. I have heard stories of rodents chewing through tents and bags, but at least they have to work for it instead of just enjoying a rodent buffet.
When camping in bear country, it's important – for both your safety and that of the bears, who are often euthanized if they develop a taste for people food – to store your food properly. Bikepacking bags and bear canisters don't play well together, so you'll be doing a bear hang (harder than it looks) or ideally carrying an Ursack (see my review for more detail) for overnight food storage.
Eating and Cooking Gear For Bikepacking
This could be a whole post on its own, but here are a few quick notes on cooking gear for bikepacking.
Whenever I travel on my bike I always pack a lightweight but durable spoon and a collapsible cup/bowl. Even if I'm mostly eating grab-and-go meals and never plan to cook at camp, these always seem to come in handy somehow.
When bikepacking solo, I'll cook directly in my titanium mug so I don't need a pot. This works for every stove type mentioned above except the JetBoil, which has an integrated pot.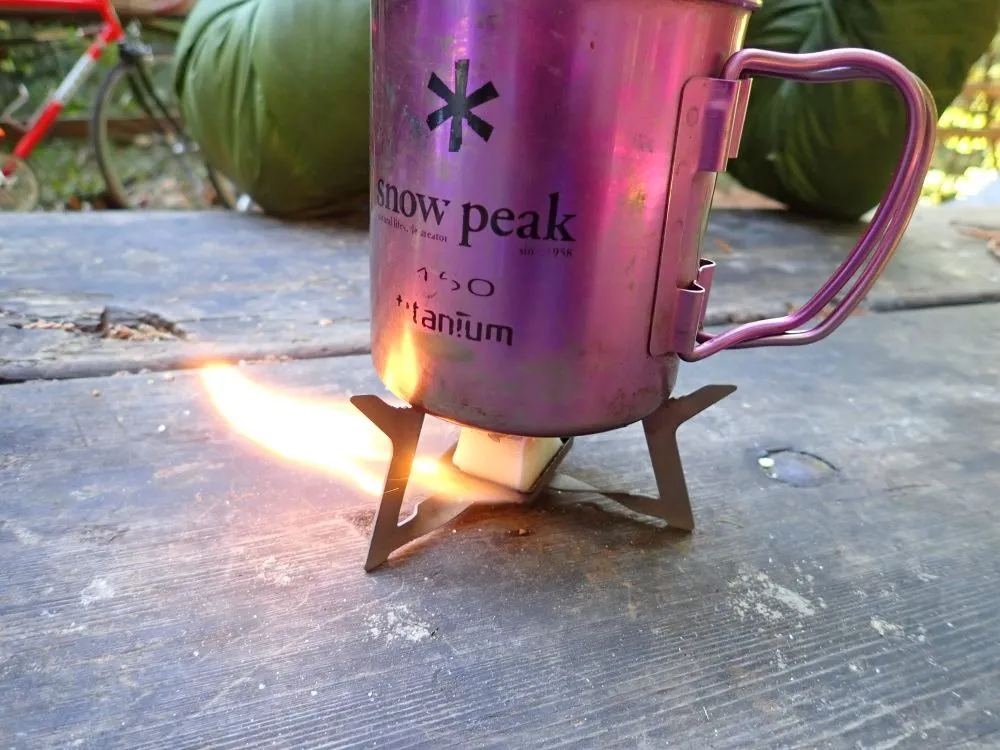 Other Bikepacking Food Tips
Final Thoughts
I hope this post helped you understand how to plan, choose, and pack food for bikepacking. If you have any favorites or helpful tips of your own, please share in the comments below.
More Bikepacking Resources
Pin For Later