Have you ever wondered why more people aren't bikepacking in Nevada? With its massive open spaces, vast areas of public land, and large network of lightly traveled gravel roads and jeep tracks, it seems to be a bikepacking and gravel touring paradise. Yet aside from the Highway 50 road touring route and the bikepacking newcomer Pony Express route, you just don't hear much about bikepacking in Nevada. Why not?
Intrigued by the question and fascinated with the blank spaces on my Benchmark map, I found myself plotting a bikepacking route through the vast public lands of southern Idaho and across the state line into northeastern Nevada, through the charmingly funky mountain outpost of Jarbidge, and down across barren desert basin into the town of Elko.
The idea sat for a while, but after the 2020 Idaho Smoke 'n' Fire bikepacking race I finally found my opportunity to ride it, "on the way home," sort of, after a few days of recovery in Boise.
I learned a few things along the way, including why more people don't bikepack or tour through Nevada. It's tough! The dry terrain, massive vistas, and bullet-riddled road signage all contribute to a sense of vulnerability when moving through on a bicycle.
This is pickup truck and ATV territory, and the locals will be surprised to see you. But they'll also happily offer you water, or even a cold beer, and wish you well as you pedal off toward the impossibly far horizon.
About This Post
This is a combination trip report / route guide intended to help anyone else odd enough to be intrigued by this ride. I'll describe the route I took, highlights along the way, suggested food and water resupply locations, and things to consider for anyone looking to repeat part or all of the route, or even just ride in this general area.
All pictures are from my own ride. You'll see, unfortunately, that they were taken during the wildfire apocalypse of September 2020, so they lack the appeal of sunny blue skies which would probably make this ride even more scenic. I invite you to use your imagination.
Route Highlights
To whet your appetite, here are a few highlights of this ride between Boise, ID to Elko, NV:
Bike on part of the historic Oregon Trail near Boise
Short detour to Bruneau Canyon overlook, totally worth it
Ride through an air force bombing range!?
Jarbidge River's comforting presence after the barren high plains, and the friendly, funky mountain town of Jarbidge.
Wide open Nevada desert
Route Map
Route Description
The route starts in Boise, a convenient and pleasant city with a fantastic mountain biking scene. The Boise greenbelt is a gentle start. After about 6 miles you'll leave the greenbelt heading into some suburbs and a brief climb to the historic Oregon Trail alignment and some local singletrack.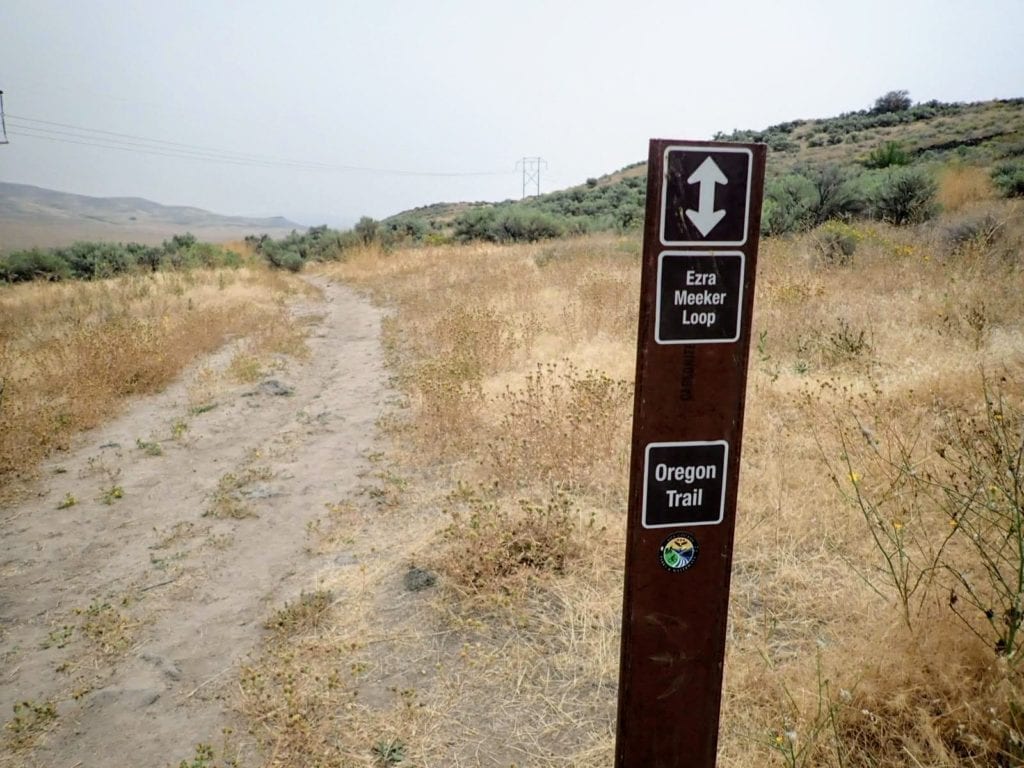 Continue out of town on BLM land and rough jeep track, climbing up to historic Bonneville Point and a gravel road that will take you down to paved Black Creek Road. This eventually turns to gravel and then back to pavement before linking up with Simco Road near I-84. The short detour across the interstate to the Boise Stage Stop is worth it for their well-stocked store and restaurant.
Long, paved, straight Simco Road shoots south for about 20 miles to the Strike Dam Cutoff Road, also paved, which leads to several campgrounds and dispersed camping possibilities around the reservoir. From here a dozen miles on lightly traveled state highway 78 lead to Bruneau, where it's time to stock up on food and water for the remote stretch ahead at the Bruneau One Stop.
Then turn right onto Hot Springs Road and follow pavement through ranches for about 10 miles until the road turns to gravel and a concerning sign welcomes you to an air force bombing range! No worries, just continue on…
Around mile 92 take the right for a several-mile detour to the Bruneau Canyon overlook. You'll likely have the place to yourself, and the views are impressive. You'll be skirting this landmark for the next day or two and crossing the waters again later on, so it's worth having a closer look even if the road is a bit washboarded. There's a nice vault toilet at the overlook, but no water. From here there's also an option to hop on the rougher Idaho Centennial Trail instead of returning to the main road, but I didn't try it.
Back at the main gravel road, it's more endless vistas and rolling hills for the next 40+ miles. At Three Creek "Highway," an overstatement, you'll hit pavement for five brief miles before plunging down to the East Fork of Jarbidge River on gravel once again.
The pleasant river, shady trees, and interesting rock formations will likely be a welcome change from the barren high plains. Enjoy this section as you pass the town of Murphy (which has a hot spring, though I didn't investigate) and continue gradually uphill along the river to toward Jarbidge, NV.
Jarbidge is a highlight of this route, a funky mountain town in the middle of nowhere that seems happy to welcome visitors, especially those crazy enough to arrive on a bicycle. Treat yourself to a burger and beer at the Outside Inn, resupply snacks for the next couple days from the tiny Trading Post, and camp for free at one of the lovely riverside campgrounds or dispersed sites.
Leaving Jarbidge, tackle four miles of steep climbing up to Bear Creek Summit. No shame in walking part of this, if need be. Then enjoy scenic views and a sweeping descent out of the mountains and back down to Nevada's signature barren desert for the last 20+ miles to highway 225.
At highway 225, turn left and ride pavement for 55 miles to Elko. If you're into road touring, it's not too bad, with relatively sparse traffic (one vehicle every couple minutes on average, dependent on time of day) that generally passes respectfully.
But, if you're into gravel and trails, the traffic on NV 225 might be a bit much on this shoulderless 70mph highway, and it's certainly less scenic than earlier parts of the route. An extension to Winnemucca via the tiny outpost of Midas would make an interesting way to avoid this section, though since I didn't ride it myself, I can't vouch for it. See Alternates and Extensions below for more detail.
Finishing in Elko and Getting Home
Elko is a real town with all the services you need. It's a bit hard to get out of with bikes though. One-way rental cars aren't always available, and the Amtrak won't accept bikes at the unstaffed Elko station. Flying is an option if you can get a bike box from one of the local shops, though prices from the tiny local airport aren't cheap. If all else fails, there's always U-Haul.
Or if time is plentiful but money is scarce, you could certainly pedal yourself to Reno using a combination of more gravel backroads and the relatively low-traffic Highway 50. I recommend Benchmark Maps to help with planning if you decide to take this on.
Route Surface and Conditions
This is a 275ish mile mixed terrain bikepacking / touring route in southern Idaho and northern Nevada. It includes roughly 100 miles of pavement, 55 of which are the last stretch into Elko on highway 225. The rest is gravel.
The gravel roads are "main arteries," such as they are, through these remote areas. This means they do see some traffic; maybe one vehicle every hour or two on average. Most road users are ranchers, hunters, or military folks from nearby training areas. I found most to be friendly and respectful, though many seemed quite surprised to see me. This is not a place where people expect to see cyclists, and especially not a solo lady.
The roads are decently well maintained, sometimes smooth and fast, but washboarded in places. A few short sections in Nevada looked like they might get muddy when wet.
Bike Choice and Setup
I rode my rigid Salsa Fargo with 2.25″ tubeless tires and thought it was great. I liked being able to run lower tire pressure on the rocky or washboarded sections, and then pump them back up for the pavement. You could certainly get away with less tire if you're willing to navigate some sections carefully. I don't think any suspension is necessary, since much of the route is pretty smooth. In the days before my Fargo I would have ridden this route on my Long Haul Trucker without much trouble.
I don't think tubeless tires are a must, but I do think they're helpful. You're likely to encounter sharp flora when wheeling the bike off-road for stealth camping. Along highway 225 and at some of the gravel road pullouts there is an unfortunate amount of broken beer bottle glass. If you haven't taken the tubeless plunge yet, it's not as hard as it might seem.
A bikepacking bag setup is always nice for more minimalist packing, which makes any ride easier. You could certainly run a rack and panniers on this route though, with the usual precautions for rough gravel roads: a sturdy steel rack and Blue Loctite. If you're shopping around and still undecided between panniers and bikepacking bags, here are the pros and cons of each.
Water Sources
You'll want to plan water carefully on this route, especially in the late summer or fall (which is basically the only reasonable window for riding it). Temperatures can still be plenty toasty in September, but creeks that might flow in early summer are likely dry by the time the desert temperatures become bearable. Even the "rivers" are relatively modest in this dry region, and might in other places be called "streams."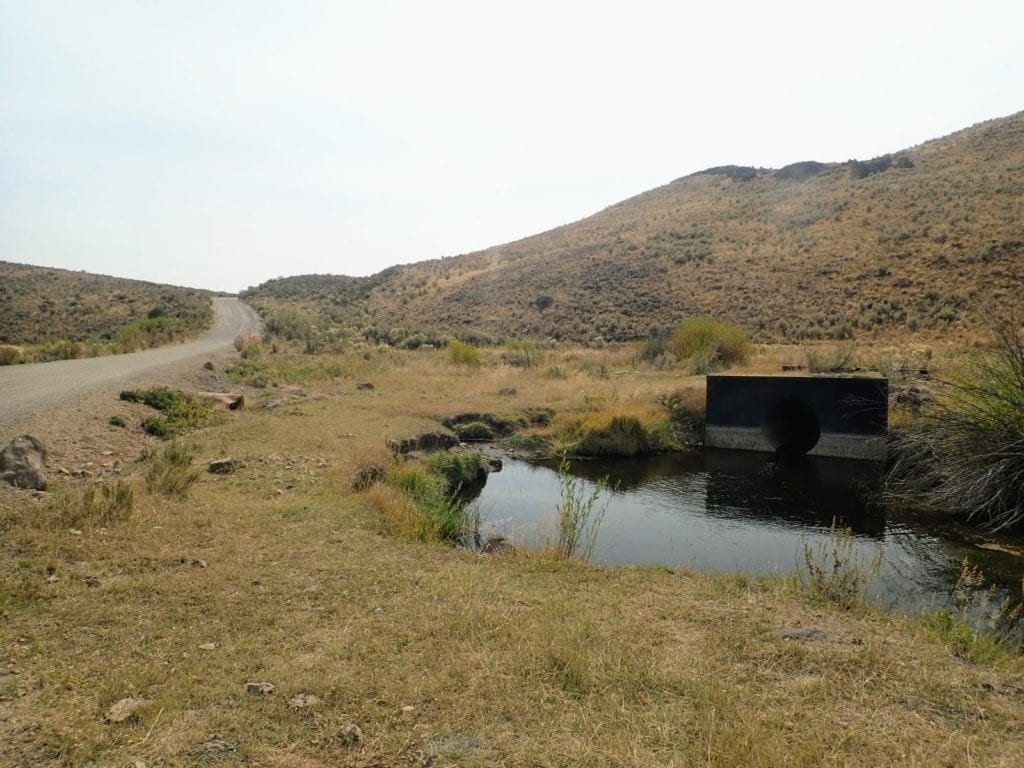 I carried six liters of water capacity and used it all for much of the ride. If you're not sure how to carry that much water with a bikepacking setup, here are some ideas.
Here are the key water sources on this route. The food resupply stops listed below all also offer water.
| | | |
| --- | --- | --- |
| Source | Mile | Notes |
| Strike Reservoir | 63ish | Potable water at campgrounds, or filter from the reservoir |
| Bruneau One Stop | 76 | Hand pump out front, or running water in the restroom |
| Clover Creek | 121 | Was running in Sept 2020, but I don't know if it's always reliable. I was prepared to skip this one just in case. |
| Jarbidge River | 158 – 175 | Water everywhere! Enjoy while it lasts. |
| Bear Creek Meadows | ~179 | Water here in Sept 2020, but no camping allowed to protect Jarbidge water supply |
| Bruneau River | 201 | Just a dirty trickle in Sept 2020, but good for topping up. Charleston Reservoir just past this was completely DRY. If finishing in Elko this might be your last convenient water source. |
Because the remote roads on this route do see some traffic, I had a few friendly strangers offer to top up my water and I gratefully accepted. However, it's obviously best to be self-sufficient and not rely on such luck and generosity.
You'll definitely want a good water treatment system for this ride, especially the dirty cow water on the southern part. I recommend a filter, not just chemical treatment. If you're unsure, here are my thoughts on the best water treatment systems for bikepacking.
Food Resupply
If you ride at a moderate pace you'll want to carry a couple days of food at a time. Towns are few, far between, and very small, and the small stores and restaurants may have limited hours. Here are the resupply options along the way:
Place
Mile
Notes
Boise Stage Stop
30
Well stocked convenience store and restaurant
Bruneau One Stop
75
Small convenience store and restaurant
Jarbidge
174
Trading Post: tiny store with snacks and frozen meals. Open 11am-5pm but owner lives in pink trailer across the street and says it's ok to knock on her door outside of open hours.
Outside Inn: basic restaurant and bar with burgers, etc.
To help you make the most of these limited options, here are some food ideas for bikepacking and rural touring.
Camping
There are plenty of excellent camping options on this route, some established and some quite wild. In the more open landscapes it does take some care to find spots that are hidden from the road. Here are some ideas.
| | | |
| --- | --- | --- |
| Place | Mile | Notes |
| Strike Reservoir | 63ish | Several established campgrounds (North Park is the first) which cost $8 cash per night for a grassy tent site. Free dispersed options along the southern shore, expect plenty of RVs. |
| Bruneau Canyon Overlook | 94 | Some jeep tracks along the canyon here, and in case of emergency, a clean vault toilet is the only shelter for many miles. |
| Edge of gunnery range | 105 | After here the bombing range ends (as does the fence) and you can free camp in most places. It's hard to find spots hidden from the road, but around mile 127 there's a small ravine that makes a great hidden site. |
| Jarbidge | 174 | Several lovely free campgrounds along the river just south of town. The best are just south of the turnoff to the big climb. Once on the climb there are a few pullouts, but much more limited. The descent from Bear Creek Summit also has plenty of dispersed camping pullouts, but once it levels out you're back in wide-open terrain. |
| Trees | ~217 | A couple stands of aspen trees in this area make good stealth camp spots, possibly the last before Elko. Not much good sheltered camping along HW 225. |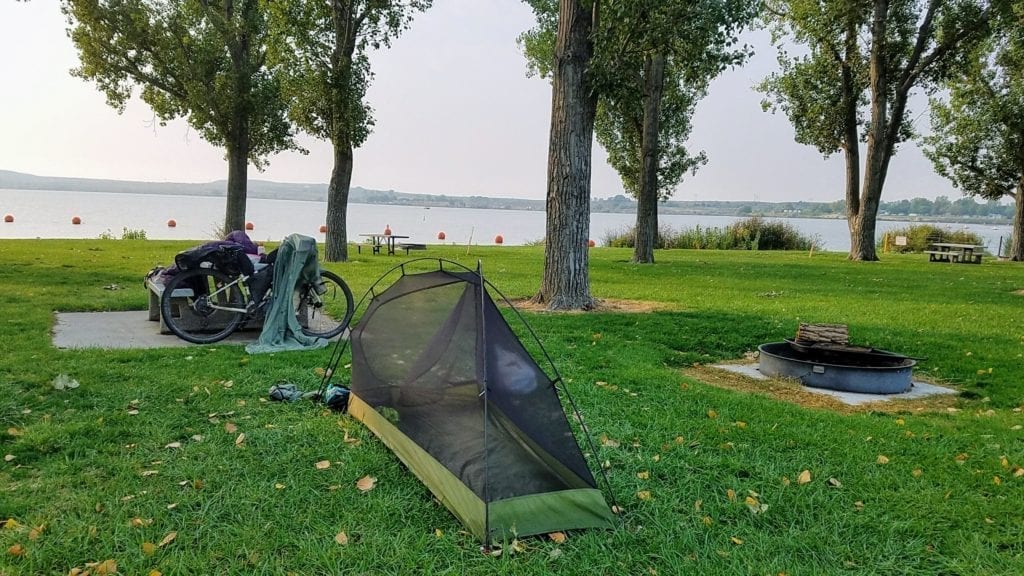 My Itinerary
This was my schedule at a casual touring pace. It would definitely be possible to do the route faster. Slower might be tricky given the scarce water sources, but possible with some planning and large water capacity.
| | | |
| --- | --- | --- |
| Place | Mile | Notes |
| Strike Reservoir | 63 | North Park Campground |
| Middle of nowhere | 127 | Wild camp in small hidden ravine |
| Jarbidge | 176 | Lower Bluster camp area just south of the turnoff to the climb |
| Trees | 217 | Hidden but close to the road in a small stand of aspen trees about 6 miles before hw 225 |
| Elko | 275 | Shilo Inn, cheap, very clean |
Weather and When to Ride
The considerations are heat in the desert portions and snow in the high section around Jarbidge. This makes the ideal window late summer to fall, when temperatures aren't as scorching in the shadeless desert but snow hasn't yet impacted the Bear Creek Summit area.
Temperatures during this season can vary widely. Sunny days may be hot – in the 80's or even 90's – while nights can touch freezing, especially down in Jarbidge canyon. I woke to frost while camped on the Bruneau River Plateau in late September, while the afternoons were still uncomfortably warm at times.
Note that this time period overlaps with hunting season. Wear some blaze orange or high-viz yellow (good for traffic safety anyway) and expect to encounter hunters on the large sections of public land.
Extensions and Alternates
From Boise to Bruneau I followed suggestions from a local Boise rider for avoiding traffic. Another option would be to ride south of the Boise airport and through the Orchard Combat Training Center, which is open to the public on main roads. I'm told traffic can be bad up until Kuna Mora Road along this route, which is why I followed the route mapped in this post instead.
From Bruneau to Jarbidge and out to Highway 225 the route is pretty obvious on the main gravel road, with occasional signs to point the way at major junctions. Plenty of secondary tracks exist, including the Idaho Centennial Trail, and gravel-averse bikepackers could probably find more appealing alternates on some sections. But keep in mind that water is scarce out there and the occasional passing vehicle could be helpful in a pinch.
At Highway 225 I turned south and rode 55 miles of pavement into Elko to end my ride. However, a potential extension would continue west (turn right on 225 and then immediately left on 732 / Jack Creek Summit Road) through the national forest to Highway 226 and then Taylor Canyon Resort Co. for resupply.
From there you could ride 226 south to 225 and then Elko, or extend westward again via a long stretch of gravel to the tiny town of Midas (which I'm told has a saloon / restaurant) and out to Golaconda and Winnemucca.
From Winnemucca one could ride more gravel to the ghost town of Sulfur and then out to Gerlach, from there taking highways 447 and 445 south into Reno.
I've mapped and researched this extension but haven't ridden it, so I'll resist providing a map for it. It's remote and dry enough that anyone taking it on should do the research themselves anyway. They should also really love remote Nevada gravel.
One final idea: from Elko a mix of paved and dirt roads lead south toward Eureka on Highway 50. Apparently the Ruby Lake area along the way is nice. One could ride south to Highway 50 and then do some road riding on "America's Loneliest Highway" heading west toward Reno.
For more general inspiration involving gravel roads in northern Nevada, this blog is a gold mine of information about this rarely ridden region.
Other Considerations
In some ways this was a straightforward gravel touring route. The riding is moderate, with some climbing but nothing crazy, and the presence of occasional vehicles provides a safety net.
Yet, personally I found this route mentally challenging. I think being solo was a big factor; it's hard not to feel small and vulnerable in these massive landscapes. If you tackle the route alone, be prepared to feel a bit out of place. Sometimes that's a good thing, other times it's not. With riding companions I bet this route would be a blast, and I hope to return for more in the future.
Yay Bikepacking!
If you're considering riding your bike through southern Idaho and northern Nevada, you probably love bikepacking and touring. So you might also like these other resources:
Bike resources in your inbox?
There's more where this came from! Sign up here for occasional emails full of inspiration and information about bikepacking and bicycle touring.


Share the Adventure
If you found this article helpful, please consider sharing so more people can benefit from it:
Pin For Later