Welcome to part 5 in my series of GDMBR summaries. This, the final post in the series, covers my experience bikepacking the Great Divide Mountain Bike Route in Canada.
The sections are arranged in the direction I rode, which is northbound (also referred to as NOBO). I hope that will be especially helpful to my fellow northbound riders, since there are fewer resources out there written from our perspective. Sorry southbound riders, you'll have to read it backwards like us northbounders have to do with everything else. 😉
This is not intended to be a definitive guide to the GDMBR. I recommend the ACA maps and the McCoy Guidebook for that, among other resources. Consider this post more of a supplement from one specific perspective.
Visit post #1 in the series for a bit more background and to start from the beginning, or choose one of these:
Ride Overview
To give context for what follows, here are the basics of my experience on the GDMBR.
Dates: June 22 – August 26, 2021 (65 days, including 9 non-riding days for rest, visiting, and exploration)
Direction: Northbound! (the weird way)
Mood: Leisurely but efficient. Definitely not racing. I had pushed myself hard on enough prior trips and wanted time for more relaxation and "type 1" fun this time around.
Load: Fairly typical long-distance bikepacking setup. No rack, but bikepacking bags stuffed to the gills. I estimate my fully loaded Fargo weighed around 55 lbs without much food or water.
Companions: Solo until Jackson, WY (about 1600 miles), then joined by my husband for the final 1100 miles. The best of both worlds! I love riding solo but a month is enough, and I've been wanting to share a long ride with him for years.
Impressions of Canada
When I started the Great Divide down in New Mexico, I had no idea if Canada would open to tourists by the time I arrived. I rode northbound in hopes of getting lucky with the timing, and it actually worked! After a detour to Kalispell for expensive COVID tests and then a quick dash to the border, we were thrilled to cross into Canada for the final chapter of our ride.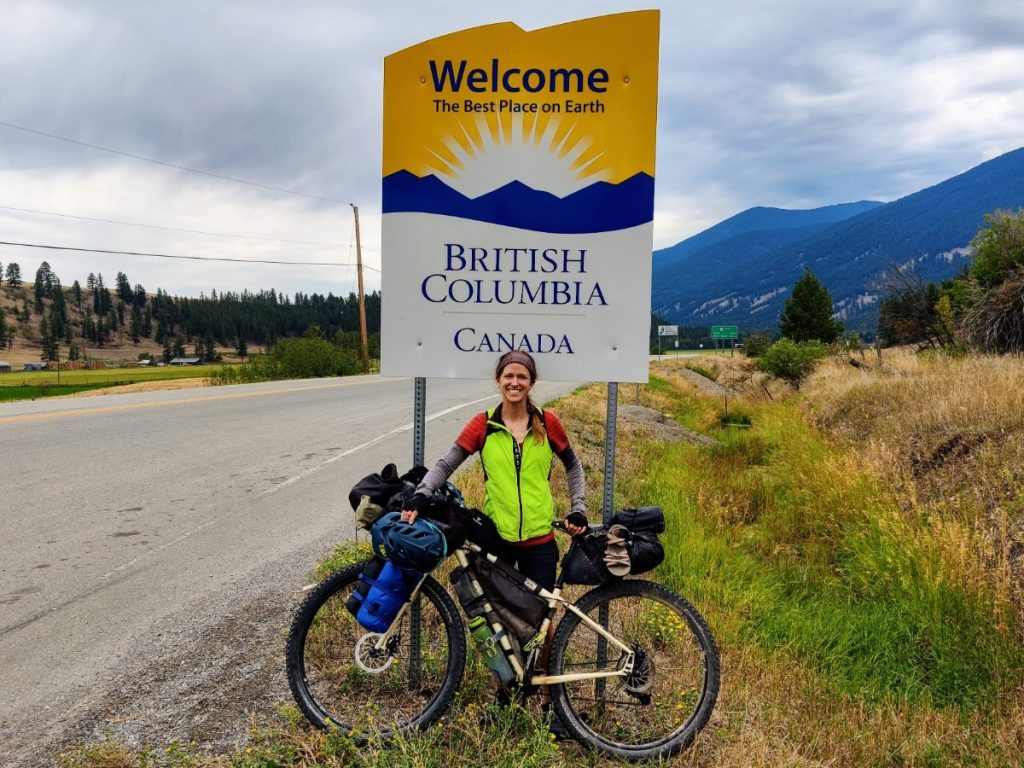 The scenery in Canada, especially north of Elkford in the Elk Valley, is dramatic and unlike anywhere else on the Divide. The region feels settled and not particularly remote, but it was so pretty that we didn't mind. There's a fair amount of singletrack to navigate as you traverse local trail systems, but most can be bypassed if you prefer.
We glimpsed two bears on the whole GDMBR, and both were in this section. At least one was a grizzly, and both were spotted along wide gravel roads in places we didn't expect. We also saw bear tracks that looked like a grizzly to me. Be bear-aware through here!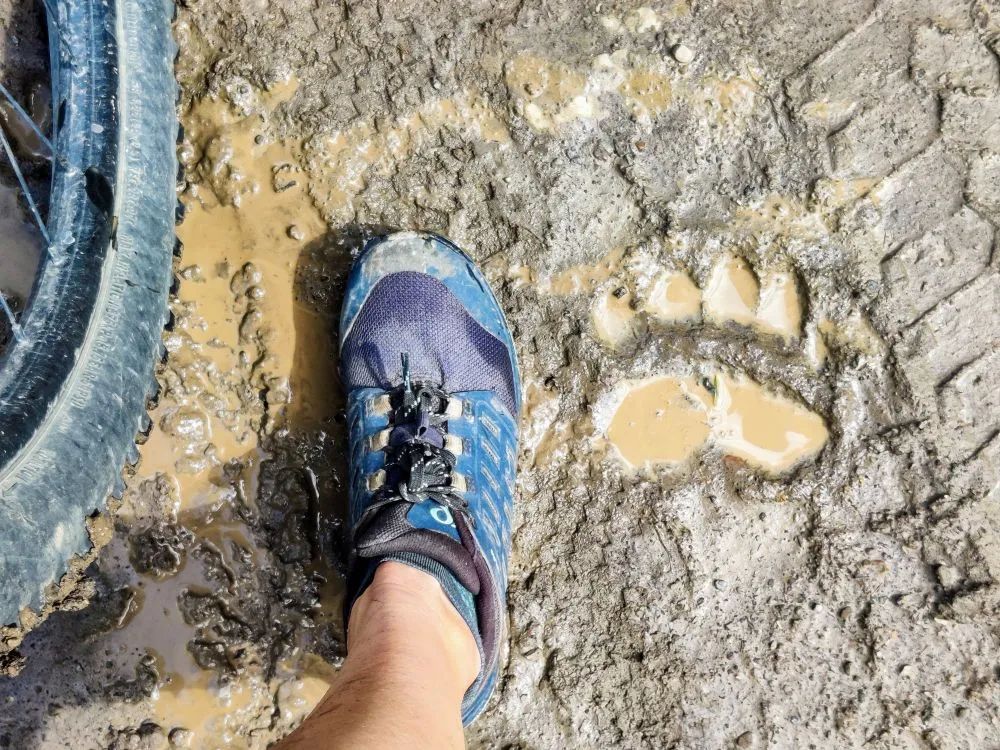 Travel Logistics
Coming from the US, British Columbia might seem so similar on the surface that it's easy to forget you're crossing an international border. Here are a few tips to remind you that Canada is indeed a foreign country:
Currency: Canadians use Canadian dollars, which are easy to withdraw from ATMs in almost any town. We almost never needed them since credit cards are widely accepted, but as in the US cash is sometimes required to pay for campsites. The store at the border crossing can change US dollars into Canadian dollars, but they told me not to bother since getting Canadian dollars in Canada is so easy.
Language: British Columbia, and western Canada in general, speaks English. You might notice a slight accent if you're used to American English.
Entry requirements: You will of course need a passport; riders heading northbound should figure out how to carry it on the route or have it delivered to them closer to the border. Riders heading southbound might want to mail it home after crossing. Check the state department website for all the latest entry requirements; at the time we crossed this proof of vaccination and COVID PCR testing.
Connectivity: Our US T-Mobile plan works seamlessly in Canada and Mexico. Check yours to see if it might have a similar feature, or look into getting a local SIM card once you cross.
Canadian Border to Fernie
The section between the border and Fernie isn't particularly remote or scenic, but don't worry, it gets better. Food is easy to come by, but wild camping is less available outside of the spots marked on the ACA maps.
Due to bear concerns and limited public land, many cyclists ride town-to-town in this area instead of wild camping. We camped at the recreation site near Grasmere and then headed to Fernie.
Miraculously, once we entered Canada the wildfire smoke that had plagued us in northern Montana cleared up! After coming all this way, we felt so lucky to enjoy the views during our final week on the trail.
We took the main GDMBR route from the border to Fernie, but there's an alternate that cuts back east into the Flathead Valley and is known to be wild, remote, and challenging. I can see the appeal compared to the settled area we traversed, but we were almost done and headed for the finish line so the easier route suited us fine.
Tips for this section:
Hit the "3& 93 Dairy Bar" for some ice cream and food near Elko.
There is a fair amount of singletrack on either side of Fernie, which may or may not be enjoyable depending on your taste and bike setup. Most can be bypassed on parallel roads which are evident from the map.
Fernie is a nice town for a rest day. We found it smaller, less touristy, and more affordable than Banff.
The Raging Elk hostel is a good value in Fernie.
Fernie to Banff
Sometimes we cursed the never-ending Elk Valley Trail through this section. At least it was a car-free route through a pretty (if rather developed) area through Sparwood and on to Elkford, where we spent a chilly night at the campground.
The weather was becoming noticeably chillier the further north we traveled. I could only stay warm without a jacket in the full midday sunshine, and at night I bundled up in my down jacket which I had rarely needed for sleeping on the rest of the route.
We particularly loved the scenery and riding north of Elkford and south of the Kananaskis Lakes. Tobermory Creek Cabin was our home for the second-to-last night but I don't necessarily recommend it. Mice kept us awake most of the night, and there was plenty of nice wild camping nearby.
North of Elk Pass the area became more touristy, especially down around the Kananaskis Lakes. The gravel road was busy, dusty and washboarded, but the mountain views were fantastic.
We camped at a hiker/biker site at Buller Lake – not too far from where we had just seen a grizzly bear, yikes! – and enjoyed a beautiful calm evening, fitting for our last night on the Great Divide.
The final day included a final bit of interesting doubletrack trail that connected into Banff's local trail system. The trails grew increasingly busy with Banff locals and tourists as we approached town; we even got to ride and chat a bit with a couple local cyclists out for a training ride.
Suddenly we popped out of the woods and… we were in Banff! It was crowded and a little disorienting, but we found our way to a celebratory meal and motel.
And then, just like that, it was time to find bike boxes and organize transportation to Calgary Airport, and see about transitioning back to the "real world" after two months on the road!
Tips for this section:
Sparwood and Elkford are both decent-sized towns with food, motel, and campground.
There is decent wild camping south of Elk Pass, and even a cabin if you want to sleep indoors (watch out for mice).
If you're lightly loaded and want to get off the road north of Kananaskis Lakes, try the singletrack High Rockies Trail (more work, but maybe more pleasant).
Between Kananaskis and Spray lakes there is no wild camping, but cyclists are allowed to camp at hiker/biker sites at the day use areas (Buller and Sawmill are two examples). They're nice sites with bear boxes and picnic tables, but a little expensive ($31 Canadian dollars).
From Banff, some NOBO riders continue to Jasper on either the newly extended GDMBR route or the scenic but paved Icefields Parkway.
If your ride is over in Banff, you can ride to Calgary or take an airport shuttle (we recommend Banff Airporter).
If you need a bike box in Banff, ask around town at the bike shops and also the rental places. We finally found our boxes at the Snowtips-Bactax store.
More Great Divide Resources
Here are the other posts in my GDMBR series:
These general bikepacking resources might also help:
Or, find the full list of bikepacking resources here!
Bike resources in your inbox?
There's more where this came from! Sign up here for occasional emails full of inspiration and information about bikepacking and bicycle touring.


Share the Adventure
If you found this article helpful, please consider sharing so more people can benefit from it:
Pin It