Welcome to part 2 in my series of GDMBR summaries by state. This post covers my experience bikepacking the Great Divide Mountain Bike Route in Colorado.
The sections are arranged in the direction I rode, which is northbound (also referred to as NOBO). I hope that will be especially helpful to my fellow northbound riders, since there are fewer resources out there written from our perspective. Sorry southbound riders, you'll have to read it backwards like us northbounders have to do with everything else. 😉
This is not intended to be a definitive guide to the GDMBR. I recommend the ACA maps and the McCoy Guidebook for that, among other resources. Consider this post more of a supplement from one specific perspective.
For more, visit post #1 in the series to start from the beginning, or choose one of these:
Overview of My Ride
To give context for what follows, here are the basics of my experience on the GDMBR.
Dates: June 22 – August 26, 2021 (65 days, including 9 non-riding days for rest, visiting, and exploration)
Direction: Northbound! (the weird way)
Mood: Leisurely but efficient. Definitely not racing. I had pushed myself hard on enough prior trips and wanted time for more relaxation and "type 1" fun this time around.
Load: Fairly typical long-distance bikepacking setup. No rack, but bikepacking bags stuffed to the gills. I estimate my fully loaded Fargo weighed around 55 lbs without much food or water.
Companions: Solo until Jackson, WY (about 1600 miles), then joined by my husband for the final 1100 miles. The best of both worlds! I love riding solo but a month is enough, and I've been wanting to share a long ride with him for years.
Impressions of Colorado
I thought I knew what to expect from Colorado. Having previously hiked the Colorado Trail, my impression of the state involved jaw-dropping vistas, fun historic towns, and loads of remote backcountry.
On the GDMBR though, my impression of Colorado was mixed. The state offered some of the best mountain views on the entire route, and many of the long climbs were gentle, rideable, and rewarding.
But Colorado was also the state with the busiest, dustiest gravel superhighways, and more paved highway than I expected. It's a developed place with a bustling outdoor recreation scene, and we bikepackers have to share it with a lot of other folks (and their motor vehicles). The true continental divide through this area is too rugged for the GDMBR (the Colorado Trail comes closer) so the route often settles for less scenic paths through valleys and plains.
Resupply towns in Colorado were plentiful and well-stocked, but often expensive and fully booked. In Colorado I spent effort trying to deal with the challenges of towns, rather than luxuriate in their comfort.
Because wild camping and affordable lodging were scarcer, I had to do more planning to avoid getting stuck camping on private land or paying $200 for a hotel room. Gone were the days of riding until I felt like stopping and then sneaking off into the forest, as I had often in New Mexico.
I met many bikepackers heading southbound in Colorado, and enjoyed the comfort that comes from feeling not quite so "out there" as a solo rider. Food and water were more plentiful and the going generally easier. Still, I found myself looking forward to the quieter roads of Wyoming and Montana up ahead.
New Mexico Border to Platoro
After a rugged section of northern New Mexico, I was excited to descend toward a more populated area and my first state line crossing on the GDMBR!
I was delighted to find that shortly after crossing the Colorado border, it felt like Colorado. A paved highway lead to Horca as the scenery already became more dramatic, more characteristic of Colorado.
After a quick snack stop at the Red Bear Welcome Center, I was looking forward to a gentle river-grade cruise along the Conejos River to Platoro. It turned out to be a gravel superhighway that felt unpleasantly busy and dusty after quiet New Mexico. On top of that a nasty thunderstorm rolled through, causing small landslides and lots of mud. At least it kept the dust down.
Tips for this section:
The welcome center in Horca has a minimal selection of snacks, but plenty of tables and electrical outlets if you need to recharge.
Platoro is a little tourist town with places to eat, basic resupply, and RV parks. Gold Pan RV Park is recommended.
Platoro to Salida
The San Juans are my favorite part of Colorado, and what I always picture when I think of the state. The high alpine basin between Elwood and Indiana passes was one of my favorite sections, absolutely idyllic on a sunny day. Surprisingly that section also included the tourist attraction and Superfund site at Summitville Mine, which was a bit jarring!
Indiana Pass, the highest point on the Great Divide Mountain Bike Route, was a fun milestone. The twenty mile descent into Del Norte was welcome too, though the scenery quickly became dry and scrubby once again.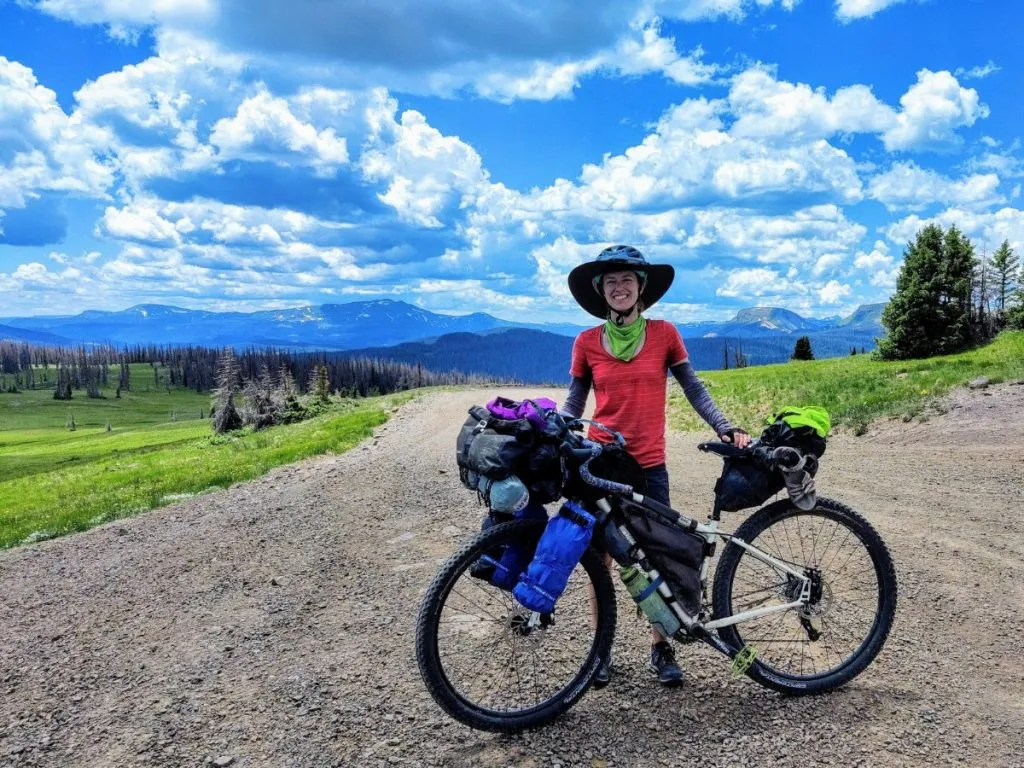 I know many folks take a zero day in Salida because of the hostel and social scene, but I was in the mood for a peaceful day of rest by myself. So I stayed in Del Norte instead, a very comfortable and walkable town with convenient groceries, restaurants, and laundry.
North of Del Norte the landscape surprisingly turned back to open desert again – it felt like being back in central New Mexico! The climb up to Canelo Pass brought a return to the forest and a screaming smooth downhill in the lightest of rain – pure bike-powered bliss!
After descending from Cochetopa Pass, the gravel road on the way to HW 114 was unpleasant with no redeeming qualities: washboarded, dusty, windy, and busy with not-so-polite drivers. Highway 50 was busy but the shoulder was mostly good. Still, it was a relief to start the long climb to Marshall Pass, gentle and 100% rideable.
The descent to Poncha Springs and Salida is on busy highway, but at least it's downhill going NOBO and the shoulder is wide. Salida itself didn't grab me, so I pedaled on out of town after a long lunch break at Mo Burrito.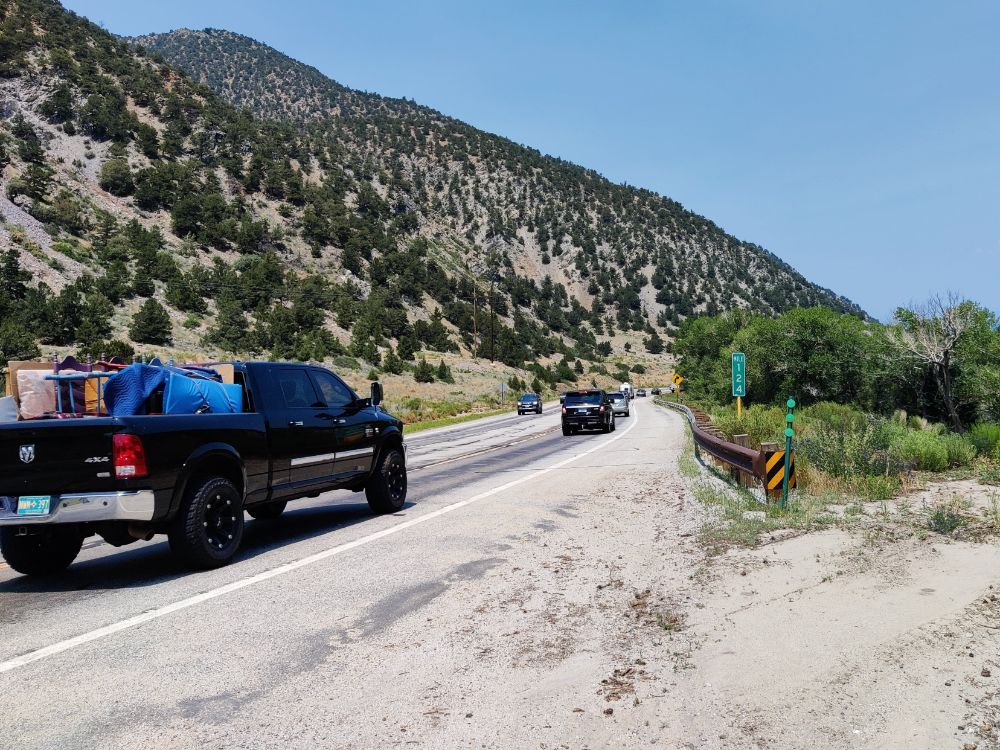 Tips for this section:
Stunner Campground is a great primitive spot with several free sites and a pit toilet. There are limitations on dispersed camping in this area, so Stunner is a good option if you want to push past Platoro heading northbound.
Prepare for plenty of tourists in their ATVs and Jeeps around the Summitville Mine site.
I would avoid drinking surface water in the area around Summitville due to potential mining contaminants.
Del Norte is a good alternative to Salida for a rest day, especially if you're not seeking out Salida's social/hostel scene. Lodging is more limited, but I splurged a bit at the Mellow Moon Lodge and really enjoyed it. Good grocery store, restaurants, breweries, and laundromat all within a few walkable blocks.
Rio Grande National Forest, north of Del Norte, has decent wild camping opportunities throughout.
Tomichi Creek Trading Post in Sargents is a good convenience store with ice cream and big selection of snacks.
Salida to Breckenridge / Frisco / Silverthorne
The climb heading north from Salida is very steep! I walked a lot of it, but enjoyed the views and thought the beautiful fancy houses near the top were interesting. There is a fair amount of private land in this section, but I found a patch of national forest to camp on.
After starting the descent, there's very little camping all the way to Como. The route traverses South Park, a very open area dotted with run-down trailers and rural homes, en route to the highway town of Hartsel. For me this section was hazy with wildfire smoke and generally uninspiring, but relatively easy riding.
North of Hartsel (and a quick but stressful section of highway) the route continues through open residential land without much camping or water. I arrived in picturesque Como ready to camp but without enough water for the night, and ended up begging some from a kind resident. Cyclists can camp at the community center, where I had a peaceful night.
From Como it's back into the mountains with another long gradual climb to Boreas Pass. It's a bit rocky (but rideable) and can be busy, but the views are good and I enjoyed it. The descent to Breckenridge was even busier, and upon arriving in town I felt totally overwhelmed by the crowds of tourists.
I channeled as much patience as possible and tried to just flow along the bike path, appreciating some easy miles and the company of so many pedal-powered friends. The crowds eased as I pedaled closer to Frisco, and I made my way to the least-expensive motel I could find in Silverthorne.
Tips for this section:
Between the descent after the steep climb north of Salida, and the start of the climb after Como, there is not a lot of good wild camping. You could find a spot here and there, but a lot of this land is private and/or very open. There's also not a lot of water.
Informal camping is possible in Hartsel behind the cafe/bar (but it's near a highway and not the nicest spot to camp). The store there has a few snacks, and the restaurant is sometimes closed.
I heard the tap water is bad in Hartsel; buy bottled or carry a lot from Salida.
The 4 miles NOBO of Hartsel are on a busy highway with minimal shoulder. I rode it carefully, sometimes bailing onto the grass shoulder. Depending on traffic, you might want to take this longer detour.
In Como you can camp at the community center (there's a bathroom), but there's no easy source of water until about 2 miles NOBO at a creek crossing. Some people have asked for water at the fire station a few miles before, or from people in town. The historic hotel building is not actually a hotel, it's a private house (don't ask how I know!).
There are tons of hotels in the Breck / Frisco / Silverthorne area, but they are expensive and may be booked up. The best deal I could find was the Days Inn in Silverthorne.
Silverthorne to Steamboat Springs
Leaving busy Silverthorne was a relief. Next up was quite a bit of pavement, including busy Highway 9 (good shoulder) and then steep Ute Pass Road. Then the road turned to smooth gravel through an industrial mining area and some ranch land. I camped early at Williams Fork Reservoir after getting caught in a nasty thunderstorm.
After the turnoff to Kremmling (slightly off route, I didn't go) Trough Road is a busy gravel superhighway leading to a popular put-in on the Colorado River. Many cars passed quickly and kicked up gravel that stung as it hit my body. Needless to say, I did not enjoy this section, but the final descent into Radium was scenic with views into the Colorado River canyon.
After crossing the railroad tracks at the tiny settlement of Radium, the mood changed completely. Steep and narrow gravel roads led up into the mountains of Medicine Bow-Routt National Forest. I had to walk some of the short little hills, but I loved being away from traffic once again.
The road over Lynx Pass was closed due to a fire, so I took a long detour on the paved highway with no shoulder. Luckily it was downhill heading NOBO. As I approached Steamboat Springs it was reassuring to see local cyclists out for their day rides.
I enjoyed Steamboat Springs much more than the Breckenridge area. It seemed a little more down to earth and there's clearly an enthusiastic local cycling scene. I had the good fortune to connect with some locals who were hosting other GDMBR riders, so I got to meet some southbound cyclists and enjoy a nice dinner out with good company.
Tips for this section:
Williams Fork Reservoir has some nice free campsites with toilets.
Brace yourself for traffic on Trough Road. It gets better after Radium, where the riding also gets harder.
Steamboat Springs is another town that's expensive and hard to stay in. When I passed through, every single hotel room was booked! You might luck out with a trail angel, convince the KOA to squeeze you in, or you could plan to pass through during mid-day. There is camping SOBO at Stagecoach State Park and NOBO as you head toward the national forest after Clark, but both are pretty far from Steamboat.
Steamboat Springs to Rawlins, WY
Important note: The beloved Brush Mountain Lodge will be closed in 2022 while owner and host-extraordinaire Kirsten takes a well-deserved sabbatical. Updates here.
Leaving Steamboat Springs toward Clark there's a long stretch of pavement with little shoulder, but the drivers out there seem used to cyclists. I met a number of CDT hikers who were detouring because of a fire closure, and it was fun to connect over our shared love of self-powered travel (albeit at much different speeds – some of them seemed jealous of my bike!).
Good thing I fueled up at the Clark Store, because between there and Brush Mountain Lodge was a tough section of seven very rocky miles. I walked almost all of the five miles up, and some of the two miles down the other side. The area up at the top was pleasantly remote after all the busy Colorado towns.
Brush Mountain Lodge is an absolute must-stop. Every southbound rider I'd passed had raved about it, and it still lived up to the hype. I very much enjoyed the food, socializing, and a good night's rest.
The transition into Wyoming felt abrupt, starting with a stretch of very empty paved highway. The climb into Medicine Bow-Routt National Forest provided free camping, a few streams, and the last trees I would see for days. I camped just before the trees ended and tackled the final 40 paved miles to Rawlins in the morning.
Rawlins is a great place for a rest day before tackling the Great Basin. On the east end of town there are cheap hotel rooms (1st Choice and Econolodge are popular with bikers and CDT hikers) with grocery store, Walmart, and Subway all nearby. Not much to do but rest and eat – perfect!
Tips for this section:
From Steamboat until after Clark, there's a lot of private land and not much wild camping unless you ask for permission.
The Clark Store is a great spot to stop for a meal and restock on snacks. They sell massive burritos, cookies the size of your head, and a good selection of beer.
Leave plenty of time for the rocky climb between Clark and Brush Mountain Lodge.
Brush Mountain Lodge is a must-stop. Kirsten has pizza, beer, snacks, and good breakfast. Rooms or camping available. Pick up or drop off your bear spray. Leave a donation if you can.
Unless you're going to push all the way to Rawlins, I recommend camping before leaving Medicine Bow-Routt National Forest. Fill up water earlier from one of the creeks if needed. The trees stop just past the national forest boundary, and after that it's much harder to find a spot that's hidden from the road.
In Rawlins the 1st Choice and Econolodge are affordable and popular with bikers and CDT hikers.
More Great Divide Resources
Here are the other posts in my GDMBR series:
These general bikepacking resources might also help:
Or, find the full list of bikepacking resources here!
Bike resources in your inbox?
There's more where this came from! Sign up here for occasional emails full of inspiration and information about bikepacking and bicycle touring.


Share the Adventure
If you found this article helpful, please consider sharing so more people can benefit from it:
Pin For Later