Welcome to part 4 in my series of GDMBR summaries by state. This post covers my experience bikepacking the Great Divide Mountain Bike Route in Montana.
The sections are arranged in the direction I rode, which is northbound (also referred to as NOBO). I hope that will be especially helpful to my fellow northbound riders, since there are fewer resources out there written from our perspective. Sorry southbound riders, you'll have to read it backwards like us northbounders have to do with everything else. 😉
This is not intended to be a definitive guide to the GDMBR. I recommend the ACA maps and the McCoy Guidebook for that, among other resources. Consider this post more of a supplement from one specific perspective.
Visit post #1 in the series for a bit more background and to start from the beginning, or choose one of these:
Ride Overview
To give context for what follows, here are the basics of my experience on the GDMBR.
Dates: June 22 – August 26, 2021 (65 days, including 9 non-riding days for rest, visiting, and exploration)
Direction: Northbound! (the weird way)
Mood: Leisurely but efficient. Definitely not racing. I had pushed myself hard on enough prior trips and wanted time for more relaxation and "type 1" fun this time around.
Load: Fairly typical long-distance bikepacking setup. No rack, but bikepacking bags stuffed to the gills. I estimate my fully loaded Fargo weighed around 55 lbs without much food or water.
Companions: Solo until Jackson, WY (about 1600 miles), then joined by my husband for the final 1100 miles. The best of both worlds! I love riding solo but a month is enough, and I've been wanting to share a long ride with him for years.
Impressions of Montana
The Great Divide route through Montana is long and varied. It offered us some of the biggest mental challenges of the entire route in the form of thick wildfire smoke, persistent cold rain, unnerving signs of bear activity, and substantial detours.
Montana was also an entirely new state to both of us, unlike the other states on the GDMBR which we'd spent time in previously. It's a big, burly state with the longest route mileage of any state on the GDMBR. We enjoyed getting to know it.
Generally speaking, Montana offers plenty of quiet backroads compared to the busy gravel superhighways of Colorado. There's plenty of climbing, and a few sections of genuinely tricky and remote trail that are unlike anything else on the route. There are also two of the largest cities on the whole route, Butte and Helena, and a wide array of small rural towns.
Montana is a mixed bag in terms of resupply. There were some areas where food was almost too easy to find, compared to the longer food carries of New Mexico for instance. There were also sections where we ate poorly, either due to poor planning or the limitations of resupplying out of gas stations.
We had some bad luck with wildfire smoke in Montana, but also had some gorgeous clear days. Plenty of southbounders were still starting when we rolled through, so we met a lot of other riders and enjoyed the chats. It was also fun for me, having been on the road since New Mexico, to finally be within striking distance of completing the entire GDMBR!
Idaho Border to Wise River
After descending from Red Rock Pass at the border with Idaho, the landscape became more open again and the riding flatter. Camping options were limited through the wildlife refuge and private land that followed, but we eventually found some BLM land near the eastern edge of Lima Reservoir. Some of it was fenced, but since it was signed as public land we went through the gate to get some distance from the road.
The next morning was clear and the packed dirt roads were fast. A thunderstorm caught us on the way into Lima and we finished the last few miles in the pouring rain. Expecting it to let up soon, we ate a lackluster meal in the cafe and resupplied at the gas station – slim pickings for a couple days of food – and waited in the shelter of the gazebo.
The rain eased but didn't stop, and we didn't feel like staying in Lima, so we pushed on to Big Sheep Creek Road hoping for the best. Eventually the rain did let up and we chose a nice campsite by the river.
The next morning we finally had dry weather for a nice open section to Grant. We crossed paths with the northbound guided trip run by Adventure Cycling on this section, and it was fun to chat with the riders and their guide.
Just a mile or two off route in Grant, the Horse Prairie Stage Stop was a wonderful place for a cheap room and hot meals. We stopped by Bannack Ghost Town the following day en route to some lovely paved riding and plentiful free camping in Beaverhead-Deerlodge National Forest.
Heading out of the forest toward Wise River, unfortunately, we descended into the smoky haze of a nearby forest fire. It was almost enough to make us look forward to climbing back up to Fleecer Ridge and some hopefully clearer air.
Tips for this section:
There is limited camping through the Red Rock Lakes National Wildlife Refuge and the open area that follows as you head NOBO to Lima. Upper Lake Campground is a good option, otherwise there is some BLM land interspersed with private land as you approach Lima Reservoir. Some of it is fenced but marked as public; you can go through the gates to find a few wild camp spots away from the road.
The cafe in Lima rents cabins, and there's a small motel in town too.
Food resupply can be tough in Lima. Going either direction you'll need at least a couple days of food and the gas station has limited selection.
Big Sheep Creek Road has a series of nice dispersed campsites along the river (generally visible from the road).
In Grant just a mile or two off route, the Horse Prairie Stage Stop is highly recommended for a cheap room and good meal.
Bannack Ghost Town has a cheap entrance fee for cyclists and is worth a quick wander if you'd like a break from pedaling.
Beaverhead-Deerlodge National Forest has fantastic free camping throughout, and a number of developed campgrounds.
Wise River to Helena
Wise River was unfortunately dealing with a wildfire nearby, so the atmosphere (both figuratively and literally) was a little grim. Still, the people were nice and we were happy to resupply and eat a hot meal after a few days of limited options.
Leaving Wise River, northbounders must climb UP the notorious hill to Fleecer Ridge. The only real issue is the last mile or even less, which is extremely – like, heave your bike a few inches, grasp brakes, shuffle feet, catch breath, repeat – extremely steep. We both made it, but had our load been any heavier we would have needed to remove bags or team up for each bike.
As if this weren't hard enough, we were caught by a thunderstorm partway up and took shelter in the trees for awhile. Once finally up on the ridge the area was scenic and pleasant. Tired out from the climb, we stayed at Beaver Dam Campground before the descent to I-15. Good thing we stopped where we did, because the climb up from I-15 turned out to be steep and mostly private land until the top.
Riding through Butte was tedious thanks to busy roads and a headwind. We didn't feel like lingering so we ate at Subway, resupplied from a gas station, and off we went. The first section of national forest north of Butte was dirty and crowded and we didn't feel comfortable there, but camped anyway up on a hidden ridge.
After descending and passing through the interstate town of Boulder, we began climbing once again toward the notorious Lava Mountain Trail. The majority of the climb was a dirt road along Cataract Creek, which I enjoyed for its wild feeling.
Lava Mountain Trail itself is only about 7 miles, and heading NOBO most of it is downhill. It's rocky and rooty, but we took it slow and enjoyed the interesting riding after so much gravel grinding. The surrounding area was pleasant too, and we camped before descending into Helena for a well-deserved rest day.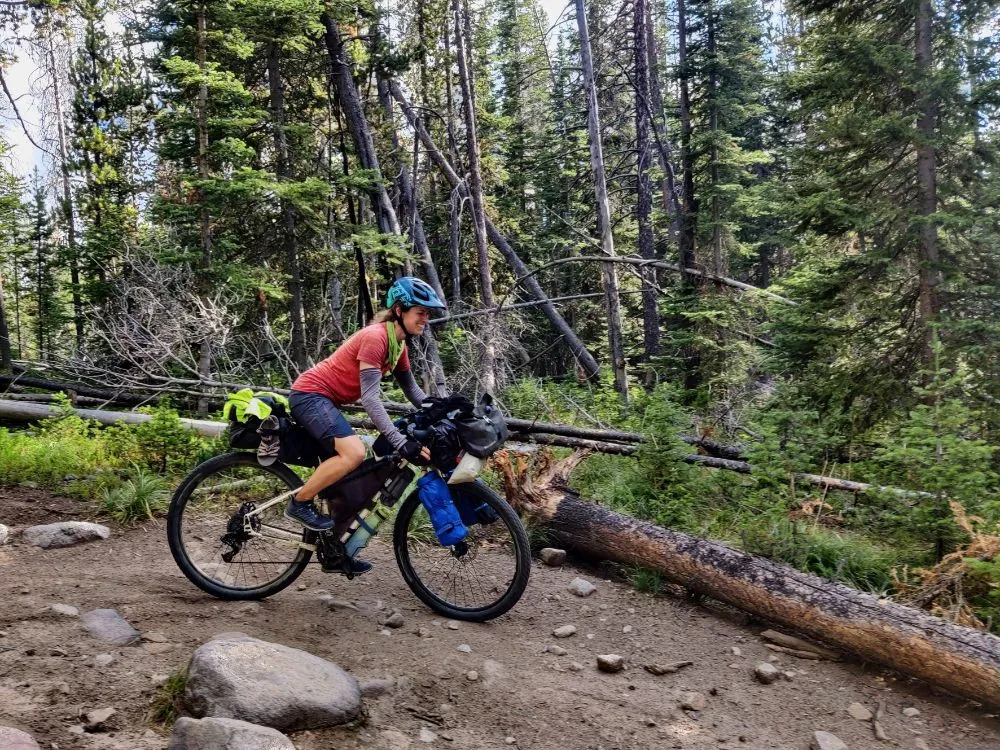 Tips for this section:
Leave some extra time for Fleecer Ridge and Lava Mountain! They can be bypassed with alternate routes if you really want, but they're scenic and unique and I'd recommend going for it.
The general store in Wise River will accept packages for cyclists if you need to get something mailed to yourself on the route. There are also a few restaurants in town.
Beaver Dam Campground is a nice spot to camp between Fleecer Ridge and Butte, with bear boxes, water, and toilet. Once you cross I-15 it's all private land until the top of the steep climb around 3 miles past I-15.

Hotels in Butte can be very expensive. If you don't want to stay there, I recommend camping on public land before the descent into town (heading NOBO), or at least 10-15 miles north of Butte in the national forest.

Helena is slightly less expensive than Butte. We stayed at Jorgenson's Inn and Suites.
If you don't need to stay in Helena, consider staying at the Llama Farm (free cyclist-only camping and cabins) 40 miles north. It's free, more peaceful and social, and there is basic food available.
Helena to Seeley Lake
Leaving Helena started right out with an annoying stretch of highway into a headwind. The wind situation improved as we climbed into the hills, though plenty of climbing and some rough rocky road awaited in this section.
The famous Llama Farm, 40 miles north of Helena, was so lovely that we took an unplanned rest day there. It's a must-stop, ideally to spend the night in one of the quirky cabins but even just for a sandwich and a hello if you pass through during the day. John and Barbara are amazing and generous hosts, and their creative cabins are delightful.
The climb over Stemple Pass was uneventful, and after descending to Lincoln we had a nice meal and then started yet another climb to a nice campsite at Reservoir Lake. Ovando made for a great lunch stop the next day, and then Seeley Lake for dinner – so much food in this section!
Unfortunately Seeley Lake didn't have any camping or open motels, so we headed back up the hill and camped in the national forest. On the bright side, we got to cheer for Lael Wilcox as she rode through on her record attempt!
Tips for this section:
The Llama Farm (cyclist-only camping hosted by Barbara and John) is a must-stop. Spend a night, maybe even take a rest day there. They don't accept donations, insisting that riders "pay it forward" instead.
Ovando is known for its free cyclist camping and a couple good diners.
Seeley Lake has food but no good camping or motels (the motel and RV Park had been taken over as employee housing when we were there). There is public land on the route uphill from town where you can camp; watch out for bears in this area.
Seeley Lake to Whitefish
Leaving Seeley Lake, another 2000+ foot climb took us to an interesting 4-mile stretch of singletrack with some nice views – at least they would have been nice if not shrouded in wildfire smoke. The trail was closed-in by brush and huckleberries and bear scat were plentiful… We made lots of noise through this section!
We descended to Holland Lake, which should have been gorgeous, but was actually a hazy mess yet still crowded with tourists. The wonderful hosts at the campground made space for us and even shared some of their own food, since the lodge wasn't serving meals to non-guests and we were running a little lean.
The dirt roads paralleling Highway 83 on the way to Swan Lake were very smoky and a bit monotonous. One section was closed due to fire, requiring some miles on busy Highway 83 and a long detour on the other side. Mosquitos were out in force. We were also dealing with the fact that my husband's small chainring had snapped, leaving him with only half his gears! We were very happy to finally arrive in Ferndale and finish this section!
From Ferndale we rode off-route to Big Fork, then detoured into Kalispell to try and find COVID tests so we could cross into Canada. Highway 82 was scary, but we quickly turned north onto a checkerboard of much nicer residential and agricultural roads.
We spent a day in Kalispell getting COVID tests and repairing my husband's bike, and didn't meet back up with the GDMBR until Columbia Falls. Then because of a wildfire detour we skipped Whitefish and headed up North Fork Road instead.
Tips for this section:
Between Seeley and Holland lakes there's a 4 mile stretch of singletrack on an old road bed. It's nice, but we saw LOTS of bear scat and the trail is very closed-in with brush in some places. Make lots of noise!
Holland Lake Campground had great hosts and made room for us even though they were full. Definitely recommended.
Holland Lake Lodge would not even sell us a meal (meals only for guests, and no vacancy). DO NOT rely on Holland Lake Lodge for food.
Columbia Falls RV Park is cyclist-friendly with nice owners.
If you need a bike shop in Kalispell, Wheaton's Cycles is fantastic.
We missed Whitefish due to a fire detour, but I hear Whitefish Bike Retreat is great.
Whitefish to Rooseville / Canadian Border
Due to a fire detour, we briefly rejoined the GDMBR in Columbia Falls and then detoured again on North Fork Road all the way to where the GDMBR cuts back west, just south of the Canadian border. Thus we never actually passed through Whitefish. North Fork Road was pleasant but rather busy with tourists. Polebridge Mercantile was a tasty stop for lunch and bakery treats.
Where we rejoined the GDMBR north of Ford, heading back west over the mountains, we really enjoyed the riding. It felt satisfyingly remote and, for lack of a better word, northern. We could almost feel Canada getting nearer…
Tips for this section (the small part that we rode):
Tuchuck Campground is a great spot. Quiet and remote (at least when we were there), has bear boxes and toilets, and a stream running right through.
Once you descend to Eureka, it's rolling country roads to the Canadian border.
More Great Divide Resources
Here are the other posts in my GDMBR series:
These general bikepacking resources might also help:
Or, find the full list of bikepacking resources here!
Bike resources in your inbox?
There's more where this came from! Sign up here for occasional emails full of inspiration and information about bikepacking and bicycle touring.


Share the Adventure
If you found this article helpful, please consider sharing so more people can benefit from it:
Pin For Later