How to sum up two months on the epic Great Divide Mountain Bike Route? It's impossible, really, but this will be my attempt.
As I look back on my notes, it's all a blur! Before the details fade, I'm compiling my impressions into a series of posts. I'll go state by state and highlight how I felt about each section, what stood out the most, and a few things I wish I'd known but didn't find in other resources. This post covers the first state: New Mexico.
These are the nitty-gritty details, and you might want to download this post offline on your phone to read on the trail. A lot of this probably won't seem very important until you're out there. That said, if you're still in the dreaming stage of trip planning, you might like skimming through the pictures and narratives for an overview of the route.
This is not intended to be a definitive guide to the GDMBR. I recommend the ACA maps and the McCoy Guidebook for that, among other resources. Consider this post more of a supplement from one specific perspective.
The sections are arranged in the direction I rode, which is northbound (also referred to as NOBO). I hope that will be especially helpful to my fellow northbound riders, since there are fewer resources out there written from our perspective. Sorry southbound riders, you'll have to read it backwards like us northbounders have to do with everything else. 😉
For the rest of the series, visit these other posts:
Overview of My Ride
To give context for what follows, here are the basics of my experience on the GDMBR.
Dates: June 22 – August 26, 2021 (65 days, including 9 non-riding days for rest, visiting, and exploration)
Direction: Northbound! (the weird way)
Mood: Leisurely but efficient. Definitely not racing. I had pushed myself hard on enough prior trips and wanted time for more relaxation and "type 1" fun this time around.
Load: Fairly typical long-distance bikepacking setup. No rack, but bikepacking bags stuffed to the gills. I estimate my fully loaded Fargo weighed around 55 lbs without much food or water.
Companions: Solo until Jackson, WY (about 1600 miles), then joined by my husband for the final 1100 miles. The best of both worlds! I love riding solo but a month is enough, and I've been wanting to share a long ride with him for years.
Impressions of New Mexico
I suspect New Mexico presents itself very differently to northbound versus southbound riders. As a place to start, I thought it was perfect. Knowing that I would soon spend many weeks in the mountains, I relished the heat of the desert in those first few magical days when everything was new and exciting.
When the wide open landscapes finally transitioned into forests, I was delighted. "This doesn't feel like New Mexico!" I exclaimed over and over (in my head, to myself, while riding solo). The empty forests and green hills of northern New Mexico were endlessly surprising and fascinating to me.
New Mexico offers a lot of peaceful riding, but it's also home to several of the roughest and rockiest sections of the entire Divide and long stretches without food and water. Heading northbound, you'll have some of the toughest terrain and longest carries behind you by the time you reach Colorado. Heading southbound, at least you'll be in good enough shape to deal with it.
Only when I reached the busier roads of Colorado did I realize how much I'd been spoiled by New Mexico. Colorado may have bigger mountains and more dramatic views, but I think New Mexico remains my favorite state on the GDMBR for its variety and wildness.
Antelope Wells to Silver City
Hot weather and crosswinds greeted me at the start in Antelope Wells. Just a couple days earlier it had been 100+ degrees, so I was relatively lucky! Jeffrey dropped me at the border post, took a few pictures, and zoomed off in his truck. Suddenly I was alone and staring ahead at 2700 miles of bikepacking. Here goes nothing!
The first couple days were a gentle start. I did my best to ease into this long undertaking and work through the jitters that always accompany the start of a big solo trip, at least for me. Various small issues had me worried – squeaky pedal, lost handlebar plug – but nothing really slowed me down.
The route is entirely paved through Hachita to just before Separ, though traffic was extremely light since the border crossing was closed. I arrived in Separ just after the store closed for the evening, but Jeffery had told me the owner welcomes cyclists to camp outside her fence next to the flagpole. When I stopped in for breakfast in the morning, she confirmed.
The second day finally led me off pavement and onto a nice section of dirt ranch roads and BLM land. By the second night I was in Silver City, a pleasant community with all services.
Tips for this section:
Jeffrey Sharp can help with transportation and logistics for those starting or ending at Antelope Wells. He picked me up at the Lordsburg Amtrak station, helped me get packed and ready, and dropped me at Antelope Wells the next morning.
Hachita and Separ have small stores, though the store in Separ closes at 6pm.
In Hachita you can camp at the community center or Jeffery's Bike Ranch.
In Separ you can camp near the flagpole, outside the fence of the store owner's home. There's a water spigot outside the store on the right.
Watch out for thorns! If you're not running tubeless tires (though hopefully you are), be very careful about pulling your bike off the road into the foliage in this area.
The route is mostly pavement until Separ. Between Separ and Silver City is a nice stretch of dirt ranch road (camping possible, but not much shelter) and then highway with good shoulder.
Silver City is a good-size town with nice vibes. You can take care of anything you forgot at the Walmart, post office, good grocery store, etc.
In Silver City, Triple Crown Hostel is a great place to stay. Camping is an option, and they have a great hiker/biker box. Check the box before going to the grocery store!
Silver City to Grants
After a restful night at the Triple Crown Hostel and a bit of pavement to Roberts Lake, this section was dominated by the remote and rugged roads of the Gila National Forest with some flatter ranchland interspersed.
The next few days offered steep climbs, no food resupply, limited water, and plenty of lovely wild camping. Riding northbound throws you right into the deep end!
In this section I had the privilege of crossing paths with the front end of the Tour Divide pack. Those folks are truly impressive, and I was grateful for their presence in this otherwise fairly empty area. Could it be that riding a bicycle out here is almost a normal thing to do? Emphasis on almost.
I arrived triumphantly in Pie Town four days after leaving Silver City, after dodging thunderstorms all day. The famous Toaster House offered a warm welcome, and I was surprised – after seeing no other northbounders so far – to meet four other northbound cyclists there! The social buzz was simultaneously refreshing and overwhelming after so much time alone, but I was glad to meet a few cool folks who I would see again later down the trail.
The next morning north of Pie Town the landscape opened up again. It had been raining quite a bit, so I opted for the paved alternate. A single day of gravel roads and pavement brought me to Grants and my first rest day.
Tips for this section:
This is a long stretch without much resupply and sometimes scarce water. The store at Roberts Lake had limited food options; stock up in Silver City if heading north.
North of Silver City there is a lot of pavement with no shoulder until after Roberts Lake. Fortunately traffic was light, and I found drivers in New Mexico to be very polite in general.
There's lovely wild camping available throughout the Gila National Forest. In many places you can just pull off into the forest and find a nice hidden site.
This section includes the longest water carry of my entire ride on the GDMBR. I carried 8 liters from Beaverhead Work Station. Check Facebook trail conditions group for water reports.
The Toaster House in Pie Town is a great place to spend the night, cook a meal, restock on basic food, and take a hot shower, and probably meet other adventurers. If you're feeling social, consider a rest day there. Or if you prefer, the TLC Ranch 15 miles north offers camping and water.
There's no grocery store in Pie Town, but the Toaster House has a massive stash of simple donation-based food available.
If it's rained a lot recently, take the paved El Malpais alternate south of Grants to avoid death mud. The alternate is light on traffic, slightly downhill NOBO, and still scenic. If the wind is favorable it's not hard to go from Pie Town to Grants in one day if taking the alternate.
Grants is a decent place for a rest day, with cheap motel rooms (I recommend the Southwest Motel). If you're not in the mood to socialize, rest here instead of at the Toaster House.
Grants to Cuba
Due to recent rain I took another paved alternate all the way from Grants to Cuba. I was sad to miss one of the most unique and remote parts of the route, but didn't want to deal with death mud. See the alternates list for more info.
The paved alternate was mostly pleasant, with wide-open views and light and polite traffic. Headwinds were an issue here and there. This section travels through some Navajo communities that are unique along the route. Everyone I met was nice, including a man who stopped his car to offer me a water bottle just outside Whitehorse. I camped at the friendly Chaco Trade Post and enjoyed a feast of convenience store food for dinner.
Tips for this section:
Take the main route if you can, it's supposed to be beautiful. But if it's raining, the paved alternate isn't bad.
Stay at Chaco Trade Post if you take the paved alternate. Very friendly store with good selection and free cyclist camping.
I didn't like Cuba very much; too busy and gritty compared to the peaceful backcountry. I didn't stay, but if you do, I hear motel rooms are cheap.
Small grocery store in Cuba has decent selection and outlets outside under covered awning.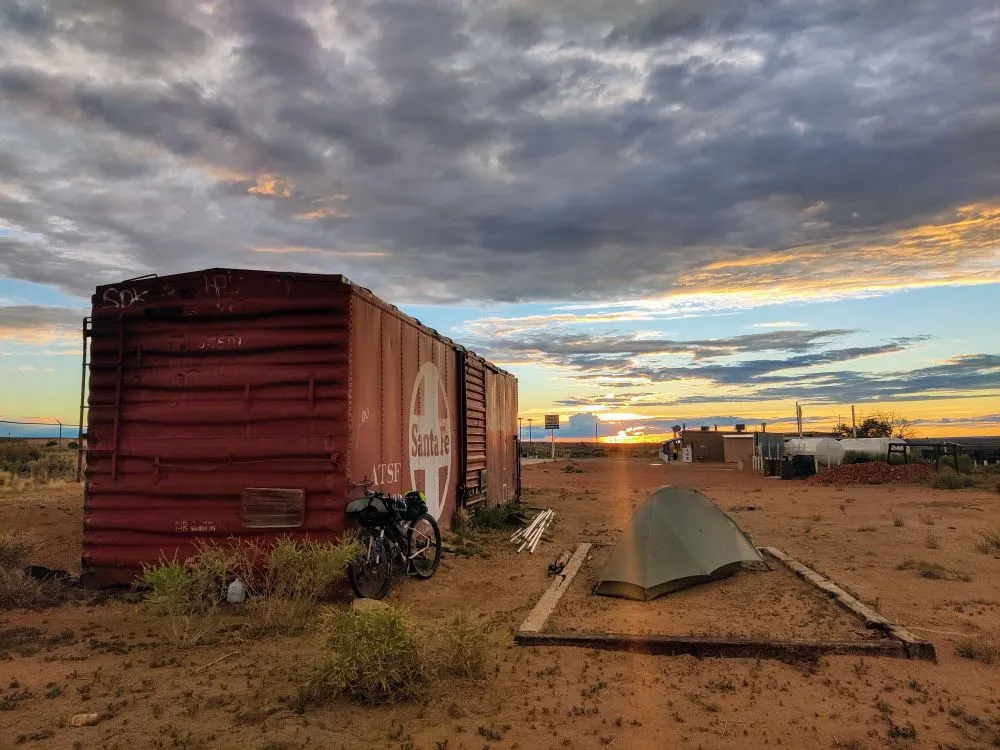 Cuba to Abiquiu
The gritty and bustling town of Cuba was overwhelming to me, and I struggled to find a place where I felt relaxed enough to eat and recharge (mentally and literally). After striking out at McDonalds (how can McDonalds be out of milkshakes?) I ended up eating from the small grocery store across the street, waiting for a storm to pass, and then pedaling out of town.
Northbound of Cuba there's about ten miles of paved climbing, some quite steep, with a good shoulder. The reward is turning off into Santa Fe National Forest on peaceful dirt roads with great free camping. I camped shortly after the turnoff from the paved road, not far from a few families in their RVs, and had a peaceful night.
The forest roads eventually turned rocky and rough, and I did some hike-a-bike up toward Polvadera Mesa. I began the rocky descent just before dark and was immediately caught in a raging thunder and lightning storm! After dropping a little elevation I set up my tent in the forest and hopped inside to hunker down.
It stormed through most of the night, but the morning was peaceful and the long descent into Abiquiu went quickly. Bodes General Store in Abiquiu was a welcome chance to eat a hot meal (or two) and recharge electronics.
Many riders spend nights in both Cuba and Abiquiu, but I passed through both during the day. With such abundant and beautiful wild camping in this area, I enjoyed spending my nights out in the wilderness (and it saved me money too).
Tips for this section:
There is nice wild camping throughout Santa Fe NF, starting about ten (uphill) miles north of Cuba.
The climb up and over Polvadera Mesa is difficult from both directions. There are some very rocky sections, and if you're heading SOBO you'll tackle the biggest sustained climb of the whole route. Leave plenty of time for this section, and take plenty of water since there isn't usually any up on the mesa.
Bodes General Store in Abiquiu is busy and well-stocked with hot meals and somewhat expensive snacks. There's a place to sit and eat with electrical outlets nearby.
Abiquiu has an informal hostel where many cyclists stay, but I continued north and camped in Carson NF.
Abiquiu to Platoro, CO
This was another long and tough but enjoyably remote section. Heading northbound there is a surprising amount of climbing in this stretch – don't underestimate it!
North of Abiquiu the route links several small communities (El Rito, Vallecitos, Cañon Plaza) through a pleasant rural landscape. North of Hopewell Lake (a big busy campground) there is a more remote section through Carson National Forest all the way to the Colorado border.
Brazos Ridge, on the edge of Cruces Basin Wilderness in the far north of the state, was beautiful and surprising. I hadn't realized New Mexico included this kind of scenery – endless green rolling ridges and healthy pine forests. A few short sections were very rocky and reduced me to hiking, while thunderstorms churned constantly somewhere in the distance.
I was delighted to find that shortly after crossing the Colorado border, it felt like Colorado. A paved highway lead to Horca as the scenery already became more dramatic, characteristic of Colorado. The gravel superhighway to Platoro felt unpleasantly busy and dusty after quiet New Mexico – welcome to Colorado!
Tips for this section:
The Mexican restaurant in El Rito is supposed to be good.
Vallecitos has a nice creek if you need water.
In Cañon Plaza there's a woman who sells a surprisingly good selection of snacks out of a storage shed.
Carson National Forest has lots of good wild camping throughout.
Leave plenty of time to enjoy this section, especially if heading NOBO (lots of climbing). Can get a bit muddy in the rain, and some sections are rocky.
Platoro has places to eat, basic resupply, and RV parks. Gold Pan RV Park is recommended.
More Great Divide Resources
Here are the other posts in my GDMBR series:
These general bikepacking resources might also help:
Or, find the full list of bikepacking resources here!
Bike resources in your inbox?
There's more where this came from! Sign up here for occasional emails full of inspiration and information about bikepacking and bicycle touring.


Share the Adventure
If you found this article helpful, please consider sharing so more people can benefit from it:
Pin For Later