Welcome to part 3 in my series of GDMBR summaries by state. This post covers my experience bikepacking the Great Divide Mountain Bike Route in Wyoming and Idaho, combined because the Idaho section is short.
The sections are arranged in the direction I rode, which is northbound (also referred to as NOBO). I hope that will be especially helpful to my fellow northbound riders, since there are fewer resources out there written from our perspective. Sorry southbound riders, you'll have to read it backwards like us northbounders have to do with everything else. 😉
This is not intended to be a definitive guide to the GDMBR. I recommend the ACA maps and the McCoy Guidebook for that, among other resources. Consider this post more of a supplement from one specific perspective.
For more, visit post #1 in the series to start from the beginning, or choose one of these:
Overview of My Ride
To give context for what follows, here are the basics of my experience on the GDMBR.
Dates: June 22 – August 26, 2021 (65 days, including 9 non-riding days for rest, visiting, and exploration)
Direction: Northbound! (the weird way)
Mood: Leisurely but efficient. Definitely not racing. I had pushed myself hard on enough prior trips and wanted time for more relaxation and "type 1" fun this time around.
Load: Fairly typical long-distance bikepacking setup. No rack, but bikepacking bags stuffed to the gills. I estimate my fully loaded Fargo weighed around 55 lbs without much food or water.
Companions: Solo until Jackson, WY (about 1600 miles), then joined by my husband for the final 1100 miles. The best of both worlds! I love riding solo but a month is enough, and I've been wanting to share a long ride with him for years.
Impressions of Wyoming
After Colorado, parts of Wyoming were a welcome return to less busy roads. As with New Mexico, the variety of terrain was impressive. From the lonely open roads of the Great Basin to the crowded bustle of mountainous Grand Teton National Park, Wyoming had a bit of everything.
The riding in Wyoming was, on average, a bit flatter and easier than other states (especially New Mexico and Montana). But wind and weather can make otherwise easy miles into an unexpected challenge out on the unprotected plains.
Wyoming is also where the solo part of my ride came to an end as I met up with my husband in Jackson. I love bikepacking solo, but after five weeks I was ready for some company and a change of mood.
Colorado Border to Rawlins
After the descent from Brush Mountain Lodge in northern Colorado, the transition to Wyoming felt abrupt. Almost exactly at the state line the GDMBR turned right onto a stretch of quiet paved highway that seemed to go on longer than expected.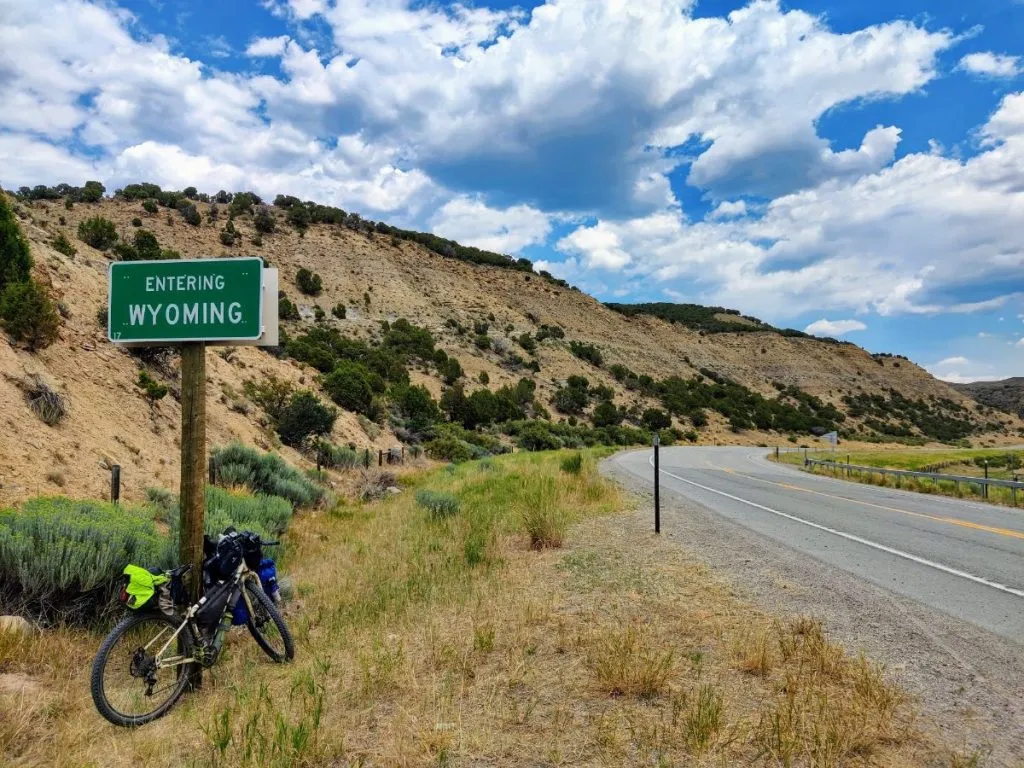 The climb into Medicine Bow-Routt National Forest offered free camping, a few streams, and the last trees I would see for days. I camped just before the trees ended and tackled the final 40 paved miles to Rawlins in the morning.
Rawlins is a great place for a rest day before tackling the Great Basin. On the east end of town there are cheap hotel rooms (1st Choice and Econolodge are popular with bikers and CDT hikers) with grocery store, Walmart, and Subway all nearby. Not much to do but rest and eat – perfect!
Tips for this section:
Unless you're going to push all the way to Rawlins, I recommend camping before leaving Medicine Bow-Routt National Forest. Fill up water earlier from one of the creeks if needed. The trees stop just past the national forest boundary, and after that it's much harder to find a spot that's hidden from the road.
In Rawlins the 1st Choice and Econolodge are affordable and popular with bikers and CDT hikers.
Rawlins to Pinedale (Great Basin)
The Great Basin (the area starting north of Rawlins and ending south of Atlantic City) is often spoken about with reverence as the most remote and dry section of the entire Great Divide Mountain Bike Route.
As a northbound rider who had already been through New Mexico, I didn't find it particularly challenging. I did have good weather; I'm sure a storm or wicked headwind would be a major challenge in such an exposed place.
The lonely roads of the Basin were a welcome return to peace and quiet after much of Colorado. I went a whole several hours without seeing a vehicle – woohoo! I filled up my water at A&M Reservoir (actually the creek spilling out of it) and dry camped in a small drainage behind a ridge – a lovely peaceful night under wide open Wyoming skies.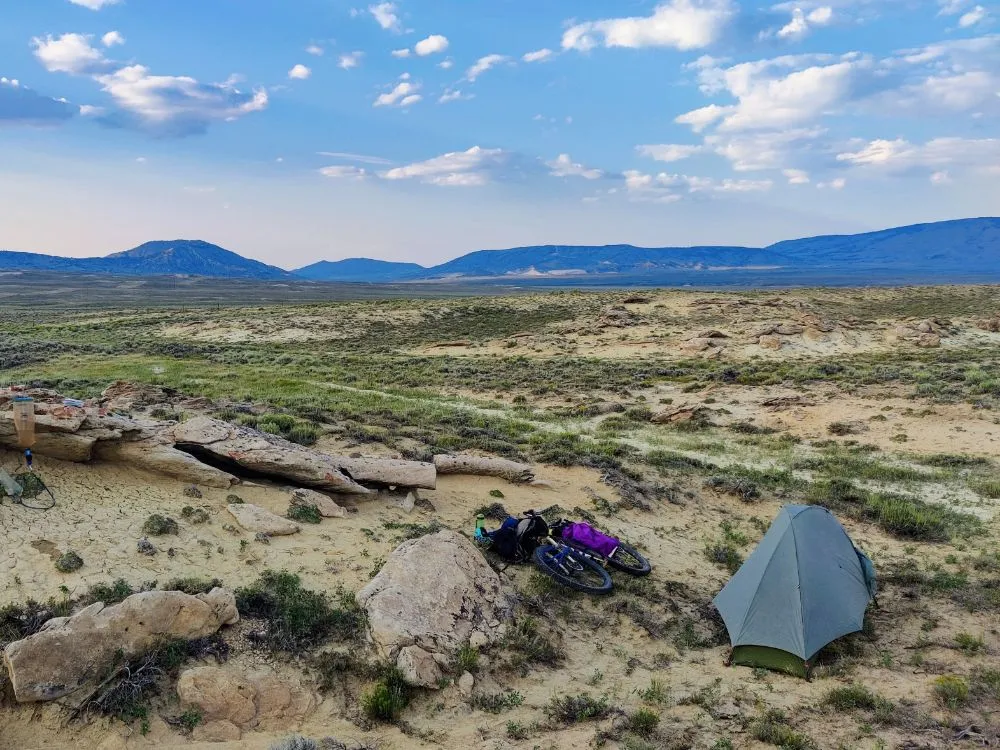 The next day I filled up again at Diagnus Well, a miraculous water faucet coming straight out of the ground, and then made my way to Atlantic City and the first trees I had seen in a days.
The bar and restaurant in Atlantic City was a very hiker/biker-friendly place, and I spent a few hours there chatting with a fellow cyclist and a CDT hiker. Just before sunset I climbed out of town and camped on public land in the forest, but was woken by unsettling cat noises nearby! Probably just a bobcat….
The trees didn't last long, and soon I was on the highway through barren landscape. On the way to Boulder I finally got my taste of infamous Wyoming headwinds that slowed me to a crawl through frustratingly unremarkable ranch land. I was thrilled to reach the convenience store in Boulder and camp in luxury (hot showers!) at the RV park.
From Boulder to Pinedale is highway without much shoulder, which I found stressful. Closer to Pinedale I was thrilled to find a paved bike path. In the nice town of Pinedale itself – town motto "All the civilization you need" – I spent a few hours resupplying and chatting with other cyclists and CDT hikers at the grocery store. Then, as is my habit, I pedaled out of town in the late afternoon instead of paying for a motel room.
Tips for this section:
First 25 miles NOBO from Rawlins are actually paved. After that the Great Basin begins to feel more remote.
Check up-to-date water reports, but usually "the reservoir" (A&M) and "the well" (Diagnus) are the most reliable water sources in the Basin. I carried 5 liters at most between them, and could have carried less if I didn't dry camp.
You can camp near the reservoir and well, but you can also dry camp pretty much anywhere else in the Basin, which makes for a lovely night under the stars. Hidden spots are infrequent but they do exist.
Note that the Tour Divide race takes a different and more remote route through the basin, starting from Wamsutter instead of Rawlins.
Atlantic City is a good place to get a meal, beer, and maybe a cabin or room. Camping is supposedly allowed behind the bar.
If you don't want to stay in Atlantic City, there is public land NOBO of town for camping. You can also camp at South Pass City.
Once you get close to the highway after South Pass City, there's very little shelter or good camping until the RV park in Boulder.
Pinedale is known as the southernmost edge of grizzly bear territory on the GDMBR. Pick up your bear spray here heading north, if you haven't already.
Pinedale to Jackson Spur Turnoff
North of Pinedale there's a long stretch of pavement, which finally returns to gravel in Bridger-Teton National Forest. The gravel road is wide and busy at first, but thankfully improves on the climb into the mountains toward Union Pass. I spent a peaceful night in the forest there, but made sure to take precautions with camp and cooking since I was now in grizzly bear territory.
This was a friendly section; I was gifted beer twice in two days! Unfortunately some parts were unpleasantly busy with ATVs and not all the drivers were considerate, especially the section after Dunoir. The heat, dust, wildfire smoke, and short and steep climbs didn't help my mood.
I reached Highway 26 in a hot haze of wildfire smoke, enough to make me worry about continuing. Fortunately the highway had a good shoulder, and I made decent time up to Lava Mountain Lodge for food and then on to Brooks Lake for camping. The beautiful scenery there was shrouded in smoke, but the camp host was friendly and the pit toilets were delightfully decorated.
From Brooks Lake, a few miles of quiet dirt road led to the highway and the start of a long paved descent. The route entered Grand Teton National Park at the Moran entrance, and the shoulder grew narrower.
At Teton Park Road I turned left off the GDMBR and began my detour into Jackson to meet up with my husband, who would be joining me for the rest of the ride north! The roads in the national park were busy and the shoulder small, but fortunately the speed limit was low. Still, I was very happy to reach the awesome bike path that runs from Moose all the way into Jackson.
Tips for this section:
North of Union Pass is grizzly habitat. Store food properly and use good cooking practices! There is a nice new shelter near Cherry Creek, if you want to sleep indoors.
After Dunoir, unless you take the alternate route there are a few short but steep little rolling hills. Nothing crazy, but you'll probably be walking.
Highway 26 has a good shoulder.
Pinnacles Campground at Brooks Lake is a nice place to stay. Pretty sites and friendly host.
Lots of pavement after Brooks Lake, and a few shorter sections of dirt that are definitely in grizzly territory. Make noise as you ride these sections.
Jackson is expensive and off-route. Most riders don't go there unless they have a reason (I was meeting family there). If you do ride to Jackson, I recommend the ACA Jackson Spur route to Moose and then take the bike path along Highway 191 all the way into Jackson.
Jackson to Idaho Border
After several days of rest, family visits, and getting my husband's bike and gear ready to roll, we headed back up the bike path into Teton National Park once again. I was thrilled to notice that the wildfire smoke had cleared significantly, leaving the gorgeous Tetons visible instead of hidden behind haze.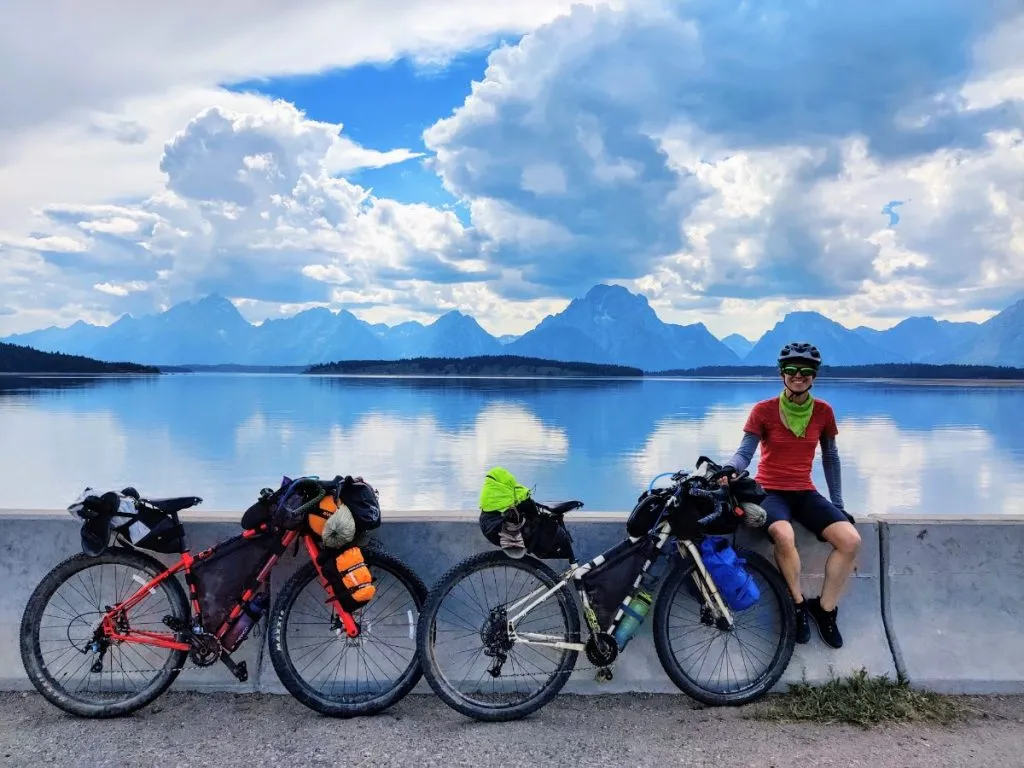 It was definitely a relief to leave busy pavement at Flagg Ranch, though we weren't expecting the tourist circus we found there. The campground was full and wild camping is limited on the road ahead, so we camped in the parking lot at an informal overflow area. The following day we enjoyed the ride back into mountains and forest, past a few lakes, and toward the Idaho border.
Tips for this section:
If the Flagg Ranch campground is full, you can camp for free at the end of the parking lot. We were told we had to stay on the pavement and could not camp in the trees.
NOBO for about 10 miles? (I don't remember exactly) from Flagg Ranch, camping is restricted to only certain established sites which are likely to be full. I'd suggest camping at Flagg Ranch or planning to push on at least ten miles.
Idaho
I know from personal experience, including the Smoke 'n Fire 400, that Idaho offers some outstanding, wild, and remote bikepacking. Unfortunately, the small section of Idaho traversed by the GDMBR doesn't include any of it. Our impression of Idaho was mostly about farmland, RV and ATV recreation areas, and – just bad timing on our part – lots of rain and mud.
Idaho greeted us with thunderstorms as we rolled through some incongruous farmland and descended to the Warm River. The campground was full so we continued onto the Yellowstone Branch Line rail trail, eventually finding a decent campsite off to the left.
The section around Mack's Inn (where we spent a night at the RV park) and Island Park was mostly muddy dirt roads and cold rain. The area seemed popular with RVers and ATVers, and though we didn't exactly feel unwelcome, we felt a bit disconnected from the crowded area and the other people there.
Northbound of Island Park the riding became more enjoyable, and (no coincidence I'm sure) the weather cleared up. A nice section of singletrack led to paved Red Rock Road and some smooth miles through national forest. The climb to the Montana border at Red Rock Pass was short and sweet compared to so many others on the GDMBR, and then we were finally in Montana!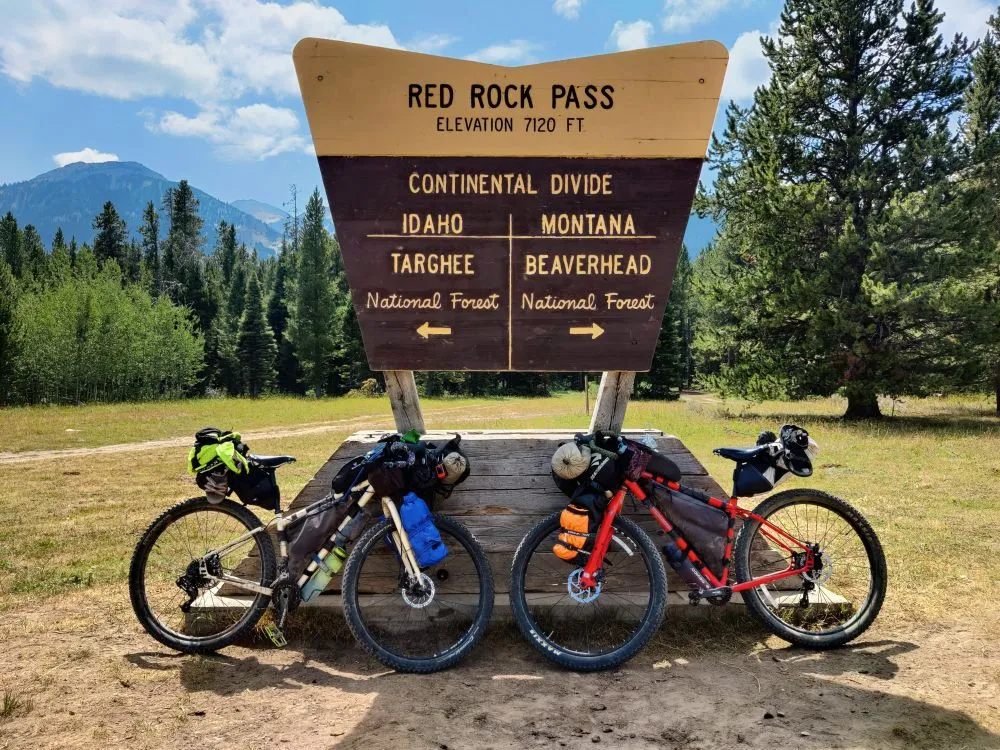 More Great Divide Resources
Here are the other posts in my GDMBR series:
These general bikepacking resources might also help:
Or, find the full list of bikepacking resources here!
Bike resources in your inbox?
There's more where this came from! Sign up here for occasional emails full of inspiration and information about bikepacking and bicycle touring.


Share the Adventure
If you found this article helpful, please consider sharing so more people can benefit from it:
Pin For Later