I'll be honest, bikepacking in the rain is not my favorite thing. Bikepacking in the sun, yes please! Bikepacking when it's cold but dry – I'll take it. Even bikepacking in the wind, I can deal with. But a drizzly, dreary, soggy bikepacking trip, especially when temperatures are chilly, can be truly miserable.
But wait, don't worry! Rain can be dealt with, just like all the other challenges bikepacking throws at us. Mother Nature is in charge out there, especially when we ride long and varied routes, and sooner or later we all have to ride and camp in the rain. Fortunately with the right gear, skills, and planning we can usually hold our own. Here are my tips, many learned the hard way, to make bikepacking in the rain a little more pleasant and safe.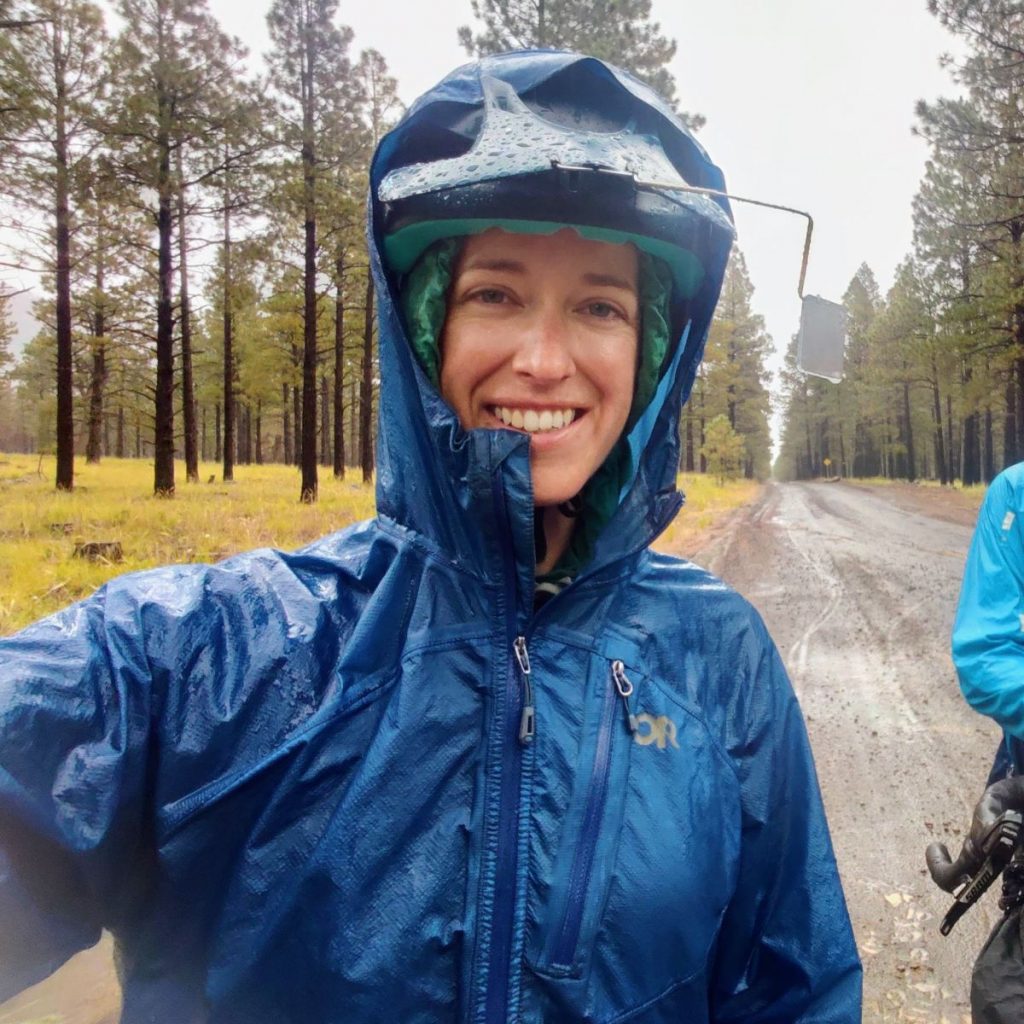 When you buy through affiliate links in this post, I may earn a small commission. Thanks for your support! I always offer unbiased opinions based on real experience from the road and trail. Learn more.
Know the Forecast
Let's start with something obvious: you should check the weather before your ride. For short rides close to civilization there are many options; I like AccuWeather. For more involved rides in remote places it helps to have an excellent map interface like Windy (they have a great app too) or elevation-specific data like Mountain Forecast. If you have the meteorological know-how to interpret it, the National Weather Service publishes detailed and nuanced forecasts throughout the US.
Sometimes a simple weather forecast doesn't tell the whole story. In some places and seasons, like the Rockies during summer, it's common to have afternoon thunderstorms that aren't even in the forecast. They're over quickly, but you don't want to be crossing a high pass when they rumble through. And remember, weather forecasts aren't totally accurate and often change, especially when looking more than a few days out.
Take Extra Care in Cold Weather
There's wet, and then there's cold and wet. If you've ever found yourself in wet clothes at the end of the afternoon when the air temperature drops, you understand the difference. When your clothes are wet, evaporative cooling makes you feel even colder than you normally would, and this can be downright dangerous in truly cold temps.
As you read the rest of this article, consider mainly the second case: wet and cold. Sure, no need to put on rain gear for a refreshing shower on a balmy summer day – just enjoy it! But a mountain storm or relentless drizzle, especially late in the day or before a long descent, requires more care.
Carry Good Rain Gear
When rain is in the forecast, or could be, good rain gear is an essential part of your bikepacking gear list. The bare minimum is a reliable and breathable rain jacket, something you can ride in comfortably for hours, but there's more to it than that. Here's what a full set of rain gear looks like for potentially wet and cold conditions.
Rain jacket: A good rain jacket for bikepacking needs to be waterproof (to keep the rain out, obviously) and breathable (to vent your sweat and body heat so you don't feel clammy and hot). There are many types and price ranges, but here are three that work for me in different contexts:
Rain pants: Though not quite as essential as a rain jacket to keep your core warm, rain pants can make a big difference in your warmth by cutting wind and keeping your shorts dry. For cycling it helps to have snaps or zips at the ankle so you can slip them over your shoes, and articulated legs that move freely as you pedal but aren't too wide and flappy. I'm currently using a discontinued REI brand pair, but you can find similar good options in REI's rain pants collection.
Waterproof mittens: When it's cold enough for warm gloves and it's raining, you need a way to keep your gloves dry. I use these MLD eVent Mitts on my bare hands for a bit of wind protection, or over my cozy Pearl Izumi lobster gloves when temps get frigid.
Waterproof shoe covers (maybe): This is the last item of waterproof gear I consider, and I only pack it for trips where I expect some truly gnarly weather (like Patagonia and Kyrgyzstan). I find that shoe covers eventually let water in anyway and can be awkward for hike-a-biking, but they do keep my feet the warmest. A plastic bag between two pairs of socks works well enough for more casual situations.
Ultralight emergency rain gear: Sometimes the weather forecast is clear but you want to carry a little something just in case. It's always good to be prepared! Here are some popular ultralight ways to add rain protection to your setup for emergencies or fast-and-light riding styles:
Latex or nitrile gloves: minimalist vapor barrier that cuts wind chill and keeps your cycling gloves dry (go up a couple sizes to leave room)
Plastic baggies on your feet: Sandwich a convenience store plastic bag or oven bag between two pairs of socks, or even just between your sock and shoe. Your shoes will still get wet, but your feet won't feel as cold because the plastic vapor barrier blocks evaporative cooling.
Shower cap on your helmet: If you don't like riding with a hood, a simple disposable shower cap (like the kind you might find for free in a hotel) will keep rain out of your helmet.
Put on Gear BEFORE Getting Wet and Cold
I can't emphasize this enough: put on rain gear before your clothes get soaked, before you start shivering, and before starting a long descent. Coldness has a way of sneaking up on you, and once you realize you're too cold it might be too late for an easy fix. Descending on a bike in cold and wet weather can be really cold, since the wind chill effect is dramatic and you're not generating body heat from pedaling.
I've experienced a handful of sketchy situations where I felt borderline hypothermic while riding in the rain. They all involved descending in wet and cold weather. They were sketchy because once I finally stopped, I was almost too cold to successfully set up shelter and get warm again, and sometimes I was solo. This is how bad things happen in remote places! After lots of fumbling and shivering and careful focus I managed to set up an emergency camp and make myself safe, but these are not my finest bikepacking moments.
So, put the rain gear on early and often when it's cold out, and monitor your core temperature in borderline conditions. When you feel that bone-deep chill setting in and you aren't pedaling hard enough to get the furnace restarted, it's time to stop and figure out a solution.
Protect Sleeping Bag, Clothing, and Electronics
Bikepackers have a tendency to scatter gear all over our bikes. It's not our fault, it's just how a bikepacking packing system works. Before everything gets soaked, go through this mental checklist and make sure all your essentials are protected in a reliable waterproof dry bag or bikepacking bag. It's never a bad idea to double-bag essential items, like electronics or sleeping bag, inside a ziplock or plastic trash bag.
Sleeping bag: Imagine arriving at camp wet and shivering, only to find that your warm cozy sleeping bag is soaked through! Now you're really in trouble. Make absolutely sure your sleeping bag stays dry.
Clothes and layers: Again, you need these to be dry so you can get warm and cozy once you're done riding. If you've stuffed any items in clever corners of your bags, make sure to gather them all in a waterproof place.
Electronics: Take care to protect your smartphone, power banks, and other non-waterproof electronics. I'm a big fan of using a smartphone for navigation, but riding in the rain for long periods is one case where it really helps to have a rugged and fully waterproof nav device like the Garmin eTrex. (Side note: If your phone does get wet, turn it off immediately and place it in a ziplock bag with rice or other clean and dry dehydrated food. If you get lucky the rice will draw the moisture out of the little circuits and crevices.)
Maps or papers: That receipt or scribbled contact info you stuffed in your feedbag will be swimming in trail mix soup after a few hours in the rain.
Choose a Dry(ish) and Safe Campsite
Riding in the rain is one thing, but camping in the rain involves its own set of challenges. It's definitely possible to stay cozy and dry in your tent during a storm, but you need to get a few things right first. Here's what to watch out for.
Don't camp in anything resembling a waterway, even if it currently looks dry. This is especially true in desert landscapes where rainwater can travel far and fast over dry soil, sometimes causing flash floods far from where the rain actually fell.
Camp on high ground, avoiding low spots where water might collect or the banks of rivers that may rise. A slightly sloped or convex site will ensure you don't wake up in a puddle.
Look for surfaces that drain well. This isn't a good time to pitch your tent on bare clay soil (see Death Mud below).Some grass or pine needles under your tent can help with the mud situation.
If it's windy, look for sheltered sites on the leeward side of ridges or hills. Orient the shortest end of your tent so it's facing into the wind, longest side parallel to the direction of the wind.
Avoid ridges or high exposed places if there's any chance of electrical storms.
Once you do manage to set up camp in the rain, a few reminders:
If you use a leather saddle like the Brooks B17, cover it with a plastic bag to protect it from water damage.
Don't leave your helmet outside, especially not upside-down (don't ask me how I know!)
If you have wet clothes and you're not too cold at night, place them in your sleeping bag. Your body heat might dry them by morning.
Cooking in your tent can be dangerous. If you must, do it in a well-ventilated vestibule. In active bear country I wouldn't risk it.
If your bike gets rained on all night, you might need to lube the chain in the morning.
It probably goes without saying, but when rain is expected you need to consider your shelter setup carefully. A tent usually offers the best weatherproof protection, especially for beginners. Don't bring a bivvy unless you really want to hang out in there for hours while it's raining!
Beware of Death Mud
In areas with clay-rich soil, rain can turn unimproved dirt roads to impassible quagmires. Death Mud, also known as peanut butter mud, coats your tires so quickly that your wheels lock up within a few revolutions. I encountered my worst Death Mud in New Mexico, but it can be found in many places and seems to be especially common in arid landscapes.
If you come across real Death Mud, you may have no choice but to set up a mud-covered camp beside the road and wait for it to dry, because you are going NOwhere until it does. This can happen during heavy downpours or, even worse, when snow is melting (worse because this situation gets wetter, not drier, when the sun comes out). If rain is moderate and temps are warm, you may be able to hike alongside the road on vegetation or otherwise work your way through the worst patches. The best solution is to time critical sections of road for dry weather.
Be Willing to Wait
While a little rain need not slow you down, there are definitely times when wet weather suggests or demands a schedule change. Electrical storms in high or exposed places, busy roads with poor visibility for drivers, and relentless bone-chilling drizzles are all good reasons to hunker down somewhere safe and warm and wait for better conditions.
It's best to discover upcoming storms via a forecast while you're still in a good place for a rest day. On a long ride I'm always happy to discover bad weather is coming while I'm in a town with cheap motels – the perfect excuse to rest and rejuvenate for a day!
If you're already in the middle of nowhere you may have to simply set up camp and hunker down for a bit. Maybe you pack up and keep moving later in the day, or maybe you spend the night if Mother Nature dictates. This is why it's always good to have an extra day of emergency food in your bags! A Garmin InReach Mini can help you get weather updates when you don't have phone service.
In Conclusion
I don't know of anyone who loves bikepacking in the rain, especially when it's cold (do you?). But with the right skills, gear, and planning, rain doesn't have to ruin your ride. It might slow you down, make you cold, and cover you in mud, but that's all part of the (type 2) fun we expect from bikepacking, right?
More Bikepacking Resources
If you found this article helpful, you might also enjoy these:
Or visit the bikepacking section for lots more.
Bike resources in your inbox?
There's more where this came from! Sign up here for occasional emails full of inspiration and information about bikepacking and bicycle touring.


Share the Adventure
If you found this article helpful, please consider sharing so more people can benefit from it: