Mendocino National Forest is the only national forest in California not crossed by a paved road. If that doesn't make a bikepacker's ears perk up, I don't know what will!
It also happens to be the closest national forest to my home. Even at 3.5 hours away, it's still better than the usual schlep out to the Sierras from the Bay Area. So obviously, it's an area I've been eyeing as a bikepacking destination for some time.
Despite the obvious appeal it took me a while to put a trip together. For one thing, the area tends to be on fire during late summer, and snow often blocks the highest passes and peaks from late fall through early summer.
I'd given up on it for 2020, noting that the entire northern area was closed due to fire damage and winter weather was likely on its way. But when the opportunity for a three day weekend came up in mid-November, I talked my husband into sneaking north for one last camping trip and bike overnighter before winter set in.
Once I started looking at route possibilities, I discovered that Mendocino National Forest is intimidatingly mountainous. There are 2000+ foot climbs everywhere you look, and most of my route planning attempts generated elevation profiles sporting nearly 1000 feet of climbing per 5 miles on average. Ooof!
I planned the easiest little loop I could find within the open portion south of Pillsbury Lake. It started from a paved road, coincided with known water sources, and included a notable camping destination (Letts Lake) – perfect! With short days, cold mornings, and challenging terrain, I figured 25 miles a day would keep us busy enough.
It turned out to be a great but tough little overnighter, with the best parts coming toward the middle and end. If you're the type of bikepacker who doesn't mind a 25 mile day with a 3500 foot climb, you might like it too. In the rest of this post I'll share the route details and some pictures for anyone else interested in bikepacking in Mendocino National Forest.
Route Map and Overview
Distance: 50 miles
Elevation gain: 8300 feet
Start and end: Penny Pines Campground on Elk Mountain Road
Direction: We rode counterclockwise, choosing to get more of the climbing over with early and figuring we'd be walking some of it anyway. The gradual downhill on the second day was a nice reward, but you could go either way, and probably clockwise is slightly more rideable.
Map link: RideWithGPS
Driving to the Start
This route starts from Elk Mountain Road near Penny Pines campground, 15.5 miles north of the small town of Upper Lake. It's the only paved road heading into the forest from this area, making it a convenient place to start.
The road is steep, very curvy, and in poor condition with some large potholes, but should be passable by standard passenger car if you take it slow. They seem to be repaving it in sections, so maybe it'll improve in the future.
Penny Pines Campground is a pleasant place with bathrooms, picnic tables, and fire pits, but no water. It costs $6 per night. If you're just parking, or want to camp overnight in your vehicle, you can park for free at several pullouts along the road in the same area. The area is popular with dirt bikers, especially on Saturdays.
Route Description
From Elk Mountain Road you'll start descending immediately on dirt road M10, likely thinking a mix of "this is fun!" and "I have to climb back up this later…" Seven quick miles later you'll arrive at a bridgeless crossing of Rice Fork.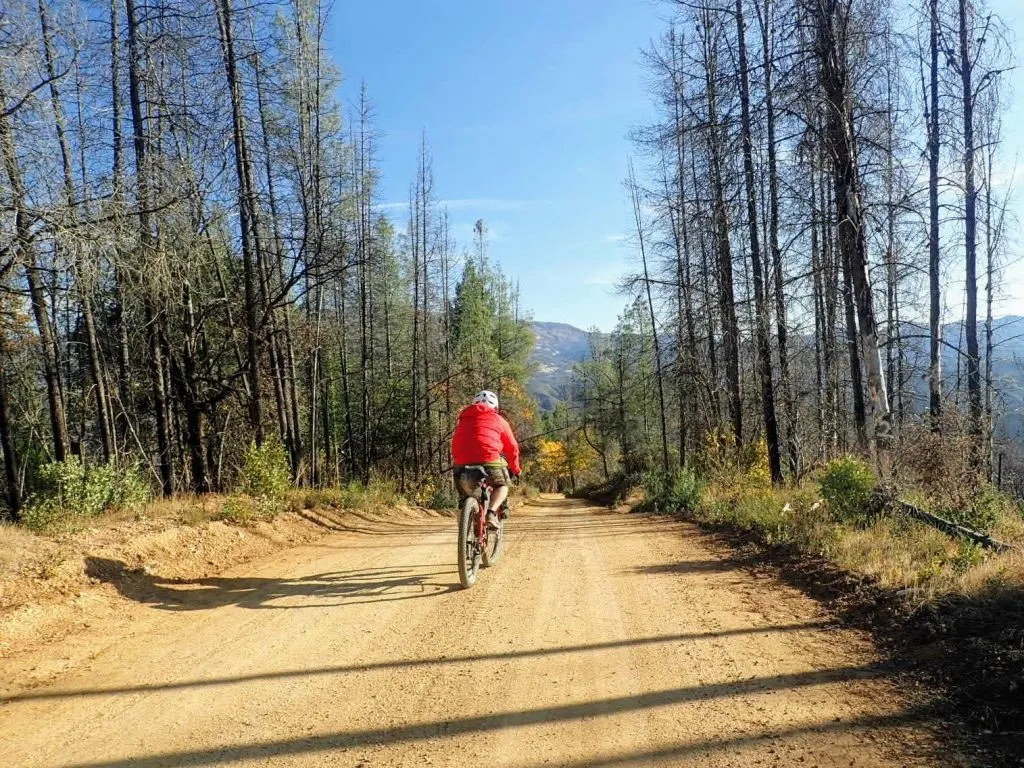 Rice Fork seems to flow year-round. In November, before much significant rain had fallen, it was about ankle deep and very cold but easily crossable. I would guess it's more formidable in early summer on high snow years. A ruined minivan stuck halfway across served as a dramatic warning that water crossings should be approached with care.
After crossing Rice Fork, at mile 8 you'll take a right turn across Bear Creek (which was flowing in November) if going counterclockwise. Here the climbing starts, and doesn't let up again until 10 miles and ~3500 feet later. I'll admit we walked a fair bit of this climb, chatting and pushing, enjoying the views. Though many parts are certainly rideable if you feel like working for it, most people should expect some hike-a-bike here.
This road is called 17N16, not M10 as is shown on Google Maps; the real M10 is the northern route that you'll return on later. Road 17N16 is a secondary road, less well maintained than M10, with some deeply rutted sections and a number of downed trees. It climbs dramatically up a ridgeline through burned forest with increasingly lofty views over the mountains, and is pleasantly scenic despite all the climbing. We saw a handful of dirt bikers out here on a Sunday, but no one else.
At mile 13 about halfway up the climb, the loop comes very close to being a figure 8. A short detour would take you to the northern side and an easy descent back to Rice Fork. You could bail here if needed, but I don't recommend it, because you're through much of the hard part and the nicest parts are still ahead.
The route tops out around 5700 feet at mile 18, just a few hundred feet shy of Goat Mountain summit (a road does continue up, if you haven't had enough climbing). In November it was quite chilly up there, with substantial patches of frost even in the afternoon. We layered up and enjoyed the scenic descent toward Letts Lake through dramatic gnarled tree skeletons and views reaching all the way to the Sierra.
Several roads descend to Letts Lake. The one I've marked on the map was found by accident after missing a turn, and I think it's the most natural option with a smooth downhill grade and a few refreshingly gradual tiny climbs.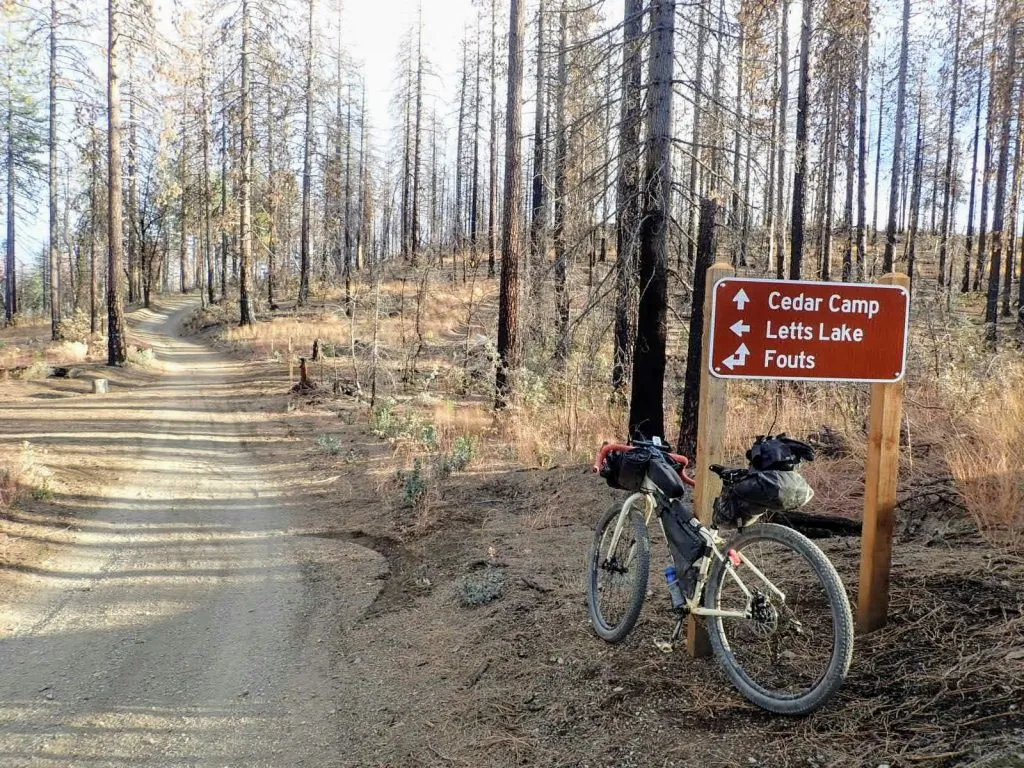 Letts Lake is a nice little spot with a forested campground offering 42 sites right by the lake. Sites are first-come first-served and supposedly cost $12, but we found no fee information or envelopes in mid-November. The potable water spigots were shut off for the winter but we easily filtered some from the lake, and the bathrooms were clean. In off season this is a great spot to camp, but on busy weekends it can be, well, busy. Bikepackers looking for solitude might want to fill up on water and head further down the road to a wild camping spot.
Leaving Letts Lake the hardest part of the ride is behind you. There are several climbs and descents but they're more gradual than the previous day's grades, and the road is smooth and well-maintained. From mile 34, relax and enjoy nine miles of smooth descent down to the Rice Fork crossing.
If you're looking for a place to camp in this area, there's a lovely little clearing with table and fire pit down to the left by Bear Creek, just before the junction with 17N16 where the loop comes full circle. This is probably the last good place to camp on the route, since much of the climb after Rice Fork passes through private land.
The seven miles back up to Elk Mountain Road are not the most inspiring finish, but they'll pass quickly enough. The grade eases up toward the end, and before you know it you'll be back at your car. Take some time to celebrate a job well done on this short but tough route!
If you're anything like me, you might find that Mendocino National Forest grew on you despite all the tough climbing. The rugged sections out near Letts Lake ended up being my favorite. Despite the 3500 foot climb, I think this route has a surprisingly nice flow to it, at least once the climb is over.
Bikes and Gear
Our rigid Salsa Fargos were perfect for this route. There's nothing technical about it, unless you decide to explore some of the impressively steep motorbike trails weaving through the web of forest service roads. That said, it's 100% unpaved and the gravel and dirt can be rough in places, so having at least 2″ tires will be most comfortable.
Water
Letts Lake is a reliable water source, and Rice Fork seemed to be as well. If the abandoned vehicle is still there at the crossing, I would filter water from upstream…
Bear Creek also seemed pretty reliable, and we saw a few small streams in the area northwest of Letts Lake, but no other water in November. I'm not familiar with the water patterns in the area, but I would guess that November – after a long summer and before much new rain has started to fall – is one of the driest months, so things may be different in summer.
Camping
The route is in National Forest, so wild camping is a great option throughout. The main exception is the first / last seven miles and the area immediately east of Rice Fork, where private land abounds. The ridge on the way to Goat Mountain looked like a lovely camping area, but there's no water up there.
Letts Lake Campground is a nice option and splits the route conveniently in half. You may want to avoid it on busy weekends though, when it does fill up (no reservations).
There is some nice wild camping along Bear Creek about a mile from Rice Fork, just past where the out-and-back section splits into a loop.
Other Mendocino NF Bikepacking Ideas
With short and chilly November days and a leisurely pace, we found ~25 miles per day to be plenty. But if you're riding this route in the summer, you may want to cover more miles.
One option could be extending from Letts Lake on 17N80 to the Fouts Springs area, where a number of campgrounds are clustered (I think the group campground has potable water, but check the forest service website to confirm). From there, return to the mapped route via Fouts Springs / Letts Lake Road.
Another option would be to follow this route clockwise and then head south on Goat Mountain Road instead of returning west, expanding into a larger southern loop via a number of different forest service roads.
Lake Pillsbury to the north is another interesting landmark, and a path to connect with the massive northern parts of Mendocino National Forest. Once the fire damage has been assessed and the area is open again, I have to say, I'm kind of tempted. Already the steep climbs are forgotten, and it's the big views and fun descents that remain in my memory. Isn't that always how it goes? 🙂
More Bikepacking Resources
If you're thinking about bikepacking in Mendocino National Forest, you might also find these helpful:
Bike resources in your inbox?
There's more where this came from! Sign up here for occasional emails full of inspiration and information about bikepacking and bicycle touring.


Share the Adventure
If you found this article helpful, please consider sharing so more people can benefit from it:
Pin For Later