If you enjoy mountain biking and also love camping, there's a good chance you're intrigued by bikepacking. What's not to love about the freedom of strapping some gear to your bike and exploring beautiful trails for days on end?
If you like the sound of that, you may be wondering: can you bikepack on your hardtail mountain bike?
The short answer is a resounding YES! You can technically bikepack on just about any bike, but a hardtail (front-suspension mountain bike) is arguably the most versatile and common type of bikepacking bike out there.
When people ask about bikepacking on a road bike or even on a gravel bike, I have to caveat my answer with a lot of detail about which routes and which kinds of bikes would be best. I don't want people to get in over their heads with a bike that can't handle the terrain.
A hardtail, on the other hand, can be a reasonable choice for almost any bikepacking route, at least as the term is understood in the US (multiday biking on mostly unpaved roads and trails). Worst-case scenario: it's a little slow and heavy on the smoother sections. Best-case scenario, it's a comfortable ride and a capable tool on fun terrain. It's the type of bike I feel most comfortable recommending to new bikepackers who want to build their confidence and keep their options open.
That said, some hardtails are better for bikepacking than others, and there are tricks to getting them loaded up with gear for your grand adventure. Read on to learn about the ideal type of terrain for bikepacking with a hardtail, what to look for if you're shopping for a bikepacking-friendly rig, and how to load it up and hit the trail.
Not yet sure if a hardtail is right for you? Read about all the options: Choosing the Best Bike for YOUR Bikepacking Dreams
When you buy through affiliate links in this post, I may earn a small commission. Thanks for your support! I always offer unbiased opinions based on real experience from the road and trail. Learn more.
Why Bikepack on a Hardtail
A hardtail is a bike with suspension in the front fork and no suspension in the rear. The idea is to absorb bumps and chatter for a smoother ride, but without the added complexity of a rear suspension. For bikepacking routes with a lot of moderately rough singletrack, chunky 4×4 roads, or even just washboarded gravel, a hardtail is a great choice.
How do you know if you're the type of rider who would enjoy a using a hardtail for bikepacking? Here are some hints:
You enjoy the challenge of riding moderate singletrack and rough 4×4 roads.
You enjoy the comfort of a smoother ride even on non-technical dirt and gravel.
You like exploring remote areas by bike and don't want to be limited to roads. You're a mountain biker at heart!
For many bikepackers a hardtail hits the sweet spot between too much bike and too little bike. Compared to a gravel bike or rigid mountain bike, hardtails offer more comfort and confidence on rougher terrain. Compared to a full-suspension bike they're generally cheaper, simpler, and have much more room for carrying luggage.
Sure, you might occasionally find yourself overbiked or underbiked, but a hardtail will get you almost anywhere you want to go while bikepacking.
Though I think hardtails are a good choice for bikepacking in general, here are a few reasons you might NOT want to bikepack with a hardtail:
Not the lightest or most efficient choice for smoother gravel and dirt. Consider a gravel bike for these types of routes.
Not easy to fit with drop bars, if that's your preference. Hand position on flat bars is more limited and can be less ergonomic for long days; more on this below.
Suspension fork is another part that can misbehave or need maintenance, which adds risk if you bikepack abroad or in places with limited bike repair services. Consider a rigid mountain bike or swapping to a rigid fork instead.
Depending on the bike's design, the geometry may not be comfortable or efficient for long days of pedaling.
You favor "underbiking" as a matter of personal style. Consider a gravel bike, unless you like to ride really gnarly trails.
What Kind of Bikepacking?
If you're thinking about using a hardtail mountain bike for bikepacking, you should first ask yourself: What kind of bikepacking do you want to do?
Bikepacking is actually a very broad term. Generally (in the U.S. at least) it refers to multiday riding on mostly unpaved surfaces. A little pavement is fine, but the focus is dirt or gravel.
But what kind of dirt or gravel? That's where things get interesting!
Bikepacking spans a wide range of surfaces and terrain, from dirt so smooth it feels like pavement (until it gets wet and turns to Death Mud…), to varying qualities of gravel, to rugged and technical trails requiring suspension and skill.
One person might call this bikepacking:
Another person would say this is bikepacking:
Yet another person would say this is bikepacking:
Finally, this could also be bikepacking: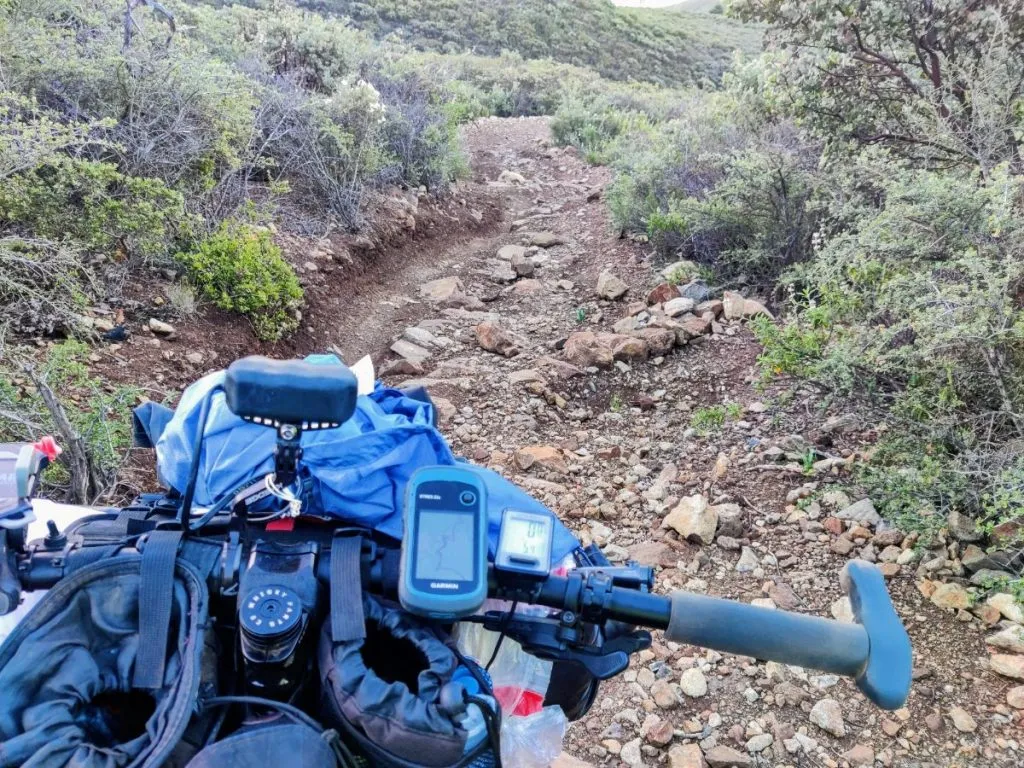 To make this even clearer, here's a handy graphic:
As you can see, hardtail bikes sit comfortably in the middle of the terrain spectrum. They're ideal for rougher unpaved roads and moderately rough trails, and they can make less rugged stuff — like washboarded gravel or a rutted dirt road — more comfortable. With a hardtail you'll have zero trouble finding appealing bikepacking routes well-suited to your bike.
A hardtail will get you down a super-rough trail that a full-suspension would be better for, though you'll have to choose your line more carefully. For many mountain bikers the tradeoff of less complexity and more luggage space is worth it, so you'll often find technical riders "underbiking" with a hardtail on the gnarliest of trail routes.
Versatility: Switching to a Rigid Fork
A hardtail is defined by the presence of a suspension fork. But many hardtails can be transformed into fully rigid bikes by swapping out the suspension fork for a suspension-corrected rigid fork like the Enve Mountain or Whisky No. 9.
Now you have a lighter and simpler rigid mountain bike ideal for smoother dirt and gravel, or for long trips in remote places where simplicity is key. If this works well for your bike's geometry, it's almost like having two bikes in one.
My point: a hardtail becomes an even more versatile choice when you consider the option of swapping forks to match the terrain at hand.
Read More: Best Rigid Forks for Mountain Bikes
Hardtail vs. Gravel Bike: What Terrain Do You Enjoy?
Different styles of bikepacking appeal to different riders. If you're not sure what kind of terrain appeals to you most, here's one way to think about it:
| | |
| --- | --- |
| Smoother (gravel bike friendly) | More Technical (mountain bike friendly) |
| Consistent pedaling rhythm | Constantly changing gears and effort level |
| Spin your legs while getting lost in thought; less mentally demanding but some folks find it boring. | Constantly paying attention to the terrain; more mentally stimulating but some folks find it draining. |
| Less remote, more vehicle traffic; can be annoying but also helpful in case of problems. | More remote, less vehicle traffic; more peaceful but also requires more self-reliance. |
| Less scenic and "pure" in the natural landscape sense; traveling mostly on roads. | Can be highly scenic and feel more like a hiking trail. |
| Moving faster, more miles per day | Moving slower, fewer miles per day |
| Calming and repetitive | Exciting, more adrenaline |
| Less need for bike handling skills beyond the basics | Need to learn and practice bike handling skills for navigating obstacles |
| More options available; find routes almost anywhere. | Fewer routes available; need to find bike-legal singletrack trails. |
Yes, those are generalizations! There are counterexamples, but overall your favorite terrain will come down to how you feel about the left column or the right column. It's really more of a spectrum, with lots of space in the middle.
Many bikepacking routes include a mix of terrain, so it's common to have a "no perfect bike" situation. The longer the route, the more likely you'll need to ride pavement to link up dirt trails, or endure sections of rough trail to get between smooth gravel roads. On mixed-terrain routes people will either:
a) Ride the bike they have — we can't all afford a full stable of options!
b) Choose a compromise bike aimed toward the average of the terrain, even if it's not perfect for most of it.
c) Choose the bike that's most fun on the terrain they enjoy most. For example, technically skilled riders might choose a full suspension bike so they can enjoy shorter bits of rough trail, even though it'll slow them down on the long smooth sections.
Finally, remember that it's not just about the bike — it's about the rider too. Even the best mountain bike won't instantly turn a new rider into a skilled shredder. If you want to bikepack on technical trails, especially those that favor a more aggressive hardtail or full-suspension bike, you'll need to enjoy the process of learning and practicing bike handling skills on challenging terrain.
Choosing a Bikepacking Hardtail: What to Look For
The category of hardtail mountain bikes is vast and spans a wide range of budgets. It can be hard to know where to start! Generally speaking, here are the features that matter most to bikepackers:
Geometry: Not all hardtails are designed for the type of riding bikepackers tend to do. We want a bike that's comfortable to sit on all day and efficiently transforms our pedaling effort into forward motion. Look for bikes categorized as Cross Country (XC), which tend to prioritize light weight, pedaling efficiency, and climbing capabilities. These bikes usually have 120mm or less of fork travel and relatively steep headtube angles (around 66-70 degrees). Avoid bikes designed primarily for downhill performance, like the "enduro" and to some extent "trail" categories.
Material and durability: Options include aluminum, steel, carbon fiber, and titanium, and all can be reliable if designed and built well. Carbon and titanium are lighter but more expensive. If you want a bomber bikepacking rig that can take some knocks, steel is a popular and reliable choice (or titanium, if your budget is big enough), but it's heavy. You may want to avoid the lightest of the lightweight racing-focused bikes for both comfort and durability reasons — easy to do anyway unless your budget is large.
Mounts: You don't necessarily need mounts to go bikepacking since most bags are strapped to the frame, but they do keep your options open. Bikes designed for long-distance riding often have extra mounting points for bottles and gear cages in the frame triangle area, and some even have eyelets for mounting a rack. This is especially helpful for small riders needing to stretch their luggage capacity.
Gearing: Modern mountain bikes typically have a low climbing gear (let's say a gear ratio of 0.8 or smaller) which is great for pedaling a loaded bike up steep hills. For varied bikepacking routes you'll also want a decently fast high gear ratio (around 3.0 or higher, give or take) to keep you moving along on flats and gradual downhills. This can be harder to find on a hardtail as compared to a gravel bike, so look carefully for decent wide-range gearing if you plan to ride a variety of terrain. Sometimes you can improve the gear range by swapping chainrings or cassette, but eventually you might run into compatibility issues with the rest of the drivetrain.
Brakes: Mid-to-high end mountain bikes typically come with hydraulic brakes. They're generally superior to mechanical brakes in performance and comfort — no more stopping midway down that epic descent to shake out your cramping hands — but also harder to fix and maintain while traveling. Bikepackers are split on this issue, but hydraulics are becoming more popular among all but the most hardcore of bike travelers (those taking multi-month trips in countries where it's hard to find a bike shop).
Handlebars: Handlebars are usually an easy swap and most people don't factor them into bike choice, but changing bars can be a helpful upgrade if you're gearing up for bikepacking. Many bikepackers find that a straight flat MTB-style handlebar isn't ergonomic for long multiday rides. Consider swapping to a bar with a larger backsweep angle, an "alt bar" like the Jones Loop with multiple hand positions, or adding bar ends (I like the Cane Creek Ergo).
Frame triangle space: Definitely not the most important factor in choosing a hardtail for bikepacking, but all other things being equal, bikepackers tend to prefer larger frame triangles for the extra frame bag capacity. Some hardtails, especially those designed with more downhill-focused geometry, don't have much usable frame triangle space especially on small frames.
Best Hardtail MTBs for Bikepacking
Let's go through some examples of popular hardtail mountain bikes that are well-suited to bikepacking. No need to limit yourself to this list, but it's hard to go too wrong with any of these options. You can also use them as a point of reference to evaluate other possible new steeds or assess your current one for its bikepacking readiness.
Surly Karate Monkey: Surly is known for their bomber steel bikes designed for multiday riding. The Karate Monkey isn't particularly lightweight or performance oriented, but it's one of the most popular bikepacking hardtails I see out on the trails. It has mounts and eyelets in all the right places, wide-range 1×12 gearing, and 27.5+ wheels. A fully rigid version is also available (or you could buy two forks and switch between them for an even more versatile setup).
Marin Pine Mountain: A steel hardtail 29er designed specifically for all-day epics and bikepacking, the Pine Mountain offers a surprising number of frame mounts for bottle cages or bolt-on bags, and promises "modern trail capabilities" thanks to its progressive cross country geometry.
Specialized Epic Hardtail: The Epic Hardtail is a lightweight carbon cross country hardtail focused on speedy technical performance while maintaining rider comfort. It's a bit racier than others in this list, but could be a good fit for someone who's into both shorter distance racing and multiday adventuring.
Salsa Timberjack: The Timberjack, and its more affordable and beginner-friendly cousin the Rangefinder, are both solid bikepacking-friendly hardtail options from the bikepacking-friendly brand Salsa. Complete bikes come with several groupset options and choice of 27.5″ or 29″ wheels; there's even a singlespeed option.
Santa Cruz Chameleon: As its name suggests, the Chameleon is designed for whatever adventures you might want to throw at it. The aluminum frame has extra mounts for bottle and gear cages, including a 3-pack under the down tube, though the frame triangle is a little small when it comes to luggage capacity. The relatively slack geometry is a good choice for more aggressive trail riders, and the mixed wheel size build option is fairly unique (a straightforward 29er option is available too).
Trek X-Caliber: The aluminum X-Caliber, and its racier carbon cousin the Procaliber, are cross country hardtails designed to be fast yet comfortable. Both have wide-range 1×12 gearing and hydraulic brakes, and the X-Caliber has rear rack mount eyelets.
Chumba Stella: The Stella is a bit more of a boutique bike than others in this list, but it's my bike, and this is my website, so it gets a mention. 🙂 It's available as a frame only (with options for customizing paint color and mounts) or as a custom build, so experienced riders can work with Chumba to craft a bike that meets their specific needs. For bikepackers the result is a highly capable and reliable hardtail that's efficient to ride over long distances and compatible with all sorts of wheel, hub, and fork options should you care to mix things up.
Loading a Hardtail for Bikepacking
Once you have your hardtail, these hints will help you load it up safely and comfortably for bikepacking. For more detail on this surprisingly nuanced subject, see also How to Pack For Bikepacking.
Affordable tricks for beginners: Bikepacking bags work well on most hardtail bikes, but if you're new to bikepacking it can be hard to justify the cost. See Creative Ideas for Bikepacking on a Budget to get started with some low-cost alternatives like dry bags and straps.
Handlebar bags: Most handlebar bags and harnesses work well on the flat bars typically spec'ed on hardtails; no need to compress them down to fit between drop bars like on a gravel bike. You may, however, run into tire clearance issues if you have a small frame, 29er wheels, and a longer travel suspension fork. You'll need to pack your handlebar bag and any downtube bottle cages so they don't rub your front tire when the fork is compressed. Smaller diameter handlebar bags and rigid mounting systems, like the Salsa EXP series, can help here. More info: Dry Bags for Bikepacking
Seat bags and racks: If you have adequate clearance between saddle and rear tire, most bikepacking seat bags work great on a hardtail bike. However, many hardtails come with dropper seatposts and these limit seat bag options considerably. Look to small dropper post compatible bags like the Revelate Vole, or try a rack and mini-panniers. If your bike doesn't have eyelets for mounting, the Old Man Mountain Divide Rack is a popular bikepacking rack that mounts on almost any bike.
Fork cages: Suspension forks lack the 3-pack mounts common on rigid forks specifically designed for adventure riding, so you'll have to get creative if you want to carry gear on your fork (especially handy for stretching water capacity). Fortunately there are many clever ways to attach bags and cages to your fork (and other parts of your bike) without these dedicated mounts. If that long list makes your eyes glaze over, start with hose clamps and/or generous amounts of electrical tape.
Backpack: Beginners shouldn't overlook the humble backpack. A 10-20 liter pack is a surprisingly good way to solve your packing woes without dropping money on a bunch of bikepacking bags you may never use again. Even if you've got a solid bikepacking setup, a hydration pack may be necessary to stretch your water and gear capacity on some routes. If you're riding rugged trails that require some hike-a-bike, transferring weight to your back makes the bike a bit easier to wrestle up steep ledges. More info: Backpacks for Bikepacking
Protect your frame: Especially if your bike has a carbon frame, apply frame tape in the areas where your bikepacking bags may rub or bounce. This protects your frame from both cosmetic and functional damage.
Adjust your fork stiffness: The added weight of bikepacking gear can change the feel of your suspension fork, especially when you load up the handlebars. Adjust your fork's stiffness to compensate; details will depend on your specific fork. If your fork has a lockout option, don't forget to use it on smooth flats and climbs to save energy.
For further detail on bikepacking with a hardtail, including how to maintain and protect your fork on long and rugged routes, see this helpful article: Bikepacking With A Suspension Fork.
Bikepacking Routes for Hardtails
A good hardtail opens up nearly endless options for scenic and interesting bikepacking routes. To inspire you, here are a few popular routes that are well suited for hardtail mountain bikes:
Some fans of underbiking will ride these on rigid mountain bikes or even gravel bikes, but many feel that a hardtail is more comfortable and fun.
Also worth a mention is the epic and famous Great Divide Mountain Bike Route. Though this mostly gravel route is commonly ridden on fully rigid mountain and gravel bikes, hardtails are the next most common choice. Many riders choose them for the extra comfort they provide when riding day after day (after week after week…) on sometimes rough gravel roads.
Closing Thoughts
If you're thinking about bikepacking on a hardtail, you're already on the right track. Many of the most interesting and scenic bikepacking routes are perfect for the right style of front-suspension mountain bike, and you can find options to suit almost any budget.
Look for a reliable cross country hardtail designed for long rides on varied terrain. Load it up, point your knobby tires down that rugged dirt road or fun singletrack, and bikepack to your heart's content!
More Bikepacking Resources
If you're into bikepacking, you might also like these other posts:
Or, visit the bikepacking resources section for lots more bikepacking tips and inspiration.
Bike resources in your inbox?
There's more where this came from! Sign up here for occasional emails full of inspiration and information about bikepacking and bicycle touring.


Share the Adventure
If you found this article helpful, please consider sharing so more people can benefit from it: