Few parts of a bikepacking gear list inspire as much deliberation as the shelter. We ask a lot from our bikepacking shelters: weather protection, ventilation, privacy, and comfort, all while being exceptionally light and packable. With the right shelter we can enjoy the freedom of laying our head wherever we find ourselves in the great outdoors. The wrong type of shelter, on the other hand, can lead to discomfort, anxiety, and general grumpiness.
With all the great options out there, how do you know which type of bikepacking shelter will suit you best? The first step is to ask yourself where you ride most often and what the conditions are like there, how much you care about weight and packability, and what kind of feeling you're looking for when you crawl into your shelter at night. You can certainly find a bikepacking shelter that works for most trips you might want to take, but no single shelter is ideal for all trips.
Many bikepackers eventually find ourselves with multiple shelters. I wouldn't carry my roomy freestanding tent for a fast-and-light bikepacking race, and I'd never dream of taking a multi-month international tour with my ultralight bivvy (ugh!). It's all about choosing the right bikepacking shelter for the location, objective, and style of packing and riding.
This post is all about the pros and cons of the four most common bikepacking shelter types: tents, tarps, bivvies, and hammocks. Whether you're just getting started with bicycle camping or you're an experienced bikepacker looking to try something new on your next trip, I hope it helps you sleep peacefully on the road or trail.
When you buy through affiliate links in this post, I may earn a small commission. Thanks for your support! Don't worry, everything you read here is unbiased and based on real experience on the road and trail. Learn more.
What to Consider
The best type of bikepacking shelter for you depends on many factors: where you'll be riding and with whom, your bike travel style, how much weight you're willing to carry, and what kind of campsite vibes appeal to you most. As you read about the various bikepacking shelter types below, think about your personal answers to these questions:
What will the weather be like in the places you want to bikepack? Warm and humid, cold and windy, mild and dry?
What is the terrain like? Do you expect ample flat spots for tents, trees for a hammock, or just a small patch of land for a bivvy?
How much time will you spend in your shelter? Is it your home away from home for months, or just a place to lay your head for a few nights?
Will you be camping in public areas or around other people and needing some private space, or will you be out in the wilderness alone? Many bike travelers find it relaxing to be out of sight while sleeping after being so visible on the road all day.
Do you want to share sleeping space with a significant other, kids, or a pet?
How much do you prioritize comfort at camp versus a lightweight load on this particular trip?
With that in mind, let's jump into the four main types of bikepacking shelters, starting with the most popular: tents.
Tents
Ideal for: versatility, long trips
Less good for: ultralight riding or racing
Tents are the most common and versatile type of bikepacking shelter. A good tent provides protection from weather and bugs, privacy in busy campgrounds, and a fully enclosed place to sleep and hang out. This versatility and convenience makes tents especially popular with long-term bike travelers, families, and many couples. If you can only have one type of bikepacking shelter for any and all trips, especially for bikepacking abroad in a variety of countries, it should probably be a tent.
The most obvious reason to choose a tent for bikepacking is protection from the elements. While it may be possible to stay warm and dry with a tarp or hammock, it usually takes a bit more practice. Some tents can be fiddly to pitch, especially ultralight ones, but tents generally don't take much skill once you learn the basics. Nothing sets up faster than a simple freestanding tent, which can be a huge relief when trying to make camp in howling wind and pouring rain.
The "livability" of tents is another big benefit for bikepackers, especially on longer trips. In a perfect world where the weather is always nice and your campsite is always an idyllic private spot, your shelter is just for sleeping. But stuff happens on bikepacking trips: unplanned rest days, camping in the busy town park, waiting out a storm… If you have to spend a day hunkered down in your shelter, a tent offers a private, dry, bug-free space with room for your gear and freedom to move around (at least a little bit).
The mental aspects of a fully enclosed shelter are often overlooked, but they can be a big benefit (or for some folks, a drawback) of tents. Those new to sleeping outdoors often prefer the coziness of familiar tent walls over a view of the dark landscape. Anyone who feels vulnerable because of their size or appearance may prefer the anonymity of a tent; I know I do when I bikepack solo. Traveling by bicycle in populated areas can feel really exposed, and it can be a relief to crawl into a completely hidden space at the end of a long day on busy roads.
Bikepackers have a wide range of tents to choose from. Depending on your trip location and gear style you might choose anything from a sturdy four-season, double-wall, freestanding tent to an ultralight single-wall pyramid tent. Bikepackers often use backpacking tents, which work well since they're designed to be lightweight and compact. Recently a few tent manufacturers have started offering bikepacking-specific tents with handy features like shorter folding poles, durable stuff sacks, and stealthy colors.
Advantages of tents for bikepacking:
Most versatile type of shelter, adaptable to most climates and terrain
Popular, many options to choose from
Most thorough protection from bad weather
Fully enclosed for bug protection
Most privacy in busy campgrounds or when stealth camping in populated areas
Room to bring gear inside to deter theft or protect from rain
Shared sleeping space with friends, partner, family, or pet
Feels cozy, enclosed, and familiar
Disadvantages of tents:
Heavier and bulkier than some other options
Tent poles can be hard to carry on a bike (though here are several solutions)
Requires larger flat area to pitch, and soft ground for stakes (except freestanding tents)
Can be poorly ventilated in hot or humid climates, depending on the model (single wall tents especially)
Higher-end models are quite expensive
Feeling of being isolated from the landscape and surroundings
Popular Bikepacking Tents: There are many options to choose from; for more see my detailed post on bikepacking tents. Here are a few selected highlights:
Tarps
Ideal for: lightweight weather protection
Less good for: bug-infested areas, hard ground
A tarp is like the minimalist cousin of the tent. Any non-essential fabric is stripped away, leaving only a waterproof layer positioned above and extending down toward the ground at the sides. In many ways, tarps are the best of both worlds as a bikepacking shelter. They offer a moderate amount of protection, privacy, and sense of coziness in exchange for lighter weight and less bulk.
Most tarps are lighter and smaller than most tents, which is a plus for space-constrained bikepacking bag setups. To create the ridgeline you'll probably need one or two lightweight poles or guy lines between well-paced trees, though some creative bikepackers incorporate their bike into the pitch for a flexible pole-free setup.
Tarps offer fairly good weather protection if pitched properly, but this takes a bit of skill (considering wind direction and fabric angle, for example) and depends on the tarp's design. In a truly nasty storm a tarp is generally less warm and dry than a tent. In warm weather the pitch can often be adjusted for excellent ventilation. Tarps work especially well as light rain protection in mild climates, or as an emergency shelter on a short trip with a dry forecast. They can even be combined with a breathable bivvy (see next section) for a very flexible yet lightweight sleep system.
If camping in extremely buggy areas, a tarp's biggest weakness is its lack of bug netting. You could add a bug bivvy inside, but these can feel constrained and may not offer enough space for eating, changing clothes, etc. If you need respite from swarms of mosquitoes or biting flies, or are squeamish about creepy-crawlies in general, a tent is a better choice.
Another major drawback of tarps compared to freestanding tents is the challenge of pitching on hard surfaces. Stakes and guy lines are absolutely essential. This is why you rarely see long-term bike travelers using tarps; you can't pitch them on a patio or in a parking lot, or many other hard surfaces where bike travelers find ourselves sleeping. Tarps work best when you expect to be camping out in nature away from towns and people.
Tarps come in a variety of shapes, from simple rectangles to fancier cuts with curved edges to fully shaped designs with zipper doors. As with tents you can opt for ultralight fabric or go a little heavier for more durability and a lower price. A basic rectangular tarp is probably the most cost-effective bikepacking shelter out there, as long as you'll be camping in suitable places and conditions.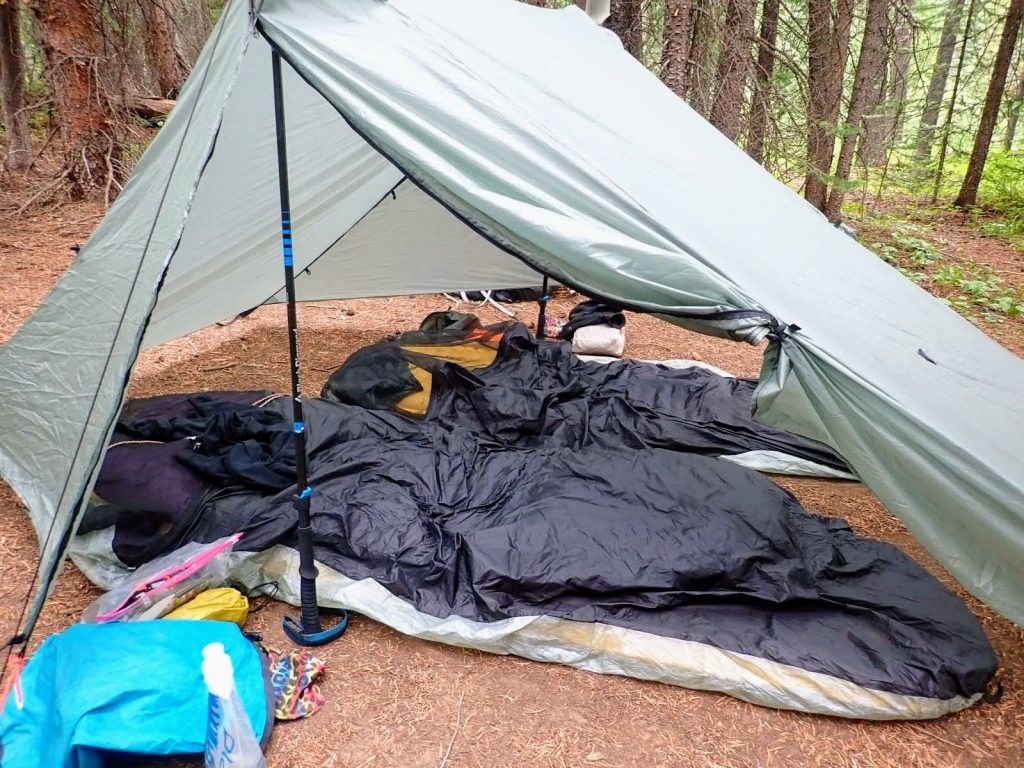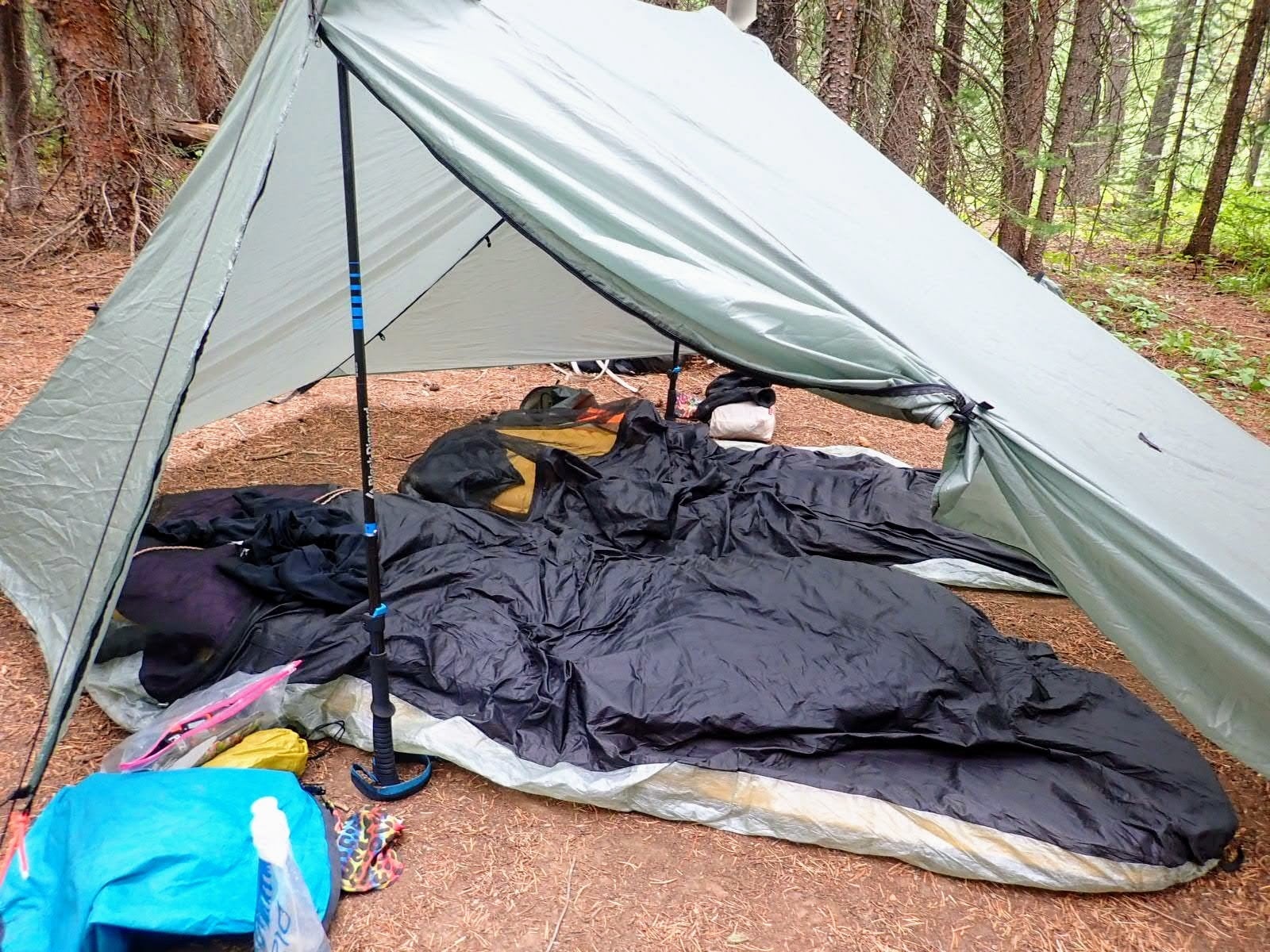 Advantages of tarps for bikepacking:
Lighter and more compact than a comparable tent
Flexible, can be pitched to enhance ventilation, weather protection, privacy, or view of surroundings
Cheaper than a comparable tent
More living space and privacy than a bivvy or hammock
Well ventilated in warm or humid weather
Suitable for pairs or families who want to share sleeping space
Good balance of coziness and connection to surroundings
Disadvantages of tarps for bikepacking:
Less weather protection than a tent, especially in high wind
Fussier to set up than most tents
Usually requires a pole or two
Stakes required, along with soft ground to anchor them into
No mesh to keep bugs out (though you can add a "bug bivvy" inside, and some models offer integrated mesh inners)
Less privacy than a tent
Popular bikepacking tarps:
Bivvy Sacks
Ideal for: fast-and-light riding or racing
Less good for: long trips, bad weather
Ah, the bivvy sack. No one ever loved spending a stormy night in a bivvy, but we can't deny its utility as a lightweight bikepacking shelter. A bivvy (or bivy) sack is essentially a waterproof sleeping bag cover, like a solo tent minus the poles, designed to provide the bare minimum weather protection needed for safety. Fancier and comfier bivvies may include a small arched pole to keep the fabric off your face, while others simply cinch or zip around your head.
If your shelter is only for sleeping, the convenience of a bivy is hard to beat. They're lightweight and compact, super-quick and dead-simple to set up (just throw it down on the ground), easy to hide at stealth campsites, and require only a small patch of flat space. They add some warmth to your sleep setup, keep creepy-crawlies out, and are generally cheaper than a comparable tent. Many people come to appreciate the feeling of sleeping out under the stars and being more in touch with their surroundings, though this can take some getting used to for beginners.
Lack of "livability" is the biggest drawback of a bivvy. Some people find them claustrophobic and restrictive to sleep in (though others don't mind). You can't eat, change clothes, or even sit up in a bivy when it's fully closed. If the weather is nice and your campsite is private you can do all these things out in the open, but when you want some privacy or need to hunker down inside your shelter a bivy's disadvantages become clear in a hurry. This is not the place to spend a lazy day waiting out a storm; you'll probably choose to keep moving and ride in the rain.
I find bivvies are best for shorter trips in remote areas where I'll be wild camping in nature. I don't like them for busy campgrounds or spots where I could be discovered in the night — they feel too exposed. They don't offer much space for bringing gear inside, which can be an issue in bad weather or areas where theft is a concern. If you're interested in a bivvy purely for the weight savings, it's worth noting that the lightest ultralight tents (like the Zpacks Plex Solo) weigh about the same as a bivvy like the OR Helium.
Of all the bikepacking shelter types, bivvies struggle the most with ventilation and breathability. Waterproof breathable fabrics are improving, but a truly waterproof bivy collects condensation from your body and breath. (Pro tip: Unless it's raining, keep your nose and mouth outside your bivy to reduce the moist air trapped inside.) You'll probably wake up to a damp sleeping bag, and if the insulation is down, packing it away wet will reduce its lifespan. A water-resistant bivvy like my favorite from Borah Gear is much less condensation-prone but doesn't offer full weather protection.
Bivvies are commonly used as emergency shelters by bikepacking racers and other fast-and-light types, especially when the forecast is relatively clear. A true standalone bivvy shelter must be waterproof, but water-resistant bivvies and bug net bivvies are much more pleasant (less clammy and prone to condensation). A good option for fair weather is to pair a lightweight non-waterproof bivvy like the Borah Gear Bivy with an ultralight tarp or SOL emergency bivvy in case of unexpected rain.
Advantages of bivvy sacks:
Light and compact
Quick and easy to set up and pack up
No stakes needed
Minimal ground space needed, widest choice of camp spots
Good for stargazing and feeling connected to surroundings
Very stealthy
Generally cheaper than a tent
Disadvantages of bivvy sacks:
Can feel claustrophobic and restrictive for some people
No fully enclosed private space to eat, change clothes, move around, etc.
Can feel unpleasantly exposed if you're not comfortable sleeping outdoors
Very prone to condensation buildup
Can't be shared with others like a tent or tarp, though you can easily lay two out side by side.
Limited space for protecting gear from rain or theft
Popular bivvy sacks for bikepacking: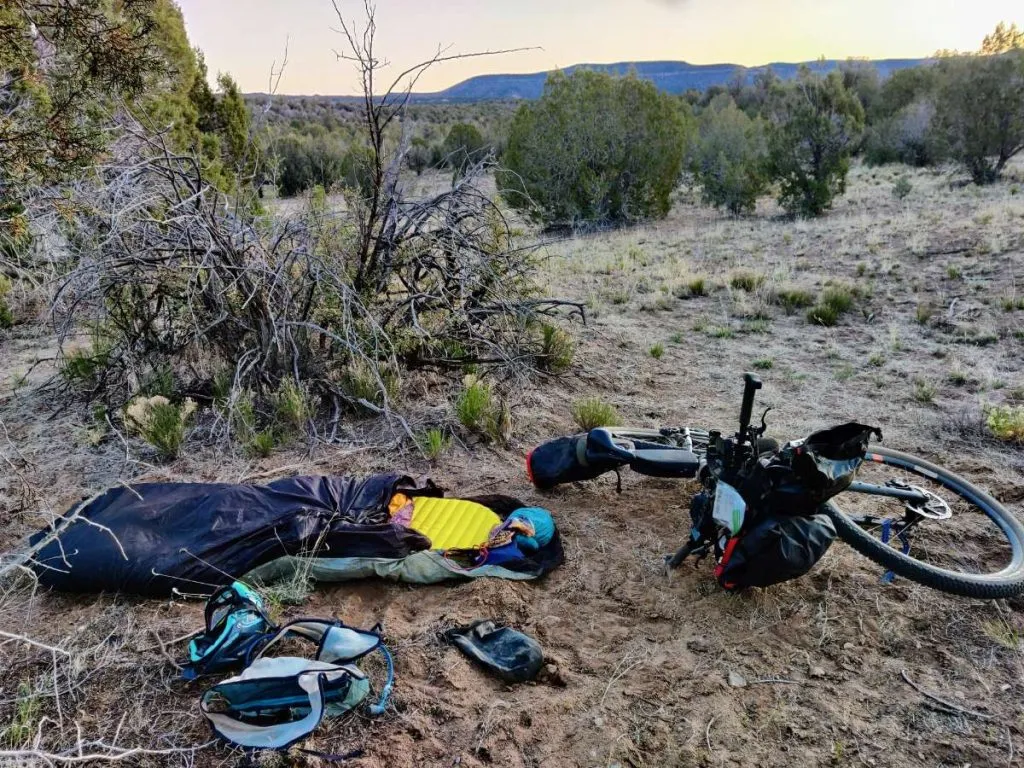 Hammocks
Ideal for: forested areas, warm weather
Less good for: deserts and high alpine, very cold weather
Hammocks are the most unusual bikepacking shelter I know of, and usually a love-it-or-hate-it situation. I've never camped in a hammock but I know Patrick from Bikes or Death loves them, so I reached out to him for help with this section.
For those who love hammock camping, the biggest advantage is often comfort. As Patrick says, "I'm not exaggerating when I say that I almost always sleep better in my hammock. It feels like I'm being hugged all night and when the wind is blowing it will rock you gently to sleep." Comfort does depend on a good setup though, so new hammock campers need to go through a learning curve. (Pro tip: Hammocks are designed to be laid in on the diagonal.) For some people, hammocks just never feel as comfy as a flat surface.
When it comes to bikepacking specifically, the pole-free nature of hammocks makes them easy to pack in space-constrained bikepacking bags. The entire setup can be quite lightweight and compact in warm weather. In cooler weather more accessories are needed, but all are flexible and stuffable.
A hammock's unique campsite requirements — properly spaced trees instead of flat ground — can be a major strength or weakness depending on the circumstances. In the desert or other treeless areas, hammock camping is obviously not an option. In forested areas on steep slopes, however, a hammock vastly increases your campsite possibilities. This makes hammocks ideal for shorter trips where you can research sites ahead of time using pictures, satellite imagery, or community advice. You won't see long-distance bike travelers using hammocks, at least not without a backup plan for sleeping on the ground, because they're not as versatile as other options.
In terms of livability a hammock falls somewhere between a tarp and a bivvy. If hammocks are comfortable for you, you won't mind spending a few hours hanging out (literally) in one. But if you need to spend a day in a hammock, you may notice a lack of space to cook, move around, or keep your gear at arm's length depending on your setup. Hammocks are also the least companion-friendly of all the bikepacking shelter types. You can't comfortably share one with a partner, and depending on the trees you may or may not be able to hang next to each other.
Hammocks are excellent for warm weather, but it takes a bit of work and some extra accessories to make them suitable for cold weather. Unlike a tent, which traps your body heat inside, warmth can easily escape from your hammock into the surrounding air. Hammock campers can add warmth with an under quilt and top quilt, but may still struggle to stay cozy when temps dive toward freezing. The right rainfly / tarp setup can make hammocks an excellent choice in the rain, since there's no chance of water running into your shelter from wet ground. Bug protection can be added with netting, but that's yet another accessory to buy and set up.
Perhaps the biggest barrier for aspiring hammock campers is the learning curve. It takes some knowledge of the area, practice with setup, and the right accessories to make a hammock effective and comfy. But once you get it down you may come to appreciate the freedom, imaginativeness, and playfulness of this unique option.
Advantages of hammocks as bikepacking shelters:
Very comfortable for some people
Can be quite light and compact, no bulky poles
Breezy and well ventilated, great for warm weather
No need for a flat space or soft ground for stakes
No concern about punctured sleeping pads or rocky tent sites
Feeling of connection to surroundings, great for stargazing
Multi-use: can double as a camp chair or place for mid-day nap
No worries about wet ground in the rain
Relatively inexpensive (but accessories like bug net and under quilt can add up)
Some people, mostly men, can pee at night without needing to get out of bed (jealous!)
Disadvantages of hammocks:
Limits campsite selection to places with trees
Limited privacy
No enclosed space to move around in
Limited space for protecting gear from weather or theft
Extra accessories (under quilt, bug net, rain fly, etc) can add up in cost and weight
Can feel exposed if you're not used to sleeping outside
Can harm trees if not attached properly
Best for sleeping solo
Not usually very stealthy
Steep learning curve for ideal setup
Uncomfortable sleeping position for some people
Popular hammocks for bikepacking:
Sleeping Without a Shelter
Ideal for: short trips in fair weather
Less good for: everything else
Sleeping with no shelter at all, sometimes called "cowboy camping," is a totally viable option in some cases. Personally I love to cowboy camp in the desert where the sky is big and the stars are bright. I love it less in dark spooky forests, but either way it offers a strong sense of connection to the natural environment.
If you're planning to camp without a shelter, make sure the forecast is reliably clear! It's not a good strategy on a long trip where the weather may change, unless you also carry a shelter for emergencies. You'll probably want a lightweight ground sheet to protect your sleeping pad if it's inflatable; Tyvek is a popular and cheap option. Otherwise all you need is your sleeping pad, sleeping bag or quilt, and a flat space big enough for your body.
Advantages of sleeping without a shelter:
Lightweight and minimalist
Strong feeling of connection to natural surroundings; great for stargazing!
Great ventilation; no issues with condensation
Very stealthy
Super quick and easy to set up and strike camp
Works for any size group
Appealingly simple
Disadvantages of sleeping without a shelter:
No weather protection
No bug protection
No privacy
Can feel exposed and stressful if you're not used to sleeping outdoors
Final Tips for Choosing Your Bikepacking Shelter
Still trying to choose the best bikepacking shelter for your goals? If you're brand new to bikepacking, you can't go wrong with a lightweight freestanding tent. It's the most versatile option and likely to work for any trip you may want to take as your interests evolve.
Curious about lightening your load and trying something more minimalist? A tarp is a good next step with relatively few sacrifices. If you ride in an area where it's practical, a hammock can be a fun and different option. If you're moving fast and light and no other shelter option works for you, it's time to try a bivvy.
Many of us acquire several bikepacking shelters as we're drawn further down the rabbit hole of pedal-powered travel. I use one type of tent when solo, another with my partner, and an ultralight bivy for bikepacking races and short ultralight trips. My choice also depends on the weather, terrain, whether I'm touring or bikepacking, and what my goals are for the trip (relaxation versus challenge, for example).
Whatever you choose, the most important part is to get out there and try it! Whether overnight or multi-month, the best way to refine your bikepacking shelter and other gear is to spend time using it and learning what works for you. With this in mind I wish you many peaceful and comfortable, or at least educational, nights under the stars in your bikepacking shelter of choice.
More Bikepacking Resources
If you found this article helpful, you might also like these:
Or visit the bikepacking section for lots more.
Bike resources in your inbox?
There's more where this came from! Sign up here for occasional emails full of inspiration and information about bikepacking and bicycle touring.


Share the Adventure
If you found this article helpful, please consider sharing so more people can benefit from it: