Few earthly pleasures can match a hearty hot meal after a long day of bikepacking. But when you consider all the constraints of a bikepacking trip — lightweight and compact gear, finding fuel in remote places, your preferred menu and method of cooking — choosing a bikepacking stove can seem like quite the conundrum. The best stove for you specifically depends on where you ride, what you like to eat, how much gear you're willing to carry, your budget, and more.
In this post I'll walk you through each type of bikepacking stove to consider, its pros and cons, what style of bikepacking it's best for, and the most popular models on the market. I've used several of these stoves during nearly 20,000 miles of bike travel on six continents, and I've included a few additional options based on reputation alone to give you a full balanced picture. Let's get cooking!
Types of Bikepacking Stoves
Canister Stoves
If you bikepack in the United States, a simple backpacking stove — the kind that works with canisters of pressurized isobutane, butane, or propane blends — is the most obvious choice. Canister stoves are small and light, affordable, and take gas canisters readily available in outdoor gear stores and some hardware stores throughout the US. They're a flexible approach that can pair with different cookware for different types of trips (solo or group, ultralight or gourmet, etc).
The most significant benefit of canister stoves compared to some of the others I'll cover below: convenience. You won't fully appreciate the dead-simple setup of a canister stove until you try a liquid fuel stove! Canister stoves are very safe, quick to light, and totally mess-free.
My first backpacking stove was a little canister stove from Amazon, and it's still going strong ten years later. I sometimes still use it for bikepacking, particularly on solo trips with a minimalist gear list where I cook directly in my little titanium mug.
Note for international travel: If you plan to bikepack or tour abroad, research your destination carefully. Canisters and stoves in the US use the threaded Lindal valve standard, which isn't compatible with other international standards. As I recently learned in Morocco and Europe, some regions have their own style of canister (like the Campingaz Easy Clic Plus) that won't be compatible with your US stove. If this is of interest to you, see Remote Canister Stoves below and read up on valve adapters.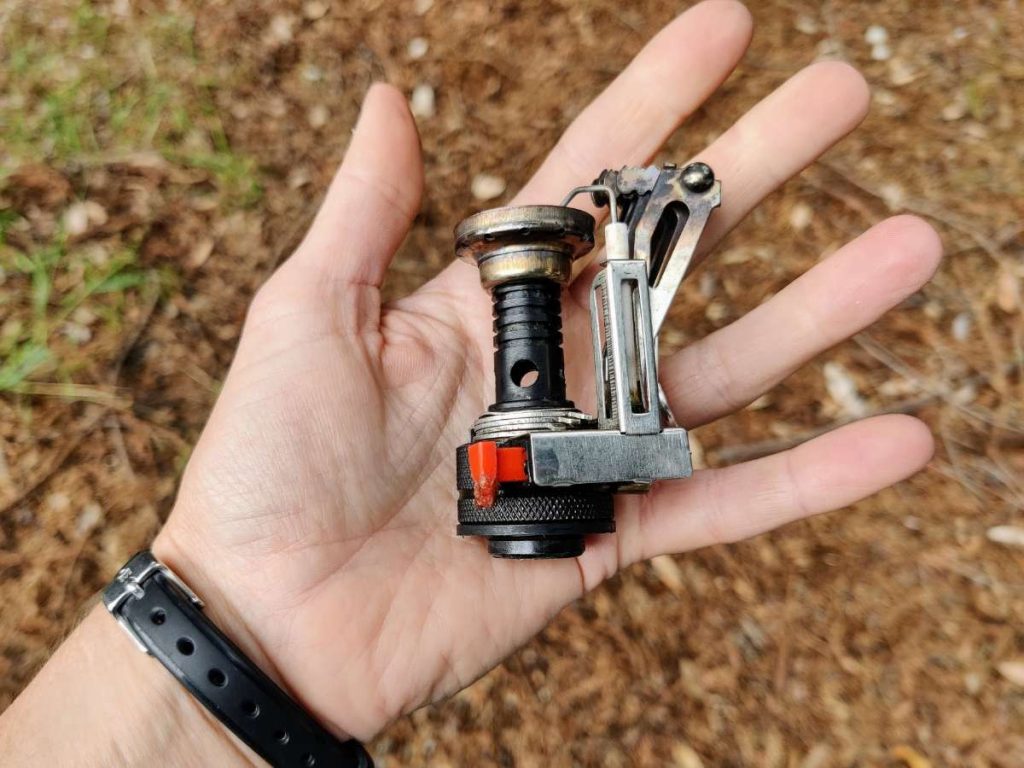 Integrated Canister Stove Systems
Integrated stove and pot systems are a sub-type of canister stoves and use the same type of fuel. They use a combined stove + pot design with heat exchanger ring and wind screen to maximize heating efficiency. This allows them boil water faster than any other type of stove and use less fuel in the process. Some models are just for boiling water and don't have an adjustable flame, while others offer simmer control so you can cook real food on occasion.
JetBoil is the best-known maker of integrated canister stoves, though MSR and Fire Maple offer some competition. I love my JetBoil MicroMo so much that I even bought a second one when the first was confiscated by an overeager TSA employee. I've used it for many thousands of miles on both solo bikepacking trips and with my partner when we travel together; the 0.8 liter pot capacity is just large enough to share.
Remote Burner Canister Stoves
I haven't used a remote canister stove for bikepacking, but after a recent trip in Morocco and Europe I wish I had. We bought two different local canister stoves there after failed adventures in finding suitable fuel. In hindsight a remote burner stove and valve adapter would have solved all our problems.
Liquid Multifuel Stoves
The most hardcore international bike travelers generally choose multifuel stoves for their ability to burn a variety of liquid fuels including white gas, kerosene, diesel, and unleaded gasoline (but NOT alcohol). This is critical in places where gas canisters are nowhere to be found, like much of the developing world, or in sub-freezing conditions where canisters don't work.
To use a liquid fuel stove you connect a fuel bottle, which you pressurize with a pump, to the stove burner via a fuel line. The stove needs to be primed before cooking, which adds a minute or two of prep time. Periodic maintenance is needed to prevent clogging, especially when burning dirty fuels. Perhaps the biggest challenge compared to canister stoves is dealing directly with a bottle of flammable liquid. Extra care is needed to avoid spills and to keep everything clean and safe.
I was excited to recently acquire my very own multifuel stove, an MSR WhisperLite International, for a bikepacking trip in Morocco and other theoretical future trips. I quickly learned that liquid fuel stoves are fussier and less convenient than canister stoves, some liquid fuels work better than others, and finding the fuel you want in an unfamiliar country with a language barrier can be quite the challenge. White gas is preferred for its clean burn and easy priming, but if you get stuck with diesel you may prefer to just cold soak your food!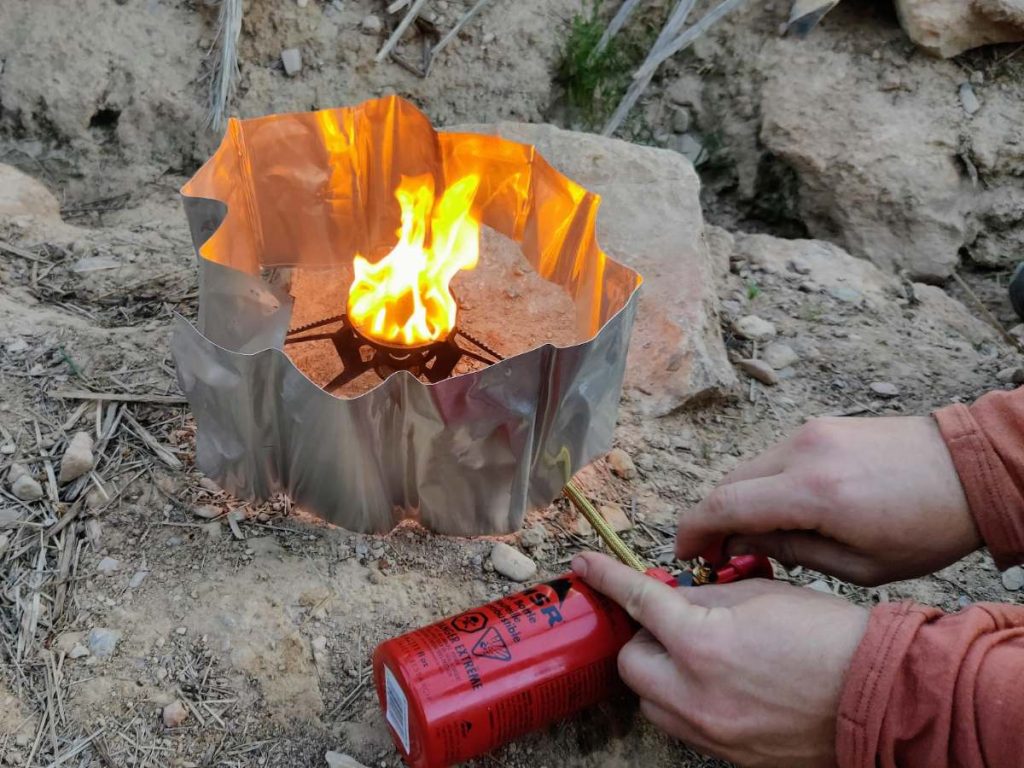 Alcohol Stoves
Alcohol stoves are a favorite of the fast-and-light backpacking crowd, but they can work well for bikepacking too. Despite the term "liquid fuel stoves," multifuel stoves like the MSR International can't actually burn alcohol, and alcohol stoves can't burn the types of liquid fuel that multifuel stoves can. An alcohol stove can burn fuels like HEET / methanol, denatured alcohol, Everclear, grain alcohol, and even rubbing alcohol / isopropyl alcohol in a pinch.
An alcohol stove is a simple creation, basically a vessel to hold the fuel (which you fill from your reusable fuel bottle), a pot stand, and ideally a wind screen. You can even make your own simple alcohol stove from a cat food or soda can, but some fancier versions offer features like a wick and flame control.
While traveling, finding fuel for an alcohol stove poses a similar challenge to multifuel stoves. You need to know what kinds of alcohol you can burn and what they're called in the local vernacular. Try shopping around at hardware stores, home goods stores, auto parts stores, and pharmacies.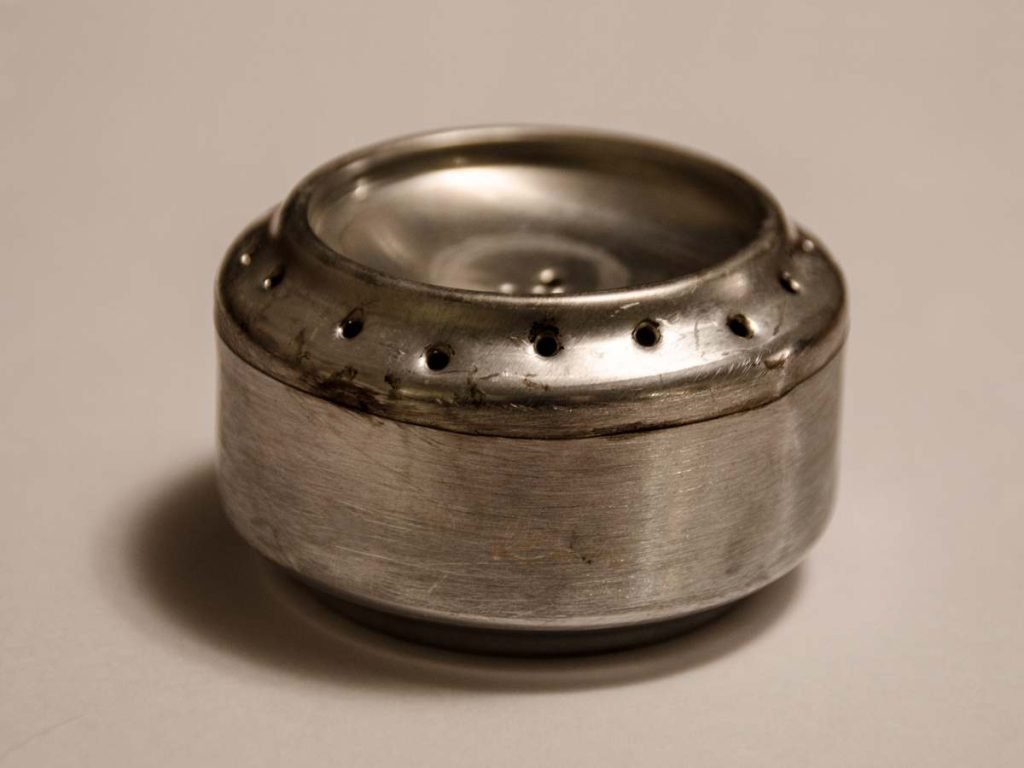 Pros of alcohol stoves:
Small and light
Simple and reliable; few parts to maintain or fix
Affordable, especially if you make it yourself
Nearly silent
Reusable fuel bottle reduces waste compared to canister stoves
Cons of alcohol stoves:
Not the most efficient or quick to boil water; best for solo use
May be disallowed by fire bans if they don't have a shutoff valve
There's a learning curve to operate safely
A bit messy as you're dealing with liquid (but better than white gas, diesel, etc. in case of a spill)
A fire hazard if spilled or tipped over, which is more or less of a risk depending on the model
Can be tricky to find the right kind of fuel in unfamiliar countries
Alcohol stoves are great for: ultralight solo bikepackers, minimalist international tourers who need fuel flexibility without the added weight and complexity of a multi-fuel stove
Alcohol stove examples:
Solid Fuel (Esbit) Stoves
Solid fuel stoves, of which Esbit is the best-known brand, are only suited to a few specialized use cases. They're not very efficient and the fuel is hard to resupply, so they're best for a short trip or as an emergency backup. If you're riding solo and only expect to use your stove once or twice, you can't beat the weight savings of a tiny Esbit stove and a couple fuel tablets.
I've experimented with my solid fuel stove on short, solo, lightweight bikepacking trips with daily resupply opportunities. The goal was to eat mostly pre-cooked food from town but still have hot coffee at camp in the morning, and perhaps a lukewarm ramen dinner if nothing better could be found. They work well for this purpose, but I would never suggest choosing a solid fuel stove as your first and only bikepacking stove.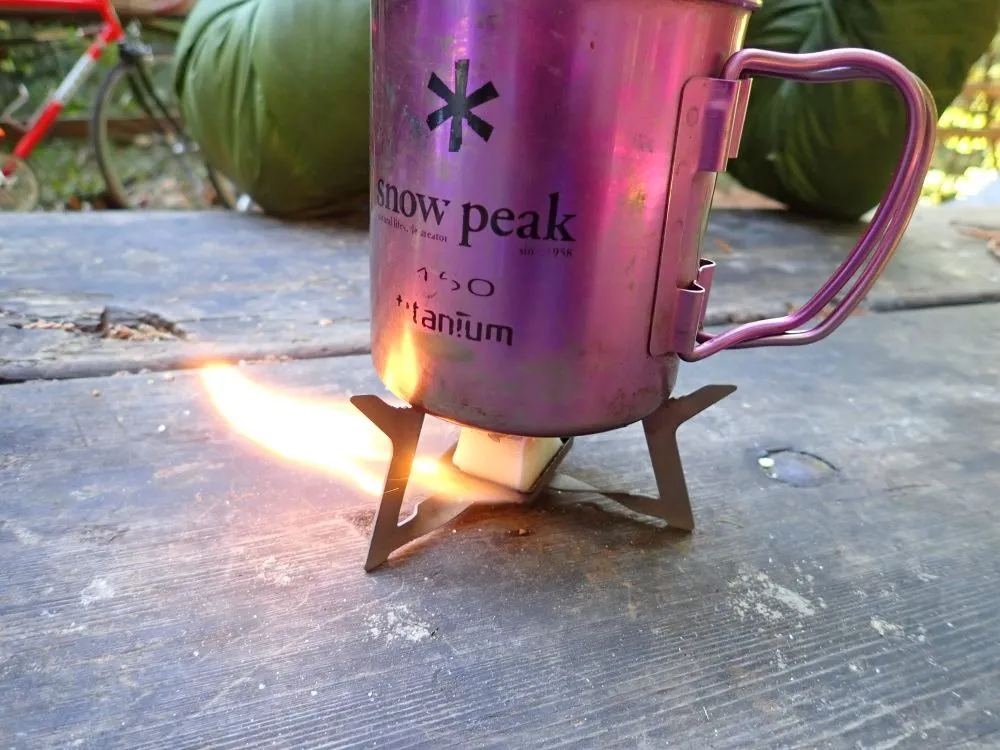 Random Local Stove
No Stove
Questions to Ask Yourself
When choosing a stove for bikepacking, think through your answers to these questions.
Where might you want to use it and what fuel is available there? Since you can't fly with fuel you'll need to get it wherever you ride and resupply as you go. Research what types are available in the places you dream of riding (and what the locals call them).
Do you "cook" by adding hot water to dried ingredients or do you want to fry up some eggs, cook burger patties, etc? For the latter you'll want a really good flame control so you can simmer and not burn your food, and a non-integrated system so you can swap out cookware.
How many people will you be cooking for? Canister (especially remote burner) and multifuel stoves work best for larger meals, while alcohol and solid fuel stoves work best for solo bikepackers.
How much do you care about weight and bulk? If you don't mind trading the convenience of canisters for a lighter and smaller setup, for example, an alcohol stove might be right for you.
Do you plan to ride in areas with high fire risk? If so, avoid alcohol and solid fuel stoves without shutoff valves as they may be banned.
Do you need your stove to work well in cold weather, like down into the 20's F and below? A liquid multi-fuel stove, though heavy and fussy, is your best option.
---
My fellow bikepackers, what's your favorite kind of stove? What's worked well and what hasn't? Leave your stove stories below in the comments!
More Bikepacking Resources