Your bikepacking tent should be your sanctuary, a cozy home away from home. Whether you're navigating remote trails in the wilderness or puzzling cultural norms abroad (or both at the same time) you need a dry, convenient, frustration-free place to lay your weary head each night.
But the best tent for bikepacking, now, that's a tricky question! The best bikepacking tent for you depends on where you plan to use it, with who and for how long, and what you mean when you say "bikepacking." Minimalist singletrack shredding? Long-haul dirt touring? A local weekend overnighter? All of the above, eventually?
Tents aren't cheap and there are many to choose from. You wouldn't want to pick based on one particular person's recommendation, only to find that it's perfect for them but doesn't match the style of bikepacking you're most stoked about.
Don't worry, I'm here to help you sort through all the specs and marketing fluff to find the perfect tent for your specific bikepacking aspirations. I'll walk you through the important factors to consider when choosing a bikepacking tent and how to personalize them to your riding style.
I'll also recommend popular top-performing tents in each major category, along with their bikepacking-specific pros and cons. Several of these tents have been my home away from home during 19,000+ miles of bikepacking and touring, both solo and with a partner. Some are recommendations from fellow bikepackers and the collective expertise of the bikepacking community. A few I've selected based on reputation and standout specs.
Whatever your style and budget, I hope this guide leads you to a tent you'll enjoy for many peaceful and adventurous nights under the stars.
When you buy through affiliate links in this post, I may earn a small commission. Thanks for your support! Don't worry, everything you read here is unbiased and based on real experience on the road and trail. Learn more.
Do You Need a Bikepacking-Specific Tent?
Most tents used for bikepacking are technically backpacking tents. The backpacking market is bigger and has been around longer, and backpackers tend to be even more weight-sensitive when it comes to gear. Thus backpacking tents are a good place to start, and we bikepackers can narrow it down based on a few differences in how we use our tents (more on this below).
These days there are enough of us bikepackers that gear manufacturers are starting to pay attention. Big Agnes, Nemo, and Big Sky International are a few who produce bikepacking-specific versions of their tents. Generally this means their poles fold up shorter to fit into space-constrained bikepacking setups, and the stuff sack might be burlier to handle the rigors of being strapped on a bike.
As much as I love that bikepacking-specific tents are a thing, I recommend you don't limit yourself to tents with "bikepack" in the model name. Many backpacking tents work perfectly well too, and I've included several in the following roundups of the best tents for bikepacking.
Related: Lightweight Solo Backpacking Tents Ranked by Price and Weight
What's Your Bikepacking Style?
The term "bikepacking" can refer to many kinds of travel by bike. Just like with bikepacking bikes, many tents can work but some will be better than others depending on the type of bikepacking you have in mind. Here are the two ends of the spectrum as I usually see it:
Shorter nature-focused trips in remote areas: a weekend overnighter on local trails, a few days on dirt forest service roads, or maybe a ride like the Great Divide that's longer but fairly consistent and focused on low-population areas. These rides can feel almost like backpacking on wheels and require similar gear. If this is your primary bikepacking style, you might like the single-wall non-freestanding shelters often used by lightweight backpackers (especially if you also backpack).
Long-distance bike travel through varied areas: a multi-country tour, round-the-world adventure, or dirt road expedition through a foreign country. These types of rides tend to be less predictable, cover a wider range of seasons and climates, and bring us through more populated areas. For all these reasons a more robust and versatile double-wall freestanding tent, possibly in a larger size than you technically need, can be worth the extra ounces of weight.
Those are just generalizations! Many people blur the lines between these styles or use the same shelter for both. But as you peruse the bikepacking tents below, consider your future bikepacking dreams and how they might influence your choice.
Key question to ask yourself when choosing a tent for bikepacking: Do you plan to bikepack internationally?
In my experience, bikepacking on trails or public land in the US feels more like backpacking (hiking) in terms of gear needs. Backcountry-focused 3-season lightweight gear works well, and a more minimalist packing list makes sense.
But once you start traveling on your bike, things get less predictable. When bikepacking in a variety of countries you're more likely to encounter varied weather (snowy blizzards or sticky humid heat), malarial mosquitos, urban camping, and all kinds of other adventures. You might want to bring more gear inside your tent at night, or hunker down for a few days to rest. For these cases a freestanding double-wall tent, possibly one size bigger, is a more versatile and comfortable choice and probably worth the extra weight.
A Great Bikepacking Tent Is…
Lightweight
Obviously no one wants to haul more weight up the hill than necessary. Packing styles vary though, with some folks prioritizing a minimalist gear list while others optimize for comfort, versatility, or affordability.
If you're shopping for a new bikepacking tent and want something reasonably lightweight that won't bog you down, aim to at least stay under these generous thresholds:
1 person tent: under 3 pounds
2 person tent: under 4 pounds
3 person tent: under 5 pounds
If a lightweight bikepacking setup is a priority for you, aim to beat each of those thresholds by at least a pound. For example, around 1.5 pounds is a good weight for a lightweight solo tent (single wall and non-freestanding — see below for more on those).
The absolute lightest tents will generally be ultralight backpacking tents, usually single walled (more on this below) and trekking pole supported. You can still use them for bikepacking, even though most of us don't bikepack with trekking poles, by purchasing a lightweight folding tent pole to use instead.
Here are a few popular ultralight tents for bikepacking. All weigh in at under 2 pounds. They vary in price from under $300 (Six Moon Designs is a great value) to over $800 (ZPacks is the premium pick).
Gossamer Gear's "The Two" is a popular ultralight tent at a reasonable price.
Not Too Bulky
While backpackers are especially weight-sensitive — they feel every ounce in their shoulders and knees — bikepackers can be more sensitive to the size and shape of our packed gear. Instead of a roomy backpack we have to Tetris our gear into nooks and crannies on our bike. A rack setup is more forgiving for larger tents, but soft bikepacking bags can be a challenge.
This is the main benefit of bikepacking-specific tent models, which usually limit folded pole length to 12 or 14 inches. This is an easier length to strap to a seat bag or stuff into panniers, and it can even fit between drop handlebars. The shorter length isn't strictly necessary – I've used 18 inch tent poles on drop handlebars by strapping them out in front of a handlebar bag – but it can be helpful.
Here are a number of popular tents with compact folding poles under 14″ (many are under 12″):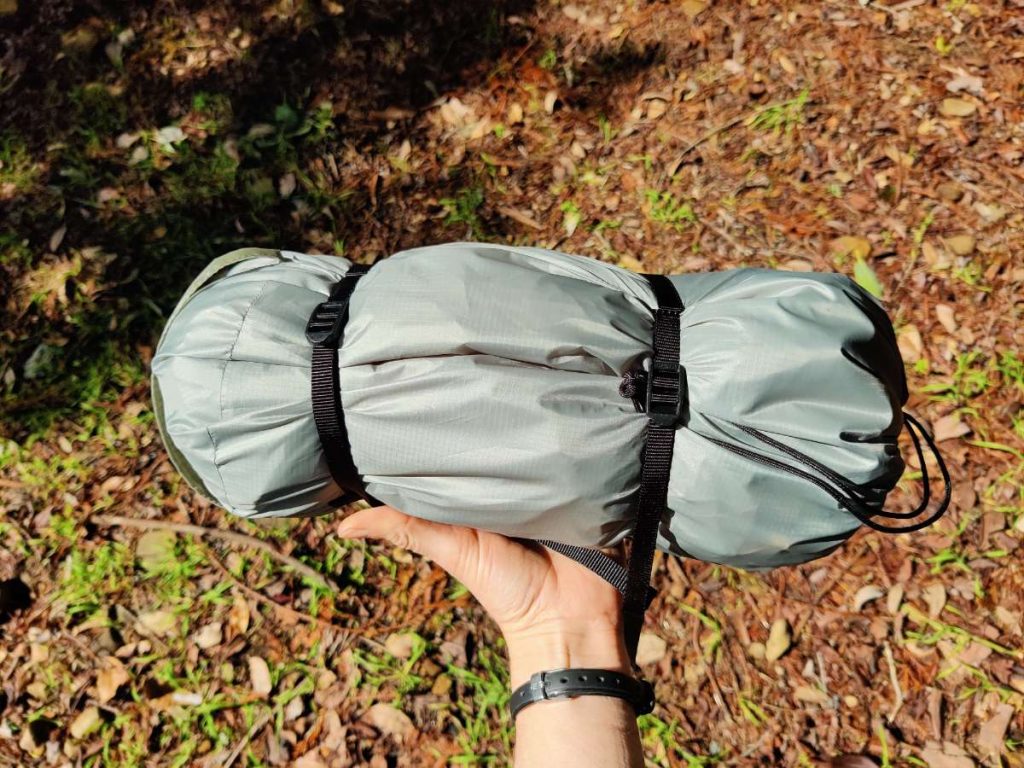 Keep in mind that a shorter pole bundle will be a bit thicker, which makes it harder to carry in some of the less standard locations (like strapped to your down tube). In summary, before choosing your bikepacking tent give some thought to where and how you'll pack it on your bike.
Freestanding, Maybe
A freestanding tent is one that doesn't need stakes to maintain its structure. You might still choose to stake out the corners for stability, but it's not critical. While staked tents work well for wilderness backpacking and are usually a bit lighter, freestanding tents are less fiddly to pitch and very handy for the more frequent populated areas on most bikepacking routes.
While bikepacking I've pitched my tent on patios, in garages, inside someone's living room as mosquito protection, in abandoned buildings, and in concrete parking lots – all much easier without stakes. In my experience a freestanding tent is important for bikepacking abroad, or even long-haul bike routes within the US, and all the unpredictability those types of trips entail.
On the other hand, if you plan to stick with shorter trips in unpopulated areas and you prefer a lightweight gear list, a non-freestanding tent can reduce weight and bulk.
Some tents are semi-freestanding and only need a couple stakes, a compromise that can make life a little easier when stakes aren't an option. It's also common for freestanding tents to have a non-freestanding vestibule, which usually isn't a huge sacrifice. It's certainly possible to guy out a couple corners by anchoring to rocks, furniture, or your bike. A tent that only needs a few corner stakes will still be less hassle than a trekking-pole style that needs 6-8 stakes.
These freestanding tents are good options for bikepackers:
You'll notice a lot of overlap between that list of freestanding tents and the short pole tents listed above. This is because most bikepacking-specific tents have both these features, which are often more useful to bikepackers than backpackers.
Double Walled, Maybe
A traditional tent is double-walled: a mostly mesh interior with waterproof floor, and a separate rain fly that can optionally be attached over the top. This is ideal for versatility, weather protection, and preventing condensation, but it's heavier.
A single-wall tent is made from one layer that aims to keep weather out while still ventilating in key locations. Single-wall tents are often lighter but can collect condensation inside if not designed carefully. They're usually lightweight 3-season backpacking tents, and they aren't suitable for really nasty weather. They're also less comfortable in hot weather, something to consider if you'll be traveling to tropical climates.
To choose between single-wall and double-wall, consider the type of bikepacking you'll be doing. The tradeoffs are similar to freestanding versus staked. For a long trip through varied climates double-walled is much more versatile. On a hot muggy night you can use the mesh inner alone for bug protection, and in a nasty storm the separation of the rainfly and inner will offer more warmth and better weather protection. If you plan to mainly bikepack in unpopulated areas and want to keep your gear list light, a single wall tent is a good choice.
Here are a number of double wall tents popular with bikepackers, most of which are also freestanding:
Single-wall tents are likely to be lighter, often pyramid-shaped, and sometimes supported by trekking poles or a standalone tent pole:
Stealthy Neutral Color
Bikepacking and bicycle travel, especially over long distances, often involves wild camping or "stealth camping" in places where we'd rather not call attention to our home for the night. For these cases it's nice to have a tent that blends into the landscape. The muted greens and browns of most tents listed below work well against a variety of backdrops (forest, desert, etc), and grey isn't bad either. Avoid bright oranges and reds.
Some tents come with reflective markers and guy lines to help you find your tent in the dark. This can be helpful but also makes you more visible at night, so consider your specific needs.
Here are a few tents with especially stealthy coloring:
Appropriate for the Weather
Tents are usually designated as 3-season (spring, summer, fall) or 4-season (winter-capable). Four season tents are heavier but more robust and can handle more wind and snow. For most fair-weather bikepackers a 3-season tent is best. If you plan on winter bikepacking or want to travel through varied climates and seasons on your bike, a 4-season tent — or at least a robust double-wall 3-season tent — is a good idea.
It's fairly rare to find bikepackers traveling with 4-season tents, because they're often overkill for the types of conditions we can reasonably ride in (fat tire bikes excepted). When I do see bikepackers with a 4-season tent it's often a tunnel-style tent like the Hilleberg Nallo.
Among double-walled 3-season tents, some inners are mostly mesh while others use larger panels of fabric. More mesh is good for ventilation in hot and humid climates while more fabric is good for cold and windy weather. This is a minor point and doesn't make a huge difference, but might be worth considering if you want to stretch the weather capabilities of your bikepacking tent.
Roomy Enough
Each tent model is designed for a specific number of people: 1 person tents are for solo bikepackers, 2 person tents for pairs, etc. They're designed to fit exactly that number of sleepers side-by-side with little room left over. Filling all the spots in your tent is the best way to minimize weight and bulk, but there are a few cases where you might want some extra space.
Solo bikepackers on long-haul trips sometimes prefer a 2 person tent so there's room to stretch out and bring more gear inside, especially if their body is on the bigger or taller side. Similarly, couples on long trips can benefit from the extra space of a 3 person tent; it's definitely appreciated when my husband and I bikepack together! Couples with a dog or small child will need a 3 person tent, or maybe even a 4 person tent, to be comfy. Err on the side of more space if you anticipate hunkering down in your tent for a few days to wait out weather or simply get some rest on a long trip.
On sharing tents: Sometimes friends want to save weight by sharing a tent on a bikepacking trip. My personal recommendation is: don't do it! Individual tents only, unless you're a couple or really good friends. Bikepacking is tiring and a good night's sleep is precious. You'll value having your own space at night.
Footprint or No Footprint?
Many tents come with footprints and ground sheets. Do you really need these? My opinion is that they add extra unnecessary weight. I prefer to be a bit selective about where I put my tent down and simply let the tent's floor double as a ground sheet. That said, a ground sheet will prolong the life of your tent floor if you log a lot of nights under the stars. A lightweight semi-disposable groundsheet made from Tyvek or polycryo is a good compromise.
1 Person Bikepacking Tents
Now that you know the basics of what to look for in a bikepacking tent, let's dive into some specific models. Here's a selection of the best 1-person tents for bikepacking currently on the market.
Comparison Table: 1 Person Bikepacking Tents
Click on a tent name to jump down to its description, or keep scrolling to see them all.
| | | | |
| --- | --- | --- | --- |
| Tent | Price | Weight | Style |
| Big Sky Soul 1P | $300 | 2 lbs 6 oz | freestanding (inc. vestibule) double wall |
| Big Agnes Copper Spur HV UL1 Bikepack | $550 | 2 lbs 5 oz | freestanding double wall |
| Nemo Dragonfly Bikepack 1p | $420 | 2 lbs 4 oz | freestanding double wall |
| Hyke and Byke Yosemite 1p | $105 | 3 lbs 7 oz | freestanding double wall |
| Tarptent Rainbow | $279 | 2 lbs 2 oz | staked single wall |
| Six Moon Designs Lunar Solo | $280 (with aluminum pole) | 1 lb 13.7 oz (with aluminum pole) | pyramid, staked single wall |
| Zpacks Plex Solo | $629 (with carbon pole) | 16.7 oz (with carbon pole) | pyramid, staked single wall |
---
2 and 3 Person Bikepacking Tents
The right two person bikepacking tent can be a roomy palace for a solo traveler or a lightweight shared shelter for a couple. A three person tent makes a cozy family shelter or a spacious upgrade for a couple on a longer trip. Because so many of these tent models come in multiple sizes with similar designs, I've grouped 2 and 3 person versions together in the descriptions below.
Comparison Table: 2 Person Bikepacking Tents
Click on a tent name to jump down to its description, or keep scrolling to see them all.
Tent
Price
Weight
Style
Big Sky Soul 2P Bikepack
$350
2 lbs 15 oz
freestanding (inc. vestibule) double wall
Big Agnes Copper Spur HV UL2 Bikepack
$600
2 lbs 15 oz
freestanding double wall
Nemo Dragonfly Bikepack 2P
$480
2 lbs 13 oz
freestanding double wall
MSR Hubba Hubba 2
$550
2 lbs 14 oz
freestanding double wall
Hyke and Byke Yosemite 2
$120
5 lbs
freestanding double wall
Sea to Summit Telos 2P Bikepack
$699
3 lbs 5 oz
freestanding double wall
Tarptent Double Rainbow
$319
2 lbs 3.7 oz
staked single wall
Gossamer Gear The Two
$412
1 lb 13.2 oz
staked single wall
Zpacks Free Duo
$849
1 lb 14.1 oz
freestanding single wall
Blacktail Hotel Bikepack 2
$400
6 lbs 1 oz
freestanding
double wall + extended vestibule
Hilleberg Nallo 2
$855
5 lbs 5 oz
tunnel, staked
Comparison Table: 3 Person Bikepacking Tents
If you need a 3-person bikepacking tent for family bikepacking, a couple with a dog, or just a pair that appreciates personal space, these are the standout options. This list is shorter than the others, as there just aren't that many lightweight 3-person tents to choose from.
Click on a tent name to jump down to its description, or keep scrolling to see them all.
| | | | |
| --- | --- | --- | --- |
| Tent | Price | Weight | Style |
| Big Agnes Copper Spur HV UL3 Bikepack | $650 | 3 lbs 11 oz | freestanding double wall |
| MSR Hubba Hubba 3 | $630 | 3 lbs 7 oz | freestanding double wall |
| Sea to Summit Telos TR3 | $699 | 4 lbs 3.8 oz | freestanding double wall |
| Blacktail Hotel Bikepack 3 | $450 | 6 lbs 15 oz | freestanding double wall + extended vestibule |
| Hilleberg Nallo 3 | $920 | 5 lbs 12 oz | tunnel, staked |
| Zpacks Free Trio | $949 | 2 lbs 2.6 oz | freestanding single wall |
Ultralight Bikepacking Tents
Most of the tents in this post are reasonably lightweight for their class, but a few stand out for their focus on ultralight design and materials. These tents are more expensive and can require a bit more care to keep them in good shape. Most are single-wall and non-freestanding, and generally lack bells and whistles like gear lofts and pockets. If you're in search of an ultralight fully-enclosed shelter (i.e. not a tarp or bivy) for bikepacking and don't mind the tradeoffs, these are your standout options.
Tent
Price
Weight
Style
Zpacks Plex Solo
$629 (with carbon pole)
16.7 oz (with carbon pole)
pyramid, staked
single wall
Six Moon Designs Lunar Solo
$280 (with aluminum pole)
1 lb 13.7 oz (with aluminum pole)
pyramid, staked
single wall
Gossamer Gear The Two
$412
1 lb 13.2 oz
staked single wall
Zpacks Free Duo
$849
1 lb 14.1 oz
freestanding single wall
Zpacks Free Trio
$949
2 lbs 2.6 oz
freestanding single wall
Most Affordable Bikepacking Tents
For those on a budget, here's a selection of the best cheap (as in affordable, not low-quality) bikepacking tents available.
Tent
Price
Weight
Style
Hyke and Byke Yosemite 1p
$105
3 lbs 7 oz
freestanding
double wall
Tarptent Rainbow
$279
2 lbs 2 oz
staked
single wall
Six Moon Designs Lunar Solo
$280 (with aluminum pole)
1 lb 13.7 oz (with aluminum pole)
pyramid, staked
single wall
Big Sky Soul 1P
$300
2 lbs 6 oz
freestanding (inc. vestibule)
double wall
Hyke and Byke Yosemite 2
$120
5 lbs
freestanding
double wall
Tarptent Double Rainbow
$319
2 lbs 3.7 oz
staked
single wall
Big Sky Soul 2P Bikepack
$350
2 lbs 15 oz
freestanding (inc. vestibule)
double wall
If you're looking for a budget bikepacking tent, don't forget about used gear! Here are some places to look for lightly used tents at reduced prices:
Common Questions About Bikepacking Tents
What's the difference between a backpacking tent and a bikepacking tent?
There isn't necessarily a difference, and many tents work well for both. In both cases the tent should be lightweight and reasonably compact. Bikepackers may prefer a freestanding tent while backpackers may want a trekking-pole-supported tent.
Do you need a tent for bikepacking?
Generally yes, if you want to ride routes outside of very populated areas (or just want to save money on hotels) you'll want a tent or other shelter for bikepacking. Other options are a tarp, bivy, or hammock, but a tent is the most versatile and popular bikepacking shelter.
How much should a bikepacking tent weigh?
The goal is to keep your tent as light as possible, but its weight depends on a lot of factors: how many people it fits, whether it needs to handle winter weather, and how much you're willing to pay for it, to name the big ones. Ideally a bikepacking tent would weigh between around 20 ounces (for an ultralight solo tent) up to a maximum of 6 pounds for a winter-worthy 3-person tent. Aim to keep a solo or 2-person tent under 3.5 pounds.
More Bikepacking Resources
If you found this helpful, you might also like these:
Or visit the bikepacking section for lots more!
Bike resources in your inbox?
There's more where this came from! Sign up here for occasional emails full of inspiration and information about bikepacking and bicycle touring.


Share the Adventure
If you found this article helpful, please consider sharing so more people can benefit from it: