As bikepackers and tourers, it seems our gear and bike setups are constantly evolving. Over the years we solve problems, go through phases, and reinvent our riding identities to take on ever-bigger adventures or more appealing goals.
When we meet each other on the road or trail, we appraise each other's setups with admiration and curiosity no matter how different they may be. So, in a virtual sort of roadside meeting, here is a list of the bikepacking and touring gear I use and love. Each item has a short explanation of why I like it or what I think it's best for.
Feel free to make it a two way street! Let me know in the comments what gear you use and love.
Note: Some links on this page are affiliate links, which means I may get a small commission at no extra cost to you if you purchase something through them. Don't worry, I've only linked to products I use and truly recommend. For more information see my Trust and Transparency Policy.
Favorites Under $30
If there's one thing I love, it's gear (or anything else) that delivers massive value per dollar spent. These favorite items of bikepacking gear under $30 have done exactly that.
Bikepacking Bags
When I first started bikepacking, my approach to bags was "the cheaper the better." After many thousands of miles I've progressed from bargain gear to mid-range in many areas, though I still use some of my original cheap options because they work as well as anything else. Here are the bags I still use and recommend.
Salsa EXP Series HT Frame Bag
Perfect fit for Salsa Fargo frames and others too. I like that there's a small pocket on one side and a large pocket on the other.
Salsa EXP Anything Cradle + Bag + Pouch
Stable rigid-attachment handlebar cradle that keeps gear off cables. Dry sack is easy to use. The pouch is kind of small; I prefer the RockBros front pouch mentioned below. I use this setup on a Salsa Fargo (drop bars) and just pack the bag extra-narrow.
Revelate Handlebar Harness with Sea to Summit eVent Compression Sack (14 L)
Lighter than the Salsa Anything Cradle, and the compression sack is a larger diameter. This helps me fit more gear on my narrow drop handlebars. Lately I've been using this more often that the Salsa cradle.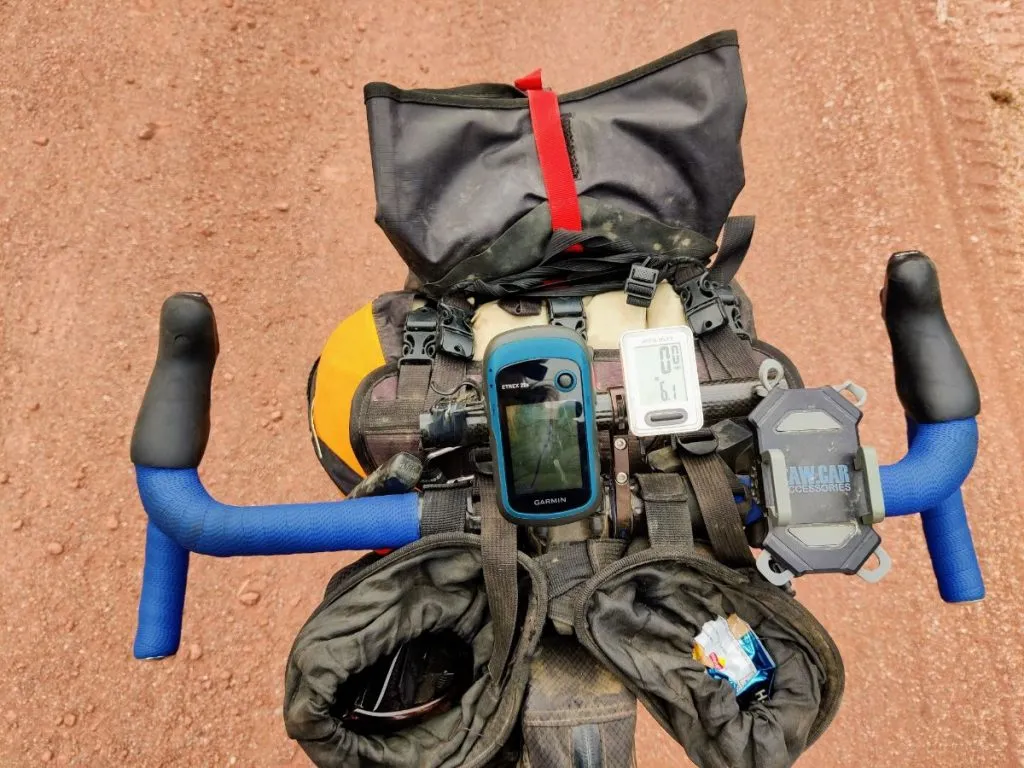 Revelate Viscacha Seat Bag
Revelate has discontinued this model (got mine used on eBay) but the Terrapin looks like a similar idea. It has the same camming buckles as the Viscacha which are awesome because they do NOT slip on rough trails (my biggest issue with the RockBros seat bag below).
Blackburn Outpost Cages
Great for holding a single large bottle on the down tube, or two on the front fork (I like the Nathan 1.5 L mentioned below). Can also hold dry sacks, rolled inflatable sleeping pad, etc. The straps are ok, but I've replaced each pair with a single Voile strap, which is more secure and eliminates rattling.
Voile Straps
Bikepackers have co-opted these ski straps, and we love them to bits. They're great for strapping things to your handlebars, securing bottles to cages, or making field repairs. They come in many different lengths, and the tails are easy to tuck in. If it's not going to get in the way, I err on the longer side so it can be used for as many things as possible.
Moosetreks Frame Bag
This affordable bag is still on my Long Haul Trucker for pavement riding, and has a few thousand miles on it. Read the full review here.
RockBros Top Tube Bag
Stable, good capacity, narrow (doesn't hit knees), easy to open and close, inexpensive.
Climbing Chalk Bags
Fantastic budget feedbag alternative. Large capacity, convenient external pockets, and snapping straps that can attach directly to handlebars and stem. Not sure I could design a better bikepacking feed bag if I tried!
Sea to Summit Dry Bag, 8 Liters
Works great as a handlebar roll bag on a drop bar bike. Can also be a makeshift seat bag. Super lightweight, great waterproof protection for electronics inside questionably waterproofed bags, or stuff it with clothing for a comfy pillow at night.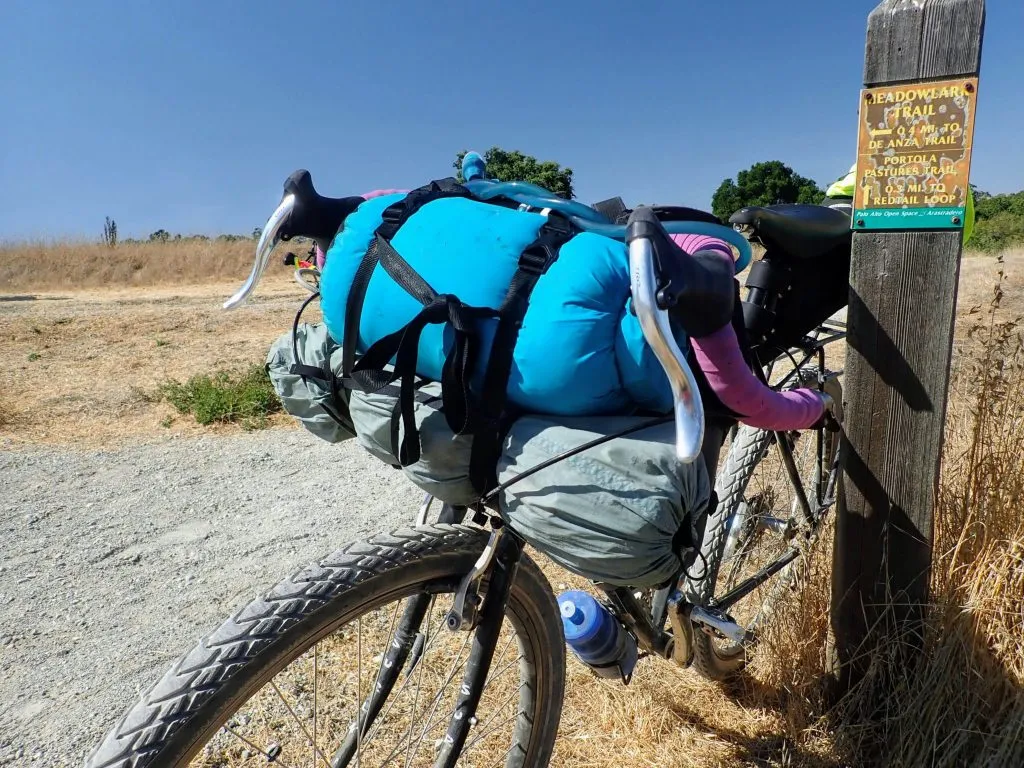 Racks and Panniers
When I ride with panniers, I ride with a rear set only, and occasionally strap something extra to the rear rack. I have never ridden with front panniers, but probably would on a longer trip through multiple climates/seasons.
Tubus Logo Evo Classic Rear Rack
High quality steel rack so it won't break, but can be welded if it does.
Ortlieb Back Roller Classic Rear Panniers
A classic for a reason. Waterproof and sturdy, no issues with mine after several month+ international tours. See the Ortlieb website for the full line of various sizes, designs, and styles.
Highland Adjustable Bungee Straps
Love these for strapping things (tent, backpack, etc) to the top of my rear rack. Super sturdy. I hook them to the rack corner-to-corner, so they cross in an "X" on top. The length is adjustable so I can easily add or remove things (extra bag of food, water bottles, etc) with no problems.
Deuter Rain Cover II, Neon Green
This is actually a backpack cover, but I put it over the dry bag to make myself extra-visible to drivers. The extra layer of waterproofing doesn't hurt when it's wet out.
Lights and Accessories
Planet Bike Superflash Tail Light
I love this affordable tail light for its durability and ease of mounting to anything: clip it to a seat bag, or attach a mount to either the seat post or seat stay. My version is AAA battery powered which I like for long trips (doesn't need recharging for weeks) but there's also a USB version.
kLite Qube Rear Safety Blinker
Top-of-the-line dynamo powered tail light for bikepacking and touring, night riding, commuting, and road cycling. Expensive but awesome.
Light and Motion Imjin 800 Onyx Headlight
My preferred battery-powered light for bikepack racing. I use it with the helmet mount and a spare battery pack. Nice and lightweight, especially with the battery in my hydration pack, which is nice when your neck and shoulders are already tired. Only downside: charges with a proprietary cable so it's not USB-rechargeable.
NiteRider Lumina 900 Boost Headlight
This was my original helmet light for bikepack racing, and I still use it (with helmet mount) as a backup to the Onyx. I recommend it for first-time bikepack racers and others wanting a simple and affordable, but good quality, headlight.
kLite Dynamo Light and USB Charger
Fancy dynamo-powered lighting and charging setup that really shines (pun intended) during bikepack races in remote places and gnarly conditions.
Princeton Tec Snap headlamp on M-Wave quick release mount
For riding gravel and trails at night, a second point of light close to the ground helps create depth. It's also helpful if your helmet light dies suddenly. The Snap comes with both a bike mount and regular headlamp strap, and can easily be moved between the two for riding versus around camp.
Troy Lee Designs A1 Classic MIPS Helmet
I tried a bunch and this was the only one that fit my (small) head comfortably. It's known to be a high-quality helmet and is highly rated for safety.
Reflective Colored Tape
Sticks reasonably well to hard surfaces (like bike frame, not fabric) if you'd like some extra visibility for night riding.
Reflective Gear Aid Tenacious Tape
Sticks well to soft surfaces like bike bags to add extra night riding visibility. Bonus tip: you can cut it into fun shapes. This is where the skull and crossbones on my frame bag came from. 🙂
Jogalite Reflective Yield Symbol
This lives on the back of my rear rack when I tour, or occasionally attached to my seat bag. Several drivers have told me it really helped them see me from far away. The adjustable strap and buckle make it easy to attach in many ways.
Reflective Vest
Functional and oh-so-stylish, I wore this most of the way while racing across the US and required to wear high-viz gear. Adds visibility in both light and dark, can be worn over any clothing from tank top to rain gear, and doesn't add warmth in hot weather. Takes up little space, so it's easy to keep in bag as emergency gear in case you get stuck riding on a busy road. "One size fits all" means "one size fits big people" but it's not really a problem if it's loose.
Bike Peddler Cycling Mirror (original size)
I finally switched to this helmet mirror (clips to a visor) after several handlebar mirrors that didn't work well, and now I use it every time I ride on roads. I even packed a backup (very small and light) for my last tour in case something happened to the first one – that's how much I love it.
Tools and Repair Supplies
This can be a big topic! For more details see this post on compiling your emergency repair kit for any type of trip. Below I've highlighted a few of my standout favorites from that post.
IB-3 Park Tool Multitool
Very durable and always has what I need, including a chain breaker that actually works. For serious bike travelers I definitely recommend a solid multitool like this from a well-known brand; I've had cheaper ones fall apart on me.
Park Tool Pre-Glued Patches
If you use tubes, these are the best way patch them in my opinion. They work every time and are super easy to use; no more realizing your adhesive is all dried out while trying to fix a flat. You can even cut them into smaller pieces to conserve your supply in a pinch – ask me how I know.
Mini Pump by Pro Bike Tool
My first and only mini pump is still going strong. It's small and light, has a rough pressure gauge, and fits both Presta and Schrader valves.
Presta to Schrader Valve Adapter
This tiny little gizmo is essential for long tours. Use it to fill your presta tubes from a schrader pump, which is probably the only kind of pump you'll find on the road in many places.
Blue Loctite
Threadlocker to keep bolts from rattling loose on washboard gravel and other rough surfaces. Before discovering this I had bottle cages and rack bolts rattle loose. Comes in a tiny squeeze tube and is always in my repair kit.
Wolf Tooth Components Master Link Pliers
I resisted these for a long time, but finally got tired of wrestling with old cables to open impossibly sticky master links. These things do the trick easily every time. They're light enough that I have no qualms about adding them to my portable repair kit.
Leatherman PS Multitool
Can't imagine a long tour or bikepacking trip without this. Tighten spokes, trim your nails, cut open packaging, open beer bottles… Technically it's TSA approved for carry-on luggage (because there's no knife blade) and I've carried it on airplanes many times.
Gear Aid Clear Repair Tape
A small square of this can repair a torn bikepacking bag, tent, sleeping pad, rain jacket… I suspect it can even be used to patch tubes.
Blackburn Outpost Tool Wrap
After failed experiments with an old water bottle, a pencil pouch, and a tennis ball container (don't ask), I finally splurged on this handy wrappable pouch to carry my tools and spares. WORTH IT!
Home Shop
Topeak Sport Floor Pump
Finally got tired of using my portable mini pump at home. This pump is pure luxury by comparison.
Airshot 1.15L Tubeless Tire Inflator
A huge time and energy saver for seating larger volume tubeless tires. Works in conjunction with a regular floor pump; no electricity needed.
Bikehand Repair Stand
Treat yourself to this when turning the bike upside-down just isn't cutting it anymore. It's stable, holds our heavy-ish steel bikes with no issues, and folds up nicely when not in use.
Bikehand 37pcs Tool Kit
If you're interested in learning to work on your own bike, a set like this will really fast-forward your progress. I still haven't used every tool in this kit, but I've used most, and it always seems to have whatever I need when taking on a new project.
Orange Pumice Hand Cleaner
A major upgrade to my home wrenching experience.
Bikes and Components
No bikepacking gear post would be complete without mention of my trusty steeds. Here's a quick overview of my beloved bikes and some of my favorite bike parts.
Chumba Stella Ti
The newest addition to my bike family, Stella is a beautiful titanium mountain bike that happily takes me to rugged places the Fargo and LHT would complain about. I swap between two forks, a rigid and a suspension, for a very versatile setup on everything from gravel to technical singletrack.
Salso Fargo Apex
I acquired Black Pearl's new sister, Shadowfax, when my bikepacking experiments became a bit too much for the LHT's stiff frame and limited tire size. Shadowfax has been my go-to for thousands of miles of gravel and dirt. The frame, while still steel, is definitely better suited to rough riding than the stiff LHT, and it handles way better on inconsistent terrain.
Surly Long Haul Trucker
Affectionately known as Black Pearl, she has accompanied me on all of my international tours and across the US. I've been really impressed with the robustness of my LHT as it's been ridden across countries, strapped to the roof of buses, dumped in wooden boats, and transported in trains. I made an effort to transition her to off-road bikepacking, which was an interesting experiment. Conclusion: the LHT makes a great road touring bike, a fine gravel touring bike, but a questionable singletrack bikepacking rig.
Salsa Cowchipper Bars – Flared Drop Handlebar
I replaced the drop bars on my Long Haul Trucker with this moderately flared version and promptly fell in love. The flare makes them so much more ergonomic and comfy, and also more stable on gravel or in heavy wind.
PNW Coast Bars – Wide Flared Drop Handlebar
After thousands of miles with the distinctive Woodchipper bars on my Fargo, I finally switched to these wider and more traditional flared drop bars. Wow, what a difference! The shallower drop is easier on my small hands, and the wider drops offer more stability and space for handlebar bags.
Brooks B17 Saddle
A classic for touring and bikepacking, and the saddle I used for many thousands of miles. Learn about the different models (short, carved, etc.) in this comparison.
Selle Italia Diva Gel Superflow Saddle
My current bikepacking saddle, and an improvement over the Brooks for me personally. I especially recommend this saddle to women who feel like they have too much pressure or chafing in soft tissue areas.
Funn Mamba Single-Sided SPD Pedals
As someone who came to clipless pedals later in my cycling journey, I still sometimes appreciate NOT having my feet attached to my bike while navigating sketchy terrain or stop-and-go city traffic (or when my cleats are covered by an inch of frozen mud). Several manufactures make single-sided SPD pedals, but the platform on this specific pair is bigger and easier to ride than others I've tried.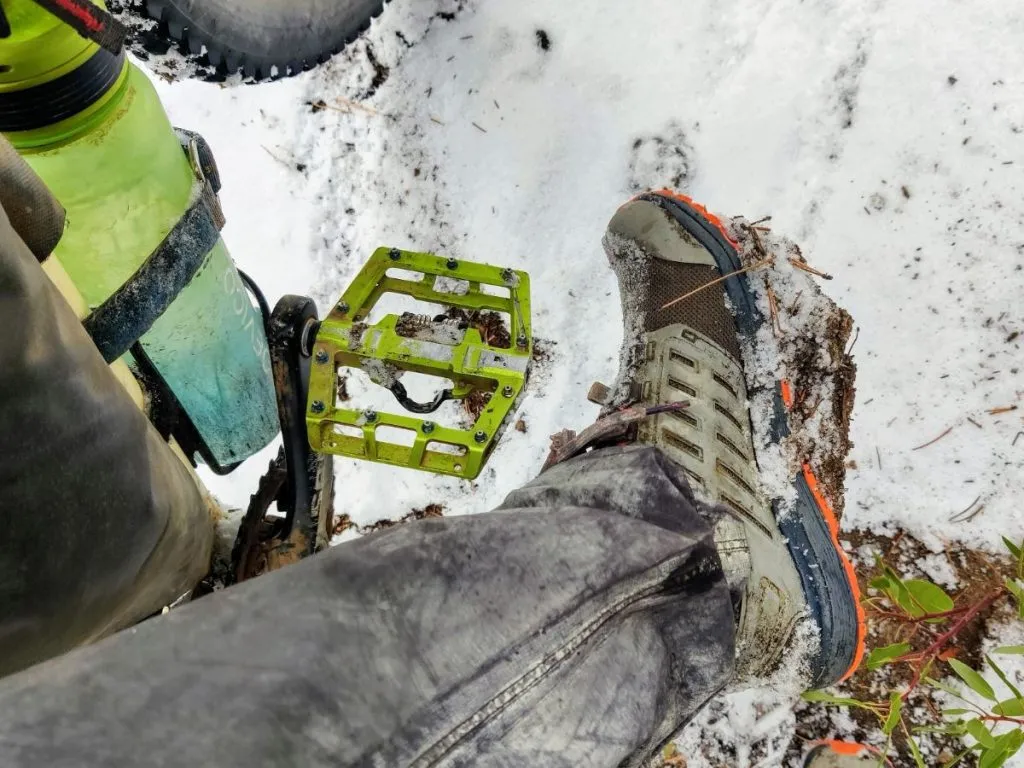 Clothing
Cycling clothing is such a personal choice that I won't go into too much detail here. In fact, much of my cycling clothing is actually just my backpacking clothing. Here I'll highlight just a few items that I've found particularly amazing for some aspect of touring or bikepacking, or that required a lot of trial and error to discover.
Icebreaker Merino 260 Tech Half Zip Long Sleeve Shirt
This is a standard midweight warm layer for biking and backpacking, but I'm including it here because of this one key detail: when fully unzipped, it fits OVER a bike helmet! As frequently as I change layers, this is crucial.
Baggy Shorts: Club Ride Savvy Women's Shorts
I usually go for function over form, but was surprised to find these shorts actually kind of look good too, in addition to being super comfy and stretchy. Here's the men's version.
Padded Shorts: Louis Garneau Women's CB Carbon 2
I'm not about to dive into the bike shorts topic here (that's for another post). But for whatever it's worth, given how different all our bodies are, these are my current favorite bike shorts.
Gloves: Pearl Izumi Ride Pro Lobster Gloves
I have serious problems with cold hands outdoors, and cycling – especially downhill in cold weather – can cause me unbearable hand numbness and pain. These are the ONLY cycling gloves I've found that keep my hands on the edge of tolerable even in freezing temps.
Rain Booties: Pearl Izumi Pro Barrier Shoe Covers
I had trouble finding a pair that worked, so I want to mention these here because they do fit and they do work! My feet no longer get numb riding in chilly wet weather. These keep the water out and add a bit of warmth too. They've held up through a decent amount of hike-a-bike so far.
SPD Shoes: Pearl Izumi X-Alp Canyon
I'm on my third pair of these and like them a lot for rugged routes with some hike-a-bike mixed in. They're fairly comfy to walk in, as bike shoes go, yet they add stiffness to your foot for more efficient pedaling. My only complaint is that the bottoms wear out over time with too much hike-a-bike.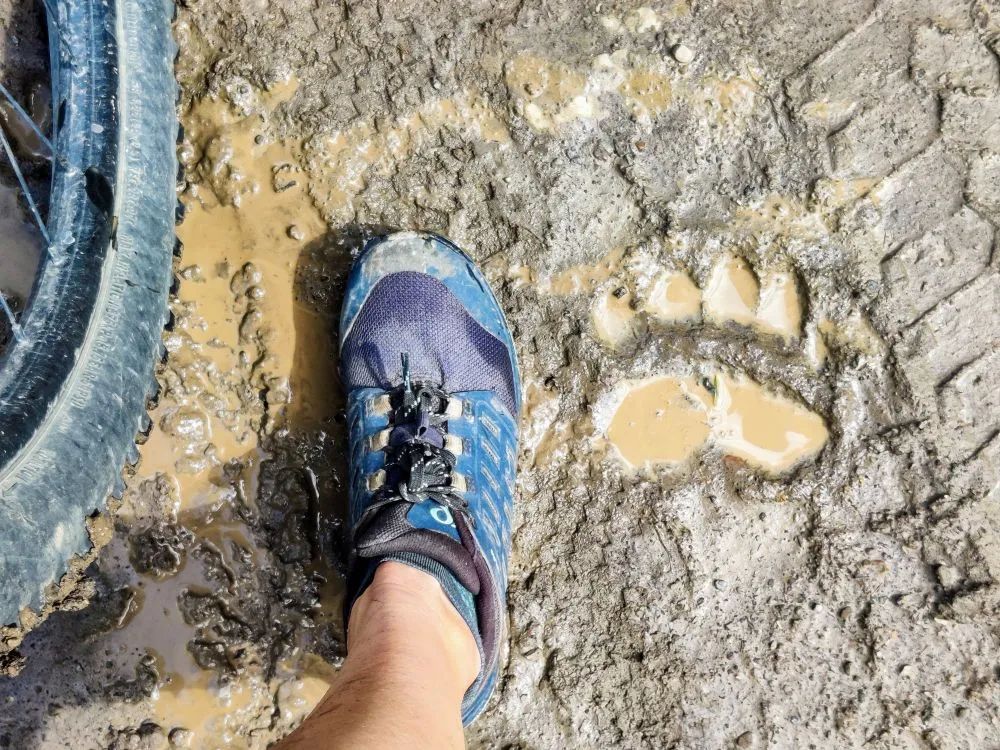 Water
Platypus 3 liter hydration bladder
Durable, reliable, easy to drink from. Lives in my frame bag and the hose wraps around the handlebars.
Nathan SuperShot 1.5 L Bottles
Oversize bottles for those oversize cages above. Really durable, convenient double opening (both big and small), make a great "foam roller" for sore muscles after a long day's ride.
Sawyer Mini Water Filter
My go-to water filter for thousands of miles of bikepacking, backpacking, and even touring overseas (with a second round of chlorine dioxide as needed depending on the location).
CNOC Vecto 3L Water Bag
Replacement for the Sawyer squeeze pouches. Turns the Sawyer Mini into a gravity filter. See the detailed review here.
Aquamira Chlorine Dioxide Drops
Add waterborne virus protection to a standard filter for travel or especially sketchy water sources, use alone on fast-and-light trips, or carry as backup in case of filter failure.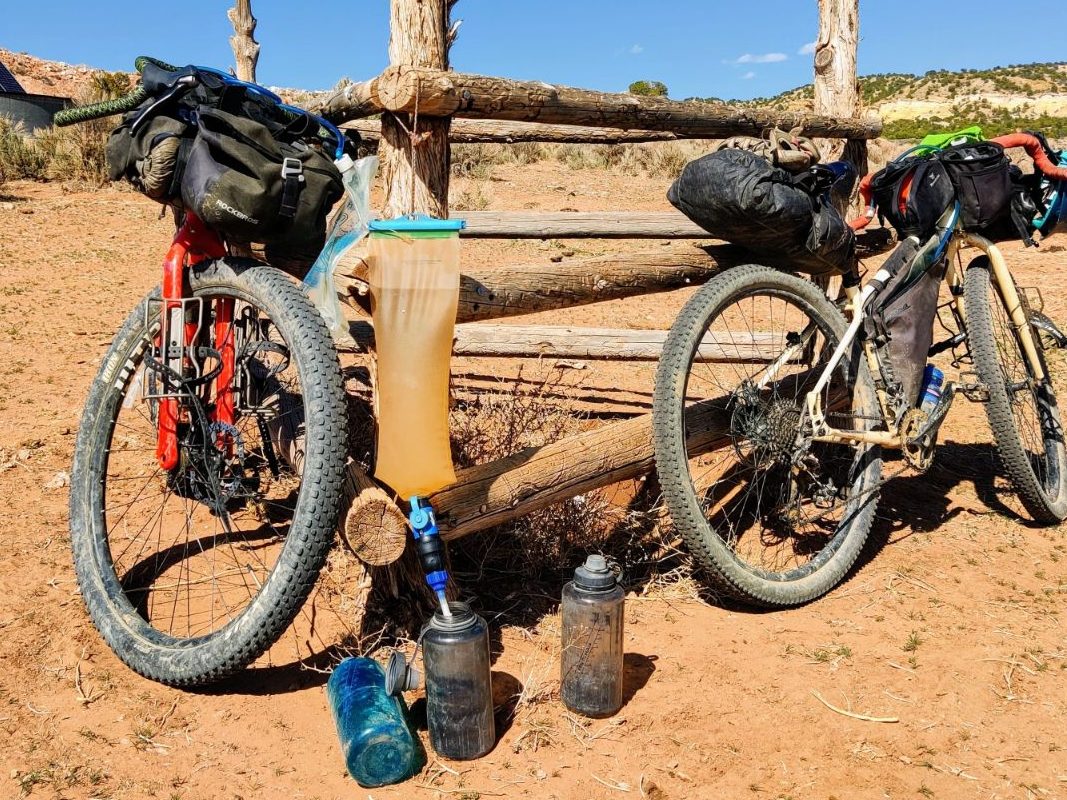 Electronics and Navigation
SPOT Gen 3 Satellite Messenger
The classic "SOS button" emergency device and GPS tracker. I've switched from this to the Garmin InReach Mini for the custom message feature, but if you just need a basic emergency beacon this simpler device is good.
Garmin InReach Mini Satellite Messenger
A more flexible device that also supports custom text messages, which is why I switched from SPOT to this. Here's how to use it without driving yourself and your emergency contacts nuts.
Anker 13000 Power Bank
Reliable, good capacity, and relatively compact.
Jabra Elite Wireless Earbuds
If you've ridden long solo tours before, you might be a fan of the occasional podcast, audio book, or playlist to keep you company. These are a luxury item and were a gift from my husband, but wow are they an improvement over riding with a wired earbud. Great sound, decent battery life, and easy to charge on the road in their little case. Note: I always suggest riding with only one earbud, and only on quiet roads where terrain or traffic don't require full attention.
Handlebar Extender
For when you don't have enough handlebar real estate to fit your bag mounts, phone mount, headlight, bike computer, etc all at the same time. Put a strip of old tube under the clamp to prevent slippage.
Handlebar Smartphone Holder
I've tried a few and this seems the most reliable for rougher rides. It's worked great over thousands of miles of gravel and dirt, but I do take the phone out (and put in my pocket or an accessory bag) on really rough trails, just to be safe.
CatEye Velo 7 Bike Computer
Just the basics, simple and cheap. I use it to check how far I've gone without needing to burn up smartphone battery to check my GPS app. Tracks distance reliably and seems to be very waterproof.
Camping
Most of my bike camping gear doubles as my backpacking gear. Here I'll highlight a few items I find particularly great for bikepacking too.
Big Sky Soul Solo 1P Tent (detailed review here)
My go-to lightweight tent for all but the most ultralight trips. Conveniently free-standing (more important for bikepacking than backpacking in my experience), fairly roomy, and very fast to set up. Newer bikepacking-specific models offer 12″ poles for easier packing.
Therm-a-rest Neo Air X-Light sleeping pad
Tried and true classic, the only sleeping pad I've ever loved. As both a side sleeper and a cold sleeper, I find this pad is more than worth the cost.
Enlightened Equipment Convert 10F hybrid quilt
My go-to for when nights might approach freezing.
Enlightened Equipment Enigma 10F quilt
My go-to for fast-and-light trips where nights won't be too cold. I'm a very cold sleeper and this quilt is well-used so I don't consider it truly rated for 10 degrees.
Enlightened Equipment Hoodlum hood
Use with the Convert or Enigma for sleeping, or for extra warmth on the trail or in camp.
JetBoil MicroMo
After years of using a traditional backpacking stove, I finally splurged on a JetBoil and have been very impressed by its fuel efficiency and boiling speed. Weight and bulk are similar or slightly less than a non-integrated cooking system with separate stove and pot. I wouldn't bring it for a race or ultralight ride, but it's perfect for casual tours.
TOAKS Titanium Long Handle Spoon
Eat directly from taller pots or ziplock bags without getting your hand dirty.
Sea to Summit Collapsible X Mug
Great for either eating or drinking (note there's also an X Cup which is smaller, so I prefer the mug). They do eventually wear out, but it takes a LOT of use.
Ursack Major bear bag
Bear canisters and bikepacking setups don't mix, but this is the next best thing. If rodents are the biggest threat, consider the Ursack Minor instead (detailed comparison here).
Miscellaneous Useful Things
Dude Shower Wipes
Luxury item for those nights when there's no extra water for washing and it's been a few days…
Petzl Actik Core Headlamp
There are lots of headlamps out there, but what I love about this one for bike touring is that it can be charged via USB power and also takes AAA batteries. On a long or remote trip sometimes one is easier to come by than the other.
RumbleRoller Beastie Massage Ball
Not exactly ultralight, but I have been known to throw this in my panniers to help work through a bit of stiffness or minor injury on a long tour.
Mini Exercise Band
You might be wondering why one would bring exercise bands on a bike trip – aren't you getting enough exercise already? But when I cycle a lot my quads tend to get too strong and my glutes too weak. Using these bands for hip extensions, clamshells, etc. on long tours helps me stay balanced.
Diva Cup
Lady cyclists, if you haven't made the switch to a menstrual cup yet, now is the time. See all the nitty gritty details here. Pro tip specifically for cycling: trim the stem. 😉
Soy Sauce Containers
These tiny squeeze bottles are great for packing tiny amounts of toiletries on lightweight bikepacking trips. Related: what's in my lightweight toiletries kit.
Ultralight Stuffable Backpack
Perfect as a day pack during a rest day, an easy way to haul groceries to your motel room, or extra food and water capacity on a long stretch between resupplies. It folds down to nothing when empty.
More Bike Resources