A portion of earnings from this website will be donated to Bikepacking Roots, creators of the WWR, to support their work as route developers and bikepacking advocates. Thanks for reading!
The Western Wildlands Route has been on my mind since Bikepacking Roots announced it in 2019. A brand new borrder-to-border bikepacking route traversing the wild and varied landscapes of the American west? Yes please!
And yet, when I had time for a thru-ride in 2021 I found myself choosing the storied Great Divide Mountain Bike Route instead. Apparently the pandemic's isolation managed to turn even me, world's biggest introvert, into a social animal. The GDMBR community interested me as much as its miles.
I absolutely found what I was looking for on the Great Divide and wouldn't change a thing. I had a blast out there meeting other bikepackers and experiencing the towns and roads I'd heard so much about. But when it was over, the part of me that likes independence and solitude and the path less traveled began to wonder… What about that Western Wildlands Route?
This fall I had the privilege of scratching that itch during a monthlong section ride of the WWR. A friend and I rode 1200 miles in the south-middle-ish of the route, from southern Idaho through Utah and into northern Arizona. I've covered a lot of ground throughout the American west in the past, but the land traversed by this route blew me away all over again with its variety and vastness.
This post shares my perspective and experience of the route including gear, conditions, logistics, and more. Bikepacking Roots provides fantastic resources for the WWR that are much more comprehensive — definitely check them out to learn more. I also have detailed ride journals for each state: Idaho, Utah, Arizona.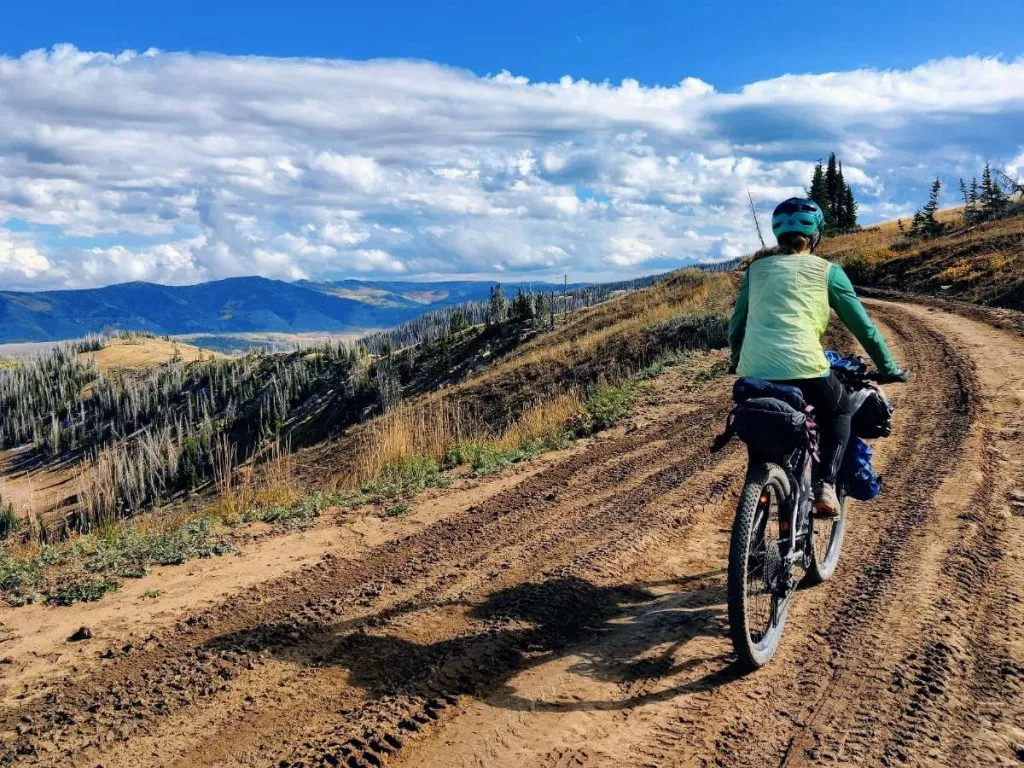 Ride Overview
Dates: September 15 – October 16, 2022
Duration: 30 riding days + 2 rest days = 32 days total
Start and End: Hailey, Idaho to Flagstaff, Arizona (southbound)
States visited: Idaho, Wyoming (just a smidge), Utah, Arizona
Miles: 1198 according to my tracking (let's just call it 1200)
Who: Myself and my friend Denise
Standout impressions from each region:
Southern Idaho and northern Utah (and tiny bits of Wyoming): vast plains, sage, headwinds, small towns, farmland
Central and southern Utah: aspen trees changing color, climbing and descending, scenic views, hunting season, cold temps, thunderstorms, first glimpses of red rock
Northern Arizona: hot weather, cliffs and canyons, red rock, busy highway riding, Navajo communities, Grand Canyon, soothing pine forests, scarce water sources
The WWR Route
The Western Wildlands Route (WWR) is an epic border-to-border bikepacking route spanning 2700 miles, touching 5 states, and traversing some of the most dramatic and stunning landscapes in the United States. This relatively new masterpiece of route development was created by bikepacking advocacy organization Bikepacking Roots to showcase "the vast expanses of wild and public lands in the Intermountain West."
The WWR shares a northern terminus with the US portion of the GDMBR at the Canadian border, then parallels it further west all the way to the Mexican border. After a short distance in Montana the WWR stays more or less one state westward of the GDMBR as it traverses Idaho, a tiny sliver of Wyoming, Utah, and Arizona.
Our Section Ride
The Western Wildlands Route is divided into 9 segments, and we rode southbound through segments 4 – 7 and part of 8. Here's our section, marked on the overview map from Bikepacking Roots:
Our 1200 miles amounts to almost half the 2700 mile route. I'll try not to overgeneralize about the whole route based on the half we rode, but sometimes it's tempting. I've previously ridden in Idaho north of where we started, south of Flagstaff where we ended, and hiked the Arizona Trail all the way to the Mexican border. I passed through Montana a bit to the east while riding the GDMBR, and interviewed Katy McGuire about her ride on the northern WWR. I also researched the route in its entirety and have the full map and guidebook from Bikepacking Roots.
So, when I talk about the WWR as a whole, know that it's based on a blend of this recent section ride, broader experience in the region, and research.
From the guidebook descriptions and elevation profile, it's clear that our section ride included much of the WWR's easiest terrain (southern ID and northern AZ) and only a bit of the hardest and most rugged terrain (Utah's high plateaus). I've tried to factor that into any general statements I make about difficulty, pacing, etc.
Why This Route?
As I mentioned above, the WWR has been on my mind since before I rode the GDMBR. I'm usually drawn to less popular routes and locations, so the WWR's newness and adventurousness appealed to me.
I chose this particular section – a focus on Utah with bookends in Idaho and Arizona – because Utah's high plateaus sounded neat and the area was mostly unfamiliar to me, a blank space on my mental map between previously explored regions. Fortunately my riding partner Denise was also excited about the Utah section and up for starting in Hailey. We didn't have a definite endpoint in mind but figured we would aim for at least Kanab and possibly further.
Finally, this particular section fit well into our available time window. I was busy with other adventures throughout the summer (such a hard life I lead…) and wanted to do this ride as a final hurrah before winter. October is borderline for the higher elevations in Utah but perfect for the lower deserts of northern Arizona.
Recommendation
If you have the time, I think our monthlong section ride is a great sampler of the region. Gradual transitions are one of my favorite things about long rides and this section definitely has them. Our route covered a satisfying variety from the plains of southern Idaho to the deserts and pine forests of northern Arizona, with Utah's dramatic high plateaus in between.
If you have less time, perhaps two weeks, I would recommend just the stretch from Park City to Kanab across Utah's high plateau country. This section includes the rugged, scenic, and unique Skyline Drive ridgeline traverse, which was a highlight of our entire monthlong ride.
Good Company
I usually do long trips either solo or with my husband, so it was a special treat to do this ride with a friend. Denise and I had only known each other for one weeklong ride prior to this trip, shared with the mutual friend who introduced us. We seemed to get along well and I was excited when she had the interest, time, and flexibility to join for this trip.
She brought a wealth of outdoor experience in everything from bike touring to mountaineering and backcountry skiing, so she was a great partner when it came to decisions about weather and risk. Though I have more bikepacking experience she has much more road cycling experience – I could never keep up when we hit pavement! She was a strong rider, a fun companion, and flexible enough to accommodate my oscillating needs for chit chat and alone time. It was a great partnership (at least I thought so – I hope she agrees!).
Timing
Bikepacking roots has a great summary of seasonal considerations in their route guide, so start there if you're planning a ride. There's a lot to consider including snowpack, monsoon season, desert heat, and wildfire season! There's no way to time the whole route perfectly – that's just the nature of such a long ride.
Our section ride spanned from mid-September to mid-October. This slots pretty well – slightly on the late side – into the recommended timing for a full southbound thru-ride. I think an early September start would have been ideal for this section. Though every year is different, we felt early October was a tad late to be up at 10,000 feet in Utah, and we made it to Flagstaff just as the higher peaks were seeing their first dusting of snow.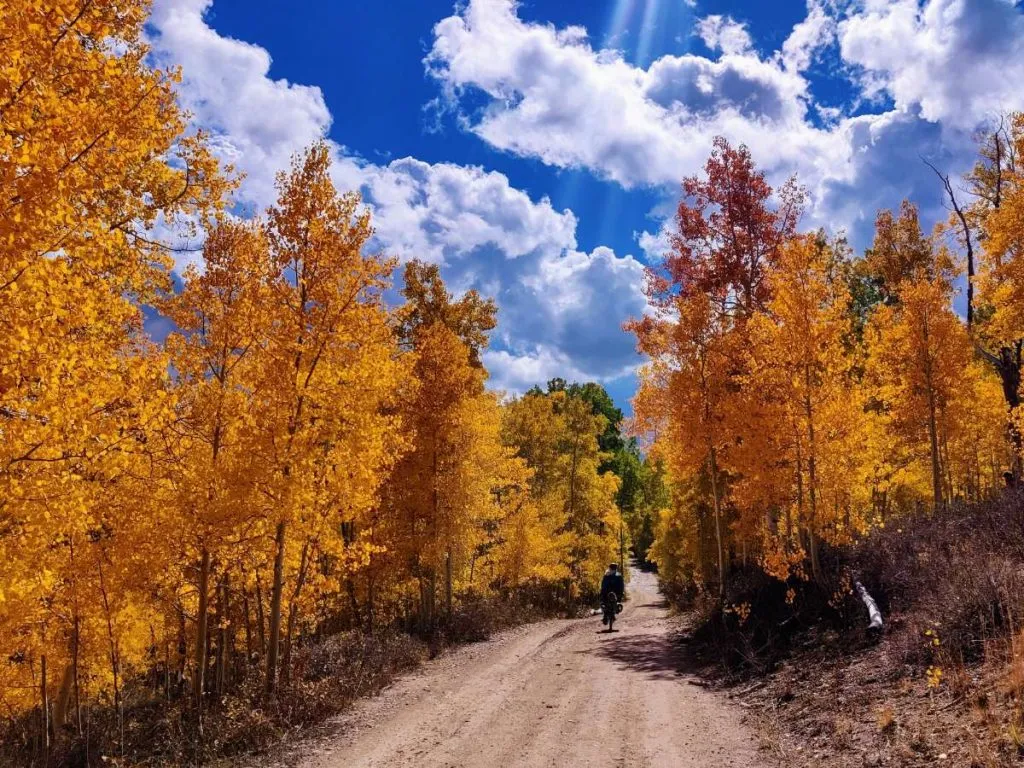 Details vary based on year and pace, but Bikepacking Roots recommends a mid-to-late summer start in the north for riders tackling the full WWR, or a late spring start in the south. Southbound thru riders want to start after snow is melted from the high passes in the north (July is usually a safe bet) and finish after the most oppressive heat has eased in the low desert of Arizona (mid-September or later). Faster riders could achieve this by starting in late August or September, while a late July or August start would work nicely for slower riders.
As far as I can tell, the riding season for Western Wildlands is basically the same as for the Great Divide Mountain Bike Route. Though the WWR is further west, they require similar considerations in similar places (desert heat in the south, lingering snowpack in the north and in Colorado / Utah, mud during monsoon season).
Pacing
We took 32 days (30 riding days and 2 rest days) to ride just under 1200 miles. That averages out to about 40 miles per riding day, but this includes quite a few half-days to accommodate weather or awkwardly spaced camping options. I'd guess we were on the slowish side of average, especially considering that our section included more of the WWR's easy terrain and less of its hard terrain.
Our biggest limiting factor wasn't usually endurance, but limited camping options and shorter daylight hours of early fall. Between long stretches of private land (southern ID and northern AZ), public land swarming with hunters (UT), and some bad luck with thunderstorms and mud (UT again), it seemed there was always a reason to stop a little early and grab that legal / hidden / sheltered campsite rather than push it closer to sunset.
On full riding days our usual routine was to wake up with the sun, start riding around 8:30 or 9am, and go until an hour or two before sunset depending on how confident we were in finding a good camp location. Cold mornings and evenings were definitely a factor; at high elevations we wanted to be tucked away in our cozy tents whenever the sun wasn't out. We never rushed and we aren't the fastest pedalers, but we made steady progress whenever we were riding.
For the full Western Wildlands Route I think two months is a good touring pace. Fast-and-light riders with racing experience might enjoy trying for a month, while leisurely folks could fill three months with some stops and side trips along the way. As with any long off-pavement route it's not just about your legs and how far you can pedal. It's also about weather, camping and town locations, and how often you're willing to choose too-long days over too-short days when the just-right distance isn't an option.
Pace Compared to GDMBR
Compared to the GDMBR, which is similar in both distance and total elevation gain, I would estimate a slightly longer time period for the WWR, all else being equal. Why slightly longer? Though both routes have some rugged sections and plenty of climbing, I think the WWR has slightly more ruggedness sprinkled throughout. It may also have some longer and more challenging climbs, and a bit more private land to plan around.
My average daily mileage was higher on the GDMBR (48 miles per riding day, compared to 40 on this WWR ride), but that ride had two distinct stages. During my solo half I covered 52 miles per day on average, thanks to long summer daylight hours and not much else to do. After my husband joined we covered a more leisurely 42 miles per riding day, which is pretty close to Denise's and my 40 mile average (with shorter daylight hours) on our easier-than-average section of the WWR.
To summarize, I think both routes are in a similar class but the average rider should allow a few more days for the full WWR.
Terrain
The Western Wildlands Route in general is a non-technical bikepacking route, which means it has virtually no singletrack or terrain requiring specific technical skills.
I wouldn't quite call it "gravel" though, since it pieces together such a variety of road surfaces. The majority of miles are reasonably well-maintained gravel and dirt roads, but there are plenty of short rough stretches that will challenge riding skills or require hike-a-bike. There's also a fair amount of pavement – around 20% according to Bikepacking Roots.
There's a lot of climbing and descending on the WWR, though it's not evenly distributed throughout. Montana, northern Idaho, central and southern Utah, and central Arizona are more rugged and demanding, while southern Idaho, northern Utah, and northern Arizona offer a bit of a break. Climbs of 2000 – 3000 feet are common, and a few climbs (and epic descents!) reach 4000 or 5000 feet.
Our section ride included one of the more demanding sections (Utah's high plateaus) bookended by less-demanding terrain in southern Idaho and northern Arizona. On average our route had more pavement and less climbing than the overall WWR average. This is undoubtedly why it felt a bit "easier" than I expected. The tough sections were respectably tough, and I imagine the route feels pretty burly when ridden in its entirety.
Bikes
Bikepacking Roots recommends a "mountain bike" for the WWR, but what kind of mountain bike?
My personal recommendation would be a rigid mountain bike with 2.2 – 2.35″ tires. A suspension fork or dropper post would not have been worth the weight to me, though some people might appreciate the comfort of a hardtail. I appreciated the stability of my flat bars on the rougher sections, but I've ridden that kind of terrain on a drop bar MTB too and it's totally doable.
The Western Wildlands Route has a lot of climbing and descending! A low climbing gear helps with the former, and capable well-adjusted brakes are a must for the latter.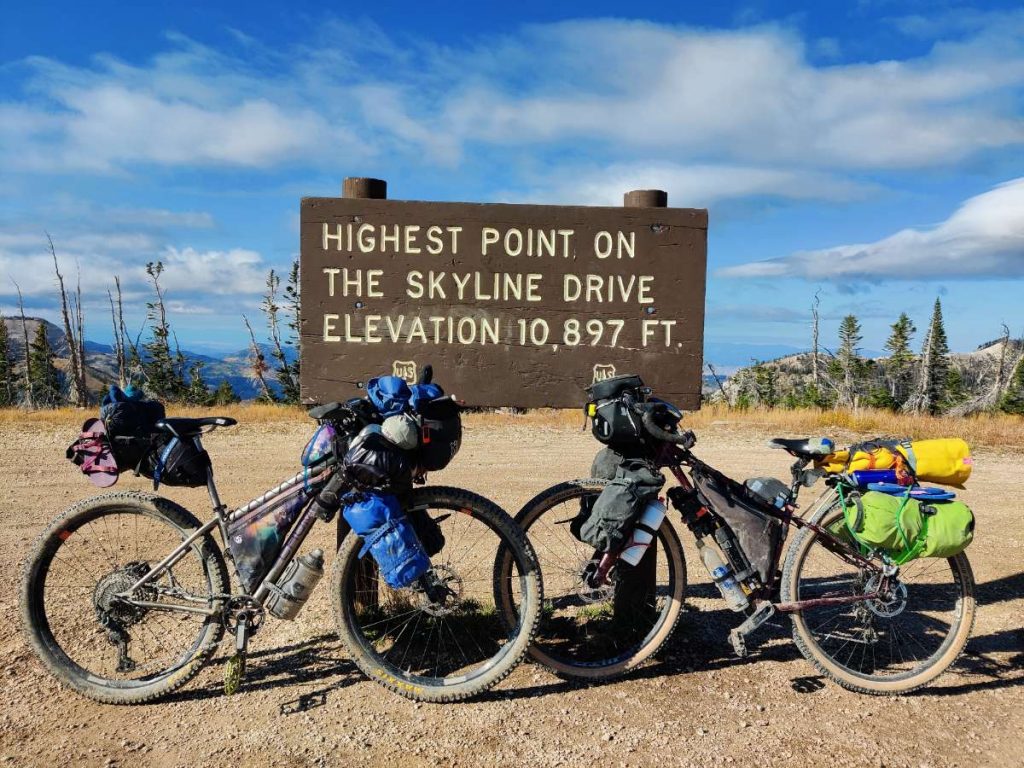 My Bike
I rode my new-ish Chumba Stella Ti with rigid Whisky fork, 1×12 gearing, and Maxxis Ikon 29×2.35″ tubeless tires. I've been riding the crap out of this bike since I got her in March and I've been really impressed. For me the combo of flat bars and rigid fork is a great compromise between weight savings and confident handling on semi-rugged terrain.
Denise's Bike
Denise rode her Salsa Fargo with carbon fork, 1×11 gearing, and Vittoria Mezcal 29×2.1″ tubeless tires. Overall she was quite happy with it. Though the drop bars weren't ideal for the roughest sections, they didn't slow her down much. I think the Fargo is a great bike for a varied route like the WWR, and had Stella not come into my life I would have ridden my own Fargo on this trip.
Tires
I was happy with my Maxxis Ikon 29×2.35″ tires especially on the rougher sections, and wouldn't hesitate to recommend them for a full WWR thru-ride. Since our section included a higher percentage of pavement than the full route, I would probably go with 2.1″ or 2.2″ for this trip if I could do it again.
Denise's 29×2.1″ Vittoria Mezcals were on the narrow side of what's recommended for the full WWR route, but might have been ideal for our pavement-heavy section. They seemed to work well on the roads and didn't slow her down too much on the rough stuff. The WWR is so varied that any tire choice comes with significant tradeoffs.
Two other data points for those interested in tire choice: Katy McGuire (also on a Stella Ti with rigid fork) started the WWR with 29×2.8″ tires. She found them overkill for the route and swapped to 2.2″ in Ketchum. Tara Weir rode the full route in 2019 on "a fully rigid bike with 2.25" tires and had no issues."
If you plan to ride the Arizona section of Western Wildlands, go tubeless if you can! Starting around the Navajo Nation heading south we both picked up dozens, if not hundreds, of goat head thorns in our tires. Even running tubeless we sometimes had to stop and pump or coax the sealant into doing its job.
If your rims aren't compatible with tubeless tires, I highly suggest you try all the tricks for Arizona: tire liners, thorn-resistant tubes and/or sealant in your tubes, two spare tubes, plenty of patches, and avoid rolling the bike off the road unnecessarily.
Resupply
Our food carries ranged from 1 to 4 days, with ~2 days being the most common. The only place we carried 4 days was the Skyline Drive section of Utah, and that was because we knowingly went up in questionable weather and wanted an extra day of cushion (and we used it).
According to Bikepacking Roots the longest stretch between food resupply stops is 155 miles or about 3 days, north of where we started in Idaho. I would probably carry 4 days of food for that section too, just in case, so this seems comparable to our longest section.
Resupply options were varied: everything from big grocery stores in the major towns to just a gas station or general store in rural areas. If this kind of diet is new to you, check out my Bikepacking Food Guide to get a sense for it.
It seems to me that resupply on the Western Wildlands Route is similar to the GDMBR. Both have sections where you can buy a hot meal every day, and both have the occasional stretch of 3-4 days (unless you're fast). It's possible that the full WWR has a few more 2-3 day stretches and a few less 1-2 day stretches, but this doesn't really increase the difficulty or necessary food capacity in a meaningful way. It just means a few less cheeseburgers.
Water
Water capacity is definitely worth thinking about on the Western Wildlands route. On a typical day with a refill opportunity we carried 3-4 liters each, and when dry camping we commonly filled up 5 liters. Toward the end, in northern Arizona, we were filling up 6-8 liters roughly every two days.
For riders tackling the whole route or any part of Arizona, I recommend a flexible capacity that can comfortably hold 4 liters and stretch up to 8 liters. This is the system I used, in order starting with the containers I filled up first:
1.5 liter hydration bladder in my small frame bag
1.5 liter bottle under down tube
1 liter Platypus SoftBottle that could be strapped to top of seat bag
2 1-liter SmartWater bottles, purchased when first needed and strapped to each fork cage alongside a dry bag
2-3 liters in water filter dirty bag (CNOC Vecto 3 liter) carried in stuffable backpack – never needed to do this for more than half a day
I liked this system because it allowed me to carry gear and food in my fork cages when extra water wasn't needed, instead of having dedicated bottles there. It was, however, a little awkward when using the full 8 liters of capacity. For more ideas on increasing water capacity, see 9 Ways to Carry Water on a Bike.
Heat is also a factor. Even in October the lower elevations felt hot to us, though our temps probably never topped 85 F. I think riders who hit the desert in September could need even more than 8 liters of capacity.
The FarOut app is really useful for water planning because prior riders can leave comments about each source. Sometimes we learned from these comments that key marked sources were probably dry or on fenced private property, which would have been a nasty surprise.
In many cases we still couldn't tell for sure and ended up carrying more water than we needed, but we preferred to play it safe. Water sources can go from wet to dry fairly quickly, especially in late summer and fall. In hindsight there was generally enough water out there, but we often couldn't count on it in advance.
When it comes to water sources the WWR is definitely a bit harder than the Great Divide Mountain Bike Route. On the GDMBR I carried 8 liters only once, in northern New Mexico. Even the notorious Great Basin only required 5 liters for me. The WWR, by comparison, had us filling up 6+ liters on multiple occasions and we didn't even ride most of notoriously dry Arizona.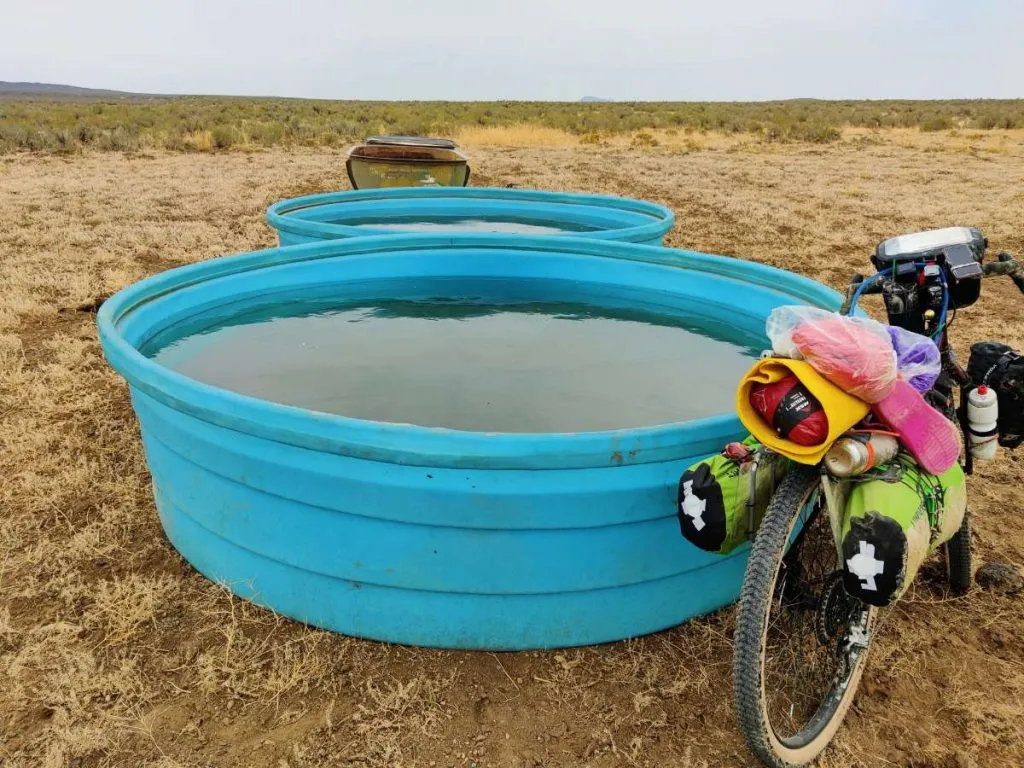 Camping & Lodging
I kept track of where we stayed each night, and here are the totals:
Motel: 6 nights
RV park: 5 nights
Campground: 1 night
Primitive campground: 1 night
Dispersed / free camping: 16 nights
Nice guy's barn when it was raining: 1 night
We spent a majority of our nights taking advantage of free dispersed camping on public land. I love this kind of camping — just pick a spot and make it your home for the night. I like to be stealthy about it rather than setting up right beside the road, and in some busy areas at the height of hunting season this was more stressful than usual. Nothing takes the fun out of stealth camping like a bunch of guys with guns peering into the woods with binoculars.
In some areas, especially southern Idaho and northern Arizona, dispersed camping was rarely an option due to private land. In these areas we stayed at RV parks or splurged for the occasional motel.
RV parks are generally a great value for weary bikepackers on a budget. They usually offer showers, electricity, sometimes laundry machines, and a central location in town for $30 – $35 per site. Even though many of the small-town RV parks don't specifically have tent sites, we were never turned away.
There are plenty of established campgrounds along the route, but many were closed for the season by the time we arrived. We did stay at a closed campground one night and a free primitive campground another night.
Weather and Conditions
As you might expect on such a varied route, we experienced a wide range of weather and conditions! Here are some of the notable ones.
Rain and Mud
The WWR route guide calls out many sections as "impassible when wet," notably (within the section we rode) Skyline Drive in Utah and the Navajo Nation in Arizona. If you've ever dealt with Death Mud before, you know they really mean impassible. Mud will build up on your tires until you're forced to make camp beside the road until it dries; hopefully you packed extra food and water.
We were a bit unlucky and had more rain than is typical for the time of year. We spent way too much time refreshing weather forecasts and re-reading route descriptions, trying to divine our chances of getting stuck up to our ankles in mud. Generally we packed a bit of extra food, did our best to dodge the storms, and muddled through.
It's important to take the mud warnings seriously, because you really can get stuck (and also really, really dirty). But I would also say it's not binary and there's plenty of space between "impassible" and "a bit muddy." Sustained rain for hours or days is definitely a problem, but a thunderstorm here or there can be worked around. You may need to camp early or hike-a-bike around some puddles, but no need to panic.
Monsoon season brings summer thunderstorms to much of the route, especially in the south during July and August. After a short shower you can keep riding in a few hours once the dirt dries out, unless the storms linger. There's no way to avoid monsoon season completely, but it's smart to watch the weather forecast and know your options for bail-outs and paved detours.
Cold Temperatures
The Western Wildlands Route spends some quality time above 9,000 and even 10,000 feet in Utah. We were there in early October, just as rain was transitioning to snow at the highest elevations. We had a number of near-freezing nights and a couple just below. At high elevations the evenings and mornings were so chilly that we spent most of our camp time inside our tents. There were days when we rode in tights and jackets all afternoon.
Hot Temperatures
It was surprising to transition from near-freezing temps in the mountains to scorching heat in the desert, but that's what a 5000 foot descent in autumn will do! At the lowest elevations we repeatedly had hot and sweaty days in the 80's F even well into October. Earlier in the season temps in these areas can reach 100 F!
Wildfire Smoke
Fire season was originally our biggest concern while planning this ride. The last few summers have been brutal for wildfires in the American west and we fully expected to deal with route closures and smoky air. Fortunately for us, and everyone else, this turned out to be a non-issue during our ride. Partly this was just luck – fires were a problem north of where we started in Idaho – and also maybe a benefit of the rain we dealt with along the way.
We were lucky, but going forward I still expect wildfires to be a concern for this route. Generally late summer and early fall are the worst times, but fire season is expanding. I recommend riders keep an eye on forest closure orders and air quality metrics, and be mentally prepared to take a detour or skip a section if needed.
Like mud, smoke isn't a binary thing. Sometimes it gets worse and sometimes it unexpectedly gets better with just a change in wind direction. You obviously don't want to ride for days in thick smoke, but there's no need to panic over a little haze.
Hunting Season (Fall)
We thought fall was a lovely time to ride in Utah just as the aspen trees were turning color. However, there's another group of people who love to use public land in the fall: hunters. I've bikepacked during hunting season before, but was still unprepared for the sheer number of RV's, ATV's and pickups out on the dirt roads in popular parts of Utah.
Hunting season causes two issues for bikepackers: busy roads and the potential risk of being accidentally shot. Busy roads and camping areas can be a bummer if you're looking for a peaceful experience in nature. Though most folks are friendly, there are always a few who pass too quickly and kick up dust.
As for the risk of being shot, don't worry, they're looking for elk and deer not cyclists. Still, it's recommended to wear something in bright "blaze orange" color to avoid being mistaken for wild game. I imagine high-viz cyclist yellow works too.
We never felt at risk on the road, but the presence of hunters definitely impacted our camping experience. I prefer to sneak off into the woods when camping, especially in busy areas, but this felt like a bad idea with so many folks looking for things in the woods to shoot at. I definitely think it's smart to err on the side of being clearly visible during hunting season, but as a woman who's done a lot of solo bike trips my instincts tell me to hide. It was stressful balancing the urge to be seen and not seen at the same time.
If you ride in the fall there's no avoiding hunting season, so just grab yourself an orange vest from the nearest gas station and make the most of it. More people means more potential for friendly interactions and perhaps a free beer.
The WWR Vibe
I want to talk a bit about the WWR's vibe / feel, for lack of a better term, because I think this is one of its biggest distinguishing factors from the GDMBR.
The Western Wildlands Route feels, at least for now, almost like a self-directed bike trip without an established route. But with maps! And on relatively traffic-safe backroads that would be hard to string together on your own.
In this sense it's the best of both worlds if you like the "road less traveled." We met just a handful of other cyclists during our monthlong ride, most of whom were doing short trips that overlapped the WWR for a small stretch.
Riding the Great Divide, by contrast, felt almost like joining a party. Everyone working at the stores and hotels and campgrounds knows about the route, and the people you meet in a pickup truck in the middle of nowhere may have passed another cyclist an hour earlier. You'll meet other cyclists in town and cross paths with them on the road, especially riding northbound against the grain. Everyone knows exactly where you're going and where you've been.
Though I loved the GDMBR's social atmosphere (especially while riding solo) I didn't love the feeling that I was on a pre-arranged, almost packaged experience. There was almost too much information available about the route, and at times it felt more like a communal pilgrimage than an individual adventure. (For context, I'm an introvert who's comfortable being alone in remote places and my experience is relative. I know that some people find plenty of individual adventure on the GDMBR!)
On the WWR, by contrast, most people in towns still don't know about the route. Folks running the RV parks and restaurants usually didn't find the name familiar when I mentioned it. They see a cyclist come through every few days or weeks, but some are on routes of their own design and others don't think to mention the route name. In short, the WWR is not nearly as much of "a thing" as the GDMBR.
Which vibe is best obviously comes down to personal preference. Though I liked the social nature of the GDMBR and am glad to have experienced it, my usual preference is to feel a bit more independent and exploratory. I guess I like to feel unusual, adventurous, dare I say special (I am an only child after all) when I'm out on my bike, and the WWR provided more of that feeling.
Navigation
You'll definitely want some type of GPS-based navigation for the Western Wildlands Route. There are two easy ways to do it:
Both these methods include the same GPX tracks and waypoints, but the FarOut app includes two really helpful features in addition: comments about waypoints from other riders (super helpful for water sources especially), and a handy calculation of distance and elevation change from your current location to any waypoint. Because of this, if I had to choose only one navigation app for WWR I would recommend FarOut.
Between the two of us we had everything: GPX data loaded into multiple apps (RideWithGPS and Backcountry Navigator) and two GPS devices (Garmin eTrex and Wahoo Elemnt Bolt), and the FarOut app. We ended up relying mostly on the FarOut app for planning and looking ahead, and the Garmin eTrex for turn-by-turn navigation.
Bikepacking Roots also includes a guidebook (print or PDF) with their GPX data. It's not detailed enough for navigation on its own, but it's amazingly well-done and definitely worth reading. It includes essential information about each segment along with a wealth of knowledge about the geology, ecology, and history of the regions you'll be riding through. I suggest the PDF version on your smartphone, but they do sell a print version.
Other navigation recommendations that apply to bikepacking in general:
Download Google Maps for offline use. This option is available in your profile within the Google Maps app on both Android and iPhone. Tap your picture in the upper right to find it. Don't rely on these maps for navigation, but they're great for bail-out routes and businesses. They even include open hours.
Always have a backup, because electronic devices can and do fail. If you're riding closely with another person you can be each others' backup. For solo riders or groups with greater independence I highly recommend two devices: a second smartphone tucked away with the route cached on it, or a combo of smartphone and dedicated GPS nav device.
Smartphone apps can work well for navigation as long as you can keep them charged, but it's often helpful to have handlebar-mounted navigation that you can follow without stopping. There are many ways to mount a smartphone on your handlebars, but there's a risk of it being damaged on rough roads. We had a close call with a handlebar-mounted iPhone and a mud puddle in Idaho. A rugged dedicated navigation device like the Garmin eTrex offers more peace of mind (and better battery life).
Lastly, don't forget to check the WWR Route Updates page for closures, detours, and other important updates.
Gear Highlights
My gear list for the WWR was similar to my general bikepacking gear list and my GDMBR gear list. You'll also find most of it included in my favorite bikepacking gear.
Here's a short list of valuable gear that was especially well-suited to the Western Wildlands Route:
Pearl Izumi X-Alp Canyon shoes and Funn Mamba one-sided SPD pedals: This is my go-to system for most bikepacking trips and it worked great on the WWR. The Canyon shoes are comfy for hike-a-bike and the one-sided pedals are key for times when you don't want to clip in (loose and rough roads) or can't clip in (mud).
Smartwool Fleece Wind Tights: New to me this year and I'm wondering how I ever lived without them. They added so much comfort on the many cold mornings and evenings (and sometimes afternoons) at high elevation in September and October.
Pearl Izumi Pro Ride AMFIB Lobster Gloves: Been using these for years, but it's worth mentioning them here because they were essential on our coldest days.
Platypus SoftBottles: Great for routes like the WWR with such variable distances between water sources. Fold them flat when not needed, and fill them up and strap them to something (or carry in a stuffable backpack) on long dry sections.
Extra sealant: In Arizona, goat head thorns and cactus spines will make swiss cheese out of your tires. My sealant was a little low when I started and I ended up adding 3 ouces between Kanab and Flagstaff.
Thin foam underpad for inflatable sleeping pads: If you're riding the entire Arizona section, it's worth thinking about a lightweight foam pad to protect your inflatable sleeping pad from spikey plants. While hiking the AZT I carried this one. I took my chances on the WWR, but Denise carried a short torso-length piece of lightweight foam.
Transport and Logistics
To reach our starting point in Hailey, ID we drove a one-way rental car from Boise. I was already in Boise for the Smoke 'n Fire race and Denise flew in with her bike. The Sun Valley Express runs from Boise to Hailey and would be more affordable than a rental car for a solo rider. They apparently take bikes with advance notice.
To get home from Flagstaff we took an Amtrak train back to California. They take unboxed bikes (up to 2 per train, reserved when you book your ticket). Flying would also be an option, and it shouldn't be hard to track down a bike box in the cycling-friendly town of Flagstaff.
There are two other points along our section ride where transportation would have been easiest. Park City, UT would be a great place to start if you don't have time for southern Idaho. Nearby Salt Lake City has a major airport and an Amtrak station. In my opinion the section south of Park City is more scenic and interesting than the section between Hailey and Park City.
Kanab, in the far south of Utah, would also make a good endpoint if you don't want to continue to Flagstaff. From there it's possible to hire a private shuttle to St. George where there's a regional airport, Greyhound station, and car rentals.
Western Wildlands vs. Great Divide Mountain Bike Route
I know many people will wonder how the Western Wildlands Route compares to the older and more famous Great Divide Mountain Bike Route. These two parallel border-to-border routes are both epic tours of the American west with comparable distance, elevation gain, riding style, and resupply spacing.
Bikepacking Roots says that compared to the GDMBR, the WWR "provides a more rugged, remote, and wild experience." I certainly trust them on this – they're the route creators after all – but I will also say that based on the section we rode, the difficulty of the two routes felt more similar than different.
This may be because our section ride included more of the WWR's easier terrain and less of its harder terrain. If I try to extrapolate based on our most rugged section in central Utah, I can make a guess about what Bikepacking Roots means.
The WWR, like the GDMBR, has plenty of easier sections on fast-rolling pavement and good dirt roads. It also has a few super-tough rugged sections similar to the infamous parts of the GDMBR (Brazos Ridge, Fleecer Ridge, Lava Mountain come to mind). The middle of the difficulty spectrum might be where the two routes differ: the WWR seems to have more sustained rough-ish riding on 4×4 trails. Overall I would still say they require similar bikes, gear, and riding skills, but you might expect to spend a few more days on the WWR.
Here are a few other comparisons I want to call out:
Water: The WWR has more long water carries than the GDMBR, and the recommended max capacity for the WWR is probably a little larger than for the GDMBR, especially if reaching Arizona before October.
Resupply: The materials from Bikepacking Roots say that resupply is sparser on the WWR, but I personally don't think the difference is anything to worry about. The WWR probably involves more 2-3 day food carries and fewer 1 day carries compared to the GDMBR, but both require a similar max food capacity of about 4 days.
Scenery: Both routes offer amazing and varied scenery! Each includes a sampler of mountains, plains, and desert but with a slightly different slant. The most dramatic alpine peaks and passes are unique to the GDMBR — southern Colorado and the Tetons of Wyoming come to mind. The WWR is unique in its rocky desert geology (Grand Canyon!) and giant saguaro cacti of Arizona. Both routes have plenty of rolling ridges, sage-covered plains, and forested mountains. You can't go wrong with either when it comes to scenic landscapes and interesting ecosystems.
Popularity and mood: This is the biggest difference between the two routes in my opinion. The GDMBR feels kind of like a communal pilgrimage, while the WWR is more of a solitary expedition. Both have remote sections, but you're much less likely to come across another cyclist out there on the WWR, and when you roll into town people are more surprised to see you. If you like the feeling of exploring the unknown and taking the road less traveled, you'll probably find the WWR more exciting. If you want to be part of a longstanding tradition in the bikepacking community, you'll find the GDMBR most satisfying.
If you really can't decide, ride some of each! Bikepacking Roots has developed Intermountain Connectors join the two routes in several places, allowing for logistically simple loops or creative point-to-point combinations.
Solo Riders
Perhaps you're thinking of riding the WWR solo and wondering if that's a good idea. It's a personal decision obviously, but as someone who's done plenty of solo riding, here's my take on it.
I think there's no reason a moderately experienced bikepacker shouldn't ride the WWR solo. It's remote, but not that remote – you'll rarely go more than an hour or two without seeing another human. Take a satellite messenger like the InReach Mini, keep an eye on weather and water sources, and get ready to spend some quality time with the land and your own mind.
That said, I think the WWR could be a lonely route to ride solo. I've done long solo rides in the past, and while I would have ridden the WWR solo if I were in that kind of mood, this time around I really enjoyed having company. Solo riders who hope to meet other cyclists on the road will have much better odds on the GDMBR. If you're looking for a big solitary adventure, on the other hand, I think the WWR is a great choice.
If you're a brand-new bikepacking beginner, I don't recommend a solo WWR trip as your first ride. Do some shorter ones first! It's true that some people do ride the GDMBR as their first major solo bikepacking trip, and I wouldn't discourage that. But I think the GDMBR's more developed support system and slightly more straightforward riding make it a better choice for less experienced bikepackers who want to jump straight into the deep end.
More WWR Resources
Bikepacking Roots: As the developers of the WWR, this fabulous nonprofit should be your first stop for the route overview or to buy the guidebook or GPX data. The PDF guidebook is really well done and packed with information about the landscapes, flora, fauna, and history of the regions you'll be riding through.
Western Wildlands Facebook group: Great place to connect with other riders, check for recent updates, and ask questions.
spikis.lt: We met this Lithuanian couple in southern Utah. Their blog can be translated into English and includes wonderfully detailed writeups and great pictures.
margopolo.com: Tara Weir rode the full route in 2019 and documented it beautifully.
Katy McGuire's interview: I interviewed Katy for this site back when I was in the early stages of dreaming about the WWR. She rode from Canada to Flagstaff with some detours in Utah.
In Conclusion
Based on our section ride of nearly half the route, I'm really impressed by the WWR. Bikepacking Roots has done an amazing job creating a high-quality route and providing top-notch resources to navigate it. Their respect for land and community shines through in the way they describe the route and educate riders about it. To quote a part of their mission that came through clearly: 'We connect bikepackers with landscapes, inspiring riders to become public lands and conservation advocates who follow a "positive impact ethos."'
I hope more people discover the WWR in the coming years as an alternative to the increasingly popular Great Divide. On the other hand, I also hope it stays exactly as it is: an epic "road less traveled" border-to-border route through the wildest parts of the American west.
Read More
More Bikepacking Resources
Bike resources in your inbox?
There's more where this came from! Sign up here for occasional emails full of inspiration and information about bikepacking and bicycle touring.


Share the Adventure
If you found this article helpful, please consider sharing so more people can benefit from it: