When it comes to dialing in the perfect bikepacking setup, figuring out where to pack the tent can be one of the trickiest parts.
With a true rackless bikepacking setup there's no convenient rear rack to bungee a tent to. You're limited to a seat bag, frame bag, handlebar bag, and maybe (but ideally not) a small backpack. That two person tent, with its bulky cylindrical shape and awkwardly long poles, may not fit in any of those places. Even your svelte lightweight solo tent (like my favorite) might not fit! What to do?
One of the many fun things about bikepacking is, there's no one right way to do it. There are as many packing methods as there are combinations of riders, gear collections, and sizes and shapes of bike. It's a puzzle, an invitation to get creative, an opportunity to show off our quirky ingenuity.
I get it though, sometimes we need a little inspiration, or at least the comfort of knowing someone else, somewhere, has tried this before. So in this post I offer you a thorough list of ways to carry a tent while bikepacking.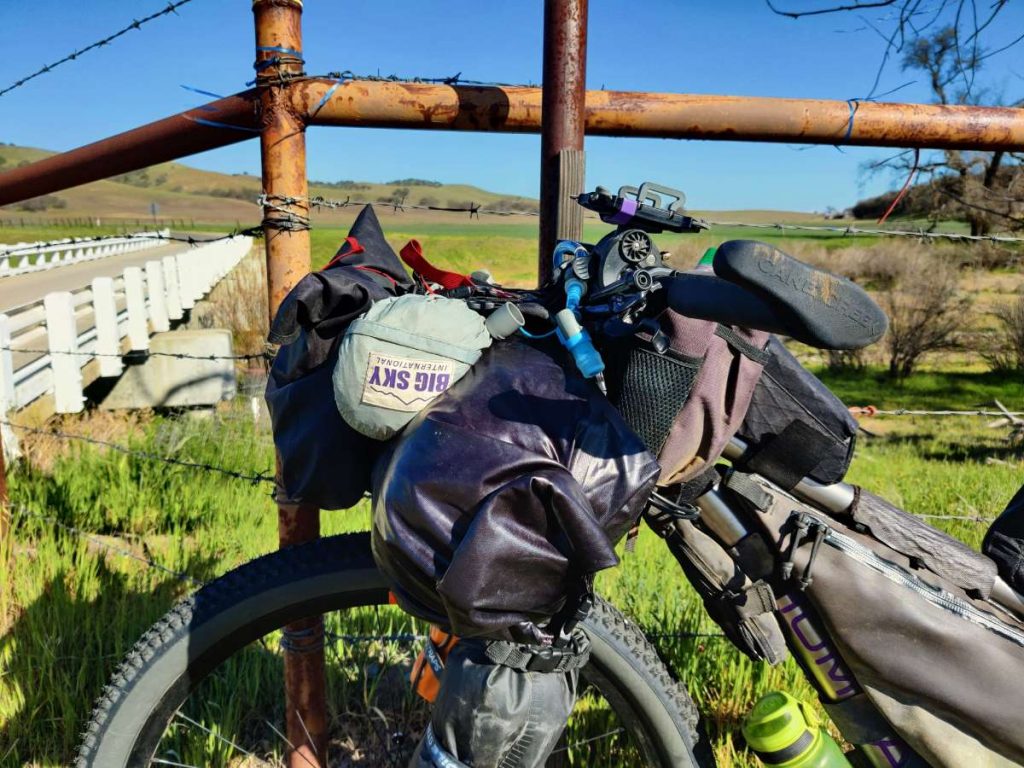 Best Tents for Bikepacking?
My analytics tell me that many people end up on this page through searches for things like "bikepacking tents." I like to give my readers what they're looking for! So, before getting into the details of how to carry your tent, here's a quick overview of important considerations if you're choosing a tent for bikepacking.
The tent you already have.
If you haven't bikepacked much before but have an old backpacking tent sitting around, I'd encourage you to just get out there with the tent you have. After one or two short trips you'll have a much better sense of what you need and like.
If you're worried it's too big or heavy, that's what the rest of this post is for! Read below to learn how you can carry a big or bulky tent on your bike.
Lightweight Backpacking Tents Work (Sometimes)
With the backpacking industry being much larger and more mature than the bikepacking industry, most bikepackers "borrow" our gear from the backpacking world. Lucky for us, the backpacking industry has been fine-tuning compact and lightweight shelters for a long time, and many of them are excellent.
One secret of the lightweight backpacking world is that much of the best and lightest gear isn't found at REI or other big stores. For an entry point into this world, including a list of well-regarded brands and their websites, check out my post on lightweight backpacking tips.
Important point for bikepackers: many lightweight backpacking shelters are so lightweight because they're designed to be pitched with trekking poles, thus the poles aren't counted in the tent weight. This is very clever if you're a hiker, but if you're a bikepacker it means you'll need to carry trekking poles or find some substitute.
Some models do offer lightweight tent poles as substitutes for trekking poles, but in general I recommend bikepackers avoid tents that require trekking poles unless you also do a lot of ultralight backpacking. Here's another reason…
Freestanding Tents Are Great for Bikepacking
Bikepackers are more likely than hikers to find ourselves pitching a tent on a hard surface: parking lot, inside a church or classroom, someone's patio or front porch. This is especially true if you intend to bikepack or bicycle tour internationally, but I've also found it to be a factor at home in the US.
Therefore, I strongly recommend that bike travelers consider freestanding tent designs. These can be pitched without the need for stakes or tie-out points. They tend to be slightly heavier than their stake-dependent counterparts, but oh-so-worth-it in my opinion.
The popular Copper Spur from Big Agnes is freestanding. So is my personal favorite, the Big Sky Soul.
Bikepacking-Specific Shelters
Big Agnes is the first brand I know of to release a bikepacking-specific line of tents. As mentioned above, two of their most popular models come in "bikepack" models with 12″ folding poles that fit between drop handlebars. This does make the packing puzzle a bit easier to solve, though as the rest of this post is dedicated to explaining, it's far from essential.
In 2020 my favorite solo tent, the Big Sky Soul, was released in a bikepacking-specific version with shorter poles as well! It's awesome to see gear manufacturers getting on board with the bikepacking boom.
---
Now, before you run out and buy a shiny new tent for your bikepacking trip, let's go through the different ways to carry it on your bike. Having this in the back of your mind will be helpful whether choosing a new tent or making your current one work.
1. Two Straps + Your Handlebars
Bikepacking doesn't have to be all about the fancy gear. To prove it, let's start with the simplest and most budget-friendly option of all: two straps. Simply wrap each strap around one side of the handlebars, secure the tent to the bars, and voila! You're well on your way to a bikepacking setup.
This $4 set of straps will work just fine. If you're really looking to invest in your bikepacking future, you could spring for a pair of these stretchy Voile straps, a bit easier to work with and a bit more versatile.
This method works great if:
You have flat MTB-style handlebars. Most tent poles, with the exception of the ingenious Big Agnes Bikepacking line, won't fit between the sides of drop handlebars on bikes like the Salsa Fargo.
You have somewhere else to pack your sleeping bag, which is the other thing people often pack in their handlebar harness. Your saddle bag is a good place for the sleeping bag, but then you still need somewhere to put those warm layers… I told you bikepack packing is a puzzle.
Your tent is not too big or too heavy. It's reasonable to carry a few pounds on your handlebars without impacting steering too much, so most modern lightweight 1 and 2 person tents are no problem. But that vintage department store 3-person car camping tent? Maybe not.
2. Handlebar Harness
A bikepacking handlebar harness is a contraption that mounts to the front of your handlebars and uses two straps to secure something – usually something cylindrical like a stuff sack or a tent – against the harness.
A harness is basically an upgraded version of the "two straps" solution above, and has the advantage of usually being a bit more stable, durable, and easier to pack and unpack.
Popular models include the Salsa EXP Anything Cradle, Revelate Designs Sweetroll, or their budget cousin from Roswheel on Amazon.
Handlebar harnesses can be a great way to carry a tent for bikepacking under the right circumstances, which are basically the same as the two straps method above: it fits with your handlebar design (drop bars can be trickier), you have another place to carry your sleeping bag, and your tent isn't massive.
3. Handlebar Bag
Very similar to a handlebar harness, handlebar bags integrate the stuff sack and handlebar mount together. This style of handlebar bag generally works a bit better for something soft like a sleeping bag, unless you happen to have a tent that's the perfect size for your bag.
Popular options in this category are the Ortlieb Handlebar Bag, or the much less expensive and arguably nearly as good RockBros version (see my review here).
In addition to needing a good fit between tent and bag, the same conditions from above apply: works best with flat handlebars, a light tent, and space somewhere else to put your sleeping bag.
4. Strapped to Outside of Handlebar Bag
With this method, you already have something else in your handlebar harness or bag, so you strap the tent to the front of that bag for double the handlebar capacity. Some handlebar bags come with integrated straps for this, or you can hack something together yourself.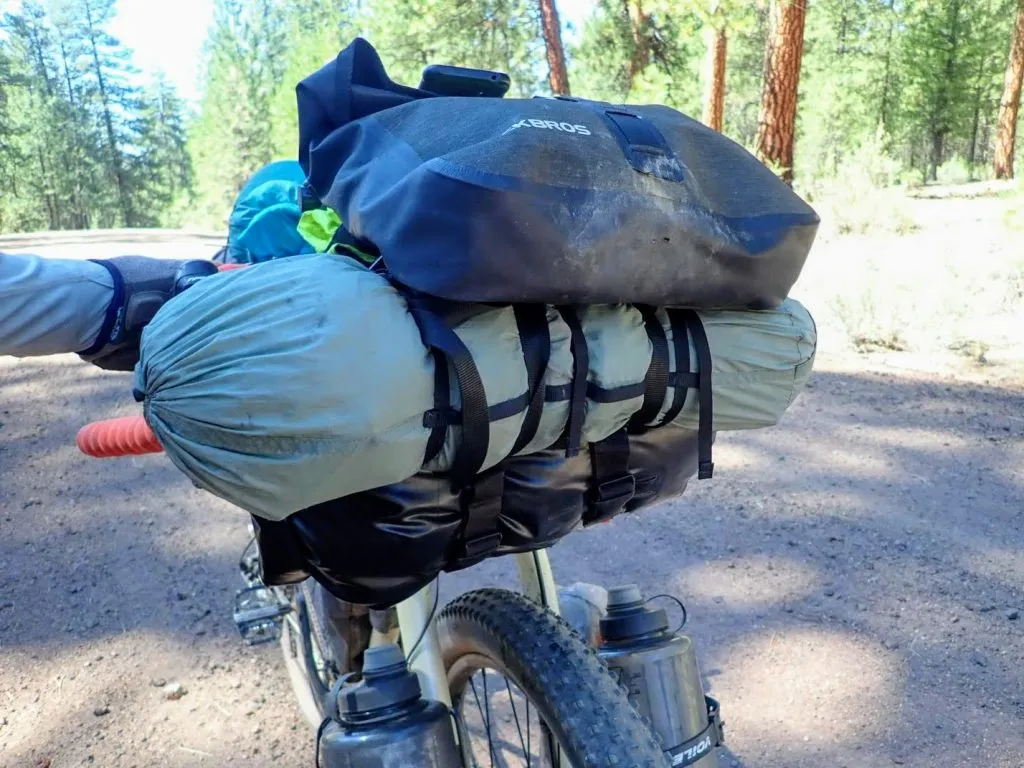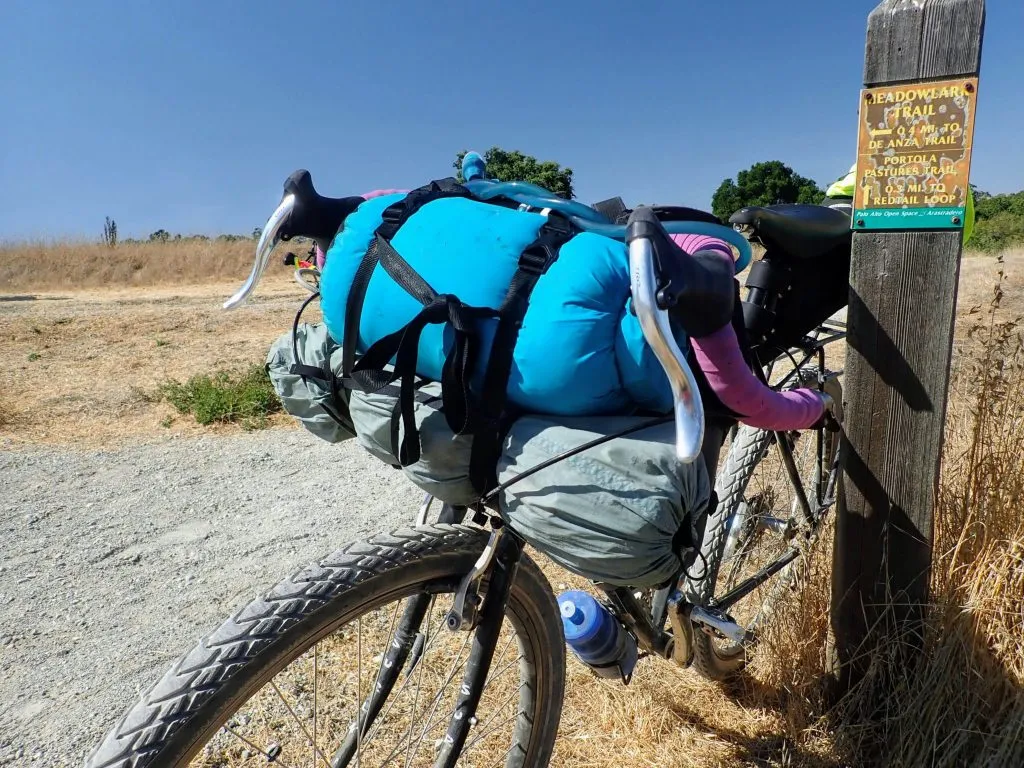 This method is good if:
You need to also carry a sleeping bag or other gear on your handlebars because you can't fit it anywhere else.
If your handlebars are shallow and flared enough, you may be able to use this method with drop bars. The other item, usually a sleeping bag in a stuff sack, fills the space between the drops and pushes the wider tent down below or out in front, where there's enough space for it.
Your tent is especially lightweight, I'd say no more than 2-3 pounds max. Otherwise, with all that weight on the front the bike will not handle well and steering will be affected.
Potential issues with this method:
Not quite as stable as the others, because there's just more stuff to shift around. If you're riding on bumpy or technical trail, you may have to readjust due to loosening straps.
Potential front tire clearance issues, especially if things shift while riding.
Too much weight on the front, unless your tent and sleeping bag (or whatever else is in the second stuff sack) are both pretty light.
5. Split It Up
Maybe you have a bulky tent and a bike with narrow drop bars, full suspension, or a small frame and minimal tire clearance. Don't give up hope! This is the method for you.
Most tents come in multiple parts. Maybe there's a mesh inner and a separate rainfly, or a separate footprint. In almost all cases, the poles – the trickiest part to fit into oddly shaped bikepacking bags – are separate from the rest. So let's take advantage of this.
Stuff the separate fabric pieces wherever they go best. Maybe the main body of your tent fits fine in your handlebar bag, as long as you put the rain fly and poles somewhere else. If you're sharing a tent with another rider, this is a perfect way to share the load.
As for those pesky tent poles:
Some people can fit them in their frame bag.
Try the bottom of your seat bag – helps prevent sagging too!
Strap them to your top tube if they fit.
If not, try the down tube,
Or even the side of your seat tube.
If the bundle is too thick, split them up in two different places.
Secure the poles with velcro straps or a pair of short Voile straps. The latter are easy to cinch down and the rubber will help keep the poles from slipping. If you're really looking for luxury (and want to protect your poles from rough conditions), Tarptent makes a pole pouch designed specifically for this purpose. You could also always make your own.
6. On a Rear Rack
Though I've focused on rackless bikepacking setups because they generally pose a bigger packing challenge, there's no rule against bikepacking with a rear rack. In fact, sometimes it's helpful or even necessary. If you're a small rider tackling a remote trip with long food and water carries, for example, a rear rack might be your only option.
Strapping a tent to a rear rack works great and is fairly straightforward. I recommend a couple of sturdy Voile straps. Voile even makes adjustable rack straps too, which are nice for variable-size loads, but personally I find the regular straps easier to use.
7. Forget The Tent
I know this isn't what you were looking for, but a discussion of bikepacking tents wouldn't be complete without mentioning an increasingly popular alternative: going without one.
In bikepacking as well as lightweight backpacking, more people are turning to tarp shelters in order to save weight while staying protected from the elements. Tarps frequently pitch with the help of trekking poles, but there are even some crazy things like this starting to pop up as bikepacking grows in popularity.
And then, there's the bivy sack. As some of the lightest waterproof shelters available and definitely the quickest to set up, bivy sacks are standard kit in endurance bikepack racing. For relaxed riding some people find them cramped, are bothered by the condensation they collect, or simply prefer the privacy and comfort of a larger shelter.
For relatively clear weather and summer rides, I'm currently loving my super-lightweight water-resistant bug bivy, paired with a simple lightweight tarp or SOL emergency bivy in case of unexpected rain. But when camping in places with lots of people around, or when stormy weather is expected, I still prefer my lightweight tent.
Which Way Is Best?
Try them and see! That's part of the fun.
As a starting point, riders of drop-bar bikes will have better luck with methods 4 or 5. Riders with flat bars could potentially make any method work. Those with a particularly heavy or bulky tent will prefer method 5 or 6.
Do you have an idea for how to carry a bikepacking tent that's not on this list? Tell me about your creativity in the comments below.
More Bikepacking Resources
If you're wondering where to pack your tent, chances are good you might also find these helpful:
Bike resources in your inbox?
There's more where this came from! Sign up here for occasional emails full of inspiration and information about bikepacking and bicycle touring.


Share the Adventure
If you found this article helpful, please consider sharing so more people can benefit from it:
Pin For Later