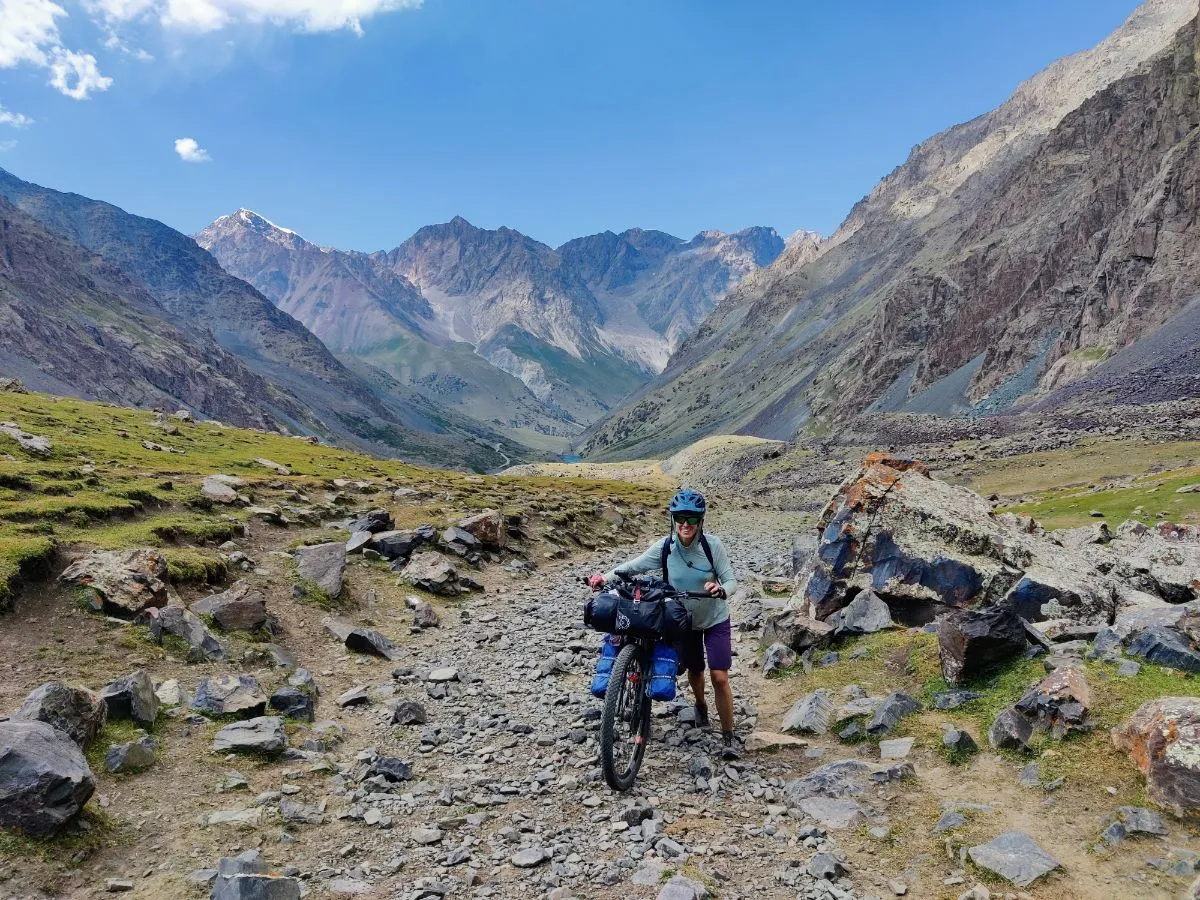 BIKEPACKING
There's nothing quite like the feeling of bikepacking: boundless freedom and childlike curiosity mixed with a gritty self-confidence and the wind in your hair. At least, when it's going well! It can also be a sloggy, confusing, dirty and uncomfortable suffer-fest, and that's part of the adventure too.
Bikepacking means different things to different people, but to me it's this: exploring or traveling by bike with a focus on unpaved roads and trails. It could be halfway across the world or right outside your door, with bikepacking bags or a rack. There might be singletrack, 4×4 roads, gravel, or even (gasp!) some pavement. Maybe there are people and culture and a new language to practice, or maybe you're alone in the wilderness.
My goal is to help more people discover this funky sport, overcome the barriers to getting started (I promise it's not actually that hard), and grow their skills. Whether you're a seasoned rider or still just bikepacking-curious, I hope you'll find something useful in this collection of resources compiled from 17,000+ loaded miles on five continents.
Featured Bikepacking Gear Guides
---
I believe bikepacking can make the world a little better, one pedal revolution at a time. When we find joy in nature we want to protect our planet. When we make ourselves vulnerable around strangers we feel more connected and open-minded. When we experience our own strength in the middle of a challenging day, we grow into happier and more resilient people.
---
Newest Bikepacking Posts
Hi there, I'm Alissa, founder of Exploring Wild. Since becoming obsessed with bike travel I've pedaled over 19,000 loaded miles, touching wheels to 16 countries and 6 continents. More than 10,000 of those miles – including my first few big rides – have been solo, though these days I often enjoy the company of my husband or friends.
I began with road touring and transitioned to bikepacking, but still do a little of everything. I dabble in bikepack racing, drool over long international trips, and always enjoy a local overnighter with friends. I don't always know what I'm doing – I just figure it out as I go! My other favorite ways of exploring are adventure travel and long-distance hiking. You can read more about me here.
In addition to writing about bikepacking here on my own website, I love participating in the wider bikepacking community. You'll also find my writing and interviews on other sites, including:
Bikepacking Basics
From the Store
More Bikepacking Topics
Bike resources in your inbox?
There's more where this came from! Sign up here for occasional emails full of inspiration and information about bikepacking and bicycle touring.


Other Bikepacking Projects
Shameless plugs for other bikepacking-related projects I have created or worked on.
Giving Back
I'm proud to help support these bikepacking-related organizations using a portion of revenue earned by this website. I hope to add more over time as this site continues to grow.