At a Glance
Blackburn's Outpost cargo cage is a sturdy and versatile 3-bolt bottle and bag carrier for forks and downtubes.
I've tested multiple Outpost cages over many thousands of rugged bikepacking miles.
I love their supportive yet minimalist shape and flexible mounting system, but I wish they came with rubber straps.
Cargo cages are my favorite way to add more capacity to a bikepacking setup. When mounted on a fork or downtube they keep weight low to the ground and hold a just-right amount of stuff. You can load them up with water bottles, simple dry bags of various sizes, or fancy bikepacking-specific fork bags. They're perfect for carrying food, a cook system, sleeping pad, dry bag stuffed with clothes, and pretty much anything else.
The Blackburn Outpost cargo cage is one of my most-used items of bikepacking gear. I own five (ok, technically two are my husband's) and reach for them whenever I need to carry a bit more water, food, or clothes than my bikepacking bags can fit. In this long-term review of the Outpost I share what I love about this cargo cage, what could be better, and what type of cargo I think it's best for.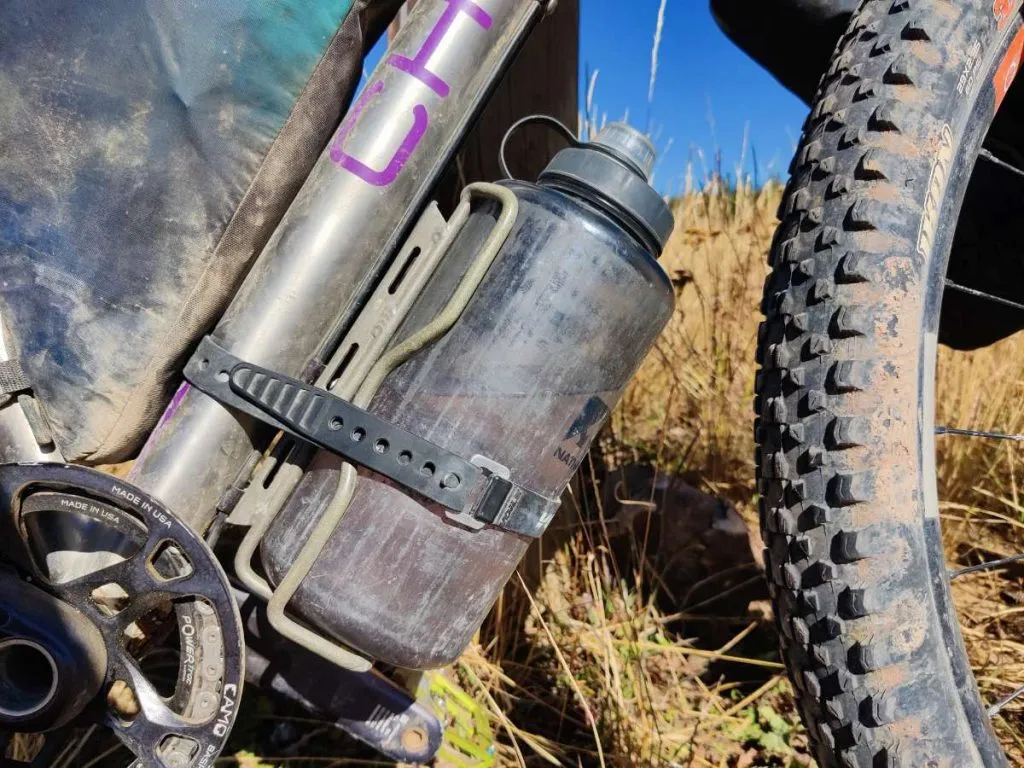 When you buy through affiliate links in this post, I may earn a small commission. Thanks for your support! I always offer unbiased opinions based on real experience from the road and trail. Learn more.
Overview: Blackburn Outpost Cargo Cage
Price: $35 (includes straps)
Weight: 126g without straps
Material: aluminum
Cargo weight limit: 5kg / 11lbs
Mounting bolt pattern: 3 (updated version)

My rating: 4.5 / 5 stars
Shop Outpost Cargo Cage at:
What I love:
Sturdy 3-bolt mount system
Adjustable mounting position
Unique minimalist design
High weight limit
Wide and supportive shape can handle large dry bags
Fairly good value
Could be better:
Included straps aren't rubber (I replaced them with Voile straps)
Relatively heavy
Wide shape can limit some downtube mounting situations
Not the best system for keeping strap ends secured when cage is empty
My conclusion: Blackburn's Outpost cargo cage manages to be minimalist, versatile, and extremely sturdy all at the same time. I've tested several over thousands of miles of rugged bikepacking and love their flexible mounting system, wide supportive size, and unique look. I think they're a great choice for bikepackers looking to carry a variety of sizes and shapes, especially larger dry bags. If they came with rubber straps they'd be nearly perfect.
How I Tested The Outpost Cage
I own five Blackburn Outpost Cargo Cages which rotate between my bike and my husband's. Between my solo bikepacking trips and our trips together we've put over 5000 miles on most of these cages. The terrain has been a mix of gravel and dirt roads, some pavement, and some singletrack.
The Blackburn cargo cages are a key part of my bikepacking setup when I need more space than bikepacking bags alone can provide. Usually this means I'm on a long trip, riding in a dry area, or both. My most common setup is to carry a 5 liter dry bag or 1.5 liter water bottle on each fork blade. If there's room (depends on the bike) I sometimes mount one under the downtube to carry an oversized 1.5 liter water bottle.
For example, I used Blackburn cages to carry dry bags on the Great Divide Mountain Bike Route, to carry water bottles on this bikepacking trip in Morocco, and to carry both during a month on the Western Wildlands Route. And much more!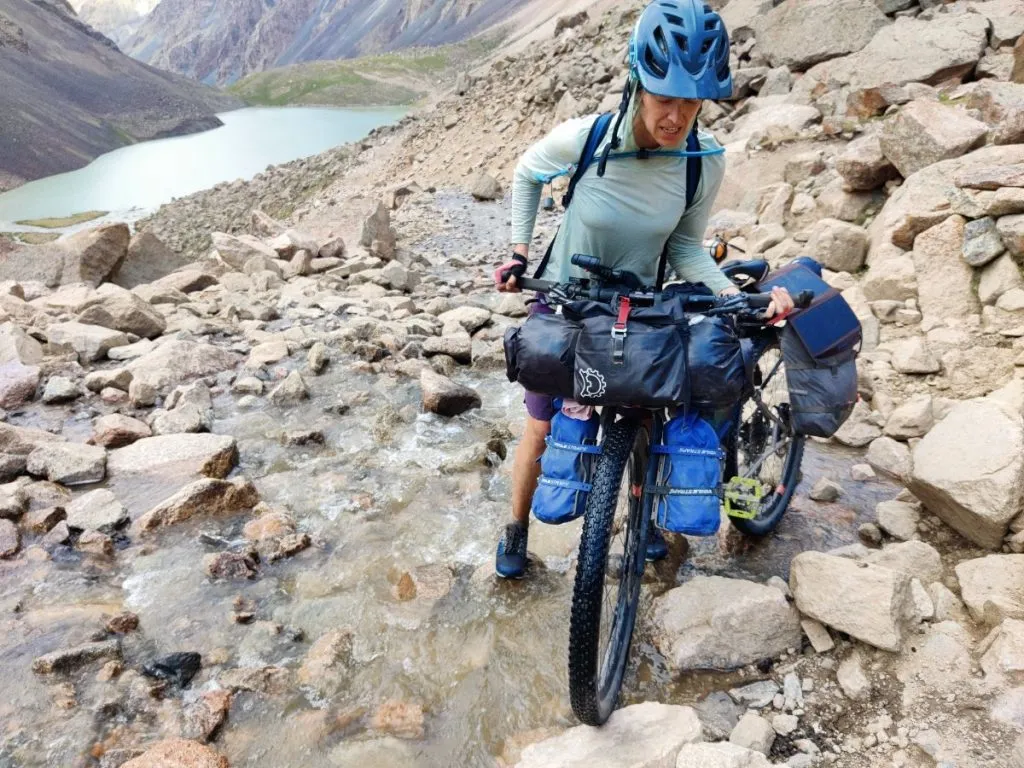 Updated Version
Blackburn recently updated their Outpost cage. The new version is the same shape and size as the old one, but now has 3 bolt holes and comes in a black color. My testing was done with the older grey-colored 2 bolt version, but most of my observations still apply to the latest update.
Mounting
The older version of the Outpost Cargo Cage, which is shown in most of my pictures, had 2-pack mounts. While this works fine in my experience, I'm glad to see Blackburn has updated this cage to support the 3-pack mounts commonly found on modern forks designed with bikepacking in mind.
The updated Blackburn Outpost Cargo Cage has holes for 64mm spaced 3-bolt mounting, making it even more robust under heavy loads. You can still use it with regular 2-bolt bottle cage mounts as well, but I'd recommend not pushing the limits of the weight capacity in that case.
Both the old and updated versions have a very flexible mounting system. Each bolt position has three oblong holes to choose from so you can dial in the perfect position. This helps avoid clashes with other bags and racks, chainrings, pedals, or other quirks of your individual setup. This type of adjustability is found on some other cargo cages (Wolf Tooth's Morse cage for example) but not all (the Salsa Anything Cage is not as adjustable).
Tip: Unless something is in the way, choose the mount position that puts the cage as low as possible for better bike handling.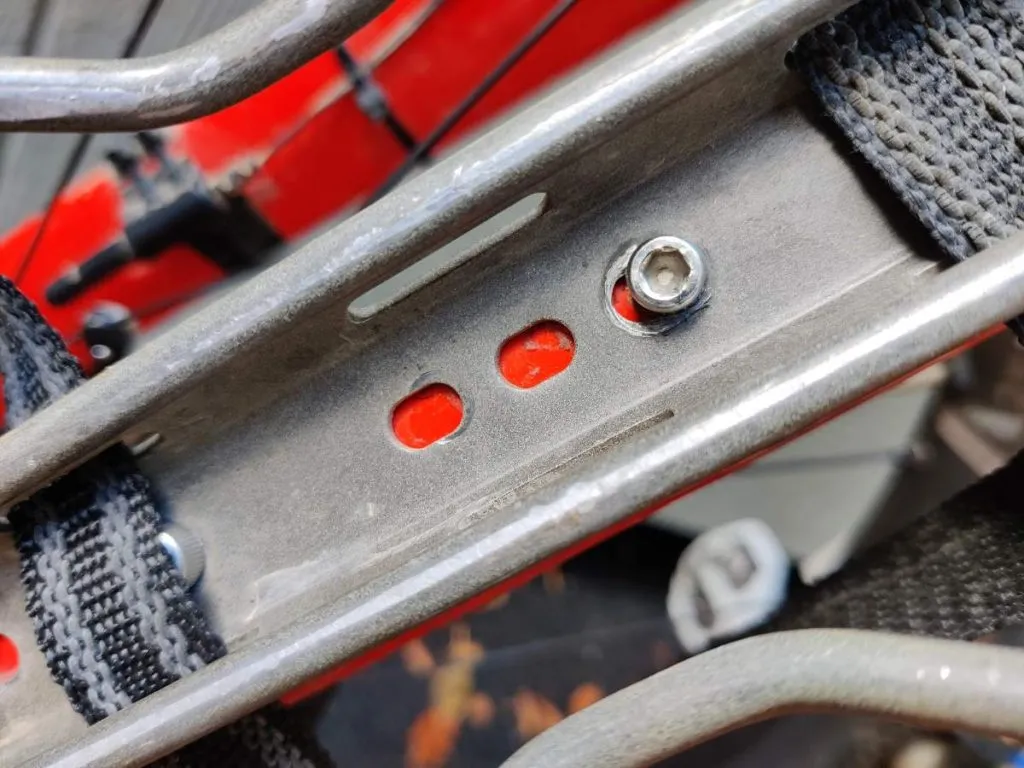 When mounting the Outpost, you'll notice that the flat back puts a lot of surface area in contact with your bike. I like to put patches of frame tape under the cage between the bolts on my carbon fork to avoid minor rubbing, which can be an issue if the bolts start to loosen over time (use blue threadlocker).
Shape and Materials
The Outpost cage is made from sturdy yet light 6061 aluminum tubing. Its design is a bit different from many other cargo cages on the market, more reminiscent of standard bottle cages. Personally I like its simple and minimalist look.
Depending on what you want to carry in the Outpost, its size and shape may be a pro or con. It measures 4″ wide by 8″ tall by 3.25″ deep. This is wider than many other cargo cages, and the base (the part that supports the bag or bottle) sticks out farther. This makes the Outpost good for carrying larger and/or floppier dry bags that might not sit cleanly in more minimalist cages like the Widefoot. It also works fine for smaller and tighter loads, like a 1 liter water bottle.
The most comparable designs to the Outpost in terms of size and shape are probably Salsa's Anything Cage and Topeak's Versacage. Both of these feature wider cradles and larger bases than the Widefoot CargoMount or Wolf Tooth Morse.
Weight
If you're literally counting grams, the Blackburn Outpost is on the heavy side for a triple-bolt cage. Here are some competitors and their weights (not including straps or mounting hardware) for comparison:
So the Outpost is about twice as heavy as the lightest cage in that list, but personally I don't find these weight differences very meaningful. If I'm using fork cages I'm automatically not in lightweight bikepacking mode, which means the couple of extra ounces in each cage barely register compared to the total weight of my setup. When I'm using these cages to haul liters of water or days of food, I care more about durability and stability than weight.
That said, if cargo cages are part of your lightweight bikepacking setup you might want something svelter and lighter than the Outpost.
Straps
The Outpost cage comes with two straps, which adds value compared to similarly priced cages that don't come with straps (Wolf Tooth Morse for example).
Unfortunately, these straps are not the typical rubber Voile-style strap beloved by bikepackers, and they are not as good. The buckles work fine and the rubber grip is a nice touch, and I've never had the straps fail to do their job. But they don't have much stretch, so the setup is prone to rattling when used with a hard-sided item like a bottle. They're also more fiddly to adjust. Bikepackers love Voile straps for a reason, and they're just really hard to beat.
Over time I've replaced the Blackburn-branded straps on all my Outpost cages with rubber Voile straps. I use fairly long ones, either 20″ or 25″, so the straps are as versatile as possible. The ends are often too long but I simply tuck the extra underneath. For most use cases I'd say 20″ is a good cargo strap length.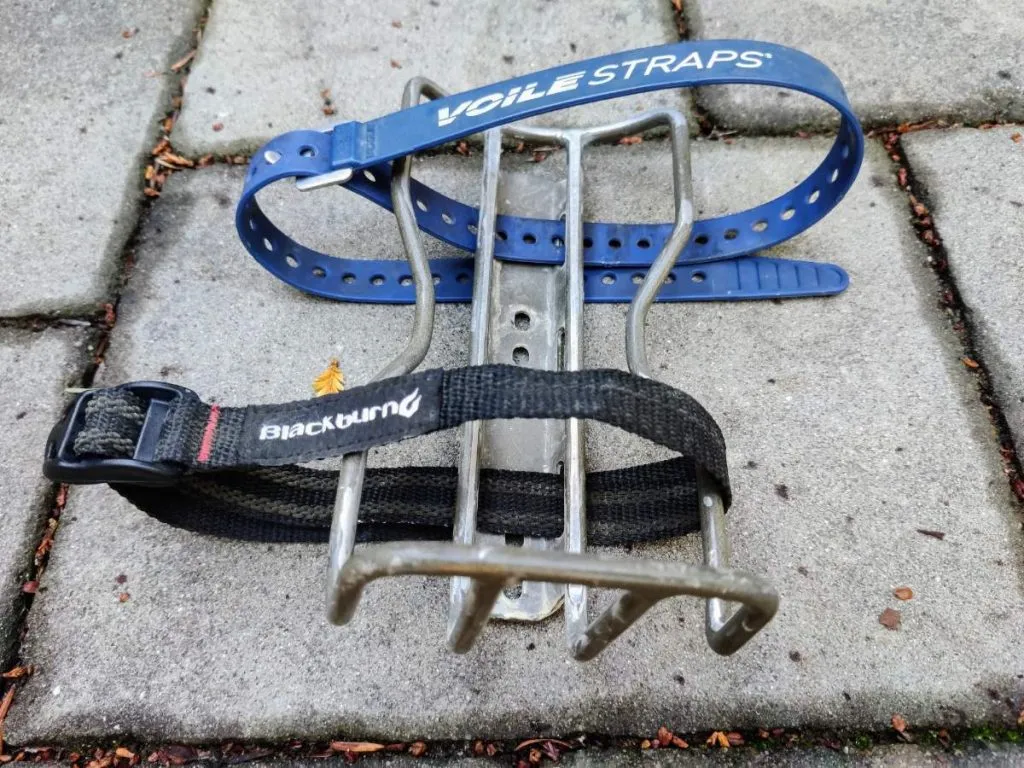 The Outpost has three slots for routing straps, but in practice you probably only need two. One drawback of the design is that the strap slots are along the center spine right next to the mounting point, with no place to thread them through closer to the outer edges of the cage.
This is a subtle point, but it means that when a fork-mounted cage is empty the strap ends dangle straight down against the spokes. If you've unloaded your bike and then need to move it, even just a few feet, the strap ends can get wrapped around the hub or brake rotor. I use fairly long Voile straps and run into this problem often, but if you use shorter straps it may be less of an issue.
Weight Limit
Blackburn lists the weight limit for the Outpost at 5kg or 11lbs per cage. That's…. a lot. The beefy Salsa EXP Anything Cage, by comparison, has a max load rating of only 3 kg / 6.6 lbs. I wouldn't be surprised if Salsa's rating is more conservative, as both these cages seem very capable of carrying a typical bikepacking load.
My Outpost cages regularly carry 1.5 liter water bottles, a load of 3 to 4 pounds depending on the bottle. I've carried 5 liter dry bags full of food and stove fuel that I estimate around 5 pounds. Honestly, much more than this would be a bummer to carry on your fork and would make the bike very hard to handle on rougher terrain.
Tip: When carrying a heavy load, use stainless steel mounting bolts and consider securing at least one strap around the fork blade to share the load. This is to prevent bolts from sheering, which I have unfortunately witnessed with a heavily loaded cargo cage.
Durability
I've found these cargo cages to be extremely durable. Most of my five Outpost cages have thousands of rugged miles on them, and aside from a few cosmetic scuffs they are no different than the day I bought them. No corrosion, no bends, no breaks, nothing.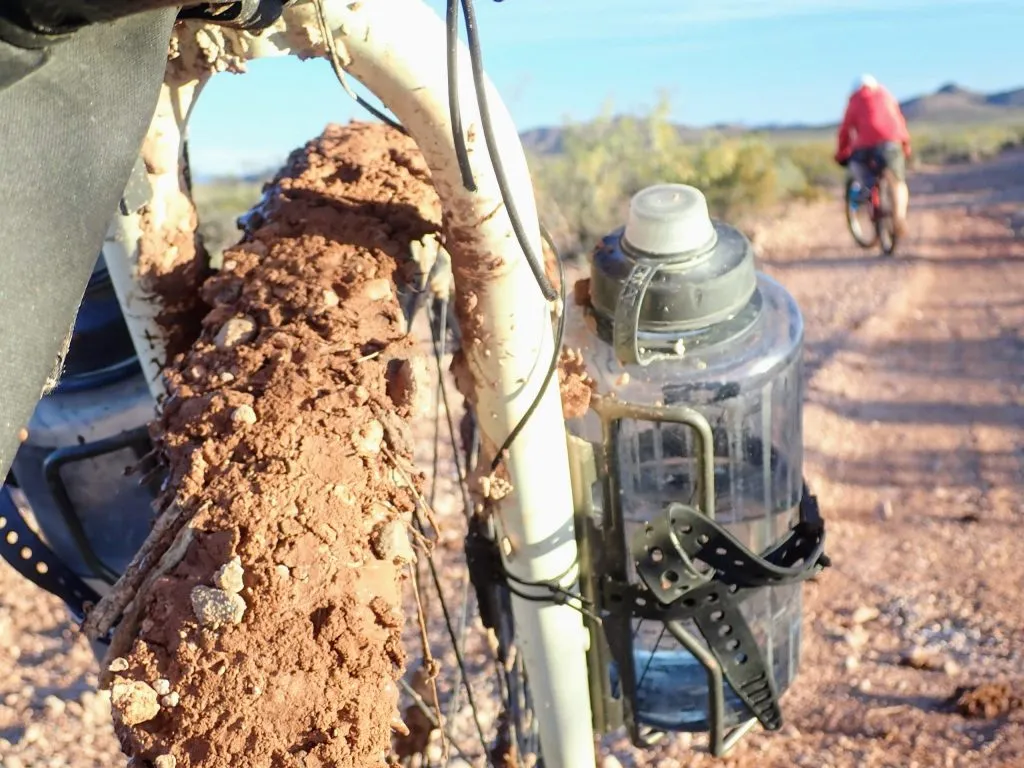 Price and Value
If you consider just the cage, the Outpost is a great value. It's comparable to other more affordable competitors like the Salsa Anything and Topeak Versacage, both of which also come with straps and cost about the same as the Outpost. It's significantly cheaper than some premium brands that cost north of $40 or even $50 (looking at you Apidura) and don't include straps.
However, if you replace the Outpost's straps with rubber straps as I recommend above, this adds significantly to the cost. A 20″ Voile strap costs $7.50, so a pair adds $15 to the cost of the Outpost bringing the total up to $50. From this perspective the Salsa Anything Cage, which comes with two rubber straps and mounting bolts included for $35, is a much better value.
Overall I do recommend the Blackburn Outpost cage based on thousands of miles of experience. It's durable, versatile, and a bit svelter than its closest competitors. If only it came with rubber straps, it would be nearly perfect. If you happen to already have some Voile straps sitting around, there's no reason not to try the Outpost.
More Bikepacking Resources
If you found this review helpful, you might also enjoy these articles:
Or visit the bikepacking section for lots more!
Bike resources in your inbox?
There's more where this came from! Sign up here for occasional emails full of inspiration and information about bikepacking and bicycle touring.


Share the Adventure
If you found this article helpful, please consider sharing so more people can benefit from it: