Let's get this confession over with: I bought my Borah Gear Cuben Bivy mainly because I don't like bugs.
Does that make me a bad outdoorperson? Whether it's scorpions (or snakes!) in the desert, spiders in the forest, or mosquitoes in the mountains, I always sleep better when I know the creepy-crawlies can look but not touch.
The stars do make a lovely ceiling though, and at some point my forays into lightweight gear made tentless adventures all but inevitable. On fastpacking trips in the Sierra or while bikepack racing in Idaho, ditching the weight and awkwardness of tent poles was just too tempting.
And yet, because of the aforementioned bug issues, just rolling out my sleeping pad on the ground didn't seem appealing. It's an issue not just reserved for bug wimps; there are places in the Sierra mountains of California where the mosquitoes will eat you for dinner if you so much as think about cowboy camping without a bug net. Plus, I'm always looking for ways to add more warmth to my sleep system.
Thus began the search: a super-lightweight, super-compressible, water-resistant (not waterproof, more on this below), breathable, fully enclosed bug bivy for 3-season outdoor adventuring.
This is a review of my answer to that search: the Borah Gear Cuben Bivy, an ultralight, ultra-packable, water resistant bivy with bug netting top. I've spent over 100 cozy nights in mine since I bought it, and my husband has spent almost as many in his. This review will tell you how they've held up and met our needs on the trail and road.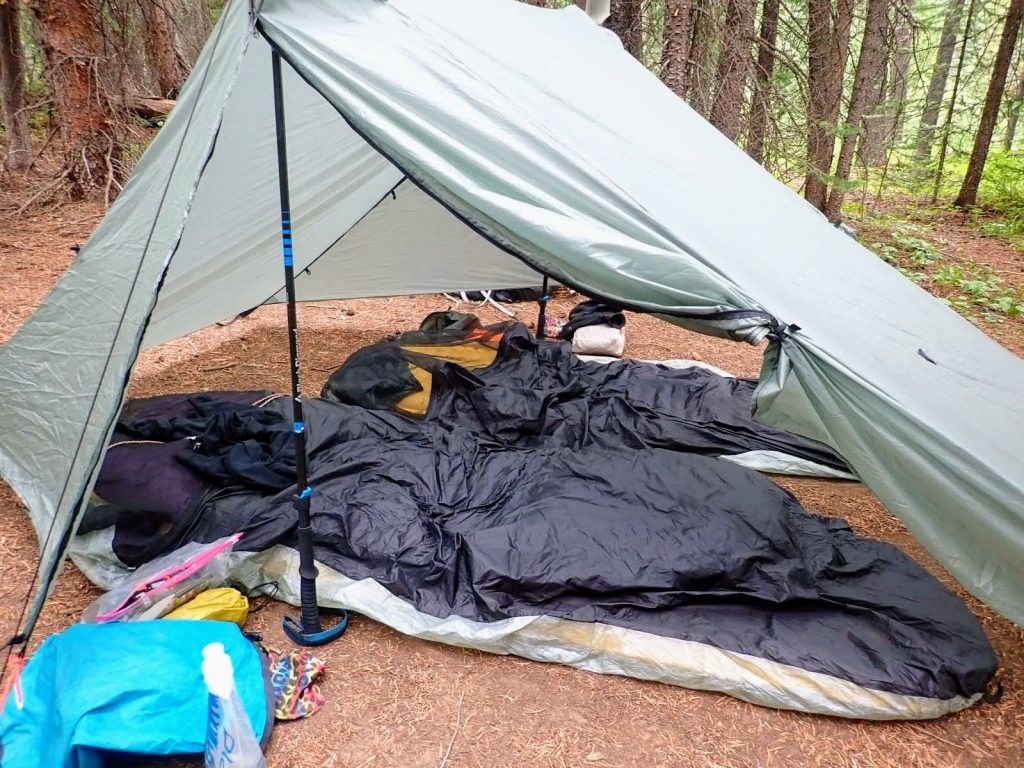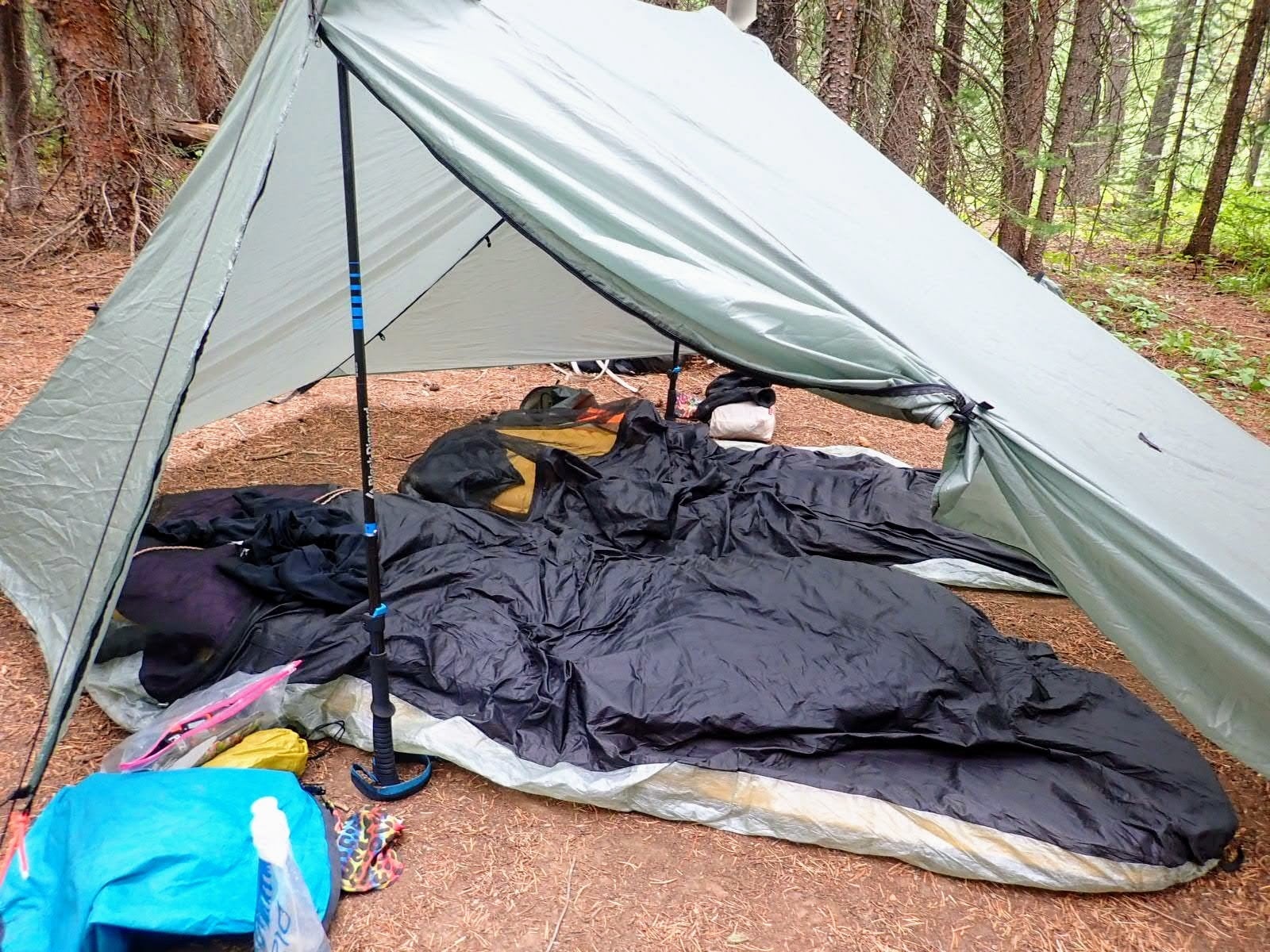 Borah Gear Cuben Bivy Overview
Price: $180 (chest zipper) or $185 (side zipper)
Weight: 4.25 oz (chest zipper) or 4.5 oz (side zipper)
My Rating: 4.5 / 5 stars
For more info and to purchase: Borah Gear website
Review Summary: At 4.5 ounces this insanely light bivy offers fully enclosed bug protection plus water resistance while still being fairly breathable. I love it for warmth and bug protection on ultralight missions in clear weather, or for extra protection from bugs or rain when paired with a tarp. It's a useful, if somewhat pricey, addition to a mix-and-match ultralight sleep system.
What I Love
Absurdly light and small, basically just disappears into my pack
Roomy and easy to sit up in (with side zipper)
Adds warmth while still being breathable
What I Don't Love
A bit pricey for those who aren't counting grams
Seams and zippers require care for long-term use
Water Resistant, Not Waterproof
The Borah Gear Cuben Bivy is not a fully waterproof bivy sack. You would NOT use this bivy to weather a mountain storm on an alpine climb, or even as insurance against overnight showers while backpacking. In both of those cases, I'm willing to bet you would end up wet and miserable.
This bivy is water resistant. What does that mean exactly?
The bottom is actually made from Cuben Fiber (renamed to Dyneema Composite) which IS waterproof. This means you can plop it down on damp ground and not worry about it soaking through.
The top from the chest area up is bug netting, which is obviously neither waterproof nor resistant. It is, however, mosquito proof.
The rest of the top, from the chest down, is water resistant, not waterproof. This avoids the significant condensation issues inevitable with waterproof bivvies, which is a wonderful thing as long as it isn't raining.
If it IS raining, you could pair this bivy with a minimalist tarp and probably still have one of the lightest bug proof and waterproof shelter systems available. The waterproof floor and water resistant 3/4 top would add some extra protection in the case of wind or heavy rain, making a larger tarp or perfect pitch a bit less critical in bad weather.
Customization Options
Like many small gear manufacturers, Borah Gear offers some handy customization options for the Cuben Bivy.
Chest Zipper vs. Side Zipper
The standard chest zipper goes only across the chest, where the bug net top quarter meets the bottom three quarters. This requires a bit more wriggling to get yourself in and out.
The side zipper, available on either the left or right, extends down the chosen side for 20 inches. This makes it a bit easier to get in and out, or sit up and drink coffee in bed.
The side zipper adds a whopping 0.25 ounces, so if you are a gram counter in the truest sense, you'll probably want the chest zipper. But for everyone else, come on, we're talking 0.25 ounces here! Get the side zipper, it's worth it.
Long, Wide, or Custom Sizing
The Cuben Bivy comes in standard or wide width, and standard or long height, making for four combinations. Fully custom sizing is available by contacting the company.
For reference, I'm 5'5″ and my standard width and standard length bivy is quite roomy.
Non-Cuben Version
If $180 for a 4.5 ounce bivy sounds steep, how about $98 for a 6 ounce bivy? Borah Gear also offers the same design and customizations, but without the expensive Cuben (Dyneema Composite) floor.
Normally I'm in the lightweight value-for-money camp and would probably recommend this version to most people. Six ounces is still pretty light! In my particular case, I sprung for the top-of-the-line version because I wanted this to be part of my truly ultralight shelter system that I use to push my limits on foot and bike. It's the only piece of Cuben / Dyneema Composite gear I own.
Design and Feature Performance
Dyneema Composite floor: No issues so far. Do try and clear away any sharp bits before putting it down though.
Zipper: Works well and easy to use. Consider adding a loop of paracord as a zipper pull to make it a tad easier to find when fumbling in the dark. If it starts to get sticky (normal after heavy use) try a zipper lubricant. If it stops closing behind the slider (also fairly normal) try using pliers to pinch the back of the slider as shown in this video.
Upper fabric: Water resistance works well in fog or slight drizzle. Fairly breathable, though some slight condensation does gather.
Top bug netting: Keeps the bugs out, as advertised. Comes with a loop that can be used to pull the netting off your face for comfort and better mosquito protection. I rarely use this (requires a trekking pole and/or precise campsite location), but I am a side sleeper and usually sleep in an insulated hood so the netting rarely touches my skin. I imagine back sleepers would appreciate this way to pull the netting off their face.
Stake Loops (4): I never use these, but if you're leaving camp for a while or sleeping in strong wind I can see them being useful.
Durability
Despite its light weight and seemingly delicate construction, I had zero durability issues for the first ~50 nights or so. Like all lightweight gear I think some care is a good idea, but the construction seems solid.
After heavy use on the Colorado Trail and Arizona Trail, our bivvies did start to show a few signs of wear:
Zipper started opening behind the slider and getting stuck at the curved corner. I was able to solve this, temporarily at least, by lubricating the zipper and using pliers to compress the back of the slider slightly (apparently it's normal for this gap to widen slightly with heavy use).
I caught the top fabric in the zipper once and ripped a small hole – totally my fault.
On my husband's bivy the seam between the top and bottom, where the zipper attaches, has ripped a hole about 1 inch long. My bivy doesn't have this issue, but I'm a smaller person and very careful with gear; your mileage may vary.
Overall I don't think this amount of wear is unexpected for such a lightweight piece of gear.
Ideal Use Cases
I understand if you're thinking $180 is a lot of money to spend on a bivy that's not waterproof. What, exactly, are the intended use cases?
Here's where I think this bivy really shines:
In guaranteed clear weather (check carefully!) or a bit of fog, it's an extremely lightweight standalone option for bug protection plus a bit of extra warmth.
Lightweight way to add bug protection to an ultralight tarp setup.
In stormy weather the waterproof bottom and water resistant top add extra weather protection to a tarp setup.
Haven't tested this yet, but I'm thinking about using this bivy plus a waterproof SOL emergency bivy for ultralight trips where rain is unlikely but can't be ruled out. Bad idea? Possibly. I did say I haven't tested it yet.
If you don't care about the 3/4 water resistant top (perhaps you camp mostly in warm weather) but still want bug protection, consider Borah Gear's bug bivy instead.
And if you want an ultralight, somewhat breathable, fully waterproof bivy… Let me know when you find it. I'm still looking for one I would recommend. Until then I'll continue to use the Borah bivy in conjunction with a tarp.
More Lightweight Gear Resources
If you're shopping for lightweight bivies, you might also be interested in these posts:


Hiking resources in your inbox?
There's more where this came from! Sign up here for occasional emails full of inspiration and information about backpacking and hiking.


Share the Adventure
If you found this article helpful, please consider sharing so more people can benefit from it: