You'll find my personal adventures scattered around this site, serving as the basis for everything I write. But I rarely post detailed trip journals, and this is more of an information-focused website than a personal blog.
Why? For one thing, I enjoy my experiences more when I'm not constantly thinking about how I'll present the details to strangers on the internet (no offense!). I also truly enjoy the challenge of extracting the essence of my experiences, combining it with careful research, and crafting content to educate and inspire others.
However, for anyone curious about how a nerdy girl with a physics degree came to be such an advocate for travel and outdoor adventure, I'll briefly connect the dots here.
At first glance the topics below might seem like a random hodgepodge, but to me they are all powered by the same energy: a drive to discover new places and new parts of myself in them, to constantly expand my comfort zone and engage with my fears, and to fully embrace the range of experiences available to me as a human on this planet.
Trail and Ultrarunning
I was in my mid-twenties, a book worm who could barely jog a couple miles, yet the world of ultra-endurance trail running captured my imagination and refused to let go. What a fascinating combination of mental and physical mastery! It took years for my body to catch up with my enthusiasm, and along the way I battled pain, injuries, and a lot of impatience.
Strength training (favorite exercise: heavy deadlifts) eventually unlocked my ability to run without constant overuse injuries, and I became a mid-pack ultrarunner. If no one fast showed up, I could sometimes make the women's podium in local races. Through over a dozen 50km races, a couple 50 mile races, and a lot of training runs, I learned I was capable of being tough in the face of physical challenges – a new concept for a brainy kid who had always focused mainly on mental growth.
Hiking and Backpacking
Hiking started out as a way to train while injured from running, but soon grew into its own full-fledged obsession. The ultrarunning ethos of efficiency, endurance, and love of wild spaces transferred well. In our late twenties my husband and I got into backpacking, fastpacking, peak bagging, and even some moderate alpine scrambling and climbing (I have a horrible head for heights, so this last one was intense).
During this period we backpacked the John Muir Trail and Tahoe Rim Trail, bagged a fair number of California 14ers, and explored other trails mostly in the western US. I grew interested in lightweight gear and how it allowed us to go further into wild places more comfortably. Moving fast and light outside became a laboratory for building physical and mental strength, and a way to quiet my overactive mind.
Transition to Solo Travel
Somewhere during all of these trail miles I developed a new kind of confidence. I learned to combine mental toughness with physical strength and to stay calm when things went sideways. Around the same time, not coincidentally (though I didn't realize the connection at the time), I developed a massive itch for long-term travel.
Prior to college I had never been out of the US, but had been steadily making up for lost time with a semester abroad in college (Italy), working at a remote office for a month during my first job (Singapore), and other shorter trips. I had seen enough of the world to realize how little I had seen.
Sometimes my husband and I traveled together too, in the only way we knew back then. We would zip halfway around the world for ten meticulously scheduled days, then zip back and spend the next few weeks sitting at our office desks trying to readjust to "normal life." I loved these trips but sensed something was missing.
In my early thirties the itch grew so strong that I was becoming a grumpy, grouchy person. I was ready for a change. Despite having a great job by most measures, I wanted to quit it and travel.
My husband didn't share this urge, not yet at least, but he was the first to suggest I go without him. Thus began an exciting period of compromise and selfishness, balance and intensity, stretching and recovering.
Backpacking in Africa (2018)
I started big, not knowing how many more trips would follow: five months of solo travel in Africa.
The trip began in Uganda in East Africa, where I put my software background to work building a website for Roots of Hope, a small NGO supporting education for women and girls. I also spent some time "teaching" (mostly learning, in all honesty) at Keframa High School. While this was a memorable and deeply educational experience for me, and hopefully helpful for them, it also opened my eyes to the complexity of this dynamic.
After Uganda I hopped next door to Rwanda to hike the Congo Nile Trail, and then flew across the continent to the mysterious and even more challenging region of West Africa.
In West Africa I traveled overland, via public transport (such as it is there) through Senegal, Guinea, Sierra Leone, Liberia, and Ivory Coast. It was one heck of an adventure, extremely thought-provoking, overwhelming and confusing at times, but oh-so-worth it. I became hooked on "adventurous" travel, travel in places with few tourists, physically challenging active travel, and thoughtful travel that attempts to respect and learn from the local people even across challenging cultural gaps.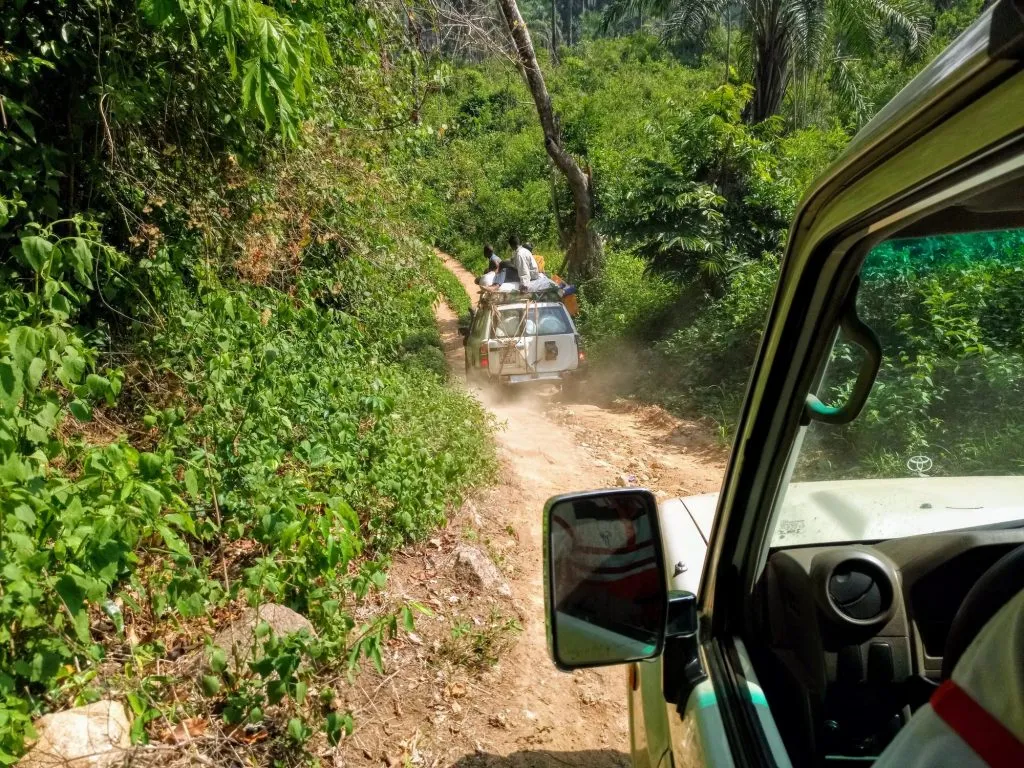 I learned that there are places in the world we never hear about on the news, that the dynamics of international aid are very complicated, and that my own culture is both comfortingly familiar and relatively unusual. I learned that people in other places think I'm as strange and bewildering as I think they are! As an intense introvert, I was surprised to learn that I really did enjoy meeting people on the road. And after five months away, I learned that I really love my own home!
Southeast Asia By Bicycle (2018)
Even before going to Africa, I'd been harboring a secret interest in bicycle travel: folks who sold their houses, quit their jobs, and set off around the world on two wheels. I read their blogs and books and watched their YouTube videos. It looked like freedom to me. I had the sense that perhaps it was safe for others, but for me as a solo woman it would be too risky, so I resigned myself to living vicariously through others.
But, the trip to Africa changed me. I dealt with challenges there that I hadn't dreamed of facing, and came away just fine. After a few months of rest and recovery at home, I found myself returning to the idea of bicycle travel with a new perspective: why the heck not?
So I got a touring bike – my trusty steed Black Pearl, a Long Haul Trucker – and headed off to Southeast Asia for 2.5 months. I figured it would be just the right balance of cultural interest, natural beauty, and enough tourism infrastructure to make up for the fact that I had no idea what I was doing.
My route took me through the challenging mountains of northern Vietnam (maybe not the smartest place to start), into friendly Laos along the Mekong River, south into dustier, grittier Cambodia, and finally on a speedy dash into Thailand's bustling Bangkok.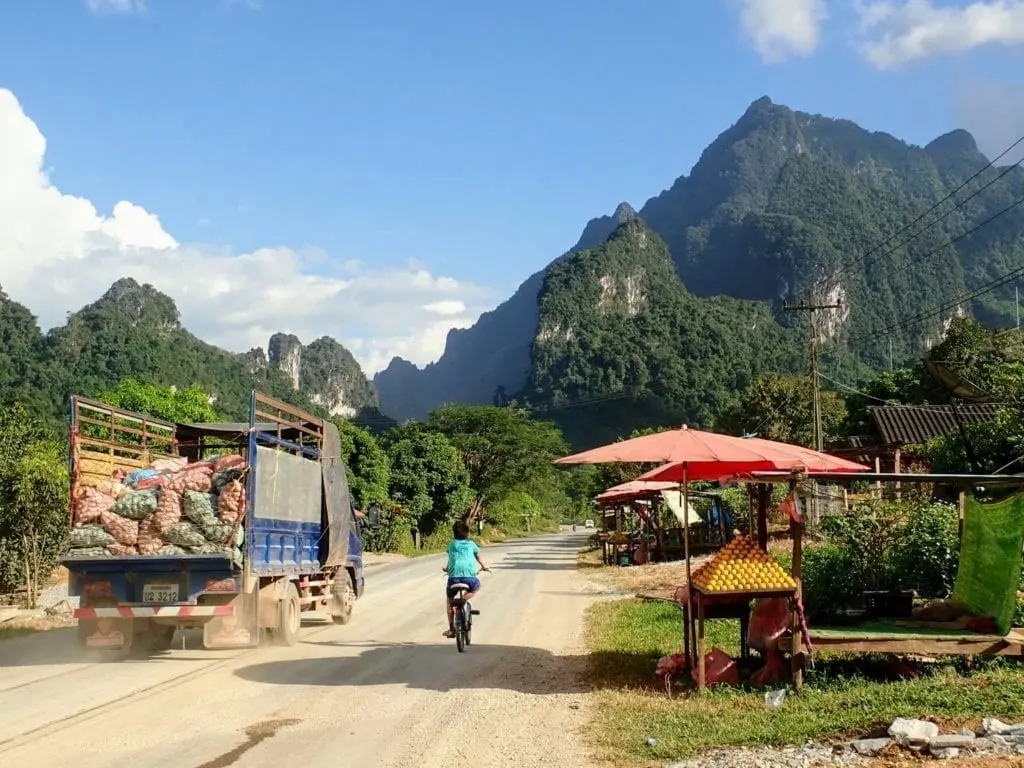 While Southeast Asia is definitely more touristy than West Africa, on a bicycle you pass through all the in-between places that most tourists miss. Once again I enjoyed the feeling of discovery and spontaneity, the interactions with locals and other travelers, and the added freedom of being my own transportation. Bicycle travel was everything I hoped it would be, and I was hooked!
Patagonia By Bicycle (2019)
Southeast Asia had been a cultural experience first and outdoor adventure second. I had loved it, but was also craving a return to more of a wilderness experience, something that might combine my newfound love of bicycle travel with the vibes of my original passion for trail running and hiking.
The perfect solution: five weeks in Patagonia at the very southern tip of South America. This trip was all about mountains, glaciers, and gravel. A friend even joined me in the beginning, which is still the only time I've been able to ride with another lady, and was so much fun. We spent two weeks together riding Chile's famous Carretera Austral, then I continued alone through barren Argentina all the way south to Ushuaia. It was beautiful, wild, remote, and lonely in a good way.
3500 Miles of Bicycle Racing Across the USA (2019)
While still high on biking in beautiful Patagonia (seriously, there must be something in the water down there) I decided to enter the inaugural Bike Nonstop US race across America: 3500 miles of self-supported riding, as fast as possible, from Portland, Oregon to Washington, DC. It seemed like the perfect blend of bike travel and endurance sports. I was eager to ride in my own country but tired of being away from home for months. It would just be a fast bike tour, right?
What I discovered: a whole new level of crazy. The winner rode an average of 220 miles per day. I nearly did myself in to average 120 per day. My gear was too heavy, my bike too sluggish, my legs and mind too weak. I pedaled through the dark, through sleep deprivation, electrical storms, floods, dangerous traffic…
And after finishing, it only took a few weeks before I forgot all that and started to wonder if I could do it better!
Transition to Bikepacking (2019)
Biking across the US was amazing, but there was one unfortunate negative that really stood out: the danger of riding in traffic. I'm very calculated with the risks I take, so I decided to redirect my long-distance cycling obsession away from busier roads and onto dirt and gravel. This is how I discovered bikepacking.
Jumping straight in as usual, I tried it out with the Idaho Smoke 'n' Fire 400 race. Despite finishing almost last and feeling totally out of my league, I loved the style and the culture. Bikepacking is a natural extension of "fast and light" wilderness travel, covering more ground than hiking or running but with the same sense of human-powered total immersion. I rode my bike back across Oregon after the race, bought a new-to-me Salsa Fargo to handle rougher trails, and started diving into yet another style of outdoor adventure.
Egypt and Sudan by Bicycle (2020)
In very early 2020 I decided it was time to combine my fascination with the continent of Africa and my love of traveling by bike. The obvious choice, the most culturally unfamiliar region of the continent for me, was northern Africa. So in February I spent a month pedaling south from Luxor, Egypt through northern Sudan to Khartoum. I had heard amazing stories about Sudan in particular from other travelers, and was eager to experience this unique place for myself.
In that month I pushed through some scorching desert riding, was confronted with extremely conservative gender roles and a country on the verge of both a social revolution and economic collapse, and welcomed by countless kind individuals. The experience was thought provoking, humbling, confusing, and heartwarming all at once – the best kind of adventure.
By early March the world was changing incredibly quickly. I cut the trip short, abandoning potential plans to continue to Ethiopia, and left Sudan on the last flight from Khartoum before the airport closed. It ended up being a much closer call than expected, but I made it home just as the world was shutting down.
Hiking the Colorado Trail, and More Bikepacking (2020)
We all know the story of 2020. After hunkering down for a few months at home, it became clear that spending time alone in remote places would be one of the few activities still available. As a self-employed introvert who loves being outdoors more than anything else, I feel incredibly fortunate that I've been able to stay safe and healthy while still pursuing what makes me happy.
Over the summer my husband and I were able to thru-hike the Colorado Trail together, an experience I'm very grateful for in the midst of so much upheaval. It was lovely to return to the slow pace of hiking, the companionship of adventuring together, and the feeling of relative normalcy (to the extent that thru hiking is ever "normal") during a very abnormal time.
In late summer I returned to Idaho, partially by bike – central Oregon is so cool! – for a socially distant second try at the Smoke 'n' Fire bikepacking race. I had planned to ride home afterward, but poor air quality from fires stopped me in Nevada and I drove myself home from there, but not before experiencing some amazing gravel riding in southern Idaho and northern Nevada.
I spent little time in towns, for obvious reasons, but when I did venture in for supplies I found what I always do when I ride my bicycle through rural America: kind and friendly people. I was glad to have this in the back of my mind through the tense election season that followed. I sometimes think things could be so much better if more people had a chance to meet each other as strangers on bicycles in the middle of nowhere.
Hiking the Arizona Trail (2021)
My husband and I had planned to do some traveling together in 2021 (finally, yay) but as the time approached, it was clear the world was not yet back to normal.
Making the most of the time we had, we decided to refocus on a long thru hike near home in the US. We settled on the Arizona Trail for its length (it would be our longest thru hike yet), challenge, and seasonal hiking window (springtime).
For nearly two months we walked a thin line between Mexico and Utah, ducking briefly into towns for more food both otherwise living in the wilderness. Arizona surprised us with its variety of hardy plant life, challenging mountains, and endless pine forests.
As with the Colorado Trail the previous year, it was a treat to enjoy a long trip with good company, and a privilege to pursue a passion in the midst of the pandemic.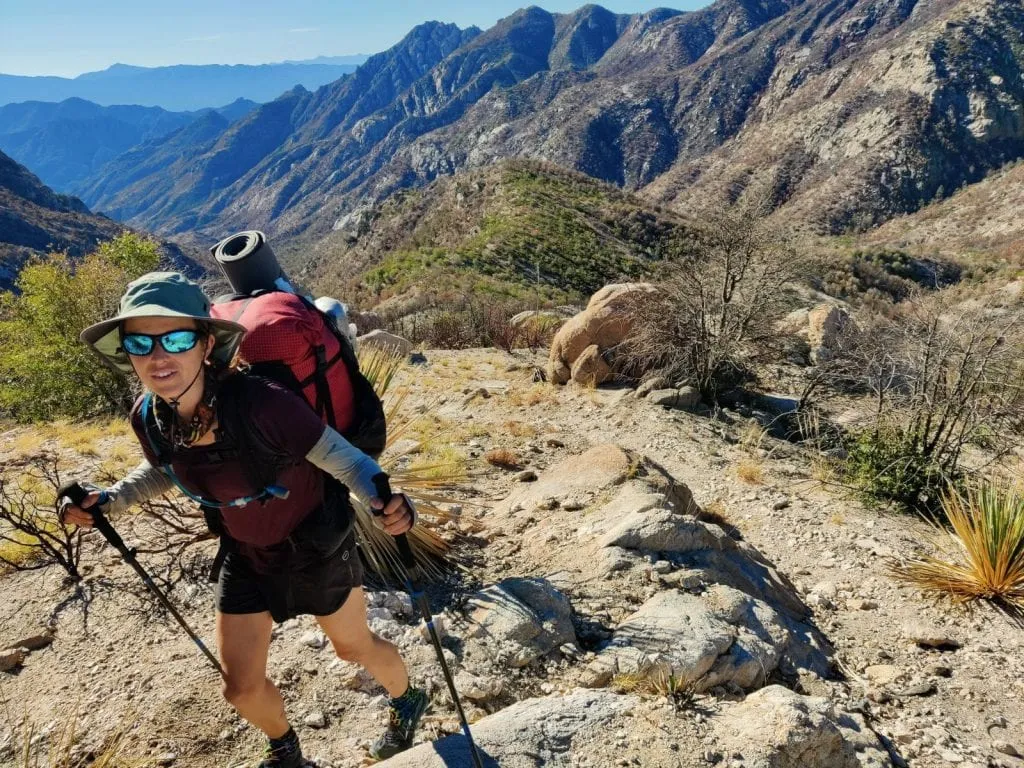 Bikepacking the Great Divide, and More Racing (2021)
In past years I've preferred to bikepack away from more established routes, following my nose and linking up areas that interest me. But after the social isolation of the pandemic, I found myself craving a sense of community more than ever.
The Great Divide Mountain Bike Route had not been on my list before; I considered it too popular! But as I searched for a summer adventure that would be both safe and somewhat communal, I decided to tackle this well-loved classic route from the Mexican border into Canada.
Even more exciting, my husband was able to join me for the second half and we finally enjoyed a long bike trip together. Riding solo for a month, then together for a month, was the absolute best of both worlds! We finished in Banff just a few days after the border opened, feeling very satisfied with the 2700+ mile journey.
Wanting to make the most of my biking fitness, I squeezed in two final bikepacking races at the end of summer. Returning to Smoke 'n Fire for the third time, I was finally able to accomplish my goal of a sub-four-day finish. A few weeks later The Big Lonely welcomed me with great vibes and challenged me with a snowstorm. Summer was officially over!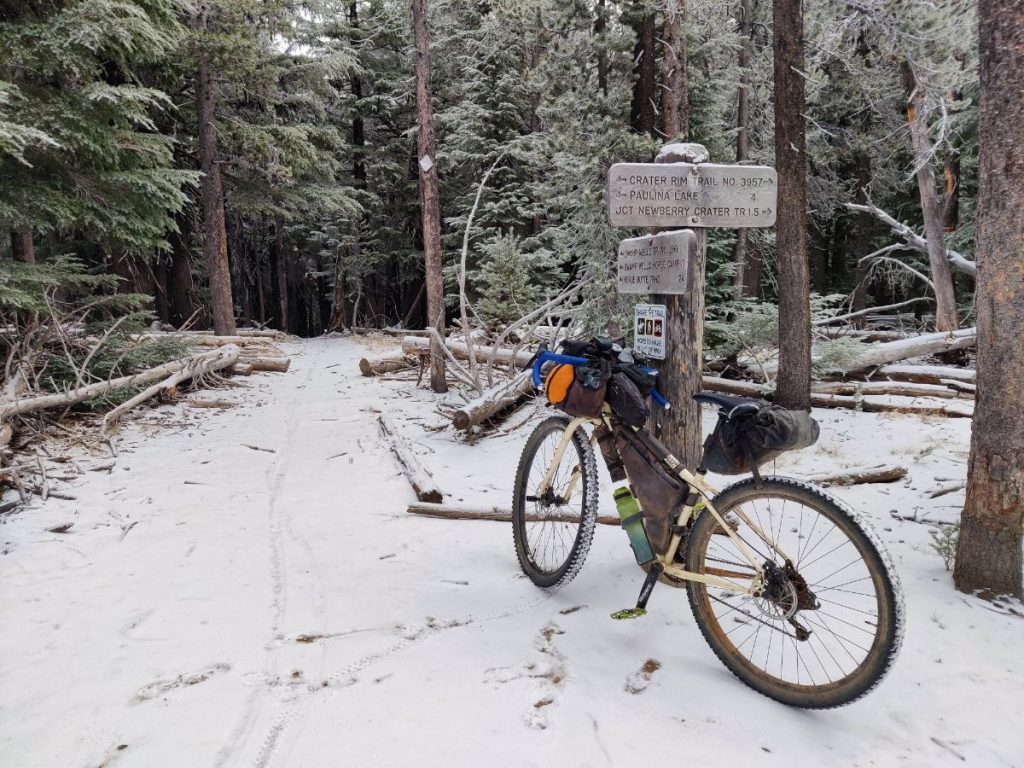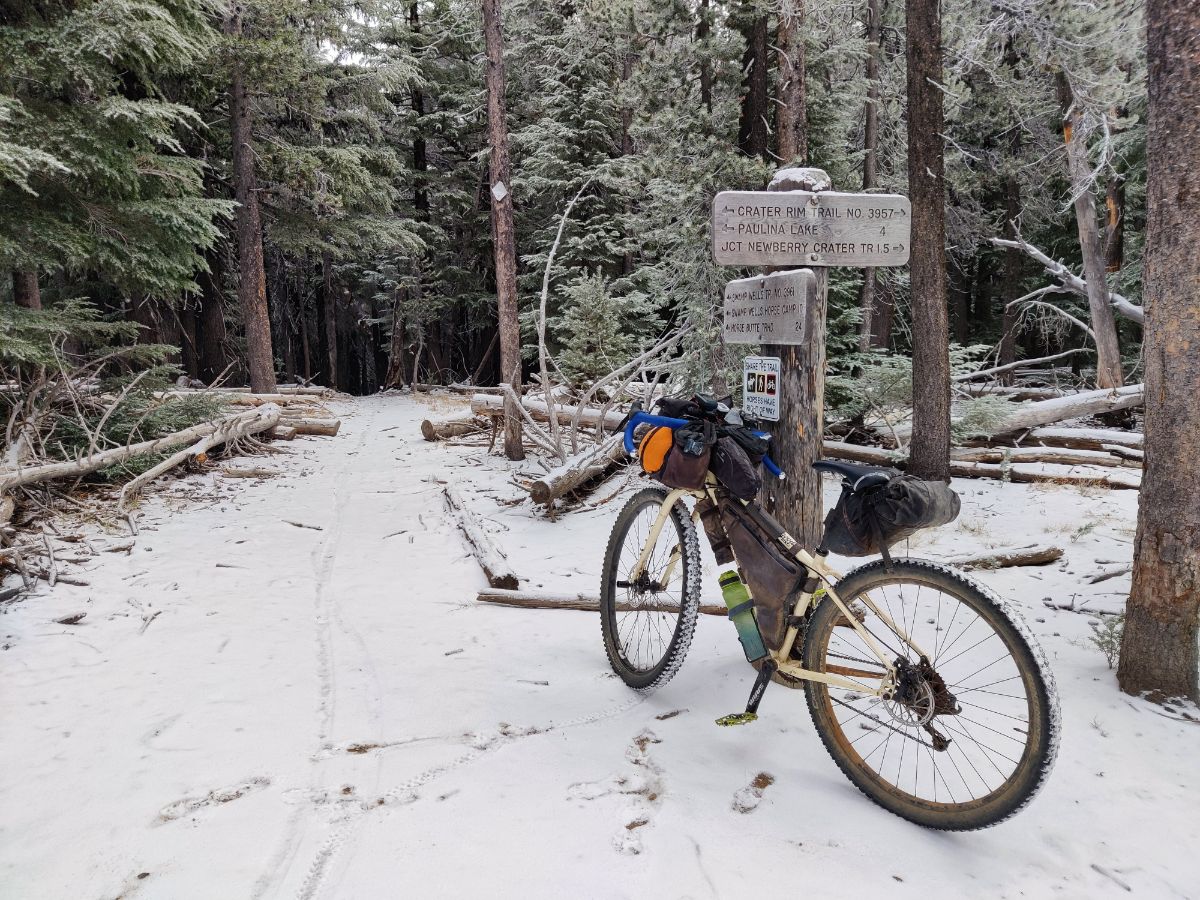 What's Next?
It's been a long time since I've been home for more than a couple months in a row, unless you count the first round of lockdowns in 2020.
There will definitely be more adventures, but for now I'm really enjoying my home. Life is gradually starting up again, and it feels good to invest energy in local communities and to nurture friendships once again.
Time will tell what's in store for 2022! Details are still up in the air, but I have a feeling it's going to be good.