What could be better than strapping some camping gear to your bike, leaving the frustrations of daily life behind, and escaping to the middle of a beautiful nowhere?
Answer: Doing that, but without spending too much on gear.
Bikepacking's increasing popularity has bred a bewildering array of specialty products designed to help off-road cyclists ride faster and farther on rougher terrain. And they work. But if you're just getting started and/or watching your budget, the price tags of said gear can seem prohibitive.
But never fear, budget bikepacking IS possible! Don't be that person I met the other day who could rattle off fancy names like Revelate and Porcelain Rocket, but had yet to actually bike to a campsite and back. He was stoked on the idea of bikepacking, but because he hadn't yet sprung for the top-tier gear, he'd never actually tried it.
Trust me, there is absolutely no reason to wait. Most of us started with a tent strapped to the handlebars and some stuff in a backpack. These days more and more cheap bikepacking bags are showing up on Amazon. It's only when you begin to stretch to longer or harder trips that the expensive gear begins to show its value, and by then hopefully you'll have a better idea of what you actually need.
In the meantime, here are some budget bikepacking gear setups to get you on the trail quickly for as little money as possible.
Rack and Panniers: Are you sure it won't work?
If you've never tried bicycle touring before, you can skip this section. But for those who began their pedal-powered journey on pavement with panniers… You don't necessarily need new gear just yet.
Do you plan to ride a lot of gnarly technical singletrack on your upcoming bikepacking trips? Is there lots of hike-a-bike in your future? If so, you'll want to ditch the rack and panniers. But if you plan to hit gravel or dirt roads, or even easy singletrack, there's no reason a traditional touring setup can't work for now.
For those looking to take their panniers off-pavement, I have these suggestions:
Use a high quality steel rack, or pack some heavy-duty zip ties in case of emergency
Use blue Loctite on your bolts
Pack light and resist the urge to fill your panniers, even if there's still space in them. Bikepacking and minimalist gear go hand in hand, so may as well get in the habit now.
Dry Sack on Rear Rack
Here's a hybrid approach: use a rear rack, but instead of panniers, strap a large dry sack (I've used 30 liters) to it with adjustable bungees.
Advantages: More aerodynamic than the wide profile of panniers. Forces you to pack lighter, an important step in the direction of the bikepacking style. Yet still allows for expandable storage by strapping smaller things to top.
Disadvantages: can be unstable on rough terrain. Acceptable for moderately smooth gravel roads but not great for anything rougher. Works best with something flat and rigid in the bottom of the dry sack, where it rests on the rack.
This might seem a little scrappy, but in all seriousness I rode 3500 miles across the USA in 30 days with this setup, about a third on gravel of varying quality. It works!
Bonus: you can throw a high-visibility backpack rain cover over the whole thing for extra waterproofing and improved visibility in traffic.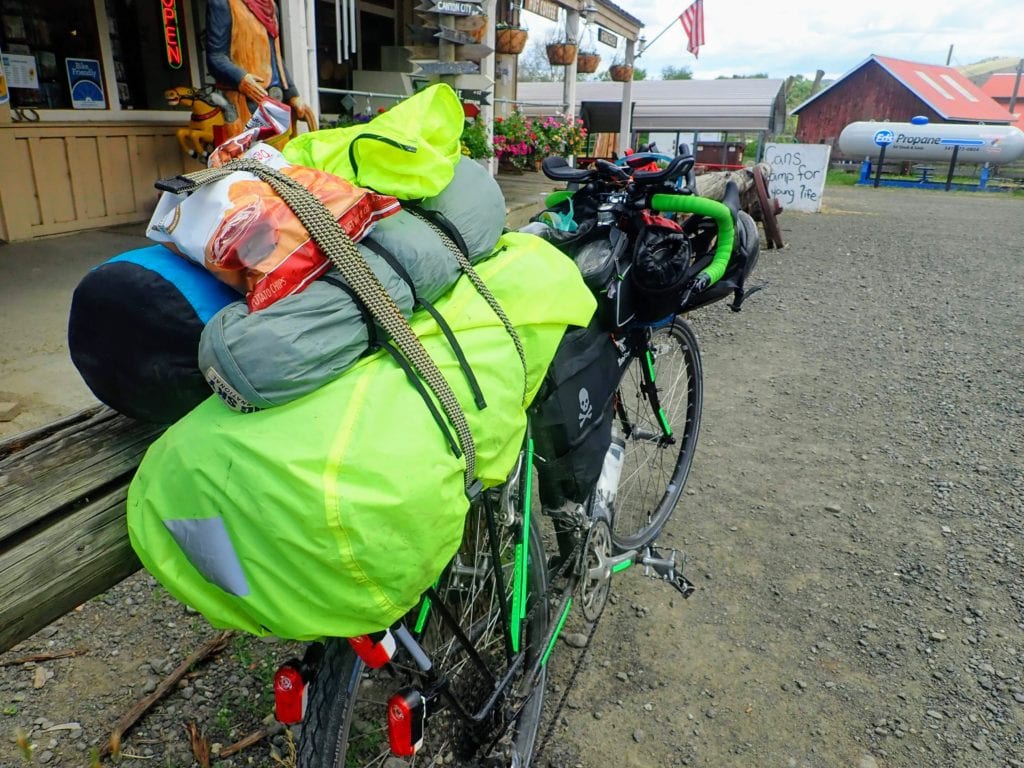 DIY Dry Sack Handlebar and Seat Bags
If you don't have a rear rack or want to go rackless, these are some low-cost ways to attach gear directly to your bike. If you're serious about bikepacking eventually you might swap them out for "official" bikepacking bags, but in the meantime these budget bikepacking hacks will get you out the door.
Strap It To The Handlebars
Cylindrical things, like a lightweight tent or a sleeping bag stuff sack, can be easily strapped to the front of your handlebars. This works especially well with flat MTB-style bars, since drop bars get in the way of longer items. But even with a drop bar bike, a shorter and fatter dry sack can often fit between the drops.
The straps can be as simple and cheap as something like this. However, for just a few dollars more you can upgrade to these stretchy straps, which are universally loved by bikepackers. If you stick with bikepacking I guarantee you'll find many uses for them.
If you don't already have a dry sack, these waterproof bags from Sea to Summit have held up really well for me. The 8 liter size is perfect for strapping my lightweight sleeping quilt between the drops of my handlebars.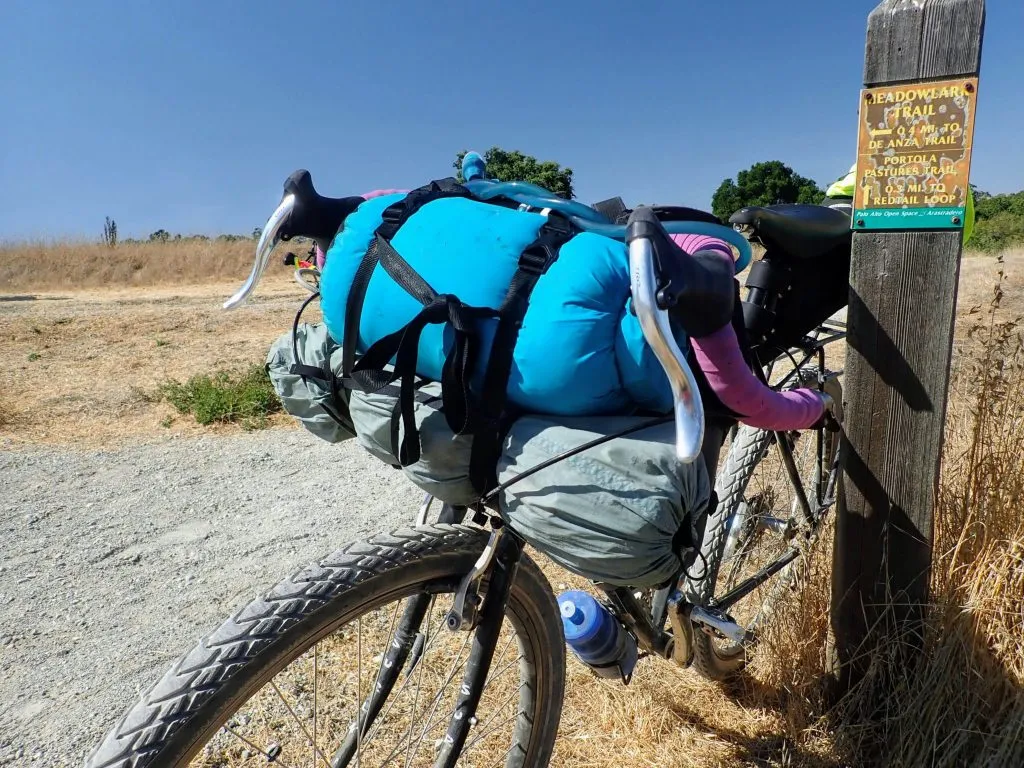 Dry Sack Seat Bag
While slightly more limited than the handlebar technique above, this budget bikepacking "seat bag" is an excellent way to pack a small sleeping bag or some warm layers.
Simply take a dry sack (again, I find the 8 liter Sea to Summit bags work well), fasten the buckle around the seat post, and run a strap through the rails of your saddle. It works best when the dry sack is packed with lightweight items that hold their shape, like puffy clothes or a sleeping bag.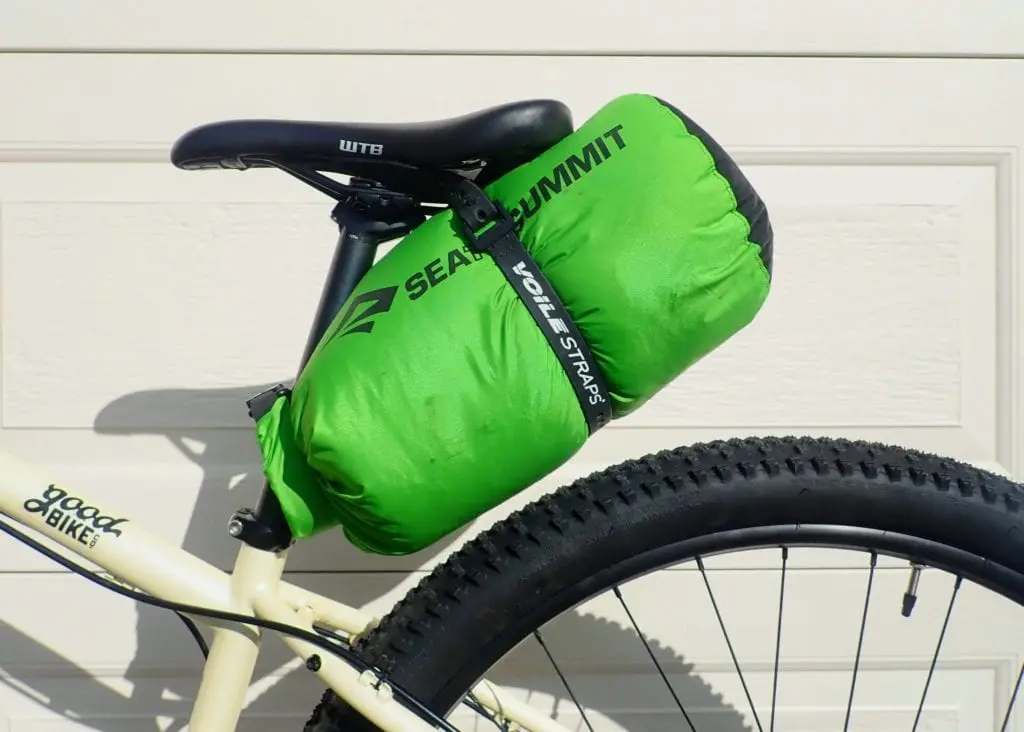 When combined with the handlebar strap setup above, you can get a tent on the handlebars and sleeping bag on your seat. All that's left is to throw everything else in a small backpack.
Backpacks Aren't So Bad
Backpacks get a bad rap among cyclists, and it's true that they're not the most comfortable way to carry gear on a bike. Yes, your back will get a little sweaty.
But if this is all that's standing between you and a glorious night of bicycle camping under the stars, I promise you, it's not that bad.
Grab a day pack, shove everything in it that won't fit elsewhere on your bike, and off you go.
Budget Bikepacking Bags
If you're ready to upgrade from DIY hacks to real bikepacking bags but aren't ready to splurge on top name brands, you have some good options these days. It seems like every time I check Amazon, a new brand has come up with their own line of cheap bikepacking bags at prices of half to a third of the big names.
Yes, these bags do come with some tradeoffs. Depending on your riding style and bike fit, you may need to get creative to overcome issues like loosening straps, tire rub, and questionable waterproofing. But bikepacking is all about creativity anyway, and even the fancy brands can have similar issues.
My first set of real bikepacking bags was mainly from RockBros and Moosetreks, and is shown here: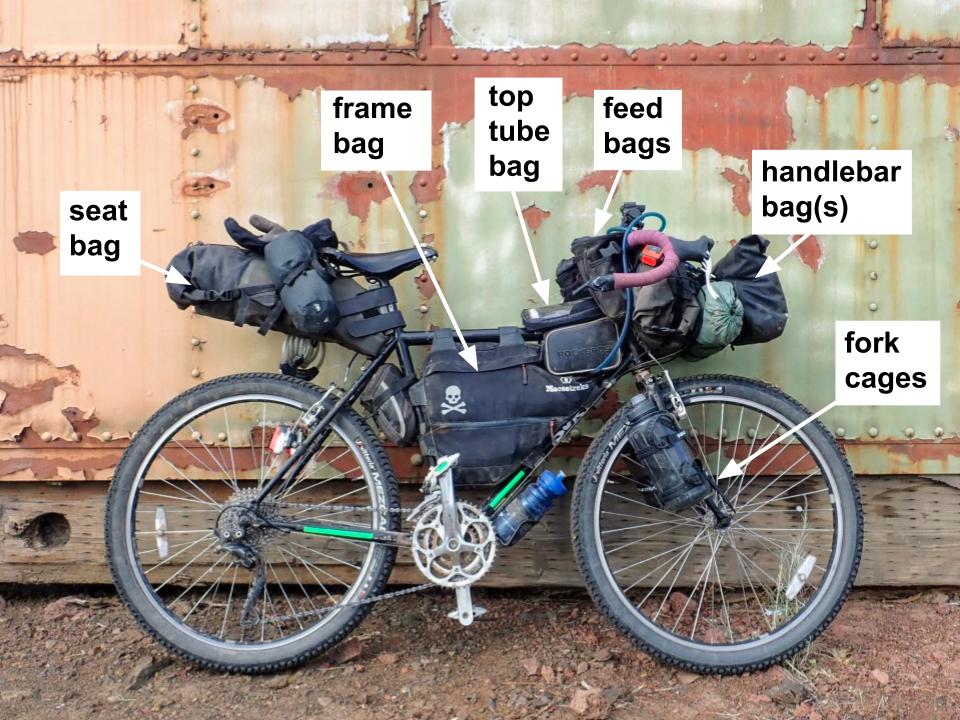 They're not all perfect and I've upgraded some of them since, but they served their purpose – getting me out onto rougher trails and learning about my bikepacking preferences – quite admirably.
Here's my budget bikepacking bag setup, for the curious.
Seat bag: Rock Bros seat bag
Roomy capacity, nice design features. I use it for food, clothing layers, and odds and ends. Potential issues with sagging and tire rub depending on your setup. Detailed review here, and some other affordable alternatives here.
Handlebar Bag: Rock Bros handlebar bag set
The roll-side bag holds my sleeping quilt, and a small tent can be strapped to the front. Front pouch is large and super convenient for food. Detailed review here.
Frame Bag: Moosetreks frame bag
My favorite cheap bikepacking bag, still going strong after 5000+ miles. Size small fills my 50cm Long Haul Trucker frame almost like a custom fit, and they have a mountain bike style too with slightly different shape. Detailed review here.
Top Tube Bag : RockBros top tube bag
Roomy and convenient, easy to open and close. Haven't fully tested waterproofing.
Feed Bags: Rock climbing chalk bags
Love these!! The snap-closure straps can attach to your handlebars and stem. There's even a little plastic ring, which the pictures show being used to carry a water bottle, that happens to fit perfectly on the top of my steerer tube in place of a spacer.
The Budget Tradeoff
Surely these budget bags aren't as good as the big name brands (Revelate, etc) that cost more than twice as much, right? Well actually, I'm not convinced. I think they're at least half as good, and probably a better value overall even if they do have some shortcomings, such as:
I don't fully trust the waterproofing, so I put important things inside plastic bags or dry sacks.
Sometimes the straps loosen over time on rough terrain (but this can happen with expensive bags too).
I don't expect them to be as durable as more expensive brands.
That said, I admit that I have since upgraded a few of my original cheap bikepacking bags after they wore out, broke, or didn't work for me anymore. Specifically, I now prefer a Salsa EXP Anything Cradle to the RockBros Handlebar Bag (but I still use the RockBros front pouch), and a Revelate Viscacha Seat Bag to the RockBros Seat Bag (though the smaller capacity is annoying).
My honest opinion is this: you might want to go straight to the more specialized brands if a few of these are true:
You already have some experience with bike travel
You know you are getting into bikepacking in a big way, especially if you're interested in bikepack racing
You prefer remote and rugged trails to gravel and dirt roads
You have the money to spare
But if, like many of us, you're just beginning the slide down the slippery slope into bikepacking obsession and don't quite know where you're headed, the cheaper budget bags are a completely workable solution.
Which bikepacking bags are worth the money?
You don't need to buy everything at once. Maybe your tent works great on your handlebars, but your dry sack "seat bag" isn't big enough for a longer trip. Every rider and bike setup is different, but this is the order I would recommend buying in based on value:
Feed bags or top-tube bag for snacks and odds and ends. Relatively cheap and super convenient.
Frame bag: instant way to add a lot of storage space to your bike in a really balanced location, great for heavy things like water and tools.
Seat bag: holds much more than the dry sack DIY hack. Here's a complete list of seat bags under $100.
Handlebar bag: the DIY strap method works so well that this might be the last bag you need, and only if you plan to ride long distances on rougher terrain.
Important Safety Tip!
Don't be afraid to experiment with creative ways of attaching gear to your bike, but make sure you get this one thing right: ensure straps, buckles, and anything else won't hang down and catch in your wheels, sending you over the handlebars quicker than you can say "what the…?" Sometimes this means reinforcing buckles with rubber bands, as I did here with this handlebar bag.
Budget Camping Gear for Bikepacking
Many bikepackers come to the sport from backpacking and already have a set of camping gear in their garage. If that's you, then the best budget camping gear for bikepacking is the gear you already own. It doesn't have to be super lightweight or fancy, especially if you're willing to get creative with how you carry it.
For truly budget camping gear that works for bikepacking, check out these creative ideas. They won't be the lightest or smallest, but they will get you outside under the stars and that's what matters.
Once you start the slippery slide into lighter and more compact gear, things do get a bit more expensive. But there is still value to be found! Even though it's focused on backpacking, I recommend checking out my lightweight backpacking gear post. It talks about how to optimize value for money, and links to some lesser-known brands making awesome lightweight gear for backpackers and thru-hikers. The same stuff works fabulously for bikepacking.
If you're looking for a mid-range set of lightweight camping gear, not quite budget but also an excellent value for how well it performs, here is a setup I use and recommend:
Used Bikepacking Gear
Once you've put in some miles with the budget bikepacking gear setups described above, you'll probably have a clearer sense of what works and what doesn't. When you discover a particular aspect of your setup that doesn't meet your needs, it's time to shop around. Perhaps there's a solution out there that's worth the money.
Still, before you press that buy button, I recommend looking for used gear. With more people getting into bikepacking by the day, more and more used gear is floating around as people figure out what works and doesn't work for them. Here are a few places to look for used bikepacking and camping gear:
eBay (where I found a fantastic deal on my seat bag): You can set up keyword alerts to be notified of new listings.
REI used gear (or go in person to their local "garage sales")
GearTrade.com: not a ton of bikepacking-specific gear, but worth keeping an eye on.
Craigslist.org: Good old Craigslist, depending on where you live, is definitely worth keep an eye on. You can set up keyword alerts instead of checking every day.
Local bike shop. If you're lucky enough to live in an area with a solid bikepacking community, your LBS might have used or demo gear available for a discount.
Used camping gear is much easier to find than bikepacking-specific gear, so if you need a tent or sleeping bag for bikepacking, be sure to check for used options there as well.
Note that these are all excellent ways to sell your used gear too, if you figure out that something else works better for you.
Just Ride Your Bike
Despite the recent abundance of fancy premium gear, bikepacking is still (and hopefully always will be) a scrappy and creative sport. In my experience meeting fellow bikepackers on the road, there's no better conversation starter than showing off creative gear solutions to a fellow bike nerd.
Premium gear is often made by fantastic small and local businesses who have played a big role in shaping the sport of bikepacking, so if you can afford to buy from them, I wholeheartedly recommend it. But if money is holding you back from hitting the road or trail, I hope this post gave you some ideas for other options.
More Bikepacking Resources
New project! Read bikepacking and touring stories from anywhere in the world.
Bike resources in your inbox?
There's more where this came from! If you're into two-wheeled human-powered adventure, sign up here for occasional emails with my best tips and inspiration for bikepacking and bicycle touring.


Share the Adventure
Was this helpful? If so, please consider sharing so it can help other explorers too: