What could be better than loading some camping gear on your bike, leaving the frustrations of daily life behind, and escaping to the middle of a beautiful nowhere?
Answer: Doing that, but without spending a fortune on gear.
Bikepacking's increasing popularity has bred a bewildering array of specialty products designed to help off-road cyclists ride faster and farther on rougher terrain. And they work, sometimes really well.
But if you're just getting started and/or watching your budget, the price of said gear can be prohibitive. You'd like to try a weekend trip or two before investing your nest egg in high-end custom bike bags? Thoroughly reasonable, in my opinion.
Well never fear, because budget bikepacking IS possible! As this article will show, you can start right away with easy-to-find gear that won't break the bank.
Don't be that person I met the other day who could rattle off fancy names like Revelate and Rogue Panda (excellent brands, for sure, but not cheap) but had yet to actually bike to a campsite and back. He was stoked on the idea of bikepacking, but because he hadn't yet sprung for top-tier gear, he'd never actually tried it.
Many of us started with a tent strapped to the handlebars and some stuff in a backpack – the ultimate budget bikepacking setup. These days cheap bikepacking bags are showing up on Amazon left and right, and used bikepacking gear can be found online. There's never been a better time to put together a cheap bikepacking setup that works surprisingly well.
True, when stretching to longer or harder trips some expensive gear really shows its value. I've upgraded to some nicer gear over the years, and I enjoy it. But if you're just getting started, it makes sense to learn about your style and preferences before shelling out the big bucks.
So without further ado, here are some budget bikepacking gear ideas to get you on the trail as quickly and cheaply as possible.
When you buy through affiliate links in this post, I may earn a small commission. Thanks for your support! I always offer unbiased opinions based on real experience from the road and trail. Learn more.
Backpacks Aren't So Bad
Backpacks get a bad rap among cyclists, and it's true that they're not the most comfortable way to carry gear on a bike. Yes, your back will get a little sweaty and your shoulders might get a tad more tired.
But if that's the only thing standing between you and a glorious night of bicycle camping, I promise you, it's not that bad.
Grab a day pack, shove everything in it that can't be strapped elsewhere on your bike, and off you go.
Strap It To The Handlebars
Cylindrical things, like a lightweight tent or a stuff sack full of sleeping bag, can easily be strapped to the front of your handlebars. This works especially well with flat MTB-style bars but drop bars work too, albeit with less capacity.
The straps can be as simple and cheap as something like this. For just a few dollars more you can upgrade to these stretchy straps, which are universally loved by bikepackers. If you stick with bikepacking I guarantee you'll find many uses for them.
If you don't already have a dry sack, these RockBros dry bags are the most affordable option I've found. They held up well for me during 2700+ miles on the Great Divide. These Sea to Summit bags are another favorite, though a little more expensive.
Eight or ten liters is a good size for carrying sleeping gear or clothing on drop handlebars. You could go even bigger – or at least longer, unless you have plenty of tire clearance – with flat bars.
And if even the most affordable dry bags are out of budget, grab a sheet of Tyvek HomeWrap from the hardware store and make a burrito out of your gear. Backpackers have been using Tyvek as a lightweight waterproof groundsheet for ages, and it works great for bikepacking too.
DIY Dry Sack Seat Bag
While slightly more limited than the handlebar technique above, this budget bikepacking "seat bag" is an excellent way to pack a small sleeping bag or some warm layers.
Simply take a dry sack (I find the 8-10 liters is a good size), fasten the buckle around the seat post, and run a strap through the rails of your saddle. It works best when the dry bag is packed with lightweight items that hold their shape, like puffy clothes or a sleeping bag.
If you're a small rider on a 29er bike, pay attention to the stated diameter of the bag and make sure it fits above your tire without rubbing.
When combined with the handlebar strap setup above, you can get a tent on the handlebars and sleeping bag on your seat. All that's left is to throw everything else in a small backpack!
Dry Sack on Rear Rack
If you're thinking specifically about bikepacking as opposed to "touring," you might think a rack is off-limits. But racks are actually making a comeback in bikepacking lately. More people are choosing lightweight rear racks for their stability and tire clearance benefits, especially when used with a dropper seatpost.
Traditional panniers, designed specifically for mounting to racks, can be expensive. Enter our old friend the dry bag, yet again, for a budget bikepacking bag alternative. Simply strap a medium-size dry bag to the top with adjustable bungees or Voile straps (more secure). A size of 10-20 liters is a good for smaller racks, and I wouldn't go larger than 30 liters. The Tyvek HomeWrap burrito mentioned in the handlebar section can work too, if you're careful.
You can also get creative and strap more items to the top, and even the sides, like mini-panniers. The stability of this setup can be quite good if your straps are high quality and arranged thoughtfully.
This might seem a little scrappy, but in all seriousness I rode 3500 miles across the USA in 30 days with this setup, including over 1000 miles of gravel of varying quality. It works!
When it comes to racks, there's a wide range of both quality and price. For rough roads and trails: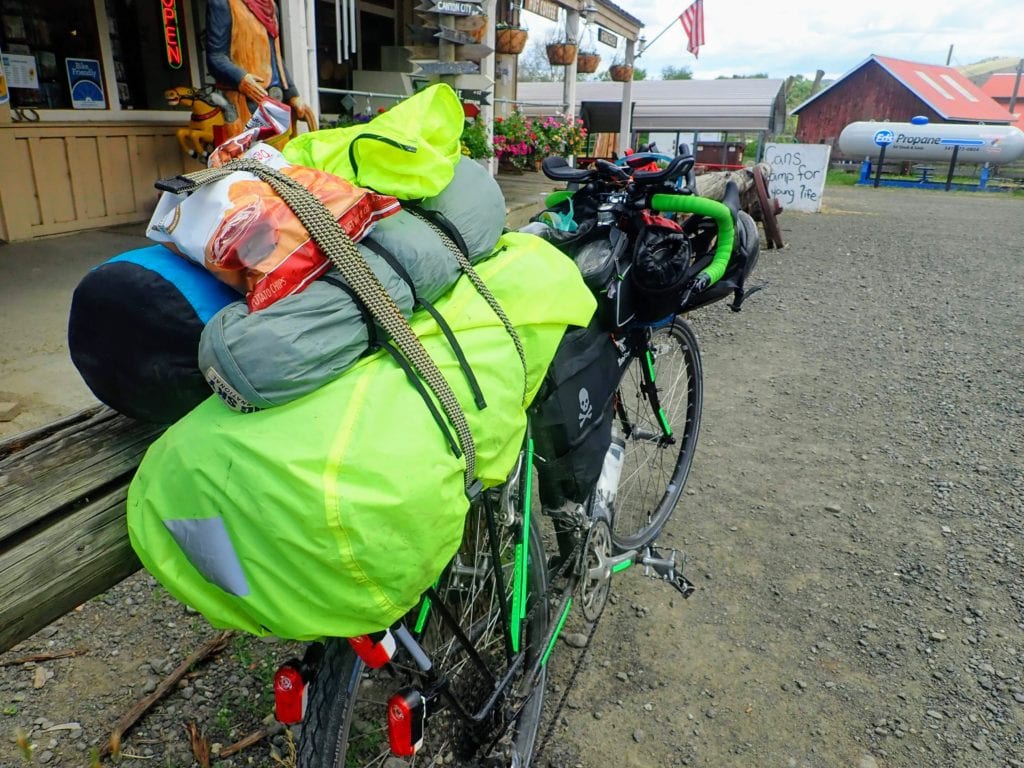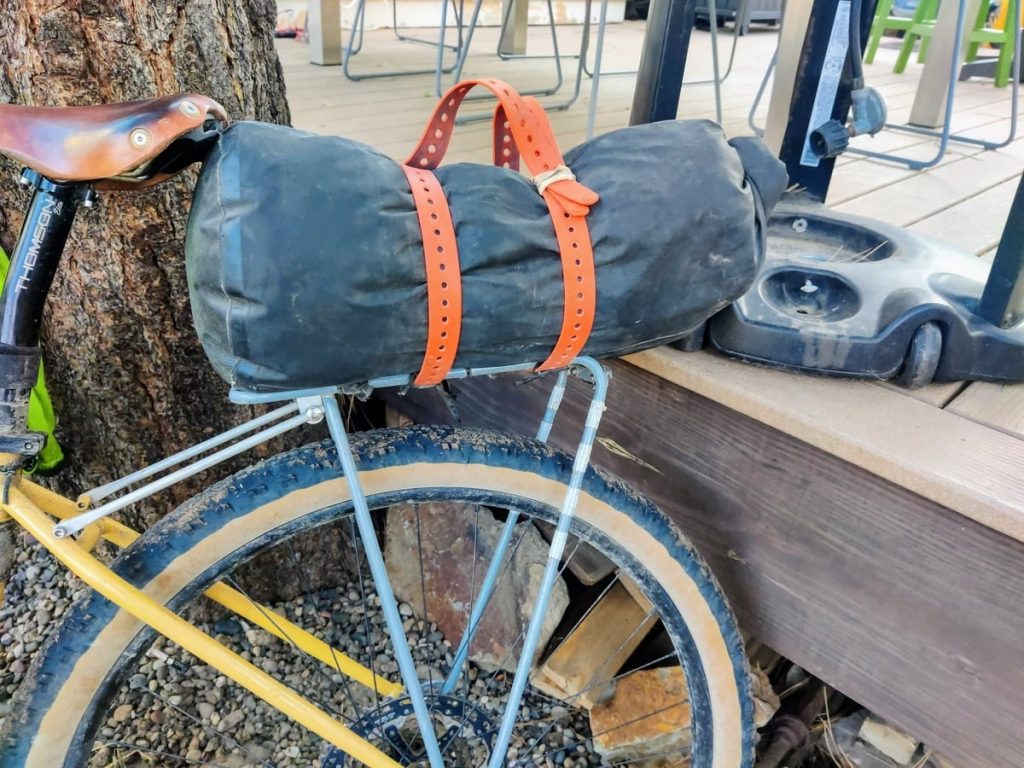 Panniers Work, if You Have Them
If you've never tried bicycle touring before, you can skip this section. But for those who began their pedal-powered journey on pavement with panniers, you don't necessarily need new gear just yet.
Do you plan to ride a lot of gnarly technical singletrack on your upcoming bikepacking trips? Is there lots of hike-a-bike in your future? If so, you'll want to ditch the full-size panniers. But if you plan to hit gravel or dirt roads, or even easy singletrack, there's no reason a traditional touring setup can't work for now.
For those looking to take panniers off-pavement, I do suggest packing light and resisting the urge to fill them to the brim. Bikepacking and minimalist gear go hand in hand, so may as well get in the habit now.
Budget Bikepacking Bags
If you're ready to upgrade from DIY hacks to real bikepacking bags but aren't ready to splurge, you have some good options these days. It seems like every time I check Amazon, a new brand has come up with their own line of cheap bikepacking bags at prices of half to a third of the big names.
Yes, these cheaper bikepacking bags do come with tradeoffs. Depending on the product you may face issues like loosening straps, broken buckles, and questionable waterproofing. They tend to be mass-produced overseas and we don't know that their manufacturing processes are fair and sustainable, as we do with some of the more expensive locally-made gear.
And yet, if you want to get into bikepacking and don't have money to burn, cheap bikepacking bags are undeniably appealing.
My First Bikepacking Setup
I'm not one to judge; my first real bikepacking setup consisted of the cheapest bags I could find. You can see it here, in all its glory: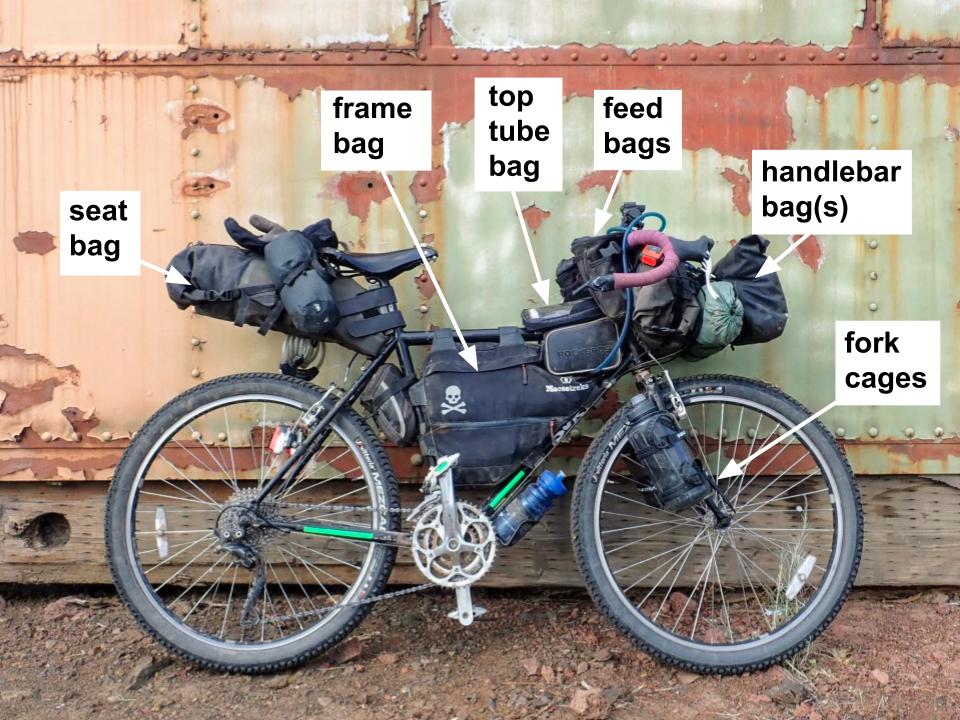 When I first put my budget bikepacking setup together, RockBros and Moosetreks were some of the only affordable bikepacking gear brands on Amazon. Here's the setup pictured above:
To be honest, after thousands of miles of bikepacking I've replaced most of those bags. Some wore out, some didn't work well to begin with, and others no longer suit my bikepacking needs. But they served their purpose – getting me out onto the trails and learning about my bikepacking preferences – quite admirably.
My Current Picks for Affordable Bikepacking Bags
If I were assembling my first bikepacking setup right now, I would start with REI's new-ish line of bikepacking bags. They may not be quite as cheap as some of those Amazon brands, but their value is excellent. REI generally makes good quality gear and cares about sustainable manufacturing. I've spent a little time with the panniers and feed bag and have been impressed; their designers clearly understand the quirks and needs of bikepacking.
Here are REI's current bikepacking-focused bags (and they seem to be adding more every time I look):
There's also good value to be found from what I consider "mid-range budget" brands like Blackburn, Topeak, and Zefal.
A step up from there are the large but well-regarded bikepacking brands like Salsa and Revelate. Their gear is more expensive, but it's extremely well designed (especially Revelate, in my opinion) with every detail thoughtfully fine-tuned for frustration-free bikepacking use. They are not cheap, but they're still not as expensive as the tiny brands making high-end custom gear. If you're planning a long trip or expect to get a lot of use out of your gear, they can be worth the money.
The Budget Tradeoff
Surely these budget bikepacking bags aren't as good as the ones that cost two or three times as much, right? Well actually, I'm not convinced. I think they're at least half as good, and probably a better value overall even if they do have some shortcomings.
That said, I admit that I have since upgraded a few of my original cheap bikepacking bags as my trips became more ambitious. I now run a number of bags from Revelate and Salsa, in addition to a few of my originals from RockBros and Moosetreks.
My honest opinion is this: you might want to go straight to the more expensive brands if a few of these are true:
You already have some experience with bike travel.
You know you are getting into bikepacking in a big way, or are planning to start with a long trip.
You're particularly intrigued by bikepack racing, which requires an even more dialed gear setup.
You prefer remote and rugged trails over gravel and dirt roads.
You have the money to spare.
But if you're just beginning the slide down the slippery slope into bikepacking obsession and don't quite know where you're headed, cheaper budget bags are a completely workable solution.
Which bikepacking bags are worth the money?
You don't need to buy everything at once. Maybe your tent works great on your handlebars, but your dry sack "seat bag" hack isn't big enough for a longer trip.
Every rider and bike setup is different, but this is the order I would recommend buying in, starting at the top:
Feed bags or top-tube bag for snacks and odds and ends: good starting point because they're relatively cheap and super convenient.
Frame bag: instant way to add a lot of storage space to your bike in a really balanced location, great for heavy things like water and tools.
Seat bag: holds much more than the dry sack DIY hack. Here's a list of seat bags under $100.
Handlebar bag: the DIY strap method works so well that this might be the last bag you need, and only if you plan to ride long distances on rougher terrain.
Important Safety Tip!
Don't be afraid to experiment with creative ways of attaching gear to your bike, but make sure you get this one thing right: ensure straps, buckles, and anything else won't hang down and catch in your wheels, sending you over the handlebars quicker than you can say "what the…?" Sometimes this means reinforcing buckles with rubber bands, as I did here with this handlebar bag.
Used Bikepacking Gear
As more people get into bikepacking, more people are trying gear and perhaps finding that it doesn't work for them. Their loss is your gain! With a little patience and effort you might even snag some top-tier gear at budget prices.
Here are a few places to look for used bikepacking and camping gear:
Local bike shop or second-hand gear store. If you're lucky enough to live in an area with a solid bikepacking community, your LBS might have used or demo gear available for a discount.
Facebook groups: search for "Bikepacking Gear Swap" and similar terms to find groups where people list their used gear for sale.
eBay, the old standby for used bargains, often has used bikepacking gear for sale. You can set up keyword alerts to be notified of new listings.
REI used gear (or go in person to their local "garage sales")
GearTrade.com: not a ton of bikepacking-specific gear, but worth keeping an eye on.
Craigslist.org: Good old Craigslist, depending on where you live, is definitely worth checking. You can set up keyword alerts instead of checking every day.
Used camping gear is much easier to find than bikepacking-specific gear, and all those options above are a great way to find it as well.
Note that these are all excellent ways to sell your used gear too, if you figure out that something else works better for you. This can make upgrading your gear, when the time is right, a bit more budget-friendly.
Other Budget Bikepacking Hacks
Here are a few more money-saving techniques to get you and your gear on the trail cheaply.
Electrical tape or hose clamps: With one or both of these simple objects, you can attach a cheap water bottle cage to your front fork even if you don't have bolts there. Use it to hold a water bottle or a small stuff sack of gear. If using electrical tape, don't skimp! Really wrap that thing. More tape or a section of old tube underneath will protect your frame and reduce slippage.
Tarp + bike shelter: No tent? I've seen creative use of the bike itself as a makeshift tent pole. Guy out a simple tarp from the hardware store using the bike to provide tension and height at one end. I've seen this done with the whole bike upside-down, just the front wheel, or the bike on its side with a handlebar end sticking up.
Tyvek HomeWrap: I mentioned this above but it's worth saying again: Tyvek is a lightweight and fairly waterproof material that's available for cheap at hardware stores. It makes a great groundsheet for your tent and can be wrapped around gear in a Tyvek burrito and strapped to handlebars or a rack.
Budget Camping Gear for Bikepacking
Many bikepackers come to the sport from backpacking and already have a set of camping gear in their garage. If that's you, then the best budget camping gear for bikepacking is the gear you already own. It doesn't have to be super lightweight or fancy.
For truly budget camping gear that also works for bikepacking, check out these creative ideas. They won't be the lightest or smallest, but they will get you outside under the stars and that's what matters.
Once you start the slippery slide into lighter and more compact gear, things do get a bit more expensive. But there is still value to be found! Even though it's focused on backpacking, I recommend checking out my lightweight backpacking gear post. It talks about how to optimize value for money, and links to some lesser-known brands making awesome lightweight gear for backpackers and thru-hikers. The same stuff works fabulously for bikepacking.
Just Ride Your Bike
Despite the recent abundance of fancy premium gear, bikepacking is still (and hopefully always will be) a scrappy and creative sport. In my experience meeting fellow bikepackers on the road, there's no better conversation starter than showing off creative gear solutions to a fellow bike nerd.
Premium bikepacking gear is often made by fantastic small businesses who play a role in shaping the sport and use ethical manufacturing practices. If you can afford to buy from these companies, I wholeheartedly recommend it. But if money is holding you back from hitting the road or trail, I hope this post gave you some ideas for other options.
More Bikepacking Resources
Bike resources in your inbox?
There's more where this came from! Sign up here for occasional emails full of inspiration and information about bikepacking and bicycle touring.


Share the Adventure
If you found this article helpful, please consider sharing so more people can benefit from it: