Intrigued by the idea of pedaling off toward the horizon with a go-anywhere bike and some lightweight camping gear? Then you're most likely going to need a bikepacking seat bag. And if you want to have money left over for post-ride burgers, you're probably after an affordable bikepacking seat bag.
In the bikepacking style, a seat bag (also called a saddle bag) often takes the place of a rear rack and panniers. The narrow profile is helpful for mountain biking on technical singletrack, easing tricky hike-a-bikes, and reducing wind resistance when you're cruising. The smaller volume encourages a more minimalist packing list, and soft mount points are resilient to knocks. Plus, they look cool! Something about that strangely shaped bag hovering improbably above a knobby rear tire just screams "adventure!"
Unfortunately, bikepacking saddle bags can be really expensive. A full-size bag from a premium brand like Revelate Designs or Swift Industries will run you at least $150. Many of these pricier bags are made by small businesses with commitments to lots of good causes (sustainability, inclusivity, innovation) and it's great to support them if you can.
In many cases the more expensive bags really do provide a nicer experience. The attention to detail can be impressive. But I started my own bikepacking journey on a strict budget and never would have bought these more expensive bags as a beginner. If that's how you feel too, this list of cheap bikepacking bags is for you.
This post contains a variety of cheap bikepacking seat bags that can be bought at full price for under $100. Some are even under $50! I've chosen bags I believe to be reliable, even if cheap, based on reputation and user reviews. I've only included bags that hold up to around 10 liters or more, which is a pretty typical size for an overnight or multiday bikepacking trip.
Read to the very end for advice on which features are most important, how to choose your seat bag, and how to pack it once it arrives.
What to Look For
Wondering how to choose between all these budget seat bags? Here are some considerations.
Capacity: Bigger is not always better when it comes to saddle bags. Though it is convenient to have the space for an extra-warm jacket or flask of whiskey, an overstuffed seat bag can be unwieldy. If you mostly do overnighters in fair weather, 10 liters is probably enough, but riders on longer trips or with more elaborate gear requirements will usually appreciate having more space. All of these bags compact down to much less than their stated capacity, so it's really just the top end you need to consider.
All max capacities listed above are taken from the product listings, but I wouldn't be surprised if there's wiggle room in how different manufacturers measure this. It's often possible to overstuff a seat bag by just barely rolling the end closed, with tradeoffs like light clips not being in the right place and waterproofing being compromised.
Tire clearance: Not all seat bags fit on all bikes. In particular, riders on small bike frames with 29er tires often struggle with tire rub, especially if riding on rough surfaces. Full-suspension mountain bikes and dropper seat posts cause a similar issue. Low-quality buckles make this worse as the straps slip over time. For these riders I would especially recommend paying a little more for one of the models with locking buckles (REI, Topeak, or Zefal) or the Wayward Riders Louise harness.
Locking buckles: One of the most common issues with budget seat bags is sagginess and loosening buckles. If you ride pavement this will probably be tolerable, but if you ride gravel and trails you may quickly get tired of stopping to tighten straps. Especially if you have tight tire clearance, I suggest choosing a seat bag with locking buckles like the REI, Topeak, or Zefal.
Shock cord: A web of stretchy cord on top of your seat bag can be very convenient. I use mine for stashing extra layers I'll need during the day (tether them carefully!) and for expanding my luggage capacity with an extra stuff sack or two. If you choose a bag that doesn't have them, you might be able to make due with a long Voile strap or other creative solution.
Light clips: Some of these seat bags have a single clip for a tail light, some have a whole strip (so there's always one in the right place no matter how full the bag is), and some have none. I like this feature for riding safely on roads, but you can work around it if needed. Some lights can mount on your seat stays, or you can roll the end of the seat bag to create a makeshift light clip.
Waterproof versus water resistant: It's certainly a nice feature to have a fully waterproof seat bag, but I wouldn't consider it a deal breaker. Some cheap bikepacking seatpost bags may not be as waterproof as advertised, and it's always wise to have a backup anyway. In wet weather I line my saddle bag with a kitchen trash bag and/or enclose critical items in dry sacks, regardless of whether it's advertised as waterproof or just water resistant.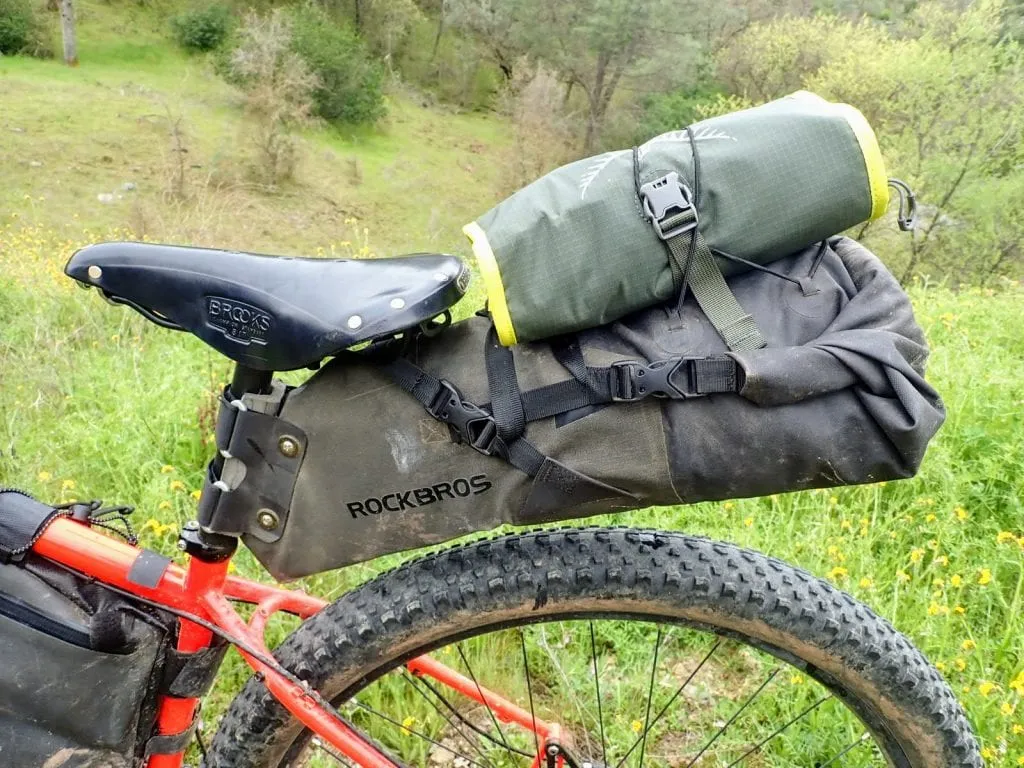 Seat Bag Packing Tips
Once your shiny new seat bag arrives, here are some packing tips to get you started on the right foot.
What goes in a seat pack? Seat bags are good for bulky stuff that's relatively lightweight; heavy stuff should be packed lower if possible. This usually means clothing, a sleeping bag, or part of your tent. If you must put heavier items like food in your seat bag, try to put them closer to the seat post to minimize sway.
More Bikepacking Resources
Pin For Later