Cactus to Clouds, the alluringly alliterative name for the burly hike up Mount San Jacinto from the desert floor of Palm Springs, is one of the hardest and most epic day hikes in the United States.
Starting from 480 feet in the middle of the desert, you'll hike straight up the side of a massive mountain for 15 miles to top out at 10,800 feet in alpine forest. Then, as if that wasn't enough, you'll hike 4.5 miles back down to the top of the Palm Springs Aerial Tramway, where you'll shuffle numbly through the hordes of people who took the tram UP, while they look at you thinking "what on earth happened to YOU?"
You just clawed your way up there from the freakin desert floor, THAT'S what happened to you.
Then you'll buy cookies and beer and a one-way tram ticket down. And THANK GOODNESS for that tram, because by that point you would rather live on Mount San Jacinto than hike back down the 10 miles to your car.
If you are fit, prepared, and want a piece of the epic Cactus to Clouds dayhike from Palm Springs to Mount San Jacinto, this guide will tell you everything you need to know to do it safely and successfully.
Notes of Caution
This hike is HARD. Like, really hard. My husband and I are ultrarunners and we still thought it was very hard.
Cactus to Clouds is only for fit and experienced hikers ready to challenge themselves with an epic day. Think of it more as an event than a casual hike. You will need to plan, prepare, and execute carefully in order to succeed and, even more importantly, avoid life-threatening danger.
I'm not exaggerating, unfortunately. Rescues and even deaths occur with regularity on this trail, typically from a combination of physical fatigue, heat exhaustion, and lack of preparation. If you are considering this hike, be sure to carefully read the safety tips in this post.
Reality check time: this is a 19 mile day hike. Not only that, it's a 19 mile day hike with more vertical gain than pretty much any other hike in the US, in one of the hottest places in the country. If just hiking 19 miles at all sounds like a stretch for you, you should not attempt this hike. Train for longer days first.
You have been warned. Read on if you dare.
Cactus to Clouds Elevation and Distance
There are two sections to this hike, and you can technically do each without the other, but a true "Cactus to Clouds" hike includes both.
Palm Springs Art Museum trailhead to Aerial Tram and Long Valley Ranger Station: 10 miles, 7900 feet of vertical gain!
Aerial Tram to San Jacinto Summit and back to tram: 9 miles total (4.5 miles each way) with 2390 feet of vertical gain and then loss.
Total Cactus to Clouds Stats:
Distance: 19 miles
Time: 13-16 hours
Elevation gain: 10,290 feet
Elevation loss: 2390 feet
Lowest elevation: 480 feet at Palm Springs Art Museum trailhead
Highest elevation: 10,804 at San Jacinto Summit
Take a second look at that vertical gain. That's over ten thousand feet in 15 miles (the last 4 miles are basically all downhill). Have you ever done a hike with that much vertical gain before? Almost certainly not.
Cactus to clouds has over 3500 feet MORE vertical gain than the hike up Mount Whitney, the tallest mountain in the contiguous United States. It's steeper too: Cactus to Clouds averages 686 feet of climb for every mile of the uphill section (first 15 miles), while Mt. Whitney averages only around 550.
Cactus to Clouds Route Overview
Full track available at Gaia GPS
The official start of Cactus to Clouds is in the parking lot of the Palm Springs Art Museum. You can park for free on the street, or check the parking garage nearby, but watch out for any time limits. The trailhead is in the back of the museum parking lot and very well marked.
You will be starting before sunrise; make sure you have a headlamp. For the first 10 miles you will follow what's knows as "Skyline Trail" up, up, and up. There are actually many different variations, not just one trail, so don't worry if you can't always find the exact correct path.
Look for white dots painted on rocks, and for footprints. You will be generally zig-zagging upward, so just make sure you don't traverse too far to either side and lose the network of trails. If in doubt, backtrack to the last white dot or footprints you saw and look again for a well-used route.
Here are a few landmarks to check your progress against: picnic tables (~ 1 mile), rescue box 1 (~2.5 miles), and rescue box 2 (~7.5 miles). The rescue boxes contain supplies to be used in case of emergency, so use them if you must, but only in a truly dire situation.
After the first mile or two, or at rescue box 1 as recommended on hikingguy.com, do a checkin. Are you feeling as strong as expected? If you have any doubts or issues at this point, turn around and save the hike for another day. Once you continue past this point, especially in hot conditions, you need to commit to hiking all the way to the tram. Most rescues and deaths on this trail happen when someone gets tired and descends into the daytime heat of the desert, only to get lost and disoriented and succumb to heat exhaustion.
Assuming all systems are go and you feel good, continue climbing. Don't forget to look behind you and enjoy the spectacular view of the sunrise out over Palm Springs and the desert floor!
Gradually you'll notice cacti beginning to give way to pine trees, and the meaning of hiking from the desert straight up into the mountains will start to feel clearer. You're making good progress, but you have a ways to go, so keep climbing.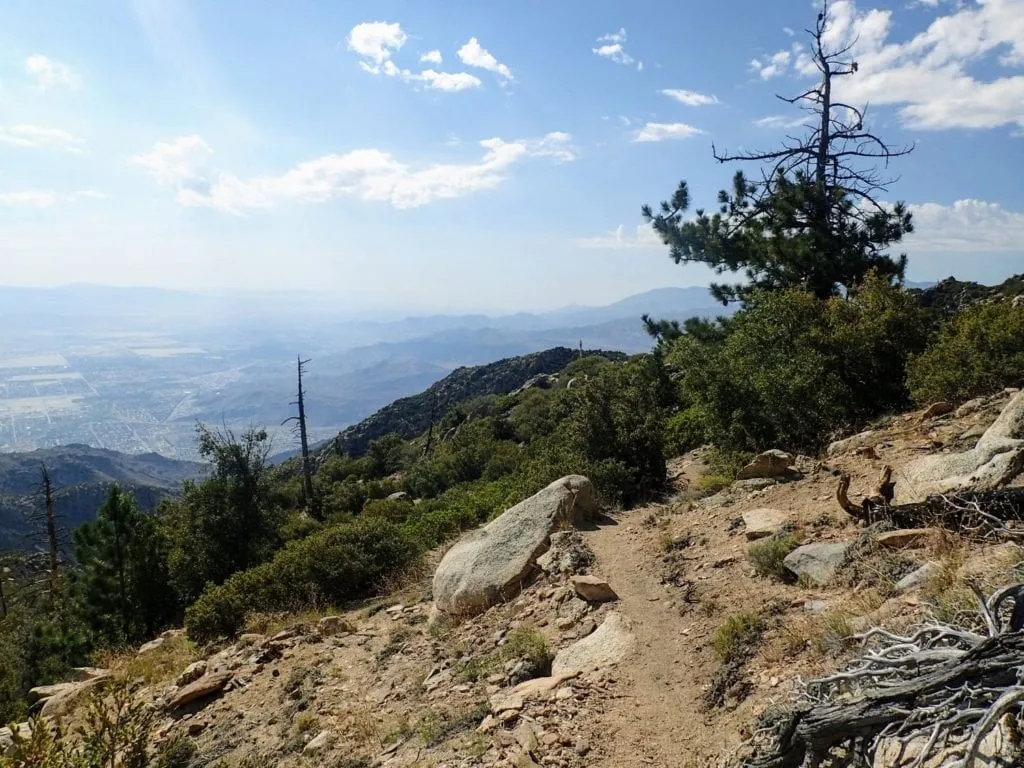 Around 9 miles in the trail will, if you can believe it, get even steeper. This section is loose, steep, high, and just generally nasty after all you've already been through. But take heart, because it also means you're nearly to the top of the Skyline Trail portion of the hike.
The tram station is a bit off route around the 10 mile point, and just past it, the Long Valley Ranger Station. If you are completely cooked and don't have another 9 miles in you, you can always end your hike here and take the tram down. Otherwise, stop by the ranger station and take a snack or lunch break, fill up on water, self-issue a free state park wilderness permit, and start the final tram-to-summit push.
The final uphill push is 4.5 miles to the summit of San Jacinto Peak on well maintained trail, less steep than where you've come from, but tiring nonetheless. At this point you'll be mingling with perky-looking day hikers who took the tram up instead of clawing their way up the side of a massive mountain. You may feel like the walking dead compared to them. Feel proud and focus on your objective.
The final push to the summit is a short rocky scramble, and then you're there. The views are amazing. Enjoy the feeling of accomplishment: you just hiked over 10,000 vertical feet from the desert into the mountains! Cactus to clouds indeed.
When you're ready, retrace your steps for 4.5 miles back down to the tram station. You're probably tired and this part probably feels long. But at least it's downhill for once. At the tram station, consider treating yourself to a snack and a drink, and buy your ticket for the ride down (see below for details).
For purposes of this guide, the hike ends when you return to the tram, which you use to return to Palm Springs where you started. Attempting to hike back down in the midday heat would be dangerous, not to mention absolutely miserable, and should never be attempted unless you're already familiar with this route.
The tram will leave you at the tram station in Palm Springs. From there it's a short Uber or taxi ride back to the Art Museum and your car, which is probably toasty from sitting in the desert heat all day.
Palm Springs Aerial Tramway Info
You'll be riding the Palm Springs Aerial Tramway back down to Palm Springs. Check their website for the latest schedule and ticket prices. In general, cars leave about every half hour. The ticket prices on their website are for round trip only, but if you go in person to the ticket station at the top they will sell you a one-way ticket.
The tram station has restrooms, a gift shop, restaurant, snack bar, and regular bar! If you're in the mood for celebrating after your hike, consider treating yourself. But we warned, you'll feel a little scruffy next to all the clean and perky visitors who rode the tram up instead of hiking.
Enjoy that smug feeling of accomplishment as you spend a few minutes zipping down what took you all day to hike up. The tram ride will drive home just how impressive your accomplishment really is.
Important Tips for Hiking Cactus to Clouds
When to Hike Cactus to Clouds
This isn't a hike you can just show up and do any time. The suggested hiking season for Cactus to Clouds is short: either October – November, or May.
This hike is so massive that it spans a tricky range of elevation. In the summer from June to September, the lower elevations are deadly hot; even in the middle of the night, temperatures can be in the 80-90's. Unless you have extensive experience with endurance sports in hot climates, don't attempt this hike in the summer.
In the winter and early spring, from December to April usually, winter conditions prevail at the higher elevations. Trying to hike this route with snow or ice on the trail is extremely dangerous unless you're an experienced winter hiker or climber. Even in May, ice may remain on shady sections in high snow years, so check conditions before going.
Start At Night
Most people start this hike in the dark, anywhere from 1am (for slow hikers or in very hot weather) to around 4am (if you're a fast hiker or the weather is less hot). The exact time will vary depending on time of year and your hiking speed, because the idea is to reach higher elevation (say around 5000 feet) by the time the sun rises. Why? It's cooler up there. Essentially, it's a race to escape the sizzling desert floor before fatigue sets in and you get cooked.
Another factor is simply that this hike takes a LONG time. While the last tram down typically leaves at 9:45pm, seemingly giving you plenty of time, it would be best to finish your hike in the daylight. Not only does it get cold up there in the late evening, but you definitely want to see the scenery during your tram ride down.
Bring GPS Maps
Skyline Trail can be hard to follow, especially in the dark of your pre-dawn start. Since ending up tired and lost can be deadly in this hot environment, it's essential that you have some sort of map and GPS track to follow (and that you have it cached for offline use). The Hiking Project app is a good option, or you can download a GPX file from my Gaia GPS route.
One isn't enough; apps and devices can fail. Bring a backup.
In addition to following your GPS track, look for white dots painted on rocks, and for other peoples' footprints. If you haven't seen a dot or a footprint recently, retrace your steps and look again. It's easy to miss a switchback and end up too far to one side or the other.
That said, there isn't just one well-defined trail. If you're generally zig-zagging upward and still see footprints and dots, you're probably fine.
Bring Plenty of Drinking Water
There is NO drinking water on this trail until you reach Long Valley Ranger Station at mile 10. That's AFTER the hottest and hardest part of the hike. The water at the ranger station is potable, so you do not technically need a filter, though it never hurts to bring one just in case.
Everyone should start this hike with a minimum of six liters of water. I know, it's heavy. But the risk of dehydration on this hike is no joke. Speaking of which..
Commit to Hiking Up
This hike requires commitment, which means this: once you pass the first couple miles, don't turn around. It is better to continue hiking up than to bail and go down.
Why? Because as you've been hiking upward in the relatively less hot pre-dawn temperatures, the lower elevation desert has been heating up. Most rescues on Skyline Trail happen when hikers reach too far beyond their training, get tired and turn around, and end up fatigued and lost in the scorching mid-day desert heat of the lower elevations.
This means two things:
This is not a hike to just "try and see." There isn't really an option to cut it short. Once you start, you should be confident that you can finish.
If you do get tired while hiking (and you probably will), this is the time to take good care of yourself and stay strong. Take a break, have a snack, stay hydrated, and slowly and steadily keep climbing. One foot in front of the other. Though the steepest part of Skyline Trail is near the top, the heat eases off up there, and you can always bail once you get to the tram.
Rescue Boxes
There are two rescue boxes on this route, one at around 2.5 miles and one at around 7.5, supposedly containing water and supplies for hikers who get themselves into trouble. These are for emergency use only!
First of all, there's no guarantee they will be stocked when you reach them, so don't count on it. Second, if you take something from them, a volunteer will need to hike up and resupply it, or the box may be empty when a truly desperate hiker needs it most.
If it's really an emergency situation, use the boxes, that's what they're there for. Contact the Coachella Valley Hiking Club afterwards so they can restock it.
Gear List for Cactus to Clouds
This is a serious hike without room for error, so your gear list will need to be as dialed as your fitness. Here are the essentals:
Headlamp and spare batteries: You'll definitely need the headlamp for your predawn start, and spare batteries are just always a good idea.
Water: don't start this hike without 6 liters of water (some of that could include electrolyte drink) per person. A 3 liter hydration bladder is a good start, plus either another 3 liter bladder or 2-3 large bottles in your pack.
Food, lots of it: the only thing harder than climbing uphill when you're tired? Climbing uphill when you're tired and hungry. Err on the side of packing more food than you think you'll need. Bring both sugary quick-burning snacks, and more substantial fat and protein sources like a sandwich or two. Plan for frequent snack breaks to keep your motor running. Bring plenty of salty snacks to replenish all the electrolytes you'll lose through sweat. If you do miscalculate this, you can buy food at the tram station at mile 10, but this is slightly off route if you're continuing to San Jacinto summit.
Electrolyte replacement: If you drink 6 liters of water without replenishing electrolytes lost through sweat, you could dangerously deplete your electrolyte balance. Salty snacks are good, but you may also want to bring some sports drink or salt tablets.
Satellite emergency beacon: This trail, though hiked regularly, is not crowded. If you run into trouble, don't count on being found by another hiker. It's highly recommended to carry a SPOT tracker or Garmin InReach so that you can call for help if things do go sideways.
An emergency whistle is never a bad idea, even if you have a satellite beacon. They're small and cheap, so no reason not to throw one in your pack.
Sturdy and comfy footwear: You don't necessarily need heavy hiking boots for this trail, but you do need something stable, grippy, and comfortable that will not give you blisters (i.e. you've done long training hikes in them). I personally like hiking in trail running shoes on this kind of trail.
Layered clothing: it might be plenty warm during your pre-dawn start in the desert, but up at 10,800 feet it's a different story! Bring at least a warm jacket, and maybe a wind breaker too, and gloves if your hands get cold easily. Check here for a weather forecast at the peak.
Sunscreen and sunglasses: you'll be out all day and getting plenty of sun, so protect your eyes and skin.
Trekking poles: optional, but some people find them helpful for balance and extra "umph" on the uphills. Make sure they can be folded and attached to your pack, because some sections are so steep that you probably won't even want to use poles and you'll want your hands free. Here's more detail about how to get the most benefit out of trekking poles.
More Resources
Here are some other pages to check out while planning your Cactus to Clouds hike:
Other Hiking Resources
If you're interested in taking on Cactus to Clouds, you might also like these posts:


Hiking resources in your inbox?
There's more where this came from! Sign up here for occasional emails full of inspiration and information about backpacking and hiking.


Share the Adventure
If you found this article helpful, please consider sharing so more people can benefit from it:
Pin For Later