Of all the states in the US, California has the third-highest number of 14ers, or peaks exceeding 14,000 feet in elevation. We're only outdone by Colorado and Alaska – worthy competitors indeed.
California has twelve official peaks topping out above 14,000 feet elevation with at least 300 feet of prominence. The list is often extended to fifteen including three "unofficial" peaks in the Palisade range with less prominence. And, being the goal-oriented humans that we are, some of us want to climb them all.
But climbing all the California 14ers is no easy task. While hikers can bag a few beginner California 14ers, most are semi-technical peaks with high-consequence terrain. Progressing past the easiest few peaks in the list should not be taken lightly. But, for those with the skills, equipment, and fitness required, summiting all the California 14ers is a worthy project indeed.
This post is for everyone interested in summiting some or all of California's fourteeners. Though anyone targeting a specific peak should do further research, this post will help you understand how the various mountains compare and which ones are within your current skill level. Here's what we'll cover:
California 14ers by location
California 14ers ranked by difficulty: easiest, moderate, and hardest
Clusters of nearby peaks that can be grouped into a single trip
Route summaries and links to resources for all California 14ers
Best time to hike and climb California 14ers
Recommended gear list
Important safety tips
Guided California 14er climbs
So how many California 14ers have I personally climbed? So far, eight of fifteen. I still have some work to do! Interestingly though, my resume includes both an easier hike (Whitney) and the hardest climb (Thunderbolt), so I feel familiar with the whole range of difficulty. I've also done a lot of research on the others, since I'd like to eventually tick them all off.
So, without further ado, let's get nerdy about California fourteeners.
California 14ers List
To kick things off, here's the official list. This table scrolls horizontally on small screens.
| Peak Name | Rank | Elevation | Range | Class (difficulty) | Potential Grouping | Permits |
| --- | --- | --- | --- | --- | --- | --- |
| Mount Whitney | 1 | 14,497′ | Sierra Nevada | 1 | Can be combined with Russell and Muir if comfortable with class 3. | Whitney Zone Permit required for camping, day hike permit also required |
| Mount Williamson | 2 | 14,375′ | Sierra Nevada | 3 | Often combined with Tyndall | Required for overnight camping |
| White Mountain Peak | 3 | 14,246′ | Inyo-White Mountains | 1 | Far from others, but reasonable detour if heading to the eastern Sierra via the northern route through Yosemite | Not required |
| North Palisade | 4 | 14,242′ | Sierra Nevada | 4 | Included in Thunderbolt to Sill Traverse | Required for overnight camping |
| Starlight Peak | | 14,220′ | Sierra Nevada | 5.6 | Included in Thunderbolt to Sill Traverse | Required for overnight camping |
| Mount Shasta | 5 | 14,162′ | California Cascades | 2+ | Very far from all the others, and the only CA 14er that's primarily a snow climb. | Required, though no quotas so easy to get |
| Mount Sill | 6 | 14,153′ | Sierra Nevada | 2+ | Included in Thunderbolt to Sill Traverse | Required for overnight camping |
| Polemonium Peak | | 14,100′ | Sierra Nevada | 4 | Included in Thunderbolt to Sill Traverse | Required for overnight camping |
| Mount Russell | 7 | 14,088′ | Sierra Nevada | 3 with significant exposure | Can be combined with Whitney and Muir | Required for overnight camping |
| Split Mountain | 8 | 14,058′ | Sierra Nevada | 2 | Somewhat near Middle Palisade | Required for overnight camping |
| Mount Langley | 9 | 14,026′ | Sierra Nevada | 1 | South of Whitney/Russell/Muir | Required for overnight camping |
| Mount Tyndall | 10 | 14,018′ | Sierra Nevada | 3 | Often combined with Williamson | Required for overnight camping |
| Middle Palisade | 11 | 14,012′ | Sierra Nevada | 3 | Somewhat Near Split Mountain | Required for overnight camping |
| Mount Muir | 12 | 14,012′ | Sierra Nevada | 3 | Can be combined with Whitney and Russell | Whitney Zone Permit required for camping, day hike permit also required |
| Thunderbolt Peak | | 14,003′ | Sierra Nevada | 5.9 | Included in Thunderbolt to Sill Traverse | Required for overnight camping |
Thanks to summitpost.org for the elevation and class data above.
California 14ers by Location (Map)
The rugged east side of the Sierra Nevada range, with its dizzying granite spires and pristine alpine lakes, hosts all but two of the California 14ers. The other two are farther north: White Mountain tops the high desert Inyo-White mountains, and Shasta juts out of the California Cascades in the far north of the state.
Here's a map showing all the California 14ers:
California 14ers By Difficulty
California 14er difficulty spans from strenuous hiking to roped rock climbing, and includes everything in between.
We'll use the common Yosemite decimal system to describe peak difficulty. The ratings indicate the technical difficulty of the hardest part of the easiest route up the peak. Note that this doesn't take into account how long or strenuous a particular climb is, just the skills needed and the potential for a dangerous fall.
The scale begins with class 1, which is a hike on a maintained trail, followed by class 2, a difficult trail or cross-country (no trail) trek. If you're just learning about this rating system now, class 1 should be your focus for the moment.
At class 3 we start to call it a "scramble" which will often require use of hands and may have places where you really do not want to fall. Above this is class 4, essentially a hard scramble or easy rock climb, hands definitely required and a fall very likely to cause injury or worse.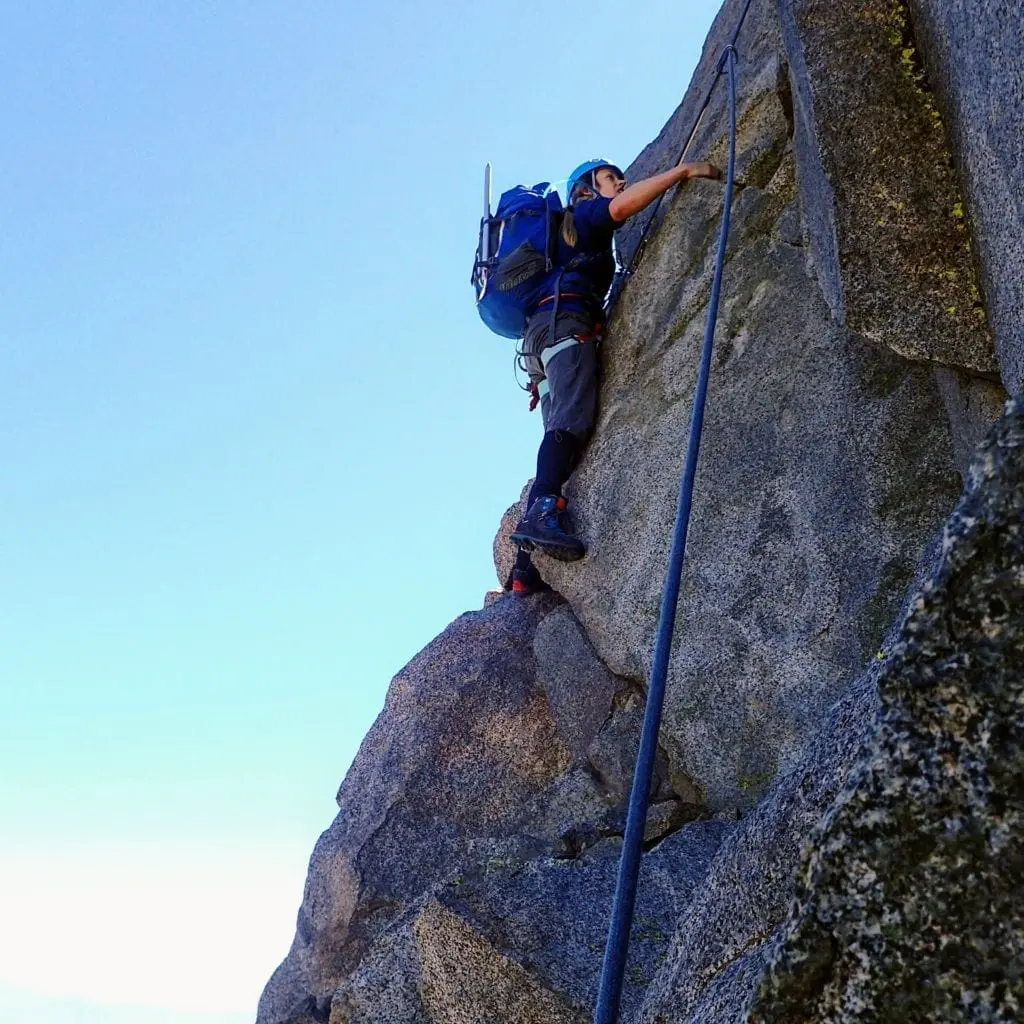 At the top end is class 5, usually roped rock climbing, which is subdivided into difficulty grades that get higher as the second number goes up. For example, 5.4 would be an easy rock climb, 5.10 would be intermediate, and 5.14 would be expert level.
Below I've grouped the California 14ers by difficulty level. Sometimes it's complicated, for example when an otherwise easy class 3 scramble becomes difficult due to the mental challenge of extreme exposure (the technical term for when there is a massive, gaping, fall-and-you-die void beneath your heels).
As a general rule of thumb, if you consider yourself primarily a hiker, stick with the easy group. If you have some rock climbing or scrambling experience, consider stretching to the moderate group with thorough research and preparation (and ideally in a group with at least one person experienced in alpine scrambling). If you have the skills for the hardest California 14ers, you already know it.
Easiest California 14er Hikes
I say "easiest," but I want to be very clear: there's nothing easy about hiking to 14,000+ feet! What makes these 14ers more approachable than the others is simply their well-defined trails and relative lack of potentially dangerous exposure.
Still, they can be extremely arduous and are considered challenging by regular hiking standards. Preparation is essential (see Safety and Gear sections below).
Here are the easiest California 14ers:
White Mountain (class 1)
Langley (class 1)
Whitney (class 1)
Split Mountain (class 2): harder than the above three, requiring some navigation and scrambling skills.
Moderate California 14er Scrambles
This is where things escalate past typical "hiking," and where a helmet and mountaineering boots or approach shoes with sticky rock-specific rubber should come into play for most people.
It's also where routefinding skills – the ability to pick the best line up a jumbled face of rock without getting yourself into a situation you can't safely get out of – become essential.
You should be able to identify and minimize risks like loose rock, hard-to-reverse moves, and no-fall zones before tackling routes like these.
Moderate California 14ers:
Sill (class 2+)
Tyndall (class 3)
Williamson (class 3, though some feel the short "chimney" section is more like class 3-4)
Muir (class 3)
Middle Palisade (class 3)
Russell (class 3, but very exposed)
Shasta (class 2+, snow skills usually required)
Some parties, especially if professionally guided, will rope up for certain sections of these climbs. While the moves are not technically difficult, the alpine environment requires sound judgment and a head for heights. When climbing unprotected (without ropes and gear) on class 3 rock, you have only your climbing skill and precision to protect you from injury or worse.
When approached with care and skill, the rawness of scrambling to the top of a huge mountain is exhilarating and satisfying in a way that walking up a trail can rarely touch.
Difficult California 14er Climbs
These peaks transition from scrambling into easy rock and alpine climbing, with a few tricky class 5 moves at the summit blocks. They should only be tackled by experienced alpine rock climbers.
Most difficult California 14er climbs:
North Palisade (class 4)
Polemonium (class 4)
Starlight (class 4 with 5.4 summit block)
Thunderbolt (class 4 with 5.8 or 5.9 summit block)
14er Route Summaries and Resources
Below is a little teaser for each peak, with links to more in-depth information for those interested.
White Mountain
White Mountain is the "easiest" California 14er, but not to be underestimated, especially if it's your first 14er attempt. At about 14 miles round trip and ~2500 feet of elevation gain, it's still a hard hike, but the trail is basically a dirt road all the way to the summit and very easy to follow.
The trailhead takes a while to get to. The final 17 miles are dirt road that can take over an hour of careful driving in a regular 2wd car.
The easy "South Face" route described above is the most common, but there's also a class 2 scramble called the West Ridge Route, offering a burly 9000 feet of elevation gain in 10 miles of hiking to the summit (so 20 miles round trip).
Mount Langley
The easiest route up Mount Langley, the furthest south of all California 14ers, is a 26 mile round trip hike with about 6000 feet of elevation gain starting from Cottonwood Lakes Trailhead. Langley is perhaps just slightly easier than Whitney, but very comparable, though easier to score a permit for. Many people camp at Cottonwood Lakes, about 6 miles into the hike, making for a 2-3 day backpacking trip.
After Cottonwood Lakes hikers can choose between two branches: Old Army Pass and New Army Pass. New Army Pass is a bit more maintained and follows switchbacks, is less prone to snow coverage on high snow years, but is a bit longer. Old Army Pass is less maintained, steeper, and more direct. Here's a more detailed route guide for Mt. Langley.
Mount Whitney
As the tallest mountain in all the lower 48 states, Mount Whitney is definitely the most famous California 14er. Unfortunately this also makes it the hardest to get a permit for. For those lucky enough to score a camping permit (or for ambitious folks, a day hike permit), the easiest route is 22 miles round trip with nearly 7000 feet elevation gain on maintained but rocky trail.
Though more technical routes exist, like the popular Mountaineer's Route, the easiest route up Whitney is a class 1 hike. This makes it a popular beginner California 14er, but the steep trail and high altitude should not be underestimated. If attempting a day hike, it's wise to start well before sunrise.
Mount Whitney is also the end of the famous John Muir Trail. If you can spare three weeks away from the rest of your life, summiting Whitney at the end of a JMT hike is an excellent way to tag this epic California 14er.
Split Mountain
The "easiest" route is the class 2 North Slope via Red Lake, where most people camp on the way up and sometimes on the way down as well. This is a challenging hike and scramble, 20 miles round trip and over 9000 feet elevation gain!
The trail can be hard to find at times, and there are sections of loose scree and steep scrambling. Even getting to the trailhead can be a challenge; you'll need a 4wd high clearance vehicle or be prepared to walk an extra 4ish miles each way. This hike is definitely a level up from the three easiest California 14ers.
Mount Sill
Mount Sill is a mostly technical peak with many routes ranging from class 2-3 scrambling all the way up to fifth class rock climbing. While the easiest route is said to be class 2-3, it's not frequently climbed and finding that route seems to be tricky based on the few online writeups that exist.
Depending on conditions, it's likely that some snow and ice travel will be required, and some class 3 scrambling, making Mount Sill more complex than a simple hike.
If you're on a peak bagging mission, the most efficient way to climb Sill is to include it in the Thunderbolt to Sill Traverse with four other 14ers (more info below).
Mount Tyndall
Climbing Mount Tyndall round trip is about 25 miles with 9000 feet of elevation gain. The route starts with an 11 mile hike from Shepherd Pass Trailhead up to Shepherd Pass, with 7000 feet of elevation gain and potentially relentless sun and heat.
From Shepherd Pass you'll turn left, leave the well-traveled trail and walk cross-country for about a mile up to an open saddle with a small lake at around 12,000 feet elevation. This lake makes a good basecamp if splitting the climb into multiple days (recommended for most people) or combining with a climb of Williamson.
From this saddle, Tyndall is the distinctive pyramid-shaped peak to your right.
The route I recommend is the North Rib, the obvious feature heading straight up the center of the face. The northwest ridge (the long ridge sloping down and to the right in the above picture) is said to be class 2, but I've seen many trip reports from climbers who encountered more difficult terrain there and couldn't find a true class 2 route.
Routefinding on the North Rib is simple: just scramble upward along the rib, picking the line that feels best to you. Personally I feel more secure on the blockier bits in the center, rather than the slabby exposed sides.
Close to the top of the North Rib, be sure to keep left. If you find yourself pulling harder moves amongst bigger blocks, you've gone too far right. Just traverse left into an easier gully. At the top of the ridge, turn left and scramble along the boulders on the back side to the true summit.
I climbed Tyndall last summer and found the North Rib to be straightforward technically, but mentally tough because of the sustained feeling of exposure (which I'm admittedly not great with). You can see all the way down for pretty much the whole climb. While a slip likely won't send you all the way down, it can certainly feel like it. I felt more secure once making it to the ridgeline, and the downclimb wasn't as bad as I feared.
Tyndall is often climbed along with Williamson on a 3-4 day backpacking trip, since both are accessed from the saddle at the top of Shepherd Pass. For more details, see the section on combining nearby 14ers.
Mount Williamson
Mount Williamson, via the West Face route, is one of the most arduous California 14ers and saves the trickiest climbing for the very top. Round trip, it's about 30 miles and 10,000 feet of elevation gain. The common route is from Shepherd Pass Trailhead via Shepherd Pass, same as Tyndall, therefore the two are often combined into a 3-4 day backpacking trip with a basecamp at the saddle before Williamson Bowl.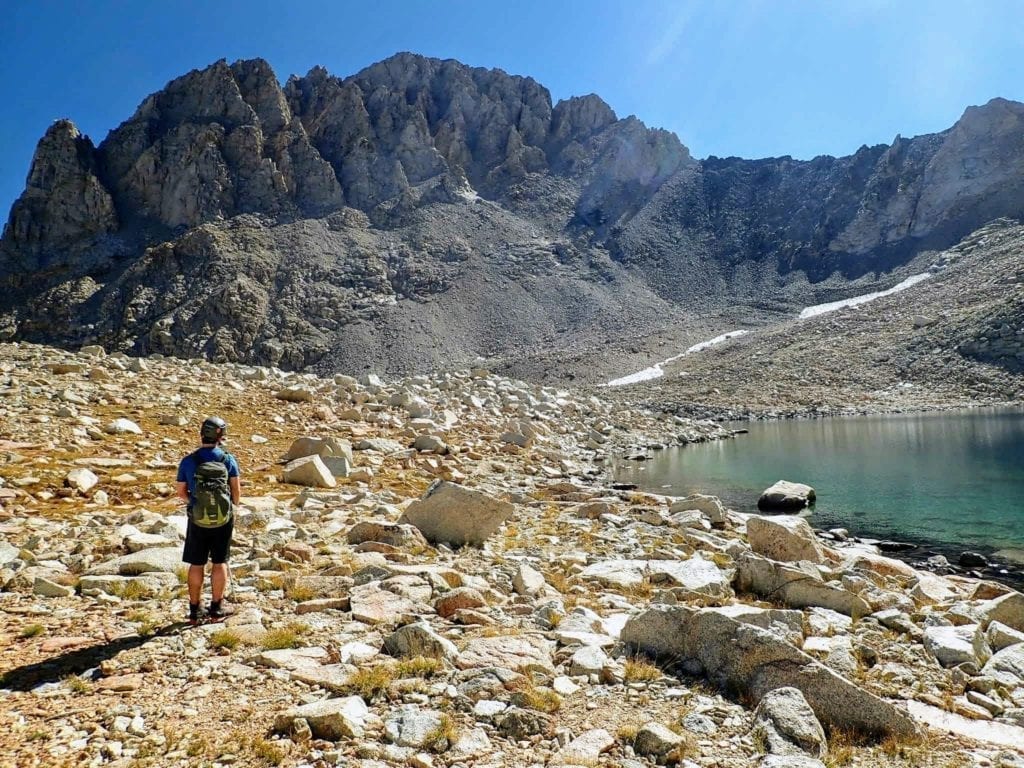 To Shepherd Pass the trail is a class 1 hike, though a steep and tough one. From there it's class 2 boulder hopping and scrambling almost to the very top, with a short section of class 3 (some say it feels more like class 4) guarding the final summit scramble.
Routefinding on Williamson is more complex than Tyndall, though we had no problems following the notes I printed out. I highly recommend printing this excellent writeup, and also this one, along with the pictures to refer to during your ascent.
You'll need to choose the path of least resistance across notorious Williamson Bowl, a surprisingly taxing stretch of boulder hopping that will take longer than you expect. Then you'll identify the "Black Stain," find the correct gully to ascend, and finally locate the "Chimney."
So what about that class 3 chimney? Always wary of exposure, I was prepared to turn around if it looked too gnarly, but I found it acceptably secure. Still, it feels more like actual rock climbing than scrambling, albeit pretty easy climbing. It's not necessarily fall-and-you-die territory, but it's definitely fall-and-you're-injured, and this is not a good place to be injured.
Class grades are not consistent across locations, and I've heard people say the chimney would be class 4 in Colorado. If you choose to attempt it, know your limits and take it move by move. The individual moves are not hard, but precision is needed.
My advice: don't underestimate Williamson! Though some have done it as a day hike, just the portion from the top of Shepherd Pass can be a full day's climb for many people. Rarely have I felt so worked as when returning to basecamp that evening in the fading light. Start early, keep an eye on the clock, and definitely bring a headlamp!
Mount Muir
Round Trip from the Whitney Portal Trailhead, the easiest way up Mount Muir is about 19 miles with roughly 6500 feet of elevation gain and some class 3 scrambling at the top. Most people tag Mount Muir as a side trip from Mount Whitney, which is about a mile away.
Tagging Muir onto a Whitney hike will take about an hour(ish) out-and-back from the Mount Whitney trail. However, though Muir may be close in distance to the Whitney Trail, it's a completely different type of undertaking. Reaching Mount Muir's summit requires exposed class 3 scrambling and climbing, as shown in this picture.
Middle Palisade
The easiest route on Middle Palisade, the Northeast Face, starts from the Big Pine South Fork trailhead. Round trip the route is about 16 miles with 7000 feet of elevation gain as detailed in this great trip report. The route includes possible glacier travel, a loose gully, and class 3 rock scrambling with some exposure.
Mount Russell
The easiest route up Mount Russell is the class 3 East Ridge. While only about 11 miles round trip, it boasts a steep 6500+ feet of elevation gain and one of the most stomach-churningly exposed ridge climbs in all the Sierra. Though the moves are not difficult, the exposure is not for the faint of heart. If considering this climb, read trip reports on Peakbagger and SummitPost to get a sense for it.
The East Ridge route starts from the Whitney Portal trailhead and follows the Mount Whitney trail for a mile before branching off on the Whitney Mountaineer's Route to Upper Boyscout Lake. This is a common place to camp if splitting the climb into two days. From there, it's talus, scree and boulders up to the ridge, with its high quality but airily exposed climbing and epic views.
Some climbers say it's possible to manage the exposure by staying to the right side (while ascending) of the ridge, but you should read trip reports and decide for yourself.
Mount Shasta
Mount Shasta is unique among the California 14ers. Not only is it way up north in the Cascades, it is also the only climb that involves significant snow and ice travel year-round. If you're a hiker or rock climber without snow travel experience, you will definitely want to hire a guide for Mount Shasta.
There are several routes, including a few that are suitable for novice snow climbers (with a guide), but the most common is Avalanche Gulch from Bunny Flat trailhead. This route is 11 miles round trip with over 7000 feet of elevation gain. Most people climb it in two days, though one and three day climbs are also possible.
Clear Creek Route is said to be a non-technical hike once all the snow has melted, though it's longer and has more elevation gain than Avalanche Gulch.
Thunderbolt, Starlight, North Palisade, Polemonium
These four peaks, in the rugged Palisades sub-range of the Sierra, are the most technically challenging California 14ers to summit. They are often accessed from Bishop Pass (Thunderbolt Pass, after some cross country travel, makes a good basecamp location) but approaches from the other side also exist.
While much of the climbing is class 3 and 4, two of the peaks (Starlight and Thunderbolt) have class 5 summit blocks. If you want to stand on the top of these you'll need some real outdoor rock climbing experience. While not expert-level climbs by any means (5.4 and 5.8 or 5.9, respectively), the exposure under your heels is unnerving, and adequately protecting the lead in case of a fall is difficult to impossible.
In general these climbs are complex, with multiple route options and sometimes challenging routefinding that can lead to seriously exposed terrain. I'm not an experienced enough alpine climber to feel qualified summarizing all the important information for these routes. Anyone serious about climbing them should head over to Summit Post or similar for thorough research.
Combining Nearby CA Fourteeners
If you're into peak bagging – and you're here, so you probably are – you're likely interested in packing multiple 14ers into a single trip. Here are a few groups of nearby 14ers to consider combining.
Whitney, Russell, Muir, Langley
If you're up for class 3, Muir and Russell are accessed from the same trailhead as Whitney. Mount Muir is a very short (1-2 hour) side trip from Whitney Trail near the top, and Russell is accessed from the Whitney Mountaineer's Route, which is probably the route you'll be taking up Whitney anyway if you're interested in Muir and Russell.
If you still have any energy and time left after that, drive an hour south to the Langley trailhead and bag one more 14er (or try a Whitney to Langley traverse).
If you're not up for exposed class 3 scrambling, skip Muir and Russell (for now) but combine Whitney and Langley into a single trip with about an hour of driving between the two trailheads (and enough rest between these two tough hikes, of course).
Williamson and Tyndall
These two are so close to each other that it hardly makes sense to slog up Shepherd Pass for one without also attempting the other. Doing both will almost certainly require a night or two (or three) of camping along the way.
If you time it right, you can bag Tyndall on the same day you hike in, or on the morning you hike out, and give Williamson its own full day. You can also choose to camp partway up to Shepherd Pass (Anvil Camp and Pothole are common choices), then tackle the rest of the climb to the pass plus Tyndall on the second day, Williamson the third day, and hike out late that day or the morning of the fourth day. For those newer to 14er scrambling, I definitely recommend this last (4 day) option. You'll thank me later.
Thunderbolt, Starlight, North Palisade, Polemonium, Sill
These five lie in a row along the ridge of the Palisades and are often grouped together in what's known as the Thunderbolt to Sill Traverse (or sometimes, incorrectly, the Palisades Traverse). While bold experienced climbers have knocked them all off in a day with no ropes, most mere mortals will choose to rope up more often for protection and take 2-4 days, including the hike in from the trailhead.
Split and Middle Palisade
Split and Middle Palisade are not particularly near anything else, but if you're driving down highway 395 to access the other Sierra peaks they could make reasonable stops if you have the time. Otherwise, tackle them on their own or combined with other nearby sub-14er peaks.
White Mountain
White Mountain is off by itself in the Inyo-White Mountains, though it's a reasonable detour from highway 395. If approaching the eastern Sierra from the north, it could be combined with a group of other peaks as a warmup or cool down. Do keep in mind, the drive to the trailhead includes about an hour of rough dirt road, so it's not a super quick stop from the highway.
Shasta
Shasta is way the heck up north in the Cascades, a totally different type of climb, and best tackled by itself.
14er Gear List
This isn't a full guide on gear for climbing 14ers, and I'm not even going to touch climbing gear (harnesses, ropes, slings, etc) which may be a factor on class 3 and above. How one chooses to protect an alpine climb is a deeply personal decision and not one I'm qualified to advise on.
For hikers and those getting into basic scrambling, here's a reminder of some essentials you should always bring when venturing into unforgiving mountains.
Water: Bring plenty, especially at high altitude. Drinking lots of water can help your body adapt to altitude, and you'll be extra thirsty in the dry mountain air. Know where your refill options are, and bring a filter or chemical treatment in any area where humans or animals could be upstream.
Food: At high altitudes you'll be working very hard even while moving slowly. It's critical to keep fueling your body or risk the dreaded "bonk" in a dangerous location. Altitude famously decreases appetite, so bring food that's appetizing and easy to get down. Here are my favorite high-calorie energy bars for this purpose.
Navigation: GPS track, maps and compass, printed route descriptions with pictures of important landmarks, etc. This is especially important on routes that do not follow a well-maintained trail.
Headlamp and spare batteries: You wouldn't be the first person to underestimate the time needed to climb a burly peak and be caught out after dark. Good lighting could make the difference between getting down safely and being forced to spend a dangerously cold night out in the mountains.
Emergency bivvy: These things weigh almost nothing, and if things should go sideways (think how easy it would be to badly twist an ankle or break a bone during an exhausting boulder hop) they could make the difference between life or death. Fourteen thousand feet at night is not usually survivable for someone without warm gear, even in the summer, and rescue is not guaranteed even with a satellite beacon. Take this bivvy with you in your day pack, even if basecamping with backpacking gear.
Warm layers: Depends on time of year and expected weather, but at 14er altitudes I always have at minimum a rain jacket and rain pants (also good as wind breakers) and an insulating layer (light puffy or fleece). Gloves may be necessary for some. It gets cold up there, even in the summer! These tips may help.
Emergency satellite beacon: A SPOT tracker or Garmin InReach, something with an emergency "rescue me" button, is an excellent backup to carry on more remote and/or technical trips. If you've ever had a sketchy moment in a remote and inhospitable place, you know how reassuring it is to have some form of communication. Of course self-reliance and self-rescue should be your first plan (this is why you brought the headlamp, emergency bivvy, etc) but if plans A and B fail, plan C can save your life.
Sunscreen and sunglasses: At high altitudes the sun feels more intense and can burn exposed skin very quickly, even if it doesn't feel hot out. Your eyes can be damaged by the intense light, especially when it's reflected by lots of snow or bare granite. I'm prone to eye irritation and use a serious pair of sunglasses with side shields, like these Julbo Monterosa glasses, in the mountains.
Climbing helmet: If progressing to class 3 scrambles, a helmet is a worthy investment. Its main purpose is to protect you from rock falling from above in loose chutes, of which there are many on California 14er climbs. It won't hurt if you trip and hit your head either.
Trekking poles? These are optional. Some people find them helpful for rough trails, but once you approach class 3 terrain, it's often easier to have your hands free for engaging with the rock. You might choose to bring them partway and then leave them for the final summit scramble, or use a lightweight fold-able pole like these Black Diamond Z Poles and stuff them in your pack when not needed. On gnarly boulder hops I often find one pole is perfect; two poles require more energy to find a stable placement for. Read more: guide to choosing and using trekking poles.
Fourteener Safety Tips
Here are some general considerations for anyone traveling to high altitudes in the mountains. I won't go into safety on semi-technical or technical climbs here, but obviously that's a huge component of the moderate and difficult California 14ers as well.
Know your limits and stay within them. Don't go if you don't have the skills. A fourteener is not the best place to try something for the first time, whether it's pitching your tent or leading a trad climb. Hone your skills in a less committing environment and make sure you're prepared to take on the demands of the route you choose.
Watch the weather. Afternoon thunderstorms are common in the high mountains, and being on top of the tallest peak around is an excellent way to increase your chances of being struck by lightning. Check the forecast before you leave, start early in the day, and be mentally prepared to turn around if bad weather approaches.
Start early. There's a reason they call it an "alpine start" when you start a big day before sunrise. Starting early gives you more time for dealing with the unexpected and gets you off the summit earlier, minimizing chances of bad afternoon weather or a long hike down in the dark.
Don't forget to eat and drink. It's easy to get distracted when climbing epic mountains, but your body desperately needs food to maintain energy. Water will help with adjusting to altitude. Try to eat and drink small amounts often, even when you don't feel like it.
Avoid summit fever. There's a saying in mountaineering that getting to the top is optional but getting down is mandatory. If it's getting too late, if the weather looks suspicious, if the terrain is beyond your comfort level… Turn around. The mountain will still be there another day. Your job is to make sure you will be too.
Make sure you can descend whatever you ascend. This is especially true for class 3 and above. It's often easier to move with precision up a tricky section than down it. Don't put yourself in the position of having to reverse a move unsafely in order to not be stranded on the mountain.
Know the signs of serious altitude sickness. It's common to feel a bit "ugh" up there (for me it usually starts above 10,000 feet), including fatigue, nausea, and moderate headache. But severe symptoms – a raging headache, repeated vomiting, extreme fatigue – mean it's time to turn around. The absolute "game over" conditions of high altitude pulmonary edema (fluid in the lungs) and high altitude cerebral edema (fluid in the brain) should be recognized with extreme urgency. If you develop a wet cough, gurgling lungs, confusion or impaired coordination, descend to lower elevation immediately.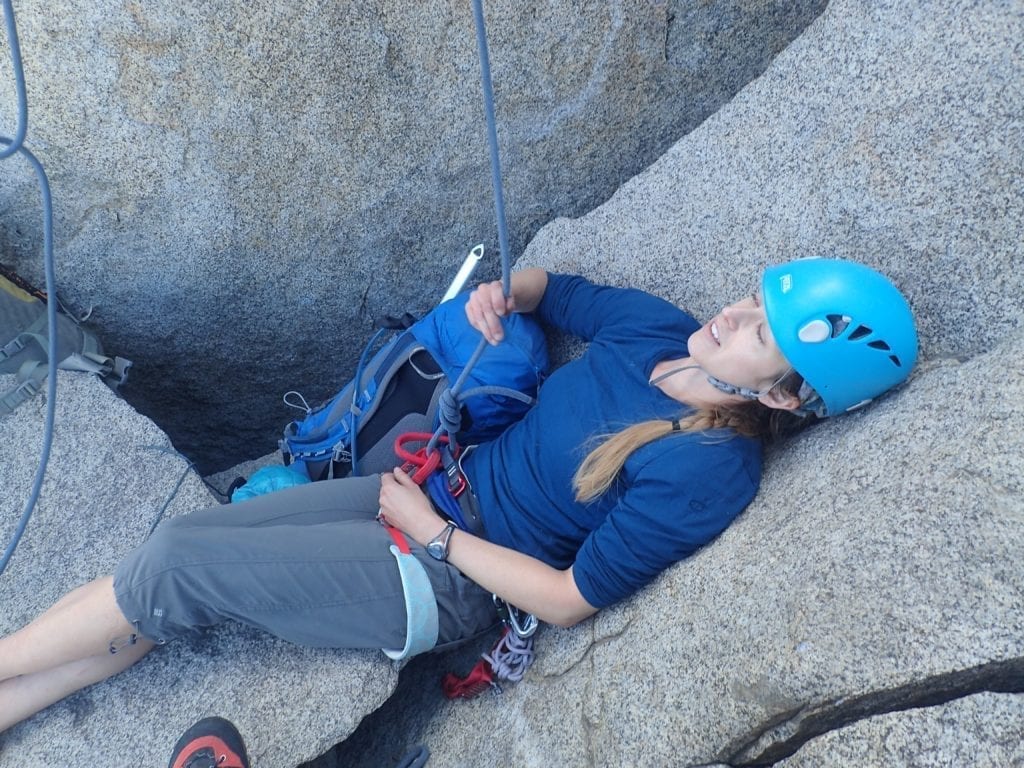 When to Climb California's 14ers
For skilled mountaineers, most peaks can be climbed year-round, it's just the techniques that differ (more rock versus more snow and ice).
For the rest of us, summer is the best time to climb 14ers. Depending on snow conditions and the particular climb, June through September is the hiking and climbing season.
To avoid snow and ice travel, August and early September is often ideal. In June and July, especially on a high snow year, you'll likely encounter snow at high elevations which can make many routes more treacherous and arduous. After mid-September the weather becomes increasingly cold and unpredictable.
Every climb and season is different though, so research conditions for your particular route before going. Certain more technical climbs are actually considered easier when the loose rock gullies are filled with snow, provided you have the skills and gear to climb snow safely.
Climbing All California 14ers
Hopefully you can see that California's 14ers require a wide range of skills. Hikers can tackle White Mountain, Langley and Whitney, and perhaps Split Mountain. But continuing down the list, climbers face routefinding challenges, potentially dangerous exposure, and the need for experience and skill in alpine rock and snow climbing.
For experienced backcountry hikers looking to work up the list and break into scrambling territory, I recommend Tyndall and Williamson as good class 3 peaks to start with. They offer relatively straightforward routefinding and manageable exposure.
For those with the time and inclination to develop as alpine climbers, summiting all the California 14ers using only your own skill is an extremely rewarding goal. However, if you're not experienced enough to safely lead alpine climbs, don't despair! If you're fit and know how to move well on rock (and can spare the cash), you can summit the harder California 14ers with the help of a professional mountain guide.
Guided 14er Climbs
Perhaps all this has piqued your interest, and you've zoomed through the class 1 and class 2 hikes, but you don't see alpine climbing as your next obsessive hobby. Due to the complexity and inherent risk in this type of climbing, becoming competent is a big investment that not everyone wants to make. There's a big jump between being able to follow a climbing route led by someone with tons of experience, and being able to lead it yourself.
If you're in the follower category – able to move well on rock and fit enough for long tough days at high elevation, but lacking the gear and experience to lead the whole climb yourself – you're a great candidate for a guided trip.
Of course you still have to get yourself to the top – still no easy feat – but the guide will lead the routes and manage all the risk mitigation so you can just focus on the climbing. They will also typically have you rope up for sections that independent parties will solo ropeless, providing a safety backup in case of a slip.
This is how my husband and I managed to complete the Thunderbolt to Sill Traverse, long before we even thought about trying to tick off all the California 14ers. As decently strong gym climbers, occasional outdoor climbers, and endurance trail junkies, we were looking to push our physical and mental boundaries to a new level in the mountains.
Boy oh boy, did we get what we came for. It was epic, beautiful, harsh, and totally scary. I really struggle with sustained exposure, and even though we roped up for all but the very easiest sections, my adrenaline-addled brain had a hard time keeping it together. Several of my proudest memories in life – moments where I worked through intense fear – come from that trip.
We worked with Sierra Mountain Center, who I would wholeheartedly recommend. They weren't involved in this post at all and I hadn't even started this website when we did the climb, so rest assured there's no paid advertising going on here, just my personal opinion.
There are several other highly reputable guiding companies operating in the Sierra and also up on Shasta, so I'd encourage you to shop around and find a company you feel comfortable with. Guided trips aren't cheap, but they're an unparalleled opportunity to learn from a highly skilled mountain badass, and a chance to push your comfort zone to the next level in a relatively safe way.
In Conclusion
California's fourteeners are a special bunch. From walk-up hikes to 5th class climbing, these beasts offer dramatic alpine experiences to adventurers of all levels.
There's really no such thing as a bad view from the top of a 14er. I'd encourage anyone interested to pick a 14er accessible to their current skill level, train and prepare thoroughly, and give it a try!
More Mountain Resources
If you're into climbing 14ers, you might also like these:


Hiking resources in your inbox?
There's more where this came from! Sign up here for occasional emails full of inspiration and information about backpacking and hiking.


Share the Adventure
If you found this article helpful, please consider sharing so more people can benefit from it:
Pin For Later